Archiv článků

collapsArch options:
Array
(
    [title] => Archiv článků
    [noTitle] => 
    [inExcludeCat] => exclude
    [inExcludeCats] => 
    [inExcludeYear] => 
    [inExcludeYears] => 
    [showPages] => 
    [sort] => DESC
    [linkToArch] => 
    [showYearCount] => 1
    [expandCurrentYear] => 
    [expandMonths] => 1
    [expandYears] => 1
    [expandCurrentMonth] => 
    [showMonthCount] => 1
    [showPostTitle] => 1
    [expand] => 0
    [showPostDate] => 1
    [debug] => 1
    [postDateFormat] => m/d
    [postDateAppend] => after
    [accordion] => 0
    [useCookies] => 1
    [post_type] => post
    [taxoncmy] => category
    [postTitleLength] => 
    [showPostCount] => 1
    [archSortOrder] => DESC
    [showPosts] => 
    [customExpand] => 
    [customCollapse] => 
    [animate] => 1
    [number] => 3
)
POST QUERY:
 SELECT rossi_web_terms.slug, rossi_web_posts.ID,
    rossi_web_posts.post_name, rossi_web_posts.post_title, rossi_web_posts.post_author,
    rossi_web_posts.post_date, YEAR(rossi_web_posts.post_date) AS 'year',
    MONTH(rossi_web_posts.post_date) AS 'month' ,
    rossi_web_posts.post_type
    FROM rossi_web_posts LEFT JOIN rossi_web_term_relationships ON rossi_web_posts.ID =
    rossi_web_term_relationships.object_id 
		LEFT JOIN rossi_web_term_taxonomy ON rossi_web_term_taxonomy.term_taxonomy_id =
																			rossi_web_term_relationships.term_taxonomy_id
		LEFT JOIN rossi_web_terms ON rossi_web_terms.term_id = 
		                          rossi_web_term_taxonomy.term_id 
  WHERE post_status='publish' AND rossi_web_posts.post_type='post'   
  GROUP BY rossi_web_posts.ID 
  ORDER BY rossi_web_posts.post_date DESC

POST QUERY RESULTS
Array
(
    [0] => stdClass Object
        (
            [slug] => rossi-novinky
            [ID] => 46011
            [post_name] => velka-cena-rakouska-motogp-red-bull-ring-2017
            [post_title] => Velká Cena Rakouska MotoGP – Red Bull Ring 2017
            [post_author] => 2
            [post_date] => 2017-08-13 15:26:33
            [year] => 2017
            [month] => 8
            [post_type] => post
        )

    [1] => stdClass Object
        (
            [slug] => rossi-novinky
            [ID] => 46002
            [post_name] => warm-up-motogp-rakousko-2017
            [post_title] => Warm Up MotoGP – Rakousko 2017
            [post_author] => 237
            [post_date] => 2017-08-13 10:15:33
            [year] => 2017
            [month] => 8
            [post_type] => post
        )

    [2] => stdClass Object
        (
            [slug] => rossi-novinky
            [ID] => 45964
            [post_name] => sobotni-trenink-a-kvalifikace-motogp-rakouskou-2017
            [post_title] => Sobotní trénink a kvalifikace MotoGP - Rakousko 2017
            [post_author] => 2
            [post_date] => 2017-08-12 10:51:55
            [year] => 2017
            [month] => 8
            [post_type] => post
        )

    [3] => stdClass Object
        (
            [slug] => rossi-novinky
            [ID] => 45941
            [post_name] => patecni-treninky-motogp-red-bull-ring-2017
            [post_title] => Páteční tréninky MotoGP Red Bull Ring 2017
            [post_author] => 2
            [post_date] => 2017-08-11 11:00:11
            [year] => 2017
            [month] => 8
            [post_type] => post
        )

    [4] => stdClass Object
        (
            [slug] => rossi-novinky
            [ID] => 45923
            [post_name] => tiskova-konferecne-motogp-rakousko-redbull-ring
            [post_title] => Tisková konferecne MotoGP - Rakousko Redbull Ring
            [post_author] => 2
            [post_date] => 2017-08-10 17:45:16
            [year] => 2017
            [month] => 8
            [post_type] => post
        )

    [5] => stdClass Object
        (
            [slug] => rossi-novinky
            [ID] => 45912
            [post_name] => tovarni-tym-pred-zavodem-v-rakousku
            [post_title] => Tovární tým před závodem v Rakousku
            [post_author] => 815
            [post_date] => 2017-08-09 12:52:27
            [year] => 2017
            [month] => 8
            [post_type] => post
        )

    [6] => stdClass Object
        (
            [slug] => rossi-novinky
            [ID] => 45883
            [post_name] => oficialni-pozavodni-testy-motogp-brno-2017
            [post_title] => Oficiální pozávodní testy MotoGP - Brno 2017
            [post_author] => 2
            [post_date] => 2017-08-07 20:33:48
            [year] => 2017
            [month] => 8
            [post_type] => post
        )

    [7] => stdClass Object
        (
            [slug] => rossi-novinky
            [ID] => 45835
            [post_name] => velka-cena-ceske-republiky-motogp-brno-2017
            [post_title] => Velká Cena České Republiky MotoGP - Brno 2017
            [post_author] => 2
            [post_date] => 2017-08-06 15:08:21
            [year] => 2017
            [month] => 8
            [post_type] => post
        )

    [8] => stdClass Object
        (
            [slug] => rossi-novinky
            [ID] => 45797
            [post_name] => sobotni-trenink-a-kvalifikace-motogp-brno-2017
            [post_title] => Sobotní trénink a kvalifikace MotoGP - Brno 2017
            [post_author] => 2
            [post_date] => 2017-08-05 11:03:47
            [year] => 2017
            [month] => 8
            [post_type] => post
        )

    [9] => stdClass Object
        (
            [slug] => rossi-novinky
            [ID] => 45748
            [post_name] => patecni-treninky-motogp-brno-2017
            [post_title] => Páteční tréninky MotoGP - Brno 2017
            [post_author] => 2
            [post_date] => 2017-08-04 10:46:42
            [year] => 2017
            [month] => 8
            [post_type] => post
        )

    [10] => stdClass Object
        (
            [slug] => rossi-novinky
            [ID] => 45731
            [post_name] => tiskova-konference-motogp-brno-2017
            [post_title] => Tisková konference MotoGP - Brno 2017
            [post_author] => 2
            [post_date] => 2017-08-03 17:48:29
            [year] => 2017
            [month] => 8
            [post_type] => post
        )

    [11] => stdClass Object
        (
            [slug] => rossi-novinky
            [ID] => 45720
            [post_name] => tovarni-tym-pred-zavodem-v-brne
            [post_title] => Tovární tým před závodem v Brně
            [post_author] => 815
            [post_date] => 2017-08-02 12:25:31
            [year] => 2017
            [month] => 8
            [post_type] => post
        )

    [12] => stdClass Object
        (
            [slug] => rossi-novinky
            [ID] => 45659
            [post_name] => akce-popologiallo-ve-vr46-racing-store-brno
            [post_title] => Akce "POPOLOGIALLO" ve VR46 Racing Store Brno
            [post_author] => 2
            [post_date] => 2017-07-12 18:11:02
            [year] => 2017
            [month] => 7
            [post_type] => post
        )

    [13] => stdClass Object
        (
            [slug] => rossi-novinky
            [ID] => 45645
            [post_name] => tajemstvi-sezony-2017-ramy-yamahy-m1
            [post_title] => Tajemství sezóny 2017 – rámy Yamahy M1
            [post_author] => 2
            [post_date] => 2017-07-04 22:29:47
            [year] => 2017
            [month] => 7
            [post_type] => post
        )

    [14] => stdClass Object
        (
            [slug] => velkka-cena-gp
            [ID] => 45601
            [post_name] => velka-cena-nemecka-motogp-sachsenring-2017
            [post_title] => Velká Cena Německa MotoGP - Sachsenring 2017
            [post_author] => 2
            [post_date] => 2017-07-02 15:42:33
            [year] => 2017
            [month] => 7
            [post_type] => post
        )

    [15] => stdClass Object
        (
            [slug] => rossi-novinky
            [ID] => 45598
            [post_name] => warm-up-motogp-sachsenring-2017
            [post_title] => Warm Up MotoGP – Sachsenring 2017
            [post_author] => 237
            [post_date] => 2017-07-02 10:17:15
            [year] => 2017
            [month] => 7
            [post_type] => post
        )

    [16] => stdClass Object
        (
            [slug] => rossi-novinky
            [ID] => 45562
            [post_name] => sobotni-trenink-a-kvalifikace-motogp-sachsenring-2017
            [post_title] => Sobotní trénink a kvalifikace - Sachsenring 2017
            [post_author] => 2
            [post_date] => 2017-07-01 11:07:21
            [year] => 2017
            [month] => 7
            [post_type] => post
        )

    [17] => stdClass Object
        (
            [slug] => rossi-novinky
            [ID] => 45537
            [post_name] => patecni-treninky-motogp-sachsenring-2017
            [post_title] => Páteční tréninky MotoGP Sachsenring 2017
            [post_author] => 2
            [post_date] => 2017-06-30 11:02:27
            [year] => 2017
            [month] => 6
            [post_type] => post
        )

    [18] => stdClass Object
        (
            [slug] => rossi-novinky
            [ID] => 45523
            [post_name] => tiskova-konference-motogp-sachsenring-2017
            [post_title] => Tisková konference MotoGP Sachsenring 2017
            [post_author] => 2
            [post_date] => 2017-06-29 18:06:50
            [year] => 2017
            [month] => 6
            [post_type] => post
        )

    [19] => stdClass Object
        (
            [slug] => rossi-novinky
            [ID] => 45504
            [post_name] => tovarni-tym-pred-zavodem-na-sachsenringu-2017
            [post_title] => Tovární tým před závodem na Sachsenringu 2017
            [post_author] => 815
            [post_date] => 2017-06-28 12:48:29
            [year] => 2017
            [month] => 6
            [post_type] => post
        )

    [20] => stdClass Object
        (
            [slug] => velkka-cena-gp
            [ID] => 45451
            [post_name] => velka-cena-holandska-motogp-dutch-tt-assen-2017
            [post_title] => Velká Cena Holandska MotoGP - Dutch TT Assen 2017
            [post_author] => 2
            [post_date] => 2017-06-25 14:38:35
            [year] => 2017
            [month] => 6
            [post_type] => post
        )

    [21] => stdClass Object
        (
            [slug] => rossi-novinky
            [ID] => 45444
            [post_name] => warm-up-assen-2017
            [post_title] => Warm Up – Assen 2017
            [post_author] => 237
            [post_date] => 2017-06-25 09:40:43
            [year] => 2017
            [month] => 6
            [post_type] => post
        )

    [22] => stdClass Object
        (
            [slug] => rossi-novinky
            [ID] => 45409
            [post_name] => sobotni-trenink-a-kvalifikace-assen-2017
            [post_title] => Sobotní trénink a kvalifikace – Assen 2017
            [post_author] => 2
            [post_date] => 2017-06-24 11:04:59
            [year] => 2017
            [month] => 6
            [post_type] => post
        )

    [23] => stdClass Object
        (
            [slug] => rossi-novinky
            [ID] => 45375
            [post_name] => patecni-treninky-motogp-assen-2017
            [post_title] => Páteční tréninky MotoGP – Assen 2017
            [post_author] => 2
            [post_date] => 2017-06-23 11:28:52
            [year] => 2017
            [month] => 6
            [post_type] => post
        )

    [24] => stdClass Object
        (
            [slug] => rossi-novinky
            [ID] => 45369
            [post_name] => tiskova-konference-motogp-assen-2017
            [post_title] => Tisková konference MotoGP Assen 2017
            [post_author] => 2
            [post_date] => 2017-06-22 20:35:04
            [year] => 2017
            [month] => 6
            [post_type] => post
        )

    [25] => stdClass Object
        (
            [slug] => rossi-novinky
            [ID] => 45354
            [post_name] => tovarni-tym-pred-zavodem-v-assenu-2017
            [post_title] => Tovární tým před závodem v Assenu 2017
            [post_author] => 815
            [post_date] => 2017-06-21 12:28:04
            [year] => 2017
            [month] => 6
            [post_type] => post
        )

    [26] => stdClass Object
        (
            [slug] => rossi-novinky
            [ID] => 45343
            [post_name] => novy-obchod-vr46-racing-store-brno
            [post_title] => Nový obchod VR46 RACING STORE BRNO
            [post_author] => 2
            [post_date] => 2017-06-14 13:48:26
            [year] => 2017
            [month] => 6
            [post_type] => post
        )

    [27] => stdClass Object
        (
            [slug] => rossi-novinky
            [ID] => 45306
            [post_name] => oficialni-pozavodni-testy-motogp-barcelona
            [post_title] => Oficiální pozávodní testy MotoGP - Barcelona
            [post_author] => 2
            [post_date] => 2017-06-12 11:14:02
            [year] => 2017
            [month] => 6
            [post_type] => post
        )

    [28] => stdClass Object
        (
            [slug] => velkka-cena-gp
            [ID] => 45268
            [post_name] => velka-cena-katalanska-motogp-barcelona-2017
            [post_title] => Velká Cena Katalánska MotoGP - Barcelona 2017
            [post_author] => 2
            [post_date] => 2017-06-11 15:16:34
            [year] => 2017
            [month] => 6
            [post_type] => post
        )

    [29] => stdClass Object
        (
            [slug] => rossi-novinky
            [ID] => 45255
            [post_name] => warm-up-motogp-barcelona-2017
            [post_title] => Warm up MotoGP Barcelona 2017
            [post_author] => 2
            [post_date] => 2017-06-11 10:14:28
            [year] => 2017
            [month] => 6
            [post_type] => post
        )

    [30] => stdClass Object
        (
            [slug] => rossi-novinky
            [ID] => 45214
            [post_name] => sobotni-trenink-a-kvalifikace-motogp-barcelona-2017
            [post_title] => Sobotní trénink a kvalifikace MotoGP – Barcelona 2017
            [post_author] => 2
            [post_date] => 2017-06-10 10:49:14
            [year] => 2017
            [month] => 6
            [post_type] => post
        )

    [31] => stdClass Object
        (
            [slug] => rossi-novinky
            [ID] => 45187
            [post_name] => patecni-treninky-motogp-barcelona-2017
            [post_title] => Páteční tréninky MotoGP - Barcelona 2017
            [post_author] => 2
            [post_date] => 2017-06-09 10:51:07
            [year] => 2017
            [month] => 6
            [post_type] => post
        )

    [32] => stdClass Object
        (
            [slug] => rossi-novinky
            [ID] => 45176
            [post_name] => tiskova-konference-motogp-barcelona-2017
            [post_title] => Tisková konference MotoGP - Barcelona 2017
            [post_author] => 2
            [post_date] => 2017-06-08 20:04:10
            [year] => 2017
            [month] => 6
            [post_type] => post
        )

    [33] => stdClass Object
        (
            [slug] => rossi-novinky
            [ID] => 45165
            [post_name] => tovarni-tym-pred-zavodem-v-katalansku-2017
            [post_title] => Tovární tým před závodem v Katalánsku 2017
            [post_author] => 815
            [post_date] => 2017-06-07 13:46:39
            [year] => 2017
            [month] => 6
            [post_type] => post
        )

    [34] => stdClass Object
        (
            [slug] => rossi-novinky
            [ID] => 45147
            [post_name] => velka-cena-italie-motogp-mugello-2017
            [post_title] => Velká Cena Itálie MotoGP - Mugello 2017
            [post_author] => 2
            [post_date] => 2017-06-04 16:02:28
            [year] => 2017
            [month] => 6
            [post_type] => post
        )

    [35] => stdClass Object
        (
            [slug] => rossi-novinky
            [ID] => 45105
            [post_name] => sobotni-trenink-a-kvalifikace-motogp-mugello-2017
            [post_title] => Sobotní trénink a kvalifikace MotoGP - Mugello 2017
            [post_author] => 2
            [post_date] => 2017-06-03 10:52:59
            [year] => 2017
            [month] => 6
            [post_type] => post
        )

    [36] => stdClass Object
        (
            [slug] => rossi-novinky
            [ID] => 45080
            [post_name] => patecni-treninky-motogp-mugello-2017
            [post_title] => Páteční tréninky MotoGP - Mugello 2017
            [post_author] => 2
            [post_date] => 2017-06-02 10:54:50
            [year] => 2017
            [month] => 6
            [post_type] => post
        )

    [37] => stdClass Object
        (
            [slug] => rossi-novinky
            [ID] => 45067
            [post_name] => valentino-rossi-je-mugellu-a-odhodlan-zavodit
            [post_title] => Valentino Rossi je v Mugellu a odhodlán závodit
            [post_author] => 2
            [post_date] => 2017-06-01 18:20:42
            [year] => 2017
            [month] => 6
            [post_type] => post
        )

    [38] => stdClass Object
        (
            [slug] => rossi-novinky
            [ID] => 45062
            [post_name] => tovarni-tym-pred-zavodem-v-mugellu-2017
            [post_title] => Tovární tým před závodem v Mugellu 2017
            [post_author] => 815
            [post_date] => 2017-05-31 13:07:15
            [year] => 2017
            [month] => 5
            [post_type] => post
        )

    [39] => stdClass Object
        (
            [slug] => rossi-novinky
            [ID] => 45029
            [post_name] => valentino-rossi-se-zranil-pri-treninku
            [post_title] => Valentino Rossi se zranil při tréninku
            [post_author] => 2
            [post_date] => 2017-05-26 07:33:04
            [year] => 2017
            [month] => 5
            [post_type] => post
        )

    [40] => stdClass Object
        (
            [slug] => nicky-hayden
            [ID] => 45010
            [post_name] => sbohem-nicky
            [post_title] => Sbohem Nicky...!
            [post_author] => 2
            [post_date] => 2017-05-22 20:31:17
            [year] => 2017
            [month] => 5
            [post_type] => post
        )

    [41] => stdClass Object
        (
            [slug] => velkka-cena-gp
            [ID] => 44983
            [post_name] => velka-cena-francie-le-mans-2017
            [post_title] => Velká Cena Francie – Le Mans 2017
            [post_author] => 2
            [post_date] => 2017-05-21 15:08:50
            [year] => 2017
            [month] => 5
            [post_type] => post
        )

    [42] => stdClass Object
        (
            [slug] => rossi-novinky
            [ID] => 44978
            [post_name] => warm-up-motogp-le-mans-2017
            [post_title] => Warm up MotoGP – Le Mans 2017
            [post_author] => 2
            [post_date] => 2017-05-21 10:10:24
            [year] => 2017
            [month] => 5
            [post_type] => post
        )

    [43] => stdClass Object
        (
            [slug] => rossi-novinky
            [ID] => 44930
            [post_name] => sobotni-trenink-a-kvalifikace-motogp-lemans-2017
            [post_title] => Sobotní trénink a kvalifikace MotoGP – Le Mans 2017
            [post_author] => 2
            [post_date] => 2017-05-20 11:09:37
            [year] => 2017
            [month] => 5
            [post_type] => post
        )

    [44] => stdClass Object
        (
            [slug] => rossi-novinky
            [ID] => 44899
            [post_name] => patecni-treninky-motogp-le-mans-2017
            [post_title] => Páteční tréninky MotoGP – Le Mans 2017
            [post_author] => 2
            [post_date] => 2017-05-19 10:53:22
            [year] => 2017
            [month] => 5
            [post_type] => post
        )

    [45] => stdClass Object
        (
            [slug] => rossi-novinky
            [ID] => 44882
            [post_name] => tiskova-konference-motogp-le-mans-2017
            [post_title] => Tisková konference MotoGP - Le Mans 2017
            [post_author] => 2
            [post_date] => 2017-05-18 17:44:44
            [year] => 2017
            [month] => 5
            [post_type] => post
        )

    [46] => stdClass Object
        (
            [slug] => nicky-hayden
            [ID] => 44879
            [post_name] => nicky-hayden-je-stale-v-kritickem-stavu
            [post_title] => Nicky Hayden je stále v kritickém stavu
            [post_author] => 2
            [post_date] => 2017-05-18 15:45:38
            [year] => 2017
            [month] => 5
            [post_type] => post
        )

    [47] => stdClass Object
        (
            [slug] => rossi-novinky
            [ID] => 44865
            [post_name] => tovarni-tym-pred-zavodem-ve-francii-2017
            [post_title] => Tovární tým před závodem ve Francii 2017
            [post_author] => 815
            [post_date] => 2017-05-17 17:01:55
            [year] => 2017
            [month] => 5
            [post_type] => post
        )

    [48] => stdClass Object
        (
            [slug] => rossi-novinky
            [ID] => 44803
            [post_name] => oficialni-pozavodni-testy-motogp-jerez-2017
            [post_title] => Oficiální pozávodní testy MotoGP Jerez 2017
            [post_author] => 2
            [post_date] => 2017-05-08 10:39:00
            [year] => 2017
            [month] => 5
            [post_type] => post
        )

    [49] => stdClass Object
        (
            [slug] => velkka-cena-gp
            [ID] => 44773
            [post_name] => velka-cena-spanelska-motogp-jerez-2017
            [post_title] => Velká Cena Španělska MotoGP – Jerez 2017
            [post_author] => 2
            [post_date] => 2017-05-07 15:18:55
            [year] => 2017
            [month] => 5
            [post_type] => post
        )

    [50] => stdClass Object
        (
            [slug] => rossi-novinky
            [ID] => 44765
            [post_name] => warm-up-motogp-jerez-2017
            [post_title] => Warm up MotoGP – Jerez 2017
            [post_author] => 2
            [post_date] => 2017-05-07 10:12:46
            [year] => 2017
            [month] => 5
            [post_type] => post
        )

    [51] => stdClass Object
        (
            [slug] => rossi-novinky
            [ID] => 44735
            [post_name] => sobotni-treninky-motogp-jerez-2017
            [post_title] => Sobotní tréninky a kvalifikace MotoGP – Jerez 2017
            [post_author] => 237
            [post_date] => 2017-05-06 10:56:34
            [year] => 2017
            [month] => 5
            [post_type] => post
        )

    [52] => stdClass Object
        (
            [slug] => rossi-novinky
            [ID] => 44712
            [post_name] => patecni-treninky-motogp-jerez-2017
            [post_title] => Páteční tréninky MotoGP - Jerez 2017
            [post_author] => 2
            [post_date] => 2017-05-05 10:50:28
            [year] => 2017
            [month] => 5
            [post_type] => post
        )

    [53] => stdClass Object
        (
            [slug] => rossi-novinky
            [ID] => 44704
            [post_name] => tiskova-konference-motogp-jerez-2017
            [post_title] => Tisková konference MotoGP Jerez 2017
            [post_author] => 2
            [post_date] => 2017-05-04 20:36:16
            [year] => 2017
            [month] => 5
            [post_type] => post
        )

    [54] => stdClass Object
        (
            [slug] => rossi-novinky
            [ID] => 44688
            [post_name] => c-ezpeleta-valentino-rossi-v-motogp-zustane
            [post_title] => C. Ezpeleta: "Valentino Rossi v MotoGP zůstane."
            [post_author] => 2
            [post_date] => 2017-05-04 14:48:59
            [year] => 2017
            [month] => 5
            [post_type] => post
        )

    [55] => stdClass Object
        (
            [slug] => rossi-novinky
            [ID] => 44682
            [post_name] => tovarni-tym-pred-zavodem-v-jerezu-2
            [post_title] => Tovární tým před závodem v Jerezu
            [post_author] => 815
            [post_date] => 2017-05-03 14:00:47
            [year] => 2017
            [month] => 5
            [post_type] => post
        )

    [56] => stdClass Object
        (
            [slug] => velkka-cena-gp
            [ID] => 44636
            [post_name] => velka-cena-ameriky-austin-2017
            [post_title] => Velká Cena Ameriky - Austin 2017
            [post_author] => 2
            [post_date] => 2017-04-23 22:19:50
            [year] => 2017
            [month] => 4
            [post_type] => post
        )

    [57] => stdClass Object
        (
            [slug] => rossi-novinky
            [ID] => 44631
            [post_name] => warm-up-motogp-austin-2017
            [post_title] => Warm up MotoGP - Austin 2017
            [post_author] => 2
            [post_date] => 2017-04-23 17:17:56
            [year] => 2017
            [month] => 4
            [post_type] => post
        )

    [58] => stdClass Object
        (
            [slug] => rossi-novinky
            [ID] => 44575
            [post_name] => sobotni-trenink-a-kvalifikace-motogp-austin-2017
            [post_title] => Sobotní trénink a kvalifikace MotoGP – Austin 2017
            [post_author] => 2
            [post_date] => 2017-04-22 17:52:04
            [year] => 2017
            [month] => 4
            [post_type] => post
        )

    [59] => stdClass Object
        (
            [slug] => rossi-novinky
            [ID] => 44548
            [post_name] => patecni-treninky-motogp-austin-2017
            [post_title] => Páteční tréninky MotoGP - Austin 2017
            [post_author] => 2
            [post_date] => 2017-04-21 17:49:44
            [year] => 2017
            [month] => 4
            [post_type] => post
        )

    [60] => stdClass Object
        (
            [slug] => rossi-novinky
            [ID] => 44534
            [post_name] => tiskova-konference-motogp-austin-2017
            [post_title] => Tisková konference MotoGP Austin 2017
            [post_author] => 2
            [post_date] => 2017-04-20 19:44:43
            [year] => 2017
            [month] => 4
            [post_type] => post
        )

    [61] => stdClass Object
        (
            [slug] => rossi-novinky
            [ID] => 44528
            [post_name] => tovarni-tym-yamahy-pred-zavodem-v-austinu
            [post_title] => Tovární tým Yamahy před závodem v Austinu
            [post_author] => 2
            [post_date] => 2017-04-18 17:19:32
            [year] => 2017
            [month] => 4
            [post_type] => post
        )

    [62] => stdClass Object
        (
            [slug] => velkka-cena-gp
            [ID] => 44480
            [post_name] => velka-cena-argentiny-motogp-2017
            [post_title] => Velká Cena Argentiny MotoGP 2017
            [post_author] => 2
            [post_date] => 2017-04-09 22:13:31
            [year] => 2017
            [month] => 4
            [post_type] => post
        )

    [63] => stdClass Object
        (
            [slug] => rossi-novinky
            [ID] => 44473
            [post_name] => warm-up-motogp-argentina-2017
            [post_title] => Warm up MotoGP Argentina 2017
            [post_author] => 2
            [post_date] => 2017-04-09 16:15:58
            [year] => 2017
            [month] => 4
            [post_type] => post
        )

    [64] => stdClass Object
        (
            [slug] => rossi-novinky
            [ID] => 44433
            [post_name] => sobotni-trenink-a-kvalifikace-motogp-argentina-2017
            [post_title] => Sobotní trénink a kvalifikace MotoGP Argentina 2017
            [post_author] => 2
            [post_date] => 2017-04-08 15:37:17
            [year] => 2017
            [month] => 4
            [post_type] => post
        )

    [65] => stdClass Object
        (
            [slug] => rossi-novinky
            [ID] => 44406
            [post_name] => patecni-treninky-motogp-argentina-2017
            [post_title] => Páteční tréninky MotoGP Argentina 2017
            [post_author] => 2
            [post_date] => 2017-04-07 15:49:42
            [year] => 2017
            [month] => 4
            [post_type] => post
        )

    [66] => stdClass Object
        (
            [slug] => rossi-novinky
            [ID] => 44387
            [post_name] => tiskova-konference-motogp-argentina-2017
            [post_title] => Tisková konference MotoGP Argentina 2017
            [post_author] => 2
            [post_date] => 2017-04-06 17:38:39
            [year] => 2017
            [month] => 4
            [post_type] => post
        )

    [67] => stdClass Object
        (
            [slug] => rossi-novinky
            [ID] => 44381
            [post_name] => tovarni-tym-pred-zavodem-v-argentine-2017
            [post_title] => Tovární tým před závodem v Argentině 2017
            [post_author] => 815
            [post_date] => 2017-04-05 14:07:32
            [year] => 2017
            [month] => 4
            [post_type] => post
        )

    [68] => stdClass Object
        (
            [slug] => motogp
            [ID] => 21072
            [post_name] => pravidla-motogp
            [post_title] => Pravidla MotoGP
            [post_author] => 2
            [post_date] => 2017-03-29 11:03:40
            [year] => 2017
            [month] => 3
            [post_type] => post
        )

    [69] => stdClass Object
        (
            [slug] => rossi-novinky
            [ID] => 44334
            [post_name] => velka-cena-kataru-motogp-2017
            [post_title] => Velká Cena Kataru MotoGP 2017
            [post_author] => 2
            [post_date] => 2017-03-26 21:59:59
            [year] => 2017
            [month] => 3
            [post_type] => post
        )

    [70] => stdClass Object
        (
            [slug] => rossi-novinky
            [ID] => 44328
            [post_name] => warm-up-motogp-katar-2017
            [post_title] => Warm up MotoGP - Katar 2017
            [post_author] => 2
            [post_date] => 2017-03-26 16:43:21
            [year] => 2017
            [month] => 3
            [post_type] => post
        )

    [71] => stdClass Object
        (
            [slug] => rossi-novinky
            [ID] => 44312
            [post_name] => kvalifikace-motogp-katar-2017
            [post_title] => Kvalifikace MotoGP - Katar 2017
            [post_author] => 2
            [post_date] => 2017-03-25 18:26:56
            [year] => 2017
            [month] => 3
            [post_type] => post
        )

    [72] => stdClass Object
        (
            [slug] => rossi-novinky
            [ID] => 44284
            [post_name] => patecni-treninky-motogp-katar-2017
            [post_title] => Páteční tréninky MotoGP – Katar 2017
            [post_author] => 2
            [post_date] => 2017-03-24 16:59:29
            [year] => 2017
            [month] => 3
            [post_type] => post
        )

    [73] => stdClass Object
        (
            [slug] => rossi-novinky
            [ID] => 44263
            [post_name] => prvni-trenink-motogp-sezony-2017-fp1-katar
            [post_title] => První trénink MotoGP sezóny 2017 FP1 Katar
            [post_author] => 2
            [post_date] => 2017-03-23 18:51:44
            [year] => 2017
            [month] => 3
            [post_type] => post
        )

    [74] => stdClass Object
        (
            [slug] => rossi-novinky
            [ID] => 44232
            [post_name] => tiskova-konference-motogp-katar-2017
            [post_title] => Tisková konference MotoGP – Katar 2017
            [post_author] => 2
            [post_date] => 2017-03-22 15:42:52
            [year] => 2017
            [month] => 3
            [post_type] => post
        )

    [75] => stdClass Object
        (
            [slug] => rossi-novinky
            [ID] => 44215
            [post_name] => tovarni-tym-yamahy-pred-zavodem-v-kataru-2017
            [post_title] => Tovární tým Yamahy před závodem v Kataru 2017
            [post_author] => 2
            [post_date] => 2017-03-22 12:37:08
            [year] => 2017
            [month] => 3
            [post_type] => post
        )

    [76] => stdClass Object
        (
            [slug] => jorge-lorenzo
            [ID] => 44181
            [post_name] => lorenzo-yamaha-davala-prednost-rossimu
            [post_title] => Lorenzo: Yamaha dávala přednost Rossimu.
            [post_author] => 2
            [post_date] => 2017-03-16 20:49:40
            [year] => 2017
            [month] => 3
            [post_type] => post
        )

    [77] => stdClass Object
        (
            [slug] => rossi-novinky
            [ID] => 44040
            [post_name] => posledni-zimni-testy-motogp-2017-katar
            [post_title] => Poslední oficiální zimní testy MotoGP 2017 - Katar
            [post_author] => 2
            [post_date] => 2017-03-10 17:25:00
            [year] => 2017
            [month] => 3
            [post_type] => post
        )

    [78] => stdClass Object
        (
            [slug] => rozhovor
            [ID] => 44029
            [post_name] => valentino-rossi-chci-desaty-titul-a-syna
            [post_title] => Valentino Rossi: "Chci desátý titul a syna."
            [post_author] => 2
            [post_date] => 2017-02-28 08:28:35
            [year] => 2017
            [month] => 2
            [post_type] => post
        )

    [79] => stdClass Object
        (
            [slug] => rossi-novinky
            [ID] => 44022
            [post_name] => m-meregalli-chteli-jsme-toho-po-valentinovi-hodne
            [post_title] => M. Meregalli: "Chtěli jsme toho po Valentinovi hodně."
            [post_author] => 2
            [post_date] => 2017-02-23 14:03:30
            [year] => 2017
            [month] => 2
            [post_type] => post
        )

    [80] => stdClass Object
        (
            [slug] => rossi-novinky
            [ID] => 43928
            [post_name] => testy-motogp-phillip-island-2017
            [post_title] => Testy MotoGP Phillip Island 2017
            [post_author] => 2
            [post_date] => 2017-02-15 08:13:04
            [year] => 2017
            [month] => 2
            [post_type] => post
        )

    [81] => stdClass Object
        (
            [slug] => rozhovor
            [ID] => 43920
            [post_name] => l-jarvis-rossi-a-vinales-maji-k-titulu-vse-co-potrebuji
            [post_title] => L. Jarvis: "Rossi a Vinales mají k titulu vše co potřebují."
            [post_author] => 2
            [post_date] => 2017-02-14 17:19:38
            [year] => 2017
            [month] => 2
            [post_type] => post
        )

    [82] => stdClass Object
        (
            [slug] => rossi-novinky
            [ID] => 43915
            [post_name] => m-meregalli-rossiho-nepodcenujme-bude-pripraven
            [post_title] => M. Meregalli: "Rossiho nepodceňujme, bude připraven."
            [post_author] => 2
            [post_date] => 2017-02-09 15:15:36
            [year] => 2017
            [month] => 2
            [post_type] => post
        )

    [83] => stdClass Object
        (
            [slug] => rossi-novinky
            [ID] => 43897
            [post_name] => nova-kapotaz-yamahy-je-v-souladu-s-pravidly-motogp
            [post_title] => Nová kapotáž Yamahy je v souladu s pravidly MotoGP
            [post_author] => 2
            [post_date] => 2017-02-09 07:39:39
            [year] => 2017
            [month] => 2
            [post_type] => post
        )

    [84] => stdClass Object
        (
            [slug] => rossi-novinky
            [ID] => 43800
            [post_name] => prvni-oficialni-zimni-testy-motogp-2017-sepang
            [post_title] => První oficiální zimní testy MotoGP 2017 - Sepang
            [post_author] => 2
            [post_date] => 2017-01-30 07:27:53
            [year] => 2017
            [month] => 1
            [post_type] => post
        )

    [85] => stdClass Object
        (
            [slug] => rossi-novinky
            [ID] => 43783
            [post_name] => priprava-na-testy-motogp-v-sepangu
            [post_title] => Příprava na testy MotoGP v Sepangu
            [post_author] => 2
            [post_date] => 2017-01-28 09:11:24
            [year] => 2017
            [month] => 1
            [post_type] => post
        )

    [86] => stdClass Object
        (
            [slug] => rozhovor
            [ID] => 43736
            [post_name] => rozhovor-valentina-rossih-s-linem-jarvisem
            [post_title] => Rozhovor Valentina Rossiho s Linem Jarvisem
            [post_author] => 2
            [post_date] => 2017-01-27 19:09:36
            [year] => 2017
            [month] => 1
            [post_type] => post
        )

    [87] => stdClass Object
        (
            [slug] => rossi-novinky
            [ID] => 43716
            [post_name] => valentino-rossi-jeden-problem-byl-nahrazen-druhym
            [post_title] => Valentino Rossi: "Jeden problém byl nahrazen druhým."
            [post_author] => 2
            [post_date] => 2017-01-20 14:54:55
            [year] => 2017
            [month] => 1
            [post_type] => post
        )

    [88] => stdClass Object
        (
            [slug] => rossi-novinky
            [ID] => 43714
            [post_name] => lin-jarvis-mame-s-rossim-a-vinalesem-super-tym
            [post_title] => Lin Jarvis: Máme s Rossim a Vinalesem super tým
            [post_author] => 2
            [post_date] => 2017-01-20 11:29:23
            [year] => 2017
            [month] => 1
            [post_type] => post
        )

    [89] => stdClass Object
        (
            [slug] => rossi-novinky
            [ID] => 43659
            [post_name] => oficialni-prezentace-tovarniho-tymu-yamaha-2017
            [post_title] => Oficiální prezentace továrního týmu Yamaha 2017
            [post_author] => 2
            [post_date] => 2017-01-17 21:11:31
            [year] => 2017
            [month] => 1
            [post_type] => post
        )

    [90] => stdClass Object
        (
            [slug] => ducati-2
            [ID] => 43653
            [post_name] => j-lorenzo-chtel-bych-byt-schopen-bojovat-o-titul
            [post_title] => J. Lorenzo: "Chtěl bych být schopen bojovat o titul."
            [post_author] => 2
            [post_date] => 2017-01-05 14:55:33
            [year] => 2017
            [month] => 1
            [post_type] => post
        )

    [91] => stdClass Object
        (
            [slug] => rossi-novinky
            [ID] => 43641
            [post_name] => uccio-po-odchodu-lorenza-se-atmosfera-fantasticka
            [post_title] => Uccio: "Po odchodu Lorenza je atmosféra fantastická"
            [post_author] => 2
            [post_date] => 2017-01-02 13:34:16
            [year] => 2017
            [month] => 1
            [post_type] => post
        )

    [92] => stdClass Object
        (
            [slug] => rossi-yamaha-cz
            [ID] => 43625
            [post_name] => pf-2017
            [post_title] => PF 2017
            [post_author] => 2
            [post_date] => 2016-12-20 18:30:36
            [year] => 2016
            [month] => 12
            [post_type] => post
        )

    [93] => stdClass Object
        (
            [slug] => technologie-motogp
            [ID] => 43615
            [post_name] => prechodne-pneumatiky-konci-pribudou-smesi
            [post_title] => Přechodné pneumatiky končí, přibudou nové směsi
            [post_author] => 2
            [post_date] => 2016-12-09 13:51:28
            [year] => 2016
            [month] => 12
            [post_type] => post
        )

    [94] => stdClass Object
        (
            [slug] => rossi-novinky
            [ID] => 43587
            [post_name] => m-maregalli-vinales-ma-lepsi-povahu-nez-lorenzo
            [post_title] => M. Maregalli: "Vinales má lepší povahu než Lorenzo."
            [post_author] => 2
            [post_date] => 2016-12-05 10:00:32
            [year] => 2016
            [month] => 12
            [post_type] => post
        )

    [95] => stdClass Object
        (
            [slug] => rossi-novinky
            [ID] => 43537
            [post_name] => monza-rallye-show-2016
            [post_title] => Monza Rallye Show 2016
            [post_author] => 2
            [post_date] => 2016-12-02 17:45:43
            [year] => 2016
            [month] => 12
            [post_type] => post
        )

    [96] => stdClass Object
        (
            [slug] => rossi-novinky
            [ID] => 43558
            [post_name] => valentino-rossi-hosti-hvezdy-flat-tracku
            [post_title] => Valentino Rossi hostí hvězdy flat tracku
            [post_author] => 815
            [post_date] => 2016-12-02 14:50:44
            [year] => 2016
            [month] => 12
            [post_type] => post
        )

    [97] => stdClass Object
        (
            [slug] => rossi-novinky
            [ID] => 43525
            [post_name] => pozitivni-zaverecny-test-yamahy-v-sepangu
            [post_title] => Pozitivní závěrečný test Yamahy v Sepangu
            [post_author] => 2
            [post_date] => 2016-11-26 16:22:01
            [year] => 2016
            [month] => 11
            [post_type] => post
        )

    [98] => stdClass Object
        (
            [slug] => rossi-novinky
            [ID] => 43505
            [post_name] => jedna-sezona-motogp-vice-nez-1000-padu
            [post_title] => Jedna sezóna MotoGP - Více než 1000 pádů
            [post_author] => 815
            [post_date] => 2016-11-24 09:19:41
            [year] => 2016
            [month] => 11
            [post_type] => post
        )

    [99] => stdClass Object
        (
            [slug] => rossi-novinky
            [ID] => 43412
            [post_name] => pozavodni-testy-valencie-2016
            [post_title] => Pozávodní testy Valencie 2016
            [post_author] => 2
            [post_date] => 2016-11-15 12:43:36
            [year] => 2016
            [month] => 11
            [post_type] => post
        )

    [100] => stdClass Object
        (
            [slug] => rossi-novinky
            [ID] => 43397
            [post_name] => valentino-rossi-pristi-rok-se-musime-zlepsit
            [post_title] => Valentino Rossi "Příští rok se musíme zlepšit."
            [post_author] => 2
            [post_date] => 2016-11-13 19:48:51
            [year] => 2016
            [month] => 11
            [post_type] => post
        )

    [101] => stdClass Object
        (
            [slug] => velkka-cena-gp
            [ID] => 43371
            [post_name] => velka-cena-valencie-motogp-2016
            [post_title] => Velká Cena Valencie MotoGP 2016
            [post_author] => 2
            [post_date] => 2016-11-13 15:13:24
            [year] => 2016
            [month] => 11
            [post_type] => post
        )

    [102] => stdClass Object
        (
            [slug] => rossi-novinky
            [ID] => 43360
            [post_name] => warm-up-motogp-valencie-2016
            [post_title] => Warm Up MotoGP – Valencie 2016
            [post_author] => 2
            [post_date] => 2016-11-13 10:10:39
            [year] => 2016
            [month] => 11
            [post_type] => post
        )

    [103] => stdClass Object
        (
            [slug] => rossi-novinky
            [ID] => 43323
            [post_name] => sobotni-trenink-a-kvalifikace-motogp-valencie-2016
            [post_title] => Sobotní trénink a kvalifikace MotoGP – Valencie 2016
            [post_author] => 2
            [post_date] => 2016-11-12 10:58:23
            [year] => 2016
            [month] => 11
            [post_type] => post
        )

    [104] => stdClass Object
        (
            [slug] => rossi-novinky
            [ID] => 43291
            [post_name] => patecni-treninky-motogp-valencie-2016
            [post_title] => Páteční tréninky MotoGP - Valencie 2016
            [post_author] => 2
            [post_date] => 2016-11-11 10:53:54
            [year] => 2016
            [month] => 11
            [post_type] => post
        )

    [105] => stdClass Object
        (
            [slug] => rossi-novinky
            [ID] => 43278
            [post_name] => tiskova-konference-motogp-valencie-2016
            [post_title] => Tisková konference MotoGP - Valencie 2016
            [post_author] => 2
            [post_date] => 2016-11-10 17:45:11
            [year] => 2016
            [month] => 11
            [post_type] => post
        )

    [106] => stdClass Object
        (
            [slug] => rossi-novinky
            [ID] => 43272
            [post_name] => tovarni-tym-pred-zavodem-ve-valencii-2016
            [post_title] => Tovární tým před závodem ve Valencii 2016
            [post_author] => 815
            [post_date] => 2016-11-09 14:21:16
            [year] => 2016
            [month] => 11
            [post_type] => post
        )

    [107] => stdClass Object
        (
            [slug] => rossi-novinky
            [ID] => 43230
            [post_name] => velka-cena-malajsie-motogp-sepang-2016
            [post_title] => Velká Cena Malajsie MotoGP - Sepang 2016
            [post_author] => 2
            [post_date] => 2016-10-30 09:38:02
            [year] => 2016
            [month] => 10
            [post_type] => post
        )

    [108] => stdClass Object
        (
            [slug] => rossi-novinky
            [ID] => 43196
            [post_name] => sobotni-trenink-a-kvalifikace-motogp-slang-2016
            [post_title] => Sobotní trénink a kvalifikace MotoGP – Sepang 2016
            [post_author] => 2
            [post_date] => 2016-10-29 07:52:33
            [year] => 2016
            [month] => 10
            [post_type] => post
        )

    [109] => stdClass Object
        (
            [slug] => rossi-novinky
            [ID] => 43173
            [post_name] => patecni-treninky-motogp-sepang-2016
            [post_title] => Páteční tréninky MotoGP – Sepang 2016
            [post_author] => 2
            [post_date] => 2016-10-28 09:03:49
            [year] => 2016
            [month] => 10
            [post_type] => post
        )

    [110] => stdClass Object
        (
            [slug] => rossi-novinky
            [ID] => 43163
            [post_name] => tiskova-konference-motogp-sepang-2016
            [post_title] => Tisková konference MotoGP Sepang 2016
            [post_author] => 2
            [post_date] => 2016-10-27 14:30:51
            [year] => 2016
            [month] => 10
            [post_type] => post
        )

    [111] => stdClass Object
        (
            [slug] => rossi-novinky
            [ID] => 43156
            [post_name] => tovarni-tym-pred-zavodem-v-sepangu-2016
            [post_title] => Tovární tým před závodem v Sepangu 2016
            [post_author] => 815
            [post_date] => 2016-10-26 13:32:56
            [year] => 2016
            [month] => 10
            [post_type] => post
        )

    [112] => stdClass Object
        (
            [slug] => velkka-cena-gp
            [ID] => 43120
            [post_name] => velka-cena-australie-motogp-phillip-island-2016
            [post_title] => Velká Cena Austrálie MotoGP - Phillip Island 2016
            [post_author] => 2
            [post_date] => 2016-10-23 08:22:31
            [year] => 2016
            [month] => 10
            [post_type] => post
        )

    [113] => stdClass Object
        (
            [slug] => rossi-novinky
            [ID] => 43103
            [post_name] => sobotni-treninky-a-kvalifikace-motogp-phillip-island-2016
            [post_title] => Sobotní trénink a kvalifikace MotoGP Phillip Island 2016
            [post_author] => 237
            [post_date] => 2016-10-22 07:39:01
            [year] => 2016
            [month] => 10
            [post_type] => post
        )

    [114] => stdClass Object
        (
            [slug] => rossi-novinky
            [ID] => 43083
            [post_name] => patecni-treninky-motogp-phillip-island-2016
            [post_title] => Páteční tréninky MotoGP – Phillip Island 2016
            [post_author] => 237
            [post_date] => 2016-10-21 02:55:50
            [year] => 2016
            [month] => 10
            [post_type] => post
        )

    [115] => stdClass Object
        (
            [slug] => rossi-novinky
            [ID] => 43074
            [post_name] => tovarni-tym-pred-zavodem-na-phillip-islandu-2016
            [post_title] => Tovární tým před závodem na Phillip Islandu 2016
            [post_author] => 815
            [post_date] => 2016-10-19 08:39:44
            [year] => 2016
            [month] => 10
            [post_type] => post
        )

    [116] => stdClass Object
        (
            [slug] => rossi-novinky
            [ID] => 43064
            [post_name] => valentino-rossi-dnes-me-druhe-misto-nezajimalo
            [post_title] => Valentino Rossi: "Dnes mě druhé místo nezajímalo."
            [post_author] => 2
            [post_date] => 2016-10-16 13:27:40
            [year] => 2016
            [month] => 10
            [post_type] => post
        )

    [117] => stdClass Object
        (
            [slug] => velkka-cena-gp
            [ID] => 43042
            [post_name] => velka-cena-japonska-motegi-2016-10-16
            [post_title] => Velká Cena Japonska – Motegi 2016-10-16
            [post_author] => 2
            [post_date] => 2016-10-16 08:12:10
            [year] => 2016
            [month] => 10
            [post_type] => post
        )

    [118] => stdClass Object
        (
            [slug] => rossi-novinky
            [ID] => 43012
            [post_name] => sobotni-trenink-a-kvalifikace-motegi-2016
            [post_title] => Sobotní trénink a kvalifikace - Motegi 2016
            [post_author] => 2
            [post_date] => 2016-10-15 07:09:57
            [year] => 2016
            [month] => 10
            [post_type] => post
        )

    [119] => stdClass Object
        (
            [slug] => rossi-novinky
            [ID] => 43004
            [post_name] => lin-jarvis-neni-to-jen-sport-ale-take-byznys
            [post_title] => Lin Jarvis: "Není to jen sport, ale také byznys."
            [post_author] => 2
            [post_date] => 2016-10-14 20:42:46
            [year] => 2016
            [month] => 10
            [post_type] => post
        )

    [120] => stdClass Object
        (
            [slug] => rossi-novinky
            [ID] => 42980
            [post_name] => patecni-treninky-motogp-motegi-2016
            [post_title] => Páteční tréninky MotoGP – Motegi 2016
            [post_author] => 2
            [post_date] => 2016-10-14 08:11:50
            [year] => 2016
            [month] => 10
            [post_type] => post
        )

    [121] => stdClass Object
        (
            [slug] => rossi-novinky
            [ID] => 42963
            [post_name] => tiskova-konference-motogp-motegi-2016
            [post_title] => Tisková konference MotoGP - Motegi 2016
            [post_author] => 2
            [post_date] => 2016-10-13 10:53:06
            [year] => 2016
            [month] => 10
            [post_type] => post
        )

    [122] => stdClass Object
        (
            [slug] => rossi-novinky
            [ID] => 42956
            [post_name] => tovarni-tym-pred-zavodem-v-motegi-2016
            [post_title] => Tovární tým před závodem v Motegi 2016
            [post_author] => 815
            [post_date] => 2016-10-12 09:20:27
            [year] => 2016
            [month] => 10
            [post_type] => post
        )

    [123] => stdClass Object
        (
            [slug] => rossi-novinky
            [ID] => 42946
            [post_name] => mick-doohan-nevim-jak-to-rossi-dela
            [post_title] => Mick Doohan: "Nevím, jak to Rossi dělá."
            [post_author] => 2
            [post_date] => 2016-10-07 09:32:16
            [year] => 2016
            [month] => 10
            [post_type] => post
        )

    [124] => stdClass Object
        (
            [slug] => rossi-novinky
            [ID] => 42919
            [post_name] => suzi-perry-rozhovor-s-valentinem-rossim-aragon-2016
            [post_title] => Suzi Perry - rozhovor s Valentinem Rossim - Aragon 2016
            [post_author] => 2
            [post_date] => 2016-09-30 23:02:14
            [year] => 2016
            [month] => 9
            [post_type] => post
        )

    [125] => stdClass Object
        (
            [slug] => velkka-cena-gp
            [ID] => 42883
            [post_name] => velka-cena-aragonie-aragon-2016
            [post_title] => Velká Cena Aragónie - Aragon 2016
            [post_author] => 2
            [post_date] => 2016-09-25 15:17:40
            [year] => 2016
            [month] => 9
            [post_type] => post
        )

    [126] => stdClass Object
        (
            [slug] => rossi-novinky
            [ID] => 42858
            [post_name] => sobotni-trenink-a-kvalifikace-motogp-aragon-2016
            [post_title] => Sobotní trénink a kvalifikace MotoGP – Aragon  2016
            [post_author] => 2
            [post_date] => 2016-09-24 10:54:15
            [year] => 2016
            [month] => 9
            [post_type] => post
        )

    [127] => stdClass Object
        (
            [slug] => rossi-novinky
            [ID] => 42853
            [post_name] => fim-chce-v-motogp-udelovat-tresty-za-neslusna-gesta
            [post_title] => FIM chce v MotoGP udělovat tresty za neslušná gesta
            [post_author] => 2
            [post_date] => 2016-09-24 09:17:51
            [year] => 2016
            [month] => 9
            [post_type] => post
        )

    [128] => stdClass Object
        (
            [slug] => rossi-novinky
            [ID] => 42829
            [post_name] => patecni-treninky-motogp-aragon-2016
            [post_title] => Páteční tréninky MotoGP - Aragon 2016
            [post_author] => 2
            [post_date] => 2016-09-23 11:26:11
            [year] => 2016
            [month] => 9
            [post_type] => post
        )

    [129] => stdClass Object
        (
            [slug] => rossi-novinky
            [ID] => 42816
            [post_name] => tiskova-konference-motogp-aragon-2016
            [post_title] => Tisková konference MotoGP - Aragon 2016
            [post_author] => 2
            [post_date] => 2016-09-22 17:48:17
            [year] => 2016
            [month] => 9
            [post_type] => post
        )

    [130] => stdClass Object
        (
            [slug] => rossi-novinky
            [ID] => 42805
            [post_name] => tovarni-tym-pred-zavodem-v-aragonu-2016
            [post_title] => Tovární tým před závodem v Aragonu 2016
            [post_author] => 815
            [post_date] => 2016-09-21 15:05:55
            [year] => 2016
            [month] => 9
            [post_type] => post
        )

    [131] => stdClass Object
        (
            [slug] => rossi-novinky
            [ID] => 42764
            [post_name] => velka-cena-san-marina-motogp-misano-2016
            [post_title] => Velká Cena San Marina MotoGP - Misano 2016
            [post_author] => 2
            [post_date] => 2016-09-11 15:36:44
            [year] => 2016
            [month] => 9
            [post_type] => post
        )

    [132] => stdClass Object
        (
            [slug] => rossi-novinky
            [ID] => 42756
            [post_name] => warm-up-motogp-misano-2016
            [post_title] => Warm up MotoGP – Misano 2016
            [post_author] => 2
            [post_date] => 2016-09-11 10:10:31
            [year] => 2016
            [month] => 9
            [post_type] => post
        )

    [133] => stdClass Object
        (
            [slug] => rossi-novinky
            [ID] => 42727
            [post_name] => sobotni-trenink-a-kvalifikace-motogp-misano-2016
            [post_title] => Sobotní trénink a kvalifikace MotoGP - Misano 2016
            [post_author] => 2
            [post_date] => 2016-09-10 10:52:03
            [year] => 2016
            [month] => 9
            [post_type] => post
        )

    [134] => stdClass Object
        (
            [slug] => rossi-novinky
            [ID] => 42693
            [post_name] => patecni-treninky-motogp-misano-2016
            [post_title] => Páteční tréninky MotoGP – Misano 2016
            [post_author] => 237
            [post_date] => 2016-09-09 11:01:13
            [year] => 2016
            [month] => 9
            [post_type] => post
        )

    [135] => stdClass Object
        (
            [slug] => rossi-novinky
            [ID] => 42681
            [post_name] => tiskova-konference-motogp-misano-2016
            [post_title] => Tisková konference MotoGP – Misano 2016
            [post_author] => 2
            [post_date] => 2016-09-08 17:47:48
            [year] => 2016
            [month] => 9
            [post_type] => post
        )

    [136] => stdClass Object
        (
            [slug] => rossi-novinky
            [ID] => 42673
            [post_name] => tovarni-tym-pred-zavodem-v-misanu-2016
            [post_title] => Tovární tým před závodem v Misanu 2016
            [post_author] => 815
            [post_date] => 2016-09-07 12:36:53
            [year] => 2016
            [month] => 9
            [post_type] => post
        )

    [137] => stdClass Object
        (
            [slug] => rossi-novinky
            [ID] => 42642
            [post_name] => velka-cena-velke-britanie-motogp-silverstone-2016
            [post_title] => Velká Cena Velké Británie MotoGP – Silverstone 2016
            [post_author] => 2
            [post_date] => 2016-09-04 18:20:02
            [year] => 2016
            [month] => 9
            [post_type] => post
        )

    [138] => stdClass Object
        (
            [slug] => rossi-novinky
            [ID] => 42638
            [post_name] => warm-up-motogp-silverstone-2016
            [post_title] => Warm Up MotoGP – Silverstone 2016
            [post_author] => 237
            [post_date] => 2016-09-04 11:28:36
            [year] => 2016
            [month] => 9
            [post_type] => post
        )

    [139] => stdClass Object
        (
            [slug] => rossi-novinky
            [ID] => 42615
            [post_name] => sobotni-trenink-a-kvalifikace-motogp-silverstone-2016
            [post_title] => Sobotní trénink a kvalifikace MotoGP Silverstone 2016
            [post_author] => 2
            [post_date] => 2016-09-03 11:50:19
            [year] => 2016
            [month] => 9
            [post_type] => post
        )

    [140] => stdClass Object
        (
            [slug] => rossi-novinky
            [ID] => 42589
            [post_name] => patecni-treninky-motogp-silverstone-2016
            [post_title] => Páteční tréninky MotoGP – Silverstone 2016
            [post_author] => 237
            [post_date] => 2016-09-02 11:53:06
            [year] => 2016
            [month] => 9
            [post_type] => post
        )

    [141] => stdClass Object
        (
            [slug] => rossi-novinky
            [ID] => 42581
            [post_name] => tiskova-konference-motogp-silverstone-2016
            [post_title] => Tisková konference MotoGP Silverstone 2016
            [post_author] => 2
            [post_date] => 2016-09-01 18:48:14
            [year] => 2016
            [month] => 9
            [post_type] => post
        )

    [142] => stdClass Object
        (
            [slug] => rossi-novinky
            [ID] => 42575
            [post_name] => valentino-rossi-za-lonsky-rok-jsem-hodne-zaplatil
            [post_title] => Valentino Rossi: "Za loňský rok jsem hodně zaplatil."
            [post_author] => 2
            [post_date] => 2016-08-31 21:33:12
            [year] => 2016
            [month] => 8
            [post_type] => post
        )

    [143] => stdClass Object
        (
            [slug] => rossi-novinky
            [ID] => 42567
            [post_name] => tovarni-tym-pred-zavodem-v-silverstone-2016
            [post_title] => Tovární tým před závodem v Silverstone 2016
            [post_author] => 815
            [post_date] => 2016-08-31 12:53:52
            [year] => 2016
            [month] => 8
            [post_type] => post
        )

    [144] => stdClass Object
        (
            [slug] => rossi-novinky
            [ID] => 42504
            [post_name] => pozavodni-oficalni-testy-motogp-brno-2016
            [post_title] => Pozávodní oficiální testy MotoGP - Brno 2016
            [post_author] => 2
            [post_date] => 2016-08-22 11:29:34
            [year] => 2016
            [month] => 8
            [post_type] => post
        )

    [145] => stdClass Object
        (
            [slug] => velkka-cena-gp
            [ID] => 42483
            [post_name] => velka-cena-ceske-republiky-motogp-brno-2016
            [post_title] => Velká Cena České Republiky MotoGP - Brno 2016
            [post_author] => 2
            [post_date] => 2016-08-21 15:29:00
            [year] => 2016
            [month] => 8
            [post_type] => post
        )

    [146] => stdClass Object
        (
            [slug] => rossi-novinky
            [ID] => 42444
            [post_name] => sobotni-trenink-a-kvalifikace-brno-2016
            [post_title] => Sobotní trénink a kvalifikace - Brno 2016
            [post_author] => 2
            [post_date] => 2016-08-20 10:15:20
            [year] => 2016
            [month] => 8
            [post_type] => post
        )

    [147] => stdClass Object
        (
            [slug] => rossi-novinky
            [ID] => 42409
            [post_name] => patecni-treninky-motogp-brno-2016
            [post_title] => Páteční tréninky MotoGP – Brno 2016
            [post_author] => 237
            [post_date] => 2016-08-19 10:50:44
            [year] => 2016
            [month] => 8
            [post_type] => post
        )

    [148] => stdClass Object
        (
            [slug] => rossi-novinky
            [ID] => 42397
            [post_name] => tiskova-konference-motogp-brno-2016
            [post_title] => Tisková konference MotoGP Brno 2016
            [post_author] => 2
            [post_date] => 2016-08-18 17:42:24
            [year] => 2016
            [month] => 8
            [post_type] => post
        )

    [149] => stdClass Object
        (
            [slug] => rossi-novinky
            [ID] => 42390
            [post_name] => tovarni-tym-yamahy-pred-zavodem-v-brne-2016
            [post_title] => Tovární tým Yamahy před závodem v Brně 2016
            [post_author] => 2
            [post_date] => 2016-08-17 16:43:11
            [year] => 2016
            [month] => 8
            [post_type] => post
        )

    [150] => stdClass Object
        (
            [slug] => velkka-cena-gp
            [ID] => 42363
            [post_name] => velka-cena-motogp-rakouska-spielberg-2016
            [post_title] => Velká Cena MotoGP Rakouska - Spielberg 2016
            [post_author] => 2
            [post_date] => 2016-08-14 15:15:32
            [year] => 2016
            [month] => 8
            [post_type] => post
        )

    [151] => stdClass Object
        (
            [slug] => rossi-novinky
            [ID] => 42324
            [post_name] => sobotni-trenink-a-kvalifikace-motogp-rakousko-2016
            [post_title] => Sobotní trénink a kvalifikace MotoGP – Rakousko 2016
            [post_author] => 2
            [post_date] => 2016-08-13 10:55:51
            [year] => 2016
            [month] => 8
            [post_type] => post
        )

    [152] => stdClass Object
        (
            [slug] => rossi-novinky
            [ID] => 42304
            [post_name] => patecni-treninky-motogp-red-bull-ring-2016
            [post_title] => Páteční tréninky MotoGP – Red Bull Ring 2016
            [post_author] => 237
            [post_date] => 2016-08-12 10:57:23
            [year] => 2016
            [month] => 8
            [post_type] => post
        )

    [153] => stdClass Object
        (
            [slug] => rossi-novinky
            [ID] => 42296
            [post_name] => tiskova-konference-motogp-rakousko-2016
            [post_title] => Tisková konference MotoGP - Rakousko 2016
            [post_author] => 2
            [post_date] => 2016-08-11 17:42:34
            [year] => 2016
            [month] => 8
            [post_type] => post
        )

    [154] => stdClass Object
        (
            [slug] => rossi-novinky
            [ID] => 42282
            [post_name] => tovarni-tym-pred-zavodem-ve-spielbergu
            [post_title] => Tovární tým před závodem ve Spielbergu
            [post_author] => 815
            [post_date] => 2016-08-10 19:15:35
            [year] => 2016
            [month] => 8
            [post_type] => post
        )

    [155] => stdClass Object
        (
            [slug] => rossi-novinky
            [ID] => 42211
            [post_name] => testy-tovarniho-tymu-yamaha-ve-spielbergu
            [post_title] => Testy továrního týmu Yamaha ve Spielbergu
            [post_author] => 2
            [post_date] => 2016-07-18 20:05:42
            [year] => 2016
            [month] => 7
            [post_type] => post
        )

    [156] => stdClass Object
        (
            [slug] => velkka-cena-gp
            [ID] => 42169
            [post_name] => velka-cena-nemecka-motogp-sachsenring-2016
            [post_title] => Velká Cena Německa MotoGP – Sachsenring 2016
            [post_author] => 2
            [post_date] => 2016-07-17 15:40:35
            [year] => 2016
            [month] => 7
            [post_type] => post
        )

    [157] => stdClass Object
        (
            [slug] => rossi-novinky
            [ID] => 42135
            [post_name] => sobotni-trenink-a-kvalifikace-motogp-sachsenring-2016
            [post_title] => Sobotní trénink a kvalifikace MotoGP Sachsenring 2016
            [post_author] => 2
            [post_date] => 2016-07-16 10:53:21
            [year] => 2016
            [month] => 7
            [post_type] => post
        )

    [158] => stdClass Object
        (
            [slug] => rossi-novinky
            [ID] => 42112
            [post_name] => patecni-treninky-motogp-sachsenring-2016
            [post_title] => Páteční tréninky MotoGP – Sachsenring 2016
            [post_author] => 237
            [post_date] => 2016-07-15 10:50:21
            [year] => 2016
            [month] => 7
            [post_type] => post
        )

    [159] => stdClass Object
        (
            [slug] => rossi-novinky
            [ID] => 42096
            [post_name] => valentino-rossi-odtrpel-jsem-si-to-sam
            [post_title] => Valentino Rossi: "Odtrpěl jsem si to sám."
            [post_author] => 2
            [post_date] => 2016-07-14 19:52:40
            [year] => 2016
            [month] => 7
            [post_type] => post
        )

    [160] => stdClass Object
        (
            [slug] => rossi-novinky
            [ID] => 42086
            [post_name] => tovarni-tym-pred-zavodem-na-sachsenringu
            [post_title] => Tovární tým před závodem na Sachsenringu
            [post_author] => 815
            [post_date] => 2016-07-13 13:32:57
            [year] => 2016
            [month] => 7
            [post_type] => post
        )

    [161] => stdClass Object
        (
            [slug] => rossi-novinky
            [ID] => 42051
            [post_name] => velka-cena-holandska-motogp-assen-2016
            [post_title] => Velká Cena Holandska MotoGP - Assen 2016
            [post_author] => 2
            [post_date] => 2016-06-26 15:49:08
            [year] => 2016
            [month] => 6
            [post_type] => post
        )

    [162] => stdClass Object
        (
            [slug] => rossi-novinky
            [ID] => 42022
            [post_name] => sobotni-trenink-a-kvalifikace-assen-2016
            [post_title] => Sobotní trénink a kvalifikace – Assen 2016
            [post_author] => 2
            [post_date] => 2016-06-25 10:57:58
            [year] => 2016
            [month] => 6
            [post_type] => post
        )

    [163] => stdClass Object
        (
            [slug] => rossi-novinky
            [ID] => 42000
            [post_name] => patecni-treninky-motogp-assen-2016
            [post_title] => Páteční tréninky MotoGP – Assen 2016
            [post_author] => 2
            [post_date] => 2016-06-24 11:01:32
            [year] => 2016
            [month] => 6
            [post_type] => post
        )

    [164] => stdClass Object
        (
            [slug] => rossi-novinky
            [ID] => 41990
            [post_name] => tiskova-konference-motogp-assen-2016
            [post_title] => Tisková konference MotoGP – Assen 2016
            [post_author] => 2
            [post_date] => 2016-06-23 17:44:16
            [year] => 2016
            [month] => 6
            [post_type] => post
        )

    [165] => stdClass Object
        (
            [slug] => rossi-novinky
            [ID] => 41984
            [post_name] => tovarni-tym-pred-zavodem-v-assenu-2
            [post_title] => Tovární tým před závodem v Assenu
            [post_author] => 815
            [post_date] => 2016-06-22 12:54:25
            [year] => 2016
            [month] => 6
            [post_type] => post
        )

    [166] => stdClass Object
        (
            [slug] => rossi-novinky
            [ID] => 41958
            [post_name] => mike-webb-skoncili-jsme-nekde-uprostred
            [post_title] => Mike Webb: "Skončili jsme někde uprostřed."
            [post_author] => 2
            [post_date] => 2016-06-12 14:16:43
            [year] => 2016
            [month] => 6
            [post_type] => post
        )

    [167] => stdClass Object
        (
            [slug] => rossi-novinky
            [ID] => 41940
            [post_name] => testy-motogp-v-katalansku-barcelona-2016
            [post_title] => Testy MotoGP v Katalánsku – Barcelona 2016
            [post_author] => 237
            [post_date] => 2016-06-06 12:11:06
            [year] => 2016
            [month] => 6
            [post_type] => post
        )

    [168] => stdClass Object
        (
            [slug] => velkka-cena-gp
            [ID] => 41892
            [post_name] => velka-cena-katalanska-motogp-barcelona-2016
            [post_title] => Velká Cena Katalánska MotoGP – Barcelona 2016
            [post_author] => 2
            [post_date] => 2016-06-05 15:29:50
            [year] => 2016
            [month] => 6
            [post_type] => post
        )

    [169] => stdClass Object
        (
            [slug] => rossi-novinky
            [ID] => 41884
            [post_name] => warm-up-motogp-katalansko-2016
            [post_title] => Warm up MotoGP – Katalánsko 2016
            [post_author] => 237
            [post_date] => 2016-06-05 10:09:18
            [year] => 2016
            [month] => 6
            [post_type] => post
        )

    [170] => stdClass Object
        (
            [slug] => rossi-novinky
            [ID] => 41848
            [post_name] => sobotni-trenink-a-kvalifikace-katalansko-2016
            [post_title] => Sobotní trénink a kvalifikace – Katalánsko 2016
            [post_author] => 2
            [post_date] => 2016-06-04 11:03:56
            [year] => 2016
            [month] => 6
            [post_type] => post
        )

    [171] => stdClass Object
        (
            [slug] => rossi-novinky
            [ID] => 41813
            [post_name] => patecni-treninky-motogp-katalansko-2016
            [post_title] => Páteční tréninky MotoGP – Katalánsko 2016
            [post_author] => 237
            [post_date] => 2016-06-03 10:57:35
            [year] => 2016
            [month] => 6
            [post_type] => post
        )

    [172] => stdClass Object
        (
            [slug] => rossi-novinky
            [ID] => 41798
            [post_name] => tiskova-konference-motogp-katalansko-2016
            [post_title] => Tisková konference MotoGP - Katalánsko 2016
            [post_author] => 2
            [post_date] => 2016-06-02 17:50:24
            [year] => 2016
            [month] => 6
            [post_type] => post
        )

    [173] => stdClass Object
        (
            [slug] => rossi-novinky
            [ID] => 41787
            [post_name] => tovarni-tym-yamahy-pred-zavodem-v-katalansku-2
            [post_title] => Tovární tým Yamahy před závodem v Katalánsku
            [post_author] => 815
            [post_date] => 2016-06-01 13:47:11
            [year] => 2016
            [month] => 6
            [post_type] => post
        )

    [174] => stdClass Object
        (
            [slug] => rossi-novinky
            [ID] => 41781
            [post_name] => valentino-rossi-the-doctor-serial-dil-25
            [post_title] => Valentino Rossi: "The Doctor" seriál, díl 2/5
            [post_author] => 2
            [post_date] => 2016-05-28 19:26:21
            [year] => 2016
            [month] => 5
            [post_type] => post
        )

    [175] => stdClass Object
        (
            [slug] => velkka-cena-gp
            [ID] => 41743
            [post_name] => velka-cena-italie-motogp-mugello-2016
            [post_title] => Velká Cena Itálie MotoGP - Mugello 2016
            [post_author] => 2
            [post_date] => 2016-05-22 14:53:22
            [year] => 2016
            [month] => 5
            [post_type] => post
        )

    [176] => stdClass Object
        (
            [slug] => rossi-novinky
            [ID] => 41737
            [post_name] => warm-up-motogp-mugello-2016
            [post_title] => Warm up MotoGP – Mugello 2016
            [post_author] => 237
            [post_date] => 2016-05-22 10:08:56
            [year] => 2016
            [month] => 5
            [post_type] => post
        )

    [177] => stdClass Object
        (
            [slug] => rossi-novinky
            [ID] => 41695
            [post_name] => sobotni-trenink-a-kvalifikace-mugello-2016
            [post_title] => Sobotní trénink a kvalifikace – Mugello 2016
            [post_author] => 2
            [post_date] => 2016-05-21 10:50:18
            [year] => 2016
            [month] => 5
            [post_type] => post
        )

    [178] => stdClass Object
        (
            [slug] => rossi-novinky
            [ID] => 41669
            [post_name] => patecni-treninky-motogp-mugello-2016
            [post_title] => Páteční tréninky MotoGP – Mugello 2016
            [post_author] => 237
            [post_date] => 2016-05-20 10:49:38
            [year] => 2016
            [month] => 5
            [post_type] => post
        )

    [179] => stdClass Object
        (
            [slug] => rossi-novinky
            [ID] => 41651
            [post_name] => tiskova-konference-motogp-mugello-2016
            [post_title] => Tisková konference MotoGP - Mugello 2016
            [post_author] => 2
            [post_date] => 2016-05-19 17:39:52
            [year] => 2016
            [month] => 5
            [post_type] => post
        )

    [180] => stdClass Object
        (
            [slug] => rossi-novinky
            [ID] => 41641
            [post_name] => tovarni-tym-movistar-yamaha-pred-zavodem-v-mugellu
            [post_title] => Tovární tým Movistar Yamaha před závodem v Mugellu
            [post_author] => 815
            [post_date] => 2016-05-18 13:37:13
            [year] => 2016
            [month] => 5
            [post_type] => post
        )

    [181] => stdClass Object
        (
            [slug] => rossi-novinky
            [ID] => 41631
            [post_name] => k-schwantz-vinales-by-mel-zustat-u-suzuki
            [post_title] => K.Schwantz: Vinales by měl zůstat u Suzuki.
            [post_author] => 2
            [post_date] => 2016-05-11 10:28:47
            [year] => 2016
            [month] => 5
            [post_type] => post
        )

    [182] => stdClass Object
        (
            [slug] => velkka-cena-gp
            [ID] => 41581
            [post_name] => velka-cena-francie-motogp-le-mans-2016
            [post_title] => Velká Cena Francie MotoGP - Le Mans 2016
            [post_author] => 2
            [post_date] => 2016-05-08 15:11:39
            [year] => 2016
            [month] => 5
            [post_type] => post
        )

    [183] => stdClass Object
        (
            [slug] => rossi-novinky
            [ID] => 41574
            [post_name] => warm-up-motogp-le-mans-2016
            [post_title] => Warm up MotoGP - Le Mans 2016
            [post_author] => 2
            [post_date] => 2016-05-08 10:12:31
            [year] => 2016
            [month] => 5
            [post_type] => post
        )

    [184] => stdClass Object
        (
            [slug] => rossi-novinky
            [ID] => 41543
            [post_name] => sobotni-trenink-a-kvalifikace-motogp-le-mans-2016
            [post_title] => Sobotní trénink a kvalifikace MotoGP - Le Mans 2016
            [post_author] => 2
            [post_date] => 2016-05-07 10:51:21
            [year] => 2016
            [month] => 5
            [post_type] => post
        )

    [185] => stdClass Object
        (
            [slug] => rossi-novinky
            [ID] => 41526
            [post_name] => patecni-treninky-motogp-lemans-2016
            [post_title] => Páteční tréninky MotoGP Le Mans 2016
            [post_author] => 815
            [post_date] => 2016-05-06 18:06:28
            [year] => 2016
            [month] => 5
            [post_type] => post
        )

    [186] => stdClass Object
        (
            [slug] => rossi-novinky
            [ID] => 41519
            [post_name] => tlacova-konferencia-gp-v-le-mans
            [post_title] => Tlačová konferencia GP v Le Mans
            [post_author] => 514
            [post_date] => 2016-05-05 20:07:39
            [year] => 2016
            [month] => 5
            [post_type] => post
        )

    [187] => stdClass Object
        (
            [slug] => rossi-novinky
            [ID] => 41507
            [post_name] => valentino-rossi-pred-zavodem-v-le-mans-2016
            [post_title] => Valentino Rossi před závodem v Le Mans 2016
            [post_author] => 2
            [post_date] => 2016-05-04 16:53:57
            [year] => 2016
            [month] => 5
            [post_type] => post
        )

    [188] => stdClass Object
        (
            [slug] => rozhovor
            [ID] => 41502
            [post_name] => luca-cadalora-rossi-frankenstein-na-dvou-kolech
            [post_title] => Luca Cadalora: Rossi? Frankenstein na dvou kolech!
            [post_author] => 2
            [post_date] => 2016-05-01 09:49:21
            [year] => 2016
            [month] => 5
            [post_type] => post
        )

    [189] => stdClass Object
        (
            [slug] => rossi-novinky
            [ID] => 41487
            [post_name] => rozhovor-s-valentinem-rossim-pro-mcn
            [post_title] => Rozhovor s Valentinem Rossim pro MCN
            [post_author] => 2
            [post_date] => 2016-04-29 13:12:13
            [year] => 2016
            [month] => 4
            [post_type] => post
        )

    [190] => stdClass Object
        (
            [slug] => rossi-novinky
            [ID] => 41478
            [post_name] => testy-ktm-motogp-a-moto3-brno-2016
            [post_title] => Testy KTM MotoGP a Moto3  Brno 2016
            [post_author] => 2
            [post_date] => 2016-04-28 20:49:46
            [year] => 2016
            [month] => 4
            [post_type] => post
        )

    [191] => stdClass Object
        (
            [slug] => rossi-novinky
            [ID] => 41432
            [post_name] => rossiho-tajemstvi
            [post_title] => Jaké je tajemství Valentina Rossiho?
            [post_author] => 815
            [post_date] => 2016-04-26 15:19:20
            [year] => 2016
            [month] => 4
            [post_type] => post
        )

    [192] => stdClass Object
        (
            [slug] => rossi-novinky
            [ID] => 41409
            [post_name] => oficialni-pozavodni-testy-jerez-2016
            [post_title] => Oficiální pozávodní testy Jerez 2016
            [post_author] => 2
            [post_date] => 2016-04-25 11:24:59
            [year] => 2016
            [month] => 4
            [post_type] => post
        )

    [193] => stdClass Object
        (
            [slug] => velkka-cena-gp
            [ID] => 41369
            [post_name] => velka-cena-spanelska-motogp-jerez-2016
            [post_title] => Velká Cena Španělska MotoGP - Jerez 2016
            [post_author] => 2
            [post_date] => 2016-04-24 15:29:15
            [year] => 2016
            [month] => 4
            [post_type] => post
        )

    [194] => stdClass Object
        (
            [slug] => rossi-novinky
            [ID] => 41371
            [post_name] => warm-up-motogp-jerez-2016
            [post_title] => Warm Up MotoGP – Jerez 2016
            [post_author] => 237
            [post_date] => 2016-04-24 10:43:02
            [year] => 2016
            [month] => 4
            [post_type] => post
        )

    [195] => stdClass Object
        (
            [slug] => rossi-novinky
            [ID] => 41335
            [post_name] => sobotni-treninky-a-kvalifikace-motogp-jerez-2016
            [post_title] => Sobotní tréninky a kvalifikace MotoGP – Jerez 2016
            [post_author] => 237
            [post_date] => 2016-04-23 10:48:49
            [year] => 2016
            [month] => 4
            [post_type] => post
        )

    [196] => stdClass Object
        (
            [slug] => rossi-novinky
            [ID] => 41313
            [post_name] => patecni-treninky-motogp-jerez-2016
            [post_title] => Páteční tréninky MotoGP – Jerez 2016
            [post_author] => 237
            [post_date] => 2016-04-22 10:48:50
            [year] => 2016
            [month] => 4
            [post_type] => post
        )

    [197] => stdClass Object
        (
            [slug] => rossi-novinky
            [ID] => 41294
            [post_name] => tiskova-konference-motogp-jerez-2016
            [post_title] => Tisková konference MotoGP - Jerez 2016
            [post_author] => 2
            [post_date] => 2016-04-21 21:08:05
            [year] => 2016
            [month] => 4
            [post_type] => post
        )

    [198] => stdClass Object
        (
            [slug] => ducati-2
            [ID] => 41270
            [post_name] => byt-ci-nebyt-ist-ci-neist
            [post_title] => Byť či nebyť (ísť či neisť)
            [post_author] => 514
            [post_date] => 2016-04-21 07:31:31
            [year] => 2016
            [month] => 4
            [post_type] => post
        )

    [199] => stdClass Object
        (
            [slug] => rossi-novinky
            [ID] => 41263
            [post_name] => tovarni-tym-pred-zavodem-v-jerezu
            [post_title] => Tovární tým před závodem v Jerezu
            [post_author] => 815
            [post_date] => 2016-04-20 13:49:47
            [year] => 2016
            [month] => 4
            [post_type] => post
        )

    [200] => stdClass Object
        (
            [slug] => ducati-2
            [ID] => 41257
            [post_name] => proc-to-lorenzo-udelal
            [post_title] => Proč to Lorenzo udělal...?
            [post_author] => 2
            [post_date] => 2016-04-19 22:52:39
            [year] => 2016
            [month] => 4
            [post_type] => post
        )

    [201] => stdClass Object
        (
            [slug] => rossi-novinky
            [ID] => 41236
            [post_name] => yamaha-oficialne-potvrdila-odchod-lorenza
            [post_title] => Yamaha oficiálně potvrdila odchod Lorenza
            [post_author] => 815
            [post_date] => 2016-04-18 16:24:58
            [year] => 2016
            [month] => 4
            [post_type] => post
        )

    [202] => stdClass Object
        (
            [slug] => velkka-cena-gp
            [ID] => 41213
            [post_name] => velka-cena-ameriky-motogp-austin-2016
            [post_title] => Velká Cena Ameriky MotoGP - Austin 2016
            [post_author] => 2
            [post_date] => 2016-04-10 22:01:24
            [year] => 2016
            [month] => 4
            [post_type] => post
        )

    [203] => stdClass Object
        (
            [slug] => rossi-novinky
            [ID] => 41205
            [post_name] => warm-up-motogp-austin-2016
            [post_title] => Warm Up MotoGP – Austin 2016
            [post_author] => 237
            [post_date] => 2016-04-10 17:07:47
            [year] => 2016
            [month] => 4
            [post_type] => post
        )

    [204] => stdClass Object
        (
            [slug] => rossi-novinky
            [ID] => 41168
            [post_name] => sobotni-trenink-a-kvalifikace-motogp-austin-2016
            [post_title] => Sobotní trénink a kvalifikace MotoGP - Austin 2016
            [post_author] => 2
            [post_date] => 2016-04-09 17:51:34
            [year] => 2016
            [month] => 4
            [post_type] => post
        )

    [205] => stdClass Object
        (
            [slug] => rossi-novinky
            [ID] => 41137
            [post_name] => patecni-treninky-motogp-austin-2016
            [post_title] => Páteční tréninky MotoGP – Austin 2016
            [post_author] => 237
            [post_date] => 2016-04-08 17:49:14
            [year] => 2016
            [month] => 4
            [post_type] => post
        )

    [206] => stdClass Object
        (
            [slug] => rossi-novinky
            [ID] => 41133
            [post_name] => tiskova-konference-motogp-austin-2016
            [post_title] => Tisková konference MotoGP - Austin 2016
            [post_author] => 2
            [post_date] => 2016-04-07 21:50:05
            [year] => 2016
            [month] => 4
            [post_type] => post
        )

    [207] => stdClass Object
        (
            [slug] => rossi-novinky
            [ID] => 41117
            [post_name] => tovarni-tymy-yamahy-pred-zavodem-v-austinu
            [post_title] => Tovární týmy Yamahy před závodem v Austinu
            [post_author] => 815
            [post_date] => 2016-04-06 16:58:06
            [year] => 2016
            [month] => 4
            [post_type] => post
        )

    [208] => stdClass Object
        (
            [slug] => rossi-novinky
            [ID] => 41119
            [post_name] => motogp-v-chaosu-personal-i-motorky-stale-trci-v-argentine
            [post_title] => Personál i motorky MotoGP stále trčí v Argentině
            [post_author] => 874
            [post_date] => 2016-04-06 02:00:02
            [year] => 2016
            [month] => 4
            [post_type] => post
        )

    [209] => stdClass Object
        (
            [slug] => velkka-cena-gp
            [ID] => 41084
            [post_name] => velka-cena-argentiny-motogp-2016
            [post_title] => Velká Cena Argentiny MotoGP - 2016
            [post_author] => 2
            [post_date] => 2016-04-03 22:08:11
            [year] => 2016
            [month] => 4
            [post_type] => post
        )

    [210] => stdClass Object
        (
            [slug] => rossi-novinky
            [ID] => 41079
            [post_name] => warm-up-motogp-argentina-2016
            [post_title] => Warm Up MotoGP – Argentina 2016
            [post_author] => 237
            [post_date] => 2016-04-03 16:20:22
            [year] => 2016
            [month] => 4
            [post_type] => post
        )

    [211] => stdClass Object
        (
            [slug] => rossi-novinky
            [ID] => 41041
            [post_name] => sobotni-trenink-a-kvalifikace-motogp-argentina-2016
            [post_title] => Sobotní trénink a kvalifikace MotoGP - Argentina 2016
            [post_author] => 2
            [post_date] => 2016-04-02 15:52:38
            [year] => 2016
            [month] => 4
            [post_type] => post
        )

    [212] => stdClass Object
        (
            [slug] => rossi-novinky
            [ID] => 41008
            [post_name] => patecni-treninky-motogp-argentina-2016
            [post_title] => Páteční tréninky MotoGP – Argentina 2016
            [post_author] => 237
            [post_date] => 2016-04-01 15:52:52
            [year] => 2016
            [month] => 4
            [post_type] => post
        )

    [213] => stdClass Object
        (
            [slug] => rossi-novinky
            [ID] => 40996
            [post_name] => tiskova-konference-motogp-argentina-2016
            [post_title] => Tisková konference MotoGP – Argentina 2016
            [post_author] => 2
            [post_date] => 2016-03-31 17:44:11
            [year] => 2016
            [month] => 3
            [post_type] => post
        )

    [214] => stdClass Object
        (
            [slug] => rossi-novinky
            [ID] => 40986
            [post_name] => tovarni-tym-pred-zavodem-v-argentine-2
            [post_title] => Tovární tým před závodem v Argentině
            [post_author] => 815
            [post_date] => 2016-03-30 13:42:22
            [year] => 2016
            [month] => 3
            [post_type] => post
        )

    [215] => stdClass Object
        (
            [slug] => velkka-cena-gp
            [ID] => 40950
            [post_name] => velka-cena-kataru-motogp-2016
            [post_title] => Velká Cena Kataru MotoGP 2016
            [post_author] => 2
            [post_date] => 2016-03-20 20:13:10
            [year] => 2016
            [month] => 3
            [post_type] => post
        )

    [216] => stdClass Object
        (
            [slug] => rossi-novinky
            [ID] => 40935
            [post_name] => lin-jarvis-nabidku-dostali-oba-dva
            [post_title] => Lin Jarvis: "Nabídku dostali oba dva."
            [post_author] => 2
            [post_date] => 2016-03-19 22:42:34
            [year] => 2016
            [month] => 3
            [post_type] => post
        )

    [217] => stdClass Object
        (
            [slug] => rossi-novinky
            [ID] => 40914
            [post_name] => sobotni-trenink-a-kvalifikace-motogp-katar-2016
            [post_title] => Sobotní trénink a kvalifikace MotoGP - Katar 2016
            [post_author] => 2
            [post_date] => 2016-03-19 18:39:26
            [year] => 2016
            [month] => 3
            [post_type] => post
        )

    [218] => stdClass Object
        (
            [slug] => rossi-novinky
            [ID] => 40903
            [post_name] => valentino-rossi-prodlouzil-smlouvu-s-yamahou
            [post_title] => Valentino Rossi prodloužil smlouvu s Yamahou
            [post_author] => 2
            [post_date] => 2016-03-19 09:08:15
            [year] => 2016
            [month] => 3
            [post_type] => post
        )

    [219] => stdClass Object
        (
            [slug] => rossi-novinky
            [ID] => 40882
            [post_name] => patecni-treninky-motogp-katar-2016
            [post_title] => Páteční tréninky MotoGP - Katar 2016
            [post_author] => 2
            [post_date] => 2016-03-18 16:49:53
            [year] => 2016
            [month] => 3
            [post_type] => post
        )

    [220] => stdClass Object
        (
            [slug] => rossi-novinky
            [ID] => 40856
            [post_name] => ctvrtecni-prvni-trenink-motogp-katar-2016
            [post_title] => Čtvrteční první trénink MotoGP - Katar 2016
            [post_author] => 2
            [post_date] => 2016-03-17 18:53:33
            [year] => 2016
            [month] => 3
            [post_type] => post
        )

    [221] => stdClass Object
        (
            [slug] => rossi-novinky
            [ID] => 40839
            [post_name] => tiskova-konference-motogp-katar-2016
            [post_title] => Tisková konference MotoGP – Katar 2016
            [post_author] => 2
            [post_date] => 2016-03-16 19:35:01
            [year] => 2016
            [month] => 3
            [post_type] => post
        )

    [222] => stdClass Object
        (
            [slug] => rossi-novinky
            [ID] => 40827
            [post_name] => tovarni-tym-pred-zavodem-v-qataru
            [post_title] => Tovární tým před závodem v Qataru
            [post_author] => 815
            [post_date] => 2016-03-15 10:03:21
            [year] => 2016
            [month] => 3
            [post_type] => post
        )

    [223] => stdClass Object
        (
            [slug] => rozhovor
            [ID] => 40813
            [post_name] => rozhovor-s-valentinem-rossim-pred-sezonou-2016
            [post_title] => Rozhovor s Valentinem Rossim před sezónou 2016
            [post_author] => 2
            [post_date] => 2016-03-11 21:01:24
            [year] => 2016
            [month] => 3
            [post_type] => post
        )

    [224] => stdClass Object
        (
            [slug] => rossi-novinky
            [ID] => 40809
            [post_name] => pneumatiky-michelin-na-sezonu-motogp-2016
            [post_title] => Pneumatiky Michelin na sezónu MotoGP 2016
            [post_author] => 2
            [post_date] => 2016-03-10 19:14:39
            [year] => 2016
            [month] => 3
            [post_type] => post
        )

    [225] => stdClass Object
        (
            [slug] => rossi-novinky
            [ID] => 40719
            [post_name] => posledni-zimni-testy-motogp-2016-katar
            [post_title] => Poslední zimní testy MotoGP 2016 - Katar
            [post_author] => 2
            [post_date] => 2016-03-03 18:43:38
            [year] => 2016
            [month] => 3
            [post_type] => post
        )

    [226] => stdClass Object
        (
            [slug] => rossi-novinky
            [ID] => 40711
            [post_name] => yamaha-se-stala-oficialnim-partnerem-akademie-vr46
            [post_title] => Yamaha se stala oficiálním partnerem akademie VR|46
            [post_author] => 2
            [post_date] => 2016-03-01 11:33:34
            [year] => 2016
            [month] => 3
            [post_type] => post
        )

    [227] => stdClass Object
        (
            [slug] => rossi-novinky
            [ID] => 40617
            [post_name] => testy-motogp-phillip-island-2016
            [post_title] => Testy MotoGP Phillip Island 2016
            [post_author] => 2
            [post_date] => 2016-02-16 21:56:08
            [year] => 2016
            [month] => 2
            [post_type] => post
        )

    [228] => stdClass Object
        (
            [slug] => rossi-novinky
            [ID] => 40601
            [post_name] => tovarni-tym-pred-testem-na-phillip-islandu
            [post_title] => Tovární tým před testem na Phillip Islandu
            [post_author] => 815
            [post_date] => 2016-02-16 13:40:34
            [year] => 2016
            [month] => 2
            [post_type] => post
        )

    [229] => stdClass Object
        (
            [slug] => rossi-novinky
            [ID] => 40595
            [post_name] => valentino-rossi-chce-smlouvu-na-dva-roky
            [post_title] => Valentino Rossi chce smlouvu na dva roky
            [post_author] => 2
            [post_date] => 2016-02-12 22:28:20
            [year] => 2016
            [month] => 2
            [post_type] => post
        )

    [230] => stdClass Object
        (
            [slug] => rossi-novinky
            [ID] => 40442
            [post_name] => prvni-oficialni-test-motogp-2016-sepang
            [post_title] => První oficiální test MotoGP 2016 - Sepang
            [post_author] => 2
            [post_date] => 2016-01-30 09:43:48
            [year] => 2016
            [month] => 1
            [post_type] => post
        )

    [231] => stdClass Object
        (
            [slug] => rossi-novinky
            [ID] => 40436
            [post_name] => carmelo-ezpeleta-myslim-ze-jsme-to-zvladli-dobre
            [post_title] => Carmelo Ezpeleta "Myslím, že jsme to zvládli dobře."
            [post_author] => 2
            [post_date] => 2016-01-27 13:34:04
            [year] => 2016
            [month] => 1
            [post_type] => post
        )

    [232] => stdClass Object
        (
            [slug] => rossi-novinky
            [ID] => 40419
            [post_name] => phil-read-dorna-je-jak-spanelska-mafie
            [post_title] => Phil Read: "Dorna je jak španělská mafie."
            [post_author] => 2
            [post_date] => 2016-01-19 15:45:02
            [year] => 2016
            [month] => 1
            [post_type] => post
        )

    [233] => stdClass Object
        (
            [slug] => rossi-novinky
            [ID] => 40362
            [post_name] => prezentace-tovarniho-tymu-yamaha-2016
            [post_title] => Prezentace továrního týmu Yamaha 2016
            [post_author] => 2
            [post_date] => 2016-01-16 10:00:27
            [year] => 2016
            [month] => 1
            [post_type] => post
        )

    [234] => stdClass Object
        (
            [slug] => luca-marini
            [ID] => 40372
            [post_name] => luca-marini-bude-to-sezona-odplaty
            [post_title] => Luca Marini: "Pro Valeho to bude sezóna odplaty."
            [post_author] => 2
            [post_date] => 2016-01-14 20:03:00
            [year] => 2016
            [month] => 1
            [post_type] => post
        )

    [235] => stdClass Object
        (
            [slug] => ducati-2
            [ID] => 40337
            [post_name] => c-stoner-marquez-se-bal-ze-ho-ohrozim
            [post_title] => C.Stoner: "Marquez se bál, že ho ohrozím."
            [post_author] => 2
            [post_date] => 2016-01-13 10:07:32
            [year] => 2016
            [month] => 1
            [post_type] => post
        )

    [236] => stdClass Object
        (
            [slug] => motogp
            [ID] => 40345
            [post_name] => motogp-se-v-brne-pojede-minimalne-dalsich-pet-let
            [post_title] => MotoGP se v Brně pojede minimálně dalších pět let.
            [post_author] => 2
            [post_date] => 2016-01-11 20:21:53
            [year] => 2016
            [month] => 1
            [post_type] => post
        )

    [237] => stdClass Object
        (
            [slug] => rossi-novinky
            [ID] => 40330
            [post_name] => c-pernat-rossi-a-lorenzo-jsou-spolu-naposledy
            [post_title] => C.Pernat: "Rossi a Lorenzo jsou spolu naposledy."
            [post_author] => 2
            [post_date] => 2016-01-08 14:32:25
            [year] => 2016
            [month] => 1
            [post_type] => post
        )

    [238] => stdClass Object
        (
            [slug] => rossi-yamaha-cz
            [ID] => 40306
            [post_name] => pf-2016
            [post_title] => PF 2016
            [post_author] => 2
            [post_date] => 2015-12-23 00:05:33
            [year] => 2015
            [month] => 12
            [post_type] => post
        )

    [239] => stdClass Object
        (
            [slug] => rossi-novinky
            [ID] => 40300
            [post_name] => h-poncharal-byla-to-asi-rossiho-nejlepsi-sezona
            [post_title] => H.Poncharal: "Byla to asi Rossiho nejlepší sezóna"
            [post_author] => 2
            [post_date] => 2015-12-17 21:10:42
            [year] => 2015
            [month] => 12
            [post_type] => post
        )

    [240] => stdClass Object
        (
            [slug] => nicky-hayden
            [ID] => 40286
            [post_name] => dlouhy-seznam-tymovych-kolegu-nickyho-haydena
            [post_title] => Dlouhý seznam týmových kolegů Nickyho Haydena
            [post_author] => 2
            [post_date] => 2015-12-11 20:35:53
            [year] => 2015
            [month] => 12
            [post_type] => post
        )

    [241] => stdClass Object
        (
            [slug] => rossi-novinky
            [ID] => 39788
            [post_name] => valentino-rossi-se-odvolal-k-arbitraznimu-soudu-fim
            [post_title] => Valentino Rossi stáhl odvolání u arbitrážního soudu FIM
            [post_author] => 2
            [post_date] => 2015-12-10 14:00:41
            [year] => 2015
            [month] => 12
            [post_type] => post
        )

    [242] => stdClass Object
        (
            [slug] => rossi-novinky
            [ID] => 40274
            [post_name] => johan-zarco-ve-valencii-to-bylo-zvlastni
            [post_title] => Johan Zarco: "Ve Valencii to bylo zvláštní..."
            [post_author] => 2
            [post_date] => 2015-12-06 12:02:24
            [year] => 2015
            [month] => 12
            [post_type] => post
        )

    [243] => stdClass Object
        (
            [slug] => rossi-novinky
            [ID] => 40253
            [post_name] => monza-rallye-show-2015
            [post_title] => Monza Rallye Show 2015
            [post_author] => 2
            [post_date] => 2015-11-26 21:39:21
            [year] => 2015
            [month] => 11
            [post_type] => post
        )

    [244] => stdClass Object
        (
            [slug] => ducati-2
            [ID] => 40238
            [post_name] => casey-stoner-se-po-peti-letech-vraci-k-ducati
            [post_title] => Casey Stoner se po pěti letech vrací k Ducati
            [post_author] => 2
            [post_date] => 2015-11-24 13:24:09
            [year] => 2015
            [month] => 11
            [post_type] => post
        )

    [245] => stdClass Object
        (
            [slug] => rossi-novinky
            [ID] => 40228
            [post_name] => c-cecchinelli-jednotny-software-je-na-10-potencialu
            [post_title] => C.Cecchinelli: "Nový software je na 10% potenciálu."
            [post_author] => 2
            [post_date] => 2015-11-22 14:41:14
            [year] => 2015
            [month] => 11
            [post_type] => post
        )

    [246] => stdClass Object
        (
            [slug] => rossi-novinky
            [ID] => 40220
            [post_name] => l-jarvis-zadna-zed-v-boxech-yamahy-nebude
            [post_title] => L.Jarvis: "Žádná zeď v boxech Yamahy nebude."
            [post_author] => 2
            [post_date] => 2015-11-18 18:38:06
            [year] => 2015
            [month] => 11
            [post_type] => post
        )

    [247] => stdClass Object
        (
            [slug] => rossi-novinky
            [ID] => 40096
            [post_name] => d-brivio-melo-se-zasahnout-hned
            [post_title] => D.Brivio: "Mělo se zasáhnout hned."
            [post_author] => 2
            [post_date] => 2015-11-17 13:55:09
            [year] => 2015
            [month] => 11
            [post_type] => post
        )

    [248] => stdClass Object
        (
            [slug] => rossi-novinky
            [ID] => 39992
            [post_name] => co-se-opravdu-stalo-v-zaveru-sezony-motogp-2015
            [post_title] => Co se opravdu stalo v závěru sezóny MotoGP 2015
            [post_author] => 2
            [post_date] => 2015-11-16 11:19:57
            [year] => 2015
            [month] => 11
            [post_type] => post
        )

    [249] => stdClass Object
        (
            [slug] => rossi-novinky
            [ID] => 40184
            [post_name] => valentino-rossi-je-tezke-se-znovu-vratit-do-sedla
            [post_title] => Valentino Rossi: "Je těžké se znovu vrátit do sedla."
            [post_author] => 2
            [post_date] => 2015-11-11 20:13:23
            [year] => 2015
            [month] => 11
            [post_type] => post
        )

    [250] => stdClass Object
        (
            [slug] => rossi-novinky
            [ID] => 39990
            [post_name] => oficialni-posezonni-testy-motogp-valencie-2015
            [post_title] => Oficiální posezónní testy MotoGP - Valencie 2015
            [post_author] => 2
            [post_date] => 2015-11-09 20:19:56
            [year] => 2015
            [month] => 11
            [post_type] => post
        )

    [251] => stdClass Object
        (
            [slug] => rossi-novinky
            [ID] => 39900
            [post_name] => velka-cena-valencie-motogp-2015
            [post_title] => Velká Cena Valencie MotoGP 2015
            [post_author] => 2
            [post_date] => 2015-11-08 15:27:55
            [year] => 2015
            [month] => 11
            [post_type] => post
        )

    [252] => stdClass Object
        (
            [slug] => rossi-novinky
            [ID] => 39930
            [post_name] => warm-up-motogp-valencia-2015
            [post_title] => Warm up MotoGP – Valencia 2015
            [post_author] => 237
            [post_date] => 2015-11-08 10:32:38
            [year] => 2015
            [month] => 11
            [post_type] => post
        )

    [253] => stdClass Object
        (
            [slug] => rossi-novinky
            [ID] => 39885
            [post_name] => sobotni-trenink-a-kvalifikace-motogp-valencie-2015
            [post_title] => Sobotní trénink a kvalifikace MotoGP - Valencie 2015
            [post_author] => 2
            [post_date] => 2015-11-07 10:54:01
            [year] => 2015
            [month] => 11
            [post_type] => post
        )

    [254] => stdClass Object
        (
            [slug] => rossi-novinky
            [ID] => 39849
            [post_name] => patecni-treninky-motogp-valencie-2015
            [post_title] => Páteční tréninky MotoGP – Valencie 2015
            [post_author] => 237
            [post_date] => 2015-11-06 10:57:45
            [year] => 2015
            [month] => 11
            [post_type] => post
        )

    [255] => stdClass Object
        (
            [slug] => rossi-novinky
            [ID] => 39844
            [post_name] => tiskova-konference-valentina-rossiho-ve-valencii
            [post_title] => Tisková konference Valentina Rossiho ve Valencii
            [post_author] => 2
            [post_date] => 2015-11-05 18:18:50
            [year] => 2015
            [month] => 11
            [post_type] => post
        )

    [256] => stdClass Object
        (
            [slug] => rossi-novinky
            [ID] => 39827
            [post_name] => tovarni-tym-yamahy-pred-zavodem-ve-valencii-2015
            [post_title] => Tovární tým Yamahy před závodem ve Valencii 2015
            [post_author] => 2
            [post_date] => 2015-11-04 15:57:54
            [year] => 2015
            [month] => 11
            [post_type] => post
        )

    [257] => stdClass Object
        (
            [slug] => honda-2
            [ID] => 39813
            [post_name] => oficialni-reakce-yamahy-na-tvrzeni-hrc-a-nakamota
            [post_title] => Oficiální reakce Yamahy na tvrzení HRC a Nakamota
            [post_author] => 2
            [post_date] => 2015-11-03 16:11:51
            [year] => 2015
            [month] => 11
            [post_type] => post
        )

    [258] => stdClass Object
        (
            [slug] => rossi-novinky
            [ID] => 39802
            [post_name] => ne-tiskova-konference-motogp-valencie-2015
            [post_title] => (Ne) Tisková konference MotoGP - Valencie 2015
            [post_author] => 2
            [post_date] => 2015-11-02 19:46:42
            [year] => 2015
            [month] => 11
            [post_type] => post
        )

    [259] => stdClass Object
        (
            [slug] => rossi-novinky
            [ID] => 39773
            [post_name] => valentino-rossi-ve-valencii-bude-zavodit
            [post_title] => Valentino Rossi ve Valencii bude závodit
            [post_author] => 2
            [post_date] => 2015-10-27 19:02:00
            [year] => 2015
            [month] => 10
            [post_type] => post
        )

    [260] => stdClass Object
        (
            [slug] => rossi-novinky
            [ID] => 39753
            [post_name] => lin-jarvis-byl-to-dusledek-chovani-marqueze
            [post_title] => Lin Jarvis: "Byl to důsledek chování Marqueze."
            [post_author] => 2
            [post_date] => 2015-10-25 16:56:18
            [year] => 2015
            [month] => 10
            [post_type] => post
        )

    [261] => stdClass Object
        (
            [slug] => velkka-cena-gp
            [ID] => 39700
            [post_name] => velka-cena-malajsie-motogp-sepang-2015
            [post_title] => Velká Cena Malajsie MotoGP - Sepang 2015
            [post_author] => 2
            [post_date] => 2015-10-25 09:08:50
            [year] => 2015
            [month] => 10
            [post_type] => post
        )

    [262] => stdClass Object
        (
            [slug] => rossi-novinky
            [ID] => 39663
            [post_name] => sobotni-trenink-a-kvalifikace-sepang-2015
            [post_title] => Sobotní trénink a kvalifikace  - Sepang 2015
            [post_author] => 2
            [post_date] => 2015-10-24 08:19:36
            [year] => 2015
            [month] => 10
            [post_type] => post
        )

    [263] => stdClass Object
        (
            [slug] => rossi-novinky
            [ID] => 39592
            [post_name] => patecnti-treninky-motogp-sepang-2015
            [post_title] => Páteční tréninky MotoGP - Sepang 2015
            [post_author] => 237
            [post_date] => 2015-10-23 05:01:01
            [year] => 2015
            [month] => 10
            [post_type] => post
        )

    [264] => stdClass Object
        (
            [slug] => rossi-novinky
            [ID] => 39614
            [post_name] => valentino-rossi-marquez-nechce-abych-ziskal-titul
            [post_title] => Valentino Rossi: "Marquez nechce, abych získal titul."
            [post_author] => 2
            [post_date] => 2015-10-22 16:56:09
            [year] => 2015
            [month] => 10
            [post_type] => post
        )

    [265] => stdClass Object
        (
            [slug] => rossi-novinky
            [ID] => 39590
            [post_name] => tiskova-konference-motogp-sepang-2015
            [post_title] => Tisková konference MotoGP - Sepang 2015
            [post_author] => 2
            [post_date] => 2015-10-22 12:48:56
            [year] => 2015
            [month] => 10
            [post_type] => post
        )

    [266] => stdClass Object
        (
            [slug] => rossi-novinky
            [ID] => 39594
            [post_name] => tovarni-tym-pred-zavodem-v-malajsii
            [post_title] => Tovární tým Yamahy před závodem v Malajsii
            [post_author] => 815
            [post_date] => 2015-10-21 07:44:54
            [year] => 2015
            [month] => 10
            [post_type] => post
        )

    [267] => stdClass Object
        (
            [slug] => velkka-cena-gp
            [ID] => 39559
            [post_name] => velka-cena-australie-motogp-philip-island-2015
            [post_title] => Velká Cena Austrálie MotoGP - Philip Island 2015
            [post_author] => 2
            [post_date] => 2015-10-18 08:17:22
            [year] => 2015
            [month] => 10
            [post_type] => post
        )

    [268] => stdClass Object
        (
            [slug] => rossi-novinky
            [ID] => 39529
            [post_name] => sobotni-trenink-a-kvalifikace-motogp-philip-island-2015
            [post_title] => Sobotní trénink a kvalifikace MotoGP - Philip Island 2015
            [post_author] => 2
            [post_date] => 2015-10-17 06:10:08
            [year] => 2015
            [month] => 10
            [post_type] => post
        )

    [269] => stdClass Object
        (
            [slug] => rossi-novinky
            [ID] => 39496
            [post_name] => patecni-treninky-motogp-phillip-island-2015
            [post_title] => Páteční tréninky MotoGP - Phillip Island 2015
            [post_author] => 237
            [post_date] => 2015-10-16 03:58:19
            [year] => 2015
            [month] => 10
            [post_type] => post
        )

    [270] => stdClass Object
        (
            [slug] => rossi-novinky
            [ID] => 39473
            [post_name] => tiskova-konference-motogp-philip-island-2015
            [post_title] => Tisková konference MotoGP - Philip Island 2015
            [post_author] => 2
            [post_date] => 2015-10-15 09:00:33
            [year] => 2015
            [month] => 10
            [post_type] => post
        )

    [271] => stdClass Object
        (
            [slug] => rossi-novinky
            [ID] => 39455
            [post_name] => tovarni-tym-yamahy-pred-zavodem-v-australii
            [post_title] => Tovární tým Yamahy před závodem v Austrálii
            [post_author] => 815
            [post_date] => 2015-10-14 08:07:27
            [year] => 2015
            [month] => 10
            [post_type] => post
        )

    [272] => stdClass Object
        (
            [slug] => rossi-novinky
            [ID] => 39400
            [post_name] => velka-cena-japonska-motogp-motegi-2015
            [post_title] => Velká Cena Japonska MotoGP - Motegi 2015
            [post_author] => 2
            [post_date] => 2015-10-11 08:33:46
            [year] => 2015
            [month] => 10
            [post_type] => post
        )

    [273] => stdClass Object
        (
            [slug] => rossi-novinky
            [ID] => 39405
            [post_name] => warm-up-motogp-motegi-2015
            [post_title] => Warm up MotoGP – Motegi 2015
            [post_author] => 237
            [post_date] => 2015-10-11 04:48:51
            [year] => 2015
            [month] => 10
            [post_type] => post
        )

    [274] => stdClass Object
        (
            [slug] => rossi-novinky
            [ID] => 39367
            [post_name] => sobotni-trenink-a-kvalifikace-motogp-motegi-2015
            [post_title] => Sobotní trénink a kvalifikace MotoGP - Motegi 2015
            [post_author] => 2
            [post_date] => 2015-10-10 07:35:28
            [year] => 2015
            [month] => 10
            [post_type] => post
        )

    [275] => stdClass Object
        (
            [slug] => rossi-novinky
            [ID] => 39329
            [post_name] => patecni-treninky-motogp-motegi-2015
            [post_title] => Páteční tréninky MotoGP - Motegi 2015
            [post_author] => 2
            [post_date] => 2015-10-09 07:22:49
            [year] => 2015
            [month] => 10
            [post_type] => post
        )

    [276] => stdClass Object
        (
            [slug] => rossi-novinky
            [ID] => 39320
            [post_name] => tiskova-konference-motogp-motegi-2015
            [post_title] => Tisková konference MotoGP - Motegi 2015
            [post_author] => 2
            [post_date] => 2015-10-08 13:03:34
            [year] => 2015
            [month] => 10
            [post_type] => post
        )

    [277] => stdClass Object
        (
            [slug] => rossi-novinky
            [ID] => 39309
            [post_name] => tovarni-tym-yamahy-pred-zavodem-v-japonsku
            [post_title] => Tovární tým Yamahy před závodem v Japonsku
            [post_author] => 2
            [post_date] => 2015-10-06 08:52:06
            [year] => 2015
            [month] => 10
            [post_type] => post
        )

    [278] => stdClass Object
        (
            [slug] => rossi-novinky
            [ID] => 39290
            [post_name] => rossi-potrebuje-aby-mu-pomohly-okolnosti
            [post_title] => Rossi potřebuje, aby mu pomohly okolnosti
            [post_author] => 2
            [post_date] => 2015-10-01 14:00:37
            [year] => 2015
            [month] => 10
            [post_type] => post
        )

    [279] => stdClass Object
        (
            [slug] => michelin
            [ID] => 39270
            [post_name] => testy-michelin-aragon
            [post_title] => Testy Michelin Aragon
            [post_author] => 2
            [post_date] => 2015-09-28 17:05:05
            [year] => 2015
            [month] => 9
            [post_type] => post
        )

    [280] => stdClass Object
        (
            [slug] => rossi-novinky
            [ID] => 39225
            [post_name] => velka-cena-aragonska-motogp-2015
            [post_title] => Velká Cena Aragónska MotoGP 2015
            [post_author] => 2
            [post_date] => 2015-09-27 15:07:09
            [year] => 2015
            [month] => 9
            [post_type] => post
        )

    [281] => stdClass Object
        (
            [slug] => rossi-novinky
            [ID] => 39220
            [post_name] => warm-up-motogp-aragon-2015
            [post_title] => Warm up MotoGP - Aragon 2015
            [post_author] => 2
            [post_date] => 2015-09-27 10:10:59
            [year] => 2015
            [month] => 9
            [post_type] => post
        )

    [282] => stdClass Object
        (
            [slug] => rossi-novinky
            [ID] => 39186
            [post_name] => sobotni-trenink-a-kvalifikace-motogp-aragon-2015
            [post_title] => Sobotní trénink a kvalifikace MotoGP – Aragon 2015
            [post_author] => 2
            [post_date] => 2015-09-26 10:52:23
            [year] => 2015
            [month] => 9
            [post_type] => post
        )

    [283] => stdClass Object
        (
            [slug] => rossi-novinky
            [ID] => 39149
            [post_name] => patecni-treninky-motogp-aragon-2015
            [post_title] => Páteční tréninky MotoGP - Aragon 2015
            [post_author] => 2
            [post_date] => 2015-09-25 10:54:02
            [year] => 2015
            [month] => 9
            [post_type] => post
        )

    [284] => stdClass Object
        (
            [slug] => rossi-novinky
            [ID] => 39131
            [post_name] => tiskova-konference-motogp-aragon-2015
            [post_title] => Tisková konference MotoGP - Aragon 2015
            [post_author] => 2
            [post_date] => 2015-09-24 17:46:54
            [year] => 2015
            [month] => 9
            [post_type] => post
        )

    [285] => stdClass Object
        (
            [slug] => rossi-novinky
            [ID] => 39125
            [post_name] => tovarni-tym-yamahy-pred-zavodem-v-aragonu-2015
            [post_title] => Tovární tým Yamahy před závodem v Aragonu 2015
            [post_author] => 2
            [post_date] => 2015-09-23 12:13:15
            [year] => 2015
            [month] => 9
            [post_type] => post
        )

    [286] => stdClass Object
        (
            [slug] => jorge-lorenzo
            [ID] => 39118
            [post_name] => jorge-lorenzo-jsem-rychlejsi-nez-rossi
            [post_title] => Jorge Lorenzo: "Jsem rychlejší než Rossi."
            [post_author] => 2
            [post_date] => 2015-09-21 21:01:09
            [year] => 2015
            [month] => 9
            [post_type] => post
        )

    [287] => stdClass Object
        (
            [slug] => rossi-novinky
            [ID] => 39102
            [post_name] => g-agostini-rossi-ma-80-sanci-na-zisk-titulu
            [post_title] => Giacomo Agostini: "Rossi má 80% šanci na zisk titulu."
            [post_author] => 2
            [post_date] => 2015-09-13 21:29:08
            [year] => 2015
            [month] => 9
            [post_type] => post
        )

    [288] => stdClass Object
        (
            [slug] => velkka-cena-gp
            [ID] => 39062
            [post_name] => velka-cena-san-marina-motogp-misano-2015
            [post_title] => Velká Cena San Marina MotoGP - Misano 2015
            [post_author] => 2
            [post_date] => 2015-09-13 15:36:02
            [year] => 2015
            [month] => 9
            [post_type] => post
        )

    [289] => stdClass Object
        (
            [slug] => rossi-novinky
            [ID] => 39054
            [post_name] => warm-up-motogp-misano-2015
            [post_title] => Warm up MotoGP - Misano 2015
            [post_author] => 2
            [post_date] => 2015-09-13 10:08:51
            [year] => 2015
            [month] => 9
            [post_type] => post
        )

    [290] => stdClass Object
        (
            [slug] => rossi-novinky
            [ID] => 38990
            [post_name] => sobotni-trenink-a-kvalifikace-motogp-misano-2015
            [post_title] => Sobotní trénink a kvalifikace MotoGP - Misano 2015
            [post_author] => 2
            [post_date] => 2015-09-12 10:51:18
            [year] => 2015
            [month] => 9
            [post_type] => post
        )

    [291] => stdClass Object
        (
            [slug] => rossi-novinky
            [ID] => 38726
            [post_name] => film-hitting-the-apex-ceske-titulky
            [post_title] => Film HITTING THE APEX - české titulky
            [post_author] => 2
            [post_date] => 2015-09-11 18:00:57
            [year] => 2015
            [month] => 9
            [post_type] => post
        )

    [292] => stdClass Object
        (
            [slug] => rossi-novinky
            [ID] => 38959
            [post_name] => patecni-treninky-motogp-misano-2015
            [post_title] => Páteční tréninky MotoGP - Misano 2015
            [post_author] => 2
            [post_date] => 2015-09-11 10:58:00
            [year] => 2015
            [month] => 9
            [post_type] => post
        )

    [293] => stdClass Object
        (
            [slug] => rossi-novinky
            [ID] => 38566
            [post_name] => tiskova-konference-motogp-misano-2015
            [post_title] => Tisková konference MotoGP - Misano 2015
            [post_author] => 2
            [post_date] => 2015-09-10 17:57:27
            [year] => 2015
            [month] => 9
            [post_type] => post
        )

    [294] => stdClass Object
        (
            [slug] => rossi-novinky
            [ID] => 38920
            [post_name] => tovarni-tym-yamahy-pred-zavodem-v-misanu
            [post_title] => Tovární tým Yamahy před závodem v Misanu
            [post_author] => 2
            [post_date] => 2015-09-09 15:32:16
            [year] => 2015
            [month] => 9
            [post_type] => post
        )

    [295] => stdClass Object
        (
            [slug] => rossi-novinky
            [ID] => 38899
            [post_name] => rossi-uchopil-prilezitost-obema-rukama
            [post_title] => Valentino Rossi uchopil příležitost oběma rukama
            [post_author] => 2
            [post_date] => 2015-09-05 12:16:56
            [year] => 2015
            [month] => 9
            [post_type] => post
        )

    [296] => stdClass Object
        (
            [slug] => rossi-novinky
            [ID] => 38840
            [post_name] => velka-cena-anglie-motogp-silverstone-2015
            [post_title] => Velká Cena Anglie MotoGP - Silverstone 2015
            [post_author] => 2
            [post_date] => 2015-08-30 15:51:23
            [year] => 2015
            [month] => 8
            [post_type] => post
        )

    [297] => stdClass Object
        (
            [slug] => rossi-novinky
            [ID] => 38831
            [post_name] => warm-up-motogp-silverstone-2015
            [post_title] => Warm up MotoGP Silverstone 2015
            [post_author] => 237
            [post_date] => 2015-08-30 10:59:00
            [year] => 2015
            [month] => 8
            [post_type] => post
        )

    [298] => stdClass Object
        (
            [slug] => rossi-novinky
            [ID] => 38797
            [post_name] => sobotni-trenink-a-kvalifikace-motogp-silverstone-2015
            [post_title] => Sobotní trénink a kvalifikace MotoGP - Silverstone 2015
            [post_author] => 2
            [post_date] => 2015-08-29 11:52:14
            [year] => 2015
            [month] => 8
            [post_type] => post
        )

    [299] => stdClass Object
        (
            [slug] => rossi-novinky
            [ID] => 38763
            [post_name] => patecni-treninky-motogp-silverstone-2015
            [post_title] => Páteční tréninky MotoGP - Silverstone 2015
            [post_author] => 237
            [post_date] => 2015-08-28 11:49:26
            [year] => 2015
            [month] => 8
            [post_type] => post
        )

    [300] => stdClass Object
        (
            [slug] => rossi-novinky
            [ID] => 38754
            [post_name] => tiskova-konference-pred-zavodem-v-silverstone-2015
            [post_title] => Tisková konference před závodem v Silverstone 2015
            [post_author] => 2
            [post_date] => 2015-08-27 18:51:24
            [year] => 2015
            [month] => 8
            [post_type] => post
        )

    [301] => stdClass Object
        (
            [slug] => rossi-novinky
            [ID] => 38734
            [post_name] => tovarni-tym-yamahy-pred-zavodem-v-silverstone-2015
            [post_title] => Tovární tým Yamahy před závodem v Silverstone 2015
            [post_author] => 2
            [post_date] => 2015-08-26 12:33:50
            [year] => 2015
            [month] => 8
            [post_type] => post
        )

    [302] => stdClass Object
        (
            [slug] => rossi-novinky
            [ID] => 38729
            [post_name] => w-rainey-jedna-chyba-je-mozna-bude-stat-titul
            [post_title] => W.Rainey: "Jedna chyba je možná bude stát titul."
            [post_author] => 2
            [post_date] => 2015-08-24 17:57:04
            [year] => 2015
            [month] => 8
            [post_type] => post
        )

    [303] => stdClass Object
        (
            [slug] => rossi-novinky
            [ID] => 38669
            [post_name] => lin-jarvis-souboj-rossiho-a-lorenza-yamaze-prospiva
            [post_title] => Lin Jarvis: Souboj Rossiho a Lorenza Yamaze prospívá
            [post_author] => 2
            [post_date] => 2015-08-20 11:59:33
            [year] => 2015
            [month] => 8
            [post_type] => post
        )

    [304] => stdClass Object
        (
            [slug] => rossi-novinky
            [ID] => 38678
            [post_name] => velka-cena-ceske-republiky-motogp-brno-2015
            [post_title] => Velká Cena České Republiky MotoGP - Brno 2015
            [post_author] => 2
            [post_date] => 2015-08-16 15:11:39
            [year] => 2015
            [month] => 8
            [post_type] => post
        )

    [305] => stdClass Object
        (
            [slug] => rossi-novinky
            [ID] => 38670
            [post_name] => warm-up-motogp-brno-2015
            [post_title] => Warm up MotoGP Brno 2015
            [post_author] => 2
            [post_date] => 2015-08-16 10:09:13
            [year] => 2015
            [month] => 8
            [post_type] => post
        )

    [306] => stdClass Object
        (
            [slug] => rossi-novinky
            [ID] => 38620
            [post_name] => sobotni-trenink-a-kvalifikace-motogp-brno-2015
            [post_title] => Sobotní trénink a kvalifikace MotoGP - Brno 2015
            [post_author] => 2
            [post_date] => 2015-08-15 10:49:32
            [year] => 2015
            [month] => 8
            [post_type] => post
        )

    [307] => stdClass Object
        (
            [slug] => rossi-novinky
            [ID] => 38579
            [post_name] => patecni-treninky-motogp-brno-2015
            [post_title] => Páteční tréninky MotoGP – Brno 2015
            [post_author] => 237
            [post_date] => 2015-08-14 10:48:17
            [year] => 2015
            [month] => 8
            [post_type] => post
        )

    [308] => stdClass Object
        (
            [slug] => rossi-novinky
            [ID] => 38557
            [post_name] => tiskova-konference-motogp-pred-zavodem-v-brne-2015
            [post_title] => Tisková konference MotoGP před závodem v Brně 2015
            [post_author] => 2
            [post_date] => 2015-08-13 20:09:29
            [year] => 2015
            [month] => 8
            [post_type] => post
        )

    [309] => stdClass Object
        (
            [slug] => rossi-novinky
            [ID] => 38548
            [post_name] => tovarni-tym-yamahy-pred-zavode-v-brne-2015
            [post_title] => Tovární tým Yamahy před závodem v Brně 2015
            [post_author] => 2
            [post_date] => 2015-08-12 13:29:30
            [year] => 2015
            [month] => 8
            [post_type] => post
        )

    [310] => stdClass Object
        (
            [slug] => rossi-novinky
            [ID] => 38509
            [post_name] => velka-cena-motogp-red-bull-indianapolis-2015
            [post_title] => Velká Cena MotoGP Red Bull Indianapolis 2015
            [post_author] => 2
            [post_date] => 2015-08-09 21:23:00
            [year] => 2015
            [month] => 8
            [post_type] => post
        )

    [311] => stdClass Object
        (
            [slug] => rossi-novinky
            [ID] => 38512
            [post_name] => warm-up-motogp-indianapolis-2015
            [post_title] => Warm up MotoGP - Indianapolis 2015
            [post_author] => 2
            [post_date] => 2015-08-09 16:11:30
            [year] => 2015
            [month] => 8
            [post_type] => post
        )

    [312] => stdClass Object
        (
            [slug] => rossi-novinky
            [ID] => 38488
            [post_name] => sobotni-trenink-a-kvalifikace-motogp-indianapolis-2015
            [post_title] => Sobotní trénink a kvalifikace MotoGP - Indianapolis 2015
            [post_author] => 2
            [post_date] => 2015-08-08 16:48:13
            [year] => 2015
            [month] => 8
            [post_type] => post
        )

    [313] => stdClass Object
        (
            [slug] => rossi-novinky
            [ID] => 38458
            [post_name] => patecni-treninky-motogp-indianapolis-2015
            [post_title] => Páteční tréninky MotoGP - Indianapolis 2015
            [post_author] => 2
            [post_date] => 2015-08-07 16:49:31
            [year] => 2015
            [month] => 8
            [post_type] => post
        )

    [314] => stdClass Object
        (
            [slug] => rossi-novinky
            [ID] => 38437
            [post_name] => tiskova-konference-motogp-indianapolis-2015-2
            [post_title] => Tisková konference MotoGP - Indianapolis 2015
            [post_author] => 2
            [post_date] => 2015-08-06 18:37:25
            [year] => 2015
            [month] => 8
            [post_type] => post
        )

    [315] => stdClass Object
        (
            [slug] => rossi-novinky
            [ID] => 38445
            [post_name] => na-prahu-druhe-poloviny-sezony-motogp-2015
            [post_title] => Na prahu druhé poloviny sezóny MotoGP 2015
            [post_author] => 2
            [post_date] => 2015-08-05 12:53:03
            [year] => 2015
            [month] => 8
            [post_type] => post
        )

    [316] => stdClass Object
        (
            [slug] => rossi-novinky
            [ID] => 38440
            [post_name] => tovarni-tym-yamahy-pred-zavodem-v-indianapolis-2
            [post_title] => Tovární tým Yamahy před závodem v Indianapolis
            [post_author] => 815
            [post_date] => 2015-08-05 10:45:35
            [year] => 2015
            [month] => 8
            [post_type] => post
        )

    [317] => stdClass Object
        (
            [slug] => rossi-novinky
            [ID] => 38417
            [post_name] => tovarni-tym-yamahy-vyhral-osmihodinovku-v-suzuce
            [post_title] => Tovární tým Yamahy vyhrál osmihodinovku v Suzuce
            [post_author] => 2
            [post_date] => 2015-07-26 18:00:55
            [year] => 2015
            [month] => 7
            [post_type] => post
        )

    [318] => stdClass Object
        (
            [slug] => rossi-novinky
            [ID] => 38408
            [post_name] => j-lorenzo-je-to-stejne-jako-v-tenisu
            [post_title] => J.Lorenzo: "Je to stejné jako v tenisu."
            [post_author] => 2
            [post_date] => 2015-07-21 14:18:54
            [year] => 2015
            [month] => 7
            [post_type] => post
        )

    [319] => stdClass Object
        (
            [slug] => rossi-novinky
            [ID] => 38399
            [post_name] => rossi-nebyl-po-tretim-mistu-nikdy-tak-spokojeny
            [post_title] => Rossi nebyl po třetím místu nikdy tak spokojený
            [post_author] => 2
            [post_date] => 2015-07-16 18:43:51
            [year] => 2015
            [month] => 7
            [post_type] => post
        )

    [320] => stdClass Object
        (
            [slug] => rossi-novinky
            [ID] => 38365
            [post_name] => velka-cena-nemecka-sachsenring-2015
            [post_title] => Velká Cena Německa - Sachsenring 2015
            [post_author] => 2
            [post_date] => 2015-07-12 15:07:20
            [year] => 2015
            [month] => 7
            [post_type] => post
        )

    [321] => stdClass Object
        (
            [slug] => rossi-novinky
            [ID] => 38362
            [post_name] => warm-up-motogp-sachsenring-2015
            [post_title] => Warm up MotoGP - Sachsenring 2015
            [post_author] => 2
            [post_date] => 2015-07-12 10:18:45
            [year] => 2015
            [month] => 7
            [post_type] => post
        )

    [322] => stdClass Object
        (
            [slug] => rossi-novinky
            [ID] => 38335
            [post_name] => sobotni-trenink-a-kvalifikace-sachsenring-2015
            [post_title] => Sobotní trénink a kvalifikace - Sachsenring 2015
            [post_author] => 2
            [post_date] => 2015-07-11 10:52:51
            [year] => 2015
            [month] => 7
            [post_type] => post
        )

    [323] => stdClass Object
        (
            [slug] => rossi-novinky
            [ID] => 38278
            [post_name] => patecni-treninky-motogp-sachsenring-2015
            [post_title] => Páteční tréninky MotoGP - Sachsenring 2015
            [post_author] => 2
            [post_date] => 2015-07-10 10:49:14
            [year] => 2015
            [month] => 7
            [post_type] => post
        )

    [324] => stdClass Object
        (
            [slug] => rossi-novinky
            [ID] => 38276
            [post_name] => tiskova-konference-motogp-sachsenring-2015
            [post_title] => Tisková konference MotoGP - Sachsenring 2015
            [post_author] => 2
            [post_date] => 2015-07-09 17:33:47
            [year] => 2015
            [month] => 7
            [post_type] => post
        )

    [325] => stdClass Object
        (
            [slug] => rossi-novinky
            [ID] => 38259
            [post_name] => tovarni-tym-yamahy-pred-zavodem-na-sachsenringu-2
            [post_title] => Tovární tým Yamahy před závodem na Sachsenringu
            [post_author] => 2
            [post_date] => 2015-07-08 12:54:13
            [year] => 2015
            [month] => 7
            [post_type] => post
        )

    [326] => stdClass Object
        (
            [slug] => rossi-novinky
            [ID] => 38185
            [post_name] => assen-2015-rossi-versus-marquez
            [post_title] => Assen 2015 - Rossi versus Marquez
            [post_author] => 2
            [post_date] => 2015-06-28 15:45:17
            [year] => 2015
            [month] => 6
            [post_type] => post
        )

    [327] => stdClass Object
        (
            [slug] => rossi-novinky
            [ID] => 38180
            [post_name] => festival-rychlosti-v-goodwoodu
            [post_title] => Festival rychlosti v Goodwoodu
            [post_author] => 2
            [post_date] => 2015-06-28 11:11:16
            [year] => 2015
            [month] => 6
            [post_type] => post
        )

    [328] => stdClass Object
        (
            [slug] => velkka-cena-gp
            [ID] => 38122
            [post_name] => velka-cena-holandska-motogp-tt-assen-2015
            [post_title] => Velká Cena Holandska MotoGP - TT Assen 2015
            [post_author] => 2
            [post_date] => 2015-06-27 15:26:31
            [year] => 2015
            [month] => 6
            [post_type] => post
        )

    [329] => stdClass Object
        (
            [slug] => rossi-novinky
            [ID] => 38114
            [post_name] => warm-up-motogp-assen-2015
            [post_title] => Warm up MotoGP – Assen 2015
            [post_author] => 237
            [post_date] => 2015-06-27 10:09:58
            [year] => 2015
            [month] => 6
            [post_type] => post
        )

    [330] => stdClass Object
        (
            [slug] => rossi-novinky
            [ID] => 38077
            [post_name] => patecni-treninky-a-kvalifikace-assen-2015
            [post_title] => Páteční tréninky a kvalifikace Assen 2015
            [post_author] => 2
            [post_date] => 2015-06-26 10:50:51
            [year] => 2015
            [month] => 6
            [post_type] => post
        )

    [331] => stdClass Object
        (
            [slug] => rossi-novinky
            [ID] => 38046
            [post_name] => ctvrtecni-treninky-motogp-assen-2015
            [post_title] => Čtvrteční tréninky MotoGP - Assen 2015
            [post_author] => 2
            [post_date] => 2015-06-25 10:48:57
            [year] => 2015
            [month] => 6
            [post_type] => post
        )

    [332] => stdClass Object
        (
            [slug] => rossi-novinky
            [ID] => 38035
            [post_name] => tiskova-konference-motogp-assen-2015
            [post_title] => Tisková konference MotoGP Assen 2015
            [post_author] => 2
            [post_date] => 2015-06-24 17:33:27
            [year] => 2015
            [month] => 6
            [post_type] => post
        )

    [333] => stdClass Object
        (
            [slug] => rossi-novinky
            [ID] => 38022
            [post_name] => tovarni-tym-pred-zavodem-v-assenu
            [post_title] => Tovární tým před závodem v Assenu
            [post_author] => 815
            [post_date] => 2015-06-23 13:36:55
            [year] => 2015
            [month] => 6
            [post_type] => post
        )

    [334] => stdClass Object
        (
            [slug] => superbike-2
            [ID] => 38009
            [post_name] => rozhovor-s-maxem-biaggim-v-misanu
            [post_title] => Rozhovor s Maxem Biaggim v Misanu
            [post_author] => 2
            [post_date] => 2015-06-20 10:10:32
            [year] => 2015
            [month] => 6
            [post_type] => post
        )

    [335] => stdClass Object
        (
            [slug] => rossi-novinky
            [ID] => 37993
            [post_name] => testy-yamahy-v-aragon
            [post_title] => Testy Yamahy v Aragón
            [post_author] => 2
            [post_date] => 2015-06-18 13:09:22
            [year] => 2015
            [month] => 6
            [post_type] => post
        )

    [336] => stdClass Object
        (
            [slug] => rossi-novinky
            [ID] => 37982
            [post_name] => rossi-lorenzo-valka-podle-pravidel
            [post_title] => Rossi & Lorenzo – válka podle pravidel
            [post_author] => 2
            [post_date] => 2015-06-16 17:12:46
            [year] => 2015
            [month] => 6
            [post_type] => post
        )

    [337] => stdClass Object
        (
            [slug] => rossi-novinky
            [ID] => 37971
            [post_name] => pozavodni-testy-motogp-v-barcelone
            [post_title] => Pozávodní testy MotoGP v Barceloně
            [post_author] => 2
            [post_date] => 2015-06-15 17:51:58
            [year] => 2015
            [month] => 6
            [post_type] => post
        )

    [338] => stdClass Object
        (
            [slug] => velkka-cena-gp
            [ID] => 37932
            [post_name] => velka-cena-katalanska-barcelona-2015
            [post_title] => Velká Cena Katalánska - Barcelona 2015
            [post_author] => 2
            [post_date] => 2015-06-14 15:14:05
            [year] => 2015
            [month] => 6
            [post_type] => post
        )

    [339] => stdClass Object
        (
            [slug] => rossi-novinky
            [ID] => 37924
            [post_name] => warm-up-motogp-katalansko-2015
            [post_title] => Warm up MotoGP – Katalánsko 2015
            [post_author] => 237
            [post_date] => 2015-06-14 10:11:39
            [year] => 2015
            [month] => 6
            [post_type] => post
        )

    [340] => stdClass Object
        (
            [slug] => rossi-novinky
            [ID] => 37883
            [post_name] => sobotni-trenink-a-kvalifikace-katalansko-2015
            [post_title] => Sobotní trénink a kvalifikace - Katalánsko 2015
            [post_author] => 2
            [post_date] => 2015-06-13 10:52:23
            [year] => 2015
            [month] => 6
            [post_type] => post
        )

    [341] => stdClass Object
        (
            [slug] => rossi-novinky
            [ID] => 37857
            [post_name] => patecni-treninky-motogp-catalunya-2015
            [post_title] => Páteční tréninky MotoGP – Katalánsko 2015
            [post_author] => 237
            [post_date] => 2015-06-12 10:49:08
            [year] => 2015
            [month] => 6
            [post_type] => post
        )

    [342] => stdClass Object
        (
            [slug] => rossi-novinky
            [ID] => 37836
            [post_name] => tiskova-konference-motogp-katalansko-2015
            [post_title] => Tisková konference MotoGP - Katalánsko 2015
            [post_author] => 2
            [post_date] => 2015-06-11 17:46:51
            [year] => 2015
            [month] => 6
            [post_type] => post
        )

    [343] => stdClass Object
        (
            [slug] => rossi-novinky
            [ID] => 37824
            [post_name] => tovarni-tym-yamahy-pred-zavodem-v-katalansku
            [post_title] => Tovární tým Yamahy před závodem v Katalánsku
            [post_author] => 2
            [post_date] => 2015-06-10 12:18:14
            [year] => 2015
            [month] => 6
            [post_type] => post
        )

    [344] => stdClass Object
        (
            [slug] => michelin
            [ID] => 37809
            [post_name] => testy-pneumatik-michelin-v-mugellu
            [post_title] => Testy pneumatik Michelin v Mugellu
            [post_author] => 2
            [post_date] => 2015-06-01 18:12:36
            [year] => 2015
            [month] => 6
            [post_type] => post
        )

    [345] => stdClass Object
        (
            [slug] => rossi-novinky
            [ID] => 37777
            [post_name] => velka-cena-italie-mugello-2015
            [post_title] => Velká Cena Itálie - Mugello 2015
            [post_author] => 2
            [post_date] => 2015-05-31 15:07:56
            [year] => 2015
            [month] => 5
            [post_type] => post
        )

    [346] => stdClass Object
        (
            [slug] => rossi-novinky
            [ID] => 37773
            [post_name] => warm-up-motogp-mugello-2015
            [post_title] => Warm up MotoGP – Mugello 2015
            [post_author] => 237
            [post_date] => 2015-05-31 10:10:57
            [year] => 2015
            [month] => 5
            [post_type] => post
        )

    [347] => stdClass Object
        (
            [slug] => rossi-novinky
            [ID] => 37736
            [post_name] => sobotni-trenink-a-kvalifikace-mugello-2015
            [post_title] => Sobotní trénink a kvalifikace Mugello 2015
            [post_author] => 2
            [post_date] => 2015-05-30 10:56:07
            [year] => 2015
            [month] => 5
            [post_type] => post
        )

    [348] => stdClass Object
        (
            [slug] => rossi-novinky
            [ID] => 37707
            [post_name] => patecni-treninky-motogp-mugello-2015
            [post_title] => Páteční tréninky MotoGP – Mugello 2015
            [post_author] => 237
            [post_date] => 2015-05-29 10:57:10
            [year] => 2015
            [month] => 5
            [post_type] => post
        )

    [349] => stdClass Object
        (
            [slug] => rossi-novinky
            [ID] => 37696
            [post_name] => milostny-vztah-valentina-rossiho-a-mugella
            [post_title] => Milostný vzťah Valentina Rossiho a Mugella
            [post_author] => 1452
            [post_date] => 2015-05-28 21:42:14
            [year] => 2015
            [month] => 5
            [post_type] => post
        )

    [350] => stdClass Object
        (
            [slug] => rossi-novinky
            [ID] => 37690
            [post_name] => tiskova-konference-motogp-mugello-2015
            [post_title] => Tisková konference MotoGP - Mugello 2015
            [post_author] => 2
            [post_date] => 2015-05-28 17:55:46
            [year] => 2015
            [month] => 5
            [post_type] => post
        )

    [351] => stdClass Object
        (
            [slug] => rossi-novinky
            [ID] => 37678
            [post_name] => tovarni-tym-yamahy-pred-zavodem-v-mugellu-2015
            [post_title] => Tovární tým Yamahy před závodem v Mugellu 2015
            [post_author] => 2
            [post_date] => 2015-05-27 10:53:54
            [year] => 2015
            [month] => 5
            [post_type] => post
        )

    [352] => stdClass Object
        (
            [slug] => rossi-novinky
            [ID] => 37673
            [post_name] => after-the-flag-le-mans-2015
            [post_title] => After The Flag - Le Mans 2015
            [post_author] => 2
            [post_date] => 2015-05-19 19:38:29
            [year] => 2015
            [month] => 5
            [post_type] => post
        )

    [353] => stdClass Object
        (
            [slug] => velkka-cena-gp
            [ID] => 37638
            [post_name] => velka-cena-francie-le-mans-2015
            [post_title] => Velká Cena Francie - Le Mans 2015
            [post_author] => 2
            [post_date] => 2015-05-17 15:23:18
            [year] => 2015
            [month] => 5
            [post_type] => post
        )

    [354] => stdClass Object
        (
            [slug] => rossi-novinky
            [ID] => 37632
            [post_name] => warm-up-motogp-le-mans-2015
            [post_title] => Warm up MotoGP – Le Mans 2015
            [post_author] => 237
            [post_date] => 2015-05-17 10:12:58
            [year] => 2015
            [month] => 5
            [post_type] => post
        )

    [355] => stdClass Object
        (
            [slug] => rossi-novinky
            [ID] => 37613
            [post_name] => sobotni-trenink-a-kvalifikace-le-mans-2015
            [post_title] => Sobotní trénink a kvalifikace Le Mans 2015
            [post_author] => 2
            [post_date] => 2015-05-16 10:49:51
            [year] => 2015
            [month] => 5
            [post_type] => post
        )

    [356] => stdClass Object
        (
            [slug] => rossi-novinky
            [ID] => 37576
            [post_name] => patecni-treninky-motogp-le-mans-2015
            [post_title] => Páteční tréninky MotoGP – Le Mans 2015
            [post_author] => 237
            [post_date] => 2015-05-15 10:55:15
            [year] => 2015
            [month] => 5
            [post_type] => post
        )

    [357] => stdClass Object
        (
            [slug] => rossi-novinky
            [ID] => 37562
            [post_name] => tiskova-konference-motogp-le-mans-2015
            [post_title] => Tisková konference MotoGP – Le Mans 2015
            [post_author] => 2
            [post_date] => 2015-05-14 17:36:15
            [year] => 2015
            [month] => 5
            [post_type] => post
        )

    [358] => stdClass Object
        (
            [slug] => rossi-novinky
            [ID] => 37544
            [post_name] => tovarni-tym-yamahy-pred-zavodem-v-le-mans-2015
            [post_title] => Tovární tým Yamahy před závodem v Le Mans 2015
            [post_author] => 2
            [post_date] => 2015-05-13 13:13:42
            [year] => 2015
            [month] => 5
            [post_type] => post
        )

    [359] => stdClass Object
        (
            [slug] => rozhovor
            [ID] => 37547
            [post_name] => rozhovor-s-c-ezpeletou-rossi-tady-bude-dlouho
            [post_title] => Rozhovor s C.Ezpeletou - "Rossi tady bude dlouho."
            [post_author] => 2
            [post_date] => 2015-05-13 10:11:22
            [year] => 2015
            [month] => 5
            [post_type] => post
        )

    [360] => stdClass Object
        (
            [slug] => rossi-novinky
            [ID] => 37536
            [post_name] => rossi-v-spanielsku-opat-prepisoval-historiu-motogp
            [post_title] => Rossi v Španielsku opäť prepisoval históriu MotoGP
            [post_author] => 1452
            [post_date] => 2015-05-07 22:45:22
            [year] => 2015
            [month] => 5
            [post_type] => post
        )

    [361] => stdClass Object
        (
            [slug] => rossi-novinky
            [ID] => 37503
            [post_name] => testy-motogp-jerez-2015
            [post_title] => Testy MotoGP - Jerez 2015
            [post_author] => 2
            [post_date] => 2015-05-04 11:22:54
            [year] => 2015
            [month] => 5
            [post_type] => post
        )

    [362] => stdClass Object
        (
            [slug] => rossi-novinky
            [ID] => 37460
            [post_name] => velka-cena-spanelska-motogp-jerez-2015
            [post_title] => Velká Cena Španělska MotoGP - Jerez 2015
            [post_author] => 2
            [post_date] => 2015-05-03 15:08:08
            [year] => 2015
            [month] => 5
            [post_type] => post
        )

    [363] => stdClass Object
        (
            [slug] => rossi-novinky
            [ID] => 37467
            [post_name] => warm-up-motogp-jerez-2015
            [post_title] => Warm up MotoGP - Jerez 2015
            [post_author] => 2
            [post_date] => 2015-05-03 10:12:12
            [year] => 2015
            [month] => 5
            [post_type] => post
        )

    [364] => stdClass Object
        (
            [slug] => rossi-novinky
            [ID] => 37429
            [post_name] => sobotni-trenink-a-kvalifikace-motogp-jerez-2015
            [post_title] => Sobotní trénink a kvalifikace MotoGP Jerez 2015
            [post_author] => 2
            [post_date] => 2015-05-02 10:48:24
            [year] => 2015
            [month] => 5
            [post_type] => post
        )

    [365] => stdClass Object
        (
            [slug] => rossi-novinky
            [ID] => 37420
            [post_name] => nakamoto-ak-budeme-caseyho-potrebovat-vrati-sa
            [post_title] => Nakamoto: "Ak budeme Caseyho potrebovať, vráti sa."
            [post_author] => 1452
            [post_date] => 2015-05-02 09:33:30
            [year] => 2015
            [month] => 5
            [post_type] => post
        )

    [366] => stdClass Object
        (
            [slug] => rossi-novinky
            [ID] => 37375
            [post_name] => patecni-treninky-motogp-jerez-2015
            [post_title] => Páteční tréninky MotoGP - Jerez 2015
            [post_author] => 2
            [post_date] => 2015-05-01 10:54:08
            [year] => 2015
            [month] => 5
            [post_type] => post
        )

    [367] => stdClass Object
        (
            [slug] => rossi-novinky
            [ID] => 37356
            [post_name] => tiskova-konference-motogp-jerez-2015
            [post_title] => Tisková konference MotoGP - Jerez 2015
            [post_author] => 2
            [post_date] => 2015-04-30 18:38:49
            [year] => 2015
            [month] => 4
            [post_type] => post
        )

    [368] => stdClass Object
        (
            [slug] => rossi-novinky
            [ID] => 37344
            [post_name] => tovarni-tym-yamahy-pred-zavodem-v-jerezu-2015
            [post_title] => Tovární tým Yamahy před závodem v Jerezu 2015
            [post_author] => 2
            [post_date] => 2015-04-29 16:17:11
            [year] => 2015
            [month] => 4
            [post_type] => post
        )

    [369] => stdClass Object
        (
            [slug] => rossi-novinky
            [ID] => 37326
            [post_name] => analyza-argentiny-2015-neverte-ucencum
            [post_title] => Analýza Argentiny 2015 & Nevěřte učencům!
            [post_author] => 1452
            [post_date] => 2015-04-26 14:16:49
            [year] => 2015
            [month] => 4
            [post_type] => post
        )

    [370] => stdClass Object
        (
            [slug] => rossi-novinky
            [ID] => 37316
            [post_name] => m-marquez-nezpusobili-jsme-ten-pad-zamerne
            [post_title] => M.Marquez: "Nezpůsobili jsme ten pád záměrně."
            [post_author] => 2
            [post_date] => 2015-04-23 18:02:23
            [year] => 2015
            [month] => 4
            [post_type] => post
        )

    [371] => stdClass Object
        (
            [slug] => rossi-novinky
            [ID] => 37303
            [post_name] => c-pernat-stratosfericky-rossi-a-tvrdohlavy-marquez
            [post_title] => C.Pernat: Stratosférický Rossi a tvrdohlavý Marquez
            [post_author] => 2
            [post_date] => 2015-04-21 16:27:23
            [year] => 2015
            [month] => 4
            [post_type] => post
        )

    [372] => stdClass Object
        (
            [slug] => rossi-novinky
            [ID] => 37287
            [post_name] => jarvis-a-suppo-k-incidentu-mezi-rossim-a-marquezem
            [post_title] => Jarvis a Suppo k incidentu mezi Rossim a Marquezem
            [post_author] => 2
            [post_date] => 2015-04-20 13:22:34
            [year] => 2015
            [month] => 4
            [post_type] => post
        )

    [373] => stdClass Object
        (
            [slug] => rossi-novinky
            [ID] => 37234
            [post_name] => velka-cena-argentiny-motogp-2015
            [post_title] => Velká Cena Argentiny  MotoGP 2015
            [post_author] => 2
            [post_date] => 2015-04-19 22:19:18
            [year] => 2015
            [month] => 4
            [post_type] => post
        )

    [374] => stdClass Object
        (
            [slug] => rossi-novinky
            [ID] => 37211
            [post_name] => warm-up-motogp-argentina-2015
            [post_title] => Warm up MotoGP - Argentina 2015
            [post_author] => 2
            [post_date] => 2015-04-19 16:09:49
            [year] => 2015
            [month] => 4
            [post_type] => post
        )

    [375] => stdClass Object
        (
            [slug] => rossi-novinky
            [ID] => 37189
            [post_name] => sobotni-trenink-a-kvalifikace-motogp-argentina-2015
            [post_title] => Sobotní trénink a kvalifikace MotoGP Argentina 2015
            [post_author] => 2
            [post_date] => 2015-04-18 16:01:38
            [year] => 2015
            [month] => 4
            [post_type] => post
        )

    [376] => stdClass Object
        (
            [slug] => rossi-novinky
            [ID] => 37164
            [post_name] => patecni-treninky-motogp-argentina-2015
            [post_title] => Páteční tréninky MotoGP Argentina 2015
            [post_author] => 2
            [post_date] => 2015-04-17 15:53:10
            [year] => 2015
            [month] => 4
            [post_type] => post
        )

    [377] => stdClass Object
        (
            [slug] => rossi-novinky
            [ID] => 37139
            [post_name] => tiskova-konference-motogp-argentina-2015
            [post_title] => Tisková konference MotoGP Argentina 2015
            [post_author] => 2
            [post_date] => 2015-04-16 22:25:33
            [year] => 2015
            [month] => 4
            [post_type] => post
        )

    [378] => stdClass Object
        (
            [slug] => rossi-novinky
            [ID] => 37134
            [post_name] => tovarni-tym-pred-zavodem-v-argentine
            [post_title] => Tovární tým před závodem v Argentině
            [post_author] => 815
            [post_date] => 2015-04-16 07:26:38
            [year] => 2015
            [month] => 4
            [post_type] => post
        )

    [379] => stdClass Object
        (
            [slug] => rossi-novinky
            [ID] => 37130
            [post_name] => kdy-valentino-rossi-skonci-v-motogp
            [post_title] => Kdy Valentino Rossi skončí v MotoGP?
            [post_author] => 2
            [post_date] => 2015-04-14 17:45:34
            [year] => 2015
            [month] => 4
            [post_type] => post
        )

    [380] => stdClass Object
        (
            [slug] => velkka-cena-gp
            [ID] => 37091
            [post_name] => velka-cena-ameriky-motogp-austin-2015
            [post_title] => Velká Cena Ameriky MotoGP – Austin 2015
            [post_author] => 2
            [post_date] => 2015-04-12 22:55:02
            [year] => 2015
            [month] => 4
            [post_type] => post
        )

    [381] => stdClass Object
        (
            [slug] => rossi-novinky
            [ID] => 37081
            [post_name] => warm-up-motogp-austin-2015
            [post_title] => Warm up MotoGP – Austin 2015
            [post_author] => 2
            [post_date] => 2015-04-12 17:44:35
            [year] => 2015
            [month] => 4
            [post_type] => post
        )

    [382] => stdClass Object
        (
            [slug] => rossi-novinky
            [ID] => 37047
            [post_name] => sobotni-trenink-a-kvalifikace-motogp-austin-2015
            [post_title] => Sobotní trénink a kvalifikace MotoGP - Austin 2015
            [post_author] => 2
            [post_date] => 2015-04-11 17:57:08
            [year] => 2015
            [month] => 4
            [post_type] => post
        )

    [383] => stdClass Object
        (
            [slug] => rossi-novinky
            [ID] => 36994
            [post_name] => patecni-treninky-motogp-austin-2015
            [post_title] => Páteční tréninky MotoGP - Austin 2015
            [post_author] => 2
            [post_date] => 2015-04-10 19:04:29
            [year] => 2015
            [month] => 4
            [post_type] => post
        )

    [384] => stdClass Object
        (
            [slug] => casey-stoner
            [ID] => 36961
            [post_name] => casey-stoner-mel-nahradit-zraneneho-pedrosu
            [post_title] => Casey Stoner chtěl nahradit zraněného Pedrosu
            [post_author] => 2
            [post_date] => 2015-04-10 07:24:39
            [year] => 2015
            [month] => 4
            [post_type] => post
        )

    [385] => stdClass Object
        (
            [slug] => rossi-novinky
            [ID] => 36981
            [post_name] => tiskova-konference-motogp-austin-2014
            [post_title] => Tisková konference MotoGP Austin 2015
            [post_author] => 2
            [post_date] => 2015-04-09 19:59:20
            [year] => 2015
            [month] => 4
            [post_type] => post
        )

    [386] => stdClass Object
        (
            [slug] => rossi-novinky
            [ID] => 36973
            [post_name] => tovarni-tym-pred-zavodem-v-austinu
            [post_title] => Tovární tým před závodem v Austinu
            [post_author] => 815
            [post_date] => 2015-04-09 07:33:37
            [year] => 2015
            [month] => 4
            [post_type] => post
        )

    [387] => stdClass Object
        (
            [slug] => rossi-novinky
            [ID] => 36953
            [post_name] => muze-letos-yamaha-uspet-v-austinu
            [post_title] => Může letos Yamaha uspět v Austinu?
            [post_author] => 2
            [post_date] => 2015-04-04 19:00:52
            [year] => 2015
            [month] => 4
            [post_type] => post
        )

    [388] => stdClass Object
        (
            [slug] => rossi-novinky
            [ID] => 36917
            [post_name] => film-s-nazvem-rossi
            [post_title] => Film s názvem "ROSSI" ?
            [post_author] => 2
            [post_date] => 2015-04-01 17:58:41
            [year] => 2015
            [month] => 4
            [post_type] => post
        )

    [389] => stdClass Object
        (
            [slug] => rossi-novinky
            [ID] => 36906
            [post_name] => after-the-flag-katar-2015
            [post_title] => After The Flag - Katar 2015
            [post_author] => 2
            [post_date] => 2015-04-01 10:30:26
            [year] => 2015
            [month] => 4
            [post_type] => post
        )

    [390] => stdClass Object
        (
            [slug] => rossi-novinky
            [ID] => 36881
            [post_name] => v-rossi-byl-to-jeden-z-nejlepsich-souboju-v-kariere
            [post_title] => V.Rossi: "Byl to jeden z nejlepších soubojů v kariéře!"
            [post_author] => 2
            [post_date] => 2015-03-30 09:34:09
            [year] => 2015
            [month] => 3
            [post_type] => post
        )

    [391] => stdClass Object
        (
            [slug] => velkka-cena-gp
            [ID] => 36829
            [post_name] => velka-cena-motogp-katar-2015
            [post_title] => Velká Cena MotoGP - Katar 2015
            [post_author] => 2
            [post_date] => 2015-03-29 21:22:17
            [year] => 2015
            [month] => 3
            [post_type] => post
        )

    [392] => stdClass Object
        (
            [slug] => rossi-novinky
            [ID] => 36827
            [post_name] => warm-up-motogp-katar-2015
            [post_title] => Warm up MotoGP – Katar 2015
            [post_author] => 2
            [post_date] => 2015-03-29 16:32:26
            [year] => 2015
            [month] => 3
            [post_type] => post
        )

    [393] => stdClass Object
        (
            [slug] => rossi-novinky
            [ID] => 36796
            [post_name] => sobotni-trenink-a-kvalifikace-motogp-katar-2015
            [post_title] => Sobotní trénink a kvalifikace MotoGP – Katar 2015
            [post_author] => 2
            [post_date] => 2015-03-28 18:33:04
            [year] => 2015
            [month] => 3
            [post_type] => post
        )

    [394] => stdClass Object
        (
            [slug] => rossi-novinky
            [ID] => 36765
            [post_name] => patecni-treninky-motogp-katar-2015
            [post_title] => Páteční tréninky MotoGP – Katar 2015
            [post_author] => 2
            [post_date] => 2015-03-27 16:54:52
            [year] => 2015
            [month] => 3
            [post_type] => post
        )

    [395] => stdClass Object
        (
            [slug] => rossi-novinky
            [ID] => 36723
            [post_name] => ctvrtecni-trenink-motogp-katar-2015
            [post_title] => Čtvrteční trénink MotoGP - Katar 2015
            [post_author] => 2
            [post_date] => 2015-03-26 18:50:23
            [year] => 2015
            [month] => 3
            [post_type] => post
        )

    [396] => stdClass Object
        (
            [slug] => rossi-novinky
            [ID] => 36726
            [post_name] => w-zeelenberg-vyhoda-ducati-uz-neni-uplne-ferova
            [post_title] => W. Zeelenberg: "Výhoda Ducati už není úplně férová."
            [post_author] => 237
            [post_date] => 2015-03-26 13:28:32
            [year] => 2015
            [month] => 3
            [post_type] => post
        )

    [397] => stdClass Object
        (
            [slug] => rossi-novinky
            [ID] => 36701
            [post_name] => tiskova-konference-motogp-katar-2015-2
            [post_title] => Tisková konference MotoGP Katar 2015
            [post_author] => 2
            [post_date] => 2015-03-25 15:29:16
            [year] => 2015
            [month] => 3
            [post_type] => post
        )

    [398] => stdClass Object
        (
            [slug] => rossi-novinky
            [ID] => 36703
            [post_name] => tovarni-tym-yamahy-pred-prvnim-zavodem-sezony-2015
            [post_title] => Tovární tým Yamahy před prvním závodem sezóny 2015
            [post_author] => 2
            [post_date] => 2015-03-24 12:50:54
            [year] => 2015
            [month] => 3
            [post_type] => post
        )

    [399] => stdClass Object
        (
            [slug] => rossi-novinky
            [ID] => 36680
            [post_name] => novy-obchod-vr46-v-praze
            [post_title] => Nový obchod VR|46 v Praze
            [post_author] => 2
            [post_date] => 2015-03-21 21:40:35
            [year] => 2015
            [month] => 3
            [post_type] => post
        )

    [400] => stdClass Object
        (
            [slug] => rossi-novinky
            [ID] => 36657
            [post_name] => m-meregalli-yamaha-nedela-revolucni-zmeny
            [post_title] => M.Meregalli: "Yamaha nedělá revoluční změny."
            [post_author] => 2
            [post_date] => 2015-03-17 17:21:12
            [year] => 2015
            [month] => 3
            [post_type] => post
        )

    [401] => stdClass Object
        (
            [slug] => rossi-novinky
            [ID] => 36611
            [post_name] => treti-oficialni-testy-motogp-2015-katar-den-treti
            [post_title] => Třetí oficiální testy MotoGP 2015 Katar - den třetí
            [post_author] => 2
            [post_date] => 2015-03-16 13:25:17
            [year] => 2015
            [month] => 3
            [post_type] => post
        )

    [402] => stdClass Object
        (
            [slug] => rossi-novinky
            [ID] => 36542
            [post_name] => treti-oficialni-testy-motogp-2015-katar-den-druhy
            [post_title] => Třetí oficiální testy MotoGP 2015 Katar - den druhý
            [post_author] => 2
            [post_date] => 2015-03-15 17:00:40
            [year] => 2015
            [month] => 3
            [post_type] => post
        )

    [403] => stdClass Object
        (
            [slug] => rossi-novinky
            [ID] => 36504
            [post_name] => treti-oficialni-testy-motogp-2015-katar-den-prvni
            [post_title] => Třetí oficiální testy MotoGP 2015 Katar - den první
            [post_author] => 2
            [post_date] => 2015-03-14 14:12:56
            [year] => 2015
            [month] => 3
            [post_type] => post
        )

    [404] => stdClass Object
        (
            [slug] => yamaha-2
            [ID] => 36511
            [post_name] => na-rok-2015-yamaha-nasadi-novou-prevodovku
            [post_title] => Na rok 2015 Yamaha nasadí novou převodovku
            [post_author] => 2
            [post_date] => 2015-03-10 14:48:47
            [year] => 2015
            [month] => 3
            [post_type] => post
        )

    [405] => stdClass Object
        (
            [slug] => casey-stoner
            [ID] => 36484
            [post_name] => casey-stoner-marquezovi-bych-v-pohode-stacil
            [post_title] => Casey Stoner: "Marquezovi bych v pohodě stačil."
            [post_author] => 2
            [post_date] => 2015-03-03 18:46:14
            [year] => 2015
            [month] => 3
            [post_type] => post
        )

    [406] => stdClass Object
        (
            [slug] => rossi-novinky
            [ID] => 36464
            [post_name] => testy-michelin-sepang
            [post_title] => Testy Michelin - Sepang
            [post_author] => 2
            [post_date] => 2015-02-26 07:54:30
            [year] => 2015
            [month] => 2
            [post_type] => post
        )

    [407] => stdClass Object
        (
            [slug] => rossi-novinky
            [ID] => 36430
            [post_name] => druhe-oficialni-testy-motogp-2015-sepang-den-treti
            [post_title] => Druhé oficiální testy MotoGP 2015 Sepang den třetí
            [post_author] => 2
            [post_date] => 2015-02-25 07:34:54
            [year] => 2015
            [month] => 2
            [post_type] => post
        )

    [408] => stdClass Object
        (
            [slug] => rossi-novinky
            [ID] => 36405
            [post_name] => druhe-oficialni-testy-motogp-2015-sepang-den-druhy
            [post_title] => Druhé oficiální testy MotoGP 2015 Sepang den druhý
            [post_author] => 2
            [post_date] => 2015-02-24 07:22:31
            [year] => 2015
            [month] => 2
            [post_type] => post
        )

    [409] => stdClass Object
        (
            [slug] => rossi-novinky
            [ID] => 36358
            [post_name] => druhe-oficialni-testy-motogp-2015-sepang-den-prvni
            [post_title] => Druhé oficiální testy MotoGP 2015 Sepang den první
            [post_author] => 2
            [post_date] => 2015-02-23 06:27:42
            [year] => 2015
            [month] => 2
            [post_type] => post
        )

    [410] => stdClass Object
        (
            [slug] => ducati-desmosedici
            [ID] => 36344
            [post_name] => ducati-predstavila-svoji-novou-desmosedici-gp15
            [post_title] => Ducati představila svoji novou Desmosedici GP15
            [post_author] => 2
            [post_date] => 2015-02-16 16:55:10
            [year] => 2015
            [month] => 2
            [post_type] => post
        )

    [411] => stdClass Object
        (
            [slug] => rossi-novinky
            [ID] => 27535
            [post_name] => valentino-rossi-slavi-tricate-seste-narozeniny
            [post_title] => Valentino Rossi slaví třicáté šesté narozeniny
            [post_author] => 2
            [post_date] => 2015-02-15 17:00:24
            [year] => 2015
            [month] => 2
            [post_type] => post
        )

    [412] => stdClass Object
        (
            [slug] => rossi-novinky
            [ID] => 36323
            [post_name] => d-petrucci-valentinovi-jsem-stacil-dve-kola
            [post_title] => Danilo Petrucci: "Valentinovi jsem stačil dvě kola."
            [post_author] => 2
            [post_date] => 2015-02-09 18:01:38
            [year] => 2015
            [month] => 2
            [post_type] => post
        )

    [413] => stdClass Object
        (
            [slug] => bridgestone-2
            [ID] => 36308
            [post_name] => testy-motogp-pro-michelin-sepang-2015
            [post_title] => Testy MotoGP pro Michelin Sepang 2015
            [post_author] => 2
            [post_date] => 2015-02-07 13:36:32
            [year] => 2015
            [month] => 2
            [post_type] => post
        )

    [414] => stdClass Object
        (
            [slug] => rossi-novinky
            [ID] => 36255
            [post_name] => prvni-oficialni-testy-motogp-2015-sepang-den-treti
            [post_title] => První oficiální testy MotoGP 2015 Sepang - den třetí
            [post_author] => 2
            [post_date] => 2015-02-06 07:12:19
            [year] => 2015
            [month] => 2
            [post_type] => post
        )

    [415] => stdClass Object
        (
            [slug] => rossi-novinky
            [ID] => 36222
            [post_name] => prvni-oficialni-testy-motogp-2015-sepang-den-druhy
            [post_title] => První oficiální testy MotoGP 2015 Sepang den druhý
            [post_author] => 2
            [post_date] => 2015-02-05 07:08:31
            [year] => 2015
            [month] => 2
            [post_type] => post
        )

    [416] => stdClass Object
        (
            [slug] => rossi-novinky
            [ID] => 36205
            [post_name] => cal-crutchlow-honda-se-ridi-obtizneji-nez-se-zda
            [post_title] => Cal Crutchlow: "Honda se řídí obtížněji, než se zdá."
            [post_author] => 237
            [post_date] => 2015-02-04 20:44:13
            [year] => 2015
            [month] => 2
            [post_type] => post
        )

    [417] => stdClass Object
        (
            [slug] => rossi-novinky
            [ID] => 36143
            [post_name] => prvni-oficialni-testy-motogp-2015-sepang
            [post_title] => První oficiální testy MotoGP 2015 Sepang den první
            [post_author] => 2
            [post_date] => 2015-02-04 07:18:27
            [year] => 2015
            [month] => 2
            [post_type] => post
        )

    [418] => stdClass Object
        (
            [slug] => rossi-novinky
            [ID] => 36127
            [post_name] => rozhovor-s-valentinem-rossim-pred-prvnimi-testy
            [post_title] => Rozhovor s Valentinem Rossim před prvními testy
            [post_author] => 2
            [post_date] => 2015-01-31 19:05:50
            [year] => 2015
            [month] => 1
            [post_type] => post
        )

    [419] => stdClass Object
        (
            [slug] => jorge-lorenzo
            [ID] => 36124
            [post_name] => rozhovor-s-jorge-lorenzem-pred-prvnimi-testy
            [post_title] => Rozhovor s Jorge Lorenzem před prvními testy
            [post_author] => 2
            [post_date] => 2015-01-30 12:51:06
            [year] => 2015
            [month] => 1
            [post_type] => post
        )

    [420] => stdClass Object
        (
            [slug] => rossi-novinky
            [ID] => 36076
            [post_name] => predstaveni-tovarniho-tymu-yamahy-pro-rok-2015
            [post_title] => Představení továrního týmu Yamahy pro rok 2015
            [post_author] => 2
            [post_date] => 2015-01-23 20:46:10
            [year] => 2015
            [month] => 1
            [post_type] => post
        )

    [421] => stdClass Object
        (
            [slug] => rossi-novinky
            [ID] => 36079
            [post_name] => nakamoto-ohromen-navratem-formy-valentina-rossiho
            [post_title] => Nakamoto ohromen návratem formy Valentina Rossiho
            [post_author] => 2
            [post_date] => 2015-01-20 11:34:26
            [year] => 2015
            [month] => 1
            [post_type] => post
        )

    [422] => stdClass Object
        (
            [slug] => motogp
            [ID] => 36071
            [post_name] => h-poncharal-sezona-2015-bude-hodne-zajimava
            [post_title] => H.Poncharal: "Sezóna 2015 bude hodně zajímavá."
            [post_author] => 2
            [post_date] => 2015-01-16 15:05:37
            [year] => 2015
            [month] => 1
            [post_type] => post
        )

    [423] => stdClass Object
        (
            [slug] => rossi-novinky
            [ID] => 36049
            [post_name] => yamaha-i-lorenzo-mohou-smlouvu-predcasne-ukoncit
            [post_title] => Yamaha i Lorenzo mohou smlouvu předčasně ukončit
            [post_author] => 2
            [post_date] => 2015-01-02 21:17:34
            [year] => 2015
            [month] => 1
            [post_type] => post
        )

    [424] => stdClass Object
        (
            [slug] => rossi-novinky
            [ID] => 36037
            [post_name] => rekapitulace-sezony-2014-valentina-rossiho
            [post_title] => Rekapitulace sezóny 2014 Valentina Rossiho
            [post_author] => 2
            [post_date] => 2015-01-01 15:47:55
            [year] => 2015
            [month] => 1
            [post_type] => post
        )

    [425] => stdClass Object
        (
            [slug] => honda-2
            [ID] => 36031
            [post_name] => honda-setri-pneumatiky-vice-nez-yamaha
            [post_title] => Honda šetří pneumatiky více než Yamaha
            [post_author] => 2
            [post_date] => 2014-12-29 18:43:50
            [year] => 2014
            [month] => 12
            [post_type] => post
        )

    [426] => stdClass Object
        (
            [slug] => rossi-yamaha-cz
            [ID] => 27180
            [post_name] => pf-2014
            [post_title] => PF 2015
            [post_author] => 2
            [post_date] => 2014-12-23 08:00:45
            [year] => 2014
            [month] => 12
            [post_type] => post
        )

    [427] => stdClass Object
        (
            [slug] => rozhovor
            [ID] => 35987
            [post_name] => s-galbusera-rossi-je-stary-jen-na-papire
            [post_title] => S.Galbusera: "Rossi je starý jen na papíře."
            [post_author] => 2
            [post_date] => 2014-12-21 08:00:20
            [year] => 2014
            [month] => 12
            [post_type] => post
        )

    [428] => stdClass Object
        (
            [slug] => ducati-2
            [ID] => 35980
            [post_name] => na-limit-paliva-maji-vliv-pneumatiky-a-software
            [post_title] => Na limit paliva mají vliv pneumatiky a software
            [post_author] => 2
            [post_date] => 2014-12-19 13:28:45
            [year] => 2014
            [month] => 12
            [post_type] => post
        )

    [429] => stdClass Object
        (
            [slug] => rossi-novinky
            [ID] => 35898
            [post_name] => zavod-na-100-km-na-ranci-valentina-rossiho
            [post_title] => Závod na 100 km na ranči Valentina Rossiho
            [post_author] => 2
            [post_date] => 2014-12-16 12:36:54
            [year] => 2014
            [month] => 12
            [post_type] => post
        )

    [430] => stdClass Object
        (
            [slug] => ducati-2
            [ID] => 35956
            [post_name] => v-sezone-2014-nebyly-motory-v-motogp-problemem
            [post_title] => V sezóně 2014 nebyly motory v MotoGP problémem
            [post_author] => 2
            [post_date] => 2014-12-08 17:12:24
            [year] => 2014
            [month] => 12
            [post_type] => post
        )

    [431] => stdClass Object
        (
            [slug] => rossi-novinky
            [ID] => 35907
            [post_name] => monza-rallye-2014
            [post_title] => Monza Rallye 2014
            [post_author] => 2
            [post_date] => 2014-11-30 12:22:41
            [year] => 2014
            [month] => 11
            [post_type] => post
        )

    [432] => stdClass Object
        (
            [slug] => rossi-novinky
            [ID] => 35937
            [post_name] => silvano-galbusera-rossi-chce-desaty-titul
            [post_title] => Silvano Galbusera: "Rossi chce desátý titul."
            [post_author] => 2
            [post_date] => 2014-11-29 21:24:20
            [year] => 2014
            [month] => 11
            [post_type] => post
        )

    [433] => stdClass Object
        (
            [slug] => rossi-novinky
            [ID] => 35889
            [post_name] => rozhovor-s-valentinem-rossim-po-sezone-2014
            [post_title] => Rozhovor s Valentinem Rossim po sezóně 2014
            [post_author] => 2
            [post_date] => 2014-11-18 14:55:19
            [year] => 2014
            [month] => 11
            [post_type] => post
        )

    [434] => stdClass Object
        (
            [slug] => rossi-novinky
            [ID] => 35877
            [post_name] => jorge-lorenzo-valentino-dokazal-neuveritelnou-vec
            [post_title] => Jorge Lorenzo: "Valentino dokázal neuvěřitelnou věc." 
            [post_author] => 2
            [post_date] => 2014-11-13 13:36:48
            [year] => 2014
            [month] => 11
            [post_type] => post
        )

    [435] => stdClass Object
        (
            [slug] => rossi-novinky
            [ID] => 35799
            [post_name] => posezonni-testy-motogp-valencie-2014
            [post_title] => Posezónní testy MotoGP - Valencie 2014
            [post_author] => 2
            [post_date] => 2014-11-10 12:57:51
            [year] => 2014
            [month] => 11
            [post_type] => post
        )

    [436] => stdClass Object
        (
            [slug] => velkka-cena-gp
            [ID] => 35752
            [post_name] => velka-cena-valencie-motogp-2014
            [post_title] => Velká Cena Valencie MotoGP 2014
            [post_author] => 2
            [post_date] => 2014-11-09 15:20:38
            [year] => 2014
            [month] => 11
            [post_type] => post
        )

    [437] => stdClass Object
        (
            [slug] => rossi-novinky
            [ID] => 35743
            [post_name] => warm-up-motogp-valencie-2014
            [post_title] => Warm up MotoGP Valencie 2014
            [post_author] => 2
            [post_date] => 2014-11-09 10:16:20
            [year] => 2014
            [month] => 11
            [post_type] => post
        )

    [438] => stdClass Object
        (
            [slug] => rossi-novinky
            [ID] => 35707
            [post_name] => sobotni-trenink-a-kvalifikace-motogp-valencie-2014
            [post_title] => Sobotní trénink a kvalifikace MotoGP - Valencie 2014
            [post_author] => 2
            [post_date] => 2014-11-08 10:50:49
            [year] => 2014
            [month] => 11
            [post_type] => post
        )

    [439] => stdClass Object
        (
            [slug] => ducati-2
            [ID] => 35674
            [post_name] => tiskova-konference-se-zastupci-tovaren-v-motogp
            [post_title] => Tisková konference se zástupci továren v MotoGP
            [post_author] => 2
            [post_date] => 2014-11-07 20:39:04
            [year] => 2014
            [month] => 11
            [post_type] => post
        )

    [440] => stdClass Object
        (
            [slug] => rossi-novinky
            [ID] => 35664
            [post_name] => patecni-treninky-motogp-valencie-2014
            [post_title] => Páteční tréninky MotoGP - Valencie 2014
            [post_author] => 2
            [post_date] => 2014-11-07 11:07:11
            [year] => 2014
            [month] => 11
            [post_type] => post
        )

    [441] => stdClass Object
        (
            [slug] => rossi-novinky
            [ID] => 35640
            [post_name] => tiskova-konference-motogp-valencie-2014
            [post_title] => Tisková konference MotoGP - Valencie 2014
            [post_author] => 2
            [post_date] => 2014-11-06 17:54:57
            [year] => 2014
            [month] => 11
            [post_type] => post
        )

    [442] => stdClass Object
        (
            [slug] => rossi-novinky
            [ID] => 35634
            [post_name] => tovarni-tym-yamahy-pred-poslednim-zavodem-sezony
            [post_title] => Tovární tým Yamahy před posledním závodem sezóny
            [post_author] => 2
            [post_date] => 2014-11-05 18:14:52
            [year] => 2014
            [month] => 11
            [post_type] => post
        )

    [443] => stdClass Object
        (
            [slug] => rossi-novinky
            [ID] => 35629
            [post_name] => valentino-rossi-predstavoval-novou-yamahu-r1
            [post_title] => Valentino Rossi představoval novou Yamahu R1
            [post_author] => 2
            [post_date] => 2014-11-04 16:58:52
            [year] => 2014
            [month] => 11
            [post_type] => post
        )

    [444] => stdClass Object
        (
            [slug] => rossi-novinky
            [ID] => 35613
            [post_name] => valentino-rossi-jeste-stale-jsem-tady
            [post_title] => Valentino Rossi: "Ještě stále jsem tady!"
            [post_author] => 2
            [post_date] => 2014-10-26 20:45:08
            [year] => 2014
            [month] => 10
            [post_type] => post
        )

    [445] => stdClass Object
        (
            [slug] => velkka-cena-gp
            [ID] => 35580
            [post_name] => velka-cena-motogp-malajsie-sepang-2014
            [post_title] => Velká Cena MotoGP Malajsie - Sepang 2014
            [post_author] => 2
            [post_date] => 2014-10-26 10:20:38
            [year] => 2014
            [month] => 10
            [post_type] => post
        )

    [446] => stdClass Object
        (
            [slug] => rossi-novinky
            [ID] => 35549
            [post_name] => sobotni-trenink-a-kvalifikace-motogp-sepang-2014
            [post_title] => Sobotní trénink a kvalifikace MotoGP - Sepang 2014
            [post_author] => 2
            [post_date] => 2014-10-25 07:32:31
            [year] => 2014
            [month] => 10
            [post_type] => post
        )

    [447] => stdClass Object
        (
            [slug] => rossi-novinky
            [ID] => 35522
            [post_name] => patecni-treninky-motogp-sepang-2014
            [post_title] => Páteční tréninky MotoGP - Sepang 2014 
            [post_author] => 2
            [post_date] => 2014-10-24 07:34:30
            [year] => 2014
            [month] => 10
            [post_type] => post
        )

    [448] => stdClass Object
        (
            [slug] => rossi-novinky
            [ID] => 35513
            [post_name] => tiskova-konference-motogp-sepang-2014
            [post_title] => Tisková konference MotoGP - Sepang 2014
            [post_author] => 2
            [post_date] => 2014-10-23 13:04:52
            [year] => 2014
            [month] => 10
            [post_type] => post
        )

    [449] => stdClass Object
        (
            [slug] => velkka-cena-gp
            [ID] => 35448
            [post_name] => velka-cena-australie-motogp-phillip-island-2014
            [post_title] => Velká Cena Austrálie MotoGP - Phillip Island 2014
            [post_author] => 2
            [post_date] => 2014-10-19 08:25:02
            [year] => 2014
            [month] => 10
            [post_type] => post
        )

    [450] => stdClass Object
        (
            [slug] => rossi-novinky
            [ID] => 35416
            [post_name] => sobotni-trenink-a-kvalifikace-motogp-phillip-island-2014
            [post_title] => Sobotní trénink a kvalifikace - MotoGP Phillip Island 2014
            [post_author] => 2
            [post_date] => 2014-10-18 08:14:54
            [year] => 2014
            [month] => 10
            [post_type] => post
        )

    [451] => stdClass Object
        (
            [slug] => rossi-novinky
            [ID] => 35373
            [post_name] => vyjadreni-k-bojim-o-druhe-misto
            [post_title] => Vyjádření jezdců k boji o druhé místo v šampionátu
            [post_author] => 815
            [post_date] => 2014-10-16 11:05:04
            [year] => 2014
            [month] => 10
            [post_type] => post
        )

    [452] => stdClass Object
        (
            [slug] => rossi-novinky
            [ID] => 35368
            [post_name] => tiskova-konference-motogp-phillip-island-2014
            [post_title] => Tisková konference MotoGP - Phillip Island 2014
            [post_author] => 2
            [post_date] => 2014-10-16 08:48:34
            [year] => 2014
            [month] => 10
            [post_type] => post
        )

    [453] => stdClass Object
        (
            [slug] => velkka-cena-gp
            [ID] => 35310
            [post_name] => velka-cena-japonska-motogp-motegi-2014
            [post_title] => Velká Cena Japonska MotoGP - Motegi 2014
            [post_author] => 2
            [post_date] => 2014-10-12 08:13:28
            [year] => 2014
            [month] => 10
            [post_type] => post
        )

    [454] => stdClass Object
        (
            [slug] => rossi-novinky
            [ID] => 35286
            [post_name] => sobotni-treninky-a-kvalifikace-motogp-motegi-2014
            [post_title] => Sobotní tréninky a kvalifikace MotoGP - Motegi 2014
            [post_author] => 2
            [post_date] => 2014-10-11 07:10:01
            [year] => 2014
            [month] => 10
            [post_type] => post
        )

    [455] => stdClass Object
        (
            [slug] => rossi-novinky
            [ID] => 35239
            [post_name] => tiskova-konference-motogp-motegi-2014
            [post_title] => Tisková konference MotoGP - Motegi 2014
            [post_author] => 2
            [post_date] => 2014-10-09 10:47:46
            [year] => 2014
            [month] => 10
            [post_type] => post
        )

    [456] => stdClass Object
        (
            [slug] => rossi-novinky
            [ID] => 35224
            [post_name] => jorge-lorenzo-rossi-a-marquez-se-porazi-nejobtizneji
            [post_title] => Jorge Lorenzo: "Rossi a Marquez se poráží nejobtížněji."
            [post_author] => 2
            [post_date] => 2014-10-06 16:46:07
            [year] => 2014
            [month] => 10
            [post_type] => post
        )

    [457] => stdClass Object
        (
            [slug] => rossi-novinky
            [ID] => 35220
            [post_name] => plany-michelinu-pred-vstupem-do-motogp
            [post_title] => Plány Michelinu před vstupem do MotoGP
            [post_author] => 2
            [post_date] => 2014-10-04 20:54:18
            [year] => 2014
            [month] => 10
            [post_type] => post
        )

    [458] => stdClass Object
        (
            [slug] => rossi-novinky
            [ID] => 35203
            [post_name] => valentino-rossi-k-nehode-v-aragonu
            [post_title] => Valentino Rossi k nehodě v Aragonu
            [post_author] => 815
            [post_date] => 2014-09-29 15:19:22
            [year] => 2014
            [month] => 9
            [post_type] => post
        )

    [459] => stdClass Object
        (
            [slug] => velkka-cena-gp
            [ID] => 35173
            [post_name] => velka-cena-motogp-movistar-aragon-2014
            [post_title] => Velká Cena MotoGP Movistar - Aragon 2014
            [post_author] => 2
            [post_date] => 2014-09-28 15:19:04
            [year] => 2014
            [month] => 9
            [post_type] => post
        )

    [460] => stdClass Object
        (
            [slug] => rossi-novinky
            [ID] => 35121
            [post_name] => sobotni-trenink-a-kvalifikace-motogp-aragon-2014
            [post_title] => Sobotní trénink a kvalifikace MotoGP Aragon 2014
            [post_author] => 2
            [post_date] => 2014-09-27 10:50:12
            [year] => 2014
            [month] => 9
            [post_type] => post
        )

    [461] => stdClass Object
        (
            [slug] => rossi-novinky
            [ID] => 35050
            [post_name] => marc-marquez-a-dalsi-jezdci-na-ranci-valentina-rossiho
            [post_title] => Marc Marquez a další jezdci na ranči Valentina Rossiho
            [post_author] => 2
            [post_date] => 2014-09-25 18:52:28
            [year] => 2014
            [month] => 9
            [post_type] => post
        )

    [462] => stdClass Object
        (
            [slug] => rossi-novinky
            [ID] => 35081
            [post_name] => tiskova-konference-motogp-aragon-2014
            [post_title] => Tisková konference MotoGP Aragon 2014
            [post_author] => 2
            [post_date] => 2014-09-25 17:36:54
            [year] => 2014
            [month] => 9
            [post_type] => post
        )

    [463] => stdClass Object
        (
            [slug] => rossi-novinky
            [ID] => 35066
            [post_name] => tovarni-tym-yamahy-pred-zavodem-v-aragonu
            [post_title] => Tovární tým Yamahy před závodem v Aragonu 2014
            [post_author] => 2
            [post_date] => 2014-09-24 17:04:10
            [year] => 2014
            [month] => 9
            [post_type] => post
        )

    [464] => stdClass Object
        (
            [slug] => rossi-novinky
            [ID] => 35012
            [post_name] => misano-2014-navrat-legendy
            [post_title] => Misano 2014 - Návrat legendy
            [post_author] => 2
            [post_date] => 2014-09-15 22:44:00
            [year] => 2014
            [month] => 9
            [post_type] => post
        )

    [465] => stdClass Object
        (
            [slug] => velkka-cena-gp
            [ID] => 34956
            [post_name] => velka-cena-san-marina-misano-2014
            [post_title] => Velká Cena San Marina - Misano 2014
            [post_author] => 2
            [post_date] => 2014-09-14 15:19:38
            [year] => 2014
            [month] => 9
            [post_type] => post
        )

    [466] => stdClass Object
        (
            [slug] => rossi-novinky
            [ID] => 34912
            [post_name] => sobotni-trenink-a-kvalifikace-motogp-misano-2014
            [post_title] => Sobotní trénink a kvalifikace MotoGP - Misano 2014
            [post_author] => 2
            [post_date] => 2014-09-13 10:52:32
            [year] => 2014
            [month] => 9
            [post_type] => post
        )

    [467] => stdClass Object
        (
            [slug] => rossi-novinky
            [ID] => 34868
            [post_name] => tiskova-konference-pred-zavodem-motogp-v-misanu
            [post_title] => Tisková konference před závodem MotoGP v Misanu
            [post_author] => 2
            [post_date] => 2014-09-11 18:18:48
            [year] => 2014
            [month] => 9
            [post_type] => post
        )

    [468] => stdClass Object
        (
            [slug] => rossi-novinky
            [ID] => 34864
            [post_name] => valentino-rossi-muj-den-znovu-prijde
            [post_title] => Valentino Rossi: "Můj den znovu přijde."
            [post_author] => 2
            [post_date] => 2014-09-10 21:58:02
            [year] => 2014
            [month] => 9
            [post_type] => post
        )

    [469] => stdClass Object
        (
            [slug] => rossi-novinky
            [ID] => 34860
            [post_name] => c-ezpeleta-je-dobre-ze-bude-valentino-pokracovat
            [post_title] => C.Ezpeleta: "Je dobře, že bude Valentino pokračovat!"
            [post_author] => 2
            [post_date] => 2014-09-10 19:54:56
            [year] => 2014
            [month] => 9
            [post_type] => post
        )

    [470] => stdClass Object
        (
            [slug] => colin-edwards
            [ID] => 34837
            [post_name] => colin-edwards-bude-testovacim-jezdcem-yamahy
            [post_title] => Colin Edwards bude testovacím jezdcem Yamahy
            [post_author] => 2
            [post_date] => 2014-09-05 17:02:04
            [year] => 2014
            [month] => 9
            [post_type] => post
        )

    [471] => stdClass Object
        (
            [slug] => velkka-cena-gp
            [ID] => 34790
            [post_name] => velka-cena-velke-britanie-motogp-silverstone-2014
            [post_title] => Velká Cena Velké Británie MotoGP - Silverstone 2014
            [post_author] => 2
            [post_date] => 2014-08-31 15:17:35
            [year] => 2014
            [month] => 8
            [post_type] => post
        )

    [472] => stdClass Object
        (
            [slug] => rossi-novinky
            [ID] => 34716
            [post_name] => tiskova-konference-motogp-silverstone-2014
            [post_title] => Tisková konference MotoGP Silverstone 2014
            [post_author] => 2
            [post_date] => 2014-08-28 18:47:17
            [year] => 2014
            [month] => 8
            [post_type] => post
        )

    [473] => stdClass Object
        (
            [slug] => jorge-lorenzo
            [ID] => 34438
            [post_name] => honda-lorenza-nechtela-a-boji-se-prechodu-na-michelin
            [post_title] => Honda Lorenza nechtěla a bojí se přechodu na Michelin 
            [post_author] => 2
            [post_date] => 2014-08-20 18:03:02
            [year] => 2014
            [month] => 8
            [post_type] => post
        )

    [474] => stdClass Object
        (
            [slug] => rossi-novinky
            [ID] => 34684
            [post_name] => after-the-flag-indy-a-brno-s-valentinem-rossim
            [post_title] => After the flag Indy a Brno s Valentinem Rossim
            [post_author] => 2
            [post_date] => 2014-08-19 18:03:14
            [year] => 2014
            [month] => 8
            [post_type] => post
        )

    [475] => stdClass Object
        (
            [slug] => rossi-novinky
            [ID] => 34608
            [post_name] => pozavodni-testy-motogp-brno-2014
            [post_title] => Pozávodní testy MotoGP Brno 2014
            [post_author] => 2
            [post_date] => 2014-08-18 10:48:16
            [year] => 2014
            [month] => 8
            [post_type] => post
        )

    [476] => stdClass Object
        (
            [slug] => rossi-novinky
            [ID] => 34557
            [post_name] => velka-cena-motogp-ceske-republiky-brno-2014
            [post_title] => Velká Cena MotoGP České Republiky - Brno 2014 
            [post_author] => 2
            [post_date] => 2014-08-17 15:16:56
            [year] => 2014
            [month] => 8
            [post_type] => post
        )

    [477] => stdClass Object
        (
            [slug] => yamaha-2
            [ID] => 34486
            [post_name] => yamaha-priznava-technologickou-ztratu
            [post_title] => Yamaha přiznává technologickou ztrátu
            [post_author] => 2
            [post_date] => 2014-08-15 18:57:17
            [year] => 2014
            [month] => 8
            [post_type] => post
        )

    [478] => stdClass Object
        (
            [slug] => rossi-novinky
            [ID] => 34439
            [post_name] => tiskova-konference-motogp-brno-2014
            [post_title] => Tisková konference MotoGP Brno 2014
            [post_author] => 2
            [post_date] => 2014-08-14 19:18:05
            [year] => 2014
            [month] => 8
            [post_type] => post
        )

    [479] => stdClass Object
        (
            [slug] => velkka-cena-gp
            [ID] => 34404
            [post_name] => velka-cena-red-bull-indianapolis-2014
            [post_title] => Velká Cena Red Bull - Indianapolis 2014
            [post_author] => 2
            [post_date] => 2014-08-10 21:16:39
            [year] => 2014
            [month] => 8
            [post_type] => post
        )

    [480] => stdClass Object
        (
            [slug] => rossi-novinky
            [ID] => 34331
            [post_name] => tiskova-konference-motogp-indianapolis-2014
            [post_title] => Tisková konference MotoGP - Indianapolis 2014
            [post_author] => 2
            [post_date] => 2014-08-07 20:39:27
            [year] => 2014
            [month] => 8
            [post_type] => post
        )

    [481] => stdClass Object
        (
            [slug] => rossi-novinky
            [ID] => 34324
            [post_name] => jorge-lorenzo-zustava-u-yamahy-2
            [post_title] => Jorge Lorenzo zůstává u Yamahy
            [post_author] => 2
            [post_date] => 2014-08-07 18:33:19
            [year] => 2014
            [month] => 8
            [post_type] => post
        )

    [482] => stdClass Object
        (
            [slug] => rossi-novinky
            [ID] => 34325
            [post_name] => jorge-lorenzo-pokracuje-dalsie-dva-roky-s-yamahou
            [post_title] => Jorge Lorenzo pokračuje ďalšie dva roky s Yamahou
            [post_author] => 514
            [post_date] => 2014-08-07 18:27:55
            [year] => 2014
            [month] => 8
            [post_type] => post
        )

    [483] => stdClass Object
        (
            [slug] => rossi-novinky
            [ID] => 34313
            [post_name] => tovarni-tym-yamahy-pred-indianopolis
            [post_title] => Tovární tým Yamahy před Indianopolis
            [post_author] => 815
            [post_date] => 2014-08-06 10:04:44
            [year] => 2014
            [month] => 8
            [post_type] => post
        )

    [484] => stdClass Object
        (
            [slug] => ducati-desmosedici
            [ID] => 34301
            [post_name] => problemem-ducati-je-firemni-kultura
            [post_title] => Problémem Ducati je firemní kultura
            [post_author] => 2
            [post_date] => 2014-08-01 16:52:01
            [year] => 2014
            [month] => 8
            [post_type] => post
        )

    [485] => stdClass Object
        (
            [slug] => rossi-novinky
            [ID] => 34294
            [post_name] => massimo-meregalli-o-rossiho-zlepseni
            [post_title] => Massimo Meregalli o Rossiho zlepšení
            [post_author] => 514
            [post_date] => 2014-07-30 23:19:54
            [year] => 2014
            [month] => 7
            [post_type] => post
        )

    [486] => stdClass Object
        (
            [slug] => rossi-novinky
            [ID] => 34285
            [post_name] => herve-poncharal-zavodeni-je-nemilosrdne
            [post_title] => Hervé Poncharal: "Závodění je nemilosrdné!"
            [post_author] => 2
            [post_date] => 2014-07-22 20:27:32
            [year] => 2014
            [month] => 7
            [post_type] => post
        )

    [487] => stdClass Object
        (
            [slug] => rossi-novinky
            [ID] => 34274
            [post_name] => valentino-rossi-budu-zavodit-do-40-let
            [post_title] => Valentino Rossi: "Budu třeba závodit do 40 let."
            [post_author] => 2
            [post_date] => 2014-07-16 13:29:37
            [year] => 2014
            [month] => 7
            [post_type] => post
        )

    [488] => stdClass Object
        (
            [slug] => velkka-cena-gp
            [ID] => 34242
            [post_name] => velka-cena-nemecka-motogp-sachsenring-2014
            [post_title] => Velká Cena Německa MotoGP - Sachsenring 2014
            [post_author] => 2
            [post_date] => 2014-07-13 15:05:16
            [year] => 2014
            [month] => 7
            [post_type] => post
        )

    [489] => stdClass Object
        (
            [slug] => rossi-novinky
            [ID] => 34165
            [post_name] => tiskova-konference-motogp-sachsenring-2014
            [post_title] => Tisková konference MotoGP - Sachsenring 2014
            [post_author] => 2
            [post_date] => 2014-07-10 17:44:01
            [year] => 2014
            [month] => 7
            [post_type] => post
        )

    [490] => stdClass Object
        (
            [slug] => rossi-novinky
            [ID] => 33935
            [post_name] => tovarni-tym-yamahy-pred-sachsenringem
            [post_title] => Tovární tým Yamahy před Sachsenringem
            [post_author] => 2
            [post_date] => 2014-07-09 11:43:22
            [year] => 2014
            [month] => 7
            [post_type] => post
        )

    [491] => stdClass Object
        (
            [slug] => rossi-novinky
            [ID] => 34150
            [post_name] => yamaha-insider-rozhovor-se-silvanem-galbuserou
            [post_title] => Yamaha Insider - Rozhovor se Silvanem Galbuserou
            [post_author] => 2
            [post_date] => 2014-07-08 15:07:43
            [year] => 2014
            [month] => 7
            [post_type] => post
        )

    [492] => stdClass Object
        (
            [slug] => rossi-novinky
            [ID] => 34089
            [post_name] => valentino-rossi-zustava-u-yamahy-do-roku-2016
            [post_title] => Valentino Rossi zůstává u Yamahy do roku 2016
            [post_author] => 2
            [post_date] => 2014-07-02 15:29:02
            [year] => 2014
            [month] => 7
            [post_type] => post
        )

    [493] => stdClass Object
        (
            [slug] => motogp
            [ID] => 34081
            [post_name] => vyplati-se-pas-na-sledovani-motogp
            [post_title] => Vyplatí se pas na sledování MotoGP?
            [post_author] => 2
            [post_date] => 2014-06-29 19:46:02
            [year] => 2014
            [month] => 6
            [post_type] => post
        )

    [494] => stdClass Object
        (
            [slug] => velkka-cena-gp
            [ID] => 34034
            [post_name] => velka-cena-dutch-tt-motogp-assen-2014
            [post_title] => Velká Cena Dutch TT MotoGP - Assen 2014
            [post_author] => 2
            [post_date] => 2014-06-28 15:28:01
            [year] => 2014
            [month] => 6
            [post_type] => post
        )

    [495] => stdClass Object
        (
            [slug] => rossi-novinky
            [ID] => 33944
            [post_name] => tiskova-konference-motogp-assen-2014
            [post_title] => Tisková konference MotoGP - Assen 2014
            [post_author] => 2
            [post_date] => 2014-06-25 17:41:35
            [year] => 2014
            [month] => 6
            [post_type] => post
        )

    [496] => stdClass Object
        (
            [slug] => rossi-novinky
            [ID] => 33929
            [post_name] => yamaha-je-vykony-valentina-rossiho-prekvapena
            [post_title] => Yamaha je výkony Valentina Rossiho překvapena
            [post_author] => 2
            [post_date] => 2014-06-19 14:07:06
            [year] => 2014
            [month] => 6
            [post_type] => post
        )

    [497] => stdClass Object
        (
            [slug] => rossi-novinky
            [ID] => 33760
            [post_name] => pozavodny-test-motogp-katalansko-2014
            [post_title] => Pozávodný test MotoGP - Katalánsko 2014
            [post_author] => 514
            [post_date] => 2014-06-16 10:47:04
            [year] => 2014
            [month] => 6
            [post_type] => post
        )

    [498] => stdClass Object
        (
            [slug] => velkka-cena-gp
            [ID] => 33641
            [post_name] => velka-cena-katalanska-motogp-2014-barcelona
            [post_title] => Velká Cena Katalánska MotoGP 2014 - Barcelona
            [post_author] => 2
            [post_date] => 2014-06-15 15:16:05
            [year] => 2014
            [month] => 6
            [post_type] => post
        )

    [499] => stdClass Object
        (
            [slug] => rossi-novinky
            [ID] => 33260
            [post_name] => valentino-rossi-chci-desaty-titul
            [post_title] => Valentino Rossi: "Chci desátý titul."
            [post_author] => 2
            [post_date] => 2014-06-12 12:44:07
            [year] => 2014
            [month] => 6
            [post_type] => post
        )

    [500] => stdClass Object
        (
            [slug] => rossi-novinky
            [ID] => 33348
            [post_name] => michelin-bude-testovat-uz-letos-ve-valencii
            [post_title] => Michelin bude testovat už letos ve Valencii
            [post_author] => 2
            [post_date] => 2014-06-10 13:05:54
            [year] => 2014
            [month] => 6
            [post_type] => post
        )

    [501] => stdClass Object
        (
            [slug] => marco-simoncelli
            [ID] => 33161
            [post_name] => velka-cena-italie-motogp-2014-mugello
            [post_title] => Velká Cena Itálie MotoGP 2014 - Mugello
            [post_author] => 2
            [post_date] => 2014-06-01 15:18:18
            [year] => 2014
            [month] => 6
            [post_type] => post
        )

    [502] => stdClass Object
        (
            [slug] => rossi-novinky
            [ID] => 33029
            [post_name] => tiskova-konference-motogp-mugello-2014
            [post_title] => Tisková konference MotoGP Mugello 2014
            [post_author] => 2
            [post_date] => 2014-05-29 17:47:17
            [year] => 2014
            [month] => 5
            [post_type] => post
        )

    [503] => stdClass Object
        (
            [slug] => alex-briggs
            [ID] => 32917
            [post_name] => komu-prospeji-vetsi-brzdove-kotouce
            [post_title] => Komu v MotoGP prospějí větší brzdové kotouče?
            [post_author] => 2
            [post_date] => 2014-05-23 13:36:12
            [year] => 2014
            [month] => 5
            [post_type] => post
        )

    [504] => stdClass Object
        (
            [slug] => rossi-novinky
            [ID] => 32908
            [post_name] => michelin-bude-dodavat-pneumatiky-do-motogp
            [post_title] => MIchelin bude dodávat pneumatiky do MotoGP
            [post_author] => 815
            [post_date] => 2014-05-23 12:59:34
            [year] => 2014
            [month] => 5
            [post_type] => post
        )

    [505] => stdClass Object
        (
            [slug] => rossi-novinky
            [ID] => 32883
            [post_name] => mugello-nejposvatnejsi-z-posvatnych
            [post_title] => Mugello - nejposvátnější z posvátných
            [post_author] => 2
            [post_date] => 2014-05-22 12:02:19
            [year] => 2014
            [month] => 5
            [post_type] => post
        )

    [506] => stdClass Object
        (
            [slug] => velkka-cena-gp
            [ID] => 32824
            [post_name] => velka-cena-francie-motogp-2014-v-le-mans
            [post_title] => Velká Cena Francie MotoGP 2014 v Le Mans
            [post_author] => 2
            [post_date] => 2014-05-18 15:30:48
            [year] => 2014
            [month] => 5
            [post_type] => post
        )

    [507] => stdClass Object
        (
            [slug] => motogp
            [ID] => 32699
            [post_name] => zavod-motogp-v-brne-opet-v-ohrozeni
            [post_title] => Závod MotoGP v Brně opět v ohrožení
            [post_author] => 2
            [post_date] => 2014-05-08 10:02:36
            [year] => 2014
            [month] => 5
            [post_type] => post
        )

    [508] => stdClass Object
        (
            [slug] => rossi-novinky
            [ID] => 32691
            [post_name] => after-the-flag-argentina-jerez-s-alexem-briggsem
            [post_title] => After the flag Argentina - Jerez s Alexem Briggsem
            [post_author] => 2
            [post_date] => 2014-05-07 11:14:31
            [year] => 2014
            [month] => 5
            [post_type] => post
        )

    [509] => stdClass Object
        (
            [slug] => rossi-novinky
            [ID] => 32617
            [post_name] => pozavodni-test-motogp-v-jerezu
            [post_title] => Pozávodní test MotoGP v Jerezu
            [post_author] => 2
            [post_date] => 2014-05-05 10:14:25
            [year] => 2014
            [month] => 5
            [post_type] => post
        )

    [510] => stdClass Object
        (
            [slug] => velkka-cena-gp
            [ID] => 32439
            [post_name] => velka-cena-spanelska-motogp-2014-jerez
            [post_title] => Velká Cena Španělska MotoGP 2014 - Jerez
            [post_author] => 2
            [post_date] => 2014-05-04 15:21:49
            [year] => 2014
            [month] => 5
            [post_type] => post
        )

    [511] => stdClass Object
        (
            [slug] => rossi-novinky
            [ID] => 32526
            [post_name] => valentino-rossi-chci-dal-pokracovat
            [post_title] => Valentino Rossi: "Chci dál pokračovat."
            [post_author] => 2
            [post_date] => 2014-05-03 08:35:49
            [year] => 2014
            [month] => 5
            [post_type] => post
        )

    [512] => stdClass Object
        (
            [slug] => rossi-novinky
            [ID] => 32459
            [post_name] => bridgestone-oznamil-odchod-z-motogp
            [post_title] => Bridgestone oznámil odchod z MotoGP
            [post_author] => 815
            [post_date] => 2014-05-01 11:45:05
            [year] => 2014
            [month] => 5
            [post_type] => post
        )

    [513] => stdClass Object
        (
            [slug] => velkka-cena-gp
            [ID] => 32395
            [post_name] => velka-cena-argentiny-motogp-termas-de-rio-hondo
            [post_title] => Velká Cena Argentiny MotoGP - Termas de Rio Hondo
            [post_author] => 2
            [post_date] => 2014-04-27 20:17:13
            [year] => 2014
            [month] => 4
            [post_type] => post
        )

    [514] => stdClass Object
        (
            [slug] => motogp
            [ID] => 10488
            [post_name] => motogp-se-vraci-do-argentiny
            [post_title] => MotoGP se vrací do Argentiny
            [post_author] => 2
            [post_date] => 2014-04-21 07:53:10
            [year] => 2014
            [month] => 4
            [post_type] => post
        )

    [515] => stdClass Object
        (
            [slug] => bridgestone-2
            [ID] => 32222
            [post_name] => zmeni-motogp-dodavatele-pneumatik
            [post_title] => Změní třída MotoGP dodavatele pneumatik?
            [post_author] => 815
            [post_date] => 2014-04-19 20:53:54
            [year] => 2014
            [month] => 4
            [post_type] => post
        )

    [516] => stdClass Object
        (
            [slug] => bridgestone-2
            [ID] => 32205
            [post_name] => bridgestone-to-opotrebeni-bylo-necekane
            [post_title] => Bridgestone: "To opotřebení bylo nečekané..."
            [post_author] => 2
            [post_date] => 2014-04-16 14:14:07
            [year] => 2014
            [month] => 4
            [post_type] => post
        )

    [517] => stdClass Object
        (
            [slug] => suzuki-2
            [ID] => 32198
            [post_name] => testy-suzuki-v-austinu
            [post_title] => Testy Suzuki v Austinu
            [post_author] => 2
            [post_date] => 2014-04-15 11:35:03
            [year] => 2014
            [month] => 4
            [post_type] => post
        )

    [518] => stdClass Object
        (
            [slug] => technologie-motogp
            [ID] => 32195
            [post_name] => msma-se-dohodla-na-zmrazeni-vyvoje-elektroniky
            [post_title] => MSMA se dohodla na zmrazení vývoje elektroniky 
            [post_author] => 2
            [post_date] => 2014-04-15 09:14:38
            [year] => 2014
            [month] => 4
            [post_type] => post
        )

    [519] => stdClass Object
        (
            [slug] => rossi-novinky
            [ID] => 32188
            [post_name] => valentino-rossi-premarnena-velka-prilezitost
            [post_title] => Valentino Rossi: "Premárnená veľká príležitosť"
            [post_author] => 514
            [post_date] => 2014-04-14 19:14:59
            [year] => 2014
            [month] => 4
            [post_type] => post
        )

    [520] => stdClass Object
        (
            [slug] => velkka-cena-gp
            [ID] => 32139
            [post_name] => velka-cena-motogp-austin-2014
            [post_title] => Velká Cena MotoGP - Austin 2014
            [post_author] => 2
            [post_date] => 2014-04-13 22:10:24
            [year] => 2014
            [month] => 4
            [post_type] => post
        )

    [521] => stdClass Object
        (
            [slug] => rossi-novinky
            [ID] => 32099
            [post_name] => s-galbusera-me-tajemstvi-rossimu-duveruji
            [post_title] => S.Galbusera: "Mé tajemství? Rossimu důvěřuji."
            [post_author] => 2
            [post_date] => 2014-04-12 19:29:57
            [year] => 2014
            [month] => 4
            [post_type] => post
        )

    [522] => stdClass Object
        (
            [slug] => rossi-novinky
            [ID] => 31967
            [post_name] => yamaha-chce-prodlouzit-smlouvy-s-rossim-a-lorenzem
            [post_title] => Yamaha chce prodloužit smlouvy s Rossim a Lorenzem
            [post_author] => 2
            [post_date] => 2014-04-04 20:40:59
            [year] => 2014
            [month] => 4
            [post_type] => post
        )

    [523] => stdClass Object
        (
            [slug] => rossi-novinky
            [ID] => 31952
            [post_name] => rozhovor-s-valentinem-rossim-pred-zavodem-v-austinu
            [post_title] => Rozhovor s Valentinem Rossim před závodem v Austinu
            [post_author] => 2
            [post_date] => 2014-04-03 19:04:53
            [year] => 2014
            [month] => 4
            [post_type] => post
        )

    [524] => stdClass Object
        (
            [slug] => rossi-novinky
            [ID] => 31947
            [post_name] => lin-jarvis-rossi-je-uchazecem-o-titul-mistra-sveta
            [post_title] => Lin Jarvis: "Rossi je uchazečem o titul mistra světa." 
            [post_author] => 2
            [post_date] => 2014-04-02 13:59:00
            [year] => 2014
            [month] => 4
            [post_type] => post
        )

    [525] => stdClass Object
        (
            [slug] => rossi-novinky
            [ID] => 30972
            [post_name] => graziano-rossi-byl-to-nejlepsi-zavod-za-tri-roky
            [post_title] => Graziano Rossi: "Byl to nejlepší závod za tři roky."
            [post_author] => 2
            [post_date] => 2014-03-25 20:32:29
            [year] => 2014
            [month] => 3
            [post_type] => post
        )

    [526] => stdClass Object
        (
            [slug] => rossi-novinky
            [ID] => 30523
            [post_name] => valentino-rossi-bylo-to-jako-pred-deseti-lety
            [post_title] => Valentino Rossi: "Bylo to jako před deseti lety."
            [post_author] => 2
            [post_date] => 2014-03-24 14:43:47
            [year] => 2014
            [month] => 3
            [post_type] => post
        )

    [527] => stdClass Object
        (
            [slug] => velkka-cena-gp
            [ID] => 30443
            [post_name] => velka-cena-motogp-katar-2014
            [post_title] => VELKÁ CENA MOTOGP KATAR 2014
            [post_author] => 2
            [post_date] => 2014-03-23 21:03:45
            [year] => 2014
            [month] => 3
            [post_type] => post
        )

    [528] => stdClass Object
        (
            [slug] => ducati-2
            [ID] => 30266
            [post_name] => honda-souhlasi-se-zavedenim-jednotneho-software
            [post_title] => Honda souhlasí se zavedením jednotného software
            [post_author] => 2
            [post_date] => 2014-03-21 15:17:03
            [year] => 2014
            [month] => 3
            [post_type] => post
        )

    [529] => stdClass Object
        (
            [slug] => rossi-novinky
            [ID] => 30079
            [post_name] => prezentace-tymu-yamaha-a-tiskova-konference-katar
            [post_title] => Prezentace týmu Yamaha a tisková konference Katar
            [post_author] => 2
            [post_date] => 2014-03-19 14:28:47
            [year] => 2014
            [month] => 3
            [post_type] => post
        )

    [530] => stdClass Object
        (
            [slug] => rossi-novinky
            [ID] => 30006
            [post_name] => valentino-rossi-veri-v-dobrou-sezonu
            [post_title] => Valentino Rossi věří v dobrou sezónu
            [post_author] => 2
            [post_date] => 2014-03-17 13:27:08
            [year] => 2014
            [month] => 3
            [post_type] => post
        )

    [531] => stdClass Object
        (
            [slug] => rossi-novinky
            [ID] => 29884
            [post_name] => d-brivio-s-rossim-pro-suzuki-na-rok-2015-nepocita
            [post_title] => D.Brivio s Rossim pro Suzuki na rok 2015 nepočítá
            [post_author] => 2
            [post_date] => 2014-03-13 20:51:29
            [year] => 2014
            [month] => 3
            [post_type] => post
        )

    [532] => stdClass Object
        (
            [slug] => rozhovor
            [ID] => 29764
            [post_name] => rozhovor-s-jorge-lorenzem-pred-sezonou-2014
            [post_title] => Rozhovor s Jorge Lorenzem před sezónou 2014
            [post_author] => 2
            [post_date] => 2014-03-11 14:57:13
            [year] => 2014
            [month] => 3
            [post_type] => post
        )

    [533] => stdClass Object
        (
            [slug] => rossi-novinky
            [ID] => 29491
            [post_name] => posledni-zimni-testy-motogp-v-kataru
            [post_title] => Poslední zimní testy MotoGP v Kataru
            [post_author] => 2
            [post_date] => 2014-03-07 14:37:27
            [year] => 2014
            [month] => 3
            [post_type] => post
        )

    [534] => stdClass Object
        (
            [slug] => ducati-2
            [ID] => 29436
            [post_name] => motogp-ve-trech-tridach
            [post_title] => MotoGP ve třech třídách…?!
            [post_author] => 2
            [post_date] => 2014-03-07 11:38:03
            [year] => 2014
            [month] => 3
            [post_type] => post
        )

    [535] => stdClass Object
        (
            [slug] => rossi-novinky
            [ID] => 27559
            [post_name] => telefonica-movistar-sponzorem-tymu-yamaha
            [post_title] => Telefonica Movistar sponzorem týmu Yamaha
            [post_author] => 2
            [post_date] => 2014-03-05 11:00:14
            [year] => 2014
            [month] => 3
            [post_type] => post
        )

    [536] => stdClass Object
        (
            [slug] => rossi-novinky
            [ID] => 29218
            [post_name] => test-motogp-phillip-island-2014-streda
            [post_title] => Test MotoGP Phillip Island 2014 - středa
            [post_author] => 2
            [post_date] => 2014-03-05 07:21:41
            [year] => 2014
            [month] => 3
            [post_type] => post
        )

    [537] => stdClass Object
        (
            [slug] => rossi-novinky
            [ID] => 29147
            [post_name] => test-motogp-phillip-island-2014-utery
            [post_title] => Test MotoGP Phillip Island 2014 - úterý
            [post_author] => 2
            [post_date] => 2014-03-04 07:10:37
            [year] => 2014
            [month] => 3
            [post_type] => post
        )

    [538] => stdClass Object
        (
            [slug] => rossi-novinky
            [ID] => 28778
            [post_name] => test-motogp-phillip-island-2014
            [post_title] => Test MotoGP Phillip Island 2014
            [post_author] => 2
            [post_date] => 2014-03-02 20:02:46
            [year] => 2014
            [month] => 3
            [post_type] => post
        )

    [539] => stdClass Object
        (
            [slug] => ducati-2
            [ID] => 28886
            [post_name] => software-pro-open-obdrzel-velky-upgrade
            [post_title] => Software pro "OPEN" obdržel velký upgrade. 
            [post_author] => 2
            [post_date] => 2014-03-02 15:31:37
            [year] => 2014
            [month] => 3
            [post_type] => post
        )

    [540] => stdClass Object
        (
            [slug] => rossi-novinky
            [ID] => 28455
            [post_name] => analyza-druhych-testu-v-sepangu
            [post_title] => Analýza druhých testů MotoGP v Sepangu
            [post_author] => 2
            [post_date] => 2014-02-28 16:32:36
            [year] => 2014
            [month] => 2
            [post_type] => post
        )

    [541] => stdClass Object
        (
            [slug] => rossi-novinky
            [ID] => 28107
            [post_name] => testy-motogp-sepang-2-den-treti
            [post_title] => Testy MotoGP Sepang 2 – deň tretí
            [post_author] => 514
            [post_date] => 2014-02-28 06:26:36
            [year] => 2014
            [month] => 2
            [post_type] => post
        )

    [542] => stdClass Object
        (
            [slug] => rossi-novinky
            [ID] => 27635
            [post_name] => testy-sepang-2-den-druhy
            [post_title] => Testy Sepang 2 – deň druhý
            [post_author] => 514
            [post_date] => 2014-02-27 06:15:59
            [year] => 2014
            [month] => 2
            [post_type] => post
        )

    [543] => stdClass Object
        (
            [slug] => rossi-novinky
            [ID] => 27583
            [post_name] => testy-sepang-2-den-prvy
            [post_title] => Testy Sepang 2 – deň prvý
            [post_author] => 514
            [post_date] => 2014-02-26 05:31:05
            [year] => 2014
            [month] => 2
            [post_type] => post
        )

    [544] => stdClass Object
        (
            [slug] => motogp
            [ID] => 27577
            [post_name] => rozhovor-s-herve-poncharalem-yamaha-open
            [post_title] => Rozhovor s Herve Poncharalem – Yamaha & Open
            [post_author] => 2
            [post_date] => 2014-02-24 15:03:13
            [year] => 2014
            [month] => 2
            [post_type] => post
        )

    [545] => stdClass Object
        (
            [slug] => motogp
            [ID] => 27571
            [post_name] => m-webb-factory-nebo-open-by-melo-byt-dilema
            [post_title] => M.Webb: Factory nebo Open by mělo být dilema
            [post_author] => 2
            [post_date] => 2014-02-21 15:22:50
            [year] => 2014
            [month] => 2
            [post_type] => post
        )

    [546] => stdClass Object
        (
            [slug] => honda-2
            [ID] => 27557
            [post_name] => marc-marquez-ma-zlomenou-lytkovou-kost
            [post_title] => Marc Marquez má zlomenou lýtkovou kost
            [post_author] => 2
            [post_date] => 2014-02-20 13:34:56
            [year] => 2014
            [month] => 2
            [post_type] => post
        )

    [547] => stdClass Object
        (
            [slug] => ducati-desmosedici
            [ID] => 27547
            [post_name] => gigi-dalligna-zacal-pretvaret-ducati
            [post_title] => Gigi Dall'Igna začal přetvářet Ducati
            [post_author] => 2
            [post_date] => 2014-02-16 13:48:25
            [year] => 2014
            [month] => 2
            [post_type] => post
        )

    [548] => stdClass Object
        (
            [slug] => rossi-novinky
            [ID] => 27531
            [post_name] => specifikace-open-a-dilema-tovarnich-tymu
            [post_title] => Specifikace open a dilema továrních týmů
            [post_author] => 2
            [post_date] => 2014-02-13 16:46:35
            [year] => 2014
            [month] => 2
            [post_type] => post
        )

    [549] => stdClass Object
        (
            [slug] => rossi-novinky
            [ID] => 27492
            [post_name] => analyza-prvnich-testu-v-sepangu
            [post_title] => Analýza prvních testů v Sepangu
            [post_author] => 2
            [post_date] => 2014-02-10 10:23:59
            [year] => 2014
            [month] => 2
            [post_type] => post
        )

    [550] => stdClass Object
        (
            [slug] => motogp
            [ID] => 27511
            [post_name] => ezpeleta-pochybuje-o-odchodu-hondy
            [post_title] => Ezpeleta o možnosti odchodu Hondy pochybuje
            [post_author] => 2
            [post_date] => 2014-02-09 15:31:33
            [year] => 2014
            [month] => 2
            [post_type] => post
        )

    [551] => stdClass Object
        (
            [slug] => rossi-novinky
            [ID] => 27441
            [post_name] => testy-sepang-1-den-treti
            [post_title] => Testy Sepang 1 – den třetí
            [post_author] => 2
            [post_date] => 2014-02-06 07:15:24
            [year] => 2014
            [month] => 2
            [post_type] => post
        )

    [552] => stdClass Object
        (
            [slug] => rossi-novinky
            [ID] => 27401
            [post_name] => testy-sepang-1-den-druhy
            [post_title] => Testy Sepang 1 - den druhý
            [post_author] => 2
            [post_date] => 2014-02-05 07:20:32
            [year] => 2014
            [month] => 2
            [post_type] => post
        )

    [553] => stdClass Object
        (
            [slug] => rossi-novinky
            [ID] => 27314
            [post_name] => test-sepang-1-1-den
            [post_title] => Test Sepang 1 - 1. deň
            [post_author] => 514
            [post_date] => 2014-02-04 03:34:32
            [year] => 2014
            [month] => 2
            [post_type] => post
        )

    [554] => stdClass Object
        (
            [slug] => rossi-novinky
            [ID] => 27302
            [post_name] => pred-prvnimi-testy-v-sepangu
            [post_title] => Před prvními testy v Sepangu
            [post_author] => 2
            [post_date] => 2014-02-03 09:25:54
            [year] => 2014
            [month] => 2
            [post_type] => post
        )

    [555] => stdClass Object
        (
            [slug] => rossi-novinky
            [ID] => 27296
            [post_name] => fiat-se-vraci-v-roli-sponzora-k-yamaze
            [post_title] => FIAT se vrací v roli sponzora k Yamaze
            [post_author] => 2
            [post_date] => 2014-02-02 12:23:02
            [year] => 2014
            [month] => 2
            [post_type] => post
        )

    [556] => stdClass Object
        (
            [slug] => ducati-2
            [ID] => 27287
            [post_name] => sance-tovaren-v-sezone-motogp-2014
            [post_title] => Šance továren v sezóně MotoGP 2014
            [post_author] => 2
            [post_date] => 2014-01-28 11:56:16
            [year] => 2014
            [month] => 1
            [post_type] => post
        )

    [557] => stdClass Object
        (
            [slug] => rossi-novinky
            [ID] => 27219
            [post_name] => video-ze-zavodu-na-ranci-valentina-rossiho
            [post_title] => Video ze závodu na ranči Valentina Rossiho
            [post_author] => 2
            [post_date] => 2014-01-25 08:08:40
            [year] => 2014
            [month] => 1
            [post_type] => post
        )

    [558] => stdClass Object
        (
            [slug] => rossi-novinky
            [ID] => 27275
            [post_name] => s-galbusera-rossi-jeste-stale-muze-vitezit
            [post_title] => S.Galbusera: "Rossi ještě stále může vítězit."
            [post_author] => 2
            [post_date] => 2014-01-22 14:55:20
            [year] => 2014
            [month] => 1
            [post_type] => post
        )

    [559] => stdClass Object
        (
            [slug] => ducati-2
            [ID] => 27271
            [post_name] => gigi-dall-igna-prvnich-100-dni-v-ducati
            [post_title] => Gigi Dall 'Igna – Prvních 100 dní v Ducati
            [post_author] => 2
            [post_date] => 2014-01-20 20:48:56
            [year] => 2014
            [month] => 1
            [post_type] => post
        )

    [560] => stdClass Object
        (
            [slug] => jorge-lorenzo
            [ID] => 27267
            [post_name] => cruchlow-prestup-lorenza-k-ducati-nevylucuje
            [post_title] => Cruchlow přestup Lorenza k Ducati nevylučuje
            [post_author] => 2
            [post_date] => 2014-01-20 14:16:33
            [year] => 2014
            [month] => 1
            [post_type] => post
        )

    [561] => stdClass Object
        (
            [slug] => rossi-novinky
            [ID] => 27244
            [post_name] => predstaveni-barev-tymu-yamaha-pro-rok-2014
            [post_title] => Představení barev týmu Yamaha pro rok 2014
            [post_author] => 2
            [post_date] => 2014-01-17 09:19:55
            [year] => 2014
            [month] => 1
            [post_type] => post
        )

    [562] => stdClass Object
        (
            [slug] => ducati-2
            [ID] => 27238
            [post_name] => p-ciabatti-lorenzo-problem-neni-v-jezdcich-ale-v-motocyklu
            [post_title] => C.Ciabatti: "Lorenzo? Ne, problém není v jezdcích."
            [post_author] => 2
            [post_date] => 2014-01-16 17:31:43
            [year] => 2014
            [month] => 1
            [post_type] => post
        )

    [563] => stdClass Object
        (
            [slug] => yamaha-2
            [ID] => 27231
            [post_name] => yamaha-predstavi-m1-pro-rok-2014-v-jakarte
            [post_title] => Yamaha představí M1 pro rok 2014 v Jakarte
            [post_author] => 2
            [post_date] => 2014-01-16 14:00:06
            [year] => 2014
            [month] => 1
            [post_type] => post
        )

    [564] => stdClass Object
        (
            [slug] => ducati-desmosedici
            [ID] => 27225
            [post_name] => ducati-zvazuje-start-v-tride-open
            [post_title] => Ducati zvažuje start ve třídě "open".
            [post_author] => 2
            [post_date] => 2014-01-09 09:37:14
            [year] => 2014
            [month] => 1
            [post_type] => post
        )

    [565] => stdClass Object
        (
            [slug] => rossi-novinky
            [ID] => 27184
            [post_name] => mike-doohan-bez-rossiho-bude-motogp-chudsi
            [post_title] => Mike Doohan: "Bez Rossiho bude MotoGP chudší."
            [post_author] => 2
            [post_date] => 2013-12-16 13:13:57
            [year] => 2013
            [month] => 12
            [post_type] => post
        )

    [566] => stdClass Object
        (
            [slug] => rossi-novinky
            [ID] => 27175
            [post_name] => novy-motor-a-elektronika-yamahy-m1-v-sepangu
            [post_title] => Nový motor a elektronika Yamahy M1 v Sepangu
            [post_author] => 2
            [post_date] => 2013-12-13 11:47:25
            [year] => 2013
            [month] => 12
            [post_type] => post
        )

    [567] => stdClass Object
        (
            [slug] => rossi-novinky
            [ID] => 27171
            [post_name] => bude-se-valentino-rossi-zenit
            [post_title] => Bude se Valentino Rossi ženit?
            [post_author] => 2
            [post_date] => 2013-12-12 15:00:24
            [year] => 2013
            [month] => 12
            [post_type] => post
        )

    [568] => stdClass Object
        (
            [slug] => motogp
            [ID] => 27152
            [post_name] => rozhovor-s-herve-poncharalem-o-budoucnosti-motogp
            [post_title] => Rozhovor s Hervé Poncharalem o budoucnosti MotoGP
            [post_author] => 2
            [post_date] => 2013-12-10 07:54:58
            [year] => 2013
            [month] => 12
            [post_type] => post
        )

    [569] => stdClass Object
        (
            [slug] => rossi-novinky
            [ID] => 27138
            [post_name] => rozhovor-s-valentinem-rossim
            [post_title] => Rozhovor s Valentinem Rossim z akce v Miláně
            [post_author] => 2
            [post_date] => 2013-12-06 08:40:09
            [year] => 2013
            [month] => 12
            [post_type] => post
        )

    [570] => stdClass Object
        (
            [slug] => rossi-novinky
            [ID] => 27135
            [post_name] => rozhovor-s-polem-espergarem
            [post_title] => Rozhovor s Polem Espergarem
            [post_author] => 2
            [post_date] => 2013-12-05 15:56:04
            [year] => 2013
            [month] => 12
            [post_type] => post
        )

    [571] => stdClass Object
        (
            [slug] => rossi-novinky
            [ID] => 27124
            [post_name] => lin-jarvis-hodnoti-sezonu-2013
            [post_title] => Lin Jarvis hodnotí sezónu 2013
            [post_author] => 2
            [post_date] => 2013-12-03 12:06:23
            [year] => 2013
            [month] => 12
            [post_type] => post
        )

    [572] => stdClass Object
        (
            [slug] => ducati-2
            [ID] => 27115
            [post_name] => v-rossi-ted-by-byl-stoner-na-ducati-sesty
            [post_title] => V.Rossi: "Teď by byl Stoner na Ducati šestý."
            [post_author] => 2
            [post_date] => 2013-11-29 15:34:48
            [year] => 2013
            [month] => 11
            [post_type] => post
        )

    [573] => stdClass Object
        (
            [slug] => rozhovor
            [ID] => 27101
            [post_name] => v-rossi-jeremy-me-dodal-duvod-pro-zmenu
            [post_title] => V.Rossi: "Jeremy mně dodal důvod pro změnu."
            [post_author] => 2
            [post_date] => 2013-11-28 13:43:53
            [year] => 2013
            [month] => 11
            [post_type] => post
        )

    [574] => stdClass Object
        (
            [slug] => jorge-lorenzo
            [ID] => 27099
            [post_name] => j-lorenzo-sdilet-boxy-s-rossim-je-pro-me-cest
            [post_title] => J. Lorenzo: "Sdílet boxy s Rossim je pro mě čest."
            [post_author] => 2
            [post_date] => 2013-11-28 11:21:51
            [year] => 2013
            [month] => 11
            [post_type] => post
        )

    [575] => stdClass Object
        (
            [slug] => rossi-novinky
            [ID] => 27092
            [post_name] => do-poloviny-sezony-se-valentino-rossi-rozhodne
            [post_title] => Do poloviny sezóny 2014 se Valentino Rossi rozhodne
            [post_author] => 2
            [post_date] => 2013-11-27 09:18:50
            [year] => 2013
            [month] => 11
            [post_type] => post
        )

    [576] => stdClass Object
        (
            [slug] => rossi-novinky
            [ID] => 27084
            [post_name] => odvracena-strana-mesice
            [post_title] => Odvrácená strana měsíce
            [post_author] => 2
            [post_date] => 2013-11-26 16:26:51
            [year] => 2013
            [month] => 11
            [post_type] => post
        )

    [577] => stdClass Object
        (
            [slug] => rossi-novinky
            [ID] => 27082
            [post_name] => c-edwards-marqueze-s-rossim-nesrovnavejte
            [post_title] => C.Edwards: "Marqueze s Rossim nesrovnávejte."
            [post_author] => 2
            [post_date] => 2013-11-26 13:07:20
            [year] => 2013
            [month] => 11
            [post_type] => post
        )

    [578] => stdClass Object
        (
            [slug] => rossi-novinky
            [ID] => 27069
            [post_name] => monza-rallye-show-2013
            [post_title] => Monza Rallye Show 2013
            [post_author] => 2
            [post_date] => 2013-11-23 14:04:25
            [year] => 2013
            [month] => 11
            [post_type] => post
        )

    [579] => stdClass Object
        (
            [slug] => rozhovor
            [ID] => 27060
            [post_name] => j-burgess-pro-valentina-by-to-mohlo-byt-nebezpecne
            [post_title] => J.Burgess: "Pro Valentina by to mohlo být nebezpečné."
            [post_author] => 2
            [post_date] => 2013-11-23 08:39:43
            [year] => 2013
            [month] => 11
            [post_type] => post
        )

    [580] => stdClass Object
        (
            [slug] => ducati-2
            [ID] => 27053
            [post_name] => rozhovor-s-jeremy-burgessem-na-sachsenringu-2013
            [post_title] => Rozhovor s Jeremy Burgessem na Sachsenringu 2013
            [post_author] => 2
            [post_date] => 2013-11-22 18:11:05
            [year] => 2013
            [month] => 11
            [post_type] => post
        )

    [581] => stdClass Object
        (
            [slug] => yamaha-2
            [ID] => 27042
            [post_name] => vykon-pola-espergara-tym-tech3-prekvapil
            [post_title] => Výkon Pola Espergara tým Tech3 překvapil
            [post_author] => 2
            [post_date] => 2013-11-21 13:26:44
            [year] => 2013
            [month] => 11
            [post_type] => post
        )

    [582] => stdClass Object
        (
            [slug] => rossi-novinky
            [ID] => 27038
            [post_name] => predbezna-startovni-listina-motogp-na-rok-2014
            [post_title] => Předběžná startovní listina MotoGP na rok 2014
            [post_author] => 2
            [post_date] => 2013-11-20 14:48:39
            [year] => 2013
            [month] => 11
            [post_type] => post
        )

    [583] => stdClass Object
        (
            [slug] => jorge-lorenzo
            [ID] => 27032
            [post_name] => j-lorenzo-doufam-v-konkurenceschopnou-yamahu
            [post_title] => J.Lorenzo: "Doufám v konkurenceschopnou Yamahu."
            [post_author] => 2
            [post_date] => 2013-11-18 17:39:31
            [year] => 2013
            [month] => 11
            [post_type] => post
        )

    [584] => stdClass Object
        (
            [slug] => rossi-novinky
            [ID] => 27027
            [post_name] => silvano-galbusera-nemohl-jsem-tomu-uverit
            [post_title] => Silvano Galbusera: "Nemohl jsem tomu uvěřit."
            [post_author] => 2
            [post_date] => 2013-11-17 12:03:42
            [year] => 2013
            [month] => 11
            [post_type] => post
        )

    [585] => stdClass Object
        (
            [slug] => rossi-novinky
            [ID] => 27013
            [post_name] => alex-briggs-diky-ze-jsi-me-zavolal
            [post_title] => Alex Briggs - "Díky že jsi mě zavolal."
            [post_author] => 2
            [post_date] => 2013-11-16 14:02:04
            [year] => 2013
            [month] => 11
            [post_type] => post
        )

    [586] => stdClass Object
        (
            [slug] => rossi-novinky
            [ID] => 27007
            [post_name] => posledni-after-the-flag-sezony-motogp-2013
            [post_title] => Poslední After the flag sezóny MotoGP 2013
            [post_author] => 2
            [post_date] => 2013-11-15 18:31:36
            [year] => 2013
            [month] => 11
            [post_type] => post
        )

    [587] => stdClass Object
        (
            [slug] => ducati-desmosedici
            [ID] => 27002
            [post_name] => cal-crutchlow-rekl-jsem-to-same-co-ostatni
            [post_title] => Cal Crutchlow: "Řekl jsem to samé co ostatní."
            [post_author] => 2
            [post_date] => 2013-11-14 15:45:16
            [year] => 2013
            [month] => 11
            [post_type] => post
        )

    [588] => stdClass Object
        (
            [slug] => jeremy-burgess
            [ID] => 26983
            [post_name] => jeremy-burgess-zmena-strazi-v-motogp
            [post_title] => Jeremy Burgess - Změna stráží v MotoGP
            [post_author] => 2
            [post_date] => 2013-11-13 17:53:54
            [year] => 2013
            [month] => 11
            [post_type] => post
        )

    [589] => stdClass Object
        (
            [slug] => rossi-novinky
            [ID] => 26937
            [post_name] => posezonni-test-valencie-den-treti
            [post_title] => Posezónní test Valencie – den tretí
            [post_author] => 514
            [post_date] => 2013-11-13 10:26:38
            [year] => 2013
            [month] => 11
            [post_type] => post
        )

    [590] => stdClass Object
        (
            [slug] => rossi-novinky
            [ID] => 26875
            [post_name] => posezonni-test-valencie-den-druhy
            [post_title] => Posezónní test Valencie - den druhý
            [post_author] => 2
            [post_date] => 2013-11-12 08:35:16
            [year] => 2013
            [month] => 11
            [post_type] => post
        )

    [591] => stdClass Object
        (
            [slug] => rossi-novinky
            [ID] => 26814
            [post_name] => posezonni-testy-valencie-2013
            [post_title] => Posezónní testy Valencie 2013 - den první
            [post_author] => 2
            [post_date] => 2013-11-11 11:46:41
            [year] => 2013
            [month] => 11
            [post_type] => post
        )

    [592] => stdClass Object
        (
            [slug] => jeremy-burgess
            [ID] => 26806
            [post_name] => novym-sefem-mechaniku-v-rossiho-je-silvano-galbusera
            [post_title] => Novým šéfmechanikem V. Rossiho je Silvano Galbusera
            [post_author] => 2
            [post_date] => 2013-11-11 10:15:25
            [year] => 2013
            [month] => 11
            [post_type] => post
        )

    [593] => stdClass Object
        (
            [slug] => velkka-cena-gp
            [ID] => 26763
            [post_name] => velka-cena-valencie-motogp-2013
            [post_title] => Velká Cena Valencie MotoGP 2013
            [post_author] => 2
            [post_date] => 2013-11-10 14:59:49
            [year] => 2013
            [month] => 11
            [post_type] => post
        )

    [594] => stdClass Object
        (
            [slug] => rossi-novinky
            [ID] => 26693
            [post_name] => tiskova-konference-valentina-rossiho-a-jeremy-burgesse
            [post_title] => Tisková konference V.Rossiho a J. Burgesse
            [post_author] => 2
            [post_date] => 2013-11-08 16:59:36
            [year] => 2013
            [month] => 11
            [post_type] => post
        )

    [595] => stdClass Object
        (
            [slug] => rossi-novinky
            [ID] => 26662
            [post_name] => valentino-rossi-sbohem-jeremy-potrebuji-novy-impuls
            [post_title] => V. Rossi: "Sbohem Jeremy, potřebuji nový impuls."
            [post_author] => 2
            [post_date] => 2013-11-07 21:04:20
            [year] => 2013
            [month] => 11
            [post_type] => post
        )

    [596] => stdClass Object
        (
            [slug] => rossi-novinky
            [ID] => 26635
            [post_name] => tiskova-konference-motogp-valencie-2013
            [post_title] => Tisková konference MotoGP - Valencie 2013
            [post_author] => 2
            [post_date] => 2013-11-07 16:58:15
            [year] => 2013
            [month] => 11
            [post_type] => post
        )

    [597] => stdClass Object
        (
            [slug] => rozhovor
            [ID] => 26611
            [post_name] => valentino-rossi-lorenzo-je-ted-lepsi-nez-marquez
            [post_title] => Valentino Rossi - "Lorenzo je teď lepší než Marquez." 
            [post_author] => 2
            [post_date] => 2013-11-04 18:23:02
            [year] => 2013
            [month] => 11
            [post_type] => post
        )

    [598] => stdClass Object
        (
            [slug] => rossi-novinky
            [ID] => 26606
            [post_name] => predposledni-after-the-flag-sezony-motogp-2013
            [post_title] => Předposlední After the flag sezóny MotoGP 2013
            [post_author] => 2
            [post_date] => 2013-11-01 17:34:07
            [year] => 2013
            [month] => 11
            [post_type] => post
        )

    [599] => stdClass Object
        (
            [slug] => rossi-novinky
            [ID] => 26597
            [post_name] => sezona-2013-marqueze-a-lorenza-v-cislech
            [post_title] => Sezóna 2013 Marqueze a Lorenza v číslech.
            [post_author] => 2
            [post_date] => 2013-10-31 13:00:44
            [year] => 2013
            [month] => 10
            [post_type] => post
        )

    [600] => stdClass Object
        (
            [slug] => rossi-novinky
            [ID] => 26579
            [post_name] => kazutoshi-seki-elekronika-yamahy-pod-drobnohledem
            [post_title] => Kazutoshi Seki - elekronika Yamahy pod drobnohledem
            [post_author] => 2
            [post_date] => 2013-10-29 21:36:06
            [year] => 2013
            [month] => 10
            [post_type] => post
        )

    [601] => stdClass Object
        (
            [slug] => velkka-cena-gp
            [ID] => 26509
            [post_name] => velka-cena-japonska-motogp-motegi
            [post_title] => Velká Cena Japonska MotoGP - Motegi
            [post_author] => 2
            [post_date] => 2013-10-27 07:02:44
            [year] => 2013
            [month] => 10
            [post_type] => post
        )

    [602] => stdClass Object
        (
            [slug] => rossi-novinky
            [ID] => 26450
            [post_name] => tiskova-konference-motogp-motegi-2
            [post_title] => Tisková konference MotoGP - Motegi
            [post_author] => 2
            [post_date] => 2013-10-24 12:05:52
            [year] => 2013
            [month] => 10
            [post_type] => post
        )

    [603] => stdClass Object
        (
            [slug] => rossi-novinky
            [ID] => 26439
            [post_name] => tovarni-tym-yamahy-pred-zavodem-v-motegi
            [post_title] => Tovární tým Yamahy před závodem v Motegi
            [post_author] => 2
            [post_date] => 2013-10-23 19:18:30
            [year] => 2013
            [month] => 10
            [post_type] => post
        )

    [604] => stdClass Object
        (
            [slug] => velkka-cena-gp
            [ID] => 26371
            [post_name] => velka-cena-australie-motogp-phillip-island-2013
            [post_title] => Velká cena Austrálie MotoGP - Phillip Island 2013
            [post_author] => 2
            [post_date] => 2013-10-20 07:51:28
            [year] => 2013
            [month] => 10
            [post_type] => post
        )

    [605] => stdClass Object
        (
            [slug] => rossi-novinky
            [ID] => 26279
            [post_name] => tiskova-konference-motogp-phillip-island
            [post_title] => Tisková konference MotoGP - Phillip Island
            [post_author] => 2
            [post_date] => 2013-10-17 12:11:03
            [year] => 2013
            [month] => 10
            [post_type] => post
        )

    [606] => stdClass Object
        (
            [slug] => nicky-hayden
            [ID] => 26263
            [post_name] => nicky-hayden-se-u-aspara-martineze-vrati-k-honde
            [post_title] => Nicky Hayden se u Aspara Martineze vrátí k Hondě
            [post_author] => 2
            [post_date] => 2013-10-15 15:22:22
            [year] => 2013
            [month] => 10
            [post_type] => post
        )

    [607] => stdClass Object
        (
            [slug] => rossi-novinky
            [ID] => 26259
            [post_name] => valentino-rossi-je-ted-ctvrty-nejrychlejsi
            [post_title] => Valentino Rossi je teď čtvrtý nejrychlejší
            [post_author] => 2
            [post_date] => 2013-10-15 09:09:35
            [year] => 2013
            [month] => 10
            [post_type] => post
        )

    [608] => stdClass Object
        (
            [slug] => velkka-cena-gp
            [ID] => 26227
            [post_name] => velka-cena-motogp-malajsie-sepang
            [post_title] => Velká Cena MotoGP Malajsie - Sepang
            [post_author] => 2
            [post_date] => 2013-10-13 10:54:28
            [year] => 2013
            [month] => 10
            [post_type] => post
        )

    [609] => stdClass Object
        (
            [slug] => rossi-novinky
            [ID] => 26156
            [post_name] => tiskova-konference-motogp-sepang
            [post_title] => Tisková konference MotoGP - Sepang
            [post_author] => 2
            [post_date] => 2013-10-10 15:06:34
            [year] => 2013
            [month] => 10
            [post_type] => post
        )

    [610] => stdClass Object
        (
            [slug] => ducati-2
            [ID] => 26137
            [post_name] => nicky-haydenn-stoner-by-na-tom-dnes-nevyhraval
            [post_title] => Nicky Haydenn: "Stoner by na tom dnes nevyhrával."
            [post_author] => 2
            [post_date] => 2013-10-09 10:14:53
            [year] => 2013
            [month] => 10
            [post_type] => post
        )

    [611] => stdClass Object
        (
            [slug] => casey-stoner
            [ID] => 26110
            [post_name] => casey-stoner-v-japonsku-znovu-testoval
            [post_title] => Casey Stoner v Japonsku znovu testoval Hondu
            [post_author] => 2
            [post_date] => 2013-10-03 15:47:39
            [year] => 2013
            [month] => 10
            [post_type] => post
        )

    [612] => stdClass Object
        (
            [slug] => rossi-novinky
            [ID] => 26098
            [post_name] => kovbojove-na-ranci-valentina-rossiho
            [post_title] => Kovbojové na ranči Valentina Rossiho
            [post_author] => 2
            [post_date] => 2013-10-03 07:26:18
            [year] => 2013
            [month] => 10
            [post_type] => post
        )

    [613] => stdClass Object
        (
            [slug] => motogp
            [ID] => 26089
            [post_name] => okruh-v-laguna-seca-v-motogp-konci
            [post_title] => Okruh v Laguna Seca v MotoGP končí + kalendář 2014
            [post_author] => 2
            [post_date] => 2013-10-01 08:52:21
            [year] => 2013
            [month] => 10
            [post_type] => post
        )

    [614] => stdClass Object
        (
            [slug] => velkka-cena-gp
            [ID] => 26045
            [post_name] => velka-cena-motogp-aragon
            [post_title] => Velká Cena MotoGP - Aragón
            [post_author] => 2
            [post_date] => 2013-09-29 15:19:05
            [year] => 2013
            [month] => 9
            [post_type] => post
        )

    [615] => stdClass Object
        (
            [slug] => ducati-2
            [ID] => 26005
            [post_name] => rozhovor-s-nicky-haydenem-2
            [post_title] => Rozhovor s Nicky Haydenem
            [post_author] => 2
            [post_date] => 2013-09-27 16:36:13
            [year] => 2013
            [month] => 9
            [post_type] => post
        )

    [616] => stdClass Object
        (
            [slug] => ducati-2
            [ID] => 25986
            [post_name] => andrea-dovozioso-v-ducati-nikdo-nevi-co-s-tim
            [post_title] => Andrea Dovozioso: "V Ducati nikdo neví co s tím."
            [post_author] => 2
            [post_date] => 2013-09-26 22:30:37
            [year] => 2013
            [month] => 9
            [post_type] => post
        )

    [617] => stdClass Object
        (
            [slug] => rossi-novinky
            [ID] => 25967
            [post_name] => tiskova-konference-motogp-v-aragonu
            [post_title] => Tisková konference MotoGP v Aragonu
            [post_author] => 2
            [post_date] => 2013-09-26 17:23:04
            [year] => 2013
            [month] => 9
            [post_type] => post
        )

    [618] => stdClass Object
        (
            [slug] => rossi-novinky
            [ID] => 25952
            [post_name] => valentino-rossi-bude-mit-tym-v-moto3
            [post_title] => Valentino Rossi bude mít tým v Moto3
            [post_author] => 2
            [post_date] => 2013-09-22 10:43:25
            [year] => 2013
            [month] => 9
            [post_type] => post
        )

    [619] => stdClass Object
        (
            [slug] => rossi-novinky
            [ID] => 25948
            [post_name] => kevin-schwantz-rossi-neni-o-nic-pomalejsi
            [post_title] => Kevin Schwantz: "Rossi není o nic pomalejší."
            [post_author] => 2
            [post_date] => 2013-09-21 07:32:39
            [year] => 2013
            [month] => 9
            [post_type] => post
        )

    [620] => stdClass Object
        (
            [slug] => rossi-novinky
            [ID] => 25943
            [post_name] => yamaha-ocekavala-potize-mezi-lorenzem-a-rossim
            [post_title] => Yamaha očekávala potíže mezi Lorenzem a Rossim
            [post_author] => 2
            [post_date] => 2013-09-20 08:19:48
            [year] => 2013
            [month] => 9
            [post_type] => post
        )

    [621] => stdClass Object
        (
            [slug] => rossi-novinky
            [ID] => 25932
            [post_name] => v-roce-2014-sehraje-limit-paliva-zasadni-roli
            [post_title] => V roce 2014 sehraje limit paliva zásadní roli
            [post_author] => 2
            [post_date] => 2013-09-19 18:25:34
            [year] => 2013
            [month] => 9
            [post_type] => post
        )

    [622] => stdClass Object
        (
            [slug] => rossi-novinky
            [ID] => 25925
            [post_name] => rossicrutchlow-lorenzo-je-jak-z-jine-planety
            [post_title] => Rossi&Crutchlow: "Lorenzo je jak z jiné planety."
            [post_author] => 2
            [post_date] => 2013-09-17 12:59:08
            [year] => 2013
            [month] => 9
            [post_type] => post
        )

    [623] => stdClass Object
        (
            [slug] => rossi-novinky
            [ID] => 25826
            [post_name] => oficialni-testy-motogp-v-misanu
            [post_title] => Oficiální testy MotoGP v Misanu
            [post_author] => 2
            [post_date] => 2013-09-15 19:20:11
            [year] => 2013
            [month] => 9
            [post_type] => post
        )

    [624] => stdClass Object
        (
            [slug] => velkka-cena-gp
            [ID] => 25806
            [post_name] => velka-cena-san-marina-motogp-v-misanu
            [post_title] => Velká Cena San Marina MotoGP v Misanu
            [post_author] => 2
            [post_date] => 2013-09-15 15:04:28
            [year] => 2013
            [month] => 9
            [post_type] => post
        )

    [625] => stdClass Object
        (
            [slug] => rossi-novinky
            [ID] => 25732
            [post_name] => rossi-assen-vynahradil-dvojrocne-sklamanie
            [post_title] => Rossi: "Assen vynahradil dvojročné sklamanie"
            [post_author] => 514
            [post_date] => 2013-09-12 20:12:18
            [year] => 2013
            [month] => 9
            [post_type] => post
        )

    [626] => stdClass Object
        (
            [slug] => rossi-novinky
            [ID] => 25722
            [post_name] => tlacova-konferencia-motogp-misano
            [post_title] => Tlačová konferencia MotoGP – Misano
            [post_author] => 514
            [post_date] => 2013-09-12 19:07:03
            [year] => 2013
            [month] => 9
            [post_type] => post
        )

    [627] => stdClass Object
        (
            [slug] => yamaha-2
            [ID] => 25712
            [post_name] => yamaha-nasadi-novou-prevodovku-v-aragonu
            [post_title] => Yamaha nasadí novou převodovku v Aragonu
            [post_author] => 2
            [post_date] => 2013-09-10 17:05:28
            [year] => 2013
            [month] => 9
            [post_type] => post
        )

    [628] => stdClass Object
        (
            [slug] => rossi-novinky
            [ID] => 25704
            [post_name] => priorita-yamahy-je-udrzet-si-jorge-lorenza
            [post_title] => Priorita Yamahy bude udržet si Jorge Lorenza
            [post_author] => 2
            [post_date] => 2013-09-10 10:23:09
            [year] => 2013
            [month] => 9
            [post_type] => post
        )

    [629] => stdClass Object
        (
            [slug] => rossi-novinky
            [ID] => 25695
            [post_name] => zavod-motokar-pro-nadaci-marca-simoncelliho-v-riccione
            [post_title] => Závod motokár pro nadaci Marca Simoncelliho
            [post_author] => 2
            [post_date] => 2013-09-08 11:21:26
            [year] => 2013
            [month] => 9
            [post_type] => post
        )

    [630] => stdClass Object
        (
            [slug] => ducati-2
            [ID] => 25678
            [post_name] => rozhovor-s-carlosem-checou
            [post_title] => Rozhovor s Carlosem Checou
            [post_author] => 2
            [post_date] => 2013-09-06 16:41:20
            [year] => 2013
            [month] => 9
            [post_type] => post
        )

    [631] => stdClass Object
        (
            [slug] => rossi-novinky
            [ID] => 25668
            [post_name] => jorge-lorenzo-mivali-jsme-skvelou-motorku
            [post_title] => Jorge Lorenzo: "Mívali jsme skvělou motorku."
            [post_author] => 2
            [post_date] => 2013-09-02 06:30:46
            [year] => 2013
            [month] => 9
            [post_type] => post
        )

    [632] => stdClass Object
        (
            [slug] => velkka-cena-gp
            [ID] => 25637
            [post_name] => velka-cena-motogp-silverstone
            [post_title] => Velká Cena MotoGP - Silverstone
            [post_author] => 2
            [post_date] => 2013-09-01 15:02:32
            [year] => 2013
            [month] => 9
            [post_type] => post
        )

    [633] => stdClass Object
        (
            [slug] => rossi-novinky
            [ID] => 25536
            [post_name] => tiskova-konference-motogp-silverstone
            [post_title] => Tisková konference MotoGP - Silverstone
            [post_author] => 2
            [post_date] => 2013-08-29 18:51:14
            [year] => 2013
            [month] => 8
            [post_type] => post
        )

    [634] => stdClass Object
        (
            [slug] => rossi-novinky
            [ID] => 25517
            [post_name] => tovarni-tym-yamahy-pred-zavodem-v-silverstone
            [post_title] => Tovární tým Yamahy před závodem v Silverstone
            [post_author] => 2
            [post_date] => 2013-08-28 18:03:31
            [year] => 2013
            [month] => 8
            [post_type] => post
        )

    [635] => stdClass Object
        (
            [slug] => rossi-yamaha-cz
            [ID] => 25509
            [post_name] => web-rossi-yamaha-cz-dnes-dosahl-1-500-000-navstev
            [post_title] => Web Rossi-Yamaha.cz dnes dosáhl 1 500 000 návštěv
            [post_author] => 2
            [post_date] => 2013-08-27 21:10:05
            [year] => 2013
            [month] => 8
            [post_type] => post
        )

    [636] => stdClass Object
        (
            [slug] => velkka-cena-gp
            [ID] => 25472
            [post_name] => velka-cena-ceske-republiky-motogp-brno
            [post_title] => Velká Cena České Republiky MotoGP - Brno
            [post_author] => 2
            [post_date] => 2013-08-25 13:59:07
            [year] => 2013
            [month] => 8
            [post_type] => post
        )

    [637] => stdClass Object
        (
            [slug] => rossi-novinky
            [ID] => 25428
            [post_name] => lin-jarvis-potvrdil-pronajem-yamahy-tymu-ngm
            [post_title] => Lin Jarvis potvrdil pronájem Yamahy týmu NGM
            [post_author] => 2
            [post_date] => 2013-08-23 20:30:20
            [year] => 2013
            [month] => 8
            [post_type] => post
        )

    [638] => stdClass Object
        (
            [slug] => rossi-novinky
            [ID] => 25383
            [post_name] => tiskova-konference-motogp-brno-2013
            [post_title] => Tisková konference MotoGP - Brno 2013
            [post_author] => 2
            [post_date] => 2013-08-22 17:25:50
            [year] => 2013
            [month] => 8
            [post_type] => post
        )

    [639] => stdClass Object
        (
            [slug] => rossi-novinky
            [ID] => 25376
            [post_name] => tovarni-tym-yamahy-pred-zavodem-v-brne
            [post_title] => Tovární tým Yamahy před závodem v Brně
            [post_author] => 2
            [post_date] => 2013-08-22 07:59:04
            [year] => 2013
            [month] => 8
            [post_type] => post
        )

    [640] => stdClass Object
        (
            [slug] => motogp
            [ID] => 25362
            [post_name] => motogp-se-mozna-v-roce-2014-vrati-do-brazilie
            [post_title] => MotoGP se možná v roce 2014 vrátí do Brazílie
            [post_author] => 2
            [post_date] => 2013-08-20 13:18:31
            [year] => 2013
            [month] => 8
            [post_type] => post
        )

    [641] => stdClass Object
        (
            [slug] => velkka-cena-gp
            [ID] => 25326
            [post_name] => velka-cena-red-bull-motogp-indianapolis
            [post_title] => Velká cena Red Bull MotoGP - Indianapolis
            [post_author] => 2
            [post_date] => 2013-08-18 21:08:38
            [year] => 2013
            [month] => 8
            [post_type] => post
        )

    [642] => stdClass Object
        (
            [slug] => rossi-novinky
            [ID] => 25195
            [post_name] => tiskova-konference-motogp-indianapolis-2
            [post_title] => Tisková konference MotoGP - Indianapolis
            [post_author] => 2
            [post_date] => 2013-08-15 18:24:38
            [year] => 2013
            [month] => 8
            [post_type] => post
        )

    [643] => stdClass Object
        (
            [slug] => rossi-novinky
            [ID] => 25181
            [post_name] => tovarni-tym-yamahy-pred-zavodem-v-indianapolis
            [post_title] => Tovární tým Yamahy před závodem v Indianapolis
            [post_author] => 2
            [post_date] => 2013-08-14 07:46:04
            [year] => 2013
            [month] => 8
            [post_type] => post
        )

    [644] => stdClass Object
        (
            [slug] => luca-marini
            [ID] => 25170
            [post_name] => luca-marini-pojede-zavod-moto3-v-misanu
            [post_title] => Luca Marini pojede závod Moto3 v Misanu
            [post_author] => 2
            [post_date] => 2013-08-13 08:14:45
            [year] => 2013
            [month] => 8
            [post_type] => post
        )

    [645] => stdClass Object
        (
            [slug] => rossi-novinky
            [ID] => 25094
            [post_name] => testy-tovarniho-tymu-yamaha-v-brne
            [post_title] => Testy továrního týmu Yamaha v Brně
            [post_author] => 2
            [post_date] => 2013-08-07 14:37:39
            [year] => 2013
            [month] => 8
            [post_type] => post
        )

    [646] => stdClass Object
        (
            [slug] => rossi-novinky
            [ID] => 24850
            [post_name] => valentino-rossi-a-jorge-lorenzo-budou-testovat-v-brne
            [post_title] => Valentino Rossi a Jorge Lorenzo budou testovat v Brně
            [post_author] => 2
            [post_date] => 2013-08-05 10:17:35
            [year] => 2013
            [month] => 8
            [post_type] => post
        )

    [647] => stdClass Object
        (
            [slug] => rozhovor
            [ID] => 25099
            [post_name] => a-buzzoni-superbike-nema-se-seriovkou-nic-spolecneho
            [post_title] => A.Buzzoni: Superbike nemá se sériovkou nic společného
            [post_author] => 2
            [post_date] => 2013-08-05 09:30:22
            [year] => 2013
            [month] => 8
            [post_type] => post
        )

    [648] => stdClass Object
        (
            [slug] => ducati-2
            [ID] => 25084
            [post_name] => cal-crutchlow-je-na-vyzvu-u-ducati-pripraven
            [post_title] => Cal Crutchlow je na výzvu u Ducati připraven
            [post_author] => 2
            [post_date] => 2013-08-03 16:56:02
            [year] => 2013
            [month] => 8
            [post_type] => post
        )

    [649] => stdClass Object
        (
            [slug] => rossi-novinky
            [ID] => 25071
            [post_name] => valentino-rossi-chci-jezdit-motogp-do-roku-2016
            [post_title] => Valentino Rossi: "Chci jezdit MotoGP do roku 2016!"
            [post_author] => 2
            [post_date] => 2013-08-03 08:25:48
            [year] => 2013
            [month] => 8
            [post_type] => post
        )

    [650] => stdClass Object
        (
            [slug] => ducati-2
            [ID] => 25059
            [post_name] => potvrzeno-cal-crutchlow-podepsal-smlouvu-s-ducati
            [post_title] => Potvrzeno: Cal Crutchlow podepsal smlouvu s Ducati
            [post_author] => 2
            [post_date] => 2013-08-01 22:14:32
            [year] => 2013
            [month] => 8
            [post_type] => post
        )

    [651] => stdClass Object
        (
            [slug] => rossi-novinky
            [ID] => 25057
            [post_name] => rozhovor-s-davide-briviem-o-navratu-suzuki-do-motogp
            [post_title] => Rozhovor s Davide Briviem o návratu Suzuki do MotoGP
            [post_author] => 2
            [post_date] => 2013-07-31 21:57:48
            [year] => 2013
            [month] => 7
            [post_type] => post
        )

    [652] => stdClass Object
        (
            [slug] => rossi-novinky
            [ID] => 25054
            [post_name] => valentino-rossi-odchod-k-suzuki-ne-diky
            [post_title] => Valentino Rossi: "Odchod k Suzuki? Ne, díky! "
            [post_author] => 2
            [post_date] => 2013-07-30 21:54:48
            [year] => 2013
            [month] => 7
            [post_type] => post
        )

    [653] => stdClass Object
        (
            [slug] => rossi-novinky
            [ID] => 25047
            [post_name] => lin-jarvis-je-po-prvni-polovine-sezony-spokojen
            [post_title] => Lin Jarvis je po první polovině sezóny spokojen
            [post_author] => 2
            [post_date] => 2013-07-29 18:58:35
            [year] => 2013
            [month] => 7
            [post_type] => post
        )

    [654] => stdClass Object
        (
            [slug] => bridgestone-2
            [ID] => 25039
            [post_name] => bridgestone-nabidne-vice-pneumatik
            [post_title] => Bridgestone nabídne více pneumatik a změní směs
            [post_author] => 2
            [post_date] => 2013-07-25 17:56:05
            [year] => 2013
            [month] => 7
            [post_type] => post
        )

    [655] => stdClass Object
        (
            [slug] => rossi-novinky
            [ID] => 25020
            [post_name] => guy-martin-na-ranci-u-valentina-rossiho
            [post_title] => Guy Martin na ranči u Valentina Rossiho
            [post_author] => 2
            [post_date] => 2013-07-23 16:30:26
            [year] => 2013
            [month] => 7
            [post_type] => post
        )

    [656] => stdClass Object
        (
            [slug] => casey-stoner
            [ID] => 25028
            [post_name] => casey-stoner-se-vrati-do-sedla-prototypu-motogp
            [post_title] => Casey Stoner se vrátí do sedla prototypu MotoGP
            [post_author] => 2
            [post_date] => 2013-07-23 11:49:05
            [year] => 2013
            [month] => 7
            [post_type] => post
        )

    [657] => stdClass Object
        (
            [slug] => rossi-novinky
            [ID] => 25004
            [post_name] => valentino-rossi-marquez-je-moje-vylepsena-verze
            [post_title] => Valentino Rossi: Marquez je moje vylepšená verze.
            [post_author] => 2
            [post_date] => 2013-07-22 11:44:07
            [year] => 2013
            [month] => 7
            [post_type] => post
        )

    [658] => stdClass Object
        (
            [slug] => velkka-cena-gp
            [ID] => 24968
            [post_name] => velka-cena-usa-motogp-laguna-seca
            [post_title] => Velká Cena USA MotoGP - Laguna Seca
            [post_author] => 2
            [post_date] => 2013-07-22 00:00:33
            [year] => 2013
            [month] => 7
            [post_type] => post
        )

    [659] => stdClass Object
        (
            [slug] => rossi-novinky
            [ID] => 24882
            [post_name] => tiskova-konference-motogp-laguna-seca
            [post_title] => Tisková konference MotoGP - Laguna Seca
            [post_author] => 2
            [post_date] => 2013-07-18 21:48:51
            [year] => 2013
            [month] => 7
            [post_type] => post
        )

    [660] => stdClass Object
        (
            [slug] => rossi-novinky
            [ID] => 24869
            [post_name] => yamaha-brzo-nasadi-novou-prevodovku
            [post_title] => Yamaha brzo nasadí novou převodovku.
            [post_author] => 2
            [post_date] => 2013-07-18 13:44:39
            [year] => 2013
            [month] => 7
            [post_type] => post
        )

    [661] => stdClass Object
        (
            [slug] => rossi-novinky
            [ID] => 24856
            [post_name] => tovarni-tym-yamahy-pred-laguna-seca
            [post_title] => Tovární tým Yamahy před Laguna Seca
            [post_author] => 2
            [post_date] => 2013-07-17 11:05:31
            [year] => 2013
            [month] => 7
            [post_type] => post
        )

    [662] => stdClass Object
        (
            [slug] => ducati-2
            [ID] => 24843
            [post_name] => nicky-hayden-letos-v-tovarnim-tymu-ducati-skonci
            [post_title] => Nicky Hayden letos v továrním týmu Ducati skonči
            [post_author] => 2
            [post_date] => 2013-07-16 15:04:05
            [year] => 2013
            [month] => 7
            [post_type] => post
        )

    [663] => stdClass Object
        (
            [slug] => rossi-novinky
            [ID] => 24832
            [post_name] => c-pernat-lorenzo-trpi-syndromem-hrdiny
            [post_title] => C.Pernat: "Lorenzo trpí syndromem hrdiny."
            [post_author] => 2
            [post_date] => 2013-07-15 16:27:53
            [year] => 2013
            [month] => 7
            [post_type] => post
        )

    [664] => stdClass Object
        (
            [slug] => velkka-cena-gp
            [ID] => 24796
            [post_name] => velka-cena-nemecka-motogp-sachsenring
            [post_title] => Velká cena Německa MotoGP - Sachsenring
            [post_author] => 2
            [post_date] => 2013-07-14 14:54:24
            [year] => 2013
            [month] => 7
            [post_type] => post
        )

    [665] => stdClass Object
        (
            [slug] => rozhovor
            [ID] => 24695
            [post_name] => j-burgess-podarilo-se-nam-dosahnout-zlepseni-nastaveni
            [post_title] => J.Burgess: "Podařilo se nám dosáhnout zlepšení."
            [post_author] => 2
            [post_date] => 2013-07-12 10:00:22
            [year] => 2013
            [month] => 7
            [post_type] => post
        )

    [666] => stdClass Object
        (
            [slug] => rossi-novinky
            [ID] => 24671
            [post_name] => tiskova-konference-motogp-sachsenring
            [post_title] => Tisková konference MotoGP - Sachsenring
            [post_author] => 2
            [post_date] => 2013-07-11 18:11:00
            [year] => 2013
            [month] => 7
            [post_type] => post
        )

    [667] => stdClass Object
        (
            [slug] => cal-crutchlow
            [ID] => 24663
            [post_name] => cal-crutchlow-yamaha-chce-rossiho-a-lorenza
            [post_title] => Cal Crutchlow: "Yamaha chce Rossiho a Lorenza."
            [post_author] => 2
            [post_date] => 2013-07-10 15:44:55
            [year] => 2013
            [month] => 7
            [post_type] => post
        )

    [668] => stdClass Object
        (
            [slug] => rossi-novinky
            [ID] => 24646
            [post_name] => tovarni-tym-yamahy-pred-zavodem-na-sachsenringu
            [post_title] => Tovární tým Yamahy před závodem na Sachsenringu
            [post_author] => 2
            [post_date] => 2013-07-10 10:19:08
            [year] => 2013
            [month] => 7
            [post_type] => post
        )

    [669] => stdClass Object
        (
            [slug] => rossi-novinky
            [ID] => 24648
            [post_name] => valentino-rossi-ma-na-konte-dalsi-rekord
            [post_title] => Valentino Rossi má na kontě další rekord
            [post_author] => 2
            [post_date] => 2013-07-09 11:42:17
            [year] => 2013
            [month] => 7
            [post_type] => post
        )

    [670] => stdClass Object
        (
            [slug] => rossi-novinky
            [ID] => 24604
            [post_name] => valentino-rossi-o-konci-kariery-neuvazuje
            [post_title] => Valentino Rossi o konci kariéry neuvažuje. 
            [post_author] => 2
            [post_date] => 2013-07-01 13:34:54
            [year] => 2013
            [month] => 7
            [post_type] => post
        )

    [671] => stdClass Object
        (
            [slug] => ducati-desmosedici
            [ID] => 24599
            [post_name] => a-dovizioso-jiny-jezdec-stejne-vykony
            [post_title] => Andrea Dovizioso: "Jiný jezdec - stejné výkony."
            [post_author] => 2
            [post_date] => 2013-06-30 19:21:06
            [year] => 2013
            [month] => 6
            [post_type] => post
        )

    [672] => stdClass Object
        (
            [slug] => rossi-novinky
            [ID] => 24588
            [post_name] => lin-jarvis-byl-to-vyjimecny-vikend
            [post_title] => Lin Jarvis: "Byl to výjimečný víkend."
            [post_author] => 2
            [post_date] => 2013-06-30 13:13:08
            [year] => 2013
            [month] => 6
            [post_type] => post
        )

    [673] => stdClass Object
        (
            [slug] => rossi-novinky
            [ID] => 24565
            [post_name] => valentino-rossi-toto-by-mel-byt-jen-zacatek
            [post_title] => Valentino Rossi: "Toto by měl být jen začátek."
            [post_author] => 2
            [post_date] => 2013-06-29 21:53:44
            [year] => 2013
            [month] => 6
            [post_type] => post
        )

    [674] => stdClass Object
        (
            [slug] => velkka-cena-gp
            [ID] => 24546
            [post_name] => velka-cena-holandska-tt-motogp-assen
            [post_title] => Velká Cena Holandska TT MotoGP - Assen
            [post_author] => 2
            [post_date] => 2013-06-29 15:52:24
            [year] => 2013
            [month] => 6
            [post_type] => post
        )

    [675] => stdClass Object
        (
            [slug] => rossi-novinky
            [ID] => 24466
            [post_name] => tlacova-konferencia-motogp-assen
            [post_title] => Tlačová konferencia MotoGP - Assen
            [post_author] => 514
            [post_date] => 2013-06-27 01:52:11
            [year] => 2013
            [month] => 6
            [post_type] => post
        )

    [676] => stdClass Object
        (
            [slug] => rossi-novinky
            [ID] => 24459
            [post_name] => valentino-rossi-vedel-jsem-ze-to-nebude-jednoduche
            [post_title] => V. Rossi: "Věděl jsem, že to nebude jednoduché."
            [post_author] => 2
            [post_date] => 2013-06-26 19:41:53
            [year] => 2013
            [month] => 6
            [post_type] => post
        )

    [677] => stdClass Object
        (
            [slug] => rossi-novinky
            [ID] => 24453
            [post_name] => tovarni-tym-yamahy-pred-zavodem-v-assenu
            [post_title] => Tovární tým Yamahy před závodem v Assenu
            [post_author] => 2
            [post_date] => 2013-06-25 11:31:52
            [year] => 2013
            [month] => 6
            [post_type] => post
        )

    [678] => stdClass Object
        (
            [slug] => yamaha-2
            [ID] => 24448
            [post_name] => cal-crutchlow-yamahy-na-hondy-ztraceji
            [post_title] => Cal Crutchlow: "Yamahy na Hondy ztrácejí."
            [post_author] => 2
            [post_date] => 2013-06-22 20:32:52
            [year] => 2013
            [month] => 6
            [post_type] => post
        )

    [679] => stdClass Object
        (
            [slug] => rossi-novinky
            [ID] => 24413
            [post_name] => testy-motogp-aragon
            [post_title] => Testy MotoGP - Aragon
            [post_author] => 2
            [post_date] => 2013-06-19 12:02:25
            [year] => 2013
            [month] => 6
            [post_type] => post
        )

    [680] => stdClass Object
        (
            [slug] => rossi-novinky
            [ID] => 24367
            [post_name] => zapas-gladiatoru-nebo-operace-mozku
            [post_title] => Zápas gladiátorů nebo operace mozku?
            [post_author] => 2
            [post_date] => 2013-06-17 08:06:31
            [year] => 2013
            [month] => 6
            [post_type] => post
        )

    [681] => stdClass Object
        (
            [slug] => rossi-novinky
            [ID] => 24343
            [post_name] => pozavodny-test-katalansko
            [post_title] => Pozávodny test - Katalánsko
            [post_author] => 514
            [post_date] => 2013-06-17 07:22:14
            [year] => 2013
            [month] => 6
            [post_type] => post
        )

    [682] => stdClass Object
        (
            [slug] => rossi-novinky
            [ID] => 24332
            [post_name] => fantom-ducati-valentina-rossiho
            [post_title] => Fantóm Ducati Valentina Rossiho
            [post_author] => 2
            [post_date] => 2013-06-16 20:39:25
            [year] => 2013
            [month] => 6
            [post_type] => post
        )

    [683] => stdClass Object
        (
            [slug] => rossi-novinky
            [ID] => 24303
            [post_name] => velka-cena-katalanska-motogp-barcelona
            [post_title] => Velká Cena Katalánska MotoGP - Barcelona
            [post_author] => 2
            [post_date] => 2013-06-16 14:51:24
            [year] => 2013
            [month] => 6
            [post_type] => post
        )

    [684] => stdClass Object
        (
            [slug] => rossi-novinky
            [ID] => 24283
            [post_name] => yamaha-uz-nasadila-ctvrte-motory
            [post_title] => Yamaha už nasadila čtvrté motory
            [post_author] => 2
            [post_date] => 2013-06-15 20:55:29
            [year] => 2013
            [month] => 6
            [post_type] => post
        )

    [685] => stdClass Object
        (
            [slug] => rossi-novinky
            [ID] => 24189
            [post_name] => tiskova-konference-motogp-katalansko
            [post_title] => Tisková konference MotoGP - Katalánsko
            [post_author] => 2
            [post_date] => 2013-06-13 18:50:33
            [year] => 2013
            [month] => 6
            [post_type] => post
        )

    [686] => stdClass Object
        (
            [slug] => ducati-2
            [ID] => 24208
            [post_name] => casey-stoner-do-motogp-se-rozhodne-nevratim
            [post_title] => Casey Stoner: "Do MotoGP se rozhodně nevrátím."
            [post_author] => 2
            [post_date] => 2013-06-13 18:44:29
            [year] => 2013
            [month] => 6
            [post_type] => post
        )

    [687] => stdClass Object
        (
            [slug] => rossi-novinky
            [ID] => 24196
            [post_name] => j-burgess-titul-pro-rossiho-by-byl-maly-zazrak
            [post_title] => J.Burgess: Titul pro Rossiho? To by byl malý zázrak.
            [post_author] => 2
            [post_date] => 2013-06-12 20:49:46
            [year] => 2013
            [month] => 6
            [post_type] => post
        )

    [688] => stdClass Object
        (
            [slug] => rossi-novinky
            [ID] => 24185
            [post_name] => tovarni-tym-yamahy-pred-velkou-cenou-katalanska
            [post_title] => Tovární tým Yamahy před Velkou Cenou Katalánska
            [post_author] => 2
            [post_date] => 2013-06-11 11:00:19
            [year] => 2013
            [month] => 6
            [post_type] => post
        )

    [689] => stdClass Object
        (
            [slug] => rossi-novinky
            [ID] => 24179
            [post_name] => cal-crutchlow-kam-s-nim
            [post_title] => Cal Crutchlow – Kam s ním?
            [post_author] => 2
            [post_date] => 2013-06-10 14:38:15
            [year] => 2013
            [month] => 6
            [post_type] => post
        )

    [690] => stdClass Object
        (
            [slug] => ducati-desmosedici
            [ID] => 24177
            [post_name] => gobmeierovo-prvni-bilancovani-v-ducati
            [post_title] => Gobmeierovo první bilancování v Ducati
            [post_author] => 2
            [post_date] => 2013-06-08 20:45:57
            [year] => 2013
            [month] => 6
            [post_type] => post
        )

    [691] => stdClass Object
        (
            [slug] => motogp
            [ID] => 24169
            [post_name] => wsbk-se-docka-vyrazne-zmeny-pravidel
            [post_title] => WSBK se dočká výrazné změny pravidel
            [post_author] => 2
            [post_date] => 2013-06-08 12:12:43
            [year] => 2013
            [month] => 6
            [post_type] => post
        )

    [692] => stdClass Object
        (
            [slug] => ducati-desmosedici
            [ID] => 24141
            [post_name] => max-biaggi-test-ducati-gp13
            [post_title] => Max Biaggi v Mugellu testoval Ducati GP13
            [post_author] => 2
            [post_date] => 2013-06-07 20:00:59
            [year] => 2013
            [month] => 6
            [post_type] => post
        )

    [693] => stdClass Object
        (
            [slug] => rossi-novinky
            [ID] => 24160
            [post_name] => prijmy-valentina-rossiho-klesly-o-tretinu
            [post_title] => Příjmy Valentina Rossiho klesly o třetinu
            [post_author] => 2
            [post_date] => 2013-06-07 14:13:42
            [year] => 2013
            [month] => 6
            [post_type] => post
        )

    [694] => stdClass Object
        (
            [slug] => rossi-novinky
            [ID] => 24131
            [post_name] => valentino-rossi-mel-jsem-stesti-v-nestesti
            [post_title] => Valentino Rossi: "Měl jsem štěstí v neštěstí."
            [post_author] => 2
            [post_date] => 2013-06-02 20:05:32
            [year] => 2013
            [month] => 6
            [post_type] => post
        )

    [695] => stdClass Object
        (
            [slug] => velkka-cena-gp
            [ID] => 24092
            [post_name] => velka-cena-italie-motogp-mugello-2
            [post_title] => Velká Cena Itálie MotoGP - Mugello
            [post_author] => 2
            [post_date] => 2013-06-02 14:20:25
            [year] => 2013
            [month] => 6
            [post_type] => post
        )

    [696] => stdClass Object
        (
            [slug] => rossi-novinky
            [ID] => 23988
            [post_name] => tiskova-konference-motogp-mugello
            [post_title] => Tisková konference MotoGP - Mugello
            [post_author] => 2
            [post_date] => 2013-05-30 17:28:43
            [year] => 2013
            [month] => 5
            [post_type] => post
        )

    [697] => stdClass Object
        (
            [slug] => rossi-novinky
            [ID] => 23981
            [post_name] => m-meregalli-rossi-je-tady-rychlejsi
            [post_title] => M.Meregalli: "Rossi je tady v Mugellu rychlejší."
            [post_author] => 2
            [post_date] => 2013-05-30 14:52:12
            [year] => 2013
            [month] => 5
            [post_type] => post
        )

    [698] => stdClass Object
        (
            [slug] => rossi-novinky
            [ID] => 23977
            [post_name] => valentino-rossi-pred-zavodem-v-mugellu
            [post_title] => Valentino Rossi před závodem v Mugellu 
            [post_author] => 2
            [post_date] => 2013-05-28 15:42:43
            [year] => 2013
            [month] => 5
            [post_type] => post
        )

    [699] => stdClass Object
        (
            [slug] => rossi-novinky
            [ID] => 23971
            [post_name] => valentino-rossi-auta-az-na-konec-kariery
            [post_title] => Valentino Rossi: "Auta až na konec kariéry."
            [post_author] => 2
            [post_date] => 2013-05-26 21:50:56
            [year] => 2013
            [month] => 5
            [post_type] => post
        )

    [700] => stdClass Object
        (
            [slug] => jorge-lorenzo
            [ID] => 23967
            [post_name] => lorenzuv-vypadek-vinou-spatneho-nastaveni
            [post_title] => Lorenzův výpadek vinou špatného nastavení
            [post_author] => 2
            [post_date] => 2013-05-23 20:14:52
            [year] => 2013
            [month] => 5
            [post_type] => post
        )

    [701] => stdClass Object
        (
            [slug] => rossi-novinky
            [ID] => 23952
            [post_name] => valentino-rossi-jeste-potrebuji-nejaky-cas
            [post_title] => Valentino Rossi: "Ještě potřebuji nějaký čas."
            [post_author] => 2
            [post_date] => 2013-05-19 21:04:06
            [year] => 2013
            [month] => 5
            [post_type] => post
        )

    [702] => stdClass Object
        (
            [slug] => velkka-cena-gp
            [ID] => 23930
            [post_name] => velka-cena-francie-motogp-le-mans-2
            [post_title] => Velká Cena Francie MotoGP - Le Mans
            [post_author] => 2
            [post_date] => 2013-05-19 15:01:41
            [year] => 2013
            [month] => 5
            [post_type] => post
        )

    [703] => stdClass Object
        (
            [slug] => rossi-novinky
            [ID] => 23841
            [post_name] => tiskova-konference-motogp-pred-zavodem-v-le-mans
            [post_title] => Tisková konference MotoGP před závodem v Le Mans
            [post_author] => 2
            [post_date] => 2013-05-16 17:24:52
            [year] => 2013
            [month] => 5
            [post_type] => post
        )

    [704] => stdClass Object
        (
            [slug] => rossi-novinky
            [ID] => 23829
            [post_name] => d-brivio-rossi-se-na-m1-jeste-neciti-dobre
            [post_title] => D.Brivio: "Rossi se na M1 ještě necítí dobře."
            [post_author] => 2
            [post_date] => 2013-05-15 10:36:30
            [year] => 2013
            [month] => 5
            [post_type] => post
        )

    [705] => stdClass Object
        (
            [slug] => rossi-novinky
            [ID] => 23816
            [post_name] => vyjadreni-tovarniho-tymu-yamahy-pred-le-mans
            [post_title] => Vyjádření továrního týmu Yamahy před Le Mans
            [post_author] => 2
            [post_date] => 2013-05-14 12:45:54
            [year] => 2013
            [month] => 5
            [post_type] => post
        )

    [706] => stdClass Object
        (
            [slug] => rozhovor
            [ID] => 23802
            [post_name] => vyjadreni-lina-jarvise-k-pronajmu-motoru-yamahy-m1
            [post_title] => Vyjádření Lina Jarvise k pronájmu motorů Yamahy M1 
            [post_author] => 2
            [post_date] => 2013-05-11 21:22:08
            [year] => 2013
            [month] => 5
            [post_type] => post
        )

    [707] => stdClass Object
        (
            [slug] => yamaha-2
            [ID] => 23794
            [post_name] => cal-crutchlow-tovarni-motorka-nebo-nic
            [post_title] => Cal Crutchlow: "Tovární motorka nebo nic." 
            [post_author] => 2
            [post_date] => 2013-05-10 21:29:50
            [year] => 2013
            [month] => 5
            [post_type] => post
        )

    [708] => stdClass Object
        (
            [slug] => rossi-novinky
            [ID] => 23708
            [post_name] => test-jerez-motogp
            [post_title] => Oficiální testy MotoGP - Jerez
            [post_author] => 514
            [post_date] => 2013-05-06 10:12:39
            [year] => 2013
            [month] => 5
            [post_type] => post
        )

    [709] => stdClass Object
        (
            [slug] => rossi-novinky
            [ID] => 23703
            [post_name] => rozhovor-s-valentinem-rossim-po-zavodu-v-jerezu
            [post_title] => Rozhovor s Valentinem Rossim po závodu v Jerezu
            [post_author] => 2
            [post_date] => 2013-05-05 20:56:33
            [year] => 2013
            [month] => 5
            [post_type] => post
        )

    [710] => stdClass Object
        (
            [slug] => velkka-cena-gp
            [ID] => 23670
            [post_name] => velka-cena-spanelska-motogp-2013-jerez
            [post_title] => Velká Cena Španělska MotoGP 2013 - Jerez
            [post_author] => 2
            [post_date] => 2013-05-05 14:58:06
            [year] => 2013
            [month] => 5
            [post_type] => post
        )

    [711] => stdClass Object
        (
            [slug] => rossi-novinky
            [ID] => 23560
            [post_name] => tiskova-konference-motogp-jerez
            [post_title] => Tisková konference MotoGP - Jerez
            [post_author] => 2
            [post_date] => 2013-05-02 15:33:59
            [year] => 2013
            [month] => 5
            [post_type] => post
        )

    [712] => stdClass Object
        (
            [slug] => rossi-novinky
            [ID] => 23548
            [post_name] => tovarni-tym-yamahy-pred-zavodem-v-jerezu
            [post_title] => Tovární tým Yamahy před závodem v Jerezu
            [post_author] => 2
            [post_date] => 2013-04-30 12:47:16
            [year] => 2013
            [month] => 4
            [post_type] => post
        )

    [713] => stdClass Object
        (
            [slug] => ducati-2
            [ID] => 23534
            [post_name] => bridgestone-by-problem-ducati-vyresila-za-2-tydny
            [post_title] => Bridgestone by problém Ducati vyřešila za 2 týdny.
            [post_author] => 2
            [post_date] => 2013-04-25 08:13:04
            [year] => 2013
            [month] => 4
            [post_type] => post
        )

    [714] => stdClass Object
        (
            [slug] => casey-stoner
            [ID] => 23528
            [post_name] => l-suppo-marquez-je-opakem-stonera
            [post_title] => Livio Suppo: "Marquez je opakem Stonera."
            [post_author] => 2
            [post_date] => 2013-04-24 14:28:33
            [year] => 2013
            [month] => 4
            [post_type] => post
        )

    [715] => stdClass Object
        (
            [slug] => rossi-novinky
            [ID] => 23521
            [post_name] => valentino-rossi-si-vyzkousel-vuz-nascar
            [post_title] => Valentino Rossi si vyzkoušel vůz NASCAR
            [post_author] => 2
            [post_date] => 2013-04-23 12:14:55
            [year] => 2013
            [month] => 4
            [post_type] => post
        )

    [716] => stdClass Object
        (
            [slug] => velkka-cena-gp
            [ID] => 23488
            [post_name] => velka-cena-ameriky-motogp-austin
            [post_title] => Velká Cena Ameriky MotoGP - Austin
            [post_author] => 2
            [post_date] => 2013-04-21 21:55:50
            [year] => 2013
            [month] => 4
            [post_type] => post
        )

    [717] => stdClass Object
        (
            [slug] => rossi-novinky
            [ID] => 23384
            [post_name] => tiskova-konference-motogp-austin
            [post_title] => Tisková konference MotoGP - Austin
            [post_author] => 2
            [post_date] => 2013-04-18 19:31:28
            [year] => 2013
            [month] => 4
            [post_type] => post
        )

    [718] => stdClass Object
        (
            [slug] => rossi-novinky
            [ID] => 23346
            [post_name] => graziano-rossi-valentinuv-nejkrasnejsi-zavod
            [post_title] => Graziano Rossi: "Valentinův nejkrásnější závod." 
            [post_author] => 2
            [post_date] => 2013-04-10 10:39:16
            [year] => 2013
            [month] => 4
            [post_type] => post
        )

    [719] => stdClass Object
        (
            [slug] => ducati-desmosedici
            [ID] => 23334
            [post_name] => andrea-dovizioso-ducati-proste-nezataci
            [post_title] => Andrea Dovizioso: "Ducati prostě nezatáčí."
            [post_author] => 2
            [post_date] => 2013-04-08 21:41:22
            [year] => 2013
            [month] => 4
            [post_type] => post
        )

    [720] => stdClass Object
        (
            [slug] => rossi-novinky
            [ID] => 23307
            [post_name] => v-rossi-takto-jsem-se-necitil-od-roku-2009
            [post_title] => Valentino Rossi: "Takto jsem se necítil od roku 2009."
            [post_author] => 2
            [post_date] => 2013-04-08 11:01:46
            [year] => 2013
            [month] => 4
            [post_type] => post
        )

    [721] => stdClass Object
        (
            [slug] => velkka-cena-gp
            [ID] => 23286
            [post_name] => velka-cena-kataru-motogp-2013
            [post_title] => Velká Cena Kataru MotoGP 2013
            [post_author] => 2
            [post_date] => 2013-04-07 21:53:47
            [year] => 2013
            [month] => 4
            [post_type] => post
        )

    [722] => stdClass Object
        (
            [slug] => motogp
            [ID] => 23243
            [post_name] => yamaha-uzavrela-dohodu-o-pronajmu-motoru-pro-motogp
            [post_title] => Yamaha uzavřela dohodu o pronájmu motorů
            [post_author] => 2
            [post_date] => 2013-04-06 18:08:15
            [year] => 2013
            [month] => 4
            [post_type] => post
        )

    [723] => stdClass Object
        (
            [slug] => rossi-novinky
            [ID] => 22736
            [post_name] => rozhovor-valetnina-rossiho-pro-magazin-mcn
            [post_title] => Rozhovor Valentina Rossiho pro magazín MCN
            [post_author] => 2
            [post_date] => 2013-04-04 10:57:25
            [year] => 2013
            [month] => 4
            [post_type] => post
        )

    [724] => stdClass Object
        (
            [slug] => rossi-novinky
            [ID] => 23153
            [post_name] => tiskova-konference-pred-velkou-cenou-kataru
            [post_title] => Tisková konference před Velkou Cenou Kataru
            [post_author] => 2
            [post_date] => 2013-04-03 17:36:47
            [year] => 2013
            [month] => 4
            [post_type] => post
        )

    [725] => stdClass Object
        (
            [slug] => rossi-novinky
            [ID] => 23129
            [post_name] => jeremy-burgess-uvidime-jak-to-v-kataru-pujde
            [post_title] => Jeremy Burgess: "Uvidíme jak to v Kataru půjde."
            [post_author] => 2
            [post_date] => 2013-04-01 15:48:23
            [year] => 2013
            [month] => 4
            [post_type] => post
        )

    [726] => stdClass Object
        (
            [slug] => rossi-novinky
            [ID] => 23111
            [post_name] => tym-a-mechanici-valentina-rossiho-aktualizace
            [post_title] => Tým a mechanici Valentina Rossiho - aktualizace
            [post_author] => 2
            [post_date] => 2013-03-30 18:41:30
            [year] => 2013
            [month] => 3
            [post_type] => post
        )

    [727] => stdClass Object
        (
            [slug] => rossi-novinky
            [ID] => 23097
            [post_name] => novy-system-penalizace-jezdcu-v-motogp
            [post_title] => Nový systém penalizace jezdců v MotoGP
            [post_author] => 2
            [post_date] => 2013-03-28 13:30:23
            [year] => 2013
            [month] => 3
            [post_type] => post
        )

    [728] => stdClass Object
        (
            [slug] => rossi-novinky
            [ID] => 22791
            [post_name] => posledni-zimni-testy-motogp-2013-v-jerezu
            [post_title] => Poslední zimní testy MotoGP 2013 v Jerezu
            [post_author] => 2
            [post_date] => 2013-03-23 09:15:32
            [year] => 2013
            [month] => 3
            [post_type] => post
        )

    [729] => stdClass Object
        (
            [slug] => rossi-novinky
            [ID] => 22693
            [post_name] => prezentace-tymu-yamaha-racing-motogp-22-3-2013
            [post_title] => Prezentace týmu Yamaha Racing MotoGP 22.3.2013
            [post_author] => 2
            [post_date] => 2013-03-22 11:33:12
            [year] => 2013
            [month] => 3
            [post_type] => post
        )

    [730] => stdClass Object
        (
            [slug] => motogp
            [ID] => 22757
            [post_name] => lin-jarvis-valentino-od-nas-nemel-nikdy-odejit
            [post_title] => Lin Jarvis: "Valentino od nás neměl nikdy odejít."
            [post_author] => 2
            [post_date] => 2013-03-22 10:22:11
            [year] => 2013
            [month] => 3
            [post_type] => post
        )

    [731] => stdClass Object
        (
            [slug] => ducati-desmosedici
            [ID] => 22723
            [post_name] => casey-stoner-chtel-jsem-si-vzit-preziosiho-sebou
            [post_title] => Casey Stoner: "Chtěl jsem si vzít Preziosiho sebou."
            [post_author] => 2
            [post_date] => 2013-03-18 17:20:47
            [year] => 2013
            [month] => 3
            [post_type] => post
        )

    [732] => stdClass Object
        (
            [slug] => ducati-desmosedici
            [ID] => 22721
            [post_name] => rozhovor-s-andrea-doviziosou
            [post_title] => Rozhovor s Andrea Doviziosou
            [post_author] => 2
            [post_date] => 2013-03-18 14:02:00
            [year] => 2013
            [month] => 3
            [post_type] => post
        )

    [733] => stdClass Object
        (
            [slug] => ducati-2
            [ID] => 22709
            [post_name] => v-ducati-neumeji-spravne-nalozit-s-kritikou
            [post_title] => V.Rossi: "V Ducati neumějí správně naložit s kritikou."
            [post_author] => 2
            [post_date] => 2013-03-17 13:51:34
            [year] => 2013
            [month] => 3
            [post_type] => post
        )

    [734] => stdClass Object
        (
            [slug] => rossi-novinky
            [ID] => 22699
            [post_name] => valentino-rossi-na-pr-akci-v-brazilii
            [post_title] => Valentino Rossi na PR akci v Brazílii. 
            [post_author] => 2
            [post_date] => 2013-03-16 19:57:50
            [year] => 2013
            [month] => 3
            [post_type] => post
        )

    [735] => stdClass Object
        (
            [slug] => rossi-novinky
            [ID] => 22586
            [post_name] => testy-motogp-yamahy-a-hondy-v-austinu
            [post_title] => Testy MotoGP Yamahy a Hondy v Austinu
            [post_author] => 2
            [post_date] => 2013-03-12 17:31:49
            [year] => 2013
            [month] => 3
            [post_type] => post
        )

    [736] => stdClass Object
        (
            [slug] => ducati-desmosedici
            [ID] => 22580
            [post_name] => a-dovizioso-desmosedici-nezataci
            [post_title] => A.Dovizioso: "Desmosedici nezatáčí."
            [post_author] => 2
            [post_date] => 2013-03-12 07:45:34
            [year] => 2013
            [month] => 3
            [post_type] => post
        )

    [737] => stdClass Object
        (
            [slug] => rossi-novinky
            [ID] => 22569
            [post_name] => j-lorenzo-rossi-je-obtizny-souper
            [post_title] => J.Lorenzo: "Rossi je obtížný soupeř."
            [post_author] => 2
            [post_date] => 2013-03-11 16:05:39
            [year] => 2013
            [month] => 3
            [post_type] => post
        )

    [738] => stdClass Object
        (
            [slug] => rossi-novinky
            [ID] => 22251
            [post_name] => motogp-se-pripravuje-na-premieru-v-austinu
            [post_title] => MotoGP se připravuje na premiéru v Austinu.	
            [post_author] => 2
            [post_date] => 2013-03-11 10:20:40
            [year] => 2013
            [month] => 3
            [post_type] => post
        )

    [739] => stdClass Object
        (
            [slug] => rossi-novinky
            [ID] => 22561
            [post_name] => suzi-perry-valentino-nemel-od-yamahy-odchazet
            [post_title] => Suzi Perry: "Valentino neměl od Yamahy odcházet."
            [post_author] => 2
            [post_date] => 2013-03-07 12:05:12
            [year] => 2013
            [month] => 3
            [post_type] => post
        )

    [740] => stdClass Object
        (
            [slug] => rossi-novinky
            [ID] => 22554
            [post_name] => valentino-rossi-prestal-uvazovat-o-formuli-1
            [post_title] => Valentino Rossi přestal uvažovat o Formuli 1
            [post_author] => 2
            [post_date] => 2013-03-06 14:42:26
            [year] => 2013
            [month] => 3
            [post_type] => post
        )

    [741] => stdClass Object
        (
            [slug] => rossi-novinky
            [ID] => 22532
            [post_name] => baje-o-navratu-odyssea
            [post_title] => Báje o návratu Odyssea
            [post_author] => 2
            [post_date] => 2013-03-04 19:50:35
            [year] => 2013
            [month] => 3
            [post_type] => post
        )

    [742] => stdClass Object
        (
            [slug] => rossi-novinky
            [ID] => 22512
            [post_name] => navrat-suzuki-do-motogp-v-roku-2014
            [post_title] => Návrat Suzuki do MotoGP v roku 2014?
            [post_author] => 514
            [post_date] => 2013-03-02 01:11:39
            [year] => 2013
            [month] => 3
            [post_type] => post
        )

    [743] => stdClass Object
        (
            [slug] => rossi-novinky
            [ID] => 22506
            [post_name] => rossi-a-marquez-si-uzili-spolecnou-jizdu
            [post_title] => Rossi a Marquez si užili společnou jízdu
            [post_author] => 2
            [post_date] => 2013-03-01 09:19:04
            [year] => 2013
            [month] => 3
            [post_type] => post
        )

    [744] => stdClass Object
        (
            [slug] => rossi-novinky
            [ID] => 22350
            [post_name] => druhe-zimni-testy-motogp-v-sepangu
            [post_title] => Druhé zimní testy MotoGP v Sepangu
            [post_author] => 2
            [post_date] => 2013-02-26 07:17:49
            [year] => 2013
            [month] => 2
            [post_type] => post
        )

    [745] => stdClass Object
        (
            [slug] => superbike-2
            [ID] => 22330
            [post_name] => checovi-premiera-na-panigale-nevysla
            [post_title] => Checovi premiéra na Panigale 1199 nevyšla
            [post_author] => 2
            [post_date] => 2013-02-24 12:07:10
            [year] => 2013
            [month] => 2
            [post_type] => post
        )

    [746] => stdClass Object
        (
            [slug] => ducati-desmosedici
            [ID] => 22312
            [post_name] => p-ciabatti-ducati-neni-na-stejne-urovni-s-konkurenci
            [post_title] => P.Ciabatti: "Ducati není na stejné úrovni s konkurencí."
            [post_author] => 2
            [post_date] => 2013-02-21 16:31:04
            [year] => 2013
            [month] => 2
            [post_type] => post
        )

    [747] => stdClass Object
        (
            [slug] => rossi-novinky
            [ID] => 22309
            [post_name] => max-biaggi-valentino-rossi-je-jako-copperfiled
            [post_title] => Max Biaggi: "Valentino Rossi je jako Copperfiled." 
            [post_author] => 2
            [post_date] => 2013-02-21 11:08:25
            [year] => 2013
            [month] => 2
            [post_type] => post
        )

    [748] => stdClass Object
        (
            [slug] => rossi-novinky
            [ID] => 22307
            [post_name] => jorge-lorenzo-na-rossiho-je-treba-si-davat-pozor
            [post_title] => Jorge Lorenzo: "Na Rossiho je třeba si dávat pozor."
            [post_author] => 2
            [post_date] => 2013-02-20 19:06:16
            [year] => 2013
            [month] => 2
            [post_type] => post
        )

    [749] => stdClass Object
        (
            [slug] => rossi-novinky
            [ID] => 22287
            [post_name] => v-rossi-ten-ohen-uvnitr-nikdy-nevyhasl
            [post_title] => V.Rossi: "Ten oheň uvnitř nikdy nevyhasl."
            [post_author] => 2
            [post_date] => 2013-02-19 18:35:45
            [year] => 2013
            [month] => 2
            [post_type] => post
        )

    [750] => stdClass Object
        (
            [slug] => ducati-2
            [ID] => 22280
            [post_name] => honda-rc213v-pouziva-uhel-valcu-90
            [post_title] => Honda RC213V používá úhel válců 90°
            [post_author] => 2
            [post_date] => 2013-02-18 18:41:44
            [year] => 2013
            [month] => 2
            [post_type] => post
        )

    [751] => stdClass Object
        (
            [slug] => rossi-novinky
            [ID] => 22274
            [post_name] => valentino-rossi-ve-videu-pro-dainese
            [post_title] => Valentino Rossi ve videu pro Dainese
            [post_author] => 2
            [post_date] => 2013-02-17 17:17:03
            [year] => 2013
            [month] => 2
            [post_type] => post
        )

    [752] => stdClass Object
        (
            [slug] => rossi-novinky
            [ID] => 22268
            [post_name] => valentino-rossi-dnes-slavi-34-narozeniny
            [post_title] => Valentino Rossi dnes slaví 34. narozeniny
            [post_author] => 2
            [post_date] => 2013-02-16 08:35:39
            [year] => 2013
            [month] => 2
            [post_type] => post
        )

    [753] => stdClass Object
        (
            [slug] => ducati-2
            [ID] => 22262
            [post_name] => nazory-novinaru-na-sezonu-motogp-2013
            [post_title] => Názory novinářů na sezónu MotoGP 2013
            [post_author] => 2
            [post_date] => 2013-02-15 15:01:19
            [year] => 2013
            [month] => 2
            [post_type] => post
        )

    [754] => stdClass Object
        (
            [slug] => rossi-novinky
            [ID] => 22242
            [post_name] => m-maregalli-rossi-a-lorenzo-skvele-spolupracuji
            [post_title] => M.Maregalli: "Rossi a Lorenzo skvěle spolupracují."
            [post_author] => 2
            [post_date] => 2013-02-11 20:44:58
            [year] => 2013
            [month] => 2
            [post_type] => post
        )

    [755] => stdClass Object
        (
            [slug] => rossi-novinky
            [ID] => 22235
            [post_name] => l-jarvis-rossi-bude-konkurenceschopny
            [post_title] => Lin Jarvis: "Rossi bude konkurenceschopný."
            [post_author] => 2
            [post_date] => 2013-02-11 18:30:22
            [year] => 2013
            [month] => 2
            [post_type] => post
        )

    [756] => stdClass Object
        (
            [slug] => ducati-2
            [ID] => 22224
            [post_name] => nicky-hayden-potrebujeme-radikalni-zmenu
            [post_title] => Nicky Hayden: "Potřebujeme radikální změnu."
            [post_author] => 2
            [post_date] => 2013-02-09 10:15:38
            [year] => 2013
            [month] => 2
            [post_type] => post
        )

    [757] => stdClass Object
        (
            [slug] => rossi-novinky
            [ID] => 22171
            [post_name] => zaverecny-den-testu-motogp-v-sepangu
            [post_title] => Závěrečný den testů MotoGP v Sepangu
            [post_author] => 2
            [post_date] => 2013-02-07 07:12:45
            [year] => 2013
            [month] => 2
            [post_type] => post
        )

    [758] => stdClass Object
        (
            [slug] => rossi-novinky
            [ID] => 22135
            [post_name] => testy-motogp-sepang-2-den
            [post_title] => Testy MotoGP Sepang - 2. den
            [post_author] => 2
            [post_date] => 2013-02-06 07:17:49
            [year] => 2013
            [month] => 2
            [post_type] => post
        )

    [759] => stdClass Object
        (
            [slug] => rossi-novinky
            [ID] => 22122
            [post_name] => valentino-rossi-prvni-den-byl-perfektni
            [post_title] => Valentino Rossi: "První den byl perfektní!"
            [post_author] => 2
            [post_date] => 2013-02-05 15:32:52
            [year] => 2013
            [month] => 2
            [post_type] => post
        )

    [760] => stdClass Object
        (
            [slug] => rossi-novinky
            [ID] => 22062
            [post_name] => testy-motogp-sepang
            [post_title] => Testy MotoGP Sepang
            [post_author] => 2
            [post_date] => 2013-02-03 13:26:46
            [year] => 2013
            [month] => 2
            [post_type] => post
        )

    [761] => stdClass Object
        (
            [slug] => yamaha-2
            [ID] => 22054
            [post_name] => yamaha-na-testy-v-sepangu-s-novou-prevodovkou
            [post_title] => Yamaha na testy v Sepangu s novou převodovkou
            [post_author] => 2
            [post_date] => 2013-01-31 18:27:40
            [year] => 2013
            [month] => 1
            [post_type] => post
        )

    [762] => stdClass Object
        (
            [slug] => ducati-desmosedici
            [ID] => 22039
            [post_name] => rozhovor-s-bernhardem-gobmeierem-o-ducati
            [post_title] => Rozhovor s Bernhardem Gobmeierem o Ducati
            [post_author] => 2
            [post_date] => 2013-01-29 13:02:34
            [year] => 2013
            [month] => 1
            [post_type] => post
        )

    [763] => stdClass Object
        (
            [slug] => rossi-novinky
            [ID] => 22011
            [post_name] => rozhovor-s-valentinem-rossim-z-jakarty
            [post_title] => Rozhovor s Valentinem Rossim z Jakarty
            [post_author] => 2
            [post_date] => 2013-01-26 17:08:36
            [year] => 2013
            [month] => 1
            [post_type] => post
        )

    [764] => stdClass Object
        (
            [slug] => rossi-novinky
            [ID] => 21978
            [post_name] => valentino-rossi-a-jorge-lorenzo-prezentace-yamahy
            [post_title] => Valentino Rossi a Jorge Lorenzo - prezentace Yamahy
            [post_author] => 2
            [post_date] => 2013-01-25 07:54:15
            [year] => 2013
            [month] => 1
            [post_type] => post
        )

    [765] => stdClass Object
        (
            [slug] => motogp
            [ID] => 21970
            [post_name] => testy-motogp-zacinaji-jiz-3-unora
            [post_title] => Testy MotoGP™ začínají již 3. Února 
            [post_author] => 2
            [post_date] => 2013-01-23 11:14:31
            [year] => 2013
            [month] => 1
            [post_type] => post
        )

    [766] => stdClass Object
        (
            [slug] => rozhovor
            [ID] => 21960
            [post_name] => shuhei-nakamoto-ohlednuti-za-sezonou-2012-1
            [post_title] => Shuhei Nakamoto – ohlédnutí za sezónou 2012 (1 + 2)
            [post_author] => 2
            [post_date] => 2013-01-20 19:43:35
            [year] => 2013
            [month] => 1
            [post_type] => post
        )

    [767] => stdClass Object
        (
            [slug] => cal-crutchlow
            [ID] => 21944
            [post_name] => c-crutchlow-konkurence-bude-letos-tvrdsi
            [post_title] => C.Crutchlow: "Konkurence bude letos tvrdší."
            [post_author] => 2
            [post_date] => 2013-01-17 16:08:41
            [year] => 2013
            [month] => 1
            [post_type] => post
        )

    [768] => stdClass Object
        (
            [slug] => ducati-desmosedici
            [ID] => 21928
            [post_name] => b-gobmeier-evoluce-nikoliv-revoluce
            [post_title] => B.Gobmeier: "Evoluce, nikoliv revoluce"
            [post_author] => 2
            [post_date] => 2013-01-16 11:26:42
            [year] => 2013
            [month] => 1
            [post_type] => post
        )

    [769] => stdClass Object
        (
            [slug] => rossi-novinky
            [ID] => 21910
            [post_name] => valentino-rossi-a-yamaha-m1
            [post_title] => Valentino Rossi a Yamaha M1
            [post_author] => 2
            [post_date] => 2013-01-15 11:49:53
            [year] => 2013
            [month] => 1
            [post_type] => post
        )

    [770] => stdClass Object
        (
            [slug] => ducati-desmosedici
            [ID] => 21898
            [post_name] => wrooom-2013
            [post_title] => Wrooom 2013
            [post_author] => 2
            [post_date] => 2013-01-14 12:37:50
            [year] => 2013
            [month] => 1
            [post_type] => post
        )

    [771] => stdClass Object
        (
            [slug] => rossi-novinky
            [ID] => 21887
            [post_name] => c-ezpeleta-rossi-muze-byt-znovu-vpredu
            [post_title] => C.Ezpeleta: "Rossi může být znovu vpředu."
            [post_author] => 2
            [post_date] => 2013-01-10 16:22:14
            [year] => 2013
            [month] => 1
            [post_type] => post
        )

    [772] => stdClass Object
        (
            [slug] => bridgestone-2
            [ID] => 21885
            [post_name] => bridgestone-prodlouzila-smlouvu-s-valentinem-rossim
            [post_title] => Bridgestone prodloužila smlouvu s Valentinem Rossim
            [post_author] => 2
            [post_date] => 2013-01-09 13:52:53
            [year] => 2013
            [month] => 1
            [post_type] => post
        )

    [773] => stdClass Object
        (
            [slug] => rossi-novinky
            [ID] => 21869
            [post_name] => monster-energy-bude-sponzorovat-tym-yamahy
            [post_title] => Monster Energy bude sponzorovat tým Yamahy
            [post_author] => 2
            [post_date] => 2013-01-08 13:14:16
            [year] => 2013
            [month] => 1
            [post_type] => post
        )

    [774] => stdClass Object
        (
            [slug] => rossi-novinky
            [ID] => 21863
            [post_name] => statistika-rossi-vs-lorenzo
            [post_title] => Statistika Rossi vs Lorenzo
            [post_author] => 2
            [post_date] => 2013-01-08 09:31:48
            [year] => 2013
            [month] => 1
            [post_type] => post
        )

    [775] => stdClass Object
        (
            [slug] => rossi-novinky
            [ID] => 21854
            [post_name] => yamaha-racing-video-vitej-doma-vale
            [post_title] => Yamaha Racing video "Vítej doma Vale!"
            [post_author] => 2
            [post_date] => 2013-01-03 15:58:11
            [year] => 2013
            [month] => 1
            [post_type] => post
        )

    [776] => stdClass Object
        (
            [slug] => rossi-novinky
            [ID] => 21845
            [post_name] => zpoved-bena-spiese
            [post_title] => Zpověď Bena Spiese
            [post_author] => 2
            [post_date] => 2013-01-03 10:23:17
            [year] => 2013
            [month] => 1
            [post_type] => post
        )

    [777] => stdClass Object
        (
            [slug] => rossi-novinky
            [ID] => 21831
            [post_name] => v-rossi-udelal-jsem-velmi-odvazne-rozhodnuti
            [post_title] => V.Rossi: "Udělal jsem velmi odvážné rozhodnutí."
            [post_author] => 2
            [post_date] => 2012-12-29 15:36:27
            [year] => 2012
            [month] => 12
            [post_type] => post
        )

    [778] => stdClass Object
        (
            [slug] => rozhovor
            [ID] => 21822
            [post_name] => w-zeelenberg-jorge-je-jako-houba
            [post_title] => W.Zeelenberg: "Jorge je jako houba."
            [post_author] => 2
            [post_date] => 2012-12-28 15:59:40
            [year] => 2012
            [month] => 12
            [post_type] => post
        )

    [779] => stdClass Object
        (
            [slug] => rossi-novinky
            [ID] => 21787
            [post_name] => videa-valentina-rossiho-na-youtube
            [post_title] => Videa Valentina Rossiho na YouTube
            [post_author] => 2
            [post_date] => 2012-12-25 21:58:07
            [year] => 2012
            [month] => 12
            [post_type] => post
        )

    [780] => stdClass Object
        (
            [slug] => rossi-novinky
            [ID] => 21776
            [post_name] => monster-energy-bude-sponzorovat-tovarni-tym-yamahy
            [post_title] => Monster Energy bude sponzorovat tovární tým Yamahy
            [post_author] => 2
            [post_date] => 2012-12-22 15:20:15
            [year] => 2012
            [month] => 12
            [post_type] => post
        )

    [781] => stdClass Object
        (
            [slug] => rozhovor
            [ID] => 21758
            [post_name] => j-lorenzo-s-valentinem-nejsou-problemy
            [post_title] => J.Lorenzo: "S Valentinem nejsou problémy."
            [post_author] => 2
            [post_date] => 2012-12-21 18:18:20
            [year] => 2012
            [month] => 12
            [post_type] => post
        )

    [782] => stdClass Object
        (
            [slug] => yamaha-2
            [ID] => 21754
            [post_name] => yamaha-pracuje-na-nove-prevodovce
            [post_title] => Yamaha pracuje na nové převodovce
            [post_author] => 2
            [post_date] => 2012-12-20 11:56:07
            [year] => 2012
            [month] => 12
            [post_type] => post
        )

    [783] => stdClass Object
        (
            [slug] => jeremy-burgess
            [ID] => 21740
            [post_name] => jeremy-burgess-selhani-s-ducati-me-bude-pronasledovat-az-do-hrobu
            [post_title] => Jeremy Burgess: "Selhání s Ducati mě bude pronásledovat až do hrobu."
            [post_author] => 2
            [post_date] => 2012-12-16 13:43:59
            [year] => 2012
            [month] => 12
            [post_type] => post
        )

    [784] => stdClass Object
        (
            [slug] => rossi-novinky
            [ID] => 21735
            [post_name] => pady-motogp-2012
            [post_title] => Pády MotoGP 2012
            [post_author] => 2
            [post_date] => 2012-12-16 10:33:41
            [year] => 2012
            [month] => 12
            [post_type] => post
        )

    [785] => stdClass Object
        (
            [slug] => rossi-novinky
            [ID] => 21713
            [post_name] => rozhovor-s-masao-furusawou
            [post_title] => Rozhovor s Masaou Furusawou
            [post_author] => 2
            [post_date] => 2012-12-15 08:53:40
            [year] => 2012
            [month] => 12
            [post_type] => post
        )

    [786] => stdClass Object
        (
            [slug] => motogp
            [ID] => 21723
            [post_name] => okruh-na-phillip-islandu-ma-novy-povrch
            [post_title] => Okruh na Phillip Islandu má nový povrch
            [post_author] => 2
            [post_date] => 2012-12-13 08:09:48
            [year] => 2012
            [month] => 12
            [post_type] => post
        )

    [787] => stdClass Object
        (
            [slug] => rossi-novinky
            [ID] => 21709
            [post_name] => v-rossi-stoner-me-po-lagune-2008-zacal-nenavidet
            [post_title] => V.Rossi: "Stoner mě po Laguně 2008 začal nenávidět."
            [post_author] => 2
            [post_date] => 2012-12-11 18:28:18
            [year] => 2012
            [month] => 12
            [post_type] => post
        )

    [788] => stdClass Object
        (
            [slug] => rossi-novinky
            [ID] => 21702
            [post_name] => valentino-rossi-nemusi-nikomu-nic-dokazovat
            [post_title] => Valentino Rossi nemusí nikomu nic dokazovat
            [post_author] => 2
            [post_date] => 2012-12-10 12:44:21
            [year] => 2012
            [month] => 12
            [post_type] => post
        )

    [789] => stdClass Object
        (
            [slug] => ducati-desmosedici
            [ID] => 21693
            [post_name] => ben-spies-na-podzim-jsem-o-nic-neprisel
            [post_title] => Ben Spies: "Na podzim jsem o nic nepřišel."
            [post_author] => 2
            [post_date] => 2012-12-08 15:19:22
            [year] => 2012
            [month] => 12
            [post_type] => post
        )

    [790] => stdClass Object
        (
            [slug] => motogp
            [ID] => 21688
            [post_name] => brno-v-navstevnosti-motogp-stale-vede
            [post_title] => Brno v návštěvnosti MotoGP stále vede
            [post_author] => 2
            [post_date] => 2012-12-07 11:15:01
            [year] => 2012
            [month] => 12
            [post_type] => post
        )

    [791] => stdClass Object
        (
            [slug] => rossi-novinky
            [ID] => 21598
            [post_name] => sic-supermoto-day
            [post_title] => Sic Supermoto Day
            [post_author] => 2
            [post_date] => 2012-11-30 15:14:10
            [year] => 2012
            [month] => 11
            [post_type] => post
        )

    [792] => stdClass Object
        (
            [slug] => ducati-2
            [ID] => 21611
            [post_name] => testy-ducati-crt-v-jerezu
            [post_title] => Testy Ducati a CRT v Jerezu
            [post_author] => 2
            [post_date] => 2012-11-29 16:33:28
            [year] => 2012
            [month] => 11
            [post_type] => post
        )

    [793] => stdClass Object
        (
            [slug] => rossi-novinky
            [ID] => 21620
            [post_name] => v-rossi-doufejme-ze-je-to-bod-obratu
            [post_title] => V.Rossi: "Doufejme, že je to bod obratu."
            [post_author] => 2
            [post_date] => 2012-11-29 09:18:55
            [year] => 2012
            [month] => 11
            [post_type] => post
        )

    [794] => stdClass Object
        (
            [slug] => honda-2
            [ID] => 21615
            [post_name] => marquez-v-sepangu-jen-sekundu-od-pole-position
            [post_title] => Marquez v Sepangu jen sekundu od pole position
            [post_author] => 2
            [post_date] => 2012-11-28 16:00:37
            [year] => 2012
            [month] => 11
            [post_type] => post
        )

    [795] => stdClass Object
        (
            [slug] => ducati-2
            [ID] => 21606
            [post_name] => hayden-veri-ve-vyreseni-problemu-s-predkem-ducati
            [post_title] => Hayden veří ve vyřešení problému s předkem Ducati
            [post_author] => 2
            [post_date] => 2012-11-27 16:10:08
            [year] => 2012
            [month] => 11
            [post_type] => post
        )

    [796] => stdClass Object
        (
            [slug] => rossi-novinky
            [ID] => 21387
            [post_name] => monza-raylle-show-2012
            [post_title] => Monza Rallye Show 2012
            [post_author] => 2
            [post_date] => 2012-11-23 20:00:59
            [year] => 2012
            [month] => 11
            [post_type] => post
        )

    [797] => stdClass Object
        (
            [slug] => technologie-motogp
            [ID] => 21425
            [post_name] => ta-vlajici-noha-valentina-rossiho
            [post_title] => Ta vlající noha Valentina Rossiho...
            [post_author] => 2
            [post_date] => 2012-11-23 18:59:04
            [year] => 2012
            [month] => 11
            [post_type] => post
        )

    [798] => stdClass Object
        (
            [slug] => casey-stoner
            [ID] => 21401
            [post_name] => elektronika-hondy-umoznuje-jizdu-smykem
            [post_title] => Elektronika Hondy umožňuje jízdu smykem
            [post_author] => 2
            [post_date] => 2012-11-21 19:19:30
            [year] => 2012
            [month] => 11
            [post_type] => post
        )

    [799] => stdClass Object
        (
            [slug] => ducati-desmosedici
            [ID] => 21359
            [post_name] => preziosi-a-cicognani-odvolani-z-funkci
            [post_title] => Ducati odvolalo Preziosiho a Cicognaniho z funkcí.
            [post_author] => 2
            [post_date] => 2012-11-20 15:47:52
            [year] => 2012
            [month] => 11
            [post_type] => post
        )

    [800] => stdClass Object
        (
            [slug] => motogp
            [ID] => 21350
            [post_name] => okruh-v-austinu-ma-za-sebou-premieru
            [post_title] => Okruh v Austinu má za sebou premiéru
            [post_author] => 2
            [post_date] => 2012-11-19 18:00:26
            [year] => 2012
            [month] => 11
            [post_type] => post
        )

    [801] => stdClass Object
        (
            [slug] => ducati-2
            [ID] => 21343
            [post_name] => w-durheimer-v-roce-2015-chceme-s-ducati-bojovat-o-titul
            [post_title] => W.Dürheimer: "Chceme s Ducati bojovat o titul."
            [post_author] => 2
            [post_date] => 2012-11-18 18:21:19
            [year] => 2012
            [month] => 11
            [post_type] => post
        )

    [802] => stdClass Object
        (
            [slug] => bridgestone-2
            [ID] => 21327
            [post_name] => r-mamola-pneumatiky-diktuji-jezdecky-styl
            [post_title] => R.Mamola: "Pneumatiky diktují jezdecký styl."
            [post_author] => 2
            [post_date] => 2012-11-18 14:46:59
            [year] => 2012
            [month] => 11
            [post_type] => post
        )

    [803] => stdClass Object
        (
            [slug] => rossi-novinky
            [ID] => 21322
            [post_name] => v-rossi-navrat-k-yamaze-je-mym-poslednim-dobroduzstvim-v-motogp
            [post_title] => V. Rossi: "Návrat k Yamaze je mým posledním dobrodužstvím v MotoGP."
            [post_author] => 2
            [post_date] => 2012-11-17 13:09:22
            [year] => 2012
            [month] => 11
            [post_type] => post
        )

    [804] => stdClass Object
        (
            [slug] => nicky-hayden
            [ID] => 21318
            [post_name] => nicky-hayden-chce-byt-u-ducati-tymovou-jednickou
            [post_title] => Nicky Hayden chce být u Ducati týmovou jedničkou
            [post_author] => 2
            [post_date] => 2012-11-17 11:42:52
            [year] => 2012
            [month] => 11
            [post_type] => post
        )

    [805] => stdClass Object
        (
            [slug] => rossi-novinky
            [ID] => 19428
            [post_name] => after-the-flag-motogp
            [post_title] => Poslední After the flag 2012
            [post_author] => 2
            [post_date] => 2012-11-16 15:00:27
            [year] => 2012
            [month] => 11
            [post_type] => post
        )

    [806] => stdClass Object
        (
            [slug] => jorge-lorenzo
            [ID] => 21304
            [post_name] => j-lorenzo-dve-sezony-pak-se-uvidi
            [post_title] => J.Lorenzo: "Dvě sezóny, pak se uvidí."
            [post_author] => 2
            [post_date] => 2012-11-15 17:37:04
            [year] => 2012
            [month] => 11
            [post_type] => post
        )

    [807] => stdClass Object
        (
            [slug] => rossi-novinky
            [ID] => 21237
            [post_name] => testy-yamahy-v-aragonu-a-motogp-ve-valencii
            [post_title] => Testy Yamahy v Aragonu a MotoGP ve Valencii
            [post_author] => 2
            [post_date] => 2012-11-14 11:39:51
            [year] => 2012
            [month] => 11
            [post_type] => post
        )

    [808] => stdClass Object
        (
            [slug] => rossi-novinky
            [ID] => 21231
            [post_name] => do-tymu-valentina-rossiho-se-vratily-usmevy
            [post_title] => Do týmu Valentina Rossiho se vrátily úsměvy
            [post_author] => 2
            [post_date] => 2012-11-14 09:50:21
            [year] => 2012
            [month] => 11
            [post_type] => post
        )

    [809] => stdClass Object
        (
            [slug] => rossi-novinky
            [ID] => 21179
            [post_name] => oficialni-posezonni-testy-motogp-valencie-2012
            [post_title] => Oficiální posezónní testy MotoGP - Valencie 2012
            [post_author] => 2
            [post_date] => 2012-11-13 10:23:34
            [year] => 2012
            [month] => 11
            [post_type] => post
        )

    [810] => stdClass Object
        (
            [slug] => rossi-novinky
            [ID] => 21130
            [post_name] => v-predvecer-posezonnich-testu-motogp
            [post_title] => V předvečer posezónních testů MotoGP
            [post_author] => 2
            [post_date] => 2012-11-12 15:19:36
            [year] => 2012
            [month] => 11
            [post_type] => post
        )

    [811] => stdClass Object
        (
            [slug] => rossi-ducati-cz
            [ID] => 21094
            [post_name] => rossi-ducati-cz-se-stehuje-na-rossi-yamaha-cz
            [post_title] => Rossi-Ducati.cz se stěhuje na Rossi-Yamaha.cz
            [post_author] => 2
            [post_date] => 2012-11-11 22:01:43
            [year] => 2012
            [month] => 11
            [post_type] => post
        )

    [812] => stdClass Object
        (
            [slug] => velkka-cena-gp
            [ID] => 21091
            [post_name] => velka-cena-motogp-valencie
            [post_title] => Velká Cena MotoGP - Valencie
            [post_author] => 2
            [post_date] => 2012-11-11 15:01:51
            [year] => 2012
            [month] => 11
            [post_type] => post
        )

    [813] => stdClass Object
        (
            [slug] => ducati-2
            [ID] => 21067
            [post_name] => preziosi-zrejme-odejde-z-vedeni-ducati-corse
            [post_title] => Preziosi zřejmě odejde z vedení Ducati Corse
            [post_author] => 2
            [post_date] => 2012-11-10 20:08:24
            [year] => 2012
            [month] => 11
            [post_type] => post
        )

    [814] => stdClass Object
        (
            [slug] => rossi-novinky
            [ID] => 20995
            [post_name] => tiskova-konference-motogp-valencie
            [post_title] => Tisková konference MotoGP - Valencie
            [post_author] => 2
            [post_date] => 2012-11-08 18:15:07
            [year] => 2012
            [month] => 11
            [post_type] => post
        )

    [815] => stdClass Object
        (
            [slug] => max-biaggi
            [ID] => 20981
            [post_name] => max-biaggi-oznamil-ukonceni-kariery
            [post_title] => Max Biaggi oznámil ukončení kariéry
            [post_author] => 2
            [post_date] => 2012-11-07 16:04:16
            [year] => 2012
            [month] => 11
            [post_type] => post
        )

    [816] => stdClass Object
        (
            [slug] => rossi-novinky
            [ID] => 20977
            [post_name] => jeremy-burgess-o-navratu-k-yamaze
            [post_title] => Jeremy Burgess o návratu k Yamaze
            [post_author] => 2
            [post_date] => 2012-11-06 18:37:39
            [year] => 2012
            [month] => 11
            [post_type] => post
        )

    [817] => stdClass Object
        (
            [slug] => motogp
            [ID] => 20965
            [post_name] => yamaha-zvazuje-pronajem-motoru-m1-v-roce-2014
            [post_title] => Yamaha zvažuje pronájem motoru M1 v roce 2014
            [post_author] => 2
            [post_date] => 2012-11-05 17:27:53
            [year] => 2012
            [month] => 11
            [post_type] => post
        )

    [818] => stdClass Object
        (
            [slug] => rossi-novinky
            [ID] => 20961
            [post_name] => troy-bayliss-valentino-rossi-je-velky-sampion
            [post_title] => Troy Bayliss: Valentino Rossi je velký šampión.
            [post_author] => 2
            [post_date] => 2012-11-04 17:04:59
            [year] => 2012
            [month] => 11
            [post_type] => post
        )

    [819] => stdClass Object
        (
            [slug] => casey-stoner
            [ID] => 20950
            [post_name] => casey-stoner-the-final-lap
            [post_title] => Casey Stoner - The Final Lap
            [post_author] => 2
            [post_date] => 2012-11-03 16:22:00
            [year] => 2012
            [month] => 11
            [post_type] => post
        )

    [820] => stdClass Object
        (
            [slug] => motogp
            [ID] => 20939
            [post_name] => rozhovor-se-shuhei-nakamotem-o-budoucnosti-motogp
            [post_title] => Rozhovor se Shuhei Nakamotem o budoucnosti MotoGP
            [post_author] => 2
            [post_date] => 2012-11-02 18:00:07
            [year] => 2012
            [month] => 11
            [post_type] => post
        )

    [821] => stdClass Object
        (
            [slug] => motogp
            [ID] => 20924
            [post_name] => lin-jarvis-nevylucuje-navrat-yamahy-do-wsbk
            [post_title] => Lin Jarvis nevylučuje návrat Yamahy do WSBK
            [post_author] => 2
            [post_date] => 2012-10-31 16:57:34
            [year] => 2012
            [month] => 10
            [post_type] => post
        )

    [822] => stdClass Object
        (
            [slug] => rossi-novinky
            [ID] => 20894
            [post_name] => valentino-rossi-mame-stejne-problemy-jako-v-roce-2010
            [post_title] => V. Rossi: "Máme stejné problémy jako v roce 2010."
            [post_author] => 2
            [post_date] => 2012-10-28 18:24:47
            [year] => 2012
            [month] => 10
            [post_type] => post
        )

    [823] => stdClass Object
        (
            [slug] => rossi-novinky
            [ID] => 20882
            [post_name] => valentino-rossi-u-yamahy-budu-dvojka
            [post_title] => Valentino Rossi: "U Yamahy budu dvojka."
            [post_author] => 2
            [post_date] => 2012-10-28 14:10:24
            [year] => 2012
            [month] => 10
            [post_type] => post
        )

    [824] => stdClass Object
        (
            [slug] => velkka-cena-gp
            [ID] => 20856
            [post_name] => velka-cena-australie-phillip-island-2
            [post_title] => Velká Cena Austrálie - Phillip Island
            [post_author] => 2
            [post_date] => 2012-10-28 06:50:30
            [year] => 2012
            [month] => 10
            [post_type] => post
        )

    [825] => stdClass Object
        (
            [slug] => casey-stoner
            [ID] => 20840
            [post_name] => c-crutchlow-honde-tady-hodne-pomaha-prevodovka
            [post_title] => C.Crutchlow: "Hondě hodně pomáhá převodovka."
            [post_author] => 2
            [post_date] => 2012-10-27 21:26:18
            [year] => 2012
            [month] => 10
            [post_type] => post
        )

    [826] => stdClass Object
        (
            [slug] => motogp
            [ID] => 20798
            [post_name] => bridgepoint-prodal-39-podil-dorny
            [post_title] => Bridgepoint prodal 39% podíl Dorny.
            [post_author] => 2
            [post_date] => 2012-10-27 12:00:48
            [year] => 2012
            [month] => 10
            [post_type] => post
        )

    [827] => stdClass Object
        (
            [slug] => rossi-novinky
            [ID] => 20793
            [post_name] => valentino-rossi-stoner-tady-jede-jako-buh
            [post_title] => Valentino Rossi: "Stoner tady jede jako bůh!"
            [post_author] => 2
            [post_date] => 2012-10-26 20:04:36
            [year] => 2012
            [month] => 10
            [post_type] => post
        )

    [828] => stdClass Object
        (
            [slug] => rossi-novinky
            [ID] => 20754
            [post_name] => tiskov-konference-motogp-na-phillip-islandu
            [post_title] => Tisková konference MotoGP na Phillip Islandu
            [post_author] => 2
            [post_date] => 2012-10-25 16:21:51
            [year] => 2012
            [month] => 10
            [post_type] => post
        )

    [829] => stdClass Object
        (
            [slug] => rossi-novinky
            [ID] => 20740
            [post_name] => valentino-rossi-nasim-snem-bylo-vyhravat-s-ducati
            [post_title] => Valentino Rossi: "Naším snem bylo vyhrávat s Ducati."
            [post_author] => 2
            [post_date] => 2012-10-24 18:53:51
            [year] => 2012
            [month] => 10
            [post_type] => post
        )

    [830] => stdClass Object
        (
            [slug] => casey-stoner
            [ID] => 20735
            [post_name] => casey-stoner-pojede-na-phillip-islandu-naposledy
            [post_title] => Casey Stoner pojede na Phillip Islandu naposledy
            [post_author] => 2
            [post_date] => 2012-10-24 16:02:55
            [year] => 2012
            [month] => 10
            [post_type] => post
        )

    [831] => stdClass Object
        (
            [slug] => rossi-novinky
            [ID] => 20699
            [post_name] => v-rossi-myslim-ze-mohu-pristi-rok-vyhrat-par-zavodu
            [post_title] => V. Rossi: "Myslím že mohu příští rok vyhrát pár závodů." 
            [post_author] => 2
            [post_date] => 2012-10-23 16:13:37
            [year] => 2012
            [month] => 10
            [post_type] => post
        )

    [832] => stdClass Object
        (
            [slug] => loris-capirossi
            [ID] => 20695
            [post_name] => l-capirossi-rossi-bude-na-yamaze-rychly
            [post_title] => L.Capirossi: "Rossi bude na Yamaze rychlý."
            [post_author] => 2
            [post_date] => 2012-10-22 18:04:56
            [year] => 2012
            [month] => 10
            [post_type] => post
        )

    [833] => stdClass Object
        (
            [slug] => rossi-ducati-cz
            [ID] => 20688
            [post_name] => rossi-ducati-cz-dosahlo-milion-navstev
            [post_title] => Rossi-Ducati.cz dosáhlo milion návštěv
            [post_author] => 2
            [post_date] => 2012-10-22 16:45:04
            [year] => 2012
            [month] => 10
            [post_type] => post
        )

    [834] => stdClass Object
        (
            [slug] => rossi-novinky
            [ID] => 20645
            [post_name] => velka-cena-malajsie-motogp-sepang
            [post_title] => Velka Cena Malajsie MotoGP - Sepang
            [post_author] => 2
            [post_date] => 2012-10-21 11:19:06
            [year] => 2012
            [month] => 10
            [post_type] => post
        )

    [835] => stdClass Object
        (
            [slug] => rossi-novinky
            [ID] => 20557
            [post_name] => alex-briggs-podepsal-smlouvu-u-yamahy
            [post_title] => Alex Briggs s týmem podepsal smlouvu u Yamahy
            [post_author] => 2
            [post_date] => 2012-10-18 16:00:48
            [year] => 2012
            [month] => 10
            [post_type] => post
        )

    [836] => stdClass Object
        (
            [slug] => rossi-novinky
            [ID] => 20562
            [post_name] => tiskova-konference-sepang
            [post_title] => Tisková konference Sepang
            [post_author] => 2
            [post_date] => 2012-10-18 15:51:50
            [year] => 2012
            [month] => 10
            [post_type] => post
        )

    [837] => stdClass Object
        (
            [slug] => motogp
            [ID] => 20548
            [post_name] => rozhovor-s-c-cecchinellim-na-tema-jednotne-ecu
            [post_title] => Rozhovor s C. Cecchinellim na téma jednotné ECU
            [post_author] => 2
            [post_date] => 2012-10-17 18:54:34
            [year] => 2012
            [month] => 10
            [post_type] => post
        )

    [838] => stdClass Object
        (
            [slug] => marco-simoncelli
            [ID] => 20525
            [post_name] => marco-simoncelli-dokument
            [post_title] => Marco Simoncelli - dokument
            [post_author] => 2
            [post_date] => 2012-10-16 20:25:18
            [year] => 2012
            [month] => 10
            [post_type] => post
        )

    [839] => stdClass Object
        (
            [slug] => motogp
            [ID] => 20514
            [post_name] => rozhovor-s-shuhei-nakamotou
            [post_title] => Rozhovor s Shuhei Nakamotou 
            [post_author] => 2
            [post_date] => 2012-10-16 16:08:02
            [year] => 2012
            [month] => 10
            [post_type] => post
        )

    [840] => stdClass Object
        (
            [slug] => velkka-cena-gp
            [ID] => 20471
            [post_name] => velka-cena-japonska-motegi-2
            [post_title] => Velká Cena Japonska - Motegi
            [post_author] => 2
            [post_date] => 2012-10-14 07:50:28
            [year] => 2012
            [month] => 10
            [post_type] => post
        )

    [841] => stdClass Object
        (
            [slug] => motogp
            [ID] => 20451
            [post_name] => nazory-tovaren-a-tymu-na-prechod-wsbk-pod-dornu
            [post_title] => Názory továren a týmů na přechod WSBK pod Dornu
            [post_author] => 2
            [post_date] => 2012-10-12 22:20:36
            [year] => 2012
            [month] => 10
            [post_type] => post
        )

    [842] => stdClass Object
        (
            [slug] => rossi-novinky
            [ID] => 20400
            [post_name] => tiskova-konference-motogp-motegi
            [post_title] => Tisková konference MotoGP - Motegi
            [post_author] => 2
            [post_date] => 2012-10-11 10:34:12
            [year] => 2012
            [month] => 10
            [post_type] => post
        )

    [843] => stdClass Object
        (
            [slug] => jorge-lorenzo
            [ID] => 20383
            [post_name] => jorge-lorenzo-%e2%80%9enajlepsia-obrana-je-utok
            [post_title] => Jorge Lorenzo: "Najlepšia obrana je útok"
            [post_author] => 514
            [post_date] => 2012-10-09 13:47:09
            [year] => 2012
            [month] => 10
            [post_type] => post
        )

    [844] => stdClass Object
        (
            [slug] => casey-stoner
            [ID] => 20377
            [post_name] => lorenzo-budu-se-moci-od-rossiho-naucit
            [post_title] => J.Lorenzo: "Budu se moci od Rossiho něco víc naučit."
            [post_author] => 2
            [post_date] => 2012-10-08 15:31:05
            [year] => 2012
            [month] => 10
            [post_type] => post
        )

    [845] => stdClass Object
        (
            [slug] => max-biaggi
            [ID] => 20361
            [post_name] => o-titulu-mistra-sveta-superbiku-rozhodl-posledni-zavod
            [post_title] => O titulu mistra světa superbiků rozhodl poslední závod
            [post_author] => 2
            [post_date] => 2012-10-07 16:17:18
            [year] => 2012
            [month] => 10
            [post_type] => post
        )

    [846] => stdClass Object
        (
            [slug] => rossi-novinky
            [ID] => 20354
            [post_name] => preziosiho-odchod-valentina-rossiho-neprekvapil
            [post_title] => Preziosiho odchod Valentina Rossiho nepřekvapil
            [post_author] => 2
            [post_date] => 2012-10-06 16:14:52
            [year] => 2012
            [month] => 10
            [post_type] => post
        )

    [847] => stdClass Object
        (
            [slug] => motogp
            [ID] => 20344
            [post_name] => predbezna-startovni-listina-motogp-na-rok-2013
            [post_title] => Předběžná startovní listina MotoGP na rok 2013
            [post_author] => 2
            [post_date] => 2012-10-05 18:57:33
            [year] => 2012
            [month] => 10
            [post_type] => post
        )

    [848] => stdClass Object
        (
            [slug] => motogp
            [ID] => 20331
            [post_name] => motogp-v-texasu-na-pristi-rok-oficialne-potvrzeno
            [post_title] => MotoGP v Texasu na příští rok oficiálně potvrzeno
            [post_author] => 2
            [post_date] => 2012-10-03 20:20:10
            [year] => 2012
            [month] => 10
            [post_type] => post
        )

    [849] => stdClass Object
        (
            [slug] => jorge-lorenzo
            [ID] => 20326
            [post_name] => lorenzo-myslel-na-sampionat
            [post_title] => Lorenzo myslel na šampionát
            [post_author] => 514
            [post_date] => 2012-10-03 16:12:14
            [year] => 2012
            [month] => 10
            [post_type] => post
        )

    [850] => stdClass Object
        (
            [slug] => motogp
            [ID] => 20320
            [post_name] => motogp-a-wsbk-je-ode-dneska-rizena-jednou-organizaci
            [post_title] => MotoGP a WSBK je ode dneška řízena jednou organizací
            [post_author] => 2
            [post_date] => 2012-10-02 20:54:04
            [year] => 2012
            [month] => 10
            [post_type] => post
        )

    [851] => stdClass Object
        (
            [slug] => rossi-novinky
            [ID] => 20290
            [post_name] => velka-cena-motogp-aragonie-aragon
            [post_title] => Velká Cena MotoGP Aragonie - Aragon
            [post_author] => 2
            [post_date] => 2012-09-30 14:48:06
            [year] => 2012
            [month] => 9
            [post_type] => post
        )

    [852] => stdClass Object
        (
            [slug] => rossi-novinky
            [ID] => 20181
            [post_name] => tiskova-konference-motogp-aragon
            [post_title] => Tisková konference MotoGP - Aragon
            [post_author] => 2
            [post_date] => 2012-09-27 17:37:59
            [year] => 2012
            [month] => 9
            [post_type] => post
        )

    [853] => stdClass Object
        (
            [slug] => rossi-novinky
            [ID] => 20178
            [post_name] => j-burgess-vypada-to-ze-jsme-udelali-krok-vpred
            [post_title] => J.Burgess: "Vypadá to, že jsme udělali krok vpřed."
            [post_author] => 2
            [post_date] => 2012-09-26 19:27:15
            [year] => 2012
            [month] => 9
            [post_type] => post
        )

    [854] => stdClass Object
        (
            [slug] => motogp
            [ID] => 20033
            [post_name] => ridici-jednotka-elektroniky-v-motogp
            [post_title] => Řídíci jednotka elektroniky v MotoGP
            [post_author] => 2
            [post_date] => 2012-09-26 11:00:47
            [year] => 2012
            [month] => 9
            [post_type] => post
        )

    [855] => stdClass Object
        (
            [slug] => rossi-novinky
            [ID] => 19943
            [post_name] => valentino-rossi-pojede-s-ferrari-dalsi-zavod
            [post_title] => Valentino Rossi jede s Ferrari další závod
            [post_author] => 2
            [post_date] => 2012-09-22 09:00:48
            [year] => 2012
            [month] => 9
            [post_type] => post
        )

    [856] => stdClass Object
        (
            [slug] => rossi-novinky
            [ID] => 20059
            [post_name] => predbezny-kalendar-pre-rok-2013
            [post_title] => Predbežný kalendár pre rok 2013
            [post_author] => 514
            [post_date] => 2012-09-21 14:20:40
            [year] => 2012
            [month] => 9
            [post_type] => post
        )

    [857] => stdClass Object
        (
            [slug] => max-biaggi
            [ID] => 20050
            [post_name] => biaggi-%e2%80%9erossi-bude-konkurencieschopny-ale
            [post_title] => Biaggi: "Rossi bude konkurencieschopný, ale..."
            [post_author] => 514
            [post_date] => 2012-09-21 01:02:33
            [year] => 2012
            [month] => 9
            [post_type] => post
        )

    [858] => stdClass Object
        (
            [slug] => dani-pedrosa
            [ID] => 20048
            [post_name] => dani-pedrosa-boj-o-titul-nevzdava
            [post_title] => Dani Pedrosa boj o titul nevzdáva
            [post_author] => 514
            [post_date] => 2012-09-21 00:19:51
            [year] => 2012
            [month] => 9
            [post_type] => post
        )

    [859] => stdClass Object
        (
            [slug] => ducati-desmosedici
            [ID] => 20021
            [post_name] => rozhovor-s-filippo-preziosim
            [post_title] => Rozhovor s Filippo Preziosim
            [post_author] => 2
            [post_date] => 2012-09-19 12:13:30
            [year] => 2012
            [month] => 9
            [post_type] => post
        )

    [860] => stdClass Object
        (
            [slug] => rozhovor
            [ID] => 20015
            [post_name] => v-guareschi-ztracime-na-hondu-a-yamahu-pul-sekundy
            [post_title] => V.Guareschi: "Ztrácíme na Hondu a Yamahu půl sekundy."
            [post_author] => 2
            [post_date] => 2012-09-18 21:03:18
            [year] => 2012
            [month] => 9
            [post_type] => post
        )

    [861] => stdClass Object
        (
            [slug] => rossi-novinky
            [ID] => 19987
            [post_name] => testy-ducati-v-misanu-2
            [post_title] => Testy Ducati v Misanu
            [post_author] => 2
            [post_date] => 2012-09-17 18:31:42
            [year] => 2012
            [month] => 9
            [post_type] => post
        )

    [862] => stdClass Object
        (
            [slug] => rossi-novinky
            [ID] => 19994
            [post_name] => valentino-rossi-odchodu-od-ducati-nelituji
            [post_title] => Valentino Rossi: "Odchodu od Ducati nelituji."
            [post_author] => 2
            [post_date] => 2012-09-17 16:45:11
            [year] => 2012
            [month] => 9
            [post_type] => post
        )

    [863] => stdClass Object
        (
            [slug] => velkka-cena-gp
            [ID] => 19946
            [post_name] => velka-cena-san-marina-misano-2
            [post_title] => Velká Cena San Marina - Misano
            [post_author] => 2
            [post_date] => 2012-09-16 15:06:46
            [year] => 2012
            [month] => 9
            [post_type] => post
        )

    [864] => stdClass Object
        (
            [slug] => karel-abraham
            [ID] => 19717
            [post_name] => karel-abraham-pojede-v-roce-2013-s-aprilii
            [post_title] => Karel Abraham pojede v roce 2013 s Aprilií
            [post_author] => 2
            [post_date] => 2012-09-14 21:37:56
            [year] => 2012
            [month] => 9
            [post_type] => post
        )

    [865] => stdClass Object
        (
            [slug] => yamaha-2
            [ID] => 19641
            [post_name] => yamaha-factory-v-novych-farbach
            [post_title] => Yamaha Factory v nových farbách
            [post_author] => 514
            [post_date] => 2012-09-13 23:54:11
            [year] => 2012
            [month] => 9
            [post_type] => post
        )

    [866] => stdClass Object
        (
            [slug] => ducati-2
            [ID] => 19624
            [post_name] => jeremy-burgess-kritizuje-ducati-za-pomaly-vyvoj
            [post_title] => Jeremy Burgess kritizuje Ducati za pomalý vývoj
            [post_author] => 2
            [post_date] => 2012-09-13 21:37:54
            [year] => 2012
            [month] => 9
            [post_type] => post
        )

    [867] => stdClass Object
        (
            [slug] => ducati-2
            [ID] => 19611
            [post_name] => prsti-rok-pojede-satelitni-ducati-spies-a-iannone
            [post_title] => Příští rok pojede satelitní Ducati Spies a Iannone
            [post_author] => 2
            [post_date] => 2012-09-12 18:09:30
            [year] => 2012
            [month] => 9
            [post_type] => post
        )

    [868] => stdClass Object
        (
            [slug] => rossi-novinky
            [ID] => 19600
            [post_name] => valentino-rossi-musim-se-soustredit-na-sebe
            [post_title] => Valentino Rossi: "Musím se soustředit na sebe."
            [post_author] => 2
            [post_date] => 2012-09-12 15:06:49
            [year] => 2012
            [month] => 9
            [post_type] => post
        )

    [869] => stdClass Object
        (
            [slug] => motogp
            [ID] => 19582
            [post_name] => k-schwantz-podal-zalobu-na-majitela-okruhu-v-austine
            [post_title] => K. Schwantz podal žalobu na majiteľa okruhu v Austine
            [post_author] => 514
            [post_date] => 2012-09-12 02:45:38
            [year] => 2012
            [month] => 9
            [post_type] => post
        )

    [870] => stdClass Object
        (
            [slug] => rossi-novinky
            [ID] => 19575
            [post_name] => tym-ducati-pred-zavodem-v-misanu
            [post_title] => Tým Ducati před závodem v Misanu
            [post_author] => 2
            [post_date] => 2012-09-11 17:02:07
            [year] => 2012
            [month] => 9
            [post_type] => post
        )

    [871] => stdClass Object
        (
            [slug] => andrea-dovizioso-2
            [ID] => 19570
            [post_name] => andrea-dovizioso-sa-pustil-do-kritikov
            [post_title] => Andrea Dovizioso sa pustil do kritikov
            [post_author] => 514
            [post_date] => 2012-09-10 01:38:30
            [year] => 2012
            [month] => 9
            [post_type] => post
        )

    [872] => stdClass Object
        (
            [slug] => jakub-smrz
            [ID] => 19539
            [post_name] => jakub-smrz-na-nurburgringu-zavodit-nebude
            [post_title] => Jakub Smrž na Nürburgringu závodiť nebude
            [post_author] => 514
            [post_date] => 2012-09-07 13:53:04
            [year] => 2012
            [month] => 9
            [post_type] => post
        )

    [873] => stdClass Object
        (
            [slug] => rossi-novinky
            [ID] => 19432
            [post_name] => podzimni-prestavku-vyplni-testy
            [post_title] => Podzimní přestávku vyplnili testy
            [post_author] => 2
            [post_date] => 2012-09-04 16:03:37
            [year] => 2012
            [month] => 9
            [post_type] => post
        )

    [874] => stdClass Object
        (
            [slug] => cal-crutchlow
            [ID] => 19438
            [post_name] => crutchlowa-rozptylovala-ducati
            [post_title] => Crutchlowa rozptylovala Ducati
            [post_author] => 514
            [post_date] => 2012-09-03 23:03:47
            [year] => 2012
            [month] => 9
            [post_type] => post
        )

    [875] => stdClass Object
        (
            [slug] => rossi-novinky
            [ID] => 19398
            [post_name] => testy-ducati-v-misanu
            [post_title] => Testy Ducati v Misanu
            [post_author] => 2
            [post_date] => 2012-08-28 18:59:52
            [year] => 2012
            [month] => 8
            [post_type] => post
        )

    [876] => stdClass Object
        (
            [slug] => ducati-2
            [ID] => 19382
            [post_name] => g-torchio-spoluprace-s-rossim-nelitujeme
            [post_title] => G. Torchio: "Spolupráce s Rossim nelitujeme."
            [post_author] => 2
            [post_date] => 2012-08-27 21:36:07
            [year] => 2012
            [month] => 8
            [post_type] => post
        )

    [877] => stdClass Object
        (
            [slug] => rossi-novinky
            [ID] => 19314
            [post_name] => test-brno
            [post_title] => Test - Brno
            [post_author] => 514
            [post_date] => 2012-08-27 14:16:14
            [year] => 2012
            [month] => 8
            [post_type] => post
        )

    [878] => stdClass Object
        (
            [slug] => velkka-cena-gp
            [ID] => 19276
            [post_name] => velka-cena-motogp-cr-brno
            [post_title] => Velká Cena MotoGP ČR - Brno
            [post_author] => 2
            [post_date] => 2012-08-26 15:00:31
            [year] => 2012
            [month] => 8
            [post_type] => post
        )

    [879] => stdClass Object
        (
            [slug] => yamaha-2
            [ID] => 19237
            [post_name] => cal-crutchlow-v-roku-2013-za-tech-3
            [post_title] => Cal Crutchlow v roku 2013 za Tech 3
            [post_author] => 514
            [post_date] => 2012-08-25 13:33:16
            [year] => 2012
            [month] => 8
            [post_type] => post
        )

    [880] => stdClass Object
        (
            [slug] => rossi-novinky
            [ID] => 19094
            [post_name] => tiskovka-pred-zavodem-v-brne
            [post_title] => Tiskovka před závodem v Brně
            [post_author] => 514
            [post_date] => 2012-08-23 17:27:31
            [year] => 2012
            [month] => 8
            [post_type] => post
        )

    [881] => stdClass Object
        (
            [slug] => jeremy-burgess
            [ID] => 19070
            [post_name] => j-burgess-chtel-jsem-tu-praci-v-ducati-dokoncit
            [post_title] => J.Burgess: "Chtěl jsem tu práci v Ducati dokončit."
            [post_author] => 2
            [post_date] => 2012-08-23 11:02:59
            [year] => 2012
            [month] => 8
            [post_type] => post
        )

    [882] => stdClass Object
        (
            [slug] => ducati-2
            [ID] => 19051
            [post_name] => m-furusawa-o-navsteve-ducati-a-navratu-rossiho-k-yamaze
            [post_title] => M.Furusawa o návštěvě Ducati a návratu Rossiho
            [post_author] => 2
            [post_date] => 2012-08-23 08:50:35
            [year] => 2012
            [month] => 8
            [post_type] => post
        )

    [883] => stdClass Object
        (
            [slug] => ducati-2
            [ID] => 19041
            [post_name] => andrea-dovizioso-na-2013-2014-k-ducati
            [post_title] => Andrea Dovizioso na 2013 - 2014 k Ducati
            [post_author] => 2
            [post_date] => 2012-08-22 17:42:13
            [year] => 2012
            [month] => 8
            [post_type] => post
        )

    [884] => stdClass Object
        (
            [slug] => rossi-novinky
            [ID] => 19039
            [post_name] => l-capirossi-valentino-udelal-dobre
            [post_title] => L.Capirossi: "Valentino udělal dobře."
            [post_author] => 2
            [post_date] => 2012-08-22 15:05:49
            [year] => 2012
            [month] => 8
            [post_type] => post
        )

    [885] => stdClass Object
        (
            [slug] => rossi-novinky
            [ID] => 19021
            [post_name] => novy-sen-valentina-rossiho
            [post_title] => Nový sen Valentina Rossiho
            [post_author] => 2
            [post_date] => 2012-08-21 11:49:47
            [year] => 2012
            [month] => 8
            [post_type] => post
        )

    [886] => stdClass Object
        (
            [slug] => ben-spies
            [ID] => 19011
            [post_name] => ben-spies-o-napeti-ve-vztazich-s-yamahou
            [post_title] => Ben Spies o napětí ve vztazích s Yamahou
            [post_author] => 2
            [post_date] => 2012-08-20 15:56:42
            [year] => 2012
            [month] => 8
            [post_type] => post
        )

    [887] => stdClass Object
        (
            [slug] => velkka-cena-gp
            [ID] => 18985
            [post_name] => velka-cena-motogp-red-bull-indianapolis
            [post_title] => Velká Cena MotoGP Red Bull - Indianapolis
            [post_author] => 2
            [post_date] => 2012-08-19 20:54:17
            [year] => 2012
            [month] => 8
            [post_type] => post
        )

    [888] => stdClass Object
        (
            [slug] => rossi-novinky
            [ID] => 18889
            [post_name] => j-burgess-rossiho-rozhodovani-bylo-snadne
            [post_title] => J.Burgess: "Rossiho rozhodování bylo snadné."
            [post_author] => 2
            [post_date] => 2012-08-16 20:38:13
            [year] => 2012
            [month] => 8
            [post_type] => post
        )

    [889] => stdClass Object
        (
            [slug] => rossi-novinky
            [ID] => 18866
            [post_name] => tiskova-konference-motogp-indianapolis
            [post_title] => Tisková konference MotoGP - Indianapolis
            [post_author] => 2
            [post_date] => 2012-08-16 18:17:57
            [year] => 2012
            [month] => 8
            [post_type] => post
        )

    [890] => stdClass Object
        (
            [slug] => rossi-novinky
            [ID] => 18852
            [post_name] => casey-stoner-kritizuje-rossiho-za-navrat-k-yamaze
            [post_title] => Casey Stoner kritizuje Rossiho za návrat k Yamaze
            [post_author] => 2
            [post_date] => 2012-08-15 13:09:36
            [year] => 2012
            [month] => 8
            [post_type] => post
        )

    [891] => stdClass Object
        (
            [slug] => rossi-novinky
            [ID] => 18843
            [post_name] => j-lorenzo-rossimu-se-nechci-mstit
            [post_title] => J.Lorenzo: "Rossimu se nechci mstít."
            [post_author] => 2
            [post_date] => 2012-08-14 17:41:38
            [year] => 2012
            [month] => 8
            [post_type] => post
        )

    [892] => stdClass Object
        (
            [slug] => rossi-novinky
            [ID] => 18835
            [post_name] => valentino-rossi-budeme-se-snazit-az-do-konce
            [post_title] => Valentino Rossi: "Budeme se snažit až do konce."
            [post_author] => 2
            [post_date] => 2012-08-14 15:21:24
            [year] => 2012
            [month] => 8
            [post_type] => post
        )

    [893] => stdClass Object
        (
            [slug] => rossi-novinky
            [ID] => 18831
            [post_name] => jeremy-burgess-jeste-jsem-s-yamahou-nemluvil
            [post_title] => Jeremy Burgess: "Ještě jsem s Yamahou nemluvil."
            [post_author] => 2
            [post_date] => 2012-08-14 06:57:25
            [year] => 2012
            [month] => 8
            [post_type] => post
        )

    [894] => stdClass Object
        (
            [slug] => rossi-novinky
            [ID] => 18825
            [post_name] => lorenzo-obnoveni-spoluprace-s-rossim-vita
            [post_title] => Lorenzo obnovení spolupráce s Rossim vítá
            [post_author] => 2
            [post_date] => 2012-08-13 16:16:55
            [year] => 2012
            [month] => 8
            [post_type] => post
        )

    [895] => stdClass Object
        (
            [slug] => ducati-desmosedici
            [ID] => 18813
            [post_name] => nicky-hayden-hovori-o-vyvoji-ducati
            [post_title] => Nicky Hayden hovoří o vývoji Ducati
            [post_author] => 125
            [post_date] => 2012-08-11 13:13:16
            [year] => 2012
            [month] => 8
            [post_type] => post
        )

    [896] => stdClass Object
        (
            [slug] => rossi-novinky
            [ID] => 18793
            [post_name] => valentino-rossi-se-vraci-do-yamahy-na-dalsi-dve-sezony
            [post_title] => Valentino Rossi se vrací do Yamahy na další dvě sezóny
            [post_author] => 2
            [post_date] => 2012-08-10 11:01:24
            [year] => 2012
            [month] => 8
            [post_type] => post
        )

    [897] => stdClass Object
        (
            [slug] => rossi-novinky
            [ID] => 18767
            [post_name] => g-torchio-v-motogp-zustaneme-s-valentinem-nebo-bez-neho
            [post_title] => G.Torchio: "V MotoGP zůstaneme, s Valentinem Rossim, nebo bez něho."
            [post_author] => 2
            [post_date] => 2012-08-07 19:27:28
            [year] => 2012
            [month] => 8
            [post_type] => post
        )

    [898] => stdClass Object
        (
            [slug] => rossi-novinky
            [ID] => 18738
            [post_name] => v-ducati-je-na-poradu-dulezita-schuzka
            [post_title] => V Ducati je na pořadu důležitá schůzka
            [post_author] => 2
            [post_date] => 2012-08-07 16:16:00
            [year] => 2012
            [month] => 8
            [post_type] => post
        )

    [899] => stdClass Object
        (
            [slug] => rossi-novinky
            [ID] => 18698
            [post_name] => v-guareschi-pokud-valentino-odejde-tak-nemame-plan-b
            [post_title] => V.Guareschi: "Když Valentino odejde, tak není plán B."
            [post_author] => 2
            [post_date] => 2012-08-03 13:33:27
            [year] => 2012
            [month] => 8
            [post_type] => post
        )

    [900] => stdClass Object
        (
            [slug] => ducati-2
            [ID] => 18693
            [post_name] => scott-redding-testoval-v-mugelu-ducati
            [post_title] => Scott Redding testoval v Mugelu Ducati
            [post_author] => 2
            [post_date] => 2012-08-02 11:27:43
            [year] => 2012
            [month] => 8
            [post_type] => post
        )

    [901] => stdClass Object
        (
            [slug] => ducati-2
            [ID] => 18682
            [post_name] => komu-dnes-v-motogp-patri-moc
            [post_title] => Komu dnes v MotoGP patří moc? 
            [post_author] => 2
            [post_date] => 2012-08-02 07:34:11
            [year] => 2012
            [month] => 8
            [post_type] => post
        )

    [902] => stdClass Object
        (
            [slug] => ducati-2
            [ID] => 18673
            [post_name] => g-torchio-nevim-jak-se-valentino-rozhodne
            [post_title] => G.Torchio: "Nevím jak se Valentino rozhodne."
            [post_author] => 2
            [post_date] => 2012-07-31 20:03:37
            [year] => 2012
            [month] => 7
            [post_type] => post
        )

    [903] => stdClass Object
        (
            [slug] => velkka-cena-gp
            [ID] => 18605
            [post_name] => velka-cena-usa-laguna-seca
            [post_title] => Velká Cena USA - Laguna Seca
            [post_author] => 2
            [post_date] => 2012-07-29 23:57:10
            [year] => 2012
            [month] => 7
            [post_type] => post
        )

    [904] => stdClass Object
        (
            [slug] => ducati-2
            [ID] => 18548
            [post_name] => nicky-hayden-zustava-u-ducati
            [post_title] => Nicky Hayden zůstává u Ducati
            [post_author] => 2
            [post_date] => 2012-07-27 19:09:06
            [year] => 2012
            [month] => 7
            [post_type] => post
        )

    [905] => stdClass Object
        (
            [slug] => jeremy-burgess
            [ID] => 18525
            [post_name] => j-burgess-ocekavali-jsme-vyvoj-behem-sezony
            [post_title] => J.Burgess: "Očekávali jsme vývoj během sezóny."
            [post_author] => 2
            [post_date] => 2012-07-26 15:03:01
            [year] => 2012
            [month] => 7
            [post_type] => post
        )

    [906] => stdClass Object
        (
            [slug] => rossi-novinky
            [ID] => 18517
            [post_name] => j-lorenzo-navrat-valentina-by-byl-pro-yamahu-dobry
            [post_title] => J.Lorenzo: "Návrat Valentina by byl pro Yamahu dobrý."
            [post_author] => 2
            [post_date] => 2012-07-25 15:29:15
            [year] => 2012
            [month] => 7
            [post_type] => post
        )

    [907] => stdClass Object
        (
            [slug] => rossi-novinky
            [ID] => 18507
            [post_name] => ben-spies-konci-u-tovarniho-tymu-yamaha
            [post_title] => Ben Spies končí u továrního týmu Yamaha
            [post_author] => 2
            [post_date] => 2012-07-24 17:53:19
            [year] => 2012
            [month] => 7
            [post_type] => post
        )

    [908] => stdClass Object
        (
            [slug] => ducati-2
            [ID] => 18485
            [post_name] => nicky-hayden-na-pristi-rok-to-vypada-dobre
            [post_title] => Nicky Hayden: "Na příští rok to vypadá dobře."
            [post_author] => 2
            [post_date] => 2012-07-23 17:26:57
            [year] => 2012
            [month] => 7
            [post_type] => post
        )

    [909] => stdClass Object
        (
            [slug] => hector-barbera
            [ID] => 18464
            [post_name] => hector-barbera-ma-zlomenou-nohu
            [post_title] => Hector Barbera má zlomenou nohu
            [post_author] => 2
            [post_date] => 2012-07-23 10:00:10
            [year] => 2012
            [month] => 7
            [post_type] => post
        )

    [910] => stdClass Object
        (
            [slug] => jorge-lorenzo
            [ID] => 18476
            [post_name] => max-biaggi-na-motogp-po-sedmi-letech
            [post_title] => Max Biaggi: "Byl jsem na MotoGP po sedmi letech"
            [post_author] => 2
            [post_date] => 2012-07-22 14:43:21
            [year] => 2012
            [month] => 7
            [post_type] => post
        )

    [911] => stdClass Object
        (
            [slug] => rossi-novinky
            [ID] => 18461
            [post_name] => j-burgess-zkouset-v-usa-neco-noveho-neni-optimalni
            [post_title] => J.Burgess: Zkoušet v USA něco nového není optimální.
            [post_author] => 2
            [post_date] => 2012-07-21 09:21:34
            [year] => 2012
            [month] => 7
            [post_type] => post
        )

    [912] => stdClass Object
        (
            [slug] => rossi-novinky
            [ID] => 18452
            [post_name] => wilco-zeelenberg-jorge-je-nase-jednicka
            [post_title] => Wilco Zeelenberg: Jorge je naše jednička!
            [post_author] => 2
            [post_date] => 2012-07-20 20:06:35
            [year] => 2012
            [month] => 7
            [post_type] => post
        )

    [913] => stdClass Object
        (
            [slug] => ducati-desmosedici
            [ID] => 18447
            [post_name] => testy-ducati-petrucci-na-gp12-ve-4-dimenzi
            [post_title] => Testy Ducati - Petrucci na GP12 ve 4. dimenzi
            [post_author] => 2
            [post_date] => 2012-07-20 17:43:26
            [year] => 2012
            [month] => 7
            [post_type] => post
        )

    [914] => stdClass Object
        (
            [slug] => ducati-2
            [ID] => 18436
            [post_name] => ducati-ma-nove-predstavenstvo-spolecnosti
            [post_title] => Ducati má nové představenstvo společnosti
            [post_author] => 2
            [post_date] => 2012-07-19 16:45:10
            [year] => 2012
            [month] => 7
            [post_type] => post
        )

    [915] => stdClass Object
        (
            [slug] => rossi-novinky
            [ID] => 18433
            [post_name] => valentino-rossi-obdrzel-nabidku-od-ducati
            [post_title] => Valentino Rossi obdržel nabídku od Ducati
            [post_author] => 2
            [post_date] => 2012-07-18 21:08:30
            [year] => 2012
            [month] => 7
            [post_type] => post
        )

    [916] => stdClass Object
        (
            [slug] => ducati-desmosedici
            [ID] => 18421
            [post_name] => preziosi-o-zmenach-desmosedici-a-vlivu-audi
            [post_title] => Preziosi o změnách Desmosedici a vlivu Audi
            [post_author] => 2
            [post_date] => 2012-07-18 19:03:29
            [year] => 2012
            [month] => 7
            [post_type] => post
        )

    [917] => stdClass Object
        (
            [slug] => rossi-novinky
            [ID] => 18407
            [post_name] => nakamoto-valentinovi-chceme-dat-satelitni-hondu
            [post_title] => S.Nakamoto: "Valentinovi chceme dát satelitní Hondu"
            [post_author] => 343
            [post_date] => 2012-07-18 12:52:23
            [year] => 2012
            [month] => 7
            [post_type] => post
        )

    [918] => stdClass Object
        (
            [slug] => rossi-novinky
            [ID] => 18358
            [post_name] => testy-motogp-mugello
            [post_title] => Testy MotoGP - Mugello
            [post_author] => 2
            [post_date] => 2012-07-16 12:43:37
            [year] => 2012
            [month] => 7
            [post_type] => post
        )

    [919] => stdClass Object
        (
            [slug] => velkka-cena-gp
            [ID] => 18312
            [post_name] => velka-cena-italie-motogp-mugello
            [post_title] => Velká Cena Itálie MotoGP - Mugello
            [post_author] => 2
            [post_date] => 2012-07-15 14:56:39
            [year] => 2012
            [month] => 7
            [post_type] => post
        )

    [920] => stdClass Object
        (
            [slug] => casey-stoner
            [ID] => 18124
            [post_name] => potvrzeno-marquez-s-pedrosou-v-hrc-2013-2014
            [post_title] => Potvrzeno - Marquez s Pedrosou v HRC 2013-2014
            [post_author] => 2
            [post_date] => 2012-07-12 11:09:49
            [year] => 2012
            [month] => 7
            [post_type] => post
        )

    [921] => stdClass Object
        (
            [slug] => nicky-hayden
            [ID] => 18113
            [post_name] => cal-crutchlow-pokracuje-v-jednani-s-ducati
            [post_title] => Cal Crutchlow pokračuje v jednání s Ducati
            [post_author] => 2
            [post_date] => 2012-07-09 20:08:27
            [year] => 2012
            [month] => 7
            [post_type] => post
        )

    [922] => stdClass Object
        (
            [slug] => ducati-desmosedici
            [ID] => 18086
            [post_name] => valentino-rossi-audi-chce-pokracovat-se-mnou
            [post_title] => Valentino Rossi: "Audi chce pokračovat se mnou."
            [post_author] => 2
            [post_date] => 2012-07-08 17:59:36
            [year] => 2012
            [month] => 7
            [post_type] => post
        )

    [923] => stdClass Object
        (
            [slug] => rossi-novinky
            [ID] => 18060
            [post_name] => velka-cena-nemecka-sachsenring-2
            [post_title] => Velká Cena Německa - Sachsenring
            [post_author] => 2
            [post_date] => 2012-07-08 13:51:35
            [year] => 2012
            [month] => 7
            [post_type] => post
        )

    [924] => stdClass Object
        (
            [slug] => ducati-2
            [ID] => 18033
            [post_name] => obchod-audi-ducati-schvalen
            [post_title] => Obchod AUDI & DUCATI schválen evropskou komisí
            [post_author] => 2
            [post_date] => 2012-07-07 15:45:51
            [year] => 2012
            [month] => 7
            [post_type] => post
        )

    [925] => stdClass Object
        (
            [slug] => rossi-novinky
            [ID] => 17964
            [post_name] => ducati-zareagovala-a-ma-plan-vyvoje
            [post_title] => Ducati zareagovala a má plán vývoje
            [post_author] => 2
            [post_date] => 2012-07-05 19:56:13
            [year] => 2012
            [month] => 7
            [post_type] => post
        )

    [926] => stdClass Object
        (
            [slug] => motogp
            [ID] => 17924
            [post_name] => zmeny-pravidel-motogp-po-jednani-v-assenu
            [post_title] => Změny pravidel MotoGP po jednání v Assenu
            [post_author] => 2
            [post_date] => 2012-07-04 21:35:57
            [year] => 2012
            [month] => 7
            [post_type] => post
        )

    [927] => stdClass Object
        (
            [slug] => rossi-novinky
            [ID] => 17909
            [post_name] => novy-motor-posledni-sanci-pro-ducati
            [post_title] => Nový motor poslední šancí pro Ducati...?
            [post_author] => 2
            [post_date] => 2012-07-02 22:00:36
            [year] => 2012
            [month] => 7
            [post_type] => post
        )

    [928] => stdClass Object
        (
            [slug] => velkka-cena-gp
            [ID] => 17848
            [post_name] => velka-cena-holandska-dutch-tt-assen-2
            [post_title] => Velká Cena Holandska - Dutch TT Assen
            [post_author] => 2
            [post_date] => 2012-06-30 14:51:36
            [year] => 2012
            [month] => 6
            [post_type] => post
        )

    [929] => stdClass Object
        (
            [slug] => rossi-novinky
            [ID] => 17828
            [post_name] => valentino-rossi-ducati-nam-neveri
            [post_title] => Valentino Rossi: "Ducati nám nevěří."
            [post_author] => 2
            [post_date] => 2012-06-29 20:47:10
            [year] => 2012
            [month] => 6
            [post_type] => post
        )

    [930] => stdClass Object
        (
            [slug] => rossi-novinky
            [ID] => 17689
            [post_name] => v-rossi-doufam-v-konkurenceschopny-motocykl
            [post_title] => V.Rossi: "Doufám v konkurenceschopný motocykl."
            [post_author] => 2
            [post_date] => 2012-06-27 20:15:42
            [year] => 2012
            [month] => 6
            [post_type] => post
        )

    [931] => stdClass Object
        (
            [slug] => ducati-desmosedici
            [ID] => 17687
            [post_name] => guareschi-znovu-potvrdil-motor-do-l-90
            [post_title] => Guareschi znovu potvrdil motor do "L - 90°"
            [post_author] => 2
            [post_date] => 2012-06-27 20:03:28
            [year] => 2012
            [month] => 6
            [post_type] => post
        )

    [932] => stdClass Object
        (
            [slug] => motogp
            [ID] => 17666
            [post_name] => shuhei-nakamoto-postavime-rc213v-na-prodej
            [post_title] => Shuhei Nakamoto: "Postavíme RC213V na prodej."
            [post_author] => 2
            [post_date] => 2012-06-27 18:30:43
            [year] => 2012
            [month] => 6
            [post_type] => post
        )

    [933] => stdClass Object
        (
            [slug] => rossi-novinky
            [ID] => 17660
            [post_name] => c-ezpeleta-jsem-klidny
            [post_title] => C.Ezpeleta: "Jsem klidný."
            [post_author] => 2
            [post_date] => 2012-06-26 16:28:07
            [year] => 2012
            [month] => 6
            [post_type] => post
        )

    [934] => stdClass Object
        (
            [slug] => ducati-2
            [ID] => 17607
            [post_name] => world-ducati-week-v-misanu
            [post_title] => World Ducati Week v Misanu
            [post_author] => 2
            [post_date] => 2012-06-23 18:00:47
            [year] => 2012
            [month] => 6
            [post_type] => post
        )

    [935] => stdClass Object
        (
            [slug] => hector-barbera
            [ID] => 17599
            [post_name] => barbera-neni-s-ducati-spokojen
            [post_title] => Barbera není s Ducati spokojen
            [post_author] => 2
            [post_date] => 2012-06-21 16:13:00
            [year] => 2012
            [month] => 6
            [post_type] => post
        )

    [936] => stdClass Object
        (
            [slug] => rossi-novinky
            [ID] => 17592
            [post_name] => rossi-je-s-30-milony-usd-rocne-na-20-miste
            [post_title] => Rossi je s 30 milony USD ročně na 20 místě
            [post_author] => 2
            [post_date] => 2012-06-20 20:59:38
            [year] => 2012
            [month] => 6
            [post_type] => post
        )

    [937] => stdClass Object
        (
            [slug] => ducati-desmosedici
            [ID] => 17570
            [post_name] => valentino-rossi-reseni-neznam
            [post_title] => Valentino Rossi: "Řešení (ne)znám."
            [post_author] => 2
            [post_date] => 2012-06-17 17:15:03
            [year] => 2012
            [month] => 6
            [post_type] => post
        )

    [938] => stdClass Object
        (
            [slug] => velkka-cena-gp
            [ID] => 17550
            [post_name] => velka-cena-anglie-silverstone-2
            [post_title] => Velká Cena Anglie - Silverstone
            [post_author] => 2
            [post_date] => 2012-06-17 14:55:25
            [year] => 2012
            [month] => 6
            [post_type] => post
        )

    [939] => stdClass Object
        (
            [slug] => ducati-desmosedici
            [ID] => 17441
            [post_name] => novy-motor-se-bude-testovat-v-mugellu
            [post_title] => Nový motor se bude testovat v Mugellu
            [post_author] => 2
            [post_date] => 2012-06-16 08:50:16
            [year] => 2012
            [month] => 6
            [post_type] => post
        )

    [940] => stdClass Object
        (
            [slug] => rossi-novinky
            [ID] => 17457
            [post_name] => v-rossi-v-brne-se-dozvite-jaka-bude-ma-budoucnost
            [post_title] => V.Rossi: "V Brně se dozvíte jaká bude má budoucnost"
            [post_author] => 2
            [post_date] => 2012-06-14 20:23:29
            [year] => 2012
            [month] => 6
            [post_type] => post
        )

    [941] => stdClass Object
        (
            [slug] => rossi-novinky
            [ID] => 17446
            [post_name] => d-brivio-valentino-se-soustredi-jen-na-ducati
            [post_title] => D.Brivio: "Valentino se soustředí jen na Ducati."
            [post_author] => 2
            [post_date] => 2012-06-13 17:30:33
            [year] => 2012
            [month] => 6
            [post_type] => post
        )

    [942] => stdClass Object
        (
            [slug] => motogp
            [ID] => 17414
            [post_name] => jorge-lorenzo-zustava-u-yamahy
            [post_title] => Jorge Lorenzo zůstává u Yamahy
            [post_author] => 2
            [post_date] => 2012-06-12 10:18:41
            [year] => 2012
            [month] => 6
            [post_type] => post
        )

    [943] => stdClass Object
        (
            [slug] => rossi-novinky
            [ID] => 17381
            [post_name] => valentino-ma-novou-pritelkyni
            [post_title] => Valentino Rossi má novou přítelkyni
            [post_author] => 2
            [post_date] => 2012-06-11 20:28:32
            [year] => 2012
            [month] => 6
            [post_type] => post
        )

    [944] => stdClass Object
        (
            [slug] => rossi-novinky
            [ID] => 17371
            [post_name] => g-agostini-ducati-bude-pro-rossiho-nejlepsi-volba
            [post_title] => G.Agostini: "Ducati bude pro Rossiho nejlepší volba."
            [post_author] => 2
            [post_date] => 2012-06-11 17:08:39
            [year] => 2012
            [month] => 6
            [post_type] => post
        )

    [945] => stdClass Object
        (
            [slug] => rossi-novinky
            [ID] => 17337
            [post_name] => s-nakamoto-rossimu-muzeme-dat-satelitni-hondu-2
            [post_title] => S.Nakamoto: "Rossimu můžeme dát satelitní Hondu."
            [post_author] => 125
            [post_date] => 2012-06-08 21:03:00
            [year] => 2012
            [month] => 6
            [post_type] => post
        )

    [946] => stdClass Object
        (
            [slug] => ducati-2
            [ID] => 17279
            [post_name] => ducati-hlasi-rekordni-cisla-prodeje
            [post_title] => Ducati hlásí rekordní čísla prodeje
            [post_author] => 125
            [post_date] => 2012-06-05 07:39:50
            [year] => 2012
            [month] => 6
            [post_type] => post
        )

    [947] => stdClass Object
        (
            [slug] => rossi-novinky
            [ID] => 17212
            [post_name] => velka-cena-katalanska-2
            [post_title] => Velká Cena Katalánska
            [post_author] => 2
            [post_date] => 2012-06-03 14:52:11
            [year] => 2012
            [month] => 6
            [post_type] => post
        )

    [948] => stdClass Object
        (
            [slug] => rossi-novinky
            [ID] => 17188
            [post_name] => valentino-rossi-jsem-pripraven-se-uskrovnit
            [post_title] => Valentino Rossi: "Jsem připraven se uskrovnit."
            [post_author] => 2
            [post_date] => 2012-06-02 20:48:16
            [year] => 2012
            [month] => 6
            [post_type] => post
        )

    [949] => stdClass Object
        (
            [slug] => ducati-2
            [ID] => 17150
            [post_name] => cal-crutchlow-by-se-ducati-nebal
            [post_title] => Cal Crutchlow by se Ducati nebál
            [post_author] => 2
            [post_date] => 2012-06-01 21:38:15
            [year] => 2012
            [month] => 6
            [post_type] => post
        )

    [950] => stdClass Object
        (
            [slug] => ducati-desmosedici
            [ID] => 17095
            [post_name] => nicky-hayden-o-novem-motoru-ducati-gp12
            [post_title] => Nicky Hayden o novém motoru Ducati GP12
            [post_author] => 125
            [post_date] => 2012-06-01 10:16:47
            [year] => 2012
            [month] => 6
            [post_type] => post
        )

    [951] => stdClass Object
        (
            [slug] => rossi-novinky
            [ID] => 17028
            [post_name] => sousedi-bojuji-proti-ranci-valentina-rossiho
            [post_title] => Sousedi bojují proti ranči Valentina Rossiho
            [post_author] => 2
            [post_date] => 2012-05-28 16:54:46
            [year] => 2012
            [month] => 5
            [post_type] => post
        )

    [952] => stdClass Object
        (
            [slug] => rossi-novinky
            [ID] => 16916
            [post_name] => v-rossi-nepremyslel-jsem-o-tom-ze-bych-skoncil
            [post_title] => V.Rossi: "Nepřemýšlel jsem o tom, že bych skončil" 
            [post_author] => 125
            [post_date] => 2012-05-26 11:04:12
            [year] => 2012
            [month] => 5
            [post_type] => post
        )

    [953] => stdClass Object
        (
            [slug] => casey-stoner
            [ID] => 16906
            [post_name] => k-schwantz-je-me-jedno-co-bude-se-stonerem
            [post_title] => K.Schwantz: "Je mě jedno co bude se Stonerem."
            [post_author] => 2
            [post_date] => 2012-05-25 19:00:12
            [year] => 2012
            [month] => 5
            [post_type] => post
        )

    [954] => stdClass Object
        (
            [slug] => ducati-2
            [ID] => 16896
            [post_name] => rozhovor-s-federicou-de-zottis
            [post_title] => Rozhovor s Federicou De Zottis
            [post_author] => 125
            [post_date] => 2012-05-25 14:29:24
            [year] => 2012
            [month] => 5
            [post_type] => post
        )

    [955] => stdClass Object
        (
            [slug] => casey-stoner
            [ID] => 16877
            [post_name] => rozhovor-s-casey-stonerem-z-le-mans
            [post_title] => Rozhovor s Casey Stonerem z Le Mans
            [post_author] => 2
            [post_date] => 2012-05-25 10:00:45
            [year] => 2012
            [month] => 5
            [post_type] => post
        )

    [956] => stdClass Object
        (
            [slug] => rossi-novinky
            [ID] => 16856
            [post_name] => testy-ducati-v-mugellu
            [post_title] => Testy Ducati v Mugellu
            [post_author] => 2
            [post_date] => 2012-05-24 18:18:55
            [year] => 2012
            [month] => 5
            [post_type] => post
        )

    [957] => stdClass Object
        (
            [slug] => rossi-novinky
            [ID] => 16847
            [post_name] => c-crutchlow-rossi-stale-patri-k-nejlepsim
            [post_title] => C.Crutchlow: "Rossi stále patří k nejlepším."
            [post_author] => 2
            [post_date] => 2012-05-22 20:15:21
            [year] => 2012
            [month] => 5
            [post_type] => post
        )

    [958] => stdClass Object
        (
            [slug] => rossi-novinky
            [ID] => 16841
            [post_name] => valentino-rossi-odejit-na-vrcholu-si-preje-kazdy
            [post_title] => Valentino Rossi: "Odejít na vrcholu si přeje každý."
            [post_author] => 2
            [post_date] => 2012-05-22 17:10:43
            [year] => 2012
            [month] => 5
            [post_type] => post
        )

    [959] => stdClass Object
        (
            [slug] => casey-stoner
            [ID] => 16837
            [post_name] => l-jarvis-pokud-by-rossi-snizil-pozadavky-muzeme-o-jeho-angazovani-uvazovat
            [post_title] => L.Jarvis "Pokud by Rossi snížil požadavky, můžeme o jeho angažování uvažovat."
            [post_author] => 2
            [post_date] => 2012-05-21 21:23:51
            [year] => 2012
            [month] => 5
            [post_type] => post
        )

    [960] => stdClass Object
        (
            [slug] => rossi-novinky
            [ID] => 16830
            [post_name] => stoner-a-rossi-si-na-zavod-v-jerezu-2011-vzpomeli
            [post_title] => Stoner a Rossi si na závod v Jerezu 2011 vzpomněli.
            [post_author] => 125
            [post_date] => 2012-05-21 20:49:44
            [year] => 2012
            [month] => 5
            [post_type] => post
        )

    [961] => stdClass Object
        (
            [slug] => nicky-hayden
            [ID] => 16828
            [post_name] => nicky-hayden-na-trati-muselo-neco-byt
            [post_title] => Nicky Hayden: "Na trati muselo něco být."
            [post_author] => 125
            [post_date] => 2012-05-21 20:41:38
            [year] => 2012
            [month] => 5
            [post_type] => post
        )

    [962] => stdClass Object
        (
            [slug] => rossi-novinky
            [ID] => 16808
            [post_name] => stesti-preje-odvaznym
            [post_title] => Štěstí přeje odvážným
            [post_author] => 2
            [post_date] => 2012-05-20 18:51:24
            [year] => 2012
            [month] => 5
            [post_type] => post
        )

    [963] => stdClass Object
        (
            [slug] => rossi-novinky
            [ID] => 16783
            [post_name] => velka-cena-francie-motogp-le-mans
            [post_title] => Velká Cena Francie MotoGP - Le Mans
            [post_author] => 2
            [post_date] => 2012-05-20 15:01:43
            [year] => 2012
            [month] => 5
            [post_type] => post
        )

    [964] => stdClass Object
        (
            [slug] => rossi-novinky
            [ID] => 16623
            [post_name] => valentino-rossi-rozhovor-z-le-mans
            [post_title] => Valentino Rossi - rozhovor z Le Mans
            [post_author] => 2
            [post_date] => 2012-05-17 20:00:35
            [year] => 2012
            [month] => 5
            [post_type] => post
        )

    [965] => stdClass Object
        (
            [slug] => casey-stoner
            [ID] => 16607
            [post_name] => casey-stoner-ukonci-karieru-na-konci-roku-2012
            [post_title] => Casey Stoner ukončí kariéru na konci roku 2012
            [post_author] => 2
            [post_date] => 2012-05-17 17:21:34
            [year] => 2012
            [month] => 5
            [post_type] => post
        )

    [966] => stdClass Object
        (
            [slug] => ducati-desmosedici
            [ID] => 15078
            [post_name] => desmosedici-gp10-a-gp11-prodana-v-aukci
            [post_title] => Desmosedici GP10 a GP11 prodána v aukci
            [post_author] => 2
            [post_date] => 2012-05-12 09:00:13
            [year] => 2012
            [month] => 5
            [post_type] => post
        )

    [967] => stdClass Object
        (
            [slug] => rossi-novinky
            [ID] => 16518
            [post_name] => valentino-rossi-se-historkam-o-konci-kariery-smeje
            [post_title] => Valentino Rossi se historkám o konci kariéry směje.
            [post_author] => 2
            [post_date] => 2012-05-09 17:46:14
            [year] => 2012
            [month] => 5
            [post_type] => post
        )

    [968] => stdClass Object
        (
            [slug] => ducati-desmosedici
            [ID] => 16476
            [post_name] => f-preziosi-pracujeme-na-zlepseni-ovladatelnosti-gp12
            [post_title] => F.Preziosi: "Pracujeme na zlepšení ovladatelnosti GP12."
            [post_author] => 2
            [post_date] => 2012-05-07 17:22:04
            [year] => 2012
            [month] => 5
            [post_type] => post
        )

    [969] => stdClass Object
        (
            [slug] => velkka-cena-gp
            [ID] => 16411
            [post_name] => velka-cena-portugalska-estoril-2
            [post_title] => Velká Cena Portugalska  - Estoril
            [post_author] => 2
            [post_date] => 2012-05-06 15:07:16
            [year] => 2012
            [month] => 5
            [post_type] => post
        )

    [970] => stdClass Object
        (
            [slug] => rossi-novinky
            [ID] => 16438
            [post_name] => c-domenicalli-armada-ducati-je-pevna
            [post_title] => C.Domenicalli: "Armáda Ducati je pevná."
            [post_author] => 2
            [post_date] => 2012-05-06 12:16:17
            [year] => 2012
            [month] => 5
            [post_type] => post
        )

    [971] => stdClass Object
        (
            [slug] => rossi-novinky
            [ID] => 16315
            [post_name] => m-doohan-ducati-bude-nyni-vice-poslouchat-haydena
            [post_title] => M.Doohan: "Ducati bude nyní více poslouchat Haydena."
            [post_author] => 2
            [post_date] => 2012-05-01 20:43:35
            [year] => 2012
            [month] => 5
            [post_type] => post
        )

    [972] => stdClass Object
        (
            [slug] => rossi-ducati-cz
            [ID] => 15759
            [post_name] => musim-zaradit-o-kvalt-niz
            [post_title] => Musím podřadit o kvalt níž
            [post_author] => 2
            [post_date] => 2012-05-01 12:00:39
            [year] => 2012
            [month] => 5
            [post_type] => post
        )

    [973] => stdClass Object
        (
            [slug] => rossi-novinky
            [ID] => 16295
            [post_name] => v-rossi-nicky-me-ukazal-cestu
            [post_title] => V.Rossi: "Nicky mně ukázal cestu."
            [post_author] => 2
            [post_date] => 2012-04-30 10:24:41
            [year] => 2012
            [month] => 4
            [post_type] => post
        )

    [974] => stdClass Object
        (
            [slug] => rossi-novinky
            [ID] => 16266
            [post_name] => valentino-rossi-musim-zmenit-svuj-styl
            [post_title] => Valentino Rossi: "Musím změnit svůj styl."
            [post_author] => 2
            [post_date] => 2012-04-29 16:02:36
            [year] => 2012
            [month] => 4
            [post_type] => post
        )

    [975] => stdClass Object
        (
            [slug] => velkka-cena-gp
            [ID] => 16250
            [post_name] => velka-cena-spanelska-jerez
            [post_title] => Velká Cena Španělska - Jerez
            [post_author] => 2
            [post_date] => 2012-04-29 15:01:46
            [year] => 2012
            [month] => 4
            [post_type] => post
        )

    [976] => stdClass Object
        (
            [slug] => rossi-novinky
            [ID] => 16119
            [post_name] => f-gresini-ducati-zatim-neudelala-to-co-valentino-chce
            [post_title] => F.Gresini: "Ducati zatím neudělala to co Valentino chce."
            [post_author] => 2
            [post_date] => 2012-04-24 14:44:10
            [year] => 2012
            [month] => 4
            [post_type] => post
        )

    [977] => stdClass Object
        (
            [slug] => ducati-desmosedici
            [ID] => 15984
            [post_name] => ducati-se-zameri-na-prubeh-vykonu-motoru
            [post_title] => Ducati se zaměří na průbeh výkonu motoru
            [post_author] => 2
            [post_date] => 2012-04-18 11:19:15
            [year] => 2012
            [month] => 4
            [post_type] => post
        )

    [978] => stdClass Object
        (
            [slug] => rossi-novinky
            [ID] => 15945
            [post_name] => v-rossi-zavodeni-bylo-nejlepsim-lekem
            [post_title] => V.Rossi: "Závodění bylo nejlepším lékem."
            [post_author] => 2
            [post_date] => 2012-04-17 13:33:25
            [year] => 2012
            [month] => 4
            [post_type] => post
        )

    [979] => stdClass Object
        (
            [slug] => rossi-novinky
            [ID] => 15619
            [post_name] => valentino-rossi-startuje-s-ferrari-v-monze
            [post_title] => Valentino Rossi startuje s Ferrari v Monze
            [post_author] => 2
            [post_date] => 2012-04-14 16:50:20
            [year] => 2012
            [month] => 4
            [post_type] => post
        )

    [980] => stdClass Object
        (
            [slug] => rossi-novinky
            [ID] => 15898
            [post_name] => kenny-roberts-jr-o-situaci-valentina-a-ducati
            [post_title] => Kenny Roberts jr. o situaci Valentina a Ducati
            [post_author] => 2
            [post_date] => 2012-04-14 10:35:07
            [year] => 2012
            [month] => 4
            [post_type] => post
        )

    [981] => stdClass Object
        (
            [slug] => rossi-novinky
            [ID] => 15839
            [post_name] => d-noyes-on-rikal-ducati-rikalo
            [post_title] => D. Noyes: "On říkal - Ducati říkalo."
            [post_author] => 2
            [post_date] => 2012-04-13 07:22:20
            [year] => 2012
            [month] => 4
            [post_type] => post
        )

    [982] => stdClass Object
        (
            [slug] => ducati-2
            [ID] => 15825
            [post_name] => g-torchio-na-reci-o-rozvodu-je-prilis-brzo
            [post_title] => G.Torchio: "Na řeči o rozvodu je příliš brzo."
            [post_author] => 2
            [post_date] => 2012-04-12 08:30:39
            [year] => 2012
            [month] => 4
            [post_type] => post
        )

    [983] => stdClass Object
        (
            [slug] => rossi-novinky
            [ID] => 15820
            [post_name] => l-capirossi-valentino-mel-pravo-to-rici
            [post_title] => L.Capirossi: "Valentino měl právo to říci."
            [post_author] => 2
            [post_date] => 2012-04-11 18:23:53
            [year] => 2012
            [month] => 4
            [post_type] => post
        )

    [984] => stdClass Object
        (
            [slug] => ducati-desmosedici
            [ID] => 15813
            [post_name] => v-rossi-u-ducati-chci-zustat
            [post_title] => Valentino Rossi: "U Ducati chci zůstat."
            [post_author] => 2
            [post_date] => 2012-04-11 16:31:04
            [year] => 2012
            [month] => 4
            [post_type] => post
        )

    [985] => stdClass Object
        (
            [slug] => rossi-novinky
            [ID] => 15806
            [post_name] => a-cicognani-nevzdame-se-a-udelame-maximum
            [post_title] => A.Cicognani: "Nevzdáme se a uděláme maximum."
            [post_author] => 2
            [post_date] => 2012-04-11 15:54:36
            [year] => 2012
            [month] => 4
            [post_type] => post
        )

    [986] => stdClass Object
        (
            [slug] => rossi-novinky
            [ID] => 15789
            [post_name] => g-agostini-valentino-je-hodne-zklamany
            [post_title] => G.Agostini: "Valentino je teď hodně zklamaný."
            [post_author] => 2
            [post_date] => 2012-04-11 10:20:53
            [year] => 2012
            [month] => 4
            [post_type] => post
        )

    [987] => stdClass Object
        (
            [slug] => motogp
            [ID] => 15767
            [post_name] => zmeny-pravidel-motogp-prichazi
            [post_title] => Změny pravidel MotoGP přichází?
            [post_author] => 2
            [post_date] => 2012-04-11 09:32:18
            [year] => 2012
            [month] => 4
            [post_type] => post
        )

    [988] => stdClass Object
        (
            [slug] => rossi-novinky
            [ID] => 15751
            [post_name] => bridgestone-v-jerezu-nasadi-novu-predni-pneumatiku
            [post_title] => Bridgestone v Jerezu nasadí novu přední pneumatiku
            [post_author] => 2
            [post_date] => 2012-04-10 10:49:39
            [year] => 2012
            [month] => 4
            [post_type] => post
        )

    [989] => stdClass Object
        (
            [slug] => alex-briggs
            [ID] => 15747
            [post_name] => alex-briggs-sdilime-pocity-valentina
            [post_title] => Alex Briggs: "Sdílíme pocity Valentina." 
            [post_author] => 2
            [post_date] => 2012-04-10 07:06:58
            [year] => 2012
            [month] => 4
            [post_type] => post
        )

    [990] => stdClass Object
        (
            [slug] => rossi-novinky
            [ID] => 15744
            [post_name] => j-burgess-neco-jsme-se-naucili-ale-to-nestaci
            [post_title] => J.Burgess: "Něco jsme se naučili, ale to nestačí."
            [post_author] => 2
            [post_date] => 2012-04-09 17:52:08
            [year] => 2012
            [month] => 4
            [post_type] => post
        )

    [991] => stdClass Object
        (
            [slug] => rossi-novinky
            [ID] => 15739
            [post_name] => j-burgess-rossi-uz-asi-neni-nejlepsi
            [post_title] => J.Burgess: "Rossi už asi není nejlepší."
            [post_author] => 2
            [post_date] => 2012-04-09 13:05:06
            [year] => 2012
            [month] => 4
            [post_type] => post
        )

    [992] => stdClass Object
        (
            [slug] => rossi-novinky
            [ID] => 15731
            [post_name] => fata-morgana-se-nad-pousti-v-kataru-rozplynula
            [post_title] => Fata morgána se nad pouští v Kataru rozplynula.
            [post_author] => 2
            [post_date] => 2012-04-09 10:43:23
            [year] => 2012
            [month] => 4
            [post_type] => post
        )

    [993] => stdClass Object
        (
            [slug] => rossi-novinky
            [ID] => 15706
            [post_name] => velka-cena-kataru-2012
            [post_title] => Velká Cena Kataru 2012
            [post_author] => 2
            [post_date] => 2012-04-08 21:07:38
            [year] => 2012
            [month] => 4
            [post_type] => post
        )

    [994] => stdClass Object
        (
            [slug] => rossi-novinky
            [ID] => 15686
            [post_name] => f-preziosi-neni-to-rossiho-chyba
            [post_title] => F.Preziosi: "Není to Rossiho chyba."
            [post_author] => 2
            [post_date] => 2012-04-08 09:06:02
            [year] => 2012
            [month] => 4
            [post_type] => post
        )

    [995] => stdClass Object
        (
            [slug] => rossi-novinky
            [ID] => 15658
            [post_name] => v-rossi-nas-motor-je-jako-lev-v-kleci
            [post_title] => V.Rossi: "Náš motor je jako lev v kleci."
            [post_author] => 2
            [post_date] => 2012-04-07 17:13:10
            [year] => 2012
            [month] => 4
            [post_type] => post
        )

    [996] => stdClass Object
        (
            [slug] => rossi-novinky
            [ID] => 15565
            [post_name] => guareschi-brivio-valentino-je-stale-hodne-motivovany
            [post_title] => Guareschi & Brivio: Valentino je hodně motivovaný.
            [post_author] => 2
            [post_date] => 2012-04-03 19:20:55
            [year] => 2012
            [month] => 4
            [post_type] => post
        )

    [997] => stdClass Object
        (
            [slug] => rossi-novinky
            [ID] => 15557
            [post_name] => valentino-rossi-pokusime-z-toho-vymacknout-maximum
            [post_title] => V. Rossi: "Pokusíme se z toho vymáčknout maximum."
            [post_author] => 2
            [post_date] => 2012-04-03 15:45:44
            [year] => 2012
            [month] => 4
            [post_type] => post
        )

    [998] => stdClass Object
        (
            [slug] => ducati-2
            [ID] => 15546
            [post_name] => f-preziosi-pred-prvnim-zavodem-v-kataru
            [post_title] => F.Preziosi před prvním závodem v Kataru
            [post_author] => 2
            [post_date] => 2012-04-03 10:58:27
            [year] => 2012
            [month] => 4
            [post_type] => post
        )

    [999] => stdClass Object
        (
            [slug] => ducati-2
            [ID] => 15535
            [post_name] => l-capirossi-ducati-potrebuje-cas-ktery-nema
            [post_title] => L.Capirossi: "Ducati potřebuje čas, který nemá."
            [post_author] => 2
            [post_date] => 2012-04-02 13:12:40
            [year] => 2012
            [month] => 4
            [post_type] => post
        )

    [1000] => stdClass Object
        (
            [slug] => rossi-novinky
            [ID] => 15484
            [post_name] => v-rossi-nakrmime-tu-bestii-zavody
            [post_title] => V.Rossi: "Nakrmíme tu bestii závody."
            [post_author] => 2
            [post_date] => 2012-04-01 11:25:05
            [year] => 2012
            [month] => 4
            [post_type] => post
        )

    [1001] => stdClass Object
        (
            [slug] => rossi-novinky
            [ID] => 15473
            [post_name] => j-burgess-zvyseni-objemu-motoru-bylo-zbytecne
            [post_title] => J.Burgess: "Zvýšení objemu motorů bylo zbytečné." 
            [post_author] => 2
            [post_date] => 2012-03-30 18:46:44
            [year] => 2012
            [month] => 3
            [post_type] => post
        )

    [1002] => stdClass Object
        (
            [slug] => casey-stoner
            [ID] => 15445
            [post_name] => c-stoner-potencial-ducati-je-zatim-tezke-odhadnout
            [post_title] => C.Stoner: "Potenciál Ducati je zatím těžké odhadnout."
            [post_author] => 2
            [post_date] => 2012-03-29 16:21:59
            [year] => 2012
            [month] => 3
            [post_type] => post
        )

    [1003] => stdClass Object
        (
            [slug] => ducati-2
            [ID] => 15414
            [post_name] => tak-co-ducati-zavody
            [post_title] => Tak co, Ducati? - Závody!
            [post_author] => 2
            [post_date] => 2012-03-28 09:55:19
            [year] => 2012
            [month] => 3
            [post_type] => post
        )

    [1004] => stdClass Object
        (
            [slug] => ducati-2
            [ID] => 15399
            [post_name] => dve-tajemstvi-pred-sezonou-2012
            [post_title] => Dvě tajemství před sezónou 2012
            [post_author] => 2
            [post_date] => 2012-03-27 08:32:28
            [year] => 2012
            [month] => 3
            [post_type] => post
        )

    [1005] => stdClass Object
        (
            [slug] => rossi-novinky
            [ID] => 15396
            [post_name] => c-pernat-ducati-bych-neobvinoval
            [post_title] => C.Pernat: "Ducati bych neobviňoval."
            [post_author] => 2
            [post_date] => 2012-03-26 13:58:45
            [year] => 2012
            [month] => 3
            [post_type] => post
        )

    [1006] => stdClass Object
        (
            [slug] => motogp
            [ID] => 15385
            [post_name] => jednani-o-zmenach-pravidel-motogp-pokracuji
            [post_title] => Jednání o změnách pravidel MotoGP pokračují
            [post_author] => 2
            [post_date] => 2012-03-26 10:15:12
            [year] => 2012
            [month] => 3
            [post_type] => post
        )

    [1007] => stdClass Object
        (
            [slug] => rossi-novinky
            [ID] => 15365
            [post_name] => v-rossi-toto-je-nas-aktualni-potencial
            [post_title] => V.Rossi: "Toto je náš aktuální potenciál."
            [post_author] => 2
            [post_date] => 2012-03-25 20:33:50
            [year] => 2012
            [month] => 3
            [post_type] => post
        )

    [1008] => stdClass Object
        (
            [slug] => rossi-novinky
            [ID] => 15207
            [post_name] => v-rossi-citim-se-fit-a-motivovany
            [post_title] => V.Rossi: "Cítím se fit a motivovaný."
            [post_author] => 2
            [post_date] => 2012-03-22 16:51:13
            [year] => 2012
            [month] => 3
            [post_type] => post
        )

    [1009] => stdClass Object
        (
            [slug] => luca-marini
            [ID] => 15200
            [post_name] => znacka-vr46-bude-sponzorovat-lucu-mariniho
            [post_title] => Značka VR|46 bude sponzorovat Lucu Mariniho
            [post_author] => 2
            [post_date] => 2012-03-22 14:20:28
            [year] => 2012
            [month] => 3
            [post_type] => post
        )

    [1010] => stdClass Object
        (
            [slug] => nicky-hayden
            [ID] => 15187
            [post_name] => n-hayden-verim-v-sebe-a-ducati
            [post_title] => N.Hayden: "Věřím v sebe a Ducati."
            [post_author] => 2
            [post_date] => 2012-03-20 11:40:24
            [year] => 2012
            [month] => 3
            [post_type] => post
        )

    [1011] => stdClass Object
        (
            [slug] => motogp
            [ID] => 15114
            [post_name] => shuhei-nakamoto-rozhovor
            [post_title] => Shuhei Nakamoto - rozhovor
            [post_author] => 2
            [post_date] => 2012-03-17 21:22:56
            [year] => 2012
            [month] => 3
            [post_type] => post
        )

    [1012] => stdClass Object
        (
            [slug] => motogp
            [ID] => 15109
            [post_name] => tovarny-jsou-pripraveny-prijmout-cenovy-limit
            [post_title] => Továrny jsou připraveny přijmout cenový limit
            [post_author] => 2
            [post_date] => 2012-03-16 19:42:37
            [year] => 2012
            [month] => 3
            [post_type] => post
        )

    [1013] => stdClass Object
        (
            [slug] => motogp
            [ID] => 15098
            [post_name] => fausto-gresini-rozhovor
            [post_title] => Fausto Gresini - rozhovor
            [post_author] => 2
            [post_date] => 2012-03-15 14:24:18
            [year] => 2012
            [month] => 3
            [post_type] => post
        )

    [1014] => stdClass Object
        (
            [slug] => fastest
            [ID] => 14499
            [post_name] => ceske-titulky-k-filmu-fastest
            [post_title] => České titulky k filmu Fastest
            [post_author] => 2
            [post_date] => 2012-03-10 21:00:55
            [year] => 2012
            [month] => 3
            [post_type] => post
        )

    [1015] => stdClass Object
        (
            [slug] => karel-abraham
            [ID] => 15045
            [post_name] => barbera-a-abraham-dostanou-gp12-na-paty-zavod
            [post_title] => Barbera a Abraham dostanou GP12 na pátý závod
            [post_author] => 2
            [post_date] => 2012-03-09 17:30:41
            [year] => 2012
            [month] => 3
            [post_type] => post
        )

    [1016] => stdClass Object
        (
            [slug] => honda-2
            [ID] => 15016
            [post_name] => s-nakamoto-yamaha-je-ted-nejlepsi
            [post_title] => S.Nakamoto: "Yamaha je teď nejlepší."
            [post_author] => 2
            [post_date] => 2012-03-05 15:30:37
            [year] => 2012
            [month] => 3
            [post_type] => post
        )

    [1017] => stdClass Object
        (
            [slug] => rossi-novinky
            [ID] => 15001
            [post_name] => f-preziosi-ducati-pracuje-naplno
            [post_title] => F.Preziosi: "Ducati pracuje naplno."
            [post_author] => 2
            [post_date] => 2012-03-02 15:22:48
            [year] => 2012
            [month] => 3
            [post_type] => post
        )

    [1018] => stdClass Object
        (
            [slug] => casey-stoner
            [ID] => 14997
            [post_name] => c-stoner-favorite-budou-stejni
            [post_title] => C.Stoner - "Favorité budou stejní."
            [post_author] => 2
            [post_date] => 2012-03-02 13:43:21
            [year] => 2012
            [month] => 3
            [post_type] => post
        )

    [1019] => stdClass Object
        (
            [slug] => rossi-novinky
            [ID] => 14987
            [post_name] => rossi-ducati-herkules-nebo-sisyfos
            [post_title] => Rossi & Ducati - Herkules nebo Sisyfos ?
            [post_author] => 2
            [post_date] => 2012-03-02 08:59:18
            [year] => 2012
            [month] => 3
            [post_type] => post
        )

    [1020] => stdClass Object
        (
            [slug] => rossi-novinky
            [ID] => 14907
            [post_name] => testy-sepang-den-treti-3
            [post_title] => Testy Sepang - den třetí
            [post_author] => 2
            [post_date] => 2012-03-01 07:09:46
            [year] => 2012
            [month] => 3
            [post_type] => post
        )

    [1021] => stdClass Object
        (
            [slug] => rossi-novinky
            [ID] => 14734
            [post_name] => helmy-agv-standard
            [post_title] => Technologie nové helmy AGV standard
            [post_author] => 2
            [post_date] => 2012-02-23 21:40:20
            [year] => 2012
            [month] => 2
            [post_type] => post
        )

    [1022] => stdClass Object
        (
            [slug] => rossi-novinky
            [ID] => 14698
            [post_name] => titanovy-suvenyr-valentina-rossiho
            [post_title] => Titanový suvenýr Valentina Rossiho
            [post_author] => 2
            [post_date] => 2012-02-21 19:53:19
            [year] => 2012
            [month] => 2
            [post_type] => post
        )

    [1023] => stdClass Object
        (
            [slug] => motogp
            [ID] => 14632
            [post_name] => c-ezpeleta-rozhovor-o-budoucnosti-motogp
            [post_title] => C. Ezpeleta - rozhovor o budoucnosti MotoGP
            [post_author] => 2
            [post_date] => 2012-02-19 12:20:02
            [year] => 2012
            [month] => 2
            [post_type] => post
        )

    [1024] => stdClass Object
        (
            [slug] => casey-stoner
            [ID] => 14596
            [post_name] => manzele-stonerovi-slavi-narozeni-dcery
            [post_title] => Manželé Stonerovi slaví narození dcery
            [post_author] => 2
            [post_date] => 2012-02-17 07:39:31
            [year] => 2012
            [month] => 2
            [post_type] => post
        )

    [1025] => stdClass Object
        (
            [slug] => casey-stoner
            [ID] => 14573
            [post_name] => b-spies-stoner-muze-byt-porazen
            [post_title] => B.Spies: "Stoner může být poražen."
            [post_author] => 2
            [post_date] => 2012-02-15 13:50:33
            [year] => 2012
            [month] => 2
            [post_type] => post
        )

    [1026] => stdClass Object
        (
            [slug] => motogp
            [ID] => 14487
            [post_name] => motogp-na-ceskych-kanalech-v-roce-2012
            [post_title] => MotoGP na českých kanálech v roce 2012
            [post_author] => 2
            [post_date] => 2012-02-10 20:19:15
            [year] => 2012
            [month] => 2
            [post_type] => post
        )

    [1027] => stdClass Object
        (
            [slug] => ducati-desmosedici
            [ID] => 14480
            [post_name] => h-barbera-gp12-chci-dostat-co-nejdrive
            [post_title] => H. Barbera: "GP12 chci dostat co nejdříve."
            [post_author] => 2
            [post_date] => 2012-02-10 15:30:39
            [year] => 2012
            [month] => 2
            [post_type] => post
        )

    [1028] => stdClass Object
        (
            [slug] => ducati-desmosedici
            [ID] => 14456
            [post_name] => preziozi-vysvetluje-postaveni-satelinich-tymu-ducati
            [post_title] => F.Preziosi vysvětluje postavení sateliních týmů Ducati
            [post_author] => 125
            [post_date] => 2012-02-10 11:45:01
            [year] => 2012
            [month] => 2
            [post_type] => post
        )

    [1029] => stdClass Object
        (
            [slug] => rossi-novinky
            [ID] => 14459
            [post_name] => j-lorenzo-ducati-vloni-nemohla-zvitezit
            [post_title] => J.Lorenzo: "Ducati vloni nemohla zvítězit."
            [post_author] => 2
            [post_date] => 2012-02-10 08:48:43
            [year] => 2012
            [month] => 2
            [post_type] => post
        )

    [1030] => stdClass Object
        (
            [slug] => motogp
            [ID] => 14450
            [post_name] => pet-minut-s-lorisem-capirossim
            [post_title] => Pět minut s Lorisem Capirossim
            [post_author] => 2
            [post_date] => 2012-02-09 14:04:14
            [year] => 2012
            [month] => 2
            [post_type] => post
        )

    [1031] => stdClass Object
        (
            [slug] => ducati-desmosedici
            [ID] => 14426
            [post_name] => nova-ducati-jeremy-burgesse-potesila
            [post_title] => Nová Ducati Jeremy Burgesse potešila
            [post_author] => 2
            [post_date] => 2012-02-08 10:05:28
            [year] => 2012
            [month] => 2
            [post_type] => post
        )

    [1032] => stdClass Object
        (
            [slug] => honda-2
            [ID] => 14417
            [post_name] => bautista-si-pochvaluje-elekroniku-hondy
            [post_title] => Bautista si pochvaluje elekroniku Hondy
            [post_author] => 2
            [post_date] => 2012-02-07 21:00:42
            [year] => 2012
            [month] => 2
            [post_type] => post
        )

    [1033] => stdClass Object
        (
            [slug] => rossi-novinky
            [ID] => 14406
            [post_name] => polemika-nad-statistikou-stoner-vs-rossi
            [post_title] => Polemika nad statistikou Stoner vs Rossi
            [post_author] => 2
            [post_date] => 2012-02-07 14:48:06
            [year] => 2012
            [month] => 2
            [post_type] => post
        )

    [1034] => stdClass Object
        (
            [slug] => motogp
            [ID] => 14403
            [post_name] => c-ezpeleta-vaha-se-zvysila-na-navrh-dorny-a-irta
            [post_title] => C.Ezpeleta: "Váha se zvýšila na návrh Dorny a IRTA."
            [post_author] => 2
            [post_date] => 2012-02-07 11:11:39
            [year] => 2012
            [month] => 2
            [post_type] => post
        )

    [1035] => stdClass Object
        (
            [slug] => rossi-novinky
            [ID] => 14375
            [post_name] => oba-jezdci-ducati-dnes-na-operaci
            [post_title] => Oba jezdci Ducati dnes na operaci
            [post_author] => 2
            [post_date] => 2012-02-06 19:01:25
            [year] => 2012
            [month] => 2
            [post_type] => post
        )

    [1036] => stdClass Object
        (
            [slug] => ducati-2
            [ID] => 14366
            [post_name] => v-guareschi-vaha-se-nenavysoval-kvuli-nam
            [post_title] => V. Guareschi: "Váha se nenavyšovala kvůli nám."
            [post_author] => 2
            [post_date] => 2012-02-06 17:08:09
            [year] => 2012
            [month] => 2
            [post_type] => post
        )

    [1037] => stdClass Object
        (
            [slug] => ducati-2
            [ID] => 14362
            [post_name] => casey-stoner-kritizuje-navyseni-minimalni-vahy
            [post_title] => Casey Stoner kritizuje navýšení minimální váhy
            [post_author] => 2
            [post_date] => 2012-02-06 10:21:39
            [year] => 2012
            [month] => 2
            [post_type] => post
        )

    [1038] => stdClass Object
        (
            [slug] => ducati-2
            [ID] => 14324
            [post_name] => claudio-domenicali-rossi-ducati-panigale
            [post_title] => Claudio Domenicali o Rossim, Ducati a Panigale
            [post_author] => 125
            [post_date] => 2012-02-04 22:16:57
            [year] => 2012
            [month] => 2
            [post_type] => post
        )

    [1039] => stdClass Object
        (
            [slug] => ducati-desmosedici
            [ID] => 14287
            [post_name] => carlo-pernat-bridgestone-nejvice-sedi-na-ducati
            [post_title] => Carlo Pernat: "Bridgestone nejvíce sedí na Ducati."
            [post_author] => 343
            [post_date] => 2012-02-03 17:00:42
            [year] => 2012
            [month] => 2
            [post_type] => post
        )

    [1040] => stdClass Object
        (
            [slug] => alex-briggs
            [ID] => 14280
            [post_name] => alex-briggs-ze-sepangu
            [post_title] => Alex Briggs ze Sepangu
            [post_author] => 2
            [post_date] => 2012-02-03 07:32:43
            [year] => 2012
            [month] => 2
            [post_type] => post
        )

    [1041] => stdClass Object
        (
            [slug] => ducati-desmosedici
            [ID] => 14257
            [post_name] => valentino-rossi-zlepsovani-pokracuje
            [post_title] => Valentino Rossi: "Zlepšování pokračuje."
            [post_author] => 343
            [post_date] => 2012-02-02 17:54:11
            [year] => 2012
            [month] => 2
            [post_type] => post
        )

    [1042] => stdClass Object
        (
            [slug] => ducati-desmosedici
            [ID] => 14246
            [post_name] => f-preziosi-nase-prace-neni-u-konce
            [post_title] => F. Preziosi: "Naše práce není u konce."
            [post_author] => 2
            [post_date] => 2012-02-02 14:39:48
            [year] => 2012
            [month] => 2
            [post_type] => post
        )

    [1043] => stdClass Object
        (
            [slug] => motogp
            [ID] => 14169
            [post_name] => sef-hrc-mluvi-o-crt-v-moto-gp
            [post_title] => Šéf HRC mluví o CRT v MotoGP
            [post_author] => 125
            [post_date] => 2012-02-01 07:22:48
            [year] => 2012
            [month] => 2
            [post_type] => post
        )

    [1044] => stdClass Object
        (
            [slug] => rossi-novinky
            [ID] => 14103
            [post_name] => valentino-rossi-zmenilo-se-vsechno
            [post_title] => Valentino Rossi: "Změnilo se všechno."
            [post_author] => 2
            [post_date] => 2012-01-31 19:51:01
            [year] => 2012
            [month] => 1
            [post_type] => post
        )

    [1045] => stdClass Object
        (
            [slug] => bridgestone-2
            [ID] => 14036
            [post_name] => nove-pneumatiky-bridgestone-2012
            [post_title] => Nové pneumatiky Bridgestone na rok 2012
            [post_author] => 125
            [post_date] => 2012-01-31 06:25:31
            [year] => 2012
            [month] => 1
            [post_type] => post
        )

    [1046] => stdClass Object
        (
            [slug] => rossi-novinky
            [ID] => 14028
            [post_name] => valentino-rossi-se-kritice-od-stonera-smeje
            [post_title] => Valentino Rossi se kritice od Stonera směje
            [post_author] => 2
            [post_date] => 2012-01-30 15:28:16
            [year] => 2012
            [month] => 1
            [post_type] => post
        )

    [1047] => stdClass Object
        (
            [slug] => ducati-desmosedici
            [ID] => 14010
            [post_name] => ducati-desmosedici-gp12
            [post_title] => Ducati Desmosedici GP12
            [post_author] => 2
            [post_date] => 2012-01-30 10:22:19
            [year] => 2012
            [month] => 1
            [post_type] => post
        )

    [1048] => stdClass Object
        (
            [slug] => ducati-desmosedici
            [ID] => 13959
            [post_name] => nova-ducati-valentina-rossiho
            [post_title] => Nová Ducati Valentina Rossiho
            [post_author] => 2
            [post_date] => 2012-01-27 16:57:18
            [year] => 2012
            [month] => 1
            [post_type] => post
        )

    [1049] => stdClass Object
        (
            [slug] => colin-edwards
            [ID] => 13951
            [post_name] => colin-edwards-rozhovor
            [post_title] => Colin Edwards - rozhovor před testy v Sepangu
            [post_author] => 2
            [post_date] => 2012-01-26 16:31:17
            [year] => 2012
            [month] => 1
            [post_type] => post
        )

    [1050] => stdClass Object
        (
            [slug] => casey-stoner
            [ID] => 13946
            [post_name] => c-stoner-rossi-se-snazi-me-vykony-bagatelizovat
            [post_title] => C.Stoner: "Rossi se snaží mé výkony bagatelizovat."
            [post_author] => 2
            [post_date] => 2012-01-25 19:19:20
            [year] => 2012
            [month] => 1
            [post_type] => post
        )

    [1051] => stdClass Object
        (
            [slug] => ducati-desmosedici
            [ID] => 13931
            [post_name] => f-preziosi-s-gp12-budeme-konkurenceschopni
            [post_title] => F.Preziosi: "S GP12 budeme konkurenceschopní."
            [post_author] => 2
            [post_date] => 2012-01-25 13:15:11
            [year] => 2012
            [month] => 1
            [post_type] => post
        )

    [1052] => stdClass Object
        (
            [slug] => ducati-2
            [ID] => 13925
            [post_name] => ducati-spustila-vyrobu-panigale-1199
            [post_title] => Ducati spustila výrobu Panigale 1199
            [post_author] => 2
            [post_date] => 2012-01-25 08:13:32
            [year] => 2012
            [month] => 1
            [post_type] => post
        )

    [1053] => stdClass Object
        (
            [slug] => rossi-novinky
            [ID] => 13915
            [post_name] => malboro-ducati-a-rossimu-stale-veri
            [post_title] => Marlboro Ducati a Rossimu stále věří
            [post_author] => 2
            [post_date] => 2012-01-24 22:21:00
            [year] => 2012
            [month] => 1
            [post_type] => post
        )

    [1054] => stdClass Object
        (
            [slug] => rossi-novinky
            [ID] => 13888
            [post_name] => j-lorenzo-valentino-jeste-neni-stary
            [post_title] => J.Lorenzo: "Valentino ještě není starý."
            [post_author] => 2
            [post_date] => 2012-01-24 08:42:39
            [year] => 2012
            [month] => 1
            [post_type] => post
        )

    [1055] => stdClass Object
        (
            [slug] => honda-2
            [ID] => 13867
            [post_name] => robot-asimo-pomohl-honde-s-elektronikou
            [post_title] => Robot ASIMO pomohl Hondě s elektronikou
            [post_author] => 2
            [post_date] => 2012-01-23 11:03:49
            [year] => 2012
            [month] => 1
            [post_type] => post
        )

    [1056] => stdClass Object
        (
            [slug] => rossi-novinky
            [ID] => 13863
            [post_name] => video-valentino-rossi-ranc
            [post_title] => Video Valentino Rossi ranč
            [post_author] => 2
            [post_date] => 2012-01-22 18:21:15
            [year] => 2012
            [month] => 1
            [post_type] => post
        )

    [1057] => stdClass Object
        (
            [slug] => rossi-novinky
            [ID] => 13858
            [post_name] => dokument-zluta-horecka
            [post_title] => Dokument "Žlutá Horečka"
            [post_author] => 2
            [post_date] => 2012-01-22 15:45:57
            [year] => 2012
            [month] => 1
            [post_type] => post
        )

    [1058] => stdClass Object
        (
            [slug] => ducati-desmosedici
            [ID] => 13836
            [post_name] => f-preziosi-uhel-valcu-neni-problem
            [post_title] => F.Preziosi: "Úhel válců není problém."
            [post_author] => 2
            [post_date] => 2012-01-21 12:27:43
            [year] => 2012
            [month] => 1
            [post_type] => post
        )

    [1059] => stdClass Object
        (
            [slug] => casey-stoner
            [ID] => 13825
            [post_name] => c-stoner-ducati-uz-vloni-desmosedici-zmenila
            [post_title] => C.Stoner: "Ducati už vloni Desmosedici zcela změnila "
            [post_author] => 2
            [post_date] => 2012-01-20 18:36:58
            [year] => 2012
            [month] => 1
            [post_type] => post
        )

    [1060] => stdClass Object
        (
            [slug] => ducati-desmosedici
            [ID] => 13816
            [post_name] => ducati-gp12-pro-karla-abrahama
            [post_title] => Ducati GP12 pro Karla Abrahama
            [post_author] => 2
            [post_date] => 2012-01-20 14:09:38
            [year] => 2012
            [month] => 1
            [post_type] => post
        )

    [1061] => stdClass Object
        (
            [slug] => ducati-2
            [ID] => 13805
            [post_name] => ducati-je-o-zmenach-pravidel-ochotna-diskutovat
            [post_title] => Ducati je o změnách pravidel ochotna diskutovat
            [post_author] => 2
            [post_date] => 2012-01-19 17:36:36
            [year] => 2012
            [month] => 1
            [post_type] => post
        )

    [1062] => stdClass Object
        (
            [slug] => rossi-novinky
            [ID] => 13727
            [post_name] => v-rossi-a-n-hayden-na-snehu-wrooom-2012
            [post_title] => V.Rossi a N.Hayden na sněhu - Wrooom 2012
            [post_author] => 2
            [post_date] => 2012-01-14 19:18:29
            [year] => 2012
            [month] => 1
            [post_type] => post
        )

    [1063] => stdClass Object
        (
            [slug] => rossi-novinky
            [ID] => 13692
            [post_name] => operace-fenix
            [post_title] => Operace Fénix
            [post_author] => 2
            [post_date] => 2012-01-13 18:00:05
            [year] => 2012
            [month] => 1
            [post_type] => post
        )

    [1064] => stdClass Object
        (
            [slug] => ducati-2
            [ID] => 13679
            [post_name] => ducati-se-crt-projekt-aprilie-nelibi
            [post_title] => Ducati se CRT projekt Aprilie nelíbí
            [post_author] => 2
            [post_date] => 2012-01-13 09:16:15
            [year] => 2012
            [month] => 1
            [post_type] => post
        )

    [1065] => stdClass Object
        (
            [slug] => ducati-desmosedici
            [ID] => 13670
            [post_name] => desmodici-je-cela-navrzena-v-ducati-corse
            [post_title] => Desmodici je celá navržena v Ducati Corse
            [post_author] => 2
            [post_date] => 2012-01-12 17:53:52
            [year] => 2012
            [month] => 1
            [post_type] => post
        )

    [1066] => stdClass Object
        (
            [slug] => rossi-novinky
            [ID] => 13664
            [post_name] => motogp-2011-sezona-padu
            [post_title] => MotoGP 2011 - sezóna pádů
            [post_author] => 2
            [post_date] => 2012-01-12 16:51:59
            [year] => 2012
            [month] => 1
            [post_type] => post
        )

    [1067] => stdClass Object
        (
            [slug] => ducati-desmosedici
            [ID] => 13586
            [post_name] => filippo-preziosi-tiskova-konference-wrooom-2012
            [post_title] => Filippo Preziosi - tisková konference Wrooom 2012
            [post_author] => 2
            [post_date] => 2012-01-11 11:27:46
            [year] => 2012
            [month] => 1
            [post_type] => post
        )

    [1068] => stdClass Object
        (
            [slug] => rossi-novinky
            [ID] => 13505
            [post_name] => wrooom-tiskovka-nicky-hayden-valentino-rossi
            [post_title] => Wrooom - tiskovka Nicky Hayden a Valentino Rossi
            [post_author] => 2
            [post_date] => 2012-01-10 20:00:27
            [year] => 2012
            [month] => 1
            [post_type] => post
        )

    [1069] => stdClass Object
        (
            [slug] => ducati-2
            [ID] => 13542
            [post_name] => g-de-torchio-s-valentinem-pocitame
            [post_title] => G. Del Torchio: "S Valentinem počítáme i budoucnu."
            [post_author] => 2
            [post_date] => 2012-01-10 14:18:38
            [year] => 2012
            [month] => 1
            [post_type] => post
        )

    [1070] => stdClass Object
        (
            [slug] => rossi-novinky
            [ID] => 13123
            [post_name] => wrooom-2012
            [post_title] => Wrooom 2012
            [post_author] => 2
            [post_date] => 2012-01-08 20:00:54
            [year] => 2012
            [month] => 1
            [post_type] => post
        )

    [1071] => stdClass Object
        (
            [slug] => motogp
            [ID] => 13431
            [post_name] => l-capirossi-pneumatiky-pro-me-budou-prioritou
            [post_title] => L. Capirossi: "Pneumatiky pro mě budou prioritou."
            [post_author] => 2
            [post_date] => 2012-01-05 14:06:04
            [year] => 2012
            [month] => 1
            [post_type] => post
        )

    [1072] => stdClass Object
        (
            [slug] => nicky-hayden
            [ID] => 13364
            [post_name] => nicky-hayden-ma-zlomenou-lopatku-a-dve-zebra
            [post_title] => Nicky Hayden má zlomenou lopatku a dvě žebra
            [post_author] => 2
            [post_date] => 2012-01-05 07:01:36
            [year] => 2012
            [month] => 1
            [post_type] => post
        )

    [1073] => stdClass Object
        (
            [slug] => ducati-2
            [ID] => 13355
            [post_name] => c-checa-problemem-jsou-pneumatiky-bridgestone
            [post_title] => C.Checa: "Problémem jsou pneumatiky Bridgestone."
            [post_author] => 2
            [post_date] => 2011-12-29 15:48:44
            [year] => 2011
            [month] => 12
            [post_type] => post
        )

    [1074] => stdClass Object
        (
            [slug] => motogp
            [ID] => 13348
            [post_name] => jerez-potvrzen-do-roku-2016
            [post_title] => Jerez potvrzen do roku 2016
            [post_author] => 2
            [post_date] => 2011-12-27 09:55:13
            [year] => 2011
            [month] => 12
            [post_type] => post
        )

    [1075] => stdClass Object
        (
            [slug] => rossi-novinky
            [ID] => 13333
            [post_name] => c-stoner-jsem-rad-ze-jsem-rossiho-burgesse-umlcel
            [post_title] => C.Stoner: Jsem rád že jsem Rossiho a Burgesse umlčel.
            [post_author] => 2
            [post_date] => 2011-12-24 11:08:15
            [year] => 2011
            [month] => 12
            [post_type] => post
        )

    [1076] => stdClass Object
        (
            [slug] => rossi-novinky
            [ID] => 13322
            [post_name] => valentino-rossi-prechodu-k-ducati-nelituje
            [post_title] => Valentino Rossi přechodu k Ducati nelituje
            [post_author] => 2
            [post_date] => 2011-12-23 07:55:50
            [year] => 2011
            [month] => 12
            [post_type] => post
        )

    [1077] => stdClass Object
        (
            [slug] => motogp
            [ID] => 13315
            [post_name] => evropska-komise-schvalila-vlastnictvi-infrontu-bridgepointem
            [post_title] => Evropská Komise schválila vlastnictví Infrontu investiční skupinou Bridgepoint
            [post_author] => 2
            [post_date] => 2011-12-23 07:00:25
            [year] => 2011
            [month] => 12
            [post_type] => post
        )

    [1078] => stdClass Object
        (
            [slug] => ducati-2
            [ID] => 13279
            [post_name] => j-burgess-konec-zakazu-testovani-vita
            [post_title] => J.Burgess konec zákazu testování vítá.
            [post_author] => 2
            [post_date] => 2011-12-19 18:13:16
            [year] => 2011
            [month] => 12
            [post_type] => post
        )

    [1079] => stdClass Object
        (
            [slug] => jorge-lorenzo
            [ID] => 13275
            [post_name] => j-lorenzo-valentino-ma-dost-talentu-a-zkusenosti
            [post_title] => J.Lorenzo: "Valentino má dost talentu a zkušeností."
            [post_author] => 2
            [post_date] => 2011-12-19 14:40:10
            [year] => 2011
            [month] => 12
            [post_type] => post
        )

    [1080] => stdClass Object
        (
            [slug] => motogp
            [ID] => 13267
            [post_name] => zasedani-komise-grand-prix
            [post_title] => Zasedání komise Grand Prix
            [post_author] => 2
            [post_date] => 2011-12-16 14:12:28
            [year] => 2011
            [month] => 12
            [post_type] => post
        )

    [1081] => stdClass Object
        (
            [slug] => rossi-novinky
            [ID] => 13230
            [post_name] => c-ezpeleta-valentino-klicovou-postavou
            [post_title] => C.Ezpeleta: "Valentino bude stále klíčovou postavou"
            [post_author] => 2
            [post_date] => 2011-12-15 17:02:23
            [year] => 2011
            [month] => 12
            [post_type] => post
        )

    [1082] => stdClass Object
        (
            [slug] => nicky-hayden
            [ID] => 13219
            [post_name] => n-hayden-ducati-bude-silnejsi
            [post_title] => N.Hayden: "Ducati bude silnější."
            [post_author] => 2
            [post_date] => 2011-12-13 17:26:08
            [year] => 2011
            [month] => 12
            [post_type] => post
        )

    [1083] => stdClass Object
        (
            [slug] => rossi-novinky
            [ID] => 13215
            [post_name] => t-cairoli-valentino-se-chce-stale-ucit
            [post_title] => T.Cairoli: "Valentino se chce stále učit."
            [post_author] => 2
            [post_date] => 2011-12-10 19:18:15
            [year] => 2011
            [month] => 12
            [post_type] => post
        )

    [1084] => stdClass Object
        (
            [slug] => rossi-novinky
            [ID] => 13206
            [post_name] => livio-suppo-rossi-je-stejne-dobry-jako-za-starych-casu
            [post_title] => L.Suppo: "Rossi je stejně dobrý jako za starých časů."
            [post_author] => 2
            [post_date] => 2011-12-10 11:26:01
            [year] => 2011
            [month] => 12
            [post_type] => post
        )

    [1085] => stdClass Object
        (
            [slug] => rossi-novinky
            [ID] => 13202
            [post_name] => j-burgess-valentino-stale-muze-vitezit
            [post_title] => J.Burgess: "Valentino stále může vítězit."
            [post_author] => 2
            [post_date] => 2011-12-09 12:52:13
            [year] => 2011
            [month] => 12
            [post_type] => post
        )

    [1086] => stdClass Object
        (
            [slug] => rossi-novinky
            [ID] => 13194
            [post_name] => g-torchio-letos-chybel-faktor-c
            [post_title] => G.Torchio: "Letos nám chyběl faktor C"
            [post_author] => 2
            [post_date] => 2011-12-08 12:38:18
            [year] => 2011
            [month] => 12
            [post_type] => post
        )

    [1087] => stdClass Object
        (
            [slug] => casey-stoner
            [ID] => 13145
            [post_name] => c-stoner-v-motogp-se-jezdci-nenavidi
            [post_title] => C.Stoner: "V MotoGP se jezdci nenávidí."
            [post_author] => 2
            [post_date] => 2011-12-05 14:19:37
            [year] => 2011
            [month] => 12
            [post_type] => post
        )

    [1088] => stdClass Object
        (
            [slug] => honda-2
            [ID] => 13139
            [post_name] => f-gresini-doufejme-ze-bude-valentino-uspesny
            [post_title] => F.Gresini: "Doufejme že bude Valentino úspěšný."
            [post_author] => 2
            [post_date] => 2011-12-05 11:25:55
            [year] => 2011
            [month] => 12
            [post_type] => post
        )

    [1089] => stdClass Object
        (
            [slug] => rossi-novinky
            [ID] => 13114
            [post_name] => valentino-rossi-na-motokrosu
            [post_title] => Valentino Rossi na motokrosu
            [post_author] => 2
            [post_date] => 2011-12-03 21:13:26
            [year] => 2011
            [month] => 12
            [post_type] => post
        )

    [1090] => stdClass Object
        (
            [slug] => ducati-desmosedici
            [ID] => 13103
            [post_name] => c-stoner-ducati-nemela-nic-v-rezerve
            [post_title] => C.Stoner: "Ducati neměla nic v rezervě."
            [post_author] => 2
            [post_date] => 2011-12-02 16:19:33
            [year] => 2011
            [month] => 12
            [post_type] => post
        )

    [1091] => stdClass Object
        (
            [slug] => rossi-novinky
            [ID] => 13081
            [post_name] => valentino-rossi-onboard-monza-rallye-2011
            [post_title] => Valentino Rossi onboard - Monza Rallye 2011
            [post_author] => 2
            [post_date] => 2011-11-30 15:41:55
            [year] => 2011
            [month] => 11
            [post_type] => post
        )

    [1092] => stdClass Object
        (
            [slug] => bridgestone-2
            [ID] => 13067
            [post_name] => v-rossi-ty-pneumatiky-me-desi
            [post_title] => V Rossi: "Ty pneumatiky mě děsí."
            [post_author] => 2
            [post_date] => 2011-11-29 13:33:28
            [year] => 2011
            [month] => 11
            [post_type] => post
        )

    [1093] => stdClass Object
        (
            [slug] => ducati-desmosedici
            [ID] => 13064
            [post_name] => c-checa-musime-pracovat-na-tezisti-ducati
            [post_title] => C.Checa: "Musíme pracovat na težišti Ducati."
            [post_author] => 2
            [post_date] => 2011-11-29 11:07:40
            [year] => 2011
            [month] => 11
            [post_type] => post
        )

    [1094] => stdClass Object
        (
            [slug] => rossi-novinky
            [ID] => 13041
            [post_name] => valentino-rossi-sezona-padu
            [post_title] => Valentino Rossi - Sezóna pádů
            [post_author] => 2
            [post_date] => 2011-11-28 13:29:10
            [year] => 2011
            [month] => 11
            [post_type] => post
        )

    [1095] => stdClass Object
        (
            [slug] => rossi-novinky
            [ID] => 13005
            [post_name] => v-rossi-k-vanocum-chci-konkurenceschopnou-gp12
            [post_title] => V. Rossi: "K Vánocům chci konkurenceschopnou GP12."
            [post_author] => 2
            [post_date] => 2011-11-25 23:46:07
            [year] => 2011
            [month] => 11
            [post_type] => post
        )

    [1096] => stdClass Object
        (
            [slug] => motogp
            [ID] => 12949
            [post_name] => vse-co-chcete-vedet-o-crt
            [post_title] => Vše co chcete vědět o CRT
            [post_author] => 2
            [post_date] => 2011-11-25 22:08:30
            [year] => 2011
            [month] => 11
            [post_type] => post
        )

    [1097] => stdClass Object
        (
            [slug] => colin-edwards
            [ID] => 12974
            [post_name] => colin-edwards-mame-dlouhy-seznam-ukolu
            [post_title] => Colin Edwards: "Máme dlouhý seznam úkolů."
            [post_author] => 2
            [post_date] => 2011-11-25 14:36:18
            [year] => 2011
            [month] => 11
            [post_type] => post
        )

    [1098] => stdClass Object
        (
            [slug] => ducati-2
            [ID] => 12955
            [post_name] => testy-v-jerezu-ctvrtek
            [post_title] => Testy v Jerezu čtvrtek 
            [post_author] => 2
            [post_date] => 2011-11-24 20:36:40
            [year] => 2011
            [month] => 11
            [post_type] => post
        )

    [1099] => stdClass Object
        (
            [slug] => rozhovor
            [ID] => 12903
            [post_name] => loris-capirossi-nejhorsi-motocykl-je-letosni-ducati
            [post_title] => Loris Capirossi: "Nejhorší motocykl je letošní Ducati."
            [post_author] => 2
            [post_date] => 2011-11-23 08:17:24
            [year] => 2011
            [month] => 11
            [post_type] => post
        )

    [1100] => stdClass Object
        (
            [slug] => motogp
            [ID] => 12898
            [post_name] => c-ezpeleta-neni-to-valka
            [post_title] => C. Ezpeleta: "Není to válka."
            [post_author] => 2
            [post_date] => 2011-11-22 22:11:12
            [year] => 2011
            [month] => 11
            [post_type] => post
        )

    [1101] => stdClass Object
        (
            [slug] => ducati-2
            [ID] => 12867
            [post_name] => jeremy-burgess-chtel-bych-se-vratit-zpet-do-starych-casu
            [post_title] => J. Burgess "Chtěl bych se vrátit zpět do starých časů."
            [post_author] => 2
            [post_date] => 2011-11-21 18:25:44
            [year] => 2011
            [month] => 11
            [post_type] => post
        )

    [1102] => stdClass Object
        (
            [slug] => rossi-novinky
            [ID] => 12820
            [post_name] => valentino-rossi-dokument
            [post_title] => Valentino Rossi - dokument
            [post_author] => 2
            [post_date] => 2011-11-19 14:34:31
            [year] => 2011
            [month] => 11
            [post_type] => post
        )

    [1103] => stdClass Object
        (
            [slug] => motogp
            [ID] => 12786
            [post_name] => suzuki-v-motgp-konci
            [post_title] => Suzuki v MotoGP končí
            [post_author] => 2
            [post_date] => 2011-11-18 11:52:15
            [year] => 2011
            [month] => 11
            [post_type] => post
        )

    [1104] => stdClass Object
        (
            [slug] => rossi-novinky
            [ID] => 12760
            [post_name] => zruseni-zakazu-testovani-oficialne-potvrzeno
            [post_title] => Zrušení zákazu testování oficiálně potvrzeno
            [post_author] => 2
            [post_date] => 2011-11-17 15:17:02
            [year] => 2011
            [month] => 11
            [post_type] => post
        )

    [1105] => stdClass Object
        (
            [slug] => rossi-novinky
            [ID] => 12757
            [post_name] => valentino-rossi-mistrovske-dilo
            [post_title] => Valentino Rossi - "Mistrovské dílo"
            [post_author] => 2
            [post_date] => 2011-11-17 14:43:54
            [year] => 2011
            [month] => 11
            [post_type] => post
        )

    [1106] => stdClass Object
        (
            [slug] => fastest
            [ID] => 12749
            [post_name] => fastest-vychazi-na-dvd
            [post_title] => Fastest vychází na DVD
            [post_author] => 2
            [post_date] => 2011-11-17 13:57:50
            [year] => 2011
            [month] => 11
            [post_type] => post
        )

    [1107] => stdClass Object
        (
            [slug] => rossi-novinky
            [ID] => 12735
            [post_name] => valentino-rossi-bridgestone
            [post_title] => Valentino Rossi - Bridgestone
            [post_author] => 2
            [post_date] => 2011-11-16 18:31:21
            [year] => 2011
            [month] => 11
            [post_type] => post
        )

    [1108] => stdClass Object
        (
            [slug] => casey-stoner
            [ID] => 12684
            [post_name] => stoner-veri-ze-bude-honda-rychlejsi
            [post_title] => Stoner věří že bude Honda rychlejší
            [post_author] => 2
            [post_date] => 2011-11-15 09:54:59
            [year] => 2011
            [month] => 11
            [post_type] => post
        )

    [1109] => stdClass Object
        (
            [slug] => loris-capirossi
            [ID] => 12674
            [post_name] => loris-capirossi-jmenovam-poradcem-pro-bezpecnost-motogp
            [post_title] => Loris Capirossi bude poradcem pro bezpečnost MotoGP
            [post_author] => 2
            [post_date] => 2011-11-14 18:10:46
            [year] => 2011
            [month] => 11
            [post_type] => post
        )

    [1110] => stdClass Object
        (
            [slug] => superbike-2
            [ID] => 12623
            [post_name] => c-domenicali-panigale
            [post_title] => C.Domenicali: "Panigale má dobrý základ."
            [post_author] => 2
            [post_date] => 2011-11-12 21:42:46
            [year] => 2011
            [month] => 11
            [post_type] => post
        )

    [1111] => stdClass Object
        (
            [slug] => ducati-desmosedici
            [ID] => 12592
            [post_name] => v-rossi-ted-musime-vyrazne-pokrocit
            [post_title] => V. Rossi: Teď musíme výrazně pokročit.
            [post_author] => 2
            [post_date] => 2011-11-11 12:46:45
            [year] => 2011
            [month] => 11
            [post_type] => post
        )

    [1112] => stdClass Object
        (
            [slug] => honda-2
            [ID] => 12581
            [post_name] => s-nakamoto-proti-rossimu-vsemi-prostredky
            [post_title] => S.Nakamoto: Proti Rossimu všemi prostředky
            [post_author] => 2
            [post_date] => 2011-11-10 23:30:45
            [year] => 2011
            [month] => 11
            [post_type] => post
        )

    [1113] => stdClass Object
        (
            [slug] => ducati-desmosedici
            [ID] => 12569
            [post_name] => preziosi-je-proti-jednotne-elektronice
            [post_title] => Preziosi je proti jednotné elektronice
            [post_author] => 2
            [post_date] => 2011-11-10 17:16:39
            [year] => 2011
            [month] => 11
            [post_type] => post
        )

    [1114] => stdClass Object
        (
            [slug] => rossi-novinky
            [ID] => 12553
            [post_name] => valentino-rossi-po-druhem-dni-testu
            [post_title] => Valentino Rossi po druhém dni testů
            [post_author] => 2
            [post_date] => 2011-11-09 20:57:10
            [year] => 2011
            [month] => 11
            [post_type] => post
        )

    [1115] => stdClass Object
        (
            [slug] => rossi-novinky
            [ID] => 12512
            [post_name] => testy-valencie-streda
            [post_title] => Testy Valencie - středa
            [post_author] => 2
            [post_date] => 2011-11-09 12:20:45
            [year] => 2011
            [month] => 11
            [post_type] => post
        )

    [1116] => stdClass Object
        (
            [slug] => rossi-novinky
            [ID] => 12479
            [post_name] => zklamany-nicky-ma-zlomene-zapesti
            [post_title] => Zklamaný Nicky má zlomené zápěstí.
            [post_author] => 2
            [post_date] => 2011-11-08 19:41:16
            [year] => 2011
            [month] => 11
            [post_type] => post
        )

    [1117] => stdClass Object
        (
            [slug] => rossi-novinky
            [ID] => 12358
            [post_name] => testy-valencie-revoluce-ducati
            [post_title] => Testy ve Valencii - revoluce u Ducati
            [post_author] => 2
            [post_date] => 2011-11-07 13:06:08
            [year] => 2011
            [month] => 11
            [post_type] => post
        )

    [1118] => stdClass Object
        (
            [slug] => motogp
            [ID] => 12140
            [post_name] => revoluce-v-motogp-alias-dorna-versus-msma
            [post_title] => Revoluce v MotoGP alias Dorna versus MSMA
            [post_author] => 2
            [post_date] => 2011-11-06 17:11:32
            [year] => 2011
            [month] => 11
            [post_type] => post
        )

    [1119] => stdClass Object
        (
            [slug] => rossi-novinky
            [ID] => 12289
            [post_name] => velka-cena-valencie
            [post_title] => Velká cena Valencie
            [post_author] => 2
            [post_date] => 2011-11-06 15:53:17
            [year] => 2011
            [month] => 11
            [post_type] => post
        )

    [1120] => stdClass Object
        (
            [slug] => rossi-novinky
            [ID] => 12051
            [post_name] => colin-edwards-hovori-o-osudovem-dni
            [post_title] => Colin Edwards hovoří o osudovém dni.
            [post_author] => 2
            [post_date] => 2011-11-01 19:45:52
            [year] => 2011
            [month] => 11
            [post_type] => post
        )

    [1121] => stdClass Object
        (
            [slug] => loris-capirossi
            [ID] => 12048
            [post_name] => loris-capirossi-pojede-naposledy
            [post_title] => Loris Capirossi pojede naposledy.
            [post_author] => 2
            [post_date] => 2011-11-01 17:43:45
            [year] => 2011
            [month] => 11
            [post_type] => post
        )

    [1122] => stdClass Object
        (
            [slug] => rossi-novinky
            [ID] => 12036
            [post_name] => aldo-drudi-citim-se-zrazeny
            [post_title] => Aldo Drudi: "Cítím se zrazený."
            [post_author] => 2
            [post_date] => 2011-11-01 09:13:34
            [year] => 2011
            [month] => 11
            [post_type] => post
        )

    [1123] => stdClass Object
        (
            [slug] => marco-simoncelli
            [ID] => 12033
            [post_name] => cestne-kolo-pro-marca-simoncelliho
            [post_title] => Čestné kolo pro Marca Simoncelliho
            [post_author] => 2
            [post_date] => 2011-10-30 23:23:09
            [year] => 2011
            [month] => 10
            [post_type] => post
        )

    [1124] => stdClass Object
        (
            [slug] => motogp
            [ID] => 11997
            [post_name] => testy-motogp-uz-nebudou-omezeny
            [post_title] => Testy MotoGP už nebudou omezeny
            [post_author] => 2
            [post_date] => 2011-10-29 10:45:40
            [year] => 2011
            [month] => 10
            [post_type] => post
        )

    [1125] => stdClass Object
        (
            [slug] => jorge-lorenzo
            [ID] => 11993
            [post_name] => j-lorenzo-stydim-se-za-sveho-otce
            [post_title] => J.Lorenzo: "Stydím se za svého otce."
            [post_author] => 2
            [post_date] => 2011-10-28 20:25:54
            [year] => 2011
            [month] => 10
            [post_type] => post
        )

    [1126] => stdClass Object
        (
            [slug] => colin-edwards
            [ID] => 11986
            [post_name] => colin-edwards-ve-valencii-nepojede
            [post_title] => Colin Edwards ve Valencii nepojede
            [post_author] => 2
            [post_date] => 2011-10-28 14:41:22
            [year] => 2011
            [month] => 10
            [post_type] => post
        )

    [1127] => stdClass Object
        (
            [slug] => marco-simoncelli
            [ID] => 11925
            [post_name] => sbohem-marco
            [post_title] => Sbohem Marco !
            [post_author] => 2
            [post_date] => 2011-10-27 11:38:47
            [year] => 2011
            [month] => 10
            [post_type] => post
        )

    [1128] => stdClass Object
        (
            [slug] => colin-edwards
            [ID] => 11907
            [post_name] => c-edwards-zavodnici-jsou-jina-krevni-skupina
            [post_title] => C.Edwards: "Závodníci jsou jiná krevní skupina." 
            [post_author] => 2
            [post_date] => 2011-10-26 14:12:46
            [year] => 2011
            [month] => 10
            [post_type] => post
        )

    [1129] => stdClass Object
        (
            [slug] => marco-simoncelli
            [ID] => 11890
            [post_name] => paolo-simoncelli-marco-byl-vyjmecna-osobnost
            [post_title] => Paolo Simoncelli: "Marco byl výjmečná osobnost."
            [post_author] => 2
            [post_date] => 2011-10-26 09:59:35
            [year] => 2011
            [month] => 10
            [post_type] => post
        )

    [1130] => stdClass Object
        (
            [slug] => marco-simoncelli
            [ID] => 11881
            [post_name] => kevin-schwantz-odpocivej-v-pokoji-ciccio
            [post_title] => Kevin Schwantz: "Odpočívej v pokoji Ciccio"
            [post_author] => 2
            [post_date] => 2011-10-25 21:29:29
            [year] => 2011
            [month] => 10
            [post_type] => post
        )

    [1131] => stdClass Object
        (
            [slug] => rossi-novinky
            [ID] => 11833
            [post_name] => valentino-rossi-nezvazuje-ukonceni-kariery
            [post_title] => Valentino Rossi nezvažuje ukončení kariéry
            [post_author] => 2
            [post_date] => 2011-10-24 14:11:54
            [year] => 2011
            [month] => 10
            [post_type] => post
        )

    [1132] => stdClass Object
        (
            [slug] => rossi-novinky
            [ID] => 11763
            [post_name] => velka-cena-malajsie-sepang
            [post_title] => Velká Cena Malajsie - Sepang
            [post_author] => 2
            [post_date] => 2011-10-23 10:26:44
            [year] => 2011
            [month] => 10
            [post_type] => post
        )

    [1133] => stdClass Object
        (
            [slug] => rossi-novinky
            [ID] => 11744
            [post_name] => valentino-rossi-rozhovor-ze-sepangu
            [post_title] => Valentino Rossi - rozhovor ze Sepangu
            [post_author] => 2
            [post_date] => 2011-10-22 21:09:11
            [year] => 2011
            [month] => 10
            [post_type] => post
        )

    [1134] => stdClass Object
        (
            [slug] => rossi-novinky
            [ID] => 11635
            [post_name] => j-burgess-stoner-byl-v-silverstone-skvely
            [post_title] => J.Burgess: "Stoner byl v Silverstone skvělý."
            [post_author] => 2
            [post_date] => 2011-10-19 13:32:48
            [year] => 2011
            [month] => 10
            [post_type] => post
        )

    [1135] => stdClass Object
        (
            [slug] => rossi-novinky
            [ID] => 11612
            [post_name] => rozhovor-s-mechaniky-valentina-rossiho
            [post_title] => Rozhovor s mechaniky Valentina Rossiho
            [post_author] => 2
            [post_date] => 2011-10-18 19:03:51
            [year] => 2011
            [month] => 10
            [post_type] => post
        )

    [1136] => stdClass Object
        (
            [slug] => superbike-2
            [ID] => 11571
            [post_name] => carlos-checa-zustava-u-ducati
            [post_title] => Carlos Checa zůstává u Ducati
            [post_author] => 2
            [post_date] => 2011-10-17 08:57:41
            [year] => 2011
            [month] => 10
            [post_type] => post
        )

    [1137] => stdClass Object
        (
            [slug] => ducati-desmosedici
            [ID] => 11525
            [post_name] => v-rossi-smula-je-ze-mame-problemy-ktere-nedokazeme-vyresit
            [post_title] => V.Rossi: "Smůla je, že máme problémy, které nedokážeme vyřešit."
            [post_author] => 2
            [post_date] => 2011-10-16 09:49:44
            [year] => 2011
            [month] => 10
            [post_type] => post
        )

    [1138] => stdClass Object
        (
            [slug] => rossi-novinky
            [ID] => 11509
            [post_name] => velka-cena-australie-phillip-island
            [post_title] => Velká Cena Austrálie - Phillip Island
            [post_author] => 2
            [post_date] => 2011-10-16 07:50:45
            [year] => 2011
            [month] => 10
            [post_type] => post
        )

    [1139] => stdClass Object
        (
            [slug] => ducati-desmosedici
            [ID] => 11487
            [post_name] => v-rossi-mozna-je-problem-tvar-motoru
            [post_title] => V. Rossi: "Možná je problém tvar motoru."
            [post_author] => 2
            [post_date] => 2011-10-15 13:08:47
            [year] => 2011
            [month] => 10
            [post_type] => post
        )

    [1140] => stdClass Object
        (
            [slug] => rossi-novinky
            [ID] => 11366
            [post_name] => doohan-veri-v-psychickou-prevahu-stonera
            [post_title] => Doohan věří v psychickou převahu Stonera
            [post_author] => 2
            [post_date] => 2011-10-11 14:16:10
            [year] => 2011
            [month] => 10
            [post_type] => post
        )

    [1141] => stdClass Object
        (
            [slug] => rossi-novinky
            [ID] => 11249
            [post_name] => nicky-hayden-test-jerez-gp12-rossi-zlomeny-prst
            [post_title] => N.Hayden bude testovat v Jerezu, Rossi má zlomený prst.
            [post_author] => 2
            [post_date] => 2011-10-05 17:05:34
            [year] => 2011
            [month] => 10
            [post_type] => post
        )

    [1142] => stdClass Object
        (
            [slug] => marco-simoncelli
            [ID] => 11223
            [post_name] => simoncelli-testoval-litrovou-hondu
            [post_title] => Simoncelli testoval litrovou Hondu
            [post_author] => 2
            [post_date] => 2011-10-04 09:58:14
            [year] => 2011
            [month] => 10
            [post_type] => post
        )

    [1143] => stdClass Object
        (
            [slug] => rossi-novinky
            [ID] => 11205
            [post_name] => mozna-na-tom-nejsme-tak-dobre-jak-to-vypada
            [post_title] => Možná na tom nejsme tak dobře, jak to vypadá...
            [post_author] => 2
            [post_date] => 2011-10-03 22:44:20
            [year] => 2011
            [month] => 10
            [post_type] => post
        )

    [1144] => stdClass Object
        (
            [slug] => rossi-novinky
            [ID] => 11167
            [post_name] => v-rossi-nemohl-jsem-padu-zabranit
            [post_title] => V. Rossi: "Nemohl jsem pádu zabránit." + video
            [post_author] => 2
            [post_date] => 2011-10-02 13:38:54
            [year] => 2011
            [month] => 10
            [post_type] => post
        )

    [1145] => stdClass Object
        (
            [slug] => superbike-2
            [ID] => 11163
            [post_name] => carlos-checa-je-na-ducati-mistrem-sveta-wsbk
            [post_title] => Carlos Checa je na Ducati mistrem světa WSBK
            [post_author] => 2
            [post_date] => 2011-10-02 13:07:28
            [year] => 2011
            [month] => 10
            [post_type] => post
        )

    [1146] => stdClass Object
        (
            [slug] => rossi-novinky
            [ID] => 11139
            [post_name] => velka-cena-japonska-motegi
            [post_title] => Velká Cena Japonska - Motegi
            [post_author] => 2
            [post_date] => 2011-10-02 08:57:41
            [year] => 2011
            [month] => 10
            [post_type] => post
        )

    [1147] => stdClass Object
        (
            [slug] => ducati-desmosedici
            [ID] => 10991
            [post_name] => novy-ram-ducati-az-po-sezone
            [post_title] => Nový rám Ducati až po sezóně
            [post_author] => 2
            [post_date] => 2011-09-26 15:21:50
            [year] => 2011
            [month] => 9
            [post_type] => post
        )

    [1148] => stdClass Object
        (
            [slug] => jorge-lorenzo
            [ID] => 10940
            [post_name] => j-lorenzo-souboje-s-valentinem-me-chybi
            [post_title] => J. Lorenzo: "Souboje s Valentinem mně chybí"
            [post_author] => 2
            [post_date] => 2011-09-24 15:51:07
            [year] => 2011
            [month] => 9
            [post_type] => post
        )

    [1149] => stdClass Object
        (
            [slug] => casey-stoner
            [ID] => 10895
            [post_name] => c-stoner-vim-ze-ho-to-boli
            [post_title] => C.Stoner: "Vím že ho to bolí."
            [post_author] => 2
            [post_date] => 2011-09-22 14:17:56
            [year] => 2011
            [month] => 9
            [post_type] => post
        )

    [1150] => stdClass Object
        (
            [slug] => rossi-novinky
            [ID] => 10888
            [post_name] => m-melandri-rossi-neni-v-pohode
            [post_title] => M.Melandri: "Rossi není v pohodě."
            [post_author] => 2
            [post_date] => 2011-09-22 12:32:20
            [year] => 2011
            [month] => 9
            [post_type] => post
        )

    [1151] => stdClass Object
        (
            [slug] => rozhovor
            [ID] => 10860
            [post_name] => alex-briggs-interview
            [post_title] => Alex Briggs - Interview
            [post_author] => 2
            [post_date] => 2011-09-21 21:09:27
            [year] => 2011
            [month] => 9
            [post_type] => post
        )

    [1152] => stdClass Object
        (
            [slug] => luca-marini
            [ID] => 10805
            [post_name] => luca-marini-ziskal-titul
            [post_title] => Luca Marini získal titul
            [post_author] => 2
            [post_date] => 2011-09-20 13:54:55
            [year] => 2011
            [month] => 9
            [post_type] => post
        )

    [1153] => stdClass Object
        (
            [slug] => rossi-novinky
            [ID] => 10782
            [post_name] => bridgestone-dali-jsme-jim-to-co-chteli
            [post_title] => Bridgestone: "Dali jsme jim to co chtěli."
            [post_author] => 2
            [post_date] => 2011-09-20 10:12:23
            [year] => 2011
            [month] => 9
            [post_type] => post
        )

    [1154] => stdClass Object
        (
            [slug] => rossi-novinky
            [ID] => 10778
            [post_name] => d-brivio-valentino-neni-robot
            [post_title] => D: Brivio: "Valentino není robot."
            [post_author] => 2
            [post_date] => 2011-09-19 20:08:01
            [year] => 2011
            [month] => 9
            [post_type] => post
        )

    [1155] => stdClass Object
        (
            [slug] => rossi-novinky
            [ID] => 10738
            [post_name] => v-rossi-nevyresili-jsme-skoro-nic
            [post_title] => V. Rossi: "Nevyřešili jsme skoro nic."
            [post_author] => 2
            [post_date] => 2011-09-18 20:26:32
            [year] => 2011
            [month] => 9
            [post_type] => post
        )

    [1156] => stdClass Object
        (
            [slug] => rossi-novinky
            [ID] => 10713
            [post_name] => velka-cena-aragonska
            [post_title] => Velká Cena Aragónska
            [post_author] => 2
            [post_date] => 2011-09-18 14:47:52
            [year] => 2011
            [month] => 9
            [post_type] => post
        )

    [1157] => stdClass Object
        (
            [slug] => rossi-novinky
            [ID] => 10686
            [post_name] => uccio-pro-valentina-je-to-zasadni-krok-kupredu
            [post_title] => Uccio: "Pro Valentina je to zásadní krok kupředu."
            [post_author] => 2
            [post_date] => 2011-09-17 23:16:13
            [year] => 2011
            [month] => 9
            [post_type] => post
        )

    [1158] => stdClass Object
        (
            [slug] => casey-stoner
            [ID] => 10635
            [post_name] => c-stoner-na-vsechno-jsem-musel-prijit-sam
            [post_title] => C. Stoner: "Na všechno jsem musel přijít sám"
            [post_author] => 2
            [post_date] => 2011-09-16 22:14:15
            [year] => 2011
            [month] => 9
            [post_type] => post
        )

    [1159] => stdClass Object
        (
            [slug] => rossi-novinky
            [ID] => 10630
            [post_name] => v-rossi-vybral-jsem-si-hlinikovy-ram
            [post_title] => V. Rossi: "Vybral jsem si hliníkový rám"
            [post_author] => 2
            [post_date] => 2011-09-16 19:56:08
            [year] => 2011
            [month] => 9
            [post_type] => post
        )

    [1160] => stdClass Object
        (
            [slug] => ducati-2
            [ID] => 10497
            [post_name] => j-toseland-tezke-casy-v-ducati
            [post_title] => J. Toseland: "V Ducati to byly těžké časy."
            [post_author] => 2
            [post_date] => 2011-09-14 12:08:45
            [year] => 2011
            [month] => 9
            [post_type] => post
        )

    [1161] => stdClass Object
        (
            [slug] => rossi-novinky
            [ID] => 10463
            [post_name] => f-preziosi-v-ducati-mame-svobodu-volby
            [post_title] => F.Preziosi: "V Ducati máme svobodu volby."
            [post_author] => 2
            [post_date] => 2011-09-12 20:59:57
            [year] => 2011
            [month] => 9
            [post_type] => post
        )

    [1162] => stdClass Object
        (
            [slug] => rossi-ducati-cz
            [ID] => 10424
            [post_name] => zabezpeceni-sekce-vzkazu
            [post_title] => Zabezpečení sekce vzkazů
            [post_author] => 2
            [post_date] => 2011-09-12 14:02:34
            [year] => 2011
            [month] => 9
            [post_type] => post
        )

    [1163] => stdClass Object
        (
            [slug] => rossi-novinky
            [ID] => 10346
            [post_name] => dostihne-rossi-agostiniho
            [post_title] => Dostihne Rossi Agostiniho ?
            [post_author] => 2
            [post_date] => 2011-09-12 12:14:31
            [year] => 2011
            [month] => 9
            [post_type] => post
        )

    [1164] => stdClass Object
        (
            [slug] => ducati-desmosedici
            [ID] => 10378
            [post_name] => desmosedici-s-trubkami-karbonem-a-hlinikem
            [post_title] => Desmosedici s trubkami, karbonem a hliníkem.
            [post_author] => 2
            [post_date] => 2011-09-09 22:37:41
            [year] => 2011
            [month] => 9
            [post_type] => post
        )

    [1165] => stdClass Object
        (
            [slug] => rossi-novinky
            [ID] => 10329
            [post_name] => testy-prototypu-na-rok-2012-mugello
            [post_title] => Testy prototypu na rok 2012 - Mugello
            [post_author] => 2
            [post_date] => 2011-09-07 08:21:45
            [year] => 2011
            [month] => 9
            [post_type] => post
        )

    [1166] => stdClass Object
        (
            [slug] => rossi-novinky
            [ID] => 10326
            [post_name] => davide-brivio-hodnoceni-misana
            [post_title] => Davide Brivio - hodnocení Misana
            [post_author] => 2
            [post_date] => 2011-09-07 07:00:10
            [year] => 2011
            [month] => 9
            [post_type] => post
        )

    [1167] => stdClass Object
        (
            [slug] => rossi-novinky
            [ID] => 10263
            [post_name] => v-rossi-unaveny-ale-spokojeny
            [post_title] => V.Rossi - unavený ale spokojený
            [post_author] => 2
            [post_date] => 2011-09-04 19:18:42
            [year] => 2011
            [month] => 9
            [post_type] => post
        )

    [1168] => stdClass Object
        (
            [slug] => rossi-novinky
            [ID] => 10236
            [post_name] => velka-cena-san-marina-misano
            [post_title] => Velká Cena San Marina - Misano
            [post_author] => 2
            [post_date] => 2011-09-04 14:55:32
            [year] => 2011
            [month] => 9
            [post_type] => post
        )

    [1169] => stdClass Object
        (
            [slug] => rossi-novinky
            [ID] => 10202
            [post_name] => bridgepoint-vlastni-dornu-i-infront
            [post_title] => Bridgepoint vlastní Dornu i Infront
            [post_author] => 2
            [post_date] => 2011-09-03 18:51:55
            [year] => 2011
            [month] => 9
            [post_type] => post
        )

    [1170] => stdClass Object
        (
            [slug] => rossi-novinky
            [ID] => 10162
            [post_name] => c-stoner-problemem-ducati-neni-karbon
            [post_title] => C. Stoner: "Problémem Ducati není karbon."
            [post_author] => 2
            [post_date] => 2011-09-03 09:28:22
            [year] => 2011
            [month] => 9
            [post_type] => post
        )

    [1171] => stdClass Object
        (
            [slug] => rossi-novinky
            [ID] => 10155
            [post_name] => v-rossi-je-to-porad-to-same
            [post_title] => V.Rossi: "Je to pořád to samé."
            [post_author] => 2
            [post_date] => 2011-09-02 19:56:51
            [year] => 2011
            [month] => 9
            [post_type] => post
        )

    [1172] => stdClass Object
        (
            [slug] => ducati-desmosedici
            [ID] => 10127
            [post_name] => f-preziosi-neocekavajte-revoluci-hned
            [post_title] => F.Preziosi: "Neočekávajte revoluci hned."
            [post_author] => 2
            [post_date] => 2011-09-01 21:39:52
            [year] => 2011
            [month] => 9
            [post_type] => post
        )

    [1173] => stdClass Object
        (
            [slug] => casey-stoner
            [ID] => 10051
            [post_name] => zahrivani-pneumatik-bridgestone
            [post_title] => Zahřívání pneumatik Bridgestone
            [post_author] => 2
            [post_date] => 2011-08-31 12:16:37
            [year] => 2011
            [month] => 8
            [post_type] => post
        )

    [1174] => stdClass Object
        (
            [slug] => ducati-desmosedici
            [ID] => 10039
            [post_name] => c-stoner-ke-karbonovemu-ramu-ducati
            [post_title] => C.Stoner ke karbonovému rámu Ducati
            [post_author] => 2
            [post_date] => 2011-08-30 19:33:05
            [year] => 2011
            [month] => 8
            [post_type] => post
        )

    [1175] => stdClass Object
        (
            [slug] => rossi-novinky
            [ID] => 9996
            [post_name] => v-rossi-myslel-jsem-ze-to-vzdam
            [post_title] => V.Rossi: "Myslel jsem, že to vzdám..."
            [post_author] => 2
            [post_date] => 2011-08-30 18:05:31
            [year] => 2011
            [month] => 8
            [post_type] => post
        )

    [1176] => stdClass Object
        (
            [slug] => rossi-novinky
            [ID] => 10024
            [post_name] => a-briggs-po-indianapolis
            [post_title] => A.Briggs po Indianapolis
            [post_author] => 2
            [post_date] => 2011-08-30 17:59:31
            [year] => 2011
            [month] => 8
            [post_type] => post
        )

    [1177] => stdClass Object
        (
            [slug] => rossi-novinky
            [ID] => 10004
            [post_name] => kam-se-ubira-vyvoj-v-ducati
            [post_title] => Kam se ubírá vývoj v Ducati ?
            [post_author] => 2
            [post_date] => 2011-08-29 19:33:20
            [year] => 2011
            [month] => 8
            [post_type] => post
        )

    [1178] => stdClass Object
        (
            [slug] => rossi-novinky
            [ID] => 9951
            [post_name] => velka-cena-red-bull-indianopolis
            [post_title] => Velká Cena Red Bull - Indianapolis
            [post_author] => 2
            [post_date] => 2011-08-28 20:57:20
            [year] => 2011
            [month] => 8
            [post_type] => post
        )

    [1179] => stdClass Object
        (
            [slug] => luca-marini
            [ID] => 9957
            [post_name] => luca-marini-znovu-vyhral
            [post_title] => Luca Marini znovu vyhrál
            [post_author] => 2
            [post_date] => 2011-08-28 17:47:22
            [year] => 2011
            [month] => 8
            [post_type] => post
        )

    [1180] => stdClass Object
        (
            [slug] => bridgestone-2
            [ID] => 9897
            [post_name] => bridgestone-opet-pod-palbou-kritiky
            [post_title] => Bridgestone opět pod palbou kritiky
            [post_author] => 2
            [post_date] => 2011-08-27 16:32:42
            [year] => 2011
            [month] => 8
            [post_type] => post
        )

    [1181] => stdClass Object
        (
            [slug] => rossi-novinky
            [ID] => 9818
            [post_name] => g-guareschi-chyba-neni-ve-valentinovi
            [post_title] => G.Guareschi: "Chyba není ve Valentinovi."
            [post_author] => 2
            [post_date] => 2011-08-25 16:51:56
            [year] => 2011
            [month] => 8
            [post_type] => post
        )

    [1182] => stdClass Object
        (
            [slug] => rossi-novinky
            [ID] => 9733
            [post_name] => v-rossi-stoneruv-styl-je-vyjimecny
            [post_title] => V.Rossi: "Stonerův styl je výjimečný."
            [post_author] => 2
            [post_date] => 2011-08-22 19:00:37
            [year] => 2011
            [month] => 8
            [post_type] => post
        )

    [1183] => stdClass Object
        (
            [slug] => casey-stoner
            [ID] => 9712
            [post_name] => shuei-nakamoto-rozhovor-z-brna
            [post_title] => Shuei Nakamoto - rozhovor z Brna
            [post_author] => 2
            [post_date] => 2011-08-22 13:47:26
            [year] => 2011
            [month] => 8
            [post_type] => post
        )

    [1184] => stdClass Object
        (
            [slug] => ducati-desmosedici
            [ID] => 9681
            [post_name] => j-burgess-z-ducati-se-nemusi-stat-yamaha
            [post_title] => J.Burgess: "Z Ducati se nemusí stát Yamaha."
            [post_author] => 2
            [post_date] => 2011-08-19 14:13:46
            [year] => 2011
            [month] => 8
            [post_type] => post
        )

    [1185] => stdClass Object
        (
            [slug] => ducati-desmosedici
            [ID] => 9654
            [post_name] => ducati-pracuje-na-hlinikovem-ramu
            [post_title] => Ducati pracuje na hliníkovém rámu
            [post_author] => 2
            [post_date] => 2011-08-18 18:40:33
            [year] => 2011
            [month] => 8
            [post_type] => post
        )

    [1186] => stdClass Object
        (
            [slug] => ducati-desmosedici
            [ID] => 9604
            [post_name] => filippo-preziosi-otazky-a-odpovedi
            [post_title] => Filippo Preziosi: Otázky a odpovědi
            [post_author] => 2
            [post_date] => 2011-08-17 09:28:27
            [year] => 2011
            [month] => 8
            [post_type] => post
        )

    [1187] => stdClass Object
        (
            [slug] => rossi-novinky
            [ID] => 9570
            [post_name] => f-preziosi-shodneme-se-na-100-procent
            [post_title] => F.Preziosi: "Shodneme se na 100 procent."
            [post_author] => 2
            [post_date] => 2011-08-15 18:45:59
            [year] => 2011
            [month] => 8
            [post_type] => post
        )

    [1188] => stdClass Object
        (
            [slug] => rossi-novinky
            [ID] => 9456
            [post_name] => velka-cena-cr-v-brne
            [post_title] => Velká Cena ČR v Brně
            [post_author] => 2
            [post_date] => 2011-08-14 14:53:24
            [year] => 2011
            [month] => 8
            [post_type] => post
        )

    [1189] => stdClass Object
        (
            [slug] => rossi-novinky
            [ID] => 9424
            [post_name] => ma-rubikova-kostka-ducati-reseni
            [post_title] => Má rubikova kostka Ducati řešení ?
            [post_author] => 2
            [post_date] => 2011-08-13 19:52:04
            [year] => 2011
            [month] => 8
            [post_type] => post
        )

    [1190] => stdClass Object
        (
            [slug] => rossi-ducati-cz
            [ID] => 9387
            [post_name] => patek-v-brne-myma-ocima
            [post_title] => Pátek v Brně mýma očima
            [post_author] => 2
            [post_date] => 2011-08-13 10:47:28
            [year] => 2011
            [month] => 8
            [post_type] => post
        )

    [1191] => stdClass Object
        (
            [slug] => rossi-novinky
            [ID] => 9348
            [post_name] => k-schwatz-valentino-si-to-chtel-vymenit
            [post_title] => K.Schwatz: "Valentino si to chtěl vyměnit".
            [post_author] => 2
            [post_date] => 2011-08-10 19:01:49
            [year] => 2011
            [month] => 8
            [post_type] => post
        )

    [1192] => stdClass Object
        (
            [slug] => ducati-desmosedici
            [ID] => 9276
            [post_name] => rossi-a-ducati-kde-je-problem
            [post_title] => Rossi a Ducati - kde je problém ?
            [post_author] => 2
            [post_date] => 2011-08-09 17:39:22
            [year] => 2011
            [month] => 8
            [post_type] => post
        )

    [1193] => stdClass Object
        (
            [slug] => ducati-desmosedici
            [ID] => 9267
            [post_name] => ram-ducati-desmosedici-gp
            [post_title] => Rám Ducati Desmosedici GP
            [post_author] => 2
            [post_date] => 2011-08-06 19:33:40
            [year] => 2011
            [month] => 8
            [post_type] => post
        )

    [1194] => stdClass Object
        (
            [slug] => ducati-desmosedici
            [ID] => 9238
            [post_name] => j-burgess-ducati-podcenila-konkurenci
            [post_title] => J.Burgess: "Ducati podcenila konkurenci"
            [post_author] => 2
            [post_date] => 2011-08-05 12:34:08
            [year] => 2011
            [month] => 8
            [post_type] => post
        )

    [1195] => stdClass Object
        (
            [slug] => ducati-desmosedici
            [ID] => 9137
            [post_name] => f-preziosi-o-deltaboxu-neuvazujeme
            [post_title] => F.Preziosi: "O deltaboxu neuvažujeme."
            [post_author] => 2
            [post_date] => 2011-08-01 14:58:18
            [year] => 2011
            [month] => 8
            [post_type] => post
        )

    [1196] => stdClass Object
        (
            [slug] => rossi-novinky
            [ID] => 9028
            [post_name] => kdo-je-karel-abraham
            [post_title] => Kdo je Karel Abraham ?
            [post_author] => 2
            [post_date] => 2011-07-29 12:28:53
            [year] => 2011
            [month] => 7
            [post_type] => post
        )

    [1197] => stdClass Object
        (
            [slug] => rossi-novinky
            [ID] => 8981
            [post_name] => v-guareschi-bridgestony-jsou-jin
            [post_title] => V. Guareschi: "Bridgestony jsou letos jiné."
            [post_author] => 2
            [post_date] => 2011-07-27 17:00:55
            [year] => 2011
            [month] => 7
            [post_type] => post
        )

    [1198] => stdClass Object
        (
            [slug] => ducati-desmosedici
            [ID] => 8972
            [post_name] => alex-briggs-k-trubkovemu-ramu-ducati
            [post_title] => Alex Briggs k trubkovému rámu Ducati
            [post_author] => 2
            [post_date] => 2011-07-27 09:15:41
            [year] => 2011
            [month] => 7
            [post_type] => post
        )

    [1199] => stdClass Object
        (
            [slug] => alex-briggs
            [ID] => 8926
            [post_name] => alex-briggs-po-zavodu-v-laguna-seca
            [post_title] => Alex Briggs po závodu v Laguna Seca
            [post_author] => 2
            [post_date] => 2011-07-25 20:04:54
            [year] => 2011
            [month] => 7
            [post_type] => post
        )

    [1200] => stdClass Object
        (
            [slug] => rossi-novinky
            [ID] => 8867
            [post_name] => velka-cena-usa-v-laguna-seca
            [post_title] => Velká Cena USA v Laguna Seca
            [post_author] => 2
            [post_date] => 2011-07-24 23:55:33
            [year] => 2011
            [month] => 7
            [post_type] => post
        )

    [1201] => stdClass Object
        (
            [slug] => rossi-novinky
            [ID] => 8499
            [post_name] => v-guareschi-potrebujeme-nutne-nove-gumy
            [post_title] => V.Guareschi: "Potřebujeme nutně nové gumy."
            [post_author] => 2
            [post_date] => 2011-07-22 07:55:53
            [year] => 2011
            [month] => 7
            [post_type] => post
        )

    [1202] => stdClass Object
        (
            [slug] => motogp
            [ID] => 8476
            [post_name] => motogp-a-wsk-v-rukou-jednoho-vlastnika
            [post_title] => MotoGP a WSBK v rukou jednoho vlastníka.
            [post_author] => 2
            [post_date] => 2011-07-21 17:28:48
            [year] => 2011
            [month] => 7
            [post_type] => post
        )

    [1203] => stdClass Object
        (
            [slug] => rossi-novinky
            [ID] => 8468
            [post_name] => k-schwanz-tolik-trpelivosti-jako-rossi-bych-nemel
            [post_title] => K.Schwanz: "Tolik trpělivosti jako Rossi bych neměl."
            [post_author] => 2
            [post_date] => 2011-07-21 13:31:16
            [year] => 2011
            [month] => 7
            [post_type] => post
        )

    [1204] => stdClass Object
        (
            [slug] => luca-marini
            [ID] => 8382
            [post_name] => bratr-valentina-vyhral-potreti-v-rade
            [post_title] => Bratr Valentina vyhrál potřetí v řadě
            [post_author] => 2
            [post_date] => 2011-07-18 14:30:36
            [year] => 2011
            [month] => 7
            [post_type] => post
        )

    [1205] => stdClass Object
        (
            [slug] => rossi-novinky
            [ID] => 8369
            [post_name] => w-rainey-a-k-schwantz-pred-laguna-seca
            [post_title] => W.Rainey a K.Schwantz před Laguna Seca
            [post_author] => 2
            [post_date] => 2011-07-18 14:00:24
            [year] => 2011
            [month] => 7
            [post_type] => post
        )

    [1206] => stdClass Object
        (
            [slug] => rossi-novinky
            [ID] => 8330
            [post_name] => valentino-rossi-nikdy-jsem-ducati-o-zmenu-nezadal
            [post_title] => Valentino Rossi: "Ducati jsem o změnu rámu nežádal."
            [post_author] => 2
            [post_date] => 2011-07-17 19:12:54
            [year] => 2011
            [month] => 7
            [post_type] => post
        )

    [1207] => stdClass Object
        (
            [slug] => motogp
            [ID] => 8321
            [post_name] => bridgestone-doda-vice-pneumatik
            [post_title] => Bridgestone dodá víc pneumatik
            [post_author] => 2
            [post_date] => 2011-07-17 17:32:55
            [year] => 2011
            [month] => 7
            [post_type] => post
        )

    [1208] => stdClass Object
        (
            [slug] => rossi-novinky
            [ID] => 8151
            [post_name] => velka-cena-nemecka-sachsenring
            [post_title] => Velká Cena Německa - Sachsenring
            [post_author] => 2
            [post_date] => 2011-07-17 13:51:53
            [year] => 2011
            [month] => 7
            [post_type] => post
        )

    [1209] => stdClass Object
        (
            [slug] => rossi-novinky
            [ID] => 8289
            [post_name] => alex-briggs-ze-sachsenringu
            [post_title] => Alex Briggs ze Sachsenringu
            [post_author] => 2
            [post_date] => 2011-07-17 08:25:18
            [year] => 2011
            [month] => 7
            [post_type] => post
        )

    [1210] => stdClass Object
        (
            [slug] => rossi-novinky
            [ID] => 8287
            [post_name] => je-ve-hre-moznost-ukonceni-smlouvy
            [post_title] => Je ve hře možnost ukončení smlouvy ?
            [post_author] => 2
            [post_date] => 2011-07-16 22:54:45
            [year] => 2011
            [month] => 7
            [post_type] => post
        )

    [1211] => stdClass Object
        (
            [slug] => rossi-novinky
            [ID] => 8274
            [post_name] => v-guareschi-musime-se-rozhodnout-co-dal
            [post_title] => V.Guareschi: "Musíme se rozhodnout co dál"
            [post_author] => 2
            [post_date] => 2011-07-16 16:01:28
            [year] => 2011
            [month] => 7
            [post_type] => post
        )

    [1212] => stdClass Object
        (
            [slug] => rossi-novinky
            [ID] => 8230
            [post_name] => patecni-festival-padu-na-sachsenringu
            [post_title] => Páteční festival pádů na Sachsenringu
            [post_author] => 2
            [post_date] => 2011-07-15 17:29:07
            [year] => 2011
            [month] => 7
            [post_type] => post
        )

    [1213] => stdClass Object
        (
            [slug] => rossi-novinky
            [ID] => 8110
            [post_name] => ducati-monster-696-pro-matku-valentina
            [post_title] => Ducati Monster 696 pro matku Valentina
            [post_author] => 2
            [post_date] => 2011-07-11 14:21:56
            [year] => 2011
            [month] => 7
            [post_type] => post
        )

    [1214] => stdClass Object
        (
            [slug] => rossi-novinky
            [ID] => 8069
            [post_name] => cicognani-drive-nebo-pozdeji-se-vysledek-dostavi
            [post_title] => A. Cicognani: "Dříve nebo později se výsledek dostaví."
            [post_author] => 2
            [post_date] => 2011-07-09 09:08:08
            [year] => 2011
            [month] => 7
            [post_type] => post
        )

    [1215] => stdClass Object
        (
            [slug] => ducati-desmosedici
            [ID] => 8061
            [post_name] => andrea-iannone-v-sedle-ducati-gp11
            [post_title] => Andrea Iannone v sedle Ducati GP11
            [post_author] => 2
            [post_date] => 2011-07-08 20:02:45
            [year] => 2011
            [month] => 7
            [post_type] => post
        )

    [1216] => stdClass Object
        (
            [slug] => casey-stoner
            [ID] => 8043
            [post_name] => casey-stoner-je-to-o-tuhosti-ramu
            [post_title] => Casey Stoner: "Je to všechno o tuhosti rámu."
            [post_author] => 2
            [post_date] => 2011-07-08 13:47:28
            [year] => 2011
            [month] => 7
            [post_type] => post
        )

    [1217] => stdClass Object
        (
            [slug] => ducati-desmosedici
            [ID] => 8037
            [post_name] => guareschi-po-testech-v-mugellu
            [post_title] => Guareschi po testech v Mugellu
            [post_author] => 2
            [post_date] => 2011-07-08 07:00:23
            [year] => 2011
            [month] => 7
            [post_type] => post
        )

    [1218] => stdClass Object
        (
            [slug] => karel-abraham
            [ID] => 7959
            [post_name] => testy-v-mugellu-abraham-vs-stoner
            [post_title] => Testy v Mugellu - "Abraham vs Stoner"
            [post_author] => 2
            [post_date] => 2011-07-04 12:42:07
            [year] => 2011
            [month] => 7
            [post_type] => post
        )

    [1219] => stdClass Object
        (
            [slug] => rossi-novinky
            [ID] => 7955
            [post_name] => alex-briggs-my-se-tam-dopracujeme
            [post_title] => Alex Briggs: "My se tam dopracujeme!"
            [post_author] => 2
            [post_date] => 2011-07-04 10:15:27
            [year] => 2011
            [month] => 7
            [post_type] => post
        )

    [1220] => stdClass Object
        (
            [slug] => rossi-novinky
            [ID] => 7940
            [post_name] => v-rossi-ducati-dela-jen-male-krucky-vpred
            [post_title] => V.Rossi: "Ducati dělá jen malé krůčky vpřed."
            [post_author] => 2
            [post_date] => 2011-07-03 18:28:50
            [year] => 2011
            [month] => 7
            [post_type] => post
        )

    [1221] => stdClass Object
        (
            [slug] => rossi-novinky
            [ID] => 7913
            [post_name] => velka-cena-italie-v-mugellu
            [post_title] => Velká Cena Itálie v Mugellu
            [post_author] => 2
            [post_date] => 2011-07-03 13:56:09
            [year] => 2011
            [month] => 7
            [post_type] => post
        )

    [1222] => stdClass Object
        (
            [slug] => rossi-novinky
            [ID] => 7897
            [post_name] => valentino-rossi-problemy-jsou-stale-stejne
            [post_title] => Valentino Rossi: "Problémy jsou stále stejné.."
            [post_author] => 2
            [post_date] => 2011-07-02 18:52:30
            [year] => 2011
            [month] => 7
            [post_type] => post
        )

    [1223] => stdClass Object
        (
            [slug] => casey-stoner
            [ID] => 7800
            [post_name] => c-stoner-valentino-je-v-ducati-diky-me
            [post_title] => C.Stoner: "Valentino je v Ducati díky mě."
            [post_author] => 2
            [post_date] => 2011-06-30 18:02:11
            [year] => 2011
            [month] => 6
            [post_type] => post
        )

    [1224] => stdClass Object
        (
            [slug] => rossi-novinky
            [ID] => 7720
            [post_name] => v-rossi-budeme-pracovat-jeste-tvrdeji
            [post_title] => V. Rossi: "Budeme pracovat ještě tvrději!"
            [post_author] => 2
            [post_date] => 2011-06-25 18:47:08
            [year] => 2011
            [month] => 6
            [post_type] => post
        )

    [1225] => stdClass Object
        (
            [slug] => rossi-novinky
            [ID] => 7690
            [post_name] => velka-cena-holandska-dutch-tt-assen
            [post_title] => Velká Cena Holandska Dutch TT Assen
            [post_author] => 2
            [post_date] => 2011-06-25 14:50:22
            [year] => 2011
            [month] => 6
            [post_type] => post
        )

    [1226] => stdClass Object
        (
            [slug] => rossi-novinky
            [ID] => 7681
            [post_name] => valentino-rossi-novy-motocykl-stare-problemy
            [post_title] => Valentino Rossi: "Nový motocykl, staré problémy."
            [post_author] => 2
            [post_date] => 2011-06-24 18:27:50
            [year] => 2011
            [month] => 6
            [post_type] => post
        )

    [1227] => stdClass Object
        (
            [slug] => ducati-desmosedici
            [ID] => 7642
            [post_name] => rozdil-mezi-gp12-a-gp11-1-je-minimalni
            [post_title] => Rozdíl mezi GP12 a GP11.1 je minimální
            [post_author] => 2
            [post_date] => 2011-06-24 07:52:21
            [year] => 2011
            [month] => 6
            [post_type] => post
        )

    [1228] => stdClass Object
        (
            [slug] => rossi-novinky
            [ID] => 7632
            [post_name] => valentino-rossi-prvni-dojem-je-velmi-dobry
            [post_title] => Valentino Rossi: "První dojem je velmi dobrý."
            [post_author] => 2
            [post_date] => 2011-06-23 18:50:20
            [year] => 2011
            [month] => 6
            [post_type] => post
        )

    [1229] => stdClass Object
        (
            [slug] => rossi-novinky
            [ID] => 7628
            [post_name] => loris-capirossi-doufa-ve-zlepseni-ducati
            [post_title] => Loris Capirossi doufá ve zlepšení Ducati
            [post_author] => 2
            [post_date] => 2011-06-23 10:00:26
            [year] => 2011
            [month] => 6
            [post_type] => post
        )

    [1230] => stdClass Object
        (
            [slug] => ducati-desmosedici
            [ID] => 7581
            [post_name] => v-rossi-gp12-je-muj-motocykl
            [post_title] => Valentino Rossi: "GP12 je můj motocykl."
            [post_author] => 2
            [post_date] => 2011-06-22 18:16:40
            [year] => 2011
            [month] => 6
            [post_type] => post
        )

    [1231] => stdClass Object
        (
            [slug] => rossi-novinky
            [ID] => 7556
            [post_name] => dosavadni-testy-ducati-a-hondy-v-ramci-reguli
            [post_title] => Dosavadní testy Ducati a Hondy v rámci regulí.
            [post_author] => 2
            [post_date] => 2011-06-21 17:43:31
            [year] => 2011
            [month] => 6
            [post_type] => post
        )

    [1232] => stdClass Object
        (
            [slug] => ducati-desmosedici
            [ID] => 7542
            [post_name] => ducati-gp11-1-bude-zbrusu-nova
            [post_title] => Ducati GP11.1 bude zbrusu nová.
            [post_author] => 2
            [post_date] => 2011-06-21 07:28:17
            [year] => 2011
            [month] => 6
            [post_type] => post
        )

    [1233] => stdClass Object
        (
            [slug] => rossi-novinky
            [ID] => 7535
            [post_name] => v-tavullii-vyroste-rossiland
            [post_title] => V Tavullii vyroste "Rossiland" 
            [post_author] => 2
            [post_date] => 2011-06-20 18:20:38
            [year] => 2011
            [month] => 6
            [post_type] => post
        )

    [1234] => stdClass Object
        (
            [slug] => rossi-novinky
            [ID] => 7524
            [post_name] => nova-ducati-gp11-1-pro-valentina-uz-v-assenu
            [post_title] => Nová Ducati GP11.1 pro Valentina už v Assenu
            [post_author] => 2
            [post_date] => 2011-06-20 15:38:51
            [year] => 2011
            [month] => 6
            [post_type] => post
        )

    [1235] => stdClass Object
        (
            [slug] => rossi-novinky
            [ID] => 7517
            [post_name] => edwards-ducati-problem-vjezd-zatacek
            [post_title] => Colin Edwards: "Problémem Ducati je vjezd do zatáček."
            [post_author] => 2
            [post_date] => 2011-06-18 11:08:41
            [year] => 2011
            [month] => 6
            [post_type] => post
        )

    [1236] => stdClass Object
        (
            [slug] => rossi-novinky
            [ID] => 7460
            [post_name] => valentino-rossi-a-nicky-hayden-interview
            [post_title] => Valentino Rossi a Nicky Hayden interview
            [post_author] => 2
            [post_date] => 2011-06-15 12:33:51
            [year] => 2011
            [month] => 6
            [post_type] => post
        )

    [1237] => stdClass Object
        (
            [slug] => nicky-hayden
            [ID] => 7438
            [post_name] => nicky-hayden-stoner-tyto-konflikty-vyhledava
            [post_title] => Nicky Hayden: "Stoner tyto konflikty vyhledává." 
            [post_author] => 2
            [post_date] => 2011-06-15 07:03:44
            [year] => 2011
            [month] => 6
            [post_type] => post
        )

    [1238] => stdClass Object
        (
            [slug] => rossi-novinky
            [ID] => 7415
            [post_name] => 27-casey-stoner
            [post_title] => # 27 - Casey Stoner 
            [post_author] => 2
            [post_date] => 2011-06-14 09:47:46
            [year] => 2011
            [month] => 6
            [post_type] => post
        )

    [1239] => stdClass Object
        (
            [slug] => rossi-novinky
            [ID] => 7378
            [post_name] => neznicitelny-colin-edwards
            [post_title] => Nezničitelný Colin Edwards
            [post_author] => 2
            [post_date] => 2011-06-13 09:48:15
            [year] => 2011
            [month] => 6
            [post_type] => post
        )

    [1240] => stdClass Object
        (
            [slug] => rossi-novinky
            [ID] => 7371
            [post_name] => valentino-rossi-vina-na-nas-lezi-rovnym-dilem
            [post_title] => Valentino Rossi: "Vina na nás leží rovným dílem."
            [post_author] => 2
            [post_date] => 2011-06-12 18:32:01
            [year] => 2011
            [month] => 6
            [post_type] => post
        )

    [1241] => stdClass Object
        (
            [slug] => rossi-novinky
            [ID] => 7344
            [post_name] => velka-cena-anglie-silverstone
            [post_title] => Velká Cena Anglie - Silverstone
            [post_author] => 2
            [post_date] => 2011-06-12 14:01:24
            [year] => 2011
            [month] => 6
            [post_type] => post
        )

    [1242] => stdClass Object
        (
            [slug] => ducati-2
            [ID] => 7171
            [post_name] => f-preziosi-zlepsujeme-se-krok-za-krokem
            [post_title] => F.Preziosi: "Zlepšujeme se krok za krokem."
            [post_author] => 2
            [post_date] => 2011-06-05 19:57:55
            [year] => 2011
            [month] => 6
            [post_type] => post
        )

    [1243] => stdClass Object
        (
            [slug] => rossi-novinky
            [ID] => 7124
            [post_name] => velka-cena-katalanska
            [post_title] => Velká Cena Katalánska
            [post_author] => 2
            [post_date] => 2011-06-05 13:50:39
            [year] => 2011
            [month] => 6
            [post_type] => post
        )

    [1244] => stdClass Object
        (
            [slug] => rossi-novinky
            [ID] => 6904
            [post_name] => rozhovor-s-ucciem
            [post_title] => Rozhovor s Ucciem 
            [post_author] => 2
            [post_date] => 2011-05-27 16:35:28
            [year] => 2011
            [month] => 5
            [post_type] => post
        )

    [1245] => stdClass Object
        (
            [slug] => casey-stoner
            [ID] => 6848
            [post_name] => casey-stoner-jako-nikdy-predtim
            [post_title] => Casey Stoner jako nikdy předtím...
            [post_author] => 2
            [post_date] => 2011-05-26 10:30:06
            [year] => 2011
            [month] => 5
            [post_type] => post
        )

    [1246] => stdClass Object
        (
            [slug] => motogp
            [ID] => 6827
            [post_name] => anatomie-predjizdeni-cast-3
            [post_title] => Anatomie předjíždění část 3.
            [post_author] => 2
            [post_date] => 2011-05-25 17:47:19
            [year] => 2011
            [month] => 5
            [post_type] => post
        )

    [1247] => stdClass Object
        (
            [slug] => rossi-novinky
            [ID] => 6795
            [post_name] => ducati-vyzaduje-pevny-stisk
            [post_title] => Ducati vyžaduje pevný stisk.
            [post_author] => 2
            [post_date] => 2011-05-25 09:01:29
            [year] => 2011
            [month] => 5
            [post_type] => post
        )

    [1248] => stdClass Object
        (
            [slug] => ducati-2
            [ID] => 6779
            [post_name] => v-guareschi-gp12-bude-vyhovovat-vice-jezdcum
            [post_title] => V.Guareschi: "GP12 bude vyhovovat více jezdcům."
            [post_author] => 2
            [post_date] => 2011-05-24 12:25:54
            [year] => 2011
            [month] => 5
            [post_type] => post
        )

    [1249] => stdClass Object
        (
            [slug] => rossi-novinky
            [ID] => 6776
            [post_name] => j-lorenzo-jestli-rossi-chybi-yamaze-tak-ducati-chybi-stoner
            [post_title] => J.Lorenzo: "Jestli Rossi chybí Yamaze, tak Ducati chybí Stoner."
            [post_author] => 2
            [post_date] => 2011-05-24 08:57:39
            [year] => 2011
            [month] => 5
            [post_type] => post
        )

    [1250] => stdClass Object
        (
            [slug] => rossi-novinky
            [ID] => 6756
            [post_name] => anatomie-predjizdeni-cast-2
            [post_title] => Anatomie předjíždění část 2.
            [post_author] => 2
            [post_date] => 2011-05-23 19:45:14
            [year] => 2011
            [month] => 5
            [post_type] => post
        )

    [1251] => stdClass Object
        (
            [slug] => rossi-novinky
            [ID] => 6702
            [post_name] => anatomie-predjizdeni-cast-1
            [post_title] => Anatomie předjíždění část 1.
            [post_author] => 2
            [post_date] => 2011-05-22 13:22:21
            [year] => 2011
            [month] => 5
            [post_type] => post
        )

    [1252] => stdClass Object
        (
            [slug] => ducati-2
            [ID] => 6648
            [post_name] => j-burgess-ducati-analyzovala-uspechy
            [post_title] => J. Burgess: "Ducati analyzovala jen úspěchy"
            [post_author] => 2
            [post_date] => 2011-05-20 10:03:55
            [year] => 2011
            [month] => 5
            [post_type] => post
        )

    [1253] => stdClass Object
        (
            [slug] => rossi-novinky
            [ID] => 6605
            [post_name] => k-schwantz-dlouho-jsem-rossiho-nevidel-se-tak-radovat
            [post_title] => K.Schwantz: "Dlouho jsem Rossiho neviděl se tak radovat."
            [post_author] => 2
            [post_date] => 2011-05-19 09:01:58
            [year] => 2011
            [month] => 5
            [post_type] => post
        )

    [1254] => stdClass Object
        (
            [slug] => rossi
            [ID] => 6580
            [post_name] => colin-edwards-vzdy-mluvi-na-rovinu
            [post_title] => Colin Edwards vždy mluví na rovinu
            [post_author] => 2
            [post_date] => 2011-05-18 17:29:56
            [year] => 2011
            [month] => 5
            [post_type] => post
        )

    [1255] => stdClass Object
        (
            [slug] => rossi-novinky
            [ID] => 6546
            [post_name] => le-mans-2011-podium
            [post_title] => Le Mans 2011 - podium
            [post_author] => 2
            [post_date] => 2011-05-17 16:41:19
            [year] => 2011
            [month] => 5
            [post_type] => post
        )

    [1256] => stdClass Object
        (
            [slug] => rossi-novinky
            [ID] => 6537
            [post_name] => v-rossi-jel-jsem-na-ducati-jako-nikdy-predtim
            [post_title] => V. Rossi: "Jel jsem na Ducati jako nikdy předtím."
            [post_author] => 2
            [post_date] => 2011-05-17 12:25:11
            [year] => 2011
            [month] => 5
            [post_type] => post
        )

    [1257] => stdClass Object
        (
            [slug] => rossi
            [ID] => 6530
            [post_name] => dani-pedrosa-je-to-jako-nocni-mura
            [post_title] => Dani Pedrosa: "Je to jako noční můra!"
            [post_author] => 2
            [post_date] => 2011-05-17 09:56:10
            [year] => 2011
            [month] => 5
            [post_type] => post
        )

    [1258] => stdClass Object
        (
            [slug] => ducati-3
            [ID] => 6477
            [post_name] => marco-simoncelli-vs-dani-pedrosa-v-le-mans
            [post_title] => Marco Simoncelli vs Dani Pedrosa v Le Mans.
            [post_author] => 2
            [post_date] => 2011-05-16 07:59:06
            [year] => 2011
            [month] => 5
            [post_type] => post
        )

    [1259] => stdClass Object
        (
            [slug] => rossi-novinky
            [ID] => 6407
            [post_name] => velka-cena-francie-le-mans
            [post_title] => Velká Cena Francie - Le Mans
            [post_author] => 2
            [post_date] => 2011-05-15 09:11:56
            [year] => 2011
            [month] => 5
            [post_type] => post
        )

    [1260] => stdClass Object
        (
            [slug] => rossi-novinky
            [ID] => 6415
            [post_name] => bezpecnostni-komise-le-mans-rossi-obavy
            [post_title] => V.Rossi: "Mám o osud tohoto sportu obavy!"
            [post_author] => 2
            [post_date] => 2011-05-14 22:27:04
            [year] => 2011
            [month] => 5
            [post_type] => post
        )

    [1261] => stdClass Object
        (
            [slug] => rossi-novinky
            [ID] => 6340
            [post_name] => schyluje-se-v-paddocku-motogp-k-valce
            [post_title] => Schyluje se v paddocku MotoGP k válce ?
            [post_author] => 2
            [post_date] => 2011-05-13 17:11:42
            [year] => 2011
            [month] => 5
            [post_type] => post
        )

    [1262] => stdClass Object
        (
            [slug] => motogp
            [ID] => 6287
            [post_name] => silnicni-zavody-jsou-kontaktni-sport
            [post_title] => Silniční závody jsou kontaktní sport
            [post_author] => 2
            [post_date] => 2011-05-12 17:00:41
            [year] => 2011
            [month] => 5
            [post_type] => post
        )

    [1263] => stdClass Object
        (
            [slug] => karel-abraham
            [ID] => 6277
            [post_name] => karel-abraham-motogp-a-akademicky-titul
            [post_title] => Karel Abraham - MotoGP a akademický titul
            [post_author] => 2
            [post_date] => 2011-05-12 07:31:19
            [year] => 2011
            [month] => 5
            [post_type] => post
        )

    [1264] => stdClass Object
        (
            [slug] => rossi-novinky
            [ID] => 6242
            [post_name] => rozhovor-s-vittorianem-guareschim-2
            [post_title] => Rozhovor s Vittorianem Guareschim
            [post_author] => 2
            [post_date] => 2011-05-10 09:53:02
            [year] => 2011
            [month] => 5
            [post_type] => post
        )

    [1265] => stdClass Object
        (
            [slug] => rossi-novinky
            [ID] => 6221
            [post_name] => bratr-valentina-opet-vyhral-zavod-rozhovor
            [post_title] => Bratr Valentina opět vyhrál závod + Rozhovor
            [post_author] => 2
            [post_date] => 2011-05-09 20:49:19
            [year] => 2011
            [month] => 5
            [post_type] => post
        )

    [1266] => stdClass Object
        (
            [slug] => ducati-desmosedici
            [ID] => 6092
            [post_name] => f-preziosi-vsechny-nove-veci-navrhoval-valentino
            [post_title] => F. Preziosi: Všechny nové věci navrhoval Valentino.
            [post_author] => 2
            [post_date] => 2011-05-04 20:58:17
            [year] => 2011
            [month] => 5
            [post_type] => post
        )

    [1267] => stdClass Object
        (
            [slug] => ducati-desmosedici
            [ID] => 6053
            [post_name] => nastaveni-nove-ducati-bude-snazsi
            [post_title] => Nastavení nové Ducati bude snazší.
            [post_author] => 2
            [post_date] => 2011-05-04 15:00:09
            [year] => 2011
            [month] => 5
            [post_type] => post
        )

    [1268] => stdClass Object
        (
            [slug] => rossi-novinky
            [ID] => 6031
            [post_name] => v-rossi-mel-jsem-strach-ze-se-nikdy-neuzdravim
            [post_title] => V.Rossi: "Měl jsem strach, že se nikdy neuzdravím."
            [post_author] => 2
            [post_date] => 2011-05-04 06:59:23
            [year] => 2011
            [month] => 5
            [post_type] => post
        )

    [1269] => stdClass Object
        (
            [slug] => rossi-novinky
            [ID] => 5881
            [post_name] => velka-cena-portugalska-estoril
            [post_title] => Velká cena Portugalska - ESTORIL
            [post_author] => 2
            [post_date] => 2011-05-01 13:52:38
            [year] => 2011
            [month] => 5
            [post_type] => post
        )

    [1270] => stdClass Object
        (
            [slug] => rossi-novinky
            [ID] => 5587
            [post_name] => stoner-podporuje-pedrosu-v-debate-o-vaze-jezdcu
            [post_title] => Stoner podporuje Pedrosu v debatě o váze jezdců.
            [post_author] => 2
            [post_date] => 2011-04-22 11:43:38
            [year] => 2011
            [month] => 4
            [post_type] => post
        )

    [1271] => stdClass Object
        (
            [slug] => ducati-desmosedici
            [ID] => 5580
            [post_name] => v-rossi-znovu-rika-ze-ducati-nebude-klon-yamahy
            [post_title] => V. Rossi znovu říká, že Ducati nebude klon Yamahy
            [post_author] => 2
            [post_date] => 2011-04-22 08:25:50
            [year] => 2011
            [month] => 4
            [post_type] => post
        )

    [1272] => stdClass Object
        (
            [slug] => rossi-novinky
            [ID] => 5543
            [post_name] => video-s-jeremy-burgessem
            [post_title] => Rozhovor s Jeremy Burgessem
            [post_author] => 2
            [post_date] => 2011-04-21 11:38:50
            [year] => 2011
            [month] => 4
            [post_type] => post
        )

    [1273] => stdClass Object
        (
            [slug] => rossi-novinky
            [ID] => 5559
            [post_name] => valentino-rossi-je-nejlepe-placenym-italskym-sportovcem
            [post_title] => Valentino Rossi je nejlépe placeným italským sportovcem
            [post_author] => 2
            [post_date] => 2011-04-21 08:00:41
            [year] => 2011
            [month] => 4
            [post_type] => post
        )

    [1274] => stdClass Object
        (
            [slug] => rossi-novinky
            [ID] => 5499
            [post_name] => max-biaggi-rossi-je-legenda
            [post_title] => Max Biaggi - "Rossi je legendární jezdec."
            [post_author] => 2
            [post_date] => 2011-04-20 13:04:01
            [year] => 2011
            [month] => 4
            [post_type] => post
        )

    [1275] => stdClass Object
        (
            [slug] => rossi
            [ID] => 5416
            [post_name] => nova-spojka-hondy-schvalena-fim
            [post_title] => Nová spojka/převodovka Hondy schválena FIM
            [post_author] => 2
            [post_date] => 2011-04-16 09:07:47
            [year] => 2011
            [month] => 4
            [post_type] => post
        )

    [1276] => stdClass Object
        (
            [slug] => rossi-novinky
            [ID] => 5381
            [post_name] => valentino-rossi-rameno-rok-pote
            [post_title] => Valentino Rossi & rameno - Rok poté...
            [post_author] => 2
            [post_date] => 2011-04-15 12:59:15
            [year] => 2011
            [month] => 4
            [post_type] => post
        )

    [1277] => stdClass Object
        (
            [slug] => motogp
            [ID] => 5326
            [post_name] => motogp-v-austinu-potvrzeno
            [post_title] => MotoGP v Austinu potvrzeno.
            [post_author] => 2
            [post_date] => 2011-04-13 11:29:00
            [year] => 2011
            [month] => 4
            [post_type] => post
        )

    [1278] => stdClass Object
        (
            [slug] => rossi-novinky
            [ID] => 5332
            [post_name] => pneumatiky-bridgestone-na-mokry-zavod
            [post_title] => Pneumatiky Bridgestone na mokrý závod.
            [post_author] => 2
            [post_date] => 2011-04-13 09:30:46
            [year] => 2011
            [month] => 4
            [post_type] => post
        )

    [1279] => stdClass Object
        (
            [slug] => rossi-novinky
            [ID] => 5319
            [post_name] => m-furusawa-kdyby-rossi-zustal-tak-bych-zustal-take
            [post_title] => M.Furusawa: "Kdyby Rossi zůstal, tak bych zůstal také."
            [post_author] => 2
            [post_date] => 2011-04-12 20:45:51
            [year] => 2011
            [month] => 4
            [post_type] => post
        )

    [1280] => stdClass Object
        (
            [slug] => retro
            [ID] => 5306
            [post_name] => retro-max-biaggi-vs-valentinonicky
            [post_title] => RETRO: Max Biaggi vs Valentino&Nicky
            [post_author] => 2
            [post_date] => 2011-04-12 15:45:44
            [year] => 2011
            [month] => 4
            [post_type] => post
        )

    [1281] => stdClass Object
        (
            [slug] => motogp
            [ID] => 5299
            [post_name] => c-cecchinelli-o-budoucnosti-motogp
            [post_title] => C. Cecchinelli o budoucnosti MotoGP
            [post_author] => 2
            [post_date] => 2011-04-12 08:09:59
            [year] => 2011
            [month] => 4
            [post_type] => post
        )

    [1282] => stdClass Object
        (
            [slug] => rossi-novinky
            [ID] => 5278
            [post_name] => bratr-valentina-rossiho-vyhral-prvni-zavod
            [post_title] => Bratr Valentina Rossiho vyhrál první závod
            [post_author] => 2
            [post_date] => 2011-04-11 09:03:13
            [year] => 2011
            [month] => 4
            [post_type] => post
        )

    [1283] => stdClass Object
        (
            [slug] => rossi-novinky
            [ID] => 5268
            [post_name] => sete-gibernau-rossimu-jsem-dluzen
            [post_title] => Sete Gibernau - "Rossimu jsem dlužen."
            [post_author] => 2
            [post_date] => 2011-04-11 06:55:21
            [year] => 2011
            [month] => 4
            [post_type] => post
        )

    [1284] => stdClass Object
        (
            [slug] => ducati-desmosedici
            [ID] => 5206
            [post_name] => ducati-desmosedici-gp12-poprve-na-draze
            [post_title] => Ducati Desmosedici GP12 poprvé na dráze.
            [post_author] => 2
            [post_date] => 2011-04-08 12:12:35
            [year] => 2011
            [month] => 4
            [post_type] => post
        )

    [1285] => stdClass Object
        (
            [slug] => rossi-novinky
            [ID] => 5202
            [post_name] => jake-je-pracovat-pro-rossiho
            [post_title] => Jaké to je pracovat pro Rossiho.
            [post_author] => 2
            [post_date] => 2011-04-08 11:17:59
            [year] => 2011
            [month] => 4
            [post_type] => post
        )

    [1286] => stdClass Object
        (
            [slug] => rossi-novinky
            [ID] => 5147
            [post_name] => casey-stoner-o-padu-v-jerezu
            [post_title] => Casey Stoner o pádu v Jerezu.
            [post_author] => 2
            [post_date] => 2011-04-05 09:00:26
            [year] => 2011
            [month] => 4
            [post_type] => post
        )

    [1287] => stdClass Object
        (
            [slug] => rossi-novinky
            [ID] => 5041
            [post_name] => velka-cena-spanelska-v-jerezu
            [post_title] => Velká cena Španělska v Jerezu
            [post_author] => 2
            [post_date] => 2011-04-03 10:35:37
            [year] => 2011
            [month] => 4
            [post_type] => post
        )

    [1288] => stdClass Object
        (
            [slug] => rossi-novinky
            [ID] => 4941
            [post_name] => alex-briggs-o-praci-v-tymu-motogp
            [post_title] => Alex Briggs o práci v týmu MotoGP
            [post_author] => 2
            [post_date] => 2011-03-30 13:53:15
            [year] => 2011
            [month] => 3
            [post_type] => post
        )

    [1289] => stdClass Object
        (
            [slug] => rossi-novinky
            [ID] => 4844
            [post_name] => jeremy-burgess-nemam-zadne-obavy
            [post_title] => Jeremy Burgess: "Nemám žádné obavy."
            [post_author] => 2
            [post_date] => 2011-03-24 22:16:52
            [year] => 2011
            [month] => 3
            [post_type] => post
        )

    [1290] => stdClass Object
        (
            [slug] => rossi-novinky
            [ID] => 4817
            [post_name] => f-preziosi-na-ducati-budou-male-i-radikalni-zmeny
            [post_title] => F. Preziosi: "Na Ducati budou malé i radikální změny."
            [post_author] => 2
            [post_date] => 2011-03-23 22:55:39
            [year] => 2011
            [month] => 3
            [post_type] => post
        )

    [1291] => stdClass Object
        (
            [slug] => rossi-novinky
            [ID] => 4784
            [post_name] => c-stoner-ducati-nemuze-prijit-s-necim-novym-rychle
            [post_title] => C.Stoner: "Ducati nemůže přijít s něčím novým rychle."
            [post_author] => 2
            [post_date] => 2011-03-22 22:27:35
            [year] => 2011
            [month] => 3
            [post_type] => post
        )

    [1292] => stdClass Object
        (
            [slug] => rossi-novinky
            [ID] => 4677
            [post_name] => velka-cena-motogp-katar
            [post_title] => Velká cena MotoGP Kataru
            [post_author] => 2
            [post_date] => 2011-03-20 22:05:15
            [year] => 2011
            [month] => 3
            [post_type] => post
        )

    [1293] => stdClass Object
        (
            [slug] => rossi-novinky
            [ID] => 4230
            [post_name] => n-hayden-nemuzu-tu-motorku-donutit-zatacet
            [post_title] => N.Hayden: "Nemůžu tu motorku donutit zatáčet."
            [post_author] => 2
            [post_date] => 2011-03-11 19:22:18
            [year] => 2011
            [month] => 3
            [post_type] => post
        )

    [1294] => stdClass Object
        (
            [slug] => rossi-novinky
            [ID] => 4165
            [post_name] => valentino-rossi-show-channel5
            [post_title] => Valentino Rossi ze všech úhlů na Channel 5
            [post_author] => 2
            [post_date] => 2011-03-10 14:28:11
            [year] => 2011
            [month] => 3
            [post_type] => post
        )

    [1295] => stdClass Object
        (
            [slug] => rossi-novinky
            [ID] => 4130
            [post_name] => uccio-valentino-bude-jezdit-superbiky
            [post_title] => Uccio - "Valentino Rossi bude jezdit superbiky."
            [post_author] => 2
            [post_date] => 2011-03-09 09:51:45
            [year] => 2011
            [month] => 3
            [post_type] => post
        )

    [1296] => stdClass Object
        (
            [slug] => ben-spies
            [ID] => 4121
            [post_name] => yamaha-bude-bez-rossiho-jednotnejsi
            [post_title] => Yamaha bude bez Rossiho jednotnější.
            [post_author] => 2
            [post_date] => 2011-03-08 18:23:39
            [year] => 2011
            [month] => 3
            [post_type] => post
        )

    [1297] => stdClass Object
        (
            [slug] => rossi-novinky
            [ID] => 4110
            [post_name] => c-stoner-vratili-jsme-se-ke-dva-roky-stare-elektronice
            [post_title] => C.Stoner: "Vrátili jsme se ke dva roky staré elektronice."
            [post_author] => 2
            [post_date] => 2011-03-08 07:00:03
            [year] => 2011
            [month] => 3
            [post_type] => post
        )

    [1298] => stdClass Object
        (
            [slug] => rossi-novinky
            [ID] => 3962
            [post_name] => aldo-drudi-dvorni-designer-valentina-rossiho
            [post_title] => Aldo Drudi - dvorní designer Valentina Rossiho
            [post_author] => 2
            [post_date] => 2011-03-01 18:48:43
            [year] => 2011
            [month] => 3
            [post_type] => post
        )

    [1299] => stdClass Object
        (
            [slug] => rossi-novinky
            [ID] => 3958
            [post_name] => f-prezisosi-vsichni-pracuji-pro-rossiho
            [post_title] => F.Preziosi - "Všichni pracují pro Rossiho."
            [post_author] => 2
            [post_date] => 2011-02-25 23:57:21
            [year] => 2011
            [month] => 2
            [post_type] => post
        )

    [1300] => stdClass Object
        (
            [slug] => rossi-novinky
            [ID] => 3795
            [post_name] => rozhovor-s-vittorianem-guareschim
            [post_title] => Sepang - rozhovor s Vittorianem Guareschim
            [post_author] => 2
            [post_date] => 2011-02-23 11:18:23
            [year] => 2011
            [month] => 2
            [post_type] => post
        )

    [1301] => stdClass Object
        (
            [slug] => rossi-novinky
            [ID] => 3700
            [post_name] => video-rozhovor-s-valentinem-rossim
            [post_title] => Video - rozhovor s Valentinem Rossim
            [post_author] => 2
            [post_date] => 2011-02-21 11:56:01
            [year] => 2011
            [month] => 2
            [post_type] => post
        )

    [1302] => stdClass Object
        (
            [slug] => rossi-novinky
            [ID] => 3618
            [post_name] => j-burgess-to-nejhorsi-uz-je-za-nami
            [post_title] => J. Burgess - To nejhorší už je za námi !
            [post_author] => 2
            [post_date] => 2011-02-19 12:19:42
            [year] => 2011
            [month] => 2
            [post_type] => post
        )

    [1303] => stdClass Object
        (
            [slug] => rossi-novinky
            [ID] => 3597
            [post_name] => rozhovor-s-matkou-valentina-rossiho
            [post_title] => Rozhovor s matkou Valentina Rossiho - Stefanii Palma
            [post_author] => 2
            [post_date] => 2011-02-18 21:42:21
            [year] => 2011
            [month] => 2
            [post_type] => post
        )

    [1304] => stdClass Object
        (
            [slug] => rossi-novinky
            [ID] => 3548
            [post_name] => rozhovor-s-nicky-haydenem
            [post_title] => Rozhovor s Nicky Haydenem
            [post_author] => 2
            [post_date] => 2011-02-17 10:12:31
            [year] => 2011
            [month] => 2
            [post_type] => post
        )

    [1305] => stdClass Object
        (
            [slug] => rossi
            [ID] => 3472
            [post_name] => cecchinelli-novy-muz-dorny
            [post_title] => C.Cecchinelli - nový muž ve vedení Dorny
            [post_author] => 2
            [post_date] => 2011-02-15 12:42:53
            [year] => 2011
            [month] => 2
            [post_type] => post
        )

    [1306] => stdClass Object
        (
            [slug] => rossi-novinky
            [ID] => 3411
            [post_name] => c-stoner-neda-se-to-porovnat
            [post_title] => C.Stoner: Nedá se to vůbec porovnávat...!
            [post_author] => 2
            [post_date] => 2011-02-11 13:49:19
            [year] => 2011
            [month] => 2
            [post_type] => post
        )

    [1307] => stdClass Object
        (
            [slug] => rossi-novinky
            [ID] => 3209
            [post_name] => masao-furusawa-interview
            [post_title] => Masao Furusawa - interview
            [post_author] => 2
            [post_date] => 2011-02-09 16:22:51
            [year] => 2011
            [month] => 2
            [post_type] => post
        )

    [1308] => stdClass Object
        (
            [slug] => rossi-novinky
            [ID] => 3200
            [post_name] => ducati-chteli-jsme-u-nas-stonera-udrzet
            [post_title] => Ducati: "Chtěli jsme u nás Stonera udržet!"
            [post_author] => 2
            [post_date] => 2011-02-08 18:53:48
            [year] => 2011
            [month] => 2
            [post_type] => post
        )

    [1309] => stdClass Object
        (
            [slug] => rossi-novinky
            [ID] => 3136
            [post_name] => laureus-za-navrat-roku-pro-valentina-rossiho
            [post_title] => Laureus za "Návrat roku" pro Valentina Rossiho
            [post_author] => 2
            [post_date] => 2011-02-07 22:21:25
            [year] => 2011
            [month] => 2
            [post_type] => post
        )

    [1310] => stdClass Object
        (
            [slug] => ducati-desmosedici
            [ID] => 3081
            [post_name] => c-stoner-je-to-tolik-jine-stale-me-to-prekvapuje
            [post_title] => C.Stoner - "Je to tolik jiné! Stále mě to překvapuje..!"
            [post_author] => 2
            [post_date] => 2011-02-07 14:40:53
            [year] => 2011
            [month] => 2
            [post_type] => post
        )

    [1311] => stdClass Object
        (
            [slug] => ducati-2
            [ID] => 2592
            [post_name] => jeremy-burgess-bude-to-tvrdy-boj
            [post_title] => Jeremy Burgess - "Bude to tvrdý boj !"
            [post_author] => 2
            [post_date] => 2011-01-31 17:12:57
            [year] => 2011
            [month] => 1
            [post_type] => post
        )

    [1312] => stdClass Object
        (
            [slug] => ducati-2
            [ID] => 2324
            [post_name] => rossi-testuje-v-misanu-superbike
            [post_title] => Rossi testoval v Misanu superbike Ducati 1198
            [post_author] => 2
            [post_date] => 2011-01-26 13:44:28
            [year] => 2011
            [month] => 1
            [post_type] => post
        )

    [1313] => stdClass Object
        (
            [slug] => ducati-desmosedici
            [ID] => 2289
            [post_name] => h-barbera-prichod-rossiho-je-pozitivni
            [post_title] => H. Barbera: "Příchod Rossiho je pozitivní."
            [post_author] => 2
            [post_date] => 2011-01-25 18:59:01
            [year] => 2011
            [month] => 1
            [post_type] => post
        )

    [1314] => stdClass Object
        (
            [slug] => rossi-novinky
            [ID] => 2066
            [post_name] => lorenzo-ja-stoner-jsme-nejrychlejsi
            [post_title] => Lorenzo: "Já a Stoner jsme teď nejrychlejší.. !"
            [post_author] => 2
            [post_date] => 2011-01-21 19:36:11
            [year] => 2011
            [month] => 1
            [post_type] => post
        )

    [1315] => stdClass Object
        (
            [slug] => ducati-desmosedici
            [ID] => 1524
            [post_name] => wrooom-tiskova-konfrerence-valentina-rossiho
            [post_title] => Wrooom - tisková konfrerence Valentina Rossiho
            [post_author] => 2
            [post_date] => 2011-01-13 16:16:10
            [year] => 2011
            [month] => 1
            [post_type] => post
        )

    [1316] => stdClass Object
        (
            [slug] => ducati-desmosedici
            [ID] => 1639
            [post_name] => ducati-je-proti-omezeni-elektroniky
            [post_title] => Ducati je proti omezení elektroniky
            [post_author] => 2
            [post_date] => 2011-01-13 13:21:49
            [year] => 2011
            [month] => 1
            [post_type] => post
        )

    [1317] => stdClass Object
        (
            [slug] => ducati-desmosedici
            [ID] => 1568
            [post_name] => dalsim-novym-sponzorem-ducati-je-acer
            [post_title] => Dalším novým sponzorem Ducati je ACER
            [post_author] => 2
            [post_date] => 2011-01-12 14:15:33
            [year] => 2011
            [month] => 1
            [post_type] => post
        )

    [1318] => stdClass Object
        (
            [slug] => ducati-desmosedici
            [ID] => 1556
            [post_name] => wrooom-desmosedici-gp11-a-filipo-preziosi
            [post_title] => Wrooom - Desmosedici GP11 a Filipo Preziosi
            [post_author] => 2
            [post_date] => 2011-01-12 10:46:51
            [year] => 2011
            [month] => 1
            [post_type] => post
        )

    [1319] => stdClass Object
        (
            [slug] => ducati-desmosedici
            [ID] => 1550
            [post_name] => nicky-hayden-wrooom
            [post_title] => Nicky Hayden - Wrooom - otázky a odpovědi
            [post_author] => 2
            [post_date] => 2011-01-12 08:03:13
            [year] => 2011
            [month] => 1
            [post_type] => post
        )

    [1320] => stdClass Object
        (
            [slug] => ducati-desmosedici
            [ID] => 1416
            [post_name] => teorie-a-praxe-motoru-screamer-a-big-bang
            [post_title] => Teorie a praxe motorů Screamer a Big Bang
            [post_author] => 2
            [post_date] => 2011-01-08 14:58:31
            [year] => 2011
            [month] => 1
            [post_type] => post
        )

    [1321] => stdClass Object
        (
            [slug] => ducati-desmosedici
            [ID] => 1394
            [post_name] => interview-s-jerymy-burgessem
            [post_title] => Rozhovor s Jeremy Burgessem
            [post_author] => 2
            [post_date] => 2011-01-07 17:54:30
            [year] => 2011
            [month] => 1
            [post_type] => post
        )

    [1322] => stdClass Object
        (
            [slug] => ducati-desmosedici
            [ID] => 1303
            [post_name] => screamer-nebo-bigbang
            [post_title] => Nicky Hayden - Screamer nebo Big bang ?
            [post_author] => 2
            [post_date] => 2011-01-04 15:16:45
            [year] => 2011
            [month] => 1
            [post_type] => post
        )

    [1323] => stdClass Object
        (
            [slug] => rossi-novinky
            [ID] => 1282
            [post_name] => v-r-posledni-zapis-do-deniku-yamaha
            [post_title] => V.R. - poslední zápis do deníku Yamaha
            [post_author] => 2
            [post_date] => 2011-01-04 09:34:23
            [year] => 2011
            [month] => 1
            [post_type] => post
        )

    [1324] => stdClass Object
        (
            [slug] => rossi-novinky
            [ID] => 1183
            [post_name] => co-vse-s-rossim-odchazi-od-yamahy
            [post_title] => Co vše s Rossim odchází od Yamahy ?
            [post_author] => 2
            [post_date] => 2010-12-30 18:44:05
            [year] => 2010
            [month] => 12
            [post_type] => post
        )

    [1325] => stdClass Object
        (
            [slug] => rossi-novinky
            [ID] => 1150
            [post_name] => skeptici-a-optimisti
            [post_title] => Rossiho šance - skeptici vs optimisti 
            [post_author] => 2
            [post_date] => 2010-12-30 13:23:49
            [year] => 2010
            [month] => 12
            [post_type] => post
        )

    [1326] => stdClass Object
        (
            [slug] => rossi-novinky
            [ID] => 1077
            [post_name] => lorenzo-vek-limit-rossiho
            [post_title] => Lorenzo: "Rossiho věk limituje"
            [post_author] => 2
            [post_date] => 2010-12-26 19:00:52
            [year] => 2010
            [month] => 12
            [post_type] => post
        )

    [1327] => stdClass Object
        (
            [slug] => ducati-desmosedici
            [ID] => 931
            [post_name] => stoner-s-elektronikou-je-to-bezpecnejsi
            [post_title] => Stoner: S elektronikou je to bezpečnější..!
            [post_author] => 2
            [post_date] => 2010-12-21 17:39:16
            [year] => 2010
            [month] => 12
            [post_type] => post
        )

    [1328] => stdClass Object
        (
            [slug] => rossi-novinky
            [ID] => 926
            [post_name] => jarvis-o-skvele-sezone-2010
            [post_title] => Jarvis o skvělé sezóně 2010
            [post_author] => 2
            [post_date] => 2010-12-21 17:00:21
            [year] => 2010
            [month] => 12
            [post_type] => post
        )

    [1329] => stdClass Object
        (
            [slug] => rossi-novinky
            [ID] => 796
            [post_name] => v-r-otazky-a-odpovedi
            [post_title] => Valentino Rossi - otázky a odpovědi
            [post_author] => 2
            [post_date] => 2010-12-14 12:12:34
            [year] => 2010
            [month] => 12
            [post_type] => post
        )

    [1330] => stdClass Object
        (
            [slug] => ducati-2
            [ID] => 715
            [post_name] => jeremy-burgess-o-prechodu-k-ducati
            [post_title] => Jeremy Burgess o přechodu k Ducati 
            [post_author] => 2
            [post_date] => 2010-12-11 16:41:10
            [year] => 2010
            [month] => 12
            [post_type] => post
        )

    [1331] => stdClass Object
        (
            [slug] => rossi-novinky
            [ID] => 654
            [post_name] => rrx-exclusive-valentino-rossi-interview
            [post_title] => RRX Exclusive: Valentino Rossi Interview
            [post_author] => 2
            [post_date] => 2010-12-09 13:12:03
            [year] => 2010
            [month] => 12
            [post_type] => post
        )

    [1332] => stdClass Object
        (
            [slug] => ducati-desmosedici
            [ID] => 417
            [post_name] => filippo-a-valentino
            [post_title] => Preziosi - rozhovor pro MotoSprint
            [post_author] => 2
            [post_date] => 2010-11-29 20:24:24
            [year] => 2010
            [month] => 11
            [post_type] => post
        )

    [1333] => stdClass Object
        (
            [slug] => ducati-desmosedici
            [ID] => 371
            [post_name] => plany-preziosiho-po-testech-ve-valencii
            [post_title] => Preziosi po testech ve Valencii
            [post_author] => 2
            [post_date] => 2010-11-25 16:37:28
            [year] => 2010
            [month] => 11
            [post_type] => post
        )

    [1334] => stdClass Object
        (
            [slug] => ducati-desmosedici
            [ID] => 139
            [post_name] => cervena-se-stava-kralovskou-barvou
            [post_title] => Červená se stává královskou barvou
            [post_author] => 2
            [post_date] => 2010-11-25 11:37:19
            [year] => 2010
            [month] => 11
            [post_type] => post
        )

    [1335] => stdClass Object
        (
            [slug] => rossi-novinky
            [ID] => 123
            [post_name] => burgess-neni-nutna-panika-nad-valentinovymi-casy-v-testech
            [post_title] => Burgess: Není nutná panika...
            [post_author] => 2
            [post_date] => 2010-11-24 20:55:55
            [year] => 2010
            [month] => 11
            [post_type] => post
        )

    [1336] => stdClass Object
        (
            [slug] => ducati-desmosedici
            [ID] => 92
            [post_name] => valentino-rossipoprve-na-ducati
            [post_title] => Valentino Rossi poprvé na Ducati
            [post_author] => 2
            [post_date] => 2010-11-24 16:57:09
            [year] => 2010
            [month] => 11
            [post_type] => post
        )

    [1337] => stdClass Object
        (
            [slug] => rossi-novinky
            [ID] => 283
            [post_name] => rossi-je-po-operaci-ramene
            [post_title] => Rossi je po operaci ramene
            [post_author] => 2
            [post_date] => 2010-11-15 15:13:21
            [year] => 2010
            [month] => 11
            [post_type] => post
        )

)

TELEGRAF – KRÁTKÉ ZPRÁVY ZE SVĚTA MOTOGP
► Dorna podepsala smlouvu na pořádání závodu MotoGP od roku 2019 na novém finském okruhu KymiRing Specifikaci okruhu a animaci si můžete prohlédnout ve videu ZDE
►DANILO PETRUCCI podepsal novou roční smlouvu v jeho dosavadním týmu Pramac Racing, kde bude mít od Ducati tovární podporu.
► Franco Morbidelli podepsal dvouletou smlouvu pro kategorii MotoGP do EG 0,0 Marc VDS, kde bude mít k dispozici jednu z Hond buďto po Jacku Millerovi, nebo pravděpodobně po Tito Rabbatovi a tovární podporu.
►CAL CRUTCHLOW podepsal novou dvouletou smlouvu s HRC Honda pro působení jeho dosavadním týmu LCR, kde bude mít od Hondy tovární podporu.
Vzhledem k tomu, že jsou videa z MotoGP z důvodu ochrany autorských práv jedním z nejvíce střežených médií, nelze očekávat, že se zde budou běžně nacházet nová videa z aktuálního průběhu sezóny. V poslední době však organizátor šampionátu přeci jen poněkud polevil a tak se například na oficiálním webu YAMAHAMOTOGP.COM objevují čerstvá videa z testů apod. Jak to bude probíhat během sezóny, to ještě uvidíme.
Všem doporučuji si závody pro vlastní potřebu nahrávat.
Další možností je sledování kanálů na YouTube: YamahaMotoGP, MotoGP a na kanálu FIM. Najdete tam většinou aktuální videa z posledních závodů, testů apod. Ke stažení a přehrání se dají nalézt závody ZDE.
Ti co to považují za nezbytné si mohou koupit sezóní pas na oficiální stránce MotoGP anebo sledovat jejich kanál na YouTube
Případně – pokud najdete někde nějaké zajímavé video ve slušné kvalitě, jež nějaký uživatel na jakýkoliv server nahrál, můžete mě poslat odkaz a video sem poté mohu umístit. Anebo můžete nějaké video nahrát na naši fanouškovskou stránku na Facebooku .
Díky za pochopení. 🙂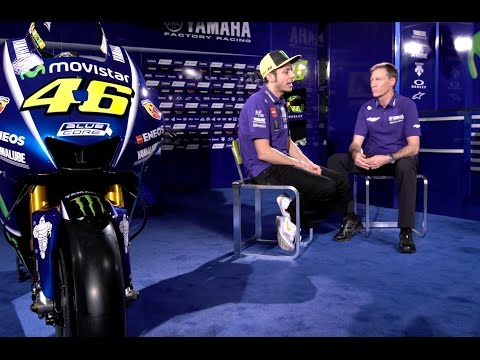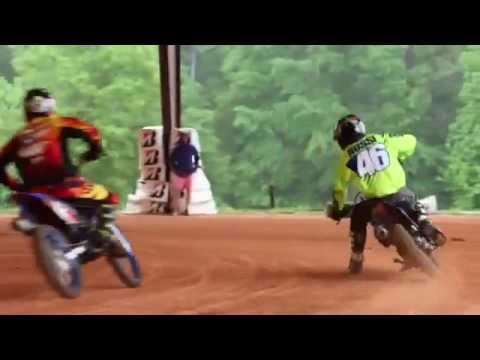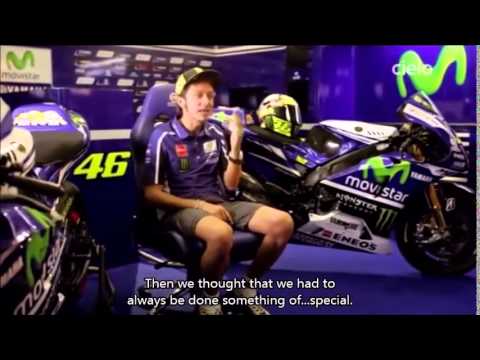 MISANO 2014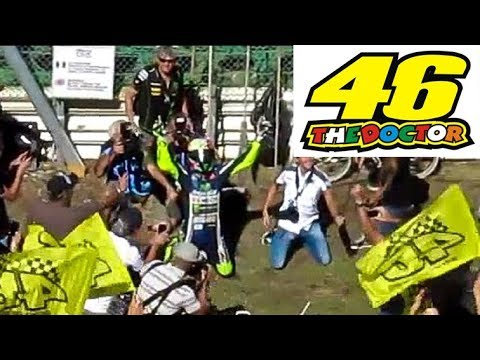 Otázky a odpovědi z Katalánska 2014 (V.Rossi od času 26:00)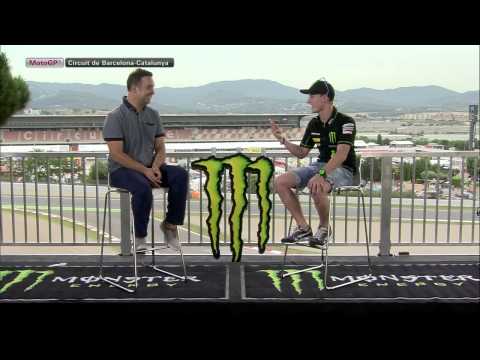 Valentino Rossi si zřídil kanál na YouTube po názvem ValentioRossiRacing kde najdete zejména videa z jeho ranče a tréninků na motokrosových motocyklech
Zde je pár lepších videií, které na různé weby nahrálo několik různých uživatelů.
Valentino Rossi na stupních vítězů po závodu v Mugellu, kdy po šestém místě v závodě fanoušci odmítali opustit dráhu bez toho, aby Valentina viděli a slyšeli….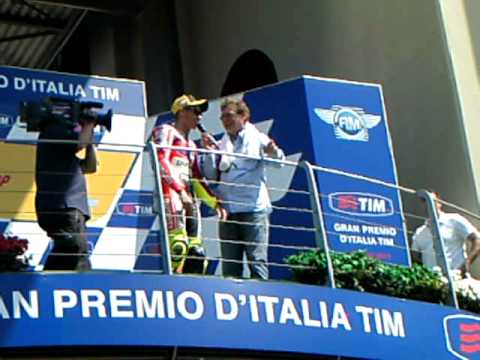 Poslední tisková konference ve službách Yamahy po závodu ve Valencii.
Den v kanceláři – Yamaha tým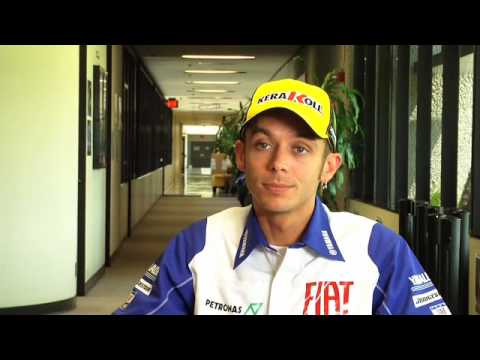 Isle TT Man 2009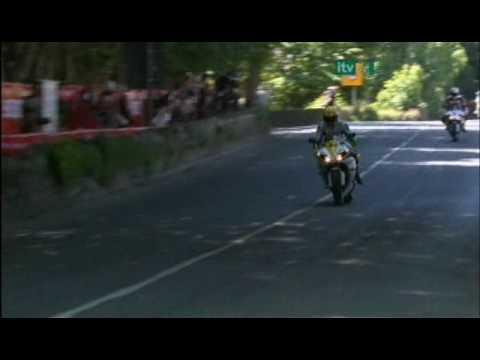 Valentino Rossi Ferrari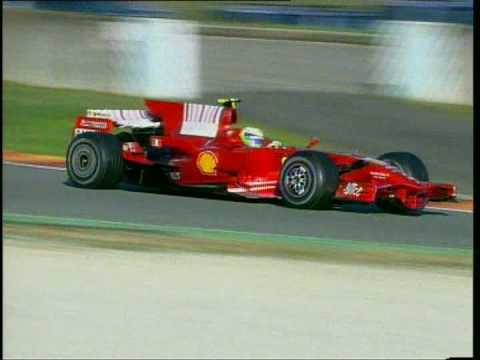 Rakousko 2017
PÁTEK: FP1 9:50 - 10:45, FP2 14:00 - 14:55
SOBOTA: FP3 9:55 - 10:40, FP4: 13:30 - 14:00 Q1 14:10 - 14:25, Q2 14:35 - 14:50
NEDĚLE: WuP 9:40 - 10:00,
ZÁVOD 14:00