Archiv článků
MySQL server version: 5.5.34

collapsArch options:
Array
(
    [title] => Archiv článků
    [noTitle] => 
    [inExcludeCat] => exclude
    [inExcludeCats] => 
    [inExcludeYear] => 
    [inExcludeYears] => 
    [showPages] => 
    [sort] => DESC
    [linkToArch] => 
    [showYearCount] => 1
    [expandCurrentYear] => 
    [expandMonths] => 1
    [expandYears] => 1
    [expandCurrentMonth] => 
    [showMonthCount] => 1
    [showPostTitle] => 1
    [expand] => 0
    [showPostDate] => 1
    [debug] => 1
    [postDateFormat] => m/d
    [postDateAppend] => after
    [accordion] => 0
    [useCookies] => 1
    [post_type] => post
    [taxoncmy] => category
    [postTitleLength] => 
    [showPostCount] => 1
    [archSortOrder] => DESC
    [showPosts] => 
    [customExpand] => 
    [customCollapse] => 
    [animate] => 1
    [number] => 3
)
POST QUERY:
 SELECT rossi_web_terms.slug, rossi_web_posts.ID,
    rossi_web_posts.post_name, rossi_web_posts.post_title, rossi_web_posts.post_author,
    rossi_web_posts.post_date, YEAR(rossi_web_posts.post_date) AS 'year',
    MONTH(rossi_web_posts.post_date) AS 'month' ,
    rossi_web_posts.post_type
    FROM rossi_web_posts LEFT JOIN rossi_web_term_relationships ON rossi_web_posts.ID =
    rossi_web_term_relationships.object_id 
		LEFT JOIN rossi_web_term_taxonomy ON rossi_web_term_taxonomy.term_taxonomy_id =
																			rossi_web_term_relationships.term_taxonomy_id
		LEFT JOIN rossi_web_terms ON rossi_web_terms.term_id = 
		                          rossi_web_term_taxonomy.term_id 
  WHERE post_status='publish' AND rossi_web_posts.post_type='post'   
  GROUP BY rossi_web_posts.ID 
  ORDER BY rossi_web_posts.post_date DESC

POST QUERY RESULTS
Array
(
    [0] => stdClass Object
        (
            [slug] => rossi-novinky
            [ID] => 40253
            [post_name] => monza-rallye-show-2015
            [post_title] => Monza Rallye Show 2015
            [post_author] => 2
            [post_date] => 2015-11-26 21:39:21
            [year] => 2015
            [month] => 11
            [post_type] => post
        )

    [1] => stdClass Object
        (
            [slug] => ducati-2
            [ID] => 40238
            [post_name] => casey-stoner-se-po-peti-letech-vraci-k-ducati
            [post_title] => Casey Stoner se po pěti letech vrací k Ducati
            [post_author] => 2
            [post_date] => 2015-11-24 13:24:09
            [year] => 2015
            [month] => 11
            [post_type] => post
        )

    [2] => stdClass Object
        (
            [slug] => rossi-novinky
            [ID] => 40228
            [post_name] => c-cecchinelli-jednotny-software-je-na-10-potencialu
            [post_title] => C.Cecchinelli: "Nový software je na 10% potenciálu."
            [post_author] => 2
            [post_date] => 2015-11-22 14:41:14
            [year] => 2015
            [month] => 11
            [post_type] => post
        )

    [3] => stdClass Object
        (
            [slug] => rossi-novinky
            [ID] => 40220
            [post_name] => l-jarvis-zadna-zed-v-boxech-yamahy-nebude
            [post_title] => L.Jarvis: "Žádná zeď v boxech Yamahy nebude."
            [post_author] => 2
            [post_date] => 2015-11-18 18:38:06
            [year] => 2015
            [month] => 11
            [post_type] => post
        )

    [4] => stdClass Object
        (
            [slug] => rossi-novinky
            [ID] => 40096
            [post_name] => d-brivio-melo-se-zasahnout-hned
            [post_title] => D.Brivio: "Mělo se zasáhnout hned."
            [post_author] => 2
            [post_date] => 2015-11-17 13:55:09
            [year] => 2015
            [month] => 11
            [post_type] => post
        )

    [5] => stdClass Object
        (
            [slug] => rossi-novinky
            [ID] => 39992
            [post_name] => co-se-opravdu-stalo-v-zaveru-sezony-motogp-2015
            [post_title] => Co se opravdu stalo v závěru sezóny MotoGP 2015
            [post_author] => 2
            [post_date] => 2015-11-16 11:19:57
            [year] => 2015
            [month] => 11
            [post_type] => post
        )

    [6] => stdClass Object
        (
            [slug] => rossi-novinky
            [ID] => 40184
            [post_name] => valentino-rossi-je-tezke-se-znovu-vratit-do-sedla
            [post_title] => Valentino Rossi: "Je těžké se znovu vrátit do sedla."
            [post_author] => 2
            [post_date] => 2015-11-11 20:13:23
            [year] => 2015
            [month] => 11
            [post_type] => post
        )

    [7] => stdClass Object
        (
            [slug] => rossi-novinky
            [ID] => 39990
            [post_name] => oficialni-posezonni-testy-motogp-valencie-2015
            [post_title] => Oficiální posezónní testy MotoGP - Valencie 2015
            [post_author] => 2
            [post_date] => 2015-11-09 20:19:56
            [year] => 2015
            [month] => 11
            [post_type] => post
        )

    [8] => stdClass Object
        (
            [slug] => rossi-novinky
            [ID] => 39900
            [post_name] => velka-cena-valencie-motogp-2015
            [post_title] => Velká Cena Valencie MotoGP 2015
            [post_author] => 2
            [post_date] => 2015-11-08 15:27:55
            [year] => 2015
            [month] => 11
            [post_type] => post
        )

    [9] => stdClass Object
        (
            [slug] => rossi-novinky
            [ID] => 39930
            [post_name] => warm-up-motogp-valencia-2015
            [post_title] => Warm up MotoGP – Valencia 2015
            [post_author] => 237
            [post_date] => 2015-11-08 10:32:38
            [year] => 2015
            [month] => 11
            [post_type] => post
        )

    [10] => stdClass Object
        (
            [slug] => rossi-novinky
            [ID] => 39885
            [post_name] => sobotni-trenink-a-kvalifikace-motogp-valencie-2015
            [post_title] => Sobotní trénink a kvalifikace MotoGP - Valencie 2015
            [post_author] => 2
            [post_date] => 2015-11-07 10:54:01
            [year] => 2015
            [month] => 11
            [post_type] => post
        )

    [11] => stdClass Object
        (
            [slug] => rossi-novinky
            [ID] => 39849
            [post_name] => patecni-treninky-motogp-valencie-2015
            [post_title] => Páteční tréninky MotoGP – Valencie 2015
            [post_author] => 237
            [post_date] => 2015-11-06 10:57:45
            [year] => 2015
            [month] => 11
            [post_type] => post
        )

    [12] => stdClass Object
        (
            [slug] => rossi-novinky
            [ID] => 39844
            [post_name] => tiskova-konference-valentina-rossiho-ve-valencii
            [post_title] => Tisková konference Valentina Rossiho ve Valencii
            [post_author] => 2
            [post_date] => 2015-11-05 18:18:50
            [year] => 2015
            [month] => 11
            [post_type] => post
        )

    [13] => stdClass Object
        (
            [slug] => rossi-novinky
            [ID] => 39788
            [post_name] => valentino-rossi-se-odvolal-k-arbitraznimu-soudu-fim
            [post_title] => Valentino Rossi se odvolal k arbitrážnímu soudu FIM
            [post_author] => 2
            [post_date] => 2015-11-05 14:00:41
            [year] => 2015
            [month] => 11
            [post_type] => post
        )

    [14] => stdClass Object
        (
            [slug] => rossi-novinky
            [ID] => 39827
            [post_name] => tovarni-tym-yamahy-pred-zavodem-ve-valencii-2015
            [post_title] => Tovární tým Yamahy před závodem ve Valencii 2015
            [post_author] => 2
            [post_date] => 2015-11-04 15:57:54
            [year] => 2015
            [month] => 11
            [post_type] => post
        )

    [15] => stdClass Object
        (
            [slug] => honda-2
            [ID] => 39813
            [post_name] => oficialni-reakce-yamahy-na-tvrzeni-hrc-a-nakamota
            [post_title] => Oficiální reakce Yamahy na tvrzení HRC a Nakamota
            [post_author] => 2
            [post_date] => 2015-11-03 16:11:51
            [year] => 2015
            [month] => 11
            [post_type] => post
        )

    [16] => stdClass Object
        (
            [slug] => rossi-novinky
            [ID] => 39802
            [post_name] => ne-tiskova-konference-motogp-valencie-2015
            [post_title] => (Ne) Tisková konference MotoGP - Valencie 2015
            [post_author] => 2
            [post_date] => 2015-11-02 19:46:42
            [year] => 2015
            [month] => 11
            [post_type] => post
        )

    [17] => stdClass Object
        (
            [slug] => rossi-novinky
            [ID] => 39773
            [post_name] => valentino-rossi-ve-valencii-bude-zavodit
            [post_title] => Valentino Rossi ve Valencii bude závodit
            [post_author] => 2
            [post_date] => 2015-10-27 19:02:00
            [year] => 2015
            [month] => 10
            [post_type] => post
        )

    [18] => stdClass Object
        (
            [slug] => rossi-novinky
            [ID] => 39753
            [post_name] => lin-jarvis-byl-to-dusledek-chovani-marqueze
            [post_title] => Lin Jarvis: "Byl to důsledek chování Marqueze."
            [post_author] => 2
            [post_date] => 2015-10-25 16:56:18
            [year] => 2015
            [month] => 10
            [post_type] => post
        )

    [19] => stdClass Object
        (
            [slug] => velkka-cena-gp
            [ID] => 39700
            [post_name] => velka-cena-malajsie-motogp-sepang-2015
            [post_title] => Velká Cena Malajsie MotoGP - Sepang 2015
            [post_author] => 2
            [post_date] => 2015-10-25 09:08:50
            [year] => 2015
            [month] => 10
            [post_type] => post
        )

    [20] => stdClass Object
        (
            [slug] => rossi-novinky
            [ID] => 39663
            [post_name] => sobotni-trenink-a-kvalifikace-sepang-2015
            [post_title] => Sobotní trénink a kvalifikace  - Sepang 2015
            [post_author] => 2
            [post_date] => 2015-10-24 08:19:36
            [year] => 2015
            [month] => 10
            [post_type] => post
        )

    [21] => stdClass Object
        (
            [slug] => rossi-novinky
            [ID] => 39592
            [post_name] => patecnti-treninky-motogp-sepang-2015
            [post_title] => Páteční tréninky MotoGP - Sepang 2015
            [post_author] => 237
            [post_date] => 2015-10-23 05:01:01
            [year] => 2015
            [month] => 10
            [post_type] => post
        )

    [22] => stdClass Object
        (
            [slug] => rossi-novinky
            [ID] => 39614
            [post_name] => valentino-rossi-marquez-nechce-abych-ziskal-titul
            [post_title] => Valentino Rossi: "Marquez nechce, abych získal titul."
            [post_author] => 2
            [post_date] => 2015-10-22 16:56:09
            [year] => 2015
            [month] => 10
            [post_type] => post
        )

    [23] => stdClass Object
        (
            [slug] => rossi-novinky
            [ID] => 39590
            [post_name] => tiskova-konference-motogp-sepang-2015
            [post_title] => Tisková konference MotoGP - Sepang 2015
            [post_author] => 2
            [post_date] => 2015-10-22 12:48:56
            [year] => 2015
            [month] => 10
            [post_type] => post
        )

    [24] => stdClass Object
        (
            [slug] => rossi-novinky
            [ID] => 39594
            [post_name] => tovarni-tym-pred-zavodem-v-malajsii
            [post_title] => Tovární tým Yamahy před závodem v Malajsii
            [post_author] => 815
            [post_date] => 2015-10-21 07:44:54
            [year] => 2015
            [month] => 10
            [post_type] => post
        )

    [25] => stdClass Object
        (
            [slug] => velkka-cena-gp
            [ID] => 39559
            [post_name] => velka-cena-australie-motogp-philip-island-2015
            [post_title] => Velká Cena Austrálie MotoGP - Philip Island 2015
            [post_author] => 2
            [post_date] => 2015-10-18 08:17:22
            [year] => 2015
            [month] => 10
            [post_type] => post
        )

    [26] => stdClass Object
        (
            [slug] => rossi-novinky
            [ID] => 39529
            [post_name] => sobotni-trenink-a-kvalifikace-motogp-philip-island-2015
            [post_title] => Sobotní trénink a kvalifikace MotoGP - Philip Island 2015
            [post_author] => 2
            [post_date] => 2015-10-17 06:10:08
            [year] => 2015
            [month] => 10
            [post_type] => post
        )

    [27] => stdClass Object
        (
            [slug] => rossi-novinky
            [ID] => 39496
            [post_name] => patecni-treninky-motogp-phillip-island-2015
            [post_title] => Páteční tréninky MotoGP - Phillip Island 2015
            [post_author] => 237
            [post_date] => 2015-10-16 03:58:19
            [year] => 2015
            [month] => 10
            [post_type] => post
        )

    [28] => stdClass Object
        (
            [slug] => rossi-novinky
            [ID] => 39473
            [post_name] => tiskova-konference-motogp-philip-island-2015
            [post_title] => Tisková konference MotoGP - Philip Island 2015
            [post_author] => 2
            [post_date] => 2015-10-15 09:00:33
            [year] => 2015
            [month] => 10
            [post_type] => post
        )

    [29] => stdClass Object
        (
            [slug] => rossi-novinky
            [ID] => 39455
            [post_name] => tovarni-tym-yamahy-pred-zavodem-v-australii
            [post_title] => Tovární tým Yamahy před závodem v Austrálii
            [post_author] => 815
            [post_date] => 2015-10-14 08:07:27
            [year] => 2015
            [month] => 10
            [post_type] => post
        )

    [30] => stdClass Object
        (
            [slug] => rossi-novinky
            [ID] => 39400
            [post_name] => velka-cena-japonska-motogp-motegi-2015
            [post_title] => Velká Cena Japonska MotoGP - Motegi 2015
            [post_author] => 2
            [post_date] => 2015-10-11 08:33:46
            [year] => 2015
            [month] => 10
            [post_type] => post
        )

    [31] => stdClass Object
        (
            [slug] => rossi-novinky
            [ID] => 39405
            [post_name] => warm-up-motogp-motegi-2015
            [post_title] => Warm up MotoGP – Motegi 2015
            [post_author] => 237
            [post_date] => 2015-10-11 04:48:51
            [year] => 2015
            [month] => 10
            [post_type] => post
        )

    [32] => stdClass Object
        (
            [slug] => rossi-novinky
            [ID] => 39367
            [post_name] => sobotni-trenink-a-kvalifikace-motogp-motegi-2015
            [post_title] => Sobotní trénink a kvalifikace MotoGP - Motegi 2015
            [post_author] => 2
            [post_date] => 2015-10-10 07:35:28
            [year] => 2015
            [month] => 10
            [post_type] => post
        )

    [33] => stdClass Object
        (
            [slug] => rossi-novinky
            [ID] => 39329
            [post_name] => patecni-treninky-motogp-motegi-2015
            [post_title] => Páteční tréninky MotoGP - Motegi 2015
            [post_author] => 2
            [post_date] => 2015-10-09 07:22:49
            [year] => 2015
            [month] => 10
            [post_type] => post
        )

    [34] => stdClass Object
        (
            [slug] => rossi-novinky
            [ID] => 39320
            [post_name] => tiskova-konference-motogp-motegi-2015
            [post_title] => Tisková konference MotoGP - Motegi 2015
            [post_author] => 2
            [post_date] => 2015-10-08 13:03:34
            [year] => 2015
            [month] => 10
            [post_type] => post
        )

    [35] => stdClass Object
        (
            [slug] => rossi-novinky
            [ID] => 39309
            [post_name] => tovarni-tym-yamahy-pred-zavodem-v-japonsku
            [post_title] => Tovární tým Yamahy před závodem v Japonsku
            [post_author] => 2
            [post_date] => 2015-10-06 08:52:06
            [year] => 2015
            [month] => 10
            [post_type] => post
        )

    [36] => stdClass Object
        (
            [slug] => rossi-novinky
            [ID] => 39290
            [post_name] => rossi-potrebuje-aby-mu-pomohly-okolnosti
            [post_title] => Rossi potřebuje, aby mu pomohly okolnosti
            [post_author] => 2
            [post_date] => 2015-10-01 14:00:37
            [year] => 2015
            [month] => 10
            [post_type] => post
        )

    [37] => stdClass Object
        (
            [slug] => michelin
            [ID] => 39270
            [post_name] => testy-michelin-aragon
            [post_title] => Testy Michelin Aragon
            [post_author] => 2
            [post_date] => 2015-09-28 17:05:05
            [year] => 2015
            [month] => 9
            [post_type] => post
        )

    [38] => stdClass Object
        (
            [slug] => rossi-novinky
            [ID] => 39225
            [post_name] => velka-cena-aragonska-motogp-2015
            [post_title] => Velká Cena Aragónska MotoGP 2015
            [post_author] => 2
            [post_date] => 2015-09-27 15:07:09
            [year] => 2015
            [month] => 9
            [post_type] => post
        )

    [39] => stdClass Object
        (
            [slug] => rossi-novinky
            [ID] => 39220
            [post_name] => warm-up-motogp-aragon-2015
            [post_title] => Warm up MotoGP - Aragon 2015
            [post_author] => 2
            [post_date] => 2015-09-27 10:10:59
            [year] => 2015
            [month] => 9
            [post_type] => post
        )

    [40] => stdClass Object
        (
            [slug] => rossi-novinky
            [ID] => 39186
            [post_name] => sobotni-trenink-a-kvalifikace-motogp-aragon-2015
            [post_title] => Sobotní trénink a kvalifikace MotoGP – Aragon 2015
            [post_author] => 2
            [post_date] => 2015-09-26 10:52:23
            [year] => 2015
            [month] => 9
            [post_type] => post
        )

    [41] => stdClass Object
        (
            [slug] => rossi-novinky
            [ID] => 39149
            [post_name] => patecni-treninky-motogp-aragon-2015
            [post_title] => Páteční tréninky MotoGP - Aragon 2015
            [post_author] => 2
            [post_date] => 2015-09-25 10:54:02
            [year] => 2015
            [month] => 9
            [post_type] => post
        )

    [42] => stdClass Object
        (
            [slug] => rossi-novinky
            [ID] => 39131
            [post_name] => tiskova-konference-motogp-aragon-2015
            [post_title] => Tisková konference MotoGP - Aragon 2015
            [post_author] => 2
            [post_date] => 2015-09-24 17:46:54
            [year] => 2015
            [month] => 9
            [post_type] => post
        )

    [43] => stdClass Object
        (
            [slug] => rossi-novinky
            [ID] => 39125
            [post_name] => tovarni-tym-yamahy-pred-zavodem-v-aragonu-2015
            [post_title] => Tovární tým Yamahy před závodem v Aragonu 2015
            [post_author] => 2
            [post_date] => 2015-09-23 12:13:15
            [year] => 2015
            [month] => 9
            [post_type] => post
        )

    [44] => stdClass Object
        (
            [slug] => jorge-lorenzo
            [ID] => 39118
            [post_name] => jorge-lorenzo-jsem-rychlejsi-nez-rossi
            [post_title] => Jorge Lorenzo: "Jsem rychlejší než Rossi."
            [post_author] => 2
            [post_date] => 2015-09-21 21:01:09
            [year] => 2015
            [month] => 9
            [post_type] => post
        )

    [45] => stdClass Object
        (
            [slug] => rossi-novinky
            [ID] => 39102
            [post_name] => g-agostini-rossi-ma-80-sanci-na-zisk-titulu
            [post_title] => Giacomo Agostini: "Rossi má 80% šanci na zisk titulu."
            [post_author] => 2
            [post_date] => 2015-09-13 21:29:08
            [year] => 2015
            [month] => 9
            [post_type] => post
        )

    [46] => stdClass Object
        (
            [slug] => velkka-cena-gp
            [ID] => 39062
            [post_name] => velka-cena-san-marina-motogp-misano-2015
            [post_title] => Velká Cena San Marina MotoGP - Misano 2015
            [post_author] => 2
            [post_date] => 2015-09-13 15:36:02
            [year] => 2015
            [month] => 9
            [post_type] => post
        )

    [47] => stdClass Object
        (
            [slug] => rossi-novinky
            [ID] => 39054
            [post_name] => warm-up-motogp-misano-2015
            [post_title] => Warm up MotoGP - Misano 2015
            [post_author] => 2
            [post_date] => 2015-09-13 10:08:51
            [year] => 2015
            [month] => 9
            [post_type] => post
        )

    [48] => stdClass Object
        (
            [slug] => rossi-novinky
            [ID] => 38990
            [post_name] => sobotni-trenink-a-kvalifikace-motogp-misano-2015
            [post_title] => Sobotní trénink a kvalifikace MotoGP - Misano 2015
            [post_author] => 2
            [post_date] => 2015-09-12 10:51:18
            [year] => 2015
            [month] => 9
            [post_type] => post
        )

    [49] => stdClass Object
        (
            [slug] => rossi-novinky
            [ID] => 38726
            [post_name] => film-hitting-the-apex-ceske-titulky
            [post_title] => Film HITTING THE APEX - české titulky
            [post_author] => 2
            [post_date] => 2015-09-11 18:00:57
            [year] => 2015
            [month] => 9
            [post_type] => post
        )

    [50] => stdClass Object
        (
            [slug] => rossi-novinky
            [ID] => 38959
            [post_name] => patecni-treninky-motogp-misano-2015
            [post_title] => Páteční tréninky MotoGP - Misano 2015
            [post_author] => 2
            [post_date] => 2015-09-11 10:58:00
            [year] => 2015
            [month] => 9
            [post_type] => post
        )

    [51] => stdClass Object
        (
            [slug] => rossi-novinky
            [ID] => 38566
            [post_name] => tiskova-konference-motogp-misano-2015
            [post_title] => Tisková konference MotoGP - Misano 2015
            [post_author] => 2
            [post_date] => 2015-09-10 17:57:27
            [year] => 2015
            [month] => 9
            [post_type] => post
        )

    [52] => stdClass Object
        (
            [slug] => rossi-novinky
            [ID] => 38920
            [post_name] => tovarni-tym-yamahy-pred-zavodem-v-misanu
            [post_title] => Tovární tým Yamahy před závodem v Misanu
            [post_author] => 2
            [post_date] => 2015-09-09 15:32:16
            [year] => 2015
            [month] => 9
            [post_type] => post
        )

    [53] => stdClass Object
        (
            [slug] => rossi-novinky
            [ID] => 38899
            [post_name] => rossi-uchopil-prilezitost-obema-rukama
            [post_title] => Valentino Rossi uchopil příležitost oběma rukama
            [post_author] => 2
            [post_date] => 2015-09-05 12:16:56
            [year] => 2015
            [month] => 9
            [post_type] => post
        )

    [54] => stdClass Object
        (
            [slug] => rossi-novinky
            [ID] => 38840
            [post_name] => velka-cena-anglie-motogp-silverstone-2015
            [post_title] => Velká Cena Anglie MotoGP - Silverstone 2015
            [post_author] => 2
            [post_date] => 2015-08-30 15:51:23
            [year] => 2015
            [month] => 8
            [post_type] => post
        )

    [55] => stdClass Object
        (
            [slug] => rossi-novinky
            [ID] => 38831
            [post_name] => warm-up-motogp-silverstone-2015
            [post_title] => Warm up MotoGP Silverstone 2015
            [post_author] => 237
            [post_date] => 2015-08-30 10:59:00
            [year] => 2015
            [month] => 8
            [post_type] => post
        )

    [56] => stdClass Object
        (
            [slug] => rossi-novinky
            [ID] => 38797
            [post_name] => sobotni-trenink-a-kvalifikace-motogp-silverstone-2015
            [post_title] => Sobotní trénink a kvalifikace MotoGP - Silverstone 2015
            [post_author] => 2
            [post_date] => 2015-08-29 11:52:14
            [year] => 2015
            [month] => 8
            [post_type] => post
        )

    [57] => stdClass Object
        (
            [slug] => rossi-novinky
            [ID] => 38763
            [post_name] => patecni-treninky-motogp-silverstone-2015
            [post_title] => Páteční tréninky MotoGP - Silverstone 2015
            [post_author] => 237
            [post_date] => 2015-08-28 11:49:26
            [year] => 2015
            [month] => 8
            [post_type] => post
        )

    [58] => stdClass Object
        (
            [slug] => rossi-novinky
            [ID] => 38754
            [post_name] => tiskova-konference-pred-zavodem-v-silverstone-2015
            [post_title] => Tisková konference před závodem v Silverstone 2015
            [post_author] => 2
            [post_date] => 2015-08-27 18:51:24
            [year] => 2015
            [month] => 8
            [post_type] => post
        )

    [59] => stdClass Object
        (
            [slug] => rossi-novinky
            [ID] => 38734
            [post_name] => tovarni-tym-yamahy-pred-zavodem-v-silverstone-2015
            [post_title] => Tovární tým Yamahy před závodem v Silverstone 2015
            [post_author] => 2
            [post_date] => 2015-08-26 12:33:50
            [year] => 2015
            [month] => 8
            [post_type] => post
        )

    [60] => stdClass Object
        (
            [slug] => rossi-novinky
            [ID] => 38729
            [post_name] => w-rainey-jedna-chyba-je-mozna-bude-stat-titul
            [post_title] => W.Rainey: "Jedna chyba je možná bude stát titul."
            [post_author] => 2
            [post_date] => 2015-08-24 17:57:04
            [year] => 2015
            [month] => 8
            [post_type] => post
        )

    [61] => stdClass Object
        (
            [slug] => rossi-novinky
            [ID] => 38669
            [post_name] => lin-jarvis-souboj-rossiho-a-lorenza-yamaze-prospiva
            [post_title] => Lin Jarvis: Souboj Rossiho a Lorenza Yamaze prospívá
            [post_author] => 2
            [post_date] => 2015-08-20 11:59:33
            [year] => 2015
            [month] => 8
            [post_type] => post
        )

    [62] => stdClass Object
        (
            [slug] => rossi-novinky
            [ID] => 38678
            [post_name] => velka-cena-ceske-republiky-motogp-brno-2015
            [post_title] => Velká Cena České Republiky MotoGP - Brno 2015
            [post_author] => 2
            [post_date] => 2015-08-16 15:11:39
            [year] => 2015
            [month] => 8
            [post_type] => post
        )

    [63] => stdClass Object
        (
            [slug] => rossi-novinky
            [ID] => 38670
            [post_name] => warm-up-motogp-brno-2015
            [post_title] => Warm up MotoGP Brno 2015
            [post_author] => 2
            [post_date] => 2015-08-16 10:09:13
            [year] => 2015
            [month] => 8
            [post_type] => post
        )

    [64] => stdClass Object
        (
            [slug] => rossi-novinky
            [ID] => 38620
            [post_name] => sobotni-trenink-a-kvalifikace-motogp-brno-2015
            [post_title] => Sobotní trénink a kvalifikace MotoGP - Brno 2015
            [post_author] => 2
            [post_date] => 2015-08-15 10:49:32
            [year] => 2015
            [month] => 8
            [post_type] => post
        )

    [65] => stdClass Object
        (
            [slug] => rossi-novinky
            [ID] => 38579
            [post_name] => patecni-treninky-motogp-brno-2015
            [post_title] => Páteční tréninky MotoGP – Brno 2015
            [post_author] => 237
            [post_date] => 2015-08-14 10:48:17
            [year] => 2015
            [month] => 8
            [post_type] => post
        )

    [66] => stdClass Object
        (
            [slug] => rossi-novinky
            [ID] => 38557
            [post_name] => tiskova-konference-motogp-pred-zavodem-v-brne-2015
            [post_title] => Tisková konference MotoGP před závodem v Brně 2015
            [post_author] => 2
            [post_date] => 2015-08-13 20:09:29
            [year] => 2015
            [month] => 8
            [post_type] => post
        )

    [67] => stdClass Object
        (
            [slug] => rossi-novinky
            [ID] => 38548
            [post_name] => tovarni-tym-yamahy-pred-zavode-v-brne-2015
            [post_title] => Tovární tým Yamahy před závodem v Brně 2015
            [post_author] => 2
            [post_date] => 2015-08-12 13:29:30
            [year] => 2015
            [month] => 8
            [post_type] => post
        )

    [68] => stdClass Object
        (
            [slug] => rossi-novinky
            [ID] => 38509
            [post_name] => velka-cena-motogp-red-bull-indianapolis-2015
            [post_title] => Velká Cena MotoGP Red Bull Indianapolis 2015
            [post_author] => 2
            [post_date] => 2015-08-09 21:23:00
            [year] => 2015
            [month] => 8
            [post_type] => post
        )

    [69] => stdClass Object
        (
            [slug] => rossi-novinky
            [ID] => 38512
            [post_name] => warm-up-motogp-indianapolis-2015
            [post_title] => Warm up MotoGP - Indianapolis 2015
            [post_author] => 2
            [post_date] => 2015-08-09 16:11:30
            [year] => 2015
            [month] => 8
            [post_type] => post
        )

    [70] => stdClass Object
        (
            [slug] => rossi-novinky
            [ID] => 38488
            [post_name] => sobotni-trenink-a-kvalifikace-motogp-indianapolis-2015
            [post_title] => Sobotní trénink a kvalifikace MotoGP - Indianapolis 2015
            [post_author] => 2
            [post_date] => 2015-08-08 16:48:13
            [year] => 2015
            [month] => 8
            [post_type] => post
        )

    [71] => stdClass Object
        (
            [slug] => rossi-novinky
            [ID] => 38458
            [post_name] => patecni-treninky-motogp-indianapolis-2015
            [post_title] => Páteční tréninky MotoGP - Indianapolis 2015
            [post_author] => 2
            [post_date] => 2015-08-07 16:49:31
            [year] => 2015
            [month] => 8
            [post_type] => post
        )

    [72] => stdClass Object
        (
            [slug] => rossi-novinky
            [ID] => 38437
            [post_name] => tiskova-konference-motogp-indianapolis-2015-2
            [post_title] => Tisková konference MotoGP - Indianapolis 2015
            [post_author] => 2
            [post_date] => 2015-08-06 18:37:25
            [year] => 2015
            [month] => 8
            [post_type] => post
        )

    [73] => stdClass Object
        (
            [slug] => rossi-novinky
            [ID] => 38445
            [post_name] => na-prahu-druhe-poloviny-sezony-motogp-2015
            [post_title] => Na prahu druhé poloviny sezóny MotoGP 2015
            [post_author] => 2
            [post_date] => 2015-08-05 12:53:03
            [year] => 2015
            [month] => 8
            [post_type] => post
        )

    [74] => stdClass Object
        (
            [slug] => rossi-novinky
            [ID] => 38440
            [post_name] => tovarni-tym-yamahy-pred-zavodem-v-indianapolis-2
            [post_title] => Tovární tým Yamahy před závodem v Indianapolis
            [post_author] => 815
            [post_date] => 2015-08-05 10:45:35
            [year] => 2015
            [month] => 8
            [post_type] => post
        )

    [75] => stdClass Object
        (
            [slug] => rossi-novinky
            [ID] => 38417
            [post_name] => tovarni-tym-yamahy-vyhral-osmihodinovku-v-suzuce
            [post_title] => Tovární tým Yamahy vyhrál osmihodinovku v Suzuce
            [post_author] => 2
            [post_date] => 2015-07-26 18:00:55
            [year] => 2015
            [month] => 7
            [post_type] => post
        )

    [76] => stdClass Object
        (
            [slug] => rossi-novinky
            [ID] => 38408
            [post_name] => j-lorenzo-je-to-stejne-jako-v-tenisu
            [post_title] => J.Lorenzo: "Je to stejné jako v tenisu."
            [post_author] => 2
            [post_date] => 2015-07-21 14:18:54
            [year] => 2015
            [month] => 7
            [post_type] => post
        )

    [77] => stdClass Object
        (
            [slug] => rossi-novinky
            [ID] => 38399
            [post_name] => rossi-nebyl-po-tretim-mistu-nikdy-tak-spokojeny
            [post_title] => Rossi nebyl po třetím místu nikdy tak spokojený
            [post_author] => 2
            [post_date] => 2015-07-16 18:43:51
            [year] => 2015
            [month] => 7
            [post_type] => post
        )

    [78] => stdClass Object
        (
            [slug] => rossi-novinky
            [ID] => 38365
            [post_name] => velka-cena-nemecka-sachsenring-2015
            [post_title] => Velká Cena Německa - Sachsenring 2015
            [post_author] => 2
            [post_date] => 2015-07-12 15:07:20
            [year] => 2015
            [month] => 7
            [post_type] => post
        )

    [79] => stdClass Object
        (
            [slug] => rossi-novinky
            [ID] => 38362
            [post_name] => warm-up-motogp-sachsenring-2015
            [post_title] => Warm up MotoGP - Sachsenring 2015
            [post_author] => 2
            [post_date] => 2015-07-12 10:18:45
            [year] => 2015
            [month] => 7
            [post_type] => post
        )

    [80] => stdClass Object
        (
            [slug] => rossi-novinky
            [ID] => 38335
            [post_name] => sobotni-trenink-a-kvalifikace-sachsenring-2015
            [post_title] => Sobotní trénink a kvalifikace - Sachsenring 2015
            [post_author] => 2
            [post_date] => 2015-07-11 10:52:51
            [year] => 2015
            [month] => 7
            [post_type] => post
        )

    [81] => stdClass Object
        (
            [slug] => rossi-novinky
            [ID] => 38278
            [post_name] => patecni-treninky-motogp-sachsenring-2015
            [post_title] => Páteční tréninky MotoGP - Sachsenring 2015
            [post_author] => 2
            [post_date] => 2015-07-10 10:49:14
            [year] => 2015
            [month] => 7
            [post_type] => post
        )

    [82] => stdClass Object
        (
            [slug] => rossi-novinky
            [ID] => 38276
            [post_name] => tiskova-konference-motogp-sachsenring-2015
            [post_title] => Tisková konference MotoGP - Sachsenring 2015
            [post_author] => 2
            [post_date] => 2015-07-09 17:33:47
            [year] => 2015
            [month] => 7
            [post_type] => post
        )

    [83] => stdClass Object
        (
            [slug] => rossi-novinky
            [ID] => 38259
            [post_name] => tovarni-tym-yamahy-pred-zavodem-na-sachsenringu-2
            [post_title] => Tovární tým Yamahy před závodem na Sachsenringu
            [post_author] => 2
            [post_date] => 2015-07-08 12:54:13
            [year] => 2015
            [month] => 7
            [post_type] => post
        )

    [84] => stdClass Object
        (
            [slug] => rossi-novinky
            [ID] => 38185
            [post_name] => assen-2015-rossi-versus-marquez
            [post_title] => Assen 2015 - Rossi versus Marquez
            [post_author] => 2
            [post_date] => 2015-06-28 15:45:17
            [year] => 2015
            [month] => 6
            [post_type] => post
        )

    [85] => stdClass Object
        (
            [slug] => rossi-novinky
            [ID] => 38180
            [post_name] => festival-rychlosti-v-goodwoodu
            [post_title] => Festival rychlosti v Goodwoodu
            [post_author] => 2
            [post_date] => 2015-06-28 11:11:16
            [year] => 2015
            [month] => 6
            [post_type] => post
        )

    [86] => stdClass Object
        (
            [slug] => velkka-cena-gp
            [ID] => 38122
            [post_name] => velka-cena-holandska-motogp-tt-assen-2015
            [post_title] => Velká Cena Holandska MotoGP - TT Assen 2015
            [post_author] => 2
            [post_date] => 2015-06-27 15:26:31
            [year] => 2015
            [month] => 6
            [post_type] => post
        )

    [87] => stdClass Object
        (
            [slug] => rossi-novinky
            [ID] => 38114
            [post_name] => warm-up-motogp-assen-2015
            [post_title] => Warm up MotoGP – Assen 2015
            [post_author] => 237
            [post_date] => 2015-06-27 10:09:58
            [year] => 2015
            [month] => 6
            [post_type] => post
        )

    [88] => stdClass Object
        (
            [slug] => rossi-novinky
            [ID] => 38077
            [post_name] => patecni-treninky-a-kvalifikace-assen-2015
            [post_title] => Páteční tréninky a kvalifikace Assen 2015
            [post_author] => 2
            [post_date] => 2015-06-26 10:50:51
            [year] => 2015
            [month] => 6
            [post_type] => post
        )

    [89] => stdClass Object
        (
            [slug] => rossi-novinky
            [ID] => 38046
            [post_name] => ctvrtecni-treninky-motogp-assen-2015
            [post_title] => Čtvrteční tréninky MotoGP - Assen 2015
            [post_author] => 2
            [post_date] => 2015-06-25 10:48:57
            [year] => 2015
            [month] => 6
            [post_type] => post
        )

    [90] => stdClass Object
        (
            [slug] => rossi-novinky
            [ID] => 38035
            [post_name] => tiskova-konference-motogp-assen-2015
            [post_title] => Tisková konference MotoGP Assen 2015
            [post_author] => 2
            [post_date] => 2015-06-24 17:33:27
            [year] => 2015
            [month] => 6
            [post_type] => post
        )

    [91] => stdClass Object
        (
            [slug] => rossi-novinky
            [ID] => 38022
            [post_name] => tovarni-tym-pred-zavodem-v-assenu
            [post_title] => Tovární tým před závodem v Assenu
            [post_author] => 815
            [post_date] => 2015-06-23 13:36:55
            [year] => 2015
            [month] => 6
            [post_type] => post
        )

    [92] => stdClass Object
        (
            [slug] => superbike-2
            [ID] => 38009
            [post_name] => rozhovor-s-maxem-biaggim-v-misanu
            [post_title] => Rozhovor s Maxem Biaggim v Misanu
            [post_author] => 2
            [post_date] => 2015-06-20 10:10:32
            [year] => 2015
            [month] => 6
            [post_type] => post
        )

    [93] => stdClass Object
        (
            [slug] => rossi-novinky
            [ID] => 37993
            [post_name] => testy-yamahy-v-aragon
            [post_title] => Testy Yamahy v Aragón
            [post_author] => 2
            [post_date] => 2015-06-18 13:09:22
            [year] => 2015
            [month] => 6
            [post_type] => post
        )

    [94] => stdClass Object
        (
            [slug] => rossi-novinky
            [ID] => 37982
            [post_name] => rossi-lorenzo-valka-podle-pravidel
            [post_title] => Rossi & Lorenzo – válka podle pravidel
            [post_author] => 2
            [post_date] => 2015-06-16 17:12:46
            [year] => 2015
            [month] => 6
            [post_type] => post
        )

    [95] => stdClass Object
        (
            [slug] => rossi-novinky
            [ID] => 37971
            [post_name] => pozavodni-testy-motogp-v-barcelone
            [post_title] => Pozávodní testy MotoGP v Barceloně
            [post_author] => 2
            [post_date] => 2015-06-15 17:51:58
            [year] => 2015
            [month] => 6
            [post_type] => post
        )

    [96] => stdClass Object
        (
            [slug] => velkka-cena-gp
            [ID] => 37932
            [post_name] => velka-cena-katalanska-barcelona-2015
            [post_title] => Velká Cena Katalánska - Barcelona 2015
            [post_author] => 2
            [post_date] => 2015-06-14 15:14:05
            [year] => 2015
            [month] => 6
            [post_type] => post
        )

    [97] => stdClass Object
        (
            [slug] => rossi-novinky
            [ID] => 37924
            [post_name] => warm-up-motogp-katalansko-2015
            [post_title] => Warm up MotoGP – Katalánsko 2015
            [post_author] => 237
            [post_date] => 2015-06-14 10:11:39
            [year] => 2015
            [month] => 6
            [post_type] => post
        )

    [98] => stdClass Object
        (
            [slug] => rossi-novinky
            [ID] => 37883
            [post_name] => sobotni-trenink-a-kvalifikace-katalansko-2015
            [post_title] => Sobotní trénink a kvalifikace - Katalánsko 2015
            [post_author] => 2
            [post_date] => 2015-06-13 10:52:23
            [year] => 2015
            [month] => 6
            [post_type] => post
        )

    [99] => stdClass Object
        (
            [slug] => rossi-novinky
            [ID] => 37857
            [post_name] => patecni-treninky-motogp-catalunya-2015
            [post_title] => Páteční tréninky MotoGP – Katalánsko 2015
            [post_author] => 237
            [post_date] => 2015-06-12 10:49:08
            [year] => 2015
            [month] => 6
            [post_type] => post
        )

    [100] => stdClass Object
        (
            [slug] => rossi-novinky
            [ID] => 37836
            [post_name] => tiskova-konference-motogp-katalansko-2015
            [post_title] => Tisková konference MotoGP - Katalánsko 2015
            [post_author] => 2
            [post_date] => 2015-06-11 17:46:51
            [year] => 2015
            [month] => 6
            [post_type] => post
        )

    [101] => stdClass Object
        (
            [slug] => rossi-novinky
            [ID] => 37824
            [post_name] => tovarni-tym-yamahy-pred-zavodem-v-katalansku
            [post_title] => Tovární tým Yamahy před závodem v Katalánsku
            [post_author] => 2
            [post_date] => 2015-06-10 12:18:14
            [year] => 2015
            [month] => 6
            [post_type] => post
        )

    [102] => stdClass Object
        (
            [slug] => michelin
            [ID] => 37809
            [post_name] => testy-pneumatik-michelin-v-mugellu
            [post_title] => Testy pneumatik Michelin v Mugellu
            [post_author] => 2
            [post_date] => 2015-06-01 18:12:36
            [year] => 2015
            [month] => 6
            [post_type] => post
        )

    [103] => stdClass Object
        (
            [slug] => rossi-novinky
            [ID] => 37777
            [post_name] => velka-cena-italie-mugello-2015
            [post_title] => Velká Cena Itálie - Mugello 2015
            [post_author] => 2
            [post_date] => 2015-05-31 15:07:56
            [year] => 2015
            [month] => 5
            [post_type] => post
        )

    [104] => stdClass Object
        (
            [slug] => rossi-novinky
            [ID] => 37773
            [post_name] => warm-up-motogp-mugello-2015
            [post_title] => Warm up MotoGP – Mugello 2015
            [post_author] => 237
            [post_date] => 2015-05-31 10:10:57
            [year] => 2015
            [month] => 5
            [post_type] => post
        )

    [105] => stdClass Object
        (
            [slug] => rossi-novinky
            [ID] => 37736
            [post_name] => sobotni-trenink-a-kvalifikace-mugello-2015
            [post_title] => Sobotní trénink a kvalifikace Mugello 2015
            [post_author] => 2
            [post_date] => 2015-05-30 10:56:07
            [year] => 2015
            [month] => 5
            [post_type] => post
        )

    [106] => stdClass Object
        (
            [slug] => rossi-novinky
            [ID] => 37707
            [post_name] => patecni-treninky-motogp-mugello-2015
            [post_title] => Páteční tréninky MotoGP – Mugello 2015
            [post_author] => 237
            [post_date] => 2015-05-29 10:57:10
            [year] => 2015
            [month] => 5
            [post_type] => post
        )

    [107] => stdClass Object
        (
            [slug] => rossi-novinky
            [ID] => 37696
            [post_name] => milostny-vztah-valentina-rossiho-a-mugella
            [post_title] => Milostný vzťah Valentina Rossiho a Mugella
            [post_author] => 1452
            [post_date] => 2015-05-28 21:42:14
            [year] => 2015
            [month] => 5
            [post_type] => post
        )

    [108] => stdClass Object
        (
            [slug] => rossi-novinky
            [ID] => 37690
            [post_name] => tiskova-konference-motogp-mugello-2015
            [post_title] => Tisková konference MotoGP - Mugello 2015
            [post_author] => 2
            [post_date] => 2015-05-28 17:55:46
            [year] => 2015
            [month] => 5
            [post_type] => post
        )

    [109] => stdClass Object
        (
            [slug] => rossi-novinky
            [ID] => 37678
            [post_name] => tovarni-tym-yamahy-pred-zavodem-v-mugellu-2015
            [post_title] => Tovární tým Yamahy před závodem v Mugellu 2015
            [post_author] => 2
            [post_date] => 2015-05-27 10:53:54
            [year] => 2015
            [month] => 5
            [post_type] => post
        )

    [110] => stdClass Object
        (
            [slug] => rossi-novinky
            [ID] => 37673
            [post_name] => after-the-flag-le-mans-2015
            [post_title] => After The Flag - Le Mans 2015
            [post_author] => 2
            [post_date] => 2015-05-19 19:38:29
            [year] => 2015
            [month] => 5
            [post_type] => post
        )

    [111] => stdClass Object
        (
            [slug] => velkka-cena-gp
            [ID] => 37638
            [post_name] => velka-cena-francie-le-mans-2015
            [post_title] => Velká Cena Francie - Le Mans 2015
            [post_author] => 2
            [post_date] => 2015-05-17 15:23:18
            [year] => 2015
            [month] => 5
            [post_type] => post
        )

    [112] => stdClass Object
        (
            [slug] => rossi-novinky
            [ID] => 37632
            [post_name] => warm-up-motogp-le-mans-2015
            [post_title] => Warm up MotoGP – Le Mans 2015
            [post_author] => 237
            [post_date] => 2015-05-17 10:12:58
            [year] => 2015
            [month] => 5
            [post_type] => post
        )

    [113] => stdClass Object
        (
            [slug] => rossi-novinky
            [ID] => 37613
            [post_name] => sobotni-trenink-a-kvalifikace-le-mans-2015
            [post_title] => Sobotní trénink a kvalifikace Le Mans 2015
            [post_author] => 2
            [post_date] => 2015-05-16 10:49:51
            [year] => 2015
            [month] => 5
            [post_type] => post
        )

    [114] => stdClass Object
        (
            [slug] => rossi-novinky
            [ID] => 37576
            [post_name] => patecni-treninky-motogp-le-mans-2015
            [post_title] => Páteční tréninky MotoGP – Le Mans 2015
            [post_author] => 237
            [post_date] => 2015-05-15 10:55:15
            [year] => 2015
            [month] => 5
            [post_type] => post
        )

    [115] => stdClass Object
        (
            [slug] => rossi-novinky
            [ID] => 37562
            [post_name] => tiskova-konference-motogp-le-mans-2015
            [post_title] => Tisková konference MotoGP – Le Mans 2015
            [post_author] => 2
            [post_date] => 2015-05-14 17:36:15
            [year] => 2015
            [month] => 5
            [post_type] => post
        )

    [116] => stdClass Object
        (
            [slug] => rossi-novinky
            [ID] => 37544
            [post_name] => tovarni-tym-yamahy-pred-zavodem-v-le-mans-2015
            [post_title] => Tovární tým Yamahy před závodem v Le Mans 2015
            [post_author] => 2
            [post_date] => 2015-05-13 13:13:42
            [year] => 2015
            [month] => 5
            [post_type] => post
        )

    [117] => stdClass Object
        (
            [slug] => rozhovor
            [ID] => 37547
            [post_name] => rozhovor-s-c-ezpeletou-rossi-tady-bude-dlouho
            [post_title] => Rozhovor s C.Ezpeletou - "Rossi tady bude dlouho."
            [post_author] => 2
            [post_date] => 2015-05-13 10:11:22
            [year] => 2015
            [month] => 5
            [post_type] => post
        )

    [118] => stdClass Object
        (
            [slug] => rossi-novinky
            [ID] => 37536
            [post_name] => rossi-v-spanielsku-opat-prepisoval-historiu-motogp
            [post_title] => Rossi v Španielsku opäť prepisoval históriu MotoGP
            [post_author] => 1452
            [post_date] => 2015-05-07 22:45:22
            [year] => 2015
            [month] => 5
            [post_type] => post
        )

    [119] => stdClass Object
        (
            [slug] => rossi-novinky
            [ID] => 37503
            [post_name] => testy-motogp-jerez-2015
            [post_title] => Testy MotoGP - Jerez 2015
            [post_author] => 2
            [post_date] => 2015-05-04 11:22:54
            [year] => 2015
            [month] => 5
            [post_type] => post
        )

    [120] => stdClass Object
        (
            [slug] => rossi-novinky
            [ID] => 37460
            [post_name] => velka-cena-spanelska-motogp-jerez-2015
            [post_title] => Velká Cena Španělska MotoGP - Jerez 2015
            [post_author] => 2
            [post_date] => 2015-05-03 15:08:08
            [year] => 2015
            [month] => 5
            [post_type] => post
        )

    [121] => stdClass Object
        (
            [slug] => rossi-novinky
            [ID] => 37467
            [post_name] => warm-up-motogp-jerez-2015
            [post_title] => Warm up MotoGP - Jerez 2015
            [post_author] => 2
            [post_date] => 2015-05-03 10:12:12
            [year] => 2015
            [month] => 5
            [post_type] => post
        )

    [122] => stdClass Object
        (
            [slug] => rossi-novinky
            [ID] => 37429
            [post_name] => sobotni-trenink-a-kvalifikace-motogp-jerez-2015
            [post_title] => Sobotní trénink a kvalifikace MotoGP Jerez 2015
            [post_author] => 2
            [post_date] => 2015-05-02 10:48:24
            [year] => 2015
            [month] => 5
            [post_type] => post
        )

    [123] => stdClass Object
        (
            [slug] => rossi-novinky
            [ID] => 37420
            [post_name] => nakamoto-ak-budeme-caseyho-potrebovat-vrati-sa
            [post_title] => Nakamoto: "Ak budeme Caseyho potrebovať, vráti sa."
            [post_author] => 1452
            [post_date] => 2015-05-02 09:33:30
            [year] => 2015
            [month] => 5
            [post_type] => post
        )

    [124] => stdClass Object
        (
            [slug] => rossi-novinky
            [ID] => 37375
            [post_name] => patecni-treninky-motogp-jerez-2015
            [post_title] => Páteční tréninky MotoGP - Jerez 2015
            [post_author] => 2
            [post_date] => 2015-05-01 10:54:08
            [year] => 2015
            [month] => 5
            [post_type] => post
        )

    [125] => stdClass Object
        (
            [slug] => rossi-novinky
            [ID] => 37356
            [post_name] => tiskova-konference-motogp-jerez-2015
            [post_title] => Tisková konference MotoGP - Jerez 2015
            [post_author] => 2
            [post_date] => 2015-04-30 18:38:49
            [year] => 2015
            [month] => 4
            [post_type] => post
        )

    [126] => stdClass Object
        (
            [slug] => rossi-novinky
            [ID] => 37344
            [post_name] => tovarni-tym-yamahy-pred-zavodem-v-jerezu-2015
            [post_title] => Tovární tým Yamahy před závodem v Jerezu 2015
            [post_author] => 2
            [post_date] => 2015-04-29 16:17:11
            [year] => 2015
            [month] => 4
            [post_type] => post
        )

    [127] => stdClass Object
        (
            [slug] => rossi-novinky
            [ID] => 37326
            [post_name] => analyza-argentiny-2015-neverte-ucencum
            [post_title] => Analýza Argentiny 2015 & Nevěřte učencům!
            [post_author] => 1452
            [post_date] => 2015-04-26 14:16:49
            [year] => 2015
            [month] => 4
            [post_type] => post
        )

    [128] => stdClass Object
        (
            [slug] => rossi-novinky
            [ID] => 37316
            [post_name] => m-marquez-nezpusobili-jsme-ten-pad-zamerne
            [post_title] => M.Marquez: "Nezpůsobili jsme ten pád záměrně."
            [post_author] => 2
            [post_date] => 2015-04-23 18:02:23
            [year] => 2015
            [month] => 4
            [post_type] => post
        )

    [129] => stdClass Object
        (
            [slug] => rossi-novinky
            [ID] => 37303
            [post_name] => c-pernat-stratosfericky-rossi-a-tvrdohlavy-marquez
            [post_title] => C.Pernat: Stratosférický Rossi a tvrdohlavý Marquez
            [post_author] => 2
            [post_date] => 2015-04-21 16:27:23
            [year] => 2015
            [month] => 4
            [post_type] => post
        )

    [130] => stdClass Object
        (
            [slug] => rossi-novinky
            [ID] => 37287
            [post_name] => jarvis-a-suppo-k-incidentu-mezi-rossim-a-marquezem
            [post_title] => Jarvis a Suppo k incidentu mezi Rossim a Marquezem
            [post_author] => 2
            [post_date] => 2015-04-20 13:22:34
            [year] => 2015
            [month] => 4
            [post_type] => post
        )

    [131] => stdClass Object
        (
            [slug] => rossi-novinky
            [ID] => 37234
            [post_name] => velka-cena-argentiny-motogp-2015
            [post_title] => Velká Cena Argentiny  MotoGP 2015
            [post_author] => 2
            [post_date] => 2015-04-19 22:19:18
            [year] => 2015
            [month] => 4
            [post_type] => post
        )

    [132] => stdClass Object
        (
            [slug] => rossi-novinky
            [ID] => 37211
            [post_name] => warm-up-motogp-argentina-2015
            [post_title] => Warm up MotoGP - Argentina 2015
            [post_author] => 2
            [post_date] => 2015-04-19 16:09:49
            [year] => 2015
            [month] => 4
            [post_type] => post
        )

    [133] => stdClass Object
        (
            [slug] => rossi-novinky
            [ID] => 37189
            [post_name] => sobotni-trenink-a-kvalifikace-motogp-argentina-2015
            [post_title] => Sobotní trénink a kvalifikace MotoGP Argentina 2015
            [post_author] => 2
            [post_date] => 2015-04-18 16:01:38
            [year] => 2015
            [month] => 4
            [post_type] => post
        )

    [134] => stdClass Object
        (
            [slug] => rossi-novinky
            [ID] => 37164
            [post_name] => patecni-treninky-motogp-argentina-2015
            [post_title] => Páteční tréninky MotoGP Argentina 2015
            [post_author] => 2
            [post_date] => 2015-04-17 15:53:10
            [year] => 2015
            [month] => 4
            [post_type] => post
        )

    [135] => stdClass Object
        (
            [slug] => rossi-novinky
            [ID] => 37139
            [post_name] => tiskova-konference-motogp-argentina-2015
            [post_title] => Tisková konference MotoGP Argentina 2015
            [post_author] => 2
            [post_date] => 2015-04-16 22:25:33
            [year] => 2015
            [month] => 4
            [post_type] => post
        )

    [136] => stdClass Object
        (
            [slug] => rossi-novinky
            [ID] => 37134
            [post_name] => tovarni-tym-pred-zavodem-v-argentine
            [post_title] => Tovární tým před závodem v Argentině
            [post_author] => 815
            [post_date] => 2015-04-16 07:26:38
            [year] => 2015
            [month] => 4
            [post_type] => post
        )

    [137] => stdClass Object
        (
            [slug] => rossi-novinky
            [ID] => 37130
            [post_name] => kdy-valentino-rossi-skonci-v-motogp
            [post_title] => Kdy Valentino Rossi skončí v MotoGP?
            [post_author] => 2
            [post_date] => 2015-04-14 17:45:34
            [year] => 2015
            [month] => 4
            [post_type] => post
        )

    [138] => stdClass Object
        (
            [slug] => velkka-cena-gp
            [ID] => 37091
            [post_name] => velka-cena-ameriky-motogp-austin-2015
            [post_title] => Velká Cena Ameriky MotoGP – Austin 2015
            [post_author] => 2
            [post_date] => 2015-04-12 22:55:02
            [year] => 2015
            [month] => 4
            [post_type] => post
        )

    [139] => stdClass Object
        (
            [slug] => rossi-novinky
            [ID] => 37081
            [post_name] => warm-up-motogp-austin-2015
            [post_title] => Warm up MotoGP – Austin 2015
            [post_author] => 2
            [post_date] => 2015-04-12 17:44:35
            [year] => 2015
            [month] => 4
            [post_type] => post
        )

    [140] => stdClass Object
        (
            [slug] => rossi-novinky
            [ID] => 37047
            [post_name] => sobotni-trenink-a-kvalifikace-motogp-austin-2015
            [post_title] => Sobotní trénink a kvalifikace MotoGP - Austin 2015
            [post_author] => 2
            [post_date] => 2015-04-11 17:57:08
            [year] => 2015
            [month] => 4
            [post_type] => post
        )

    [141] => stdClass Object
        (
            [slug] => rossi-novinky
            [ID] => 36994
            [post_name] => patecni-treninky-motogp-austin-2015
            [post_title] => Páteční tréninky MotoGP - Austin 2015
            [post_author] => 2
            [post_date] => 2015-04-10 19:04:29
            [year] => 2015
            [month] => 4
            [post_type] => post
        )

    [142] => stdClass Object
        (
            [slug] => casey-stoner
            [ID] => 36961
            [post_name] => casey-stoner-mel-nahradit-zraneneho-pedrosu
            [post_title] => Casey Stoner chtěl nahradit zraněného Pedrosu
            [post_author] => 2
            [post_date] => 2015-04-10 07:24:39
            [year] => 2015
            [month] => 4
            [post_type] => post
        )

    [143] => stdClass Object
        (
            [slug] => rossi-novinky
            [ID] => 36981
            [post_name] => tiskova-konference-motogp-austin-2014
            [post_title] => Tisková konference MotoGP Austin 2015
            [post_author] => 2
            [post_date] => 2015-04-09 19:59:20
            [year] => 2015
            [month] => 4
            [post_type] => post
        )

    [144] => stdClass Object
        (
            [slug] => rossi-novinky
            [ID] => 36973
            [post_name] => tovarni-tym-pred-zavodem-v-austinu
            [post_title] => Tovární tým před závodem v Austinu
            [post_author] => 815
            [post_date] => 2015-04-09 07:33:37
            [year] => 2015
            [month] => 4
            [post_type] => post
        )

    [145] => stdClass Object
        (
            [slug] => rossi-novinky
            [ID] => 36953
            [post_name] => muze-letos-yamaha-uspet-v-austinu
            [post_title] => Může letos Yamaha uspět v Austinu?
            [post_author] => 2
            [post_date] => 2015-04-04 19:00:52
            [year] => 2015
            [month] => 4
            [post_type] => post
        )

    [146] => stdClass Object
        (
            [slug] => motogp
            [ID] => 21072
            [post_name] => pravidla-motogp
            [post_title] => Pravidla MotoGP
            [post_author] => 2
            [post_date] => 2015-04-03 17:03:40
            [year] => 2015
            [month] => 4
            [post_type] => post
        )

    [147] => stdClass Object
        (
            [slug] => rossi-novinky
            [ID] => 36917
            [post_name] => film-s-nazvem-rossi
            [post_title] => Film s názvem "ROSSI" ?
            [post_author] => 2
            [post_date] => 2015-04-01 17:58:41
            [year] => 2015
            [month] => 4
            [post_type] => post
        )

    [148] => stdClass Object
        (
            [slug] => rossi-novinky
            [ID] => 36906
            [post_name] => after-the-flag-katar-2015
            [post_title] => After The Flag - Katar 2015
            [post_author] => 2
            [post_date] => 2015-04-01 10:30:26
            [year] => 2015
            [month] => 4
            [post_type] => post
        )

    [149] => stdClass Object
        (
            [slug] => rossi-novinky
            [ID] => 36881
            [post_name] => v-rossi-byl-to-jeden-z-nejlepsich-souboju-v-kariere
            [post_title] => V.Rossi: "Byl to jeden z nejlepších soubojů v kariéře!"
            [post_author] => 2
            [post_date] => 2015-03-30 09:34:09
            [year] => 2015
            [month] => 3
            [post_type] => post
        )

    [150] => stdClass Object
        (
            [slug] => velkka-cena-gp
            [ID] => 36829
            [post_name] => velka-cena-motogp-katar-2015
            [post_title] => Velká Cena MotoGP - Katar 2015
            [post_author] => 2
            [post_date] => 2015-03-29 21:22:17
            [year] => 2015
            [month] => 3
            [post_type] => post
        )

    [151] => stdClass Object
        (
            [slug] => rossi-novinky
            [ID] => 36827
            [post_name] => warm-up-motogp-katar-2015
            [post_title] => Warm up MotoGP – Katar 2015
            [post_author] => 2
            [post_date] => 2015-03-29 16:32:26
            [year] => 2015
            [month] => 3
            [post_type] => post
        )

    [152] => stdClass Object
        (
            [slug] => rossi-novinky
            [ID] => 36796
            [post_name] => sobotni-trenink-a-kvalifikace-motogp-katar-2015
            [post_title] => Sobotní trénink a kvalifikace MotoGP – Katar 2015
            [post_author] => 2
            [post_date] => 2015-03-28 18:33:04
            [year] => 2015
            [month] => 3
            [post_type] => post
        )

    [153] => stdClass Object
        (
            [slug] => rossi-novinky
            [ID] => 36765
            [post_name] => patecni-treninky-motogp-katar-2015
            [post_title] => Páteční tréninky MotoGP – Katar 2015
            [post_author] => 2
            [post_date] => 2015-03-27 16:54:52
            [year] => 2015
            [month] => 3
            [post_type] => post
        )

    [154] => stdClass Object
        (
            [slug] => rossi-novinky
            [ID] => 36723
            [post_name] => ctvrtecni-trenink-motogp-katar-2015
            [post_title] => Čtvrteční trénink MotoGP - Katar 2015
            [post_author] => 2
            [post_date] => 2015-03-26 18:50:23
            [year] => 2015
            [month] => 3
            [post_type] => post
        )

    [155] => stdClass Object
        (
            [slug] => rossi-novinky
            [ID] => 36726
            [post_name] => w-zeelenberg-vyhoda-ducati-uz-neni-uplne-ferova
            [post_title] => W. Zeelenberg: "Výhoda Ducati už není úplně férová."
            [post_author] => 237
            [post_date] => 2015-03-26 13:28:32
            [year] => 2015
            [month] => 3
            [post_type] => post
        )

    [156] => stdClass Object
        (
            [slug] => rossi-novinky
            [ID] => 36701
            [post_name] => tiskova-konference-motogp-katar-2015-2
            [post_title] => Tisková konference MotoGP Katar 2015
            [post_author] => 2
            [post_date] => 2015-03-25 15:29:16
            [year] => 2015
            [month] => 3
            [post_type] => post
        )

    [157] => stdClass Object
        (
            [slug] => rossi-novinky
            [ID] => 36703
            [post_name] => tovarni-tym-yamahy-pred-prvnim-zavodem-sezony-2015
            [post_title] => Tovární tým Yamahy před prvním závodem sezóny 2015
            [post_author] => 2
            [post_date] => 2015-03-24 12:50:54
            [year] => 2015
            [month] => 3
            [post_type] => post
        )

    [158] => stdClass Object
        (
            [slug] => rossi-novinky
            [ID] => 36680
            [post_name] => novy-obchod-vr46-v-praze
            [post_title] => Nový obchod VR|46 v Praze
            [post_author] => 2
            [post_date] => 2015-03-21 21:40:35
            [year] => 2015
            [month] => 3
            [post_type] => post
        )

    [159] => stdClass Object
        (
            [slug] => rossi-novinky
            [ID] => 36657
            [post_name] => m-meregalli-yamaha-nedela-revolucni-zmeny
            [post_title] => M.Meregalli: "Yamaha nedělá revoluční změny."
            [post_author] => 2
            [post_date] => 2015-03-17 17:21:12
            [year] => 2015
            [month] => 3
            [post_type] => post
        )

    [160] => stdClass Object
        (
            [slug] => rossi-novinky
            [ID] => 36611
            [post_name] => treti-oficialni-testy-motogp-2015-katar-den-treti
            [post_title] => Třetí oficiální testy MotoGP 2015 Katar - den třetí
            [post_author] => 2
            [post_date] => 2015-03-16 13:25:17
            [year] => 2015
            [month] => 3
            [post_type] => post
        )

    [161] => stdClass Object
        (
            [slug] => rossi-novinky
            [ID] => 36542
            [post_name] => treti-oficialni-testy-motogp-2015-katar-den-druhy
            [post_title] => Třetí oficiální testy MotoGP 2015 Katar - den druhý
            [post_author] => 2
            [post_date] => 2015-03-15 17:00:40
            [year] => 2015
            [month] => 3
            [post_type] => post
        )

    [162] => stdClass Object
        (
            [slug] => rossi-novinky
            [ID] => 36504
            [post_name] => treti-oficialni-testy-motogp-2015-katar-den-prvni
            [post_title] => Třetí oficiální testy MotoGP 2015 Katar - den první
            [post_author] => 2
            [post_date] => 2015-03-14 14:12:56
            [year] => 2015
            [month] => 3
            [post_type] => post
        )

    [163] => stdClass Object
        (
            [slug] => yamaha-2
            [ID] => 36511
            [post_name] => na-rok-2015-yamaha-nasadi-novou-prevodovku
            [post_title] => Na rok 2015 Yamaha nasadí novou převodovku
            [post_author] => 2
            [post_date] => 2015-03-10 14:48:47
            [year] => 2015
            [month] => 3
            [post_type] => post
        )

    [164] => stdClass Object
        (
            [slug] => casey-stoner
            [ID] => 36484
            [post_name] => casey-stoner-marquezovi-bych-v-pohode-stacil
            [post_title] => Casey Stoner: "Marquezovi bych v pohodě stačil."
            [post_author] => 2
            [post_date] => 2015-03-03 18:46:14
            [year] => 2015
            [month] => 3
            [post_type] => post
        )

    [165] => stdClass Object
        (
            [slug] => rossi-novinky
            [ID] => 36464
            [post_name] => testy-michelin-sepang
            [post_title] => Testy Michelin - Sepang
            [post_author] => 2
            [post_date] => 2015-02-26 07:54:30
            [year] => 2015
            [month] => 2
            [post_type] => post
        )

    [166] => stdClass Object
        (
            [slug] => rossi-novinky
            [ID] => 36430
            [post_name] => druhe-oficialni-testy-motogp-2015-sepang-den-treti
            [post_title] => Druhé oficiální testy MotoGP 2015 Sepang den třetí
            [post_author] => 2
            [post_date] => 2015-02-25 07:34:54
            [year] => 2015
            [month] => 2
            [post_type] => post
        )

    [167] => stdClass Object
        (
            [slug] => rossi-novinky
            [ID] => 36405
            [post_name] => druhe-oficialni-testy-motogp-2015-sepang-den-druhy
            [post_title] => Druhé oficiální testy MotoGP 2015 Sepang den druhý
            [post_author] => 2
            [post_date] => 2015-02-24 07:22:31
            [year] => 2015
            [month] => 2
            [post_type] => post
        )

    [168] => stdClass Object
        (
            [slug] => rossi-novinky
            [ID] => 36358
            [post_name] => druhe-oficialni-testy-motogp-2015-sepang-den-prvni
            [post_title] => Druhé oficiální testy MotoGP 2015 Sepang den první
            [post_author] => 2
            [post_date] => 2015-02-23 06:27:42
            [year] => 2015
            [month] => 2
            [post_type] => post
        )

    [169] => stdClass Object
        (
            [slug] => ducati-desmosedici
            [ID] => 36344
            [post_name] => ducati-predstavila-svoji-novou-desmosedici-gp15
            [post_title] => Ducati představila svoji novou Desmosedici GP15
            [post_author] => 2
            [post_date] => 2015-02-16 16:55:10
            [year] => 2015
            [month] => 2
            [post_type] => post
        )

    [170] => stdClass Object
        (
            [slug] => rossi-novinky
            [ID] => 27535
            [post_name] => valentino-rossi-slavi-tricate-seste-narozeniny
            [post_title] => Valentino Rossi slaví třicáté šesté narozeniny
            [post_author] => 2
            [post_date] => 2015-02-15 17:00:24
            [year] => 2015
            [month] => 2
            [post_type] => post
        )

    [171] => stdClass Object
        (
            [slug] => rossi-novinky
            [ID] => 36323
            [post_name] => d-petrucci-valentinovi-jsem-stacil-dve-kola
            [post_title] => Danilo Petrucci: "Valentinovi jsem stačil dvě kola."
            [post_author] => 2
            [post_date] => 2015-02-09 18:01:38
            [year] => 2015
            [month] => 2
            [post_type] => post
        )

    [172] => stdClass Object
        (
            [slug] => bridgestone-2
            [ID] => 36308
            [post_name] => testy-motogp-pro-michelin-sepang-2015
            [post_title] => Testy MotoGP pro Michelin Sepang 2015
            [post_author] => 2
            [post_date] => 2015-02-07 13:36:32
            [year] => 2015
            [month] => 2
            [post_type] => post
        )

    [173] => stdClass Object
        (
            [slug] => rossi-novinky
            [ID] => 36255
            [post_name] => prvni-oficialni-testy-motogp-2015-sepang-den-treti
            [post_title] => První oficiální testy MotoGP 2015 Sepang - den třetí
            [post_author] => 2
            [post_date] => 2015-02-06 07:12:19
            [year] => 2015
            [month] => 2
            [post_type] => post
        )

    [174] => stdClass Object
        (
            [slug] => rossi-novinky
            [ID] => 36222
            [post_name] => prvni-oficialni-testy-motogp-2015-sepang-den-druhy
            [post_title] => První oficiální testy MotoGP 2015 Sepang den druhý
            [post_author] => 2
            [post_date] => 2015-02-05 07:08:31
            [year] => 2015
            [month] => 2
            [post_type] => post
        )

    [175] => stdClass Object
        (
            [slug] => rossi-novinky
            [ID] => 36205
            [post_name] => cal-crutchlow-honda-se-ridi-obtizneji-nez-se-zda
            [post_title] => Cal Crutchlow: "Honda se řídí obtížněji, než se zdá."
            [post_author] => 237
            [post_date] => 2015-02-04 20:44:13
            [year] => 2015
            [month] => 2
            [post_type] => post
        )

    [176] => stdClass Object
        (
            [slug] => rossi-novinky
            [ID] => 36143
            [post_name] => prvni-oficialni-testy-motogp-2015-sepang
            [post_title] => První oficiální testy MotoGP 2015 Sepang den první
            [post_author] => 2
            [post_date] => 2015-02-04 07:18:27
            [year] => 2015
            [month] => 2
            [post_type] => post
        )

    [177] => stdClass Object
        (
            [slug] => rossi-novinky
            [ID] => 36127
            [post_name] => rozhovor-s-valentinem-rossim-pred-prvnimi-testy
            [post_title] => Rozhovor s Valentinem Rossim před prvními testy
            [post_author] => 2
            [post_date] => 2015-01-31 19:05:50
            [year] => 2015
            [month] => 1
            [post_type] => post
        )

    [178] => stdClass Object
        (
            [slug] => jorge-lorenzo
            [ID] => 36124
            [post_name] => rozhovor-s-jorge-lorenzem-pred-prvnimi-testy
            [post_title] => Rozhovor s Jorge Lorenzem před prvními testy
            [post_author] => 2
            [post_date] => 2015-01-30 12:51:06
            [year] => 2015
            [month] => 1
            [post_type] => post
        )

    [179] => stdClass Object
        (
            [slug] => rossi-novinky
            [ID] => 36076
            [post_name] => predstaveni-tovarniho-tymu-yamahy-pro-rok-2015
            [post_title] => Představení továrního týmu Yamahy pro rok 2015
            [post_author] => 2
            [post_date] => 2015-01-23 20:46:10
            [year] => 2015
            [month] => 1
            [post_type] => post
        )

    [180] => stdClass Object
        (
            [slug] => rossi-novinky
            [ID] => 36079
            [post_name] => nakamoto-ohromen-navratem-formy-valentina-rossiho
            [post_title] => Nakamoto ohromen návratem formy Valentina Rossiho
            [post_author] => 2
            [post_date] => 2015-01-20 11:34:26
            [year] => 2015
            [month] => 1
            [post_type] => post
        )

    [181] => stdClass Object
        (
            [slug] => motogp
            [ID] => 36071
            [post_name] => h-poncharal-sezona-2015-bude-hodne-zajimava
            [post_title] => H.Poncharal: "Sezóna 2015 bude hodně zajímavá."
            [post_author] => 2
            [post_date] => 2015-01-16 15:05:37
            [year] => 2015
            [month] => 1
            [post_type] => post
        )

    [182] => stdClass Object
        (
            [slug] => rossi-novinky
            [ID] => 36049
            [post_name] => yamaha-i-lorenzo-mohou-smlouvu-predcasne-ukoncit
            [post_title] => Yamaha i Lorenzo mohou smlouvu předčasně ukončit
            [post_author] => 2
            [post_date] => 2015-01-02 21:17:34
            [year] => 2015
            [month] => 1
            [post_type] => post
        )

    [183] => stdClass Object
        (
            [slug] => rossi-novinky
            [ID] => 36037
            [post_name] => rekapitulace-sezony-2014-valentina-rossiho
            [post_title] => Rekapitulace sezóny 2014 Valentina Rossiho
            [post_author] => 2
            [post_date] => 2015-01-01 15:47:55
            [year] => 2015
            [month] => 1
            [post_type] => post
        )

    [184] => stdClass Object
        (
            [slug] => honda-2
            [ID] => 36031
            [post_name] => honda-setri-pneumatiky-vice-nez-yamaha
            [post_title] => Honda šetří pneumatiky více než Yamaha
            [post_author] => 2
            [post_date] => 2014-12-29 18:43:50
            [year] => 2014
            [month] => 12
            [post_type] => post
        )

    [185] => stdClass Object
        (
            [slug] => rossi-yamaha-cz
            [ID] => 27180
            [post_name] => pf-2014
            [post_title] => PF 2015
            [post_author] => 2
            [post_date] => 2014-12-23 08:00:45
            [year] => 2014
            [month] => 12
            [post_type] => post
        )

    [186] => stdClass Object
        (
            [slug] => rozhovor
            [ID] => 35987
            [post_name] => s-galbusera-rossi-je-stary-jen-na-papire
            [post_title] => S.Galbusera: "Rossi je starý jen na papíře."
            [post_author] => 2
            [post_date] => 2014-12-21 08:00:20
            [year] => 2014
            [month] => 12
            [post_type] => post
        )

    [187] => stdClass Object
        (
            [slug] => ducati-2
            [ID] => 35980
            [post_name] => na-limit-paliva-maji-vliv-pneumatiky-a-software
            [post_title] => Na limit paliva mají vliv pneumatiky a software
            [post_author] => 2
            [post_date] => 2014-12-19 13:28:45
            [year] => 2014
            [month] => 12
            [post_type] => post
        )

    [188] => stdClass Object
        (
            [slug] => rossi-novinky
            [ID] => 35898
            [post_name] => zavod-na-100-km-na-ranci-valentina-rossiho
            [post_title] => Závod na 100 km na ranči Valentina Rossiho
            [post_author] => 2
            [post_date] => 2014-12-16 12:36:54
            [year] => 2014
            [month] => 12
            [post_type] => post
        )

    [189] => stdClass Object
        (
            [slug] => ducati-2
            [ID] => 35956
            [post_name] => v-sezone-2014-nebyly-motory-v-motogp-problemem
            [post_title] => V sezóně 2014 nebyly motory v MotoGP problémem
            [post_author] => 2
            [post_date] => 2014-12-08 17:12:24
            [year] => 2014
            [month] => 12
            [post_type] => post
        )

    [190] => stdClass Object
        (
            [slug] => rossi-novinky
            [ID] => 35907
            [post_name] => monza-rallye-2014
            [post_title] => Monza Rallye 2014
            [post_author] => 2
            [post_date] => 2014-11-30 12:22:41
            [year] => 2014
            [month] => 11
            [post_type] => post
        )

    [191] => stdClass Object
        (
            [slug] => rossi-novinky
            [ID] => 35937
            [post_name] => silvano-galbusera-rossi-chce-desaty-titul
            [post_title] => Silvano Galbusera: "Rossi chce desátý titul."
            [post_author] => 2
            [post_date] => 2014-11-29 21:24:20
            [year] => 2014
            [month] => 11
            [post_type] => post
        )

    [192] => stdClass Object
        (
            [slug] => rossi-novinky
            [ID] => 35889
            [post_name] => rozhovor-s-valentinem-rossim-po-sezone-2014
            [post_title] => Rozhovor s Valentinem Rossim po sezóně 2014
            [post_author] => 2
            [post_date] => 2014-11-18 14:55:19
            [year] => 2014
            [month] => 11
            [post_type] => post
        )

    [193] => stdClass Object
        (
            [slug] => rossi-novinky
            [ID] => 35877
            [post_name] => jorge-lorenzo-valentino-dokazal-neuveritelnou-vec
            [post_title] => Jorge Lorenzo: "Valentino dokázal neuvěřitelnou věc." 
            [post_author] => 2
            [post_date] => 2014-11-13 13:36:48
            [year] => 2014
            [month] => 11
            [post_type] => post
        )

    [194] => stdClass Object
        (
            [slug] => rossi-novinky
            [ID] => 35799
            [post_name] => posezonni-testy-motogp-valencie-2014
            [post_title] => Posezónní testy MotoGP - Valencie 2014
            [post_author] => 2
            [post_date] => 2014-11-10 12:57:51
            [year] => 2014
            [month] => 11
            [post_type] => post
        )

    [195] => stdClass Object
        (
            [slug] => velkka-cena-gp
            [ID] => 35752
            [post_name] => velka-cena-valencie-motogp-2014
            [post_title] => Velká Cena Valencie MotoGP 2014
            [post_author] => 2
            [post_date] => 2014-11-09 15:20:38
            [year] => 2014
            [month] => 11
            [post_type] => post
        )

    [196] => stdClass Object
        (
            [slug] => rossi-novinky
            [ID] => 35743
            [post_name] => warm-up-motogp-valencie-2014
            [post_title] => Warm up MotoGP Valencie 2014
            [post_author] => 2
            [post_date] => 2014-11-09 10:16:20
            [year] => 2014
            [month] => 11
            [post_type] => post
        )

    [197] => stdClass Object
        (
            [slug] => rossi-novinky
            [ID] => 35707
            [post_name] => sobotni-trenink-a-kvalifikace-motogp-valencie-2014
            [post_title] => Sobotní trénink a kvalifikace MotoGP - Valencie 2014
            [post_author] => 2
            [post_date] => 2014-11-08 10:50:49
            [year] => 2014
            [month] => 11
            [post_type] => post
        )

    [198] => stdClass Object
        (
            [slug] => ducati-2
            [ID] => 35674
            [post_name] => tiskova-konference-se-zastupci-tovaren-v-motogp
            [post_title] => Tisková konference se zástupci továren v MotoGP
            [post_author] => 2
            [post_date] => 2014-11-07 20:39:04
            [year] => 2014
            [month] => 11
            [post_type] => post
        )

    [199] => stdClass Object
        (
            [slug] => rossi-novinky
            [ID] => 35664
            [post_name] => patecni-treninky-motogp-valencie-2014
            [post_title] => Páteční tréninky MotoGP - Valencie 2014
            [post_author] => 2
            [post_date] => 2014-11-07 11:07:11
            [year] => 2014
            [month] => 11
            [post_type] => post
        )

    [200] => stdClass Object
        (
            [slug] => rossi-novinky
            [ID] => 35640
            [post_name] => tiskova-konference-motogp-valencie-2014
            [post_title] => Tisková konference MotoGP - Valencie 2014
            [post_author] => 2
            [post_date] => 2014-11-06 17:54:57
            [year] => 2014
            [month] => 11
            [post_type] => post
        )

    [201] => stdClass Object
        (
            [slug] => rossi-novinky
            [ID] => 35634
            [post_name] => tovarni-tym-yamahy-pred-poslednim-zavodem-sezony
            [post_title] => Tovární tým Yamahy před posledním závodem sezóny
            [post_author] => 2
            [post_date] => 2014-11-05 18:14:52
            [year] => 2014
            [month] => 11
            [post_type] => post
        )

    [202] => stdClass Object
        (
            [slug] => rossi-novinky
            [ID] => 35629
            [post_name] => valentino-rossi-predstavoval-novou-yamahu-r1
            [post_title] => Valentino Rossi představoval novou Yamahu R1
            [post_author] => 2
            [post_date] => 2014-11-04 16:58:52
            [year] => 2014
            [month] => 11
            [post_type] => post
        )

    [203] => stdClass Object
        (
            [slug] => rossi-novinky
            [ID] => 35613
            [post_name] => valentino-rossi-jeste-stale-jsem-tady
            [post_title] => Valentino Rossi: "Ještě stále jsem tady!"
            [post_author] => 2
            [post_date] => 2014-10-26 20:45:08
            [year] => 2014
            [month] => 10
            [post_type] => post
        )

    [204] => stdClass Object
        (
            [slug] => velkka-cena-gp
            [ID] => 35580
            [post_name] => velka-cena-motogp-malajsie-sepang-2014
            [post_title] => Velká Cena MotoGP Malajsie - Sepang 2014
            [post_author] => 2
            [post_date] => 2014-10-26 10:20:38
            [year] => 2014
            [month] => 10
            [post_type] => post
        )

    [205] => stdClass Object
        (
            [slug] => rossi-novinky
            [ID] => 35549
            [post_name] => sobotni-trenink-a-kvalifikace-motogp-sepang-2014
            [post_title] => Sobotní trénink a kvalifikace MotoGP - Sepang 2014
            [post_author] => 2
            [post_date] => 2014-10-25 07:32:31
            [year] => 2014
            [month] => 10
            [post_type] => post
        )

    [206] => stdClass Object
        (
            [slug] => rossi-novinky
            [ID] => 35522
            [post_name] => patecni-treninky-motogp-sepang-2014
            [post_title] => Páteční tréninky MotoGP - Sepang 2014 
            [post_author] => 2
            [post_date] => 2014-10-24 07:34:30
            [year] => 2014
            [month] => 10
            [post_type] => post
        )

    [207] => stdClass Object
        (
            [slug] => rossi-novinky
            [ID] => 35513
            [post_name] => tiskova-konference-motogp-sepang-2014
            [post_title] => Tisková konference MotoGP - Sepang 2014
            [post_author] => 2
            [post_date] => 2014-10-23 13:04:52
            [year] => 2014
            [month] => 10
            [post_type] => post
        )

    [208] => stdClass Object
        (
            [slug] => velkka-cena-gp
            [ID] => 35448
            [post_name] => velka-cena-australie-motogp-phillip-island-2014
            [post_title] => Velká Cena Austrálie MotoGP - Phillip Island 2014
            [post_author] => 2
            [post_date] => 2014-10-19 08:25:02
            [year] => 2014
            [month] => 10
            [post_type] => post
        )

    [209] => stdClass Object
        (
            [slug] => rossi-novinky
            [ID] => 35416
            [post_name] => sobotni-trenink-a-kvalifikace-motogp-phillip-island-2014
            [post_title] => Sobotní trénink a kvalifikace - MotoGP Phillip Island 2014
            [post_author] => 2
            [post_date] => 2014-10-18 08:14:54
            [year] => 2014
            [month] => 10
            [post_type] => post
        )

    [210] => stdClass Object
        (
            [slug] => rossi-novinky
            [ID] => 35373
            [post_name] => vyjadreni-k-bojim-o-druhe-misto
            [post_title] => Vyjádření jezdců k boji o druhé místo v šampionátu
            [post_author] => 815
            [post_date] => 2014-10-16 11:05:04
            [year] => 2014
            [month] => 10
            [post_type] => post
        )

    [211] => stdClass Object
        (
            [slug] => rossi-novinky
            [ID] => 35368
            [post_name] => tiskova-konference-motogp-phillip-island-2014
            [post_title] => Tisková konference MotoGP - Phillip Island 2014
            [post_author] => 2
            [post_date] => 2014-10-16 08:48:34
            [year] => 2014
            [month] => 10
            [post_type] => post
        )

    [212] => stdClass Object
        (
            [slug] => velkka-cena-gp
            [ID] => 35310
            [post_name] => velka-cena-japonska-motogp-motegi-2014
            [post_title] => Velká Cena Japonska MotoGP - Motegi 2014
            [post_author] => 2
            [post_date] => 2014-10-12 08:13:28
            [year] => 2014
            [month] => 10
            [post_type] => post
        )

    [213] => stdClass Object
        (
            [slug] => rossi-novinky
            [ID] => 35286
            [post_name] => sobotni-treninky-a-kvalifikace-motogp-motegi-2014
            [post_title] => Sobotní tréninky a kvalifikace MotoGP - Motegi 2014
            [post_author] => 2
            [post_date] => 2014-10-11 07:10:01
            [year] => 2014
            [month] => 10
            [post_type] => post
        )

    [214] => stdClass Object
        (
            [slug] => rossi-novinky
            [ID] => 35239
            [post_name] => tiskova-konference-motogp-motegi-2014
            [post_title] => Tisková konference MotoGP - Motegi 2014
            [post_author] => 2
            [post_date] => 2014-10-09 10:47:46
            [year] => 2014
            [month] => 10
            [post_type] => post
        )

    [215] => stdClass Object
        (
            [slug] => rossi-novinky
            [ID] => 35224
            [post_name] => jorge-lorenzo-rossi-a-marquez-se-porazi-nejobtizneji
            [post_title] => Jorge Lorenzo: "Rossi a Marquez se poráží nejobtížněji."
            [post_author] => 2
            [post_date] => 2014-10-06 16:46:07
            [year] => 2014
            [month] => 10
            [post_type] => post
        )

    [216] => stdClass Object
        (
            [slug] => rossi-novinky
            [ID] => 35220
            [post_name] => plany-michelinu-pred-vstupem-do-motogp
            [post_title] => Plány Michelinu před vstupem do MotoGP
            [post_author] => 2
            [post_date] => 2014-10-04 20:54:18
            [year] => 2014
            [month] => 10
            [post_type] => post
        )

    [217] => stdClass Object
        (
            [slug] => rossi-novinky
            [ID] => 35203
            [post_name] => valentino-rossi-k-nehode-v-aragonu
            [post_title] => Valentino Rossi k nehodě v Aragonu
            [post_author] => 815
            [post_date] => 2014-09-29 15:19:22
            [year] => 2014
            [month] => 9
            [post_type] => post
        )

    [218] => stdClass Object
        (
            [slug] => velkka-cena-gp
            [ID] => 35173
            [post_name] => velka-cena-motogp-movistar-aragon-2014
            [post_title] => Velká Cena MotoGP Movistar - Aragon 2014
            [post_author] => 2
            [post_date] => 2014-09-28 15:19:04
            [year] => 2014
            [month] => 9
            [post_type] => post
        )

    [219] => stdClass Object
        (
            [slug] => rossi-novinky
            [ID] => 35121
            [post_name] => sobotni-trenink-a-kvalifikace-motogp-aragon-2014
            [post_title] => Sobotní trénink a kvalifikace MotoGP Aragon 2014
            [post_author] => 2
            [post_date] => 2014-09-27 10:50:12
            [year] => 2014
            [month] => 9
            [post_type] => post
        )

    [220] => stdClass Object
        (
            [slug] => rossi-novinky
            [ID] => 35050
            [post_name] => marc-marquez-a-dalsi-jezdci-na-ranci-valentina-rossiho
            [post_title] => Marc Marquez a další jezdci na ranči Valentina Rossiho
            [post_author] => 2
            [post_date] => 2014-09-25 18:52:28
            [year] => 2014
            [month] => 9
            [post_type] => post
        )

    [221] => stdClass Object
        (
            [slug] => rossi-novinky
            [ID] => 35081
            [post_name] => tiskova-konference-motogp-aragon-2014
            [post_title] => Tisková konference MotoGP Aragon 2014
            [post_author] => 2
            [post_date] => 2014-09-25 17:36:54
            [year] => 2014
            [month] => 9
            [post_type] => post
        )

    [222] => stdClass Object
        (
            [slug] => rossi-novinky
            [ID] => 35066
            [post_name] => tovarni-tym-yamahy-pred-zavodem-v-aragonu
            [post_title] => Tovární tým Yamahy před závodem v Aragonu 2014
            [post_author] => 2
            [post_date] => 2014-09-24 17:04:10
            [year] => 2014
            [month] => 9
            [post_type] => post
        )

    [223] => stdClass Object
        (
            [slug] => rossi-novinky
            [ID] => 35012
            [post_name] => misano-2014-navrat-legendy
            [post_title] => Misano 2014 - Návrat legendy
            [post_author] => 2
            [post_date] => 2014-09-15 22:44:00
            [year] => 2014
            [month] => 9
            [post_type] => post
        )

    [224] => stdClass Object
        (
            [slug] => velkka-cena-gp
            [ID] => 34956
            [post_name] => velka-cena-san-marina-misano-2014
            [post_title] => Velká Cena San Marina - Misano 2014
            [post_author] => 2
            [post_date] => 2014-09-14 15:19:38
            [year] => 2014
            [month] => 9
            [post_type] => post
        )

    [225] => stdClass Object
        (
            [slug] => rossi-novinky
            [ID] => 34912
            [post_name] => sobotni-trenink-a-kvalifikace-motogp-misano-2014
            [post_title] => Sobotní trénink a kvalifikace MotoGP - Misano 2014
            [post_author] => 2
            [post_date] => 2014-09-13 10:52:32
            [year] => 2014
            [month] => 9
            [post_type] => post
        )

    [226] => stdClass Object
        (
            [slug] => rossi-novinky
            [ID] => 34868
            [post_name] => tiskova-konference-pred-zavodem-motogp-v-misanu
            [post_title] => Tisková konference před závodem MotoGP v Misanu
            [post_author] => 2
            [post_date] => 2014-09-11 18:18:48
            [year] => 2014
            [month] => 9
            [post_type] => post
        )

    [227] => stdClass Object
        (
            [slug] => rossi-novinky
            [ID] => 34864
            [post_name] => valentino-rossi-muj-den-znovu-prijde
            [post_title] => Valentino Rossi: "Můj den znovu přijde."
            [post_author] => 2
            [post_date] => 2014-09-10 21:58:02
            [year] => 2014
            [month] => 9
            [post_type] => post
        )

    [228] => stdClass Object
        (
            [slug] => rossi-novinky
            [ID] => 34860
            [post_name] => c-ezpeleta-je-dobre-ze-bude-valentino-pokracovat
            [post_title] => C.Ezpeleta: "Je dobře, že bude Valentino pokračovat!"
            [post_author] => 2
            [post_date] => 2014-09-10 19:54:56
            [year] => 2014
            [month] => 9
            [post_type] => post
        )

    [229] => stdClass Object
        (
            [slug] => colin-edwards
            [ID] => 34837
            [post_name] => colin-edwards-bude-testovacim-jezdcem-yamahy
            [post_title] => Colin Edwards bude testovacím jezdcem Yamahy
            [post_author] => 2
            [post_date] => 2014-09-05 17:02:04
            [year] => 2014
            [month] => 9
            [post_type] => post
        )

    [230] => stdClass Object
        (
            [slug] => velkka-cena-gp
            [ID] => 34790
            [post_name] => velka-cena-velke-britanie-motogp-silverstone-2014
            [post_title] => Velká Cena Velké Británie MotoGP - Silverstone 2014
            [post_author] => 2
            [post_date] => 2014-08-31 15:17:35
            [year] => 2014
            [month] => 8
            [post_type] => post
        )

    [231] => stdClass Object
        (
            [slug] => rossi-novinky
            [ID] => 34716
            [post_name] => tiskova-konference-motogp-silverstone-2014
            [post_title] => Tisková konference MotoGP Silverstone 2014
            [post_author] => 2
            [post_date] => 2014-08-28 18:47:17
            [year] => 2014
            [month] => 8
            [post_type] => post
        )

    [232] => stdClass Object
        (
            [slug] => jorge-lorenzo
            [ID] => 34438
            [post_name] => honda-lorenza-nechtela-a-boji-se-prechodu-na-michelin
            [post_title] => Honda Lorenza nechtěla a bojí se přechodu na Michelin 
            [post_author] => 2
            [post_date] => 2014-08-20 18:03:02
            [year] => 2014
            [month] => 8
            [post_type] => post
        )

    [233] => stdClass Object
        (
            [slug] => rossi-novinky
            [ID] => 34684
            [post_name] => after-the-flag-indy-a-brno-s-valentinem-rossim
            [post_title] => After the flag Indy a Brno s Valentinem Rossim
            [post_author] => 2
            [post_date] => 2014-08-19 18:03:14
            [year] => 2014
            [month] => 8
            [post_type] => post
        )

    [234] => stdClass Object
        (
            [slug] => rossi-novinky
            [ID] => 34608
            [post_name] => pozavodni-testy-motogp-brno-2014
            [post_title] => Pozávodní testy MotoGP Brno 2014
            [post_author] => 2
            [post_date] => 2014-08-18 10:48:16
            [year] => 2014
            [month] => 8
            [post_type] => post
        )

    [235] => stdClass Object
        (
            [slug] => rossi-novinky
            [ID] => 34557
            [post_name] => velka-cena-motogp-ceske-republiky-brno-2014
            [post_title] => Velká Cena MotoGP České Republiky - Brno 2014 
            [post_author] => 2
            [post_date] => 2014-08-17 15:16:56
            [year] => 2014
            [month] => 8
            [post_type] => post
        )

    [236] => stdClass Object
        (
            [slug] => yamaha-2
            [ID] => 34486
            [post_name] => yamaha-priznava-technologickou-ztratu
            [post_title] => Yamaha přiznává technologickou ztrátu
            [post_author] => 2
            [post_date] => 2014-08-15 18:57:17
            [year] => 2014
            [month] => 8
            [post_type] => post
        )

    [237] => stdClass Object
        (
            [slug] => rossi-novinky
            [ID] => 34439
            [post_name] => tiskova-konference-motogp-brno-2014
            [post_title] => Tisková konference MotoGP Brno 2014
            [post_author] => 2
            [post_date] => 2014-08-14 19:18:05
            [year] => 2014
            [month] => 8
            [post_type] => post
        )

    [238] => stdClass Object
        (
            [slug] => velkka-cena-gp
            [ID] => 34404
            [post_name] => velka-cena-red-bull-indianapolis-2014
            [post_title] => Velká Cena Red Bull - Indianapolis 2014
            [post_author] => 2
            [post_date] => 2014-08-10 21:16:39
            [year] => 2014
            [month] => 8
            [post_type] => post
        )

    [239] => stdClass Object
        (
            [slug] => rossi-novinky
            [ID] => 34331
            [post_name] => tiskova-konference-motogp-indianapolis-2014
            [post_title] => Tisková konference MotoGP - Indianapolis 2014
            [post_author] => 2
            [post_date] => 2014-08-07 20:39:27
            [year] => 2014
            [month] => 8
            [post_type] => post
        )

    [240] => stdClass Object
        (
            [slug] => rossi-novinky
            [ID] => 34324
            [post_name] => jorge-lorenzo-zustava-u-yamahy-2
            [post_title] => Jorge Lorenzo zůstává u Yamahy
            [post_author] => 2
            [post_date] => 2014-08-07 18:33:19
            [year] => 2014
            [month] => 8
            [post_type] => post
        )

    [241] => stdClass Object
        (
            [slug] => rossi-novinky
            [ID] => 34325
            [post_name] => jorge-lorenzo-pokracuje-dalsie-dva-roky-s-yamahou
            [post_title] => Jorge Lorenzo pokračuje ďalšie dva roky s Yamahou
            [post_author] => 514
            [post_date] => 2014-08-07 18:27:55
            [year] => 2014
            [month] => 8
            [post_type] => post
        )

    [242] => stdClass Object
        (
            [slug] => rossi-novinky
            [ID] => 34313
            [post_name] => tovarni-tym-yamahy-pred-indianopolis
            [post_title] => Tovární tým Yamahy před Indianopolis
            [post_author] => 815
            [post_date] => 2014-08-06 10:04:44
            [year] => 2014
            [month] => 8
            [post_type] => post
        )

    [243] => stdClass Object
        (
            [slug] => ducati-desmosedici
            [ID] => 34301
            [post_name] => problemem-ducati-je-firemni-kultura
            [post_title] => Problémem Ducati je firemní kultura
            [post_author] => 2
            [post_date] => 2014-08-01 16:52:01
            [year] => 2014
            [month] => 8
            [post_type] => post
        )

    [244] => stdClass Object
        (
            [slug] => rossi-novinky
            [ID] => 34294
            [post_name] => massimo-meregalli-o-rossiho-zlepseni
            [post_title] => Massimo Meregalli o Rossiho zlepšení
            [post_author] => 514
            [post_date] => 2014-07-30 23:19:54
            [year] => 2014
            [month] => 7
            [post_type] => post
        )

    [245] => stdClass Object
        (
            [slug] => rossi-novinky
            [ID] => 34285
            [post_name] => herve-poncharal-zavodeni-je-nemilosrdne
            [post_title] => Hervé Poncharal: "Závodění je nemilosrdné!"
            [post_author] => 2
            [post_date] => 2014-07-22 20:27:32
            [year] => 2014
            [month] => 7
            [post_type] => post
        )

    [246] => stdClass Object
        (
            [slug] => rossi-novinky
            [ID] => 34274
            [post_name] => valentino-rossi-budu-zavodit-do-40-let
            [post_title] => Valentino Rossi: "Budu třeba závodit do 40 let."
            [post_author] => 2
            [post_date] => 2014-07-16 13:29:37
            [year] => 2014
            [month] => 7
            [post_type] => post
        )

    [247] => stdClass Object
        (
            [slug] => velkka-cena-gp
            [ID] => 34242
            [post_name] => velka-cena-nemecka-motogp-sachsenring-2014
            [post_title] => Velká Cena Německa MotoGP - Sachsenring 2014
            [post_author] => 2
            [post_date] => 2014-07-13 15:05:16
            [year] => 2014
            [month] => 7
            [post_type] => post
        )

    [248] => stdClass Object
        (
            [slug] => rossi-novinky
            [ID] => 34165
            [post_name] => tiskova-konference-motogp-sachsenring-2014
            [post_title] => Tisková konference MotoGP - Sachsenring 2014
            [post_author] => 2
            [post_date] => 2014-07-10 17:44:01
            [year] => 2014
            [month] => 7
            [post_type] => post
        )

    [249] => stdClass Object
        (
            [slug] => rossi-novinky
            [ID] => 33935
            [post_name] => tovarni-tym-yamahy-pred-sachsenringem
            [post_title] => Tovární tým Yamahy před Sachsenringem
            [post_author] => 2
            [post_date] => 2014-07-09 11:43:22
            [year] => 2014
            [month] => 7
            [post_type] => post
        )

    [250] => stdClass Object
        (
            [slug] => rossi-novinky
            [ID] => 34150
            [post_name] => yamaha-insider-rozhovor-se-silvanem-galbuserou
            [post_title] => Yamaha Insider - Rozhovor se Silvanem Galbuserou
            [post_author] => 2
            [post_date] => 2014-07-08 15:07:43
            [year] => 2014
            [month] => 7
            [post_type] => post
        )

    [251] => stdClass Object
        (
            [slug] => rossi-novinky
            [ID] => 34089
            [post_name] => valentino-rossi-zustava-u-yamahy-do-roku-2016
            [post_title] => Valentino Rossi zůstává u Yamahy do roku 2016
            [post_author] => 2
            [post_date] => 2014-07-02 15:29:02
            [year] => 2014
            [month] => 7
            [post_type] => post
        )

    [252] => stdClass Object
        (
            [slug] => motogp
            [ID] => 34081
            [post_name] => vyplati-se-pas-na-sledovani-motogp
            [post_title] => Vyplatí se pas na sledování MotoGP?
            [post_author] => 2
            [post_date] => 2014-06-29 19:46:02
            [year] => 2014
            [month] => 6
            [post_type] => post
        )

    [253] => stdClass Object
        (
            [slug] => velkka-cena-gp
            [ID] => 34034
            [post_name] => velka-cena-dutch-tt-motogp-assen-2014
            [post_title] => Velká Cena Dutch TT MotoGP - Assen 2014
            [post_author] => 2
            [post_date] => 2014-06-28 15:28:01
            [year] => 2014
            [month] => 6
            [post_type] => post
        )

    [254] => stdClass Object
        (
            [slug] => rossi-novinky
            [ID] => 33944
            [post_name] => tiskova-konference-motogp-assen-2014
            [post_title] => Tisková konference MotoGP - Assen 2014
            [post_author] => 2
            [post_date] => 2014-06-25 17:41:35
            [year] => 2014
            [month] => 6
            [post_type] => post
        )

    [255] => stdClass Object
        (
            [slug] => rossi-novinky
            [ID] => 33929
            [post_name] => yamaha-je-vykony-valentina-rossiho-prekvapena
            [post_title] => Yamaha je výkony Valentina Rossiho překvapena
            [post_author] => 2
            [post_date] => 2014-06-19 14:07:06
            [year] => 2014
            [month] => 6
            [post_type] => post
        )

    [256] => stdClass Object
        (
            [slug] => rossi-novinky
            [ID] => 33760
            [post_name] => pozavodny-test-motogp-katalansko-2014
            [post_title] => Pozávodný test MotoGP - Katalánsko 2014
            [post_author] => 514
            [post_date] => 2014-06-16 10:47:04
            [year] => 2014
            [month] => 6
            [post_type] => post
        )

    [257] => stdClass Object
        (
            [slug] => velkka-cena-gp
            [ID] => 33641
            [post_name] => velka-cena-katalanska-motogp-2014-barcelona
            [post_title] => Velká Cena Katalánska MotoGP 2014 - Barcelona
            [post_author] => 2
            [post_date] => 2014-06-15 15:16:05
            [year] => 2014
            [month] => 6
            [post_type] => post
        )

    [258] => stdClass Object
        (
            [slug] => rossi-novinky
            [ID] => 33260
            [post_name] => valentino-rossi-chci-desaty-titul
            [post_title] => Valentino Rossi: "Chci desátý titul."
            [post_author] => 2
            [post_date] => 2014-06-12 12:44:07
            [year] => 2014
            [month] => 6
            [post_type] => post
        )

    [259] => stdClass Object
        (
            [slug] => rossi-novinky
            [ID] => 33348
            [post_name] => michelin-bude-testovat-uz-letos-ve-valencii
            [post_title] => Michelin bude testovat už letos ve Valencii
            [post_author] => 2
            [post_date] => 2014-06-10 13:05:54
            [year] => 2014
            [month] => 6
            [post_type] => post
        )

    [260] => stdClass Object
        (
            [slug] => marco-simoncelli
            [ID] => 33161
            [post_name] => velka-cena-italie-motogp-2014-mugello
            [post_title] => Velká Cena Itálie MotoGP 2014 - Mugello
            [post_author] => 2
            [post_date] => 2014-06-01 15:18:18
            [year] => 2014
            [month] => 6
            [post_type] => post
        )

    [261] => stdClass Object
        (
            [slug] => rossi-novinky
            [ID] => 33029
            [post_name] => tiskova-konference-motogp-mugello-2014
            [post_title] => Tisková konference MotoGP Mugello 2014
            [post_author] => 2
            [post_date] => 2014-05-29 17:47:17
            [year] => 2014
            [month] => 5
            [post_type] => post
        )

    [262] => stdClass Object
        (
            [slug] => alex-briggs
            [ID] => 32917
            [post_name] => komu-prospeji-vetsi-brzdove-kotouce
            [post_title] => Komu v MotoGP prospějí větší brzdové kotouče?
            [post_author] => 2
            [post_date] => 2014-05-23 13:36:12
            [year] => 2014
            [month] => 5
            [post_type] => post
        )

    [263] => stdClass Object
        (
            [slug] => rossi-novinky
            [ID] => 32908
            [post_name] => michelin-bude-dodavat-pneumatiky-do-motogp
            [post_title] => MIchelin bude dodávat pneumatiky do MotoGP
            [post_author] => 815
            [post_date] => 2014-05-23 12:59:34
            [year] => 2014
            [month] => 5
            [post_type] => post
        )

    [264] => stdClass Object
        (
            [slug] => rossi-novinky
            [ID] => 32883
            [post_name] => mugello-nejposvatnejsi-z-posvatnych
            [post_title] => Mugello - nejposvátnější z posvátných
            [post_author] => 2
            [post_date] => 2014-05-22 12:02:19
            [year] => 2014
            [month] => 5
            [post_type] => post
        )

    [265] => stdClass Object
        (
            [slug] => velkka-cena-gp
            [ID] => 32824
            [post_name] => velka-cena-francie-motogp-2014-v-le-mans
            [post_title] => Velká Cena Francie MotoGP 2014 v Le Mans
            [post_author] => 2
            [post_date] => 2014-05-18 15:30:48
            [year] => 2014
            [month] => 5
            [post_type] => post
        )

    [266] => stdClass Object
        (
            [slug] => motogp
            [ID] => 32699
            [post_name] => zavod-motogp-v-brne-opet-v-ohrozeni
            [post_title] => Závod MotoGP v Brně opět v ohrožení
            [post_author] => 2
            [post_date] => 2014-05-08 10:02:36
            [year] => 2014
            [month] => 5
            [post_type] => post
        )

    [267] => stdClass Object
        (
            [slug] => rossi-novinky
            [ID] => 32691
            [post_name] => after-the-flag-argentina-jerez-s-alexem-briggsem
            [post_title] => After the flag Argentina - Jerez s Alexem Briggsem
            [post_author] => 2
            [post_date] => 2014-05-07 11:14:31
            [year] => 2014
            [month] => 5
            [post_type] => post
        )

    [268] => stdClass Object
        (
            [slug] => rossi-novinky
            [ID] => 32617
            [post_name] => pozavodni-test-motogp-v-jerezu
            [post_title] => Pozávodní test MotoGP v Jerezu
            [post_author] => 2
            [post_date] => 2014-05-05 10:14:25
            [year] => 2014
            [month] => 5
            [post_type] => post
        )

    [269] => stdClass Object
        (
            [slug] => velkka-cena-gp
            [ID] => 32439
            [post_name] => velka-cena-spanelska-motogp-2014-jerez
            [post_title] => Velká Cena Španělska MotoGP 2014 - Jerez
            [post_author] => 2
            [post_date] => 2014-05-04 15:21:49
            [year] => 2014
            [month] => 5
            [post_type] => post
        )

    [270] => stdClass Object
        (
            [slug] => rossi-novinky
            [ID] => 32526
            [post_name] => valentino-rossi-chci-dal-pokracovat
            [post_title] => Valentino Rossi: "Chci dál pokračovat."
            [post_author] => 2
            [post_date] => 2014-05-03 08:35:49
            [year] => 2014
            [month] => 5
            [post_type] => post
        )

    [271] => stdClass Object
        (
            [slug] => rossi-novinky
            [ID] => 32459
            [post_name] => bridgestone-oznamil-odchod-z-motogp
            [post_title] => Bridgestone oznámil odchod z MotoGP
            [post_author] => 815
            [post_date] => 2014-05-01 11:45:05
            [year] => 2014
            [month] => 5
            [post_type] => post
        )

    [272] => stdClass Object
        (
            [slug] => velkka-cena-gp
            [ID] => 32395
            [post_name] => velka-cena-argentiny-motogp-termas-de-rio-hondo
            [post_title] => Velká Cena Argentiny MotoGP - Termas de Rio Hondo
            [post_author] => 2
            [post_date] => 2014-04-27 20:17:13
            [year] => 2014
            [month] => 4
            [post_type] => post
        )

    [273] => stdClass Object
        (
            [slug] => motogp
            [ID] => 10488
            [post_name] => motogp-se-vraci-do-argentiny
            [post_title] => MotoGP se vrací do Argentiny
            [post_author] => 2
            [post_date] => 2014-04-21 07:53:10
            [year] => 2014
            [month] => 4
            [post_type] => post
        )

    [274] => stdClass Object
        (
            [slug] => bridgestone-2
            [ID] => 32222
            [post_name] => zmeni-motogp-dodavatele-pneumatik
            [post_title] => Změní třída MotoGP dodavatele pneumatik?
            [post_author] => 815
            [post_date] => 2014-04-19 20:53:54
            [year] => 2014
            [month] => 4
            [post_type] => post
        )

    [275] => stdClass Object
        (
            [slug] => bridgestone-2
            [ID] => 32205
            [post_name] => bridgestone-to-opotrebeni-bylo-necekane
            [post_title] => Bridgestone: "To opotřebení bylo nečekané..."
            [post_author] => 2
            [post_date] => 2014-04-16 14:14:07
            [year] => 2014
            [month] => 4
            [post_type] => post
        )

    [276] => stdClass Object
        (
            [slug] => suzuki-2
            [ID] => 32198
            [post_name] => testy-suzuki-v-austinu
            [post_title] => Testy Suzuki v Austinu
            [post_author] => 2
            [post_date] => 2014-04-15 11:35:03
            [year] => 2014
            [month] => 4
            [post_type] => post
        )

    [277] => stdClass Object
        (
            [slug] => technologie-motogp
            [ID] => 32195
            [post_name] => msma-se-dohodla-na-zmrazeni-vyvoje-elektroniky
            [post_title] => MSMA se dohodla na zmrazení vývoje elektroniky 
            [post_author] => 2
            [post_date] => 2014-04-15 09:14:38
            [year] => 2014
            [month] => 4
            [post_type] => post
        )

    [278] => stdClass Object
        (
            [slug] => rossi-novinky
            [ID] => 32188
            [post_name] => valentino-rossi-premarnena-velka-prilezitost
            [post_title] => Valentino Rossi: "Premárnená veľká príležitosť"
            [post_author] => 514
            [post_date] => 2014-04-14 19:14:59
            [year] => 2014
            [month] => 4
            [post_type] => post
        )

    [279] => stdClass Object
        (
            [slug] => velkka-cena-gp
            [ID] => 32139
            [post_name] => velka-cena-motogp-austin-2014
            [post_title] => Velká Cena MotoGP - Austin 2014
            [post_author] => 2
            [post_date] => 2014-04-13 22:10:24
            [year] => 2014
            [month] => 4
            [post_type] => post
        )

    [280] => stdClass Object
        (
            [slug] => rossi-novinky
            [ID] => 32099
            [post_name] => s-galbusera-me-tajemstvi-rossimu-duveruji
            [post_title] => S.Galbusera: "Mé tajemství? Rossimu důvěřuji."
            [post_author] => 2
            [post_date] => 2014-04-12 19:29:57
            [year] => 2014
            [month] => 4
            [post_type] => post
        )

    [281] => stdClass Object
        (
            [slug] => rossi-novinky
            [ID] => 31967
            [post_name] => yamaha-chce-prodlouzit-smlouvy-s-rossim-a-lorenzem
            [post_title] => Yamaha chce prodloužit smlouvy s Rossim a Lorenzem
            [post_author] => 2
            [post_date] => 2014-04-04 20:40:59
            [year] => 2014
            [month] => 4
            [post_type] => post
        )

    [282] => stdClass Object
        (
            [slug] => rossi-novinky
            [ID] => 31952
            [post_name] => rozhovor-s-valentinem-rossim-pred-zavodem-v-austinu
            [post_title] => Rozhovor s Valentinem Rossim před závodem v Austinu
            [post_author] => 2
            [post_date] => 2014-04-03 19:04:53
            [year] => 2014
            [month] => 4
            [post_type] => post
        )

    [283] => stdClass Object
        (
            [slug] => rossi-novinky
            [ID] => 31947
            [post_name] => lin-jarvis-rossi-je-uchazecem-o-titul-mistra-sveta
            [post_title] => Lin Jarvis: "Rossi je uchazečem o titul mistra světa." 
            [post_author] => 2
            [post_date] => 2014-04-02 13:59:00
            [year] => 2014
            [month] => 4
            [post_type] => post
        )

    [284] => stdClass Object
        (
            [slug] => rossi-novinky
            [ID] => 30972
            [post_name] => graziano-rossi-byl-to-nejlepsi-zavod-za-tri-roky
            [post_title] => Graziano Rossi: "Byl to nejlepší závod za tři roky."
            [post_author] => 2
            [post_date] => 2014-03-25 20:32:29
            [year] => 2014
            [month] => 3
            [post_type] => post
        )

    [285] => stdClass Object
        (
            [slug] => rossi-novinky
            [ID] => 30523
            [post_name] => valentino-rossi-bylo-to-jako-pred-deseti-lety
            [post_title] => Valentino Rossi: "Bylo to jako před deseti lety."
            [post_author] => 2
            [post_date] => 2014-03-24 14:43:47
            [year] => 2014
            [month] => 3
            [post_type] => post
        )

    [286] => stdClass Object
        (
            [slug] => velkka-cena-gp
            [ID] => 30443
            [post_name] => velka-cena-motogp-katar-2014
            [post_title] => VELKÁ CENA MOTOGP KATAR 2014
            [post_author] => 2
            [post_date] => 2014-03-23 21:03:45
            [year] => 2014
            [month] => 3
            [post_type] => post
        )

    [287] => stdClass Object
        (
            [slug] => ducati-2
            [ID] => 30266
            [post_name] => honda-souhlasi-se-zavedenim-jednotneho-software
            [post_title] => Honda souhlasí se zavedením jednotného software
            [post_author] => 2
            [post_date] => 2014-03-21 15:17:03
            [year] => 2014
            [month] => 3
            [post_type] => post
        )

    [288] => stdClass Object
        (
            [slug] => rossi-novinky
            [ID] => 30079
            [post_name] => prezentace-tymu-yamaha-a-tiskova-konference-katar
            [post_title] => Prezentace týmu Yamaha a tisková konference Katar
            [post_author] => 2
            [post_date] => 2014-03-19 14:28:47
            [year] => 2014
            [month] => 3
            [post_type] => post
        )

    [289] => stdClass Object
        (
            [slug] => rossi-novinky
            [ID] => 30006
            [post_name] => valentino-rossi-veri-v-dobrou-sezonu
            [post_title] => Valentino Rossi věří v dobrou sezónu
            [post_author] => 2
            [post_date] => 2014-03-17 13:27:08
            [year] => 2014
            [month] => 3
            [post_type] => post
        )

    [290] => stdClass Object
        (
            [slug] => rossi-novinky
            [ID] => 29884
            [post_name] => d-brivio-s-rossim-pro-suzuki-na-rok-2015-nepocita
            [post_title] => D.Brivio s Rossim pro Suzuki na rok 2015 nepočítá
            [post_author] => 2
            [post_date] => 2014-03-13 20:51:29
            [year] => 2014
            [month] => 3
            [post_type] => post
        )

    [291] => stdClass Object
        (
            [slug] => rozhovor
            [ID] => 29764
            [post_name] => rozhovor-s-jorge-lorenzem-pred-sezonou-2014
            [post_title] => Rozhovor s Jorge Lorenzem před sezónou 2014
            [post_author] => 2
            [post_date] => 2014-03-11 14:57:13
            [year] => 2014
            [month] => 3
            [post_type] => post
        )

    [292] => stdClass Object
        (
            [slug] => rossi-novinky
            [ID] => 29491
            [post_name] => posledni-zimni-testy-motogp-v-kataru
            [post_title] => Poslední zimní testy MotoGP v Kataru
            [post_author] => 2
            [post_date] => 2014-03-07 14:37:27
            [year] => 2014
            [month] => 3
            [post_type] => post
        )

    [293] => stdClass Object
        (
            [slug] => ducati-2
            [ID] => 29436
            [post_name] => motogp-ve-trech-tridach
            [post_title] => MotoGP ve třech třídách…?!
            [post_author] => 2
            [post_date] => 2014-03-07 11:38:03
            [year] => 2014
            [month] => 3
            [post_type] => post
        )

    [294] => stdClass Object
        (
            [slug] => rossi-novinky
            [ID] => 27559
            [post_name] => telefonica-movistar-sponzorem-tymu-yamaha
            [post_title] => Telefonica Movistar sponzorem týmu Yamaha
            [post_author] => 2
            [post_date] => 2014-03-05 11:00:14
            [year] => 2014
            [month] => 3
            [post_type] => post
        )

    [295] => stdClass Object
        (
            [slug] => rossi-novinky
            [ID] => 29218
            [post_name] => test-motogp-phillip-island-2014-streda
            [post_title] => Test MotoGP Phillip Island 2014 - středa
            [post_author] => 2
            [post_date] => 2014-03-05 07:21:41
            [year] => 2014
            [month] => 3
            [post_type] => post
        )

    [296] => stdClass Object
        (
            [slug] => rossi-novinky
            [ID] => 29147
            [post_name] => test-motogp-phillip-island-2014-utery
            [post_title] => Test MotoGP Phillip Island 2014 - úterý
            [post_author] => 2
            [post_date] => 2014-03-04 07:10:37
            [year] => 2014
            [month] => 3
            [post_type] => post
        )

    [297] => stdClass Object
        (
            [slug] => rossi-novinky
            [ID] => 28778
            [post_name] => test-motogp-phillip-island-2014
            [post_title] => Test MotoGP Phillip Island 2014
            [post_author] => 2
            [post_date] => 2014-03-02 20:02:46
            [year] => 2014
            [month] => 3
            [post_type] => post
        )

    [298] => stdClass Object
        (
            [slug] => ducati-2
            [ID] => 28886
            [post_name] => software-pro-open-obdrzel-velky-upgrade
            [post_title] => Software pro "OPEN" obdržel velký upgrade. 
            [post_author] => 2
            [post_date] => 2014-03-02 15:31:37
            [year] => 2014
            [month] => 3
            [post_type] => post
        )

    [299] => stdClass Object
        (
            [slug] => rossi-novinky
            [ID] => 28455
            [post_name] => analyza-druhych-testu-v-sepangu
            [post_title] => Analýza druhých testů MotoGP v Sepangu
            [post_author] => 2
            [post_date] => 2014-02-28 16:32:36
            [year] => 2014
            [month] => 2
            [post_type] => post
        )

    [300] => stdClass Object
        (
            [slug] => rossi-novinky
            [ID] => 28107
            [post_name] => testy-motogp-sepang-2-den-treti
            [post_title] => Testy MotoGP Sepang 2 – deň tretí
            [post_author] => 514
            [post_date] => 2014-02-28 06:26:36
            [year] => 2014
            [month] => 2
            [post_type] => post
        )

    [301] => stdClass Object
        (
            [slug] => rossi-novinky
            [ID] => 27635
            [post_name] => testy-sepang-2-den-druhy
            [post_title] => Testy Sepang 2 – deň druhý
            [post_author] => 514
            [post_date] => 2014-02-27 06:15:59
            [year] => 2014
            [month] => 2
            [post_type] => post
        )

    [302] => stdClass Object
        (
            [slug] => rossi-novinky
            [ID] => 27583
            [post_name] => testy-sepang-2-den-prvy
            [post_title] => Testy Sepang 2 – deň prvý
            [post_author] => 514
            [post_date] => 2014-02-26 05:31:05
            [year] => 2014
            [month] => 2
            [post_type] => post
        )

    [303] => stdClass Object
        (
            [slug] => motogp
            [ID] => 27577
            [post_name] => rozhovor-s-herve-poncharalem-yamaha-open
            [post_title] => Rozhovor s Herve Poncharalem – Yamaha & Open
            [post_author] => 2
            [post_date] => 2014-02-24 15:03:13
            [year] => 2014
            [month] => 2
            [post_type] => post
        )

    [304] => stdClass Object
        (
            [slug] => motogp
            [ID] => 27571
            [post_name] => m-webb-factory-nebo-open-by-melo-byt-dilema
            [post_title] => M.Webb: Factory nebo Open by mělo být dilema
            [post_author] => 2
            [post_date] => 2014-02-21 15:22:50
            [year] => 2014
            [month] => 2
            [post_type] => post
        )

    [305] => stdClass Object
        (
            [slug] => honda-2
            [ID] => 27557
            [post_name] => marc-marquez-ma-zlomenou-lytkovou-kost
            [post_title] => Marc Marquez má zlomenou lýtkovou kost
            [post_author] => 2
            [post_date] => 2014-02-20 13:34:56
            [year] => 2014
            [month] => 2
            [post_type] => post
        )

    [306] => stdClass Object
        (
            [slug] => ducati-desmosedici
            [ID] => 27547
            [post_name] => gigi-dalligna-zacal-pretvaret-ducati
            [post_title] => Gigi Dall'Igna začal přetvářet Ducati
            [post_author] => 2
            [post_date] => 2014-02-16 13:48:25
            [year] => 2014
            [month] => 2
            [post_type] => post
        )

    [307] => stdClass Object
        (
            [slug] => rossi-novinky
            [ID] => 27531
            [post_name] => specifikace-open-a-dilema-tovarnich-tymu
            [post_title] => Specifikace open a dilema továrních týmů
            [post_author] => 2
            [post_date] => 2014-02-13 16:46:35
            [year] => 2014
            [month] => 2
            [post_type] => post
        )

    [308] => stdClass Object
        (
            [slug] => rossi-novinky
            [ID] => 27492
            [post_name] => analyza-prvnich-testu-v-sepangu
            [post_title] => Analýza prvních testů v Sepangu
            [post_author] => 2
            [post_date] => 2014-02-10 10:23:59
            [year] => 2014
            [month] => 2
            [post_type] => post
        )

    [309] => stdClass Object
        (
            [slug] => motogp
            [ID] => 27511
            [post_name] => ezpeleta-pochybuje-o-odchodu-hondy
            [post_title] => Ezpeleta o možnosti odchodu Hondy pochybuje
            [post_author] => 2
            [post_date] => 2014-02-09 15:31:33
            [year] => 2014
            [month] => 2
            [post_type] => post
        )

    [310] => stdClass Object
        (
            [slug] => rossi-novinky
            [ID] => 27441
            [post_name] => testy-sepang-1-den-treti
            [post_title] => Testy Sepang 1 – den třetí
            [post_author] => 2
            [post_date] => 2014-02-06 07:15:24
            [year] => 2014
            [month] => 2
            [post_type] => post
        )

    [311] => stdClass Object
        (
            [slug] => rossi-novinky
            [ID] => 27401
            [post_name] => testy-sepang-1-den-druhy
            [post_title] => Testy Sepang 1 - den druhý
            [post_author] => 2
            [post_date] => 2014-02-05 07:20:32
            [year] => 2014
            [month] => 2
            [post_type] => post
        )

    [312] => stdClass Object
        (
            [slug] => rossi-novinky
            [ID] => 27314
            [post_name] => test-sepang-1-1-den
            [post_title] => Test Sepang 1 - 1. deň
            [post_author] => 514
            [post_date] => 2014-02-04 03:34:32
            [year] => 2014
            [month] => 2
            [post_type] => post
        )

    [313] => stdClass Object
        (
            [slug] => rossi-novinky
            [ID] => 27302
            [post_name] => pred-prvnimi-testy-v-sepangu
            [post_title] => Před prvními testy v Sepangu
            [post_author] => 2
            [post_date] => 2014-02-03 09:25:54
            [year] => 2014
            [month] => 2
            [post_type] => post
        )

    [314] => stdClass Object
        (
            [slug] => rossi-novinky
            [ID] => 27296
            [post_name] => fiat-se-vraci-v-roli-sponzora-k-yamaze
            [post_title] => FIAT se vrací v roli sponzora k Yamaze
            [post_author] => 2
            [post_date] => 2014-02-02 12:23:02
            [year] => 2014
            [month] => 2
            [post_type] => post
        )

    [315] => stdClass Object
        (
            [slug] => ducati-2
            [ID] => 27287
            [post_name] => sance-tovaren-v-sezone-motogp-2014
            [post_title] => Šance továren v sezóně MotoGP 2014
            [post_author] => 2
            [post_date] => 2014-01-28 11:56:16
            [year] => 2014
            [month] => 1
            [post_type] => post
        )

    [316] => stdClass Object
        (
            [slug] => rossi-novinky
            [ID] => 27219
            [post_name] => video-ze-zavodu-na-ranci-valentina-rossiho
            [post_title] => Video ze závodu na ranči Valentina Rossiho
            [post_author] => 2
            [post_date] => 2014-01-25 08:08:40
            [year] => 2014
            [month] => 1
            [post_type] => post
        )

    [317] => stdClass Object
        (
            [slug] => rossi-novinky
            [ID] => 27275
            [post_name] => s-galbusera-rossi-jeste-stale-muze-vitezit
            [post_title] => S.Galbusera: "Rossi ještě stále může vítězit."
            [post_author] => 2
            [post_date] => 2014-01-22 14:55:20
            [year] => 2014
            [month] => 1
            [post_type] => post
        )

    [318] => stdClass Object
        (
            [slug] => ducati-2
            [ID] => 27271
            [post_name] => gigi-dall-igna-prvnich-100-dni-v-ducati
            [post_title] => Gigi Dall 'Igna – Prvních 100 dní v Ducati
            [post_author] => 2
            [post_date] => 2014-01-20 20:48:56
            [year] => 2014
            [month] => 1
            [post_type] => post
        )

    [319] => stdClass Object
        (
            [slug] => jorge-lorenzo
            [ID] => 27267
            [post_name] => cruchlow-prestup-lorenza-k-ducati-nevylucuje
            [post_title] => Cruchlow přestup Lorenza k Ducati nevylučuje
            [post_author] => 2
            [post_date] => 2014-01-20 14:16:33
            [year] => 2014
            [month] => 1
            [post_type] => post
        )

    [320] => stdClass Object
        (
            [slug] => rossi-novinky
            [ID] => 27244
            [post_name] => predstaveni-barev-tymu-yamaha-pro-rok-2014
            [post_title] => Představení barev týmu Yamaha pro rok 2014
            [post_author] => 2
            [post_date] => 2014-01-17 09:19:55
            [year] => 2014
            [month] => 1
            [post_type] => post
        )

    [321] => stdClass Object
        (
            [slug] => ducati-2
            [ID] => 27238
            [post_name] => p-ciabatti-lorenzo-problem-neni-v-jezdcich-ale-v-motocyklu
            [post_title] => C.Ciabatti: "Lorenzo? Ne, problém není v jezdcích."
            [post_author] => 2
            [post_date] => 2014-01-16 17:31:43
            [year] => 2014
            [month] => 1
            [post_type] => post
        )

    [322] => stdClass Object
        (
            [slug] => yamaha-2
            [ID] => 27231
            [post_name] => yamaha-predstavi-m1-pro-rok-2014-v-jakarte
            [post_title] => Yamaha představí M1 pro rok 2014 v Jakarte
            [post_author] => 2
            [post_date] => 2014-01-16 14:00:06
            [year] => 2014
            [month] => 1
            [post_type] => post
        )

    [323] => stdClass Object
        (
            [slug] => ducati-desmosedici
            [ID] => 27225
            [post_name] => ducati-zvazuje-start-v-tride-open
            [post_title] => Ducati zvažuje start ve třídě "open".
            [post_author] => 2
            [post_date] => 2014-01-09 09:37:14
            [year] => 2014
            [month] => 1
            [post_type] => post
        )

    [324] => stdClass Object
        (
            [slug] => rossi-novinky
            [ID] => 27184
            [post_name] => mike-doohan-bez-rossiho-bude-motogp-chudsi
            [post_title] => Mike Doohan: "Bez Rossiho bude MotoGP chudší."
            [post_author] => 2
            [post_date] => 2013-12-16 13:13:57
            [year] => 2013
            [month] => 12
            [post_type] => post
        )

    [325] => stdClass Object
        (
            [slug] => rossi-novinky
            [ID] => 27175
            [post_name] => novy-motor-a-elektronika-yamahy-m1-v-sepangu
            [post_title] => Nový motor a elektronika Yamahy M1 v Sepangu
            [post_author] => 2
            [post_date] => 2013-12-13 11:47:25
            [year] => 2013
            [month] => 12
            [post_type] => post
        )

    [326] => stdClass Object
        (
            [slug] => rossi-novinky
            [ID] => 27171
            [post_name] => bude-se-valentino-rossi-zenit
            [post_title] => Bude se Valentino Rossi ženit?
            [post_author] => 2
            [post_date] => 2013-12-12 15:00:24
            [year] => 2013
            [month] => 12
            [post_type] => post
        )

    [327] => stdClass Object
        (
            [slug] => motogp
            [ID] => 27152
            [post_name] => rozhovor-s-herve-poncharalem-o-budoucnosti-motogp
            [post_title] => Rozhovor s Hervé Poncharalem o budoucnosti MotoGP
            [post_author] => 2
            [post_date] => 2013-12-10 07:54:58
            [year] => 2013
            [month] => 12
            [post_type] => post
        )

    [328] => stdClass Object
        (
            [slug] => rossi-novinky
            [ID] => 27138
            [post_name] => rozhovor-s-valentinem-rossim
            [post_title] => Rozhovor s Valentinem Rossim z akce v Miláně
            [post_author] => 2
            [post_date] => 2013-12-06 08:40:09
            [year] => 2013
            [month] => 12
            [post_type] => post
        )

    [329] => stdClass Object
        (
            [slug] => rossi-novinky
            [ID] => 27135
            [post_name] => rozhovor-s-polem-espergarem
            [post_title] => Rozhovor s Polem Espergarem
            [post_author] => 2
            [post_date] => 2013-12-05 15:56:04
            [year] => 2013
            [month] => 12
            [post_type] => post
        )

    [330] => stdClass Object
        (
            [slug] => rossi-novinky
            [ID] => 27124
            [post_name] => lin-jarvis-hodnoti-sezonu-2013
            [post_title] => Lin Jarvis hodnotí sezónu 2013
            [post_author] => 2
            [post_date] => 2013-12-03 12:06:23
            [year] => 2013
            [month] => 12
            [post_type] => post
        )

    [331] => stdClass Object
        (
            [slug] => ducati-2
            [ID] => 27115
            [post_name] => v-rossi-ted-by-byl-stoner-na-ducati-sesty
            [post_title] => V.Rossi: "Teď by byl Stoner na Ducati šestý."
            [post_author] => 2
            [post_date] => 2013-11-29 15:34:48
            [year] => 2013
            [month] => 11
            [post_type] => post
        )

    [332] => stdClass Object
        (
            [slug] => rozhovor
            [ID] => 27101
            [post_name] => v-rossi-jeremy-me-dodal-duvod-pro-zmenu
            [post_title] => V.Rossi: "Jeremy mně dodal důvod pro změnu."
            [post_author] => 2
            [post_date] => 2013-11-28 13:43:53
            [year] => 2013
            [month] => 11
            [post_type] => post
        )

    [333] => stdClass Object
        (
            [slug] => jorge-lorenzo
            [ID] => 27099
            [post_name] => j-lorenzo-sdilet-boxy-s-rossim-je-pro-me-cest
            [post_title] => J. Lorenzo: "Sdílet boxy s Rossim je pro mě čest."
            [post_author] => 2
            [post_date] => 2013-11-28 11:21:51
            [year] => 2013
            [month] => 11
            [post_type] => post
        )

    [334] => stdClass Object
        (
            [slug] => rossi-novinky
            [ID] => 27092
            [post_name] => do-poloviny-sezony-se-valentino-rossi-rozhodne
            [post_title] => Do poloviny sezóny 2014 se Valentino Rossi rozhodne
            [post_author] => 2
            [post_date] => 2013-11-27 09:18:50
            [year] => 2013
            [month] => 11
            [post_type] => post
        )

    [335] => stdClass Object
        (
            [slug] => rossi-novinky
            [ID] => 27084
            [post_name] => odvracena-strana-mesice
            [post_title] => Odvrácená strana měsíce
            [post_author] => 2
            [post_date] => 2013-11-26 16:26:51
            [year] => 2013
            [month] => 11
            [post_type] => post
        )

    [336] => stdClass Object
        (
            [slug] => rossi-novinky
            [ID] => 27082
            [post_name] => c-edwards-marqueze-s-rossim-nesrovnavejte
            [post_title] => C.Edwards: "Marqueze s Rossim nesrovnávejte."
            [post_author] => 2
            [post_date] => 2013-11-26 13:07:20
            [year] => 2013
            [month] => 11
            [post_type] => post
        )

    [337] => stdClass Object
        (
            [slug] => rossi-novinky
            [ID] => 27069
            [post_name] => monza-rallye-show-2013
            [post_title] => Monza Rallye Show 2013
            [post_author] => 2
            [post_date] => 2013-11-23 14:04:25
            [year] => 2013
            [month] => 11
            [post_type] => post
        )

    [338] => stdClass Object
        (
            [slug] => rozhovor
            [ID] => 27060
            [post_name] => j-burgess-pro-valentina-by-to-mohlo-byt-nebezpecne
            [post_title] => J.Burgess: "Pro Valentina by to mohlo být nebezpečné."
            [post_author] => 2
            [post_date] => 2013-11-23 08:39:43
            [year] => 2013
            [month] => 11
            [post_type] => post
        )

    [339] => stdClass Object
        (
            [slug] => ducati-2
            [ID] => 27053
            [post_name] => rozhovor-s-jeremy-burgessem-na-sachsenringu-2013
            [post_title] => Rozhovor s Jeremy Burgessem na Sachsenringu 2013
            [post_author] => 2
            [post_date] => 2013-11-22 18:11:05
            [year] => 2013
            [month] => 11
            [post_type] => post
        )

    [340] => stdClass Object
        (
            [slug] => yamaha-2
            [ID] => 27042
            [post_name] => vykon-pola-espergara-tym-tech3-prekvapil
            [post_title] => Výkon Pola Espergara tým Tech3 překvapil
            [post_author] => 2
            [post_date] => 2013-11-21 13:26:44
            [year] => 2013
            [month] => 11
            [post_type] => post
        )

    [341] => stdClass Object
        (
            [slug] => rossi-novinky
            [ID] => 27038
            [post_name] => predbezna-startovni-listina-motogp-na-rok-2014
            [post_title] => Předběžná startovní listina MotoGP na rok 2014
            [post_author] => 2
            [post_date] => 2013-11-20 14:48:39
            [year] => 2013
            [month] => 11
            [post_type] => post
        )

    [342] => stdClass Object
        (
            [slug] => jorge-lorenzo
            [ID] => 27032
            [post_name] => j-lorenzo-doufam-v-konkurenceschopnou-yamahu
            [post_title] => J.Lorenzo: "Doufám v konkurenceschopnou Yamahu."
            [post_author] => 2
            [post_date] => 2013-11-18 17:39:31
            [year] => 2013
            [month] => 11
            [post_type] => post
        )

    [343] => stdClass Object
        (
            [slug] => rossi-novinky
            [ID] => 27027
            [post_name] => silvano-galbusera-nemohl-jsem-tomu-uverit
            [post_title] => Silvano Galbusera: "Nemohl jsem tomu uvěřit."
            [post_author] => 2
            [post_date] => 2013-11-17 12:03:42
            [year] => 2013
            [month] => 11
            [post_type] => post
        )

    [344] => stdClass Object
        (
            [slug] => rossi-novinky
            [ID] => 27013
            [post_name] => alex-briggs-diky-ze-jsi-me-zavolal
            [post_title] => Alex Briggs - "Díky že jsi mě zavolal."
            [post_author] => 2
            [post_date] => 2013-11-16 14:02:04
            [year] => 2013
            [month] => 11
            [post_type] => post
        )

    [345] => stdClass Object
        (
            [slug] => rossi-novinky
            [ID] => 27007
            [post_name] => posledni-after-the-flag-sezony-motogp-2013
            [post_title] => Poslední After the flag sezóny MotoGP 2013
            [post_author] => 2
            [post_date] => 2013-11-15 18:31:36
            [year] => 2013
            [month] => 11
            [post_type] => post
        )

    [346] => stdClass Object
        (
            [slug] => ducati-desmosedici
            [ID] => 27002
            [post_name] => cal-crutchlow-rekl-jsem-to-same-co-ostatni
            [post_title] => Cal Crutchlow: "Řekl jsem to samé co ostatní."
            [post_author] => 2
            [post_date] => 2013-11-14 15:45:16
            [year] => 2013
            [month] => 11
            [post_type] => post
        )

    [347] => stdClass Object
        (
            [slug] => jeremy-burgess
            [ID] => 26983
            [post_name] => jeremy-burgess-zmena-strazi-v-motogp
            [post_title] => Jeremy Burgess - Změna stráží v MotoGP
            [post_author] => 2
            [post_date] => 2013-11-13 17:53:54
            [year] => 2013
            [month] => 11
            [post_type] => post
        )

    [348] => stdClass Object
        (
            [slug] => rossi-novinky
            [ID] => 26937
            [post_name] => posezonni-test-valencie-den-treti
            [post_title] => Posezónní test Valencie – den tretí
            [post_author] => 514
            [post_date] => 2013-11-13 10:26:38
            [year] => 2013
            [month] => 11
            [post_type] => post
        )

    [349] => stdClass Object
        (
            [slug] => rossi-novinky
            [ID] => 26875
            [post_name] => posezonni-test-valencie-den-druhy
            [post_title] => Posezónní test Valencie - den druhý
            [post_author] => 2
            [post_date] => 2013-11-12 08:35:16
            [year] => 2013
            [month] => 11
            [post_type] => post
        )

    [350] => stdClass Object
        (
            [slug] => rossi-novinky
            [ID] => 26814
            [post_name] => posezonni-testy-valencie-2013
            [post_title] => Posezónní testy Valencie 2013 - den první
            [post_author] => 2
            [post_date] => 2013-11-11 11:46:41
            [year] => 2013
            [month] => 11
            [post_type] => post
        )

    [351] => stdClass Object
        (
            [slug] => jeremy-burgess
            [ID] => 26806
            [post_name] => novym-sefem-mechaniku-v-rossiho-je-silvano-galbusera
            [post_title] => Novým šéfmechanikem V. Rossiho je Silvano Galbusera
            [post_author] => 2
            [post_date] => 2013-11-11 10:15:25
            [year] => 2013
            [month] => 11
            [post_type] => post
        )

    [352] => stdClass Object
        (
            [slug] => velkka-cena-gp
            [ID] => 26763
            [post_name] => velka-cena-valencie-motogp-2013
            [post_title] => Velká Cena Valencie MotoGP 2013
            [post_author] => 2
            [post_date] => 2013-11-10 14:59:49
            [year] => 2013
            [month] => 11
            [post_type] => post
        )

    [353] => stdClass Object
        (
            [slug] => rossi-novinky
            [ID] => 26693
            [post_name] => tiskova-konference-valentina-rossiho-a-jeremy-burgesse
            [post_title] => Tisková konference V.Rossiho a J. Burgesse
            [post_author] => 2
            [post_date] => 2013-11-08 16:59:36
            [year] => 2013
            [month] => 11
            [post_type] => post
        )

    [354] => stdClass Object
        (
            [slug] => rossi-novinky
            [ID] => 26662
            [post_name] => valentino-rossi-sbohem-jeremy-potrebuji-novy-impuls
            [post_title] => V. Rossi: "Sbohem Jeremy, potřebuji nový impuls."
            [post_author] => 2
            [post_date] => 2013-11-07 21:04:20
            [year] => 2013
            [month] => 11
            [post_type] => post
        )

    [355] => stdClass Object
        (
            [slug] => rossi-novinky
            [ID] => 26635
            [post_name] => tiskova-konference-motogp-valencie-2013
            [post_title] => Tisková konference MotoGP - Valencie 2013
            [post_author] => 2
            [post_date] => 2013-11-07 16:58:15
            [year] => 2013
            [month] => 11
            [post_type] => post
        )

    [356] => stdClass Object
        (
            [slug] => rozhovor
            [ID] => 26611
            [post_name] => valentino-rossi-lorenzo-je-ted-lepsi-nez-marquez
            [post_title] => Valentino Rossi - "Lorenzo je teď lepší než Marquez." 
            [post_author] => 2
            [post_date] => 2013-11-04 18:23:02
            [year] => 2013
            [month] => 11
            [post_type] => post
        )

    [357] => stdClass Object
        (
            [slug] => rossi-novinky
            [ID] => 26606
            [post_name] => predposledni-after-the-flag-sezony-motogp-2013
            [post_title] => Předposlední After the flag sezóny MotoGP 2013
            [post_author] => 2
            [post_date] => 2013-11-01 17:34:07
            [year] => 2013
            [month] => 11
            [post_type] => post
        )

    [358] => stdClass Object
        (
            [slug] => rossi-novinky
            [ID] => 26597
            [post_name] => sezona-2013-marqueze-a-lorenza-v-cislech
            [post_title] => Sezóna 2013 Marqueze a Lorenza v číslech.
            [post_author] => 2
            [post_date] => 2013-10-31 13:00:44
            [year] => 2013
            [month] => 10
            [post_type] => post
        )

    [359] => stdClass Object
        (
            [slug] => rossi-novinky
            [ID] => 26579
            [post_name] => kazutoshi-seki-elekronika-yamahy-pod-drobnohledem
            [post_title] => Kazutoshi Seki - elekronika Yamahy pod drobnohledem
            [post_author] => 2
            [post_date] => 2013-10-29 21:36:06
            [year] => 2013
            [month] => 10
            [post_type] => post
        )

    [360] => stdClass Object
        (
            [slug] => velkka-cena-gp
            [ID] => 26509
            [post_name] => velka-cena-japonska-motogp-motegi
            [post_title] => Velká Cena Japonska MotoGP - Motegi
            [post_author] => 2
            [post_date] => 2013-10-27 07:02:44
            [year] => 2013
            [month] => 10
            [post_type] => post
        )

    [361] => stdClass Object
        (
            [slug] => rossi-novinky
            [ID] => 26450
            [post_name] => tiskova-konference-motogp-motegi-2
            [post_title] => Tisková konference MotoGP - Motegi
            [post_author] => 2
            [post_date] => 2013-10-24 12:05:52
            [year] => 2013
            [month] => 10
            [post_type] => post
        )

    [362] => stdClass Object
        (
            [slug] => rossi-novinky
            [ID] => 26439
            [post_name] => tovarni-tym-yamahy-pred-zavodem-v-motegi
            [post_title] => Tovární tým Yamahy před závodem v Motegi
            [post_author] => 2
            [post_date] => 2013-10-23 19:18:30
            [year] => 2013
            [month] => 10
            [post_type] => post
        )

    [363] => stdClass Object
        (
            [slug] => velkka-cena-gp
            [ID] => 26371
            [post_name] => velka-cena-australie-motogp-phillip-island-2013
            [post_title] => Velká cena Austrálie MotoGP - Phillip Island 2013
            [post_author] => 2
            [post_date] => 2013-10-20 07:51:28
            [year] => 2013
            [month] => 10
            [post_type] => post
        )

    [364] => stdClass Object
        (
            [slug] => rossi-novinky
            [ID] => 26279
            [post_name] => tiskova-konference-motogp-phillip-island
            [post_title] => Tisková konference MotoGP - Phillip Island
            [post_author] => 2
            [post_date] => 2013-10-17 12:11:03
            [year] => 2013
            [month] => 10
            [post_type] => post
        )

    [365] => stdClass Object
        (
            [slug] => nicky-hayden
            [ID] => 26263
            [post_name] => nicky-hayden-se-u-aspara-martineze-vrati-k-honde
            [post_title] => Nicky Hayden se u Aspara Martineze vrátí k Hondě
            [post_author] => 2
            [post_date] => 2013-10-15 15:22:22
            [year] => 2013
            [month] => 10
            [post_type] => post
        )

    [366] => stdClass Object
        (
            [slug] => rossi-novinky
            [ID] => 26259
            [post_name] => valentino-rossi-je-ted-ctvrty-nejrychlejsi
            [post_title] => Valentino Rossi je teď čtvrtý nejrychlejší
            [post_author] => 2
            [post_date] => 2013-10-15 09:09:35
            [year] => 2013
            [month] => 10
            [post_type] => post
        )

    [367] => stdClass Object
        (
            [slug] => velkka-cena-gp
            [ID] => 26227
            [post_name] => velka-cena-motogp-malajsie-sepang
            [post_title] => Velká Cena MotoGP Malajsie - Sepang
            [post_author] => 2
            [post_date] => 2013-10-13 10:54:28
            [year] => 2013
            [month] => 10
            [post_type] => post
        )

    [368] => stdClass Object
        (
            [slug] => rossi-novinky
            [ID] => 26156
            [post_name] => tiskova-konference-motogp-sepang
            [post_title] => Tisková konference MotoGP - Sepang
            [post_author] => 2
            [post_date] => 2013-10-10 15:06:34
            [year] => 2013
            [month] => 10
            [post_type] => post
        )

    [369] => stdClass Object
        (
            [slug] => ducati-2
            [ID] => 26137
            [post_name] => nicky-haydenn-stoner-by-na-tom-dnes-nevyhraval
            [post_title] => Nicky Haydenn: "Stoner by na tom dnes nevyhrával."
            [post_author] => 2
            [post_date] => 2013-10-09 10:14:53
            [year] => 2013
            [month] => 10
            [post_type] => post
        )

    [370] => stdClass Object
        (
            [slug] => casey-stoner
            [ID] => 26110
            [post_name] => casey-stoner-v-japonsku-znovu-testoval
            [post_title] => Casey Stoner v Japonsku znovu testoval Hondu
            [post_author] => 2
            [post_date] => 2013-10-03 15:47:39
            [year] => 2013
            [month] => 10
            [post_type] => post
        )

    [371] => stdClass Object
        (
            [slug] => rossi-novinky
            [ID] => 26098
            [post_name] => kovbojove-na-ranci-valentina-rossiho
            [post_title] => Kovbojové na ranči Valentina Rossiho
            [post_author] => 2
            [post_date] => 2013-10-03 07:26:18
            [year] => 2013
            [month] => 10
            [post_type] => post
        )

    [372] => stdClass Object
        (
            [slug] => motogp
            [ID] => 26089
            [post_name] => okruh-v-laguna-seca-v-motogp-konci
            [post_title] => Okruh v Laguna Seca v MotoGP končí + kalendář 2014
            [post_author] => 2
            [post_date] => 2013-10-01 08:52:21
            [year] => 2013
            [month] => 10
            [post_type] => post
        )

    [373] => stdClass Object
        (
            [slug] => velkka-cena-gp
            [ID] => 26045
            [post_name] => velka-cena-motogp-aragon
            [post_title] => Velká Cena MotoGP - Aragón
            [post_author] => 2
            [post_date] => 2013-09-29 15:19:05
            [year] => 2013
            [month] => 9
            [post_type] => post
        )

    [374] => stdClass Object
        (
            [slug] => ducati-2
            [ID] => 26005
            [post_name] => rozhovor-s-nicky-haydenem-2
            [post_title] => Rozhovor s Nicky Haydenem
            [post_author] => 2
            [post_date] => 2013-09-27 16:36:13
            [year] => 2013
            [month] => 9
            [post_type] => post
        )

    [375] => stdClass Object
        (
            [slug] => ducati-2
            [ID] => 25986
            [post_name] => andrea-dovozioso-v-ducati-nikdo-nevi-co-s-tim
            [post_title] => Andrea Dovozioso: "V Ducati nikdo neví co s tím."
            [post_author] => 2
            [post_date] => 2013-09-26 22:30:37
            [year] => 2013
            [month] => 9
            [post_type] => post
        )

    [376] => stdClass Object
        (
            [slug] => rossi-novinky
            [ID] => 25967
            [post_name] => tiskova-konference-motogp-v-aragonu
            [post_title] => Tisková konference MotoGP v Aragonu
            [post_author] => 2
            [post_date] => 2013-09-26 17:23:04
            [year] => 2013
            [month] => 9
            [post_type] => post
        )

    [377] => stdClass Object
        (
            [slug] => rossi-novinky
            [ID] => 25952
            [post_name] => valentino-rossi-bude-mit-tym-v-moto3
            [post_title] => Valentino Rossi bude mít tým v Moto3
            [post_author] => 2
            [post_date] => 2013-09-22 10:43:25
            [year] => 2013
            [month] => 9
            [post_type] => post
        )

    [378] => stdClass Object
        (
            [slug] => rossi-novinky
            [ID] => 25948
            [post_name] => kevin-schwantz-rossi-neni-o-nic-pomalejsi
            [post_title] => Kevin Schwantz: "Rossi není o nic pomalejší."
            [post_author] => 2
            [post_date] => 2013-09-21 07:32:39
            [year] => 2013
            [month] => 9
            [post_type] => post
        )

    [379] => stdClass Object
        (
            [slug] => rossi-novinky
            [ID] => 25943
            [post_name] => yamaha-ocekavala-potize-mezi-lorenzem-a-rossim
            [post_title] => Yamaha očekávala potíže mezi Lorenzem a Rossim
            [post_author] => 2
            [post_date] => 2013-09-20 08:19:48
            [year] => 2013
            [month] => 9
            [post_type] => post
        )

    [380] => stdClass Object
        (
            [slug] => rossi-novinky
            [ID] => 25932
            [post_name] => v-roce-2014-sehraje-limit-paliva-zasadni-roli
            [post_title] => V roce 2014 sehraje limit paliva zásadní roli
            [post_author] => 2
            [post_date] => 2013-09-19 18:25:34
            [year] => 2013
            [month] => 9
            [post_type] => post
        )

    [381] => stdClass Object
        (
            [slug] => rossi-novinky
            [ID] => 25925
            [post_name] => rossicrutchlow-lorenzo-je-jak-z-jine-planety
            [post_title] => Rossi&Crutchlow: "Lorenzo je jak z jiné planety."
            [post_author] => 2
            [post_date] => 2013-09-17 12:59:08
            [year] => 2013
            [month] => 9
            [post_type] => post
        )

    [382] => stdClass Object
        (
            [slug] => rossi-novinky
            [ID] => 25826
            [post_name] => oficialni-testy-motogp-v-misanu
            [post_title] => Oficiální testy MotoGP v Misanu
            [post_author] => 2
            [post_date] => 2013-09-15 19:20:11
            [year] => 2013
            [month] => 9
            [post_type] => post
        )

    [383] => stdClass Object
        (
            [slug] => velkka-cena-gp
            [ID] => 25806
            [post_name] => velka-cena-san-marina-motogp-v-misanu
            [post_title] => Velká Cena San Marina MotoGP v Misanu
            [post_author] => 2
            [post_date] => 2013-09-15 15:04:28
            [year] => 2013
            [month] => 9
            [post_type] => post
        )

    [384] => stdClass Object
        (
            [slug] => rossi-novinky
            [ID] => 25732
            [post_name] => rossi-assen-vynahradil-dvojrocne-sklamanie
            [post_title] => Rossi: "Assen vynahradil dvojročné sklamanie"
            [post_author] => 514
            [post_date] => 2013-09-12 20:12:18
            [year] => 2013
            [month] => 9
            [post_type] => post
        )

    [385] => stdClass Object
        (
            [slug] => rossi-novinky
            [ID] => 25722
            [post_name] => tlacova-konferencia-motogp-misano
            [post_title] => Tlačová konferencia MotoGP – Misano
            [post_author] => 514
            [post_date] => 2013-09-12 19:07:03
            [year] => 2013
            [month] => 9
            [post_type] => post
        )

    [386] => stdClass Object
        (
            [slug] => yamaha-2
            [ID] => 25712
            [post_name] => yamaha-nasadi-novou-prevodovku-v-aragonu
            [post_title] => Yamaha nasadí novou převodovku v Aragonu
            [post_author] => 2
            [post_date] => 2013-09-10 17:05:28
            [year] => 2013
            [month] => 9
            [post_type] => post
        )

    [387] => stdClass Object
        (
            [slug] => rossi-novinky
            [ID] => 25704
            [post_name] => priorita-yamahy-je-udrzet-si-jorge-lorenza
            [post_title] => Priorita Yamahy bude udržet si Jorge Lorenza
            [post_author] => 2
            [post_date] => 2013-09-10 10:23:09
            [year] => 2013
            [month] => 9
            [post_type] => post
        )

    [388] => stdClass Object
        (
            [slug] => rossi-novinky
            [ID] => 25695
            [post_name] => zavod-motokar-pro-nadaci-marca-simoncelliho-v-riccione
            [post_title] => Závod motokár pro nadaci Marca Simoncelliho
            [post_author] => 2
            [post_date] => 2013-09-08 11:21:26
            [year] => 2013
            [month] => 9
            [post_type] => post
        )

    [389] => stdClass Object
        (
            [slug] => ducati-2
            [ID] => 25678
            [post_name] => rozhovor-s-carlosem-checou
            [post_title] => Rozhovor s Carlosem Checou
            [post_author] => 2
            [post_date] => 2013-09-06 16:41:20
            [year] => 2013
            [month] => 9
            [post_type] => post
        )

    [390] => stdClass Object
        (
            [slug] => rossi-novinky
            [ID] => 25668
            [post_name] => jorge-lorenzo-mivali-jsme-skvelou-motorku
            [post_title] => Jorge Lorenzo: "Mívali jsme skvělou motorku."
            [post_author] => 2
            [post_date] => 2013-09-02 06:30:46
            [year] => 2013
            [month] => 9
            [post_type] => post
        )

    [391] => stdClass Object
        (
            [slug] => velkka-cena-gp
            [ID] => 25637
            [post_name] => velka-cena-motogp-silverstone
            [post_title] => Velká Cena MotoGP - Silverstone
            [post_author] => 2
            [post_date] => 2013-09-01 15:02:32
            [year] => 2013
            [month] => 9
            [post_type] => post
        )

    [392] => stdClass Object
        (
            [slug] => rossi-novinky
            [ID] => 25536
            [post_name] => tiskova-konference-motogp-silverstone
            [post_title] => Tisková konference MotoGP - Silverstone
            [post_author] => 2
            [post_date] => 2013-08-29 18:51:14
            [year] => 2013
            [month] => 8
            [post_type] => post
        )

    [393] => stdClass Object
        (
            [slug] => rossi-novinky
            [ID] => 25517
            [post_name] => tovarni-tym-yamahy-pred-zavodem-v-silverstone
            [post_title] => Tovární tým Yamahy před závodem v Silverstone
            [post_author] => 2
            [post_date] => 2013-08-28 18:03:31
            [year] => 2013
            [month] => 8
            [post_type] => post
        )

    [394] => stdClass Object
        (
            [slug] => rossi-yamaha-cz
            [ID] => 25509
            [post_name] => web-rossi-yamaha-cz-dnes-dosahl-1-500-000-navstev
            [post_title] => Web Rossi-Yamaha.cz dnes dosáhl 1 500 000 návštěv
            [post_author] => 2
            [post_date] => 2013-08-27 21:10:05
            [year] => 2013
            [month] => 8
            [post_type] => post
        )

    [395] => stdClass Object
        (
            [slug] => velkka-cena-gp
            [ID] => 25472
            [post_name] => velka-cena-ceske-republiky-motogp-brno
            [post_title] => Velká Cena České Republiky MotoGP - Brno
            [post_author] => 2
            [post_date] => 2013-08-25 13:59:07
            [year] => 2013
            [month] => 8
            [post_type] => post
        )

    [396] => stdClass Object
        (
            [slug] => rossi-novinky
            [ID] => 25428
            [post_name] => lin-jarvis-potvrdil-pronajem-yamahy-tymu-ngm
            [post_title] => Lin Jarvis potvrdil pronájem Yamahy týmu NGM
            [post_author] => 2
            [post_date] => 2013-08-23 20:30:20
            [year] => 2013
            [month] => 8
            [post_type] => post
        )

    [397] => stdClass Object
        (
            [slug] => rossi-novinky
            [ID] => 25383
            [post_name] => tiskova-konference-motogp-brno-2013
            [post_title] => Tisková konference MotoGP - Brno 2013
            [post_author] => 2
            [post_date] => 2013-08-22 17:25:50
            [year] => 2013
            [month] => 8
            [post_type] => post
        )

    [398] => stdClass Object
        (
            [slug] => rossi-novinky
            [ID] => 25376
            [post_name] => tovarni-tym-yamahy-pred-zavodem-v-brne
            [post_title] => Tovární tým Yamahy před závodem v Brně
            [post_author] => 2
            [post_date] => 2013-08-22 07:59:04
            [year] => 2013
            [month] => 8
            [post_type] => post
        )

    [399] => stdClass Object
        (
            [slug] => motogp
            [ID] => 25362
            [post_name] => motogp-se-mozna-v-roce-2014-vrati-do-brazilie
            [post_title] => MotoGP se možná v roce 2014 vrátí do Brazílie
            [post_author] => 2
            [post_date] => 2013-08-20 13:18:31
            [year] => 2013
            [month] => 8
            [post_type] => post
        )

    [400] => stdClass Object
        (
            [slug] => velkka-cena-gp
            [ID] => 25326
            [post_name] => velka-cena-red-bull-motogp-indianapolis
            [post_title] => Velká cena Red Bull MotoGP - Indianapolis
            [post_author] => 2
            [post_date] => 2013-08-18 21:08:38
            [year] => 2013
            [month] => 8
            [post_type] => post
        )

    [401] => stdClass Object
        (
            [slug] => rossi-novinky
            [ID] => 25195
            [post_name] => tiskova-konference-motogp-indianapolis-2
            [post_title] => Tisková konference MotoGP - Indianapolis
            [post_author] => 2
            [post_date] => 2013-08-15 18:24:38
            [year] => 2013
            [month] => 8
            [post_type] => post
        )

    [402] => stdClass Object
        (
            [slug] => rossi-novinky
            [ID] => 25181
            [post_name] => tovarni-tym-yamahy-pred-zavodem-v-indianapolis
            [post_title] => Tovární tým Yamahy před závodem v Indianapolis
            [post_author] => 2
            [post_date] => 2013-08-14 07:46:04
            [year] => 2013
            [month] => 8
            [post_type] => post
        )

    [403] => stdClass Object
        (
            [slug] => luca-marini
            [ID] => 25170
            [post_name] => luca-marini-pojede-zavod-moto3-v-misanu
            [post_title] => Luca Marini pojede závod Moto3 v Misanu
            [post_author] => 2
            [post_date] => 2013-08-13 08:14:45
            [year] => 2013
            [month] => 8
            [post_type] => post
        )

    [404] => stdClass Object
        (
            [slug] => rossi-novinky
            [ID] => 25094
            [post_name] => testy-tovarniho-tymu-yamaha-v-brne
            [post_title] => Testy továrního týmu Yamaha v Brně
            [post_author] => 2
            [post_date] => 2013-08-07 14:37:39
            [year] => 2013
            [month] => 8
            [post_type] => post
        )

    [405] => stdClass Object
        (
            [slug] => rossi-novinky
            [ID] => 24850
            [post_name] => valentino-rossi-a-jorge-lorenzo-budou-testovat-v-brne
            [post_title] => Valentino Rossi a Jorge Lorenzo budou testovat v Brně
            [post_author] => 2
            [post_date] => 2013-08-05 10:17:35
            [year] => 2013
            [month] => 8
            [post_type] => post
        )

    [406] => stdClass Object
        (
            [slug] => rozhovor
            [ID] => 25099
            [post_name] => a-buzzoni-superbike-nema-se-seriovkou-nic-spolecneho
            [post_title] => A.Buzzoni: Superbike nemá se sériovkou nic společného
            [post_author] => 2
            [post_date] => 2013-08-05 09:30:22
            [year] => 2013
            [month] => 8
            [post_type] => post
        )

    [407] => stdClass Object
        (
            [slug] => ducati-2
            [ID] => 25084
            [post_name] => cal-crutchlow-je-na-vyzvu-u-ducati-pripraven
            [post_title] => Cal Crutchlow je na výzvu u Ducati připraven
            [post_author] => 2
            [post_date] => 2013-08-03 16:56:02
            [year] => 2013
            [month] => 8
            [post_type] => post
        )

    [408] => stdClass Object
        (
            [slug] => rossi-novinky
            [ID] => 25071
            [post_name] => valentino-rossi-chci-jezdit-motogp-do-roku-2016
            [post_title] => Valentino Rossi: "Chci jezdit MotoGP do roku 2016!"
            [post_author] => 2
            [post_date] => 2013-08-03 08:25:48
            [year] => 2013
            [month] => 8
            [post_type] => post
        )

    [409] => stdClass Object
        (
            [slug] => ducati-2
            [ID] => 25059
            [post_name] => potvrzeno-cal-crutchlow-podepsal-smlouvu-s-ducati
            [post_title] => Potvrzeno: Cal Crutchlow podepsal smlouvu s Ducati
            [post_author] => 2
            [post_date] => 2013-08-01 22:14:32
            [year] => 2013
            [month] => 8
            [post_type] => post
        )

    [410] => stdClass Object
        (
            [slug] => rossi-novinky
            [ID] => 25057
            [post_name] => rozhovor-s-davide-briviem-o-navratu-suzuki-do-motogp
            [post_title] => Rozhovor s Davide Briviem o návratu Suzuki do MotoGP
            [post_author] => 2
            [post_date] => 2013-07-31 21:57:48
            [year] => 2013
            [month] => 7
            [post_type] => post
        )

    [411] => stdClass Object
        (
            [slug] => rossi-novinky
            [ID] => 25054
            [post_name] => valentino-rossi-odchod-k-suzuki-ne-diky
            [post_title] => Valentino Rossi: "Odchod k Suzuki? Ne, díky! "
            [post_author] => 2
            [post_date] => 2013-07-30 21:54:48
            [year] => 2013
            [month] => 7
            [post_type] => post
        )

    [412] => stdClass Object
        (
            [slug] => rossi-novinky
            [ID] => 25047
            [post_name] => lin-jarvis-je-po-prvni-polovine-sezony-spokojen
            [post_title] => Lin Jarvis je po první polovině sezóny spokojen
            [post_author] => 2
            [post_date] => 2013-07-29 18:58:35
            [year] => 2013
            [month] => 7
            [post_type] => post
        )

    [413] => stdClass Object
        (
            [slug] => bridgestone-2
            [ID] => 25039
            [post_name] => bridgestone-nabidne-vice-pneumatik
            [post_title] => Bridgestone nabídne více pneumatik a změní směs
            [post_author] => 2
            [post_date] => 2013-07-25 17:56:05
            [year] => 2013
            [month] => 7
            [post_type] => post
        )

    [414] => stdClass Object
        (
            [slug] => rossi-novinky
            [ID] => 25020
            [post_name] => guy-martin-na-ranci-u-valentina-rossiho
            [post_title] => Guy Martin na ranči u Valentina Rossiho
            [post_author] => 2
            [post_date] => 2013-07-23 16:30:26
            [year] => 2013
            [month] => 7
            [post_type] => post
        )

    [415] => stdClass Object
        (
            [slug] => casey-stoner
            [ID] => 25028
            [post_name] => casey-stoner-se-vrati-do-sedla-prototypu-motogp
            [post_title] => Casey Stoner se vrátí do sedla prototypu MotoGP
            [post_author] => 2
            [post_date] => 2013-07-23 11:49:05
            [year] => 2013
            [month] => 7
            [post_type] => post
        )

    [416] => stdClass Object
        (
            [slug] => rossi-novinky
            [ID] => 25004
            [post_name] => valentino-rossi-marquez-je-moje-vylepsena-verze
            [post_title] => Valentino Rossi: Marquez je moje vylepšená verze.
            [post_author] => 2
            [post_date] => 2013-07-22 11:44:07
            [year] => 2013
            [month] => 7
            [post_type] => post
        )

    [417] => stdClass Object
        (
            [slug] => velkka-cena-gp
            [ID] => 24968
            [post_name] => velka-cena-usa-motogp-laguna-seca
            [post_title] => Velká Cena USA MotoGP - Laguna Seca
            [post_author] => 2
            [post_date] => 2013-07-22 00:00:33
            [year] => 2013
            [month] => 7
            [post_type] => post
        )

    [418] => stdClass Object
        (
            [slug] => rossi-novinky
            [ID] => 24882
            [post_name] => tiskova-konference-motogp-laguna-seca
            [post_title] => Tisková konference MotoGP - Laguna Seca
            [post_author] => 2
            [post_date] => 2013-07-18 21:48:51
            [year] => 2013
            [month] => 7
            [post_type] => post
        )

    [419] => stdClass Object
        (
            [slug] => rossi-novinky
            [ID] => 24869
            [post_name] => yamaha-brzo-nasadi-novou-prevodovku
            [post_title] => Yamaha brzo nasadí novou převodovku.
            [post_author] => 2
            [post_date] => 2013-07-18 13:44:39
            [year] => 2013
            [month] => 7
            [post_type] => post
        )

    [420] => stdClass Object
        (
            [slug] => rossi-novinky
            [ID] => 24856
            [post_name] => tovarni-tym-yamahy-pred-laguna-seca
            [post_title] => Tovární tým Yamahy před Laguna Seca
            [post_author] => 2
            [post_date] => 2013-07-17 11:05:31
            [year] => 2013
            [month] => 7
            [post_type] => post
        )

    [421] => stdClass Object
        (
            [slug] => ducati-2
            [ID] => 24843
            [post_name] => nicky-hayden-letos-v-tovarnim-tymu-ducati-skonci
            [post_title] => Nicky Hayden letos v továrním týmu Ducati skonči
            [post_author] => 2
            [post_date] => 2013-07-16 15:04:05
            [year] => 2013
            [month] => 7
            [post_type] => post
        )

    [422] => stdClass Object
        (
            [slug] => rossi-novinky
            [ID] => 24832
            [post_name] => c-pernat-lorenzo-trpi-syndromem-hrdiny
            [post_title] => C.Pernat: "Lorenzo trpí syndromem hrdiny."
            [post_author] => 2
            [post_date] => 2013-07-15 16:27:53
            [year] => 2013
            [month] => 7
            [post_type] => post
        )

    [423] => stdClass Object
        (
            [slug] => velkka-cena-gp
            [ID] => 24796
            [post_name] => velka-cena-nemecka-motogp-sachsenring
            [post_title] => Velká cena Německa MotoGP - Sachsenring
            [post_author] => 2
            [post_date] => 2013-07-14 14:54:24
            [year] => 2013
            [month] => 7
            [post_type] => post
        )

    [424] => stdClass Object
        (
            [slug] => rozhovor
            [ID] => 24695
            [post_name] => j-burgess-podarilo-se-nam-dosahnout-zlepseni-nastaveni
            [post_title] => J.Burgess: "Podařilo se nám dosáhnout zlepšení."
            [post_author] => 2
            [post_date] => 2013-07-12 10:00:22
            [year] => 2013
            [month] => 7
            [post_type] => post
        )

    [425] => stdClass Object
        (
            [slug] => rossi-novinky
            [ID] => 24671
            [post_name] => tiskova-konference-motogp-sachsenring
            [post_title] => Tisková konference MotoGP - Sachsenring
            [post_author] => 2
            [post_date] => 2013-07-11 18:11:00
            [year] => 2013
            [month] => 7
            [post_type] => post
        )

    [426] => stdClass Object
        (
            [slug] => cal-crutchlow
            [ID] => 24663
            [post_name] => cal-crutchlow-yamaha-chce-rossiho-a-lorenza
            [post_title] => Cal Crutchlow: "Yamaha chce Rossiho a Lorenza."
            [post_author] => 2
            [post_date] => 2013-07-10 15:44:55
            [year] => 2013
            [month] => 7
            [post_type] => post
        )

    [427] => stdClass Object
        (
            [slug] => rossi-novinky
            [ID] => 24646
            [post_name] => tovarni-tym-yamahy-pred-zavodem-na-sachsenringu
            [post_title] => Tovární tým Yamahy před závodem na Sachsenringu
            [post_author] => 2
            [post_date] => 2013-07-10 10:19:08
            [year] => 2013
            [month] => 7
            [post_type] => post
        )

    [428] => stdClass Object
        (
            [slug] => rossi-novinky
            [ID] => 24648
            [post_name] => valentino-rossi-ma-na-konte-dalsi-rekord
            [post_title] => Valentino Rossi má na kontě další rekord
            [post_author] => 2
            [post_date] => 2013-07-09 11:42:17
            [year] => 2013
            [month] => 7
            [post_type] => post
        )

    [429] => stdClass Object
        (
            [slug] => rossi-novinky
            [ID] => 24604
            [post_name] => valentino-rossi-o-konci-kariery-neuvazuje
            [post_title] => Valentino Rossi o konci kariéry neuvažuje. 
            [post_author] => 2
            [post_date] => 2013-07-01 13:34:54
            [year] => 2013
            [month] => 7
            [post_type] => post
        )

    [430] => stdClass Object
        (
            [slug] => ducati-desmosedici
            [ID] => 24599
            [post_name] => a-dovizioso-jiny-jezdec-stejne-vykony
            [post_title] => Andrea Dovizioso: "Jiný jezdec - stejné výkony."
            [post_author] => 2
            [post_date] => 2013-06-30 19:21:06
            [year] => 2013
            [month] => 6
            [post_type] => post
        )

    [431] => stdClass Object
        (
            [slug] => rossi-novinky
            [ID] => 24588
            [post_name] => lin-jarvis-byl-to-vyjimecny-vikend
            [post_title] => Lin Jarvis: "Byl to výjimečný víkend."
            [post_author] => 2
            [post_date] => 2013-06-30 13:13:08
            [year] => 2013
            [month] => 6
            [post_type] => post
        )

    [432] => stdClass Object
        (
            [slug] => rossi-novinky
            [ID] => 24565
            [post_name] => valentino-rossi-toto-by-mel-byt-jen-zacatek
            [post_title] => Valentino Rossi: "Toto by měl být jen začátek."
            [post_author] => 2
            [post_date] => 2013-06-29 21:53:44
            [year] => 2013
            [month] => 6
            [post_type] => post
        )

    [433] => stdClass Object
        (
            [slug] => velkka-cena-gp
            [ID] => 24546
            [post_name] => velka-cena-holandska-tt-motogp-assen
            [post_title] => Velká Cena Holandska TT MotoGP - Assen
            [post_author] => 2
            [post_date] => 2013-06-29 15:52:24
            [year] => 2013
            [month] => 6
            [post_type] => post
        )

    [434] => stdClass Object
        (
            [slug] => rossi-novinky
            [ID] => 24466
            [post_name] => tlacova-konferencia-motogp-assen
            [post_title] => Tlačová konferencia MotoGP - Assen
            [post_author] => 514
            [post_date] => 2013-06-27 01:52:11
            [year] => 2013
            [month] => 6
            [post_type] => post
        )

    [435] => stdClass Object
        (
            [slug] => rossi-novinky
            [ID] => 24459
            [post_name] => valentino-rossi-vedel-jsem-ze-to-nebude-jednoduche
            [post_title] => V. Rossi: "Věděl jsem, že to nebude jednoduché."
            [post_author] => 2
            [post_date] => 2013-06-26 19:41:53
            [year] => 2013
            [month] => 6
            [post_type] => post
        )

    [436] => stdClass Object
        (
            [slug] => rossi-novinky
            [ID] => 24453
            [post_name] => tovarni-tym-yamahy-pred-zavodem-v-assenu
            [post_title] => Tovární tým Yamahy před závodem v Assenu
            [post_author] => 2
            [post_date] => 2013-06-25 11:31:52
            [year] => 2013
            [month] => 6
            [post_type] => post
        )

    [437] => stdClass Object
        (
            [slug] => yamaha-2
            [ID] => 24448
            [post_name] => cal-crutchlow-yamahy-na-hondy-ztraceji
            [post_title] => Cal Crutchlow: "Yamahy na Hondy ztrácejí."
            [post_author] => 2
            [post_date] => 2013-06-22 20:32:52
            [year] => 2013
            [month] => 6
            [post_type] => post
        )

    [438] => stdClass Object
        (
            [slug] => rossi-novinky
            [ID] => 24413
            [post_name] => testy-motogp-aragon
            [post_title] => Testy MotoGP - Aragon
            [post_author] => 2
            [post_date] => 2013-06-19 12:02:25
            [year] => 2013
            [month] => 6
            [post_type] => post
        )

    [439] => stdClass Object
        (
            [slug] => rossi-novinky
            [ID] => 24367
            [post_name] => zapas-gladiatoru-nebo-operace-mozku
            [post_title] => Zápas gladiátorů nebo operace mozku?
            [post_author] => 2
            [post_date] => 2013-06-17 08:06:31
            [year] => 2013
            [month] => 6
            [post_type] => post
        )

    [440] => stdClass Object
        (
            [slug] => rossi-novinky
            [ID] => 24343
            [post_name] => pozavodny-test-katalansko
            [post_title] => Pozávodny test - Katalánsko
            [post_author] => 514
            [post_date] => 2013-06-17 07:22:14
            [year] => 2013
            [month] => 6
            [post_type] => post
        )

    [441] => stdClass Object
        (
            [slug] => rossi-novinky
            [ID] => 24332
            [post_name] => fantom-ducati-valentina-rossiho
            [post_title] => Fantóm Ducati Valentina Rossiho
            [post_author] => 2
            [post_date] => 2013-06-16 20:39:25
            [year] => 2013
            [month] => 6
            [post_type] => post
        )

    [442] => stdClass Object
        (
            [slug] => rossi-novinky
            [ID] => 24303
            [post_name] => velka-cena-katalanska-motogp-barcelona
            [post_title] => Velká Cena Katalánska MotoGP - Barcelona
            [post_author] => 2
            [post_date] => 2013-06-16 14:51:24
            [year] => 2013
            [month] => 6
            [post_type] => post
        )

    [443] => stdClass Object
        (
            [slug] => rossi-novinky
            [ID] => 24283
            [post_name] => yamaha-uz-nasadila-ctvrte-motory
            [post_title] => Yamaha už nasadila čtvrté motory
            [post_author] => 2
            [post_date] => 2013-06-15 20:55:29
            [year] => 2013
            [month] => 6
            [post_type] => post
        )

    [444] => stdClass Object
        (
            [slug] => rossi-novinky
            [ID] => 24189
            [post_name] => tiskova-konference-motogp-katalansko
            [post_title] => Tisková konference MotoGP - Katalánsko
            [post_author] => 2
            [post_date] => 2013-06-13 18:50:33
            [year] => 2013
            [month] => 6
            [post_type] => post
        )

    [445] => stdClass Object
        (
            [slug] => ducati-2
            [ID] => 24208
            [post_name] => casey-stoner-do-motogp-se-rozhodne-nevratim
            [post_title] => Casey Stoner: "Do MotoGP se rozhodně nevrátím."
            [post_author] => 2
            [post_date] => 2013-06-13 18:44:29
            [year] => 2013
            [month] => 6
            [post_type] => post
        )

    [446] => stdClass Object
        (
            [slug] => rossi-novinky
            [ID] => 24196
            [post_name] => j-burgess-titul-pro-rossiho-by-byl-maly-zazrak
            [post_title] => J.Burgess: Titul pro Rossiho? To by byl malý zázrak.
            [post_author] => 2
            [post_date] => 2013-06-12 20:49:46
            [year] => 2013
            [month] => 6
            [post_type] => post
        )

    [447] => stdClass Object
        (
            [slug] => rossi-novinky
            [ID] => 24185
            [post_name] => tovarni-tym-yamahy-pred-velkou-cenou-katalanska
            [post_title] => Tovární tým Yamahy před Velkou Cenou Katalánska
            [post_author] => 2
            [post_date] => 2013-06-11 11:00:19
            [year] => 2013
            [month] => 6
            [post_type] => post
        )

    [448] => stdClass Object
        (
            [slug] => rossi-novinky
            [ID] => 24179
            [post_name] => cal-crutchlow-kam-s-nim
            [post_title] => Cal Crutchlow – Kam s ním?
            [post_author] => 2
            [post_date] => 2013-06-10 14:38:15
            [year] => 2013
            [month] => 6
            [post_type] => post
        )

    [449] => stdClass Object
        (
            [slug] => ducati-desmosedici
            [ID] => 24177
            [post_name] => gobmeierovo-prvni-bilancovani-v-ducati
            [post_title] => Gobmeierovo první bilancování v Ducati
            [post_author] => 2
            [post_date] => 2013-06-08 20:45:57
            [year] => 2013
            [month] => 6
            [post_type] => post
        )

    [450] => stdClass Object
        (
            [slug] => motogp
            [ID] => 24169
            [post_name] => wsbk-se-docka-vyrazne-zmeny-pravidel
            [post_title] => WSBK se dočká výrazné změny pravidel
            [post_author] => 2
            [post_date] => 2013-06-08 12:12:43
            [year] => 2013
            [month] => 6
            [post_type] => post
        )

    [451] => stdClass Object
        (
            [slug] => ducati-desmosedici
            [ID] => 24141
            [post_name] => max-biaggi-test-ducati-gp13
            [post_title] => Max Biaggi v Mugellu testoval Ducati GP13
            [post_author] => 2
            [post_date] => 2013-06-07 20:00:59
            [year] => 2013
            [month] => 6
            [post_type] => post
        )

    [452] => stdClass Object
        (
            [slug] => rossi-novinky
            [ID] => 24160
            [post_name] => prijmy-valentina-rossiho-klesly-o-tretinu
            [post_title] => Příjmy Valentina Rossiho klesly o třetinu
            [post_author] => 2
            [post_date] => 2013-06-07 14:13:42
            [year] => 2013
            [month] => 6
            [post_type] => post
        )

    [453] => stdClass Object
        (
            [slug] => rossi-novinky
            [ID] => 24131
            [post_name] => valentino-rossi-mel-jsem-stesti-v-nestesti
            [post_title] => Valentino Rossi: "Měl jsem štěstí v neštěstí."
            [post_author] => 2
            [post_date] => 2013-06-02 20:05:32
            [year] => 2013
            [month] => 6
            [post_type] => post
        )

    [454] => stdClass Object
        (
            [slug] => velkka-cena-gp
            [ID] => 24092
            [post_name] => velka-cena-italie-motogp-mugello-2
            [post_title] => Velká Cena Itálie MotoGP - Mugello
            [post_author] => 2
            [post_date] => 2013-06-02 14:20:25
            [year] => 2013
            [month] => 6
            [post_type] => post
        )

    [455] => stdClass Object
        (
            [slug] => rossi-novinky
            [ID] => 23988
            [post_name] => tiskova-konference-motogp-mugello
            [post_title] => Tisková konference MotoGP - Mugello
            [post_author] => 2
            [post_date] => 2013-05-30 17:28:43
            [year] => 2013
            [month] => 5
            [post_type] => post
        )

    [456] => stdClass Object
        (
            [slug] => rossi-novinky
            [ID] => 23981
            [post_name] => m-meregalli-rossi-je-tady-rychlejsi
            [post_title] => M.Meregalli: "Rossi je tady v Mugellu rychlejší."
            [post_author] => 2
            [post_date] => 2013-05-30 14:52:12
            [year] => 2013
            [month] => 5
            [post_type] => post
        )

    [457] => stdClass Object
        (
            [slug] => rossi-novinky
            [ID] => 23977
            [post_name] => valentino-rossi-pred-zavodem-v-mugellu
            [post_title] => Valentino Rossi před závodem v Mugellu 
            [post_author] => 2
            [post_date] => 2013-05-28 15:42:43
            [year] => 2013
            [month] => 5
            [post_type] => post
        )

    [458] => stdClass Object
        (
            [slug] => rossi-novinky
            [ID] => 23971
            [post_name] => valentino-rossi-auta-az-na-konec-kariery
            [post_title] => Valentino Rossi: "Auta až na konec kariéry."
            [post_author] => 2
            [post_date] => 2013-05-26 21:50:56
            [year] => 2013
            [month] => 5
            [post_type] => post
        )

    [459] => stdClass Object
        (
            [slug] => jorge-lorenzo
            [ID] => 23967
            [post_name] => lorenzuv-vypadek-vinou-spatneho-nastaveni
            [post_title] => Lorenzův výpadek vinou špatného nastavení
            [post_author] => 2
            [post_date] => 2013-05-23 20:14:52
            [year] => 2013
            [month] => 5
            [post_type] => post
        )

    [460] => stdClass Object
        (
            [slug] => rossi-novinky
            [ID] => 23952
            [post_name] => valentino-rossi-jeste-potrebuji-nejaky-cas
            [post_title] => Valentino Rossi: "Ještě potřebuji nějaký čas."
            [post_author] => 2
            [post_date] => 2013-05-19 21:04:06
            [year] => 2013
            [month] => 5
            [post_type] => post
        )

    [461] => stdClass Object
        (
            [slug] => velkka-cena-gp
            [ID] => 23930
            [post_name] => velka-cena-francie-motogp-le-mans-2
            [post_title] => Velká Cena Francie MotoGP - Le Mans
            [post_author] => 2
            [post_date] => 2013-05-19 15:01:41
            [year] => 2013
            [month] => 5
            [post_type] => post
        )

    [462] => stdClass Object
        (
            [slug] => rossi-novinky
            [ID] => 23841
            [post_name] => tiskova-konference-motogp-pred-zavodem-v-le-mans
            [post_title] => Tisková konference MotoGP před závodem v Le Mans
            [post_author] => 2
            [post_date] => 2013-05-16 17:24:52
            [year] => 2013
            [month] => 5
            [post_type] => post
        )

    [463] => stdClass Object
        (
            [slug] => rossi-novinky
            [ID] => 23829
            [post_name] => d-brivio-rossi-se-na-m1-jeste-neciti-dobre
            [post_title] => D.Brivio: "Rossi se na M1 ještě necítí dobře."
            [post_author] => 2
            [post_date] => 2013-05-15 10:36:30
            [year] => 2013
            [month] => 5
            [post_type] => post
        )

    [464] => stdClass Object
        (
            [slug] => rossi-novinky
            [ID] => 23816
            [post_name] => vyjadreni-tovarniho-tymu-yamahy-pred-le-mans
            [post_title] => Vyjádření továrního týmu Yamahy před Le Mans
            [post_author] => 2
            [post_date] => 2013-05-14 12:45:54
            [year] => 2013
            [month] => 5
            [post_type] => post
        )

    [465] => stdClass Object
        (
            [slug] => rozhovor
            [ID] => 23802
            [post_name] => vyjadreni-lina-jarvise-k-pronajmu-motoru-yamahy-m1
            [post_title] => Vyjádření Lina Jarvise k pronájmu motorů Yamahy M1 
            [post_author] => 2
            [post_date] => 2013-05-11 21:22:08
            [year] => 2013
            [month] => 5
            [post_type] => post
        )

    [466] => stdClass Object
        (
            [slug] => yamaha-2
            [ID] => 23794
            [post_name] => cal-crutchlow-tovarni-motorka-nebo-nic
            [post_title] => Cal Crutchlow: "Tovární motorka nebo nic." 
            [post_author] => 2
            [post_date] => 2013-05-10 21:29:50
            [year] => 2013
            [month] => 5
            [post_type] => post
        )

    [467] => stdClass Object
        (
            [slug] => rossi-novinky
            [ID] => 23708
            [post_name] => test-jerez-motogp
            [post_title] => Oficiální testy MotoGP - Jerez
            [post_author] => 514
            [post_date] => 2013-05-06 10:12:39
            [year] => 2013
            [month] => 5
            [post_type] => post
        )

    [468] => stdClass Object
        (
            [slug] => rossi-novinky
            [ID] => 23703
            [post_name] => rozhovor-s-valentinem-rossim-po-zavodu-v-jerezu
            [post_title] => Rozhovor s Valentinem Rossim po závodu v Jerezu
            [post_author] => 2
            [post_date] => 2013-05-05 20:56:33
            [year] => 2013
            [month] => 5
            [post_type] => post
        )

    [469] => stdClass Object
        (
            [slug] => velkka-cena-gp
            [ID] => 23670
            [post_name] => velka-cena-spanelska-motogp-2013-jerez
            [post_title] => Velká Cena Španělska MotoGP 2013 - Jerez
            [post_author] => 2
            [post_date] => 2013-05-05 14:58:06
            [year] => 2013
            [month] => 5
            [post_type] => post
        )

    [470] => stdClass Object
        (
            [slug] => rossi-novinky
            [ID] => 23560
            [post_name] => tiskova-konference-motogp-jerez
            [post_title] => Tisková konference MotoGP - Jerez
            [post_author] => 2
            [post_date] => 2013-05-02 15:33:59
            [year] => 2013
            [month] => 5
            [post_type] => post
        )

    [471] => stdClass Object
        (
            [slug] => rossi-novinky
            [ID] => 23548
            [post_name] => tovarni-tym-yamahy-pred-zavodem-v-jerezu
            [post_title] => Tovární tým Yamahy před závodem v Jerezu
            [post_author] => 2
            [post_date] => 2013-04-30 12:47:16
            [year] => 2013
            [month] => 4
            [post_type] => post
        )

    [472] => stdClass Object
        (
            [slug] => ducati-2
            [ID] => 23534
            [post_name] => bridgestone-by-problem-ducati-vyresila-za-2-tydny
            [post_title] => Bridgestone by problém Ducati vyřešila za 2 týdny.
            [post_author] => 2
            [post_date] => 2013-04-25 08:13:04
            [year] => 2013
            [month] => 4
            [post_type] => post
        )

    [473] => stdClass Object
        (
            [slug] => casey-stoner
            [ID] => 23528
            [post_name] => l-suppo-marquez-je-opakem-stonera
            [post_title] => Livio Suppo: "Marquez je opakem Stonera."
            [post_author] => 2
            [post_date] => 2013-04-24 14:28:33
            [year] => 2013
            [month] => 4
            [post_type] => post
        )

    [474] => stdClass Object
        (
            [slug] => rossi-novinky
            [ID] => 23521
            [post_name] => valentino-rossi-si-vyzkousel-vuz-nascar
            [post_title] => Valentino Rossi si vyzkoušel vůz NASCAR
            [post_author] => 2
            [post_date] => 2013-04-23 12:14:55
            [year] => 2013
            [month] => 4
            [post_type] => post
        )

    [475] => stdClass Object
        (
            [slug] => velkka-cena-gp
            [ID] => 23488
            [post_name] => velka-cena-ameriky-motogp-austin
            [post_title] => Velká Cena Ameriky MotoGP - Austin
            [post_author] => 2
            [post_date] => 2013-04-21 21:55:50
            [year] => 2013
            [month] => 4
            [post_type] => post
        )

    [476] => stdClass Object
        (
            [slug] => rossi-novinky
            [ID] => 23384
            [post_name] => tiskova-konference-motogp-austin
            [post_title] => Tisková konference MotoGP - Austin
            [post_author] => 2
            [post_date] => 2013-04-18 19:31:28
            [year] => 2013
            [month] => 4
            [post_type] => post
        )

    [477] => stdClass Object
        (
            [slug] => rossi-novinky
            [ID] => 23346
            [post_name] => graziano-rossi-valentinuv-nejkrasnejsi-zavod
            [post_title] => Graziano Rossi: "Valentinův nejkrásnější závod." 
            [post_author] => 2
            [post_date] => 2013-04-10 10:39:16
            [year] => 2013
            [month] => 4
            [post_type] => post
        )

    [478] => stdClass Object
        (
            [slug] => ducati-desmosedici
            [ID] => 23334
            [post_name] => andrea-dovizioso-ducati-proste-nezataci
            [post_title] => Andrea Dovizioso: "Ducati prostě nezatáčí."
            [post_author] => 2
            [post_date] => 2013-04-08 21:41:22
            [year] => 2013
            [month] => 4
            [post_type] => post
        )

    [479] => stdClass Object
        (
            [slug] => rossi-novinky
            [ID] => 23307
            [post_name] => v-rossi-takto-jsem-se-necitil-od-roku-2009
            [post_title] => Valentino Rossi: "Takto jsem se necítil od roku 2009."
            [post_author] => 2
            [post_date] => 2013-04-08 11:01:46
            [year] => 2013
            [month] => 4
            [post_type] => post
        )

    [480] => stdClass Object
        (
            [slug] => velkka-cena-gp
            [ID] => 23286
            [post_name] => velka-cena-kataru-motogp-2013
            [post_title] => Velká Cena Kataru MotoGP 2013
            [post_author] => 2
            [post_date] => 2013-04-07 21:53:47
            [year] => 2013
            [month] => 4
            [post_type] => post
        )

    [481] => stdClass Object
        (
            [slug] => motogp
            [ID] => 23243
            [post_name] => yamaha-uzavrela-dohodu-o-pronajmu-motoru-pro-motogp
            [post_title] => Yamaha uzavřela dohodu o pronájmu motorů
            [post_author] => 2
            [post_date] => 2013-04-06 18:08:15
            [year] => 2013
            [month] => 4
            [post_type] => post
        )

    [482] => stdClass Object
        (
            [slug] => rossi-novinky
            [ID] => 22736
            [post_name] => rozhovor-valetnina-rossiho-pro-magazin-mcn
            [post_title] => Rozhovor Valentina Rossiho pro magazín MCN
            [post_author] => 2
            [post_date] => 2013-04-04 10:57:25
            [year] => 2013
            [month] => 4
            [post_type] => post
        )

    [483] => stdClass Object
        (
            [slug] => rossi-novinky
            [ID] => 23153
            [post_name] => tiskova-konference-pred-velkou-cenou-kataru
            [post_title] => Tisková konference před Velkou Cenou Kataru
            [post_author] => 2
            [post_date] => 2013-04-03 17:36:47
            [year] => 2013
            [month] => 4
            [post_type] => post
        )

    [484] => stdClass Object
        (
            [slug] => rossi-novinky
            [ID] => 23129
            [post_name] => jeremy-burgess-uvidime-jak-to-v-kataru-pujde
            [post_title] => Jeremy Burgess: "Uvidíme jak to v Kataru půjde."
            [post_author] => 2
            [post_date] => 2013-04-01 15:48:23
            [year] => 2013
            [month] => 4
            [post_type] => post
        )

    [485] => stdClass Object
        (
            [slug] => rossi-novinky
            [ID] => 23111
            [post_name] => tym-a-mechanici-valentina-rossiho-aktualizace
            [post_title] => Tým a mechanici Valentina Rossiho - aktualizace
            [post_author] => 2
            [post_date] => 2013-03-30 18:41:30
            [year] => 2013
            [month] => 3
            [post_type] => post
        )

    [486] => stdClass Object
        (
            [slug] => rossi-novinky
            [ID] => 23097
            [post_name] => novy-system-penalizace-jezdcu-v-motogp
            [post_title] => Nový systém penalizace jezdců v MotoGP
            [post_author] => 2
            [post_date] => 2013-03-28 13:30:23
            [year] => 2013
            [month] => 3
            [post_type] => post
        )

    [487] => stdClass Object
        (
            [slug] => rossi-novinky
            [ID] => 22791
            [post_name] => posledni-zimni-testy-motogp-2013-v-jerezu
            [post_title] => Poslední zimní testy MotoGP 2013 v Jerezu
            [post_author] => 2
            [post_date] => 2013-03-23 09:15:32
            [year] => 2013
            [month] => 3
            [post_type] => post
        )

    [488] => stdClass Object
        (
            [slug] => rossi-novinky
            [ID] => 22693
            [post_name] => prezentace-tymu-yamaha-racing-motogp-22-3-2013
            [post_title] => Prezentace týmu Yamaha Racing MotoGP 22.3.2013
            [post_author] => 2
            [post_date] => 2013-03-22 11:33:12
            [year] => 2013
            [month] => 3
            [post_type] => post
        )

    [489] => stdClass Object
        (
            [slug] => motogp
            [ID] => 22757
            [post_name] => lin-jarvis-valentino-od-nas-nemel-nikdy-odejit
            [post_title] => Lin Jarvis: "Valentino od nás neměl nikdy odejít."
            [post_author] => 2
            [post_date] => 2013-03-22 10:22:11
            [year] => 2013
            [month] => 3
            [post_type] => post
        )

    [490] => stdClass Object
        (
            [slug] => ducati-desmosedici
            [ID] => 22723
            [post_name] => casey-stoner-chtel-jsem-si-vzit-preziosiho-sebou
            [post_title] => Casey Stoner: "Chtěl jsem si vzít Preziosiho sebou."
            [post_author] => 2
            [post_date] => 2013-03-18 17:20:47
            [year] => 2013
            [month] => 3
            [post_type] => post
        )

    [491] => stdClass Object
        (
            [slug] => ducati-desmosedici
            [ID] => 22721
            [post_name] => rozhovor-s-andrea-doviziosou
            [post_title] => Rozhovor s Andrea Doviziosou
            [post_author] => 2
            [post_date] => 2013-03-18 14:02:00
            [year] => 2013
            [month] => 3
            [post_type] => post
        )

    [492] => stdClass Object
        (
            [slug] => ducati-2
            [ID] => 22709
            [post_name] => v-ducati-neumeji-spravne-nalozit-s-kritikou
            [post_title] => V.Rossi: "V Ducati neumějí správně naložit s kritikou."
            [post_author] => 2
            [post_date] => 2013-03-17 13:51:34
            [year] => 2013
            [month] => 3
            [post_type] => post
        )

    [493] => stdClass Object
        (
            [slug] => rossi-novinky
            [ID] => 22699
            [post_name] => valentino-rossi-na-pr-akci-v-brazilii
            [post_title] => Valentino Rossi na PR akci v Brazílii. 
            [post_author] => 2
            [post_date] => 2013-03-16 19:57:50
            [year] => 2013
            [month] => 3
            [post_type] => post
        )

    [494] => stdClass Object
        (
            [slug] => rossi-novinky
            [ID] => 22586
            [post_name] => testy-motogp-yamahy-a-hondy-v-austinu
            [post_title] => Testy MotoGP Yamahy a Hondy v Austinu
            [post_author] => 2
            [post_date] => 2013-03-12 17:31:49
            [year] => 2013
            [month] => 3
            [post_type] => post
        )

    [495] => stdClass Object
        (
            [slug] => ducati-desmosedici
            [ID] => 22580
            [post_name] => a-dovizioso-desmosedici-nezataci
            [post_title] => A.Dovizioso: "Desmosedici nezatáčí."
            [post_author] => 2
            [post_date] => 2013-03-12 07:45:34
            [year] => 2013
            [month] => 3
            [post_type] => post
        )

    [496] => stdClass Object
        (
            [slug] => rossi-novinky
            [ID] => 22569
            [post_name] => j-lorenzo-rossi-je-obtizny-souper
            [post_title] => J.Lorenzo: "Rossi je obtížný soupeř."
            [post_author] => 2
            [post_date] => 2013-03-11 16:05:39
            [year] => 2013
            [month] => 3
            [post_type] => post
        )

    [497] => stdClass Object
        (
            [slug] => rossi-novinky
            [ID] => 22251
            [post_name] => motogp-se-pripravuje-na-premieru-v-austinu
            [post_title] => MotoGP se připravuje na premiéru v Austinu.	
            [post_author] => 2
            [post_date] => 2013-03-11 10:20:40
            [year] => 2013
            [month] => 3
            [post_type] => post
        )

    [498] => stdClass Object
        (
            [slug] => rossi-novinky
            [ID] => 22561
            [post_name] => suzi-perry-valentino-nemel-od-yamahy-odchazet
            [post_title] => Suzi Perry: "Valentino neměl od Yamahy odcházet."
            [post_author] => 2
            [post_date] => 2013-03-07 12:05:12
            [year] => 2013
            [month] => 3
            [post_type] => post
        )

    [499] => stdClass Object
        (
            [slug] => rossi-novinky
            [ID] => 22554
            [post_name] => valentino-rossi-prestal-uvazovat-o-formuli-1
            [post_title] => Valentino Rossi přestal uvažovat o Formuli 1
            [post_author] => 2
            [post_date] => 2013-03-06 14:42:26
            [year] => 2013
            [month] => 3
            [post_type] => post
        )

    [500] => stdClass Object
        (
            [slug] => rossi-novinky
            [ID] => 22532
            [post_name] => baje-o-navratu-odyssea
            [post_title] => Báje o návratu Odyssea
            [post_author] => 2
            [post_date] => 2013-03-04 19:50:35
            [year] => 2013
            [month] => 3
            [post_type] => post
        )

    [501] => stdClass Object
        (
            [slug] => rossi-novinky
            [ID] => 22512
            [post_name] => navrat-suzuki-do-motogp-v-roku-2014
            [post_title] => Návrat Suzuki do MotoGP v roku 2014?
            [post_author] => 514
            [post_date] => 2013-03-02 01:11:39
            [year] => 2013
            [month] => 3
            [post_type] => post
        )

    [502] => stdClass Object
        (
            [slug] => rossi-novinky
            [ID] => 22506
            [post_name] => rossi-a-marquez-si-uzili-spolecnou-jizdu
            [post_title] => Rossi a Marquez si užili společnou jízdu
            [post_author] => 2
            [post_date] => 2013-03-01 09:19:04
            [year] => 2013
            [month] => 3
            [post_type] => post
        )

    [503] => stdClass Object
        (
            [slug] => rossi-novinky
            [ID] => 22350
            [post_name] => druhe-zimni-testy-motogp-v-sepangu
            [post_title] => Druhé zimní testy MotoGP v Sepangu
            [post_author] => 2
            [post_date] => 2013-02-26 07:17:49
            [year] => 2013
            [month] => 2
            [post_type] => post
        )

    [504] => stdClass Object
        (
            [slug] => superbike-2
            [ID] => 22330
            [post_name] => checovi-premiera-na-panigale-nevysla
            [post_title] => Checovi premiéra na Panigale 1199 nevyšla
            [post_author] => 2
            [post_date] => 2013-02-24 12:07:10
            [year] => 2013
            [month] => 2
            [post_type] => post
        )

    [505] => stdClass Object
        (
            [slug] => ducati-desmosedici
            [ID] => 22312
            [post_name] => p-ciabatti-ducati-neni-na-stejne-urovni-s-konkurenci
            [post_title] => P.Ciabatti: "Ducati není na stejné úrovni s konkurencí."
            [post_author] => 2
            [post_date] => 2013-02-21 16:31:04
            [year] => 2013
            [month] => 2
            [post_type] => post
        )

    [506] => stdClass Object
        (
            [slug] => rossi-novinky
            [ID] => 22309
            [post_name] => max-biaggi-valentino-rossi-je-jako-copperfiled
            [post_title] => Max Biaggi: "Valentino Rossi je jako Copperfiled." 
            [post_author] => 2
            [post_date] => 2013-02-21 11:08:25
            [year] => 2013
            [month] => 2
            [post_type] => post
        )

    [507] => stdClass Object
        (
            [slug] => rossi-novinky
            [ID] => 22307
            [post_name] => jorge-lorenzo-na-rossiho-je-treba-si-davat-pozor
            [post_title] => Jorge Lorenzo: "Na Rossiho je třeba si dávat pozor."
            [post_author] => 2
            [post_date] => 2013-02-20 19:06:16
            [year] => 2013
            [month] => 2
            [post_type] => post
        )

    [508] => stdClass Object
        (
            [slug] => rossi-novinky
            [ID] => 22287
            [post_name] => v-rossi-ten-ohen-uvnitr-nikdy-nevyhasl
            [post_title] => V.Rossi: "Ten oheň uvnitř nikdy nevyhasl."
            [post_author] => 2
            [post_date] => 2013-02-19 18:35:45
            [year] => 2013
            [month] => 2
            [post_type] => post
        )

    [509] => stdClass Object
        (
            [slug] => ducati-2
            [ID] => 22280
            [post_name] => honda-rc213v-pouziva-uhel-valcu-90
            [post_title] => Honda RC213V používá úhel válců 90°
            [post_author] => 2
            [post_date] => 2013-02-18 18:41:44
            [year] => 2013
            [month] => 2
            [post_type] => post
        )

    [510] => stdClass Object
        (
            [slug] => rossi-novinky
            [ID] => 22274
            [post_name] => valentino-rossi-ve-videu-pro-dainese
            [post_title] => Valentino Rossi ve videu pro Dainese
            [post_author] => 2
            [post_date] => 2013-02-17 17:17:03
            [year] => 2013
            [month] => 2
            [post_type] => post
        )

    [511] => stdClass Object
        (
            [slug] => rossi-novinky
            [ID] => 22268
            [post_name] => valentino-rossi-dnes-slavi-34-narozeniny
            [post_title] => Valentino Rossi dnes slaví 34. narozeniny
            [post_author] => 2
            [post_date] => 2013-02-16 08:35:39
            [year] => 2013
            [month] => 2
            [post_type] => post
        )

    [512] => stdClass Object
        (
            [slug] => ducati-2
            [ID] => 22262
            [post_name] => nazory-novinaru-na-sezonu-motogp-2013
            [post_title] => Názory novinářů na sezónu MotoGP 2013
            [post_author] => 2
            [post_date] => 2013-02-15 15:01:19
            [year] => 2013
            [month] => 2
            [post_type] => post
        )

    [513] => stdClass Object
        (
            [slug] => rossi-novinky
            [ID] => 22242
            [post_name] => m-maregalli-rossi-a-lorenzo-skvele-spolupracuji
            [post_title] => M.Maregalli: "Rossi a Lorenzo skvěle spolupracují."
            [post_author] => 2
            [post_date] => 2013-02-11 20:44:58
            [year] => 2013
            [month] => 2
            [post_type] => post
        )

    [514] => stdClass Object
        (
            [slug] => rossi-novinky
            [ID] => 22235
            [post_name] => l-jarvis-rossi-bude-konkurenceschopny
            [post_title] => Lin Jarvis: "Rossi bude konkurenceschopný."
            [post_author] => 2
            [post_date] => 2013-02-11 18:30:22
            [year] => 2013
            [month] => 2
            [post_type] => post
        )

    [515] => stdClass Object
        (
            [slug] => ducati-2
            [ID] => 22224
            [post_name] => nicky-hayden-potrebujeme-radikalni-zmenu
            [post_title] => Nicky Hayden: "Potřebujeme radikální změnu."
            [post_author] => 2
            [post_date] => 2013-02-09 10:15:38
            [year] => 2013
            [month] => 2
            [post_type] => post
        )

    [516] => stdClass Object
        (
            [slug] => rossi-novinky
            [ID] => 22171
            [post_name] => zaverecny-den-testu-motogp-v-sepangu
            [post_title] => Závěrečný den testů MotoGP v Sepangu
            [post_author] => 2
            [post_date] => 2013-02-07 07:12:45
            [year] => 2013
            [month] => 2
            [post_type] => post
        )

    [517] => stdClass Object
        (
            [slug] => rossi-novinky
            [ID] => 22135
            [post_name] => testy-motogp-sepang-2-den
            [post_title] => Testy MotoGP Sepang - 2. den
            [post_author] => 2
            [post_date] => 2013-02-06 07:17:49
            [year] => 2013
            [month] => 2
            [post_type] => post
        )

    [518] => stdClass Object
        (
            [slug] => rossi-novinky
            [ID] => 22122
            [post_name] => valentino-rossi-prvni-den-byl-perfektni
            [post_title] => Valentino Rossi: "První den byl perfektní!"
            [post_author] => 2
            [post_date] => 2013-02-05 15:32:52
            [year] => 2013
            [month] => 2
            [post_type] => post
        )

    [519] => stdClass Object
        (
            [slug] => rossi-novinky
            [ID] => 22062
            [post_name] => testy-motogp-sepang
            [post_title] => Testy MotoGP Sepang
            [post_author] => 2
            [post_date] => 2013-02-03 13:26:46
            [year] => 2013
            [month] => 2
            [post_type] => post
        )

    [520] => stdClass Object
        (
            [slug] => yamaha-2
            [ID] => 22054
            [post_name] => yamaha-na-testy-v-sepangu-s-novou-prevodovkou
            [post_title] => Yamaha na testy v Sepangu s novou převodovkou
            [post_author] => 2
            [post_date] => 2013-01-31 18:27:40
            [year] => 2013
            [month] => 1
            [post_type] => post
        )

    [521] => stdClass Object
        (
            [slug] => ducati-desmosedici
            [ID] => 22039
            [post_name] => rozhovor-s-bernhardem-gobmeierem-o-ducati
            [post_title] => Rozhovor s Bernhardem Gobmeierem o Ducati
            [post_author] => 2
            [post_date] => 2013-01-29 13:02:34
            [year] => 2013
            [month] => 1
            [post_type] => post
        )

    [522] => stdClass Object
        (
            [slug] => rossi-novinky
            [ID] => 22011
            [post_name] => rozhovor-s-valentinem-rossim-z-jakarty
            [post_title] => Rozhovor s Valentinem Rossim z Jakarty
            [post_author] => 2
            [post_date] => 2013-01-26 17:08:36
            [year] => 2013
            [month] => 1
            [post_type] => post
        )

    [523] => stdClass Object
        (
            [slug] => rossi-novinky
            [ID] => 21978
            [post_name] => valentino-rossi-a-jorge-lorenzo-prezentace-yamahy
            [post_title] => Valentino Rossi a Jorge Lorenzo - prezentace Yamahy
            [post_author] => 2
            [post_date] => 2013-01-25 07:54:15
            [year] => 2013
            [month] => 1
            [post_type] => post
        )

    [524] => stdClass Object
        (
            [slug] => motogp
            [ID] => 21970
            [post_name] => testy-motogp-zacinaji-jiz-3-unora
            [post_title] => Testy MotoGP™ začínají již 3. Února 
            [post_author] => 2
            [post_date] => 2013-01-23 11:14:31
            [year] => 2013
            [month] => 1
            [post_type] => post
        )

    [525] => stdClass Object
        (
            [slug] => rozhovor
            [ID] => 21960
            [post_name] => shuhei-nakamoto-ohlednuti-za-sezonou-2012-1
            [post_title] => Shuhei Nakamoto – ohlédnutí za sezónou 2012 (1 + 2)
            [post_author] => 2
            [post_date] => 2013-01-20 19:43:35
            [year] => 2013
            [month] => 1
            [post_type] => post
        )

    [526] => stdClass Object
        (
            [slug] => cal-crutchlow
            [ID] => 21944
            [post_name] => c-crutchlow-konkurence-bude-letos-tvrdsi
            [post_title] => C.Crutchlow: "Konkurence bude letos tvrdší."
            [post_author] => 2
            [post_date] => 2013-01-17 16:08:41
            [year] => 2013
            [month] => 1
            [post_type] => post
        )

    [527] => stdClass Object
        (
            [slug] => ducati-desmosedici
            [ID] => 21928
            [post_name] => b-gobmeier-evoluce-nikoliv-revoluce
            [post_title] => B.Gobmeier: "Evoluce, nikoliv revoluce"
            [post_author] => 2
            [post_date] => 2013-01-16 11:26:42
            [year] => 2013
            [month] => 1
            [post_type] => post
        )

    [528] => stdClass Object
        (
            [slug] => rossi-novinky
            [ID] => 21910
            [post_name] => valentino-rossi-a-yamaha-m1
            [post_title] => Valentino Rossi a Yamaha M1
            [post_author] => 2
            [post_date] => 2013-01-15 11:49:53
            [year] => 2013
            [month] => 1
            [post_type] => post
        )

    [529] => stdClass Object
        (
            [slug] => ducati-desmosedici
            [ID] => 21898
            [post_name] => wrooom-2013
            [post_title] => Wrooom 2013
            [post_author] => 2
            [post_date] => 2013-01-14 12:37:50
            [year] => 2013
            [month] => 1
            [post_type] => post
        )

    [530] => stdClass Object
        (
            [slug] => rossi-novinky
            [ID] => 21887
            [post_name] => c-ezpeleta-rossi-muze-byt-znovu-vpredu
            [post_title] => C.Ezpeleta: "Rossi může být znovu vpředu."
            [post_author] => 2
            [post_date] => 2013-01-10 16:22:14
            [year] => 2013
            [month] => 1
            [post_type] => post
        )

    [531] => stdClass Object
        (
            [slug] => bridgestone-2
            [ID] => 21885
            [post_name] => bridgestone-prodlouzila-smlouvu-s-valentinem-rossim
            [post_title] => Bridgestone prodloužila smlouvu s Valentinem Rossim
            [post_author] => 2
            [post_date] => 2013-01-09 13:52:53
            [year] => 2013
            [month] => 1
            [post_type] => post
        )

    [532] => stdClass Object
        (
            [slug] => rossi-novinky
            [ID] => 21869
            [post_name] => monster-energy-bude-sponzorovat-tym-yamahy
            [post_title] => Monster Energy bude sponzorovat tým Yamahy
            [post_author] => 2
            [post_date] => 2013-01-08 13:14:16
            [year] => 2013
            [month] => 1
            [post_type] => post
        )

    [533] => stdClass Object
        (
            [slug] => rossi-novinky
            [ID] => 21863
            [post_name] => statistika-rossi-vs-lorenzo
            [post_title] => Statistika Rossi vs Lorenzo
            [post_author] => 2
            [post_date] => 2013-01-08 09:31:48
            [year] => 2013
            [month] => 1
            [post_type] => post
        )

    [534] => stdClass Object
        (
            [slug] => rossi-novinky
            [ID] => 21854
            [post_name] => yamaha-racing-video-vitej-doma-vale
            [post_title] => Yamaha Racing video "Vítej doma Vale!"
            [post_author] => 2
            [post_date] => 2013-01-03 15:58:11
            [year] => 2013
            [month] => 1
            [post_type] => post
        )

    [535] => stdClass Object
        (
            [slug] => rossi-novinky
            [ID] => 21845
            [post_name] => zpoved-bena-spiese
            [post_title] => Zpověď Bena Spiese
            [post_author] => 2
            [post_date] => 2013-01-03 10:23:17
            [year] => 2013
            [month] => 1
            [post_type] => post
        )

    [536] => stdClass Object
        (
            [slug] => rossi-novinky
            [ID] => 21831
            [post_name] => v-rossi-udelal-jsem-velmi-odvazne-rozhodnuti
            [post_title] => V.Rossi: "Udělal jsem velmi odvážné rozhodnutí."
            [post_author] => 2
            [post_date] => 2012-12-29 15:36:27
            [year] => 2012
            [month] => 12
            [post_type] => post
        )

    [537] => stdClass Object
        (
            [slug] => rozhovor
            [ID] => 21822
            [post_name] => w-zeelenberg-jorge-je-jako-houba
            [post_title] => W.Zeelenberg: "Jorge je jako houba."
            [post_author] => 2
            [post_date] => 2012-12-28 15:59:40
            [year] => 2012
            [month] => 12
            [post_type] => post
        )

    [538] => stdClass Object
        (
            [slug] => rossi-novinky
            [ID] => 21787
            [post_name] => videa-valentina-rossiho-na-youtube
            [post_title] => Videa Valentina Rossiho na YouTube
            [post_author] => 2
            [post_date] => 2012-12-25 21:58:07
            [year] => 2012
            [month] => 12
            [post_type] => post
        )

    [539] => stdClass Object
        (
            [slug] => rossi-novinky
            [ID] => 21776
            [post_name] => monster-energy-bude-sponzorovat-tovarni-tym-yamahy
            [post_title] => Monster Energy bude sponzorovat tovární tým Yamahy
            [post_author] => 2
            [post_date] => 2012-12-22 15:20:15
            [year] => 2012
            [month] => 12
            [post_type] => post
        )

    [540] => stdClass Object
        (
            [slug] => rozhovor
            [ID] => 21758
            [post_name] => j-lorenzo-s-valentinem-nejsou-problemy
            [post_title] => J.Lorenzo: "S Valentinem nejsou problémy."
            [post_author] => 2
            [post_date] => 2012-12-21 18:18:20
            [year] => 2012
            [month] => 12
            [post_type] => post
        )

    [541] => stdClass Object
        (
            [slug] => yamaha-2
            [ID] => 21754
            [post_name] => yamaha-pracuje-na-nove-prevodovce
            [post_title] => Yamaha pracuje na nové převodovce
            [post_author] => 2
            [post_date] => 2012-12-20 11:56:07
            [year] => 2012
            [month] => 12
            [post_type] => post
        )

    [542] => stdClass Object
        (
            [slug] => jeremy-burgess
            [ID] => 21740
            [post_name] => jeremy-burgess-selhani-s-ducati-me-bude-pronasledovat-az-do-hrobu
            [post_title] => Jeremy Burgess: "Selhání s Ducati mě bude pronásledovat až do hrobu."
            [post_author] => 2
            [post_date] => 2012-12-16 13:43:59
            [year] => 2012
            [month] => 12
            [post_type] => post
        )

    [543] => stdClass Object
        (
            [slug] => rossi-novinky
            [ID] => 21735
            [post_name] => pady-motogp-2012
            [post_title] => Pády MotoGP 2012
            [post_author] => 2
            [post_date] => 2012-12-16 10:33:41
            [year] => 2012
            [month] => 12
            [post_type] => post
        )

    [544] => stdClass Object
        (
            [slug] => rossi-novinky
            [ID] => 21713
            [post_name] => rozhovor-s-masao-furusawou
            [post_title] => Rozhovor s Masaou Furusawou
            [post_author] => 2
            [post_date] => 2012-12-15 08:53:40
            [year] => 2012
            [month] => 12
            [post_type] => post
        )

    [545] => stdClass Object
        (
            [slug] => motogp
            [ID] => 21723
            [post_name] => okruh-na-phillip-islandu-ma-novy-povrch
            [post_title] => Okruh na Phillip Islandu má nový povrch
            [post_author] => 2
            [post_date] => 2012-12-13 08:09:48
            [year] => 2012
            [month] => 12
            [post_type] => post
        )

    [546] => stdClass Object
        (
            [slug] => rossi-novinky
            [ID] => 21709
            [post_name] => v-rossi-stoner-me-po-lagune-2008-zacal-nenavidet
            [post_title] => V.Rossi: "Stoner mě po Laguně 2008 začal nenávidět."
            [post_author] => 2
            [post_date] => 2012-12-11 18:28:18
            [year] => 2012
            [month] => 12
            [post_type] => post
        )

    [547] => stdClass Object
        (
            [slug] => rossi-novinky
            [ID] => 21702
            [post_name] => valentino-rossi-nemusi-nikomu-nic-dokazovat
            [post_title] => Valentino Rossi nemusí nikomu nic dokazovat
            [post_author] => 2
            [post_date] => 2012-12-10 12:44:21
            [year] => 2012
            [month] => 12
            [post_type] => post
        )

    [548] => stdClass Object
        (
            [slug] => ducati-desmosedici
            [ID] => 21693
            [post_name] => ben-spies-na-podzim-jsem-o-nic-neprisel
            [post_title] => Ben Spies: "Na podzim jsem o nic nepřišel."
            [post_author] => 2
            [post_date] => 2012-12-08 15:19:22
            [year] => 2012
            [month] => 12
            [post_type] => post
        )

    [549] => stdClass Object
        (
            [slug] => motogp
            [ID] => 21688
            [post_name] => brno-v-navstevnosti-motogp-stale-vede
            [post_title] => Brno v návštěvnosti MotoGP stále vede
            [post_author] => 2
            [post_date] => 2012-12-07 11:15:01
            [year] => 2012
            [month] => 12
            [post_type] => post
        )

    [550] => stdClass Object
        (
            [slug] => rossi-novinky
            [ID] => 21598
            [post_name] => sic-supermoto-day
            [post_title] => Sic Supermoto Day
            [post_author] => 2
            [post_date] => 2012-11-30 15:14:10
            [year] => 2012
            [month] => 11
            [post_type] => post
        )

    [551] => stdClass Object
        (
            [slug] => ducati-2
            [ID] => 21611
            [post_name] => testy-ducati-crt-v-jerezu
            [post_title] => Testy Ducati a CRT v Jerezu
            [post_author] => 2
            [post_date] => 2012-11-29 16:33:28
            [year] => 2012
            [month] => 11
            [post_type] => post
        )

    [552] => stdClass Object
        (
            [slug] => rossi-novinky
            [ID] => 21620
            [post_name] => v-rossi-doufejme-ze-je-to-bod-obratu
            [post_title] => V.Rossi: "Doufejme, že je to bod obratu."
            [post_author] => 2
            [post_date] => 2012-11-29 09:18:55
            [year] => 2012
            [month] => 11
            [post_type] => post
        )

    [553] => stdClass Object
        (
            [slug] => honda-2
            [ID] => 21615
            [post_name] => marquez-v-sepangu-jen-sekundu-od-pole-position
            [post_title] => Marquez v Sepangu jen sekundu od pole position
            [post_author] => 2
            [post_date] => 2012-11-28 16:00:37
            [year] => 2012
            [month] => 11
            [post_type] => post
        )

    [554] => stdClass Object
        (
            [slug] => ducati-2
            [ID] => 21606
            [post_name] => hayden-veri-ve-vyreseni-problemu-s-predkem-ducati
            [post_title] => Hayden veří ve vyřešení problému s předkem Ducati
            [post_author] => 2
            [post_date] => 2012-11-27 16:10:08
            [year] => 2012
            [month] => 11
            [post_type] => post
        )

    [555] => stdClass Object
        (
            [slug] => rossi-novinky
            [ID] => 21387
            [post_name] => monza-raylle-show-2012
            [post_title] => Monza Rallye Show 2012
            [post_author] => 2
            [post_date] => 2012-11-23 20:00:59
            [year] => 2012
            [month] => 11
            [post_type] => post
        )

    [556] => stdClass Object
        (
            [slug] => technologie-motogp
            [ID] => 21425
            [post_name] => ta-vlajici-noha-valentina-rossiho
            [post_title] => Ta vlající noha Valentina Rossiho...
            [post_author] => 2
            [post_date] => 2012-11-23 18:59:04
            [year] => 2012
            [month] => 11
            [post_type] => post
        )

    [557] => stdClass Object
        (
            [slug] => casey-stoner
            [ID] => 21401
            [post_name] => elektronika-hondy-umoznuje-jizdu-smykem
            [post_title] => Elektronika Hondy umožňuje jízdu smykem
            [post_author] => 2
            [post_date] => 2012-11-21 19:19:30
            [year] => 2012
            [month] => 11
            [post_type] => post
        )

    [558] => stdClass Object
        (
            [slug] => ducati-desmosedici
            [ID] => 21359
            [post_name] => preziosi-a-cicognani-odvolani-z-funkci
            [post_title] => Ducati odvolalo Preziosiho a Cicognaniho z funkcí.
            [post_author] => 2
            [post_date] => 2012-11-20 15:47:52
            [year] => 2012
            [month] => 11
            [post_type] => post
        )

    [559] => stdClass Object
        (
            [slug] => motogp
            [ID] => 21350
            [post_name] => okruh-v-austinu-ma-za-sebou-premieru
            [post_title] => Okruh v Austinu má za sebou premiéru
            [post_author] => 2
            [post_date] => 2012-11-19 18:00:26
            [year] => 2012
            [month] => 11
            [post_type] => post
        )

    [560] => stdClass Object
        (
            [slug] => ducati-2
            [ID] => 21343
            [post_name] => w-durheimer-v-roce-2015-chceme-s-ducati-bojovat-o-titul
            [post_title] => W.Dürheimer: "Chceme s Ducati bojovat o titul."
            [post_author] => 2
            [post_date] => 2012-11-18 18:21:19
            [year] => 2012
            [month] => 11
            [post_type] => post
        )

    [561] => stdClass Object
        (
            [slug] => bridgestone-2
            [ID] => 21327
            [post_name] => r-mamola-pneumatiky-diktuji-jezdecky-styl
            [post_title] => R.Mamola: "Pneumatiky diktují jezdecký styl."
            [post_author] => 2
            [post_date] => 2012-11-18 14:46:59
            [year] => 2012
            [month] => 11
            [post_type] => post
        )

    [562] => stdClass Object
        (
            [slug] => rossi-novinky
            [ID] => 21322
            [post_name] => v-rossi-navrat-k-yamaze-je-mym-poslednim-dobroduzstvim-v-motogp
            [post_title] => V. Rossi: "Návrat k Yamaze je mým posledním dobrodužstvím v MotoGP."
            [post_author] => 2
            [post_date] => 2012-11-17 13:09:22
            [year] => 2012
            [month] => 11
            [post_type] => post
        )

    [563] => stdClass Object
        (
            [slug] => nicky-hayden
            [ID] => 21318
            [post_name] => nicky-hayden-chce-byt-u-ducati-tymovou-jednickou
            [post_title] => Nicky Hayden chce být u Ducati týmovou jedničkou
            [post_author] => 2
            [post_date] => 2012-11-17 11:42:52
            [year] => 2012
            [month] => 11
            [post_type] => post
        )

    [564] => stdClass Object
        (
            [slug] => rossi-novinky
            [ID] => 19428
            [post_name] => after-the-flag-motogp
            [post_title] => Poslední After the flag 2012
            [post_author] => 2
            [post_date] => 2012-11-16 15:00:27
            [year] => 2012
            [month] => 11
            [post_type] => post
        )

    [565] => stdClass Object
        (
            [slug] => jorge-lorenzo
            [ID] => 21304
            [post_name] => j-lorenzo-dve-sezony-pak-se-uvidi
            [post_title] => J.Lorenzo: "Dvě sezóny, pak se uvidí."
            [post_author] => 2
            [post_date] => 2012-11-15 17:37:04
            [year] => 2012
            [month] => 11
            [post_type] => post
        )

    [566] => stdClass Object
        (
            [slug] => rossi-novinky
            [ID] => 21237
            [post_name] => testy-yamahy-v-aragonu-a-motogp-ve-valencii
            [post_title] => Testy Yamahy v Aragonu a MotoGP ve Valencii
            [post_author] => 2
            [post_date] => 2012-11-14 11:39:51
            [year] => 2012
            [month] => 11
            [post_type] => post
        )

    [567] => stdClass Object
        (
            [slug] => rossi-novinky
            [ID] => 21231
            [post_name] => do-tymu-valentina-rossiho-se-vratily-usmevy
            [post_title] => Do týmu Valentina Rossiho se vrátily úsměvy
            [post_author] => 2
            [post_date] => 2012-11-14 09:50:21
            [year] => 2012
            [month] => 11
            [post_type] => post
        )

    [568] => stdClass Object
        (
            [slug] => rossi-novinky
            [ID] => 21179
            [post_name] => oficialni-posezonni-testy-motogp-valencie-2012
            [post_title] => Oficiální posezónní testy MotoGP - Valencie 2012
            [post_author] => 2
            [post_date] => 2012-11-13 10:23:34
            [year] => 2012
            [month] => 11
            [post_type] => post
        )

    [569] => stdClass Object
        (
            [slug] => rossi-novinky
            [ID] => 21130
            [post_name] => v-predvecer-posezonnich-testu-motogp
            [post_title] => V předvečer posezónních testů MotoGP
            [post_author] => 2
            [post_date] => 2012-11-12 15:19:36
            [year] => 2012
            [month] => 11
            [post_type] => post
        )

    [570] => stdClass Object
        (
            [slug] => rossi-ducati-cz
            [ID] => 21094
            [post_name] => rossi-ducati-cz-se-stehuje-na-rossi-yamaha-cz
            [post_title] => Rossi-Ducati.cz se stěhuje na Rossi-Yamaha.cz
            [post_author] => 2
            [post_date] => 2012-11-11 22:01:43
            [year] => 2012
            [month] => 11
            [post_type] => post
        )

    [571] => stdClass Object
        (
            [slug] => velkka-cena-gp
            [ID] => 21091
            [post_name] => velka-cena-motogp-valencie
            [post_title] => Velká Cena MotoGP - Valencie
            [post_author] => 2
            [post_date] => 2012-11-11 15:01:51
            [year] => 2012
            [month] => 11
            [post_type] => post
        )

    [572] => stdClass Object
        (
            [slug] => ducati-2
            [ID] => 21067
            [post_name] => preziosi-zrejme-odejde-z-vedeni-ducati-corse
            [post_title] => Preziosi zřejmě odejde z vedení Ducati Corse
            [post_author] => 2
            [post_date] => 2012-11-10 20:08:24
            [year] => 2012
            [month] => 11
            [post_type] => post
        )

    [573] => stdClass Object
        (
            [slug] => rossi-novinky
            [ID] => 20995
            [post_name] => tiskova-konference-motogp-valencie
            [post_title] => Tisková konference MotoGP - Valencie
            [post_author] => 2
            [post_date] => 2012-11-08 18:15:07
            [year] => 2012
            [month] => 11
            [post_type] => post
        )

    [574] => stdClass Object
        (
            [slug] => max-biaggi
            [ID] => 20981
            [post_name] => max-biaggi-oznamil-ukonceni-kariery
            [post_title] => Max Biaggi oznámil ukončení kariéry
            [post_author] => 2
            [post_date] => 2012-11-07 16:04:16
            [year] => 2012
            [month] => 11
            [post_type] => post
        )

    [575] => stdClass Object
        (
            [slug] => rossi-novinky
            [ID] => 20977
            [post_name] => jeremy-burgess-o-navratu-k-yamaze
            [post_title] => Jeremy Burgess o návratu k Yamaze
            [post_author] => 2
            [post_date] => 2012-11-06 18:37:39
            [year] => 2012
            [month] => 11
            [post_type] => post
        )

    [576] => stdClass Object
        (
            [slug] => motogp
            [ID] => 20965
            [post_name] => yamaha-zvazuje-pronajem-motoru-m1-v-roce-2014
            [post_title] => Yamaha zvažuje pronájem motoru M1 v roce 2014
            [post_author] => 2
            [post_date] => 2012-11-05 17:27:53
            [year] => 2012
            [month] => 11
            [post_type] => post
        )

    [577] => stdClass Object
        (
            [slug] => rossi-novinky
            [ID] => 20961
            [post_name] => troy-bayliss-valentino-rossi-je-velky-sampion
            [post_title] => Troy Bayliss: Valentino Rossi je velký šampión.
            [post_author] => 2
            [post_date] => 2012-11-04 17:04:59
            [year] => 2012
            [month] => 11
            [post_type] => post
        )

    [578] => stdClass Object
        (
            [slug] => casey-stoner
            [ID] => 20950
            [post_name] => casey-stoner-the-final-lap
            [post_title] => Casey Stoner - The Final Lap
            [post_author] => 2
            [post_date] => 2012-11-03 16:22:00
            [year] => 2012
            [month] => 11
            [post_type] => post
        )

    [579] => stdClass Object
        (
            [slug] => motogp
            [ID] => 20939
            [post_name] => rozhovor-se-shuhei-nakamotem-o-budoucnosti-motogp
            [post_title] => Rozhovor se Shuhei Nakamotem o budoucnosti MotoGP
            [post_author] => 2
            [post_date] => 2012-11-02 18:00:07
            [year] => 2012
            [month] => 11
            [post_type] => post
        )

    [580] => stdClass Object
        (
            [slug] => motogp
            [ID] => 20924
            [post_name] => lin-jarvis-nevylucuje-navrat-yamahy-do-wsbk
            [post_title] => Lin Jarvis nevylučuje návrat Yamahy do WSBK
            [post_author] => 2
            [post_date] => 2012-10-31 16:57:34
            [year] => 2012
            [month] => 10
            [post_type] => post
        )

    [581] => stdClass Object
        (
            [slug] => rossi-novinky
            [ID] => 20894
            [post_name] => valentino-rossi-mame-stejne-problemy-jako-v-roce-2010
            [post_title] => V. Rossi: "Máme stejné problémy jako v roce 2010."
            [post_author] => 2
            [post_date] => 2012-10-28 18:24:47
            [year] => 2012
            [month] => 10
            [post_type] => post
        )

    [582] => stdClass Object
        (
            [slug] => rossi-novinky
            [ID] => 20882
            [post_name] => valentino-rossi-u-yamahy-budu-dvojka
            [post_title] => Valentino Rossi: "U Yamahy budu dvojka."
            [post_author] => 2
            [post_date] => 2012-10-28 14:10:24
            [year] => 2012
            [month] => 10
            [post_type] => post
        )

    [583] => stdClass Object
        (
            [slug] => velkka-cena-gp
            [ID] => 20856
            [post_name] => velka-cena-australie-phillip-island-2
            [post_title] => Velká Cena Austrálie - Phillip Island
            [post_author] => 2
            [post_date] => 2012-10-28 06:50:30
            [year] => 2012
            [month] => 10
            [post_type] => post
        )

    [584] => stdClass Object
        (
            [slug] => casey-stoner
            [ID] => 20840
            [post_name] => c-crutchlow-honde-tady-hodne-pomaha-prevodovka
            [post_title] => C.Crutchlow: "Hondě hodně pomáhá převodovka."
            [post_author] => 2
            [post_date] => 2012-10-27 21:26:18
            [year] => 2012
            [month] => 10
            [post_type] => post
        )

    [585] => stdClass Object
        (
            [slug] => motogp
            [ID] => 20798
            [post_name] => bridgepoint-prodal-39-podil-dorny
            [post_title] => Bridgepoint prodal 39% podíl Dorny.
            [post_author] => 2
            [post_date] => 2012-10-27 12:00:48
            [year] => 2012
            [month] => 10
            [post_type] => post
        )

    [586] => stdClass Object
        (
            [slug] => rossi-novinky
            [ID] => 20793
            [post_name] => valentino-rossi-stoner-tady-jede-jako-buh
            [post_title] => Valentino Rossi: "Stoner tady jede jako bůh!"
            [post_author] => 2
            [post_date] => 2012-10-26 20:04:36
            [year] => 2012
            [month] => 10
            [post_type] => post
        )

    [587] => stdClass Object
        (
            [slug] => rossi-novinky
            [ID] => 20754
            [post_name] => tiskov-konference-motogp-na-phillip-islandu
            [post_title] => Tisková konference MotoGP na Phillip Islandu
            [post_author] => 2
            [post_date] => 2012-10-25 16:21:51
            [year] => 2012
            [month] => 10
            [post_type] => post
        )

    [588] => stdClass Object
        (
            [slug] => rossi-novinky
            [ID] => 20740
            [post_name] => valentino-rossi-nasim-snem-bylo-vyhravat-s-ducati
            [post_title] => Valentino Rossi: "Naším snem bylo vyhrávat s Ducati."
            [post_author] => 2
            [post_date] => 2012-10-24 18:53:51
            [year] => 2012
            [month] => 10
            [post_type] => post
        )

    [589] => stdClass Object
        (
            [slug] => casey-stoner
            [ID] => 20735
            [post_name] => casey-stoner-pojede-na-phillip-islandu-naposledy
            [post_title] => Casey Stoner pojede na Phillip Islandu naposledy
            [post_author] => 2
            [post_date] => 2012-10-24 16:02:55
            [year] => 2012
            [month] => 10
            [post_type] => post
        )

    [590] => stdClass Object
        (
            [slug] => rossi-novinky
            [ID] => 20699
            [post_name] => v-rossi-myslim-ze-mohu-pristi-rok-vyhrat-par-zavodu
            [post_title] => V. Rossi: "Myslím že mohu příští rok vyhrát pár závodů." 
            [post_author] => 2
            [post_date] => 2012-10-23 16:13:37
            [year] => 2012
            [month] => 10
            [post_type] => post
        )

    [591] => stdClass Object
        (
            [slug] => loris-capirossi
            [ID] => 20695
            [post_name] => l-capirossi-rossi-bude-na-yamaze-rychly
            [post_title] => L.Capirossi: "Rossi bude na Yamaze rychlý."
            [post_author] => 2
            [post_date] => 2012-10-22 18:04:56
            [year] => 2012
            [month] => 10
            [post_type] => post
        )

    [592] => stdClass Object
        (
            [slug] => rossi-ducati-cz
            [ID] => 20688
            [post_name] => rossi-ducati-cz-dosahlo-milion-navstev
            [post_title] => Rossi-Ducati.cz dosáhlo milion návštěv
            [post_author] => 2
            [post_date] => 2012-10-22 16:45:04
            [year] => 2012
            [month] => 10
            [post_type] => post
        )

    [593] => stdClass Object
        (
            [slug] => rossi-novinky
            [ID] => 20645
            [post_name] => velka-cena-malajsie-motogp-sepang
            [post_title] => Velka Cena Malajsie MotoGP - Sepang
            [post_author] => 2
            [post_date] => 2012-10-21 11:19:06
            [year] => 2012
            [month] => 10
            [post_type] => post
        )

    [594] => stdClass Object
        (
            [slug] => rossi-novinky
            [ID] => 20557
            [post_name] => alex-briggs-podepsal-smlouvu-u-yamahy
            [post_title] => Alex Briggs s týmem podepsal smlouvu u Yamahy
            [post_author] => 2
            [post_date] => 2012-10-18 16:00:48
            [year] => 2012
            [month] => 10
            [post_type] => post
        )

    [595] => stdClass Object
        (
            [slug] => rossi-novinky
            [ID] => 20562
            [post_name] => tiskova-konference-sepang
            [post_title] => Tisková konference Sepang
            [post_author] => 2
            [post_date] => 2012-10-18 15:51:50
            [year] => 2012
            [month] => 10
            [post_type] => post
        )

    [596] => stdClass Object
        (
            [slug] => motogp
            [ID] => 20548
            [post_name] => rozhovor-s-c-cecchinellim-na-tema-jednotne-ecu
            [post_title] => Rozhovor s C. Cecchinellim na téma jednotné ECU
            [post_author] => 2
            [post_date] => 2012-10-17 18:54:34
            [year] => 2012
            [month] => 10
            [post_type] => post
        )

    [597] => stdClass Object
        (
            [slug] => marco-simoncelli
            [ID] => 20525
            [post_name] => marco-simoncelli-dokument
            [post_title] => Marco Simoncelli - dokument
            [post_author] => 2
            [post_date] => 2012-10-16 20:25:18
            [year] => 2012
            [month] => 10
            [post_type] => post
        )

    [598] => stdClass Object
        (
            [slug] => motogp
            [ID] => 20514
            [post_name] => rozhovor-s-shuhei-nakamotou
            [post_title] => Rozhovor s Shuhei Nakamotou 
            [post_author] => 2
            [post_date] => 2012-10-16 16:08:02
            [year] => 2012
            [month] => 10
            [post_type] => post
        )

    [599] => stdClass Object
        (
            [slug] => velkka-cena-gp
            [ID] => 20471
            [post_name] => velka-cena-japonska-motegi-2
            [post_title] => Velká Cena Japonska - Motegi
            [post_author] => 2
            [post_date] => 2012-10-14 07:50:28
            [year] => 2012
            [month] => 10
            [post_type] => post
        )

    [600] => stdClass Object
        (
            [slug] => motogp
            [ID] => 20451
            [post_name] => nazory-tovaren-a-tymu-na-prechod-wsbk-pod-dornu
            [post_title] => Názory továren a týmů na přechod WSBK pod Dornu
            [post_author] => 2
            [post_date] => 2012-10-12 22:20:36
            [year] => 2012
            [month] => 10
            [post_type] => post
        )

    [601] => stdClass Object
        (
            [slug] => rossi-novinky
            [ID] => 20400
            [post_name] => tiskova-konference-motogp-motegi
            [post_title] => Tisková konference MotoGP - Motegi
            [post_author] => 2
            [post_date] => 2012-10-11 10:34:12
            [year] => 2012
            [month] => 10
            [post_type] => post
        )

    [602] => stdClass Object
        (
            [slug] => jorge-lorenzo
            [ID] => 20383
            [post_name] => jorge-lorenzo-%e2%80%9enajlepsia-obrana-je-utok
            [post_title] => Jorge Lorenzo: "Najlepšia obrana je útok"
            [post_author] => 514
            [post_date] => 2012-10-09 13:47:09
            [year] => 2012
            [month] => 10
            [post_type] => post
        )

    [603] => stdClass Object
        (
            [slug] => casey-stoner
            [ID] => 20377
            [post_name] => lorenzo-budu-se-moci-od-rossiho-naucit
            [post_title] => J.Lorenzo: "Budu se moci od Rossiho něco víc naučit."
            [post_author] => 2
            [post_date] => 2012-10-08 15:31:05
            [year] => 2012
            [month] => 10
            [post_type] => post
        )

    [604] => stdClass Object
        (
            [slug] => max-biaggi
            [ID] => 20361
            [post_name] => o-titulu-mistra-sveta-superbiku-rozhodl-posledni-zavod
            [post_title] => O titulu mistra světa superbiků rozhodl poslední závod
            [post_author] => 2
            [post_date] => 2012-10-07 16:17:18
            [year] => 2012
            [month] => 10
            [post_type] => post
        )

    [605] => stdClass Object
        (
            [slug] => rossi-novinky
            [ID] => 20354
            [post_name] => preziosiho-odchod-valentina-rossiho-neprekvapil
            [post_title] => Preziosiho odchod Valentina Rossiho nepřekvapil
            [post_author] => 2
            [post_date] => 2012-10-06 16:14:52
            [year] => 2012
            [month] => 10
            [post_type] => post
        )

    [606] => stdClass Object
        (
            [slug] => motogp
            [ID] => 20344
            [post_name] => predbezna-startovni-listina-motogp-na-rok-2013
            [post_title] => Předběžná startovní listina MotoGP na rok 2013
            [post_author] => 2
            [post_date] => 2012-10-05 18:57:33
            [year] => 2012
            [month] => 10
            [post_type] => post
        )

    [607] => stdClass Object
        (
            [slug] => motogp
            [ID] => 20331
            [post_name] => motogp-v-texasu-na-pristi-rok-oficialne-potvrzeno
            [post_title] => MotoGP v Texasu na příští rok oficiálně potvrzeno
            [post_author] => 2
            [post_date] => 2012-10-03 20:20:10
            [year] => 2012
            [month] => 10
            [post_type] => post
        )

    [608] => stdClass Object
        (
            [slug] => jorge-lorenzo
            [ID] => 20326
            [post_name] => lorenzo-myslel-na-sampionat
            [post_title] => Lorenzo myslel na šampionát
            [post_author] => 514
            [post_date] => 2012-10-03 16:12:14
            [year] => 2012
            [month] => 10
            [post_type] => post
        )

    [609] => stdClass Object
        (
            [slug] => motogp
            [ID] => 20320
            [post_name] => motogp-a-wsbk-je-ode-dneska-rizena-jednou-organizaci
            [post_title] => MotoGP a WSBK je ode dneška řízena jednou organizací
            [post_author] => 2
            [post_date] => 2012-10-02 20:54:04
            [year] => 2012
            [month] => 10
            [post_type] => post
        )

    [610] => stdClass Object
        (
            [slug] => rossi-novinky
            [ID] => 20290
            [post_name] => velka-cena-motogp-aragonie-aragon
            [post_title] => Velká Cena MotoGP Aragonie - Aragon
            [post_author] => 2
            [post_date] => 2012-09-30 14:48:06
            [year] => 2012
            [month] => 9
            [post_type] => post
        )

    [611] => stdClass Object
        (
            [slug] => rossi-novinky
            [ID] => 20181
            [post_name] => tiskova-konference-motogp-aragon
            [post_title] => Tisková konference MotoGP - Aragon
            [post_author] => 2
            [post_date] => 2012-09-27 17:37:59
            [year] => 2012
            [month] => 9
            [post_type] => post
        )

    [612] => stdClass Object
        (
            [slug] => rossi-novinky
            [ID] => 20178
            [post_name] => j-burgess-vypada-to-ze-jsme-udelali-krok-vpred
            [post_title] => J.Burgess: "Vypadá to, že jsme udělali krok vpřed."
            [post_author] => 2
            [post_date] => 2012-09-26 19:27:15
            [year] => 2012
            [month] => 9
            [post_type] => post
        )

    [613] => stdClass Object
        (
            [slug] => motogp
            [ID] => 20033
            [post_name] => ridici-jednotka-elektroniky-v-motogp
            [post_title] => Řídíci jednotka elektroniky v MotoGP
            [post_author] => 2
            [post_date] => 2012-09-26 11:00:47
            [year] => 2012
            [month] => 9
            [post_type] => post
        )

    [614] => stdClass Object
        (
            [slug] => rossi-novinky
            [ID] => 19943
            [post_name] => valentino-rossi-pojede-s-ferrari-dalsi-zavod
            [post_title] => Valentino Rossi jede s Ferrari další závod
            [post_author] => 2
            [post_date] => 2012-09-22 09:00:48
            [year] => 2012
            [month] => 9
            [post_type] => post
        )

    [615] => stdClass Object
        (
            [slug] => rossi-novinky
            [ID] => 20059
            [post_name] => predbezny-kalendar-pre-rok-2013
            [post_title] => Predbežný kalendár pre rok 2013
            [post_author] => 514
            [post_date] => 2012-09-21 14:20:40
            [year] => 2012
            [month] => 9
            [post_type] => post
        )

    [616] => stdClass Object
        (
            [slug] => max-biaggi
            [ID] => 20050
            [post_name] => biaggi-%e2%80%9erossi-bude-konkurencieschopny-ale
            [post_title] => Biaggi: "Rossi bude konkurencieschopný, ale..."
            [post_author] => 514
            [post_date] => 2012-09-21 01:02:33
            [year] => 2012
            [month] => 9
            [post_type] => post
        )

    [617] => stdClass Object
        (
            [slug] => dani-pedrosa
            [ID] => 20048
            [post_name] => dani-pedrosa-boj-o-titul-nevzdava
            [post_title] => Dani Pedrosa boj o titul nevzdáva
            [post_author] => 514
            [post_date] => 2012-09-21 00:19:51
            [year] => 2012
            [month] => 9
            [post_type] => post
        )

    [618] => stdClass Object
        (
            [slug] => ducati-desmosedici
            [ID] => 20021
            [post_name] => rozhovor-s-filippo-preziosim
            [post_title] => Rozhovor s Filippo Preziosim
            [post_author] => 2
            [post_date] => 2012-09-19 12:13:30
            [year] => 2012
            [month] => 9
            [post_type] => post
        )

    [619] => stdClass Object
        (
            [slug] => rozhovor
            [ID] => 20015
            [post_name] => v-guareschi-ztracime-na-hondu-a-yamahu-pul-sekundy
            [post_title] => V.Guareschi: "Ztrácíme na Hondu a Yamahu půl sekundy."
            [post_author] => 2
            [post_date] => 2012-09-18 21:03:18
            [year] => 2012
            [month] => 9
            [post_type] => post
        )

    [620] => stdClass Object
        (
            [slug] => rossi-novinky
            [ID] => 19987
            [post_name] => testy-ducati-v-misanu-2
            [post_title] => Testy Ducati v Misanu
            [post_author] => 2
            [post_date] => 2012-09-17 18:31:42
            [year] => 2012
            [month] => 9
            [post_type] => post
        )

    [621] => stdClass Object
        (
            [slug] => rossi-novinky
            [ID] => 19994
            [post_name] => valentino-rossi-odchodu-od-ducati-nelituji
            [post_title] => Valentino Rossi: "Odchodu od Ducati nelituji."
            [post_author] => 2
            [post_date] => 2012-09-17 16:45:11
            [year] => 2012
            [month] => 9
            [post_type] => post
        )

    [622] => stdClass Object
        (
            [slug] => velkka-cena-gp
            [ID] => 19946
            [post_name] => velka-cena-san-marina-misano-2
            [post_title] => Velká Cena San Marina - Misano
            [post_author] => 2
            [post_date] => 2012-09-16 15:06:46
            [year] => 2012
            [month] => 9
            [post_type] => post
        )

    [623] => stdClass Object
        (
            [slug] => karel-abraham
            [ID] => 19717
            [post_name] => karel-abraham-pojede-v-roce-2013-s-aprilii
            [post_title] => Karel Abraham pojede v roce 2013 s Aprilií
            [post_author] => 2
            [post_date] => 2012-09-14 21:37:56
            [year] => 2012
            [month] => 9
            [post_type] => post
        )

    [624] => stdClass Object
        (
            [slug] => yamaha-2
            [ID] => 19641
            [post_name] => yamaha-factory-v-novych-farbach
            [post_title] => Yamaha Factory v nových farbách
            [post_author] => 514
            [post_date] => 2012-09-13 23:54:11
            [year] => 2012
            [month] => 9
            [post_type] => post
        )

    [625] => stdClass Object
        (
            [slug] => ducati-2
            [ID] => 19624
            [post_name] => jeremy-burgess-kritizuje-ducati-za-pomaly-vyvoj
            [post_title] => Jeremy Burgess kritizuje Ducati za pomalý vývoj
            [post_author] => 2
            [post_date] => 2012-09-13 21:37:54
            [year] => 2012
            [month] => 9
            [post_type] => post
        )

    [626] => stdClass Object
        (
            [slug] => ducati-2
            [ID] => 19611
            [post_name] => prsti-rok-pojede-satelitni-ducati-spies-a-iannone
            [post_title] => Příští rok pojede satelitní Ducati Spies a Iannone
            [post_author] => 2
            [post_date] => 2012-09-12 18:09:30
            [year] => 2012
            [month] => 9
            [post_type] => post
        )

    [627] => stdClass Object
        (
            [slug] => rossi-novinky
            [ID] => 19600
            [post_name] => valentino-rossi-musim-se-soustredit-na-sebe
            [post_title] => Valentino Rossi: "Musím se soustředit na sebe."
            [post_author] => 2
            [post_date] => 2012-09-12 15:06:49
            [year] => 2012
            [month] => 9
            [post_type] => post
        )

    [628] => stdClass Object
        (
            [slug] => motogp
            [ID] => 19582
            [post_name] => k-schwantz-podal-zalobu-na-majitela-okruhu-v-austine
            [post_title] => K. Schwantz podal žalobu na majiteľa okruhu v Austine
            [post_author] => 514
            [post_date] => 2012-09-12 02:45:38
            [year] => 2012
            [month] => 9
            [post_type] => post
        )

    [629] => stdClass Object
        (
            [slug] => rossi-novinky
            [ID] => 19575
            [post_name] => tym-ducati-pred-zavodem-v-misanu
            [post_title] => Tým Ducati před závodem v Misanu
            [post_author] => 2
            [post_date] => 2012-09-11 17:02:07
            [year] => 2012
            [month] => 9
            [post_type] => post
        )

    [630] => stdClass Object
        (
            [slug] => andrea-dovizioso-2
            [ID] => 19570
            [post_name] => andrea-dovizioso-sa-pustil-do-kritikov
            [post_title] => Andrea Dovizioso sa pustil do kritikov
            [post_author] => 514
            [post_date] => 2012-09-10 01:38:30
            [year] => 2012
            [month] => 9
            [post_type] => post
        )

    [631] => stdClass Object
        (
            [slug] => jakub-smrz
            [ID] => 19539
            [post_name] => jakub-smrz-na-nurburgringu-zavodit-nebude
            [post_title] => Jakub Smrž na Nürburgringu závodiť nebude
            [post_author] => 514
            [post_date] => 2012-09-07 13:53:04
            [year] => 2012
            [month] => 9
            [post_type] => post
        )

    [632] => stdClass Object
        (
            [slug] => rossi-novinky
            [ID] => 19432
            [post_name] => podzimni-prestavku-vyplni-testy
            [post_title] => Podzimní přestávku vyplnili testy
            [post_author] => 2
            [post_date] => 2012-09-04 16:03:37
            [year] => 2012
            [month] => 9
            [post_type] => post
        )

    [633] => stdClass Object
        (
            [slug] => cal-crutchlow
            [ID] => 19438
            [post_name] => crutchlowa-rozptylovala-ducati
            [post_title] => Crutchlowa rozptylovala Ducati
            [post_author] => 514
            [post_date] => 2012-09-03 23:03:47
            [year] => 2012
            [month] => 9
            [post_type] => post
        )

    [634] => stdClass Object
        (
            [slug] => rossi-novinky
            [ID] => 19398
            [post_name] => testy-ducati-v-misanu
            [post_title] => Testy Ducati v Misanu
            [post_author] => 2
            [post_date] => 2012-08-28 18:59:52
            [year] => 2012
            [month] => 8
            [post_type] => post
        )

    [635] => stdClass Object
        (
            [slug] => ducati-2
            [ID] => 19382
            [post_name] => g-torchio-spoluprace-s-rossim-nelitujeme
            [post_title] => G. Torchio: "Spolupráce s Rossim nelitujeme."
            [post_author] => 2
            [post_date] => 2012-08-27 21:36:07
            [year] => 2012
            [month] => 8
            [post_type] => post
        )

    [636] => stdClass Object
        (
            [slug] => rossi-novinky
            [ID] => 19314
            [post_name] => test-brno
            [post_title] => Test - Brno
            [post_author] => 514
            [post_date] => 2012-08-27 14:16:14
            [year] => 2012
            [month] => 8
            [post_type] => post
        )

    [637] => stdClass Object
        (
            [slug] => velkka-cena-gp
            [ID] => 19276
            [post_name] => velka-cena-motogp-cr-brno
            [post_title] => Velká Cena MotoGP ČR - Brno
            [post_author] => 2
            [post_date] => 2012-08-26 15:00:31
            [year] => 2012
            [month] => 8
            [post_type] => post
        )

    [638] => stdClass Object
        (
            [slug] => yamaha-2
            [ID] => 19237
            [post_name] => cal-crutchlow-v-roku-2013-za-tech-3
            [post_title] => Cal Crutchlow v roku 2013 za Tech 3
            [post_author] => 514
            [post_date] => 2012-08-25 13:33:16
            [year] => 2012
            [month] => 8
            [post_type] => post
        )

    [639] => stdClass Object
        (
            [slug] => rossi-novinky
            [ID] => 19094
            [post_name] => tiskovka-pred-zavodem-v-brne
            [post_title] => Tiskovka před závodem v Brně
            [post_author] => 514
            [post_date] => 2012-08-23 17:27:31
            [year] => 2012
            [month] => 8
            [post_type] => post
        )

    [640] => stdClass Object
        (
            [slug] => jeremy-burgess
            [ID] => 19070
            [post_name] => j-burgess-chtel-jsem-tu-praci-v-ducati-dokoncit
            [post_title] => J.Burgess: "Chtěl jsem tu práci v Ducati dokončit."
            [post_author] => 2
            [post_date] => 2012-08-23 11:02:59
            [year] => 2012
            [month] => 8
            [post_type] => post
        )

    [641] => stdClass Object
        (
            [slug] => ducati-2
            [ID] => 19051
            [post_name] => m-furusawa-o-navsteve-ducati-a-navratu-rossiho-k-yamaze
            [post_title] => M.Furusawa o návštěvě Ducati a návratu Rossiho
            [post_author] => 2
            [post_date] => 2012-08-23 08:50:35
            [year] => 2012
            [month] => 8
            [post_type] => post
        )

    [642] => stdClass Object
        (
            [slug] => ducati-2
            [ID] => 19041
            [post_name] => andrea-dovizioso-na-2013-2014-k-ducati
            [post_title] => Andrea Dovizioso na 2013 - 2014 k Ducati
            [post_author] => 2
            [post_date] => 2012-08-22 17:42:13
            [year] => 2012
            [month] => 8
            [post_type] => post
        )

    [643] => stdClass Object
        (
            [slug] => rossi-novinky
            [ID] => 19039
            [post_name] => l-capirossi-valentino-udelal-dobre
            [post_title] => L.Capirossi: "Valentino udělal dobře."
            [post_author] => 2
            [post_date] => 2012-08-22 15:05:49
            [year] => 2012
            [month] => 8
            [post_type] => post
        )

    [644] => stdClass Object
        (
            [slug] => rossi-novinky
            [ID] => 19021
            [post_name] => novy-sen-valentina-rossiho
            [post_title] => Nový sen Valentina Rossiho
            [post_author] => 2
            [post_date] => 2012-08-21 11:49:47
            [year] => 2012
            [month] => 8
            [post_type] => post
        )

    [645] => stdClass Object
        (
            [slug] => ben-spies
            [ID] => 19011
            [post_name] => ben-spies-o-napeti-ve-vztazich-s-yamahou
            [post_title] => Ben Spies o napětí ve vztazích s Yamahou
            [post_author] => 2
            [post_date] => 2012-08-20 15:56:42
            [year] => 2012
            [month] => 8
            [post_type] => post
        )

    [646] => stdClass Object
        (
            [slug] => velkka-cena-gp
            [ID] => 18985
            [post_name] => velka-cena-motogp-red-bull-indianapolis
            [post_title] => Velká Cena MotoGP Red Bull - Indianapolis
            [post_author] => 2
            [post_date] => 2012-08-19 20:54:17
            [year] => 2012
            [month] => 8
            [post_type] => post
        )

    [647] => stdClass Object
        (
            [slug] => rossi-novinky
            [ID] => 18889
            [post_name] => j-burgess-rossiho-rozhodovani-bylo-snadne
            [post_title] => J.Burgess: "Rossiho rozhodování bylo snadné."
            [post_author] => 2
            [post_date] => 2012-08-16 20:38:13
            [year] => 2012
            [month] => 8
            [post_type] => post
        )

    [648] => stdClass Object
        (
            [slug] => rossi-novinky
            [ID] => 18866
            [post_name] => tiskova-konference-motogp-indianapolis
            [post_title] => Tisková konference MotoGP - Indianapolis
            [post_author] => 2
            [post_date] => 2012-08-16 18:17:57
            [year] => 2012
            [month] => 8
            [post_type] => post
        )

    [649] => stdClass Object
        (
            [slug] => rossi-novinky
            [ID] => 18852
            [post_name] => casey-stoner-kritizuje-rossiho-za-navrat-k-yamaze
            [post_title] => Casey Stoner kritizuje Rossiho za návrat k Yamaze
            [post_author] => 2
            [post_date] => 2012-08-15 13:09:36
            [year] => 2012
            [month] => 8
            [post_type] => post
        )

    [650] => stdClass Object
        (
            [slug] => rossi-novinky
            [ID] => 18843
            [post_name] => j-lorenzo-rossimu-se-nechci-mstit
            [post_title] => J.Lorenzo: "Rossimu se nechci mstít."
            [post_author] => 2
            [post_date] => 2012-08-14 17:41:38
            [year] => 2012
            [month] => 8
            [post_type] => post
        )

    [651] => stdClass Object
        (
            [slug] => rossi-novinky
            [ID] => 18835
            [post_name] => valentino-rossi-budeme-se-snazit-az-do-konce
            [post_title] => Valentino Rossi: "Budeme se snažit až do konce."
            [post_author] => 2
            [post_date] => 2012-08-14 15:21:24
            [year] => 2012
            [month] => 8
            [post_type] => post
        )

    [652] => stdClass Object
        (
            [slug] => rossi-novinky
            [ID] => 18831
            [post_name] => jeremy-burgess-jeste-jsem-s-yamahou-nemluvil
            [post_title] => Jeremy Burgess: "Ještě jsem s Yamahou nemluvil."
            [post_author] => 2
            [post_date] => 2012-08-14 06:57:25
            [year] => 2012
            [month] => 8
            [post_type] => post
        )

    [653] => stdClass Object
        (
            [slug] => rossi-novinky
            [ID] => 18825
            [post_name] => lorenzo-obnoveni-spoluprace-s-rossim-vita
            [post_title] => Lorenzo obnovení spolupráce s Rossim vítá
            [post_author] => 2
            [post_date] => 2012-08-13 16:16:55
            [year] => 2012
            [month] => 8
            [post_type] => post
        )

    [654] => stdClass Object
        (
            [slug] => ducati-desmosedici
            [ID] => 18813
            [post_name] => nicky-hayden-hovori-o-vyvoji-ducati
            [post_title] => Nicky Hayden hovoří o vývoji Ducati
            [post_author] => 125
            [post_date] => 2012-08-11 13:13:16
            [year] => 2012
            [month] => 8
            [post_type] => post
        )

    [655] => stdClass Object
        (
            [slug] => rossi-novinky
            [ID] => 18793
            [post_name] => valentino-rossi-se-vraci-do-yamahy-na-dalsi-dve-sezony
            [post_title] => Valentino Rossi se vrací do Yamahy na další dvě sezóny
            [post_author] => 2
            [post_date] => 2012-08-10 11:01:24
            [year] => 2012
            [month] => 8
            [post_type] => post
        )

    [656] => stdClass Object
        (
            [slug] => rossi-novinky
            [ID] => 18767
            [post_name] => g-torchio-v-motogp-zustaneme-s-valentinem-nebo-bez-neho
            [post_title] => G.Torchio: "V MotoGP zůstaneme, s Valentinem Rossim, nebo bez něho."
            [post_author] => 2
            [post_date] => 2012-08-07 19:27:28
            [year] => 2012
            [month] => 8
            [post_type] => post
        )

    [657] => stdClass Object
        (
            [slug] => rossi-novinky
            [ID] => 18738
            [post_name] => v-ducati-je-na-poradu-dulezita-schuzka
            [post_title] => V Ducati je na pořadu důležitá schůzka
            [post_author] => 2
            [post_date] => 2012-08-07 16:16:00
            [year] => 2012
            [month] => 8
            [post_type] => post
        )

    [658] => stdClass Object
        (
            [slug] => rossi-novinky
            [ID] => 18698
            [post_name] => v-guareschi-pokud-valentino-odejde-tak-nemame-plan-b
            [post_title] => V.Guareschi: "Když Valentino odejde, tak není plán B."
            [post_author] => 2
            [post_date] => 2012-08-03 13:33:27
            [year] => 2012
            [month] => 8
            [post_type] => post
        )

    [659] => stdClass Object
        (
            [slug] => ducati-2
            [ID] => 18693
            [post_name] => scott-redding-testoval-v-mugelu-ducati
            [post_title] => Scott Redding testoval v Mugelu Ducati
            [post_author] => 2
            [post_date] => 2012-08-02 11:27:43
            [year] => 2012
            [month] => 8
            [post_type] => post
        )

    [660] => stdClass Object
        (
            [slug] => ducati-2
            [ID] => 18682
            [post_name] => komu-dnes-v-motogp-patri-moc
            [post_title] => Komu dnes v MotoGP patří moc? 
            [post_author] => 2
            [post_date] => 2012-08-02 07:34:11
            [year] => 2012
            [month] => 8
            [post_type] => post
        )

    [661] => stdClass Object
        (
            [slug] => ducati-2
            [ID] => 18673
            [post_name] => g-torchio-nevim-jak-se-valentino-rozhodne
            [post_title] => G.Torchio: "Nevím jak se Valentino rozhodne."
            [post_author] => 2
            [post_date] => 2012-07-31 20:03:37
            [year] => 2012
            [month] => 7
            [post_type] => post
        )

    [662] => stdClass Object
        (
            [slug] => velkka-cena-gp
            [ID] => 18605
            [post_name] => velka-cena-usa-laguna-seca
            [post_title] => Velká Cena USA - Laguna Seca
            [post_author] => 2
            [post_date] => 2012-07-29 23:57:10
            [year] => 2012
            [month] => 7
            [post_type] => post
        )

    [663] => stdClass Object
        (
            [slug] => ducati-2
            [ID] => 18548
            [post_name] => nicky-hayden-zustava-u-ducati
            [post_title] => Nicky Hayden zůstává u Ducati
            [post_author] => 2
            [post_date] => 2012-07-27 19:09:06
            [year] => 2012
            [month] => 7
            [post_type] => post
        )

    [664] => stdClass Object
        (
            [slug] => jeremy-burgess
            [ID] => 18525
            [post_name] => j-burgess-ocekavali-jsme-vyvoj-behem-sezony
            [post_title] => J.Burgess: "Očekávali jsme vývoj během sezóny."
            [post_author] => 2
            [post_date] => 2012-07-26 15:03:01
            [year] => 2012
            [month] => 7
            [post_type] => post
        )

    [665] => stdClass Object
        (
            [slug] => rossi-novinky
            [ID] => 18517
            [post_name] => j-lorenzo-navrat-valentina-by-byl-pro-yamahu-dobry
            [post_title] => J.Lorenzo: "Návrat Valentina by byl pro Yamahu dobrý."
            [post_author] => 2
            [post_date] => 2012-07-25 15:29:15
            [year] => 2012
            [month] => 7
            [post_type] => post
        )

    [666] => stdClass Object
        (
            [slug] => rossi-novinky
            [ID] => 18507
            [post_name] => ben-spies-konci-u-tovarniho-tymu-yamaha
            [post_title] => Ben Spies končí u továrního týmu Yamaha
            [post_author] => 2
            [post_date] => 2012-07-24 17:53:19
            [year] => 2012
            [month] => 7
            [post_type] => post
        )

    [667] => stdClass Object
        (
            [slug] => ducati-2
            [ID] => 18485
            [post_name] => nicky-hayden-na-pristi-rok-to-vypada-dobre
            [post_title] => Nicky Hayden: "Na příští rok to vypadá dobře."
            [post_author] => 2
            [post_date] => 2012-07-23 17:26:57
            [year] => 2012
            [month] => 7
            [post_type] => post
        )

    [668] => stdClass Object
        (
            [slug] => hector-barbera
            [ID] => 18464
            [post_name] => hector-barbera-ma-zlomenou-nohu
            [post_title] => Hector Barbera má zlomenou nohu
            [post_author] => 2
            [post_date] => 2012-07-23 10:00:10
            [year] => 2012
            [month] => 7
            [post_type] => post
        )

    [669] => stdClass Object
        (
            [slug] => jorge-lorenzo
            [ID] => 18476
            [post_name] => max-biaggi-na-motogp-po-sedmi-letech
            [post_title] => Max Biaggi: "Byl jsem na MotoGP po sedmi letech"
            [post_author] => 2
            [post_date] => 2012-07-22 14:43:21
            [year] => 2012
            [month] => 7
            [post_type] => post
        )

    [670] => stdClass Object
        (
            [slug] => rossi-novinky
            [ID] => 18461
            [post_name] => j-burgess-zkouset-v-usa-neco-noveho-neni-optimalni
            [post_title] => J.Burgess: Zkoušet v USA něco nového není optimální.
            [post_author] => 2
            [post_date] => 2012-07-21 09:21:34
            [year] => 2012
            [month] => 7
            [post_type] => post
        )

    [671] => stdClass Object
        (
            [slug] => rossi-novinky
            [ID] => 18452
            [post_name] => wilco-zeelenberg-jorge-je-nase-jednicka
            [post_title] => Wilco Zeelenberg: Jorge je naše jednička!
            [post_author] => 2
            [post_date] => 2012-07-20 20:06:35
            [year] => 2012
            [month] => 7
            [post_type] => post
        )

    [672] => stdClass Object
        (
            [slug] => ducati-desmosedici
            [ID] => 18447
            [post_name] => testy-ducati-petrucci-na-gp12-ve-4-dimenzi
            [post_title] => Testy Ducati - Petrucci na GP12 ve 4. dimenzi
            [post_author] => 2
            [post_date] => 2012-07-20 17:43:26
            [year] => 2012
            [month] => 7
            [post_type] => post
        )

    [673] => stdClass Object
        (
            [slug] => ducati-2
            [ID] => 18436
            [post_name] => ducati-ma-nove-predstavenstvo-spolecnosti
            [post_title] => Ducati má nové představenstvo společnosti
            [post_author] => 2
            [post_date] => 2012-07-19 16:45:10
            [year] => 2012
            [month] => 7
            [post_type] => post
        )

    [674] => stdClass Object
        (
            [slug] => rossi-novinky
            [ID] => 18433
            [post_name] => valentino-rossi-obdrzel-nabidku-od-ducati
            [post_title] => Valentino Rossi obdržel nabídku od Ducati
            [post_author] => 2
            [post_date] => 2012-07-18 21:08:30
            [year] => 2012
            [month] => 7
            [post_type] => post
        )

    [675] => stdClass Object
        (
            [slug] => ducati-desmosedici
            [ID] => 18421
            [post_name] => preziosi-o-zmenach-desmosedici-a-vlivu-audi
            [post_title] => Preziosi o změnách Desmosedici a vlivu Audi
            [post_author] => 2
            [post_date] => 2012-07-18 19:03:29
            [year] => 2012
            [month] => 7
            [post_type] => post
        )

    [676] => stdClass Object
        (
            [slug] => rossi-novinky
            [ID] => 18407
            [post_name] => nakamoto-valentinovi-chceme-dat-satelitni-hondu
            [post_title] => S.Nakamoto: "Valentinovi chceme dát satelitní Hondu"
            [post_author] => 343
            [post_date] => 2012-07-18 12:52:23
            [year] => 2012
            [month] => 7
            [post_type] => post
        )

    [677] => stdClass Object
        (
            [slug] => rossi-novinky
            [ID] => 18358
            [post_name] => testy-motogp-mugello
            [post_title] => Testy MotoGP - Mugello
            [post_author] => 2
            [post_date] => 2012-07-16 12:43:37
            [year] => 2012
            [month] => 7
            [post_type] => post
        )

    [678] => stdClass Object
        (
            [slug] => velkka-cena-gp
            [ID] => 18312
            [post_name] => velka-cena-italie-motogp-mugello
            [post_title] => Velká Cena Itálie MotoGP - Mugello
            [post_author] => 2
            [post_date] => 2012-07-15 14:56:39
            [year] => 2012
            [month] => 7
            [post_type] => post
        )

    [679] => stdClass Object
        (
            [slug] => casey-stoner
            [ID] => 18124
            [post_name] => potvrzeno-marquez-s-pedrosou-v-hrc-2013-2014
            [post_title] => Potvrzeno - Marquez s Pedrosou v HRC 2013-2014
            [post_author] => 2
            [post_date] => 2012-07-12 11:09:49
            [year] => 2012
            [month] => 7
            [post_type] => post
        )

    [680] => stdClass Object
        (
            [slug] => nicky-hayden
            [ID] => 18113
            [post_name] => cal-crutchlow-pokracuje-v-jednani-s-ducati
            [post_title] => Cal Crutchlow pokračuje v jednání s Ducati
            [post_author] => 2
            [post_date] => 2012-07-09 20:08:27
            [year] => 2012
            [month] => 7
            [post_type] => post
        )

    [681] => stdClass Object
        (
            [slug] => ducati-desmosedici
            [ID] => 18086
            [post_name] => valentino-rossi-audi-chce-pokracovat-se-mnou
            [post_title] => Valentino Rossi: "Audi chce pokračovat se mnou."
            [post_author] => 2
            [post_date] => 2012-07-08 17:59:36
            [year] => 2012
            [month] => 7
            [post_type] => post
        )

    [682] => stdClass Object
        (
            [slug] => rossi-novinky
            [ID] => 18060
            [post_name] => velka-cena-nemecka-sachsenring-2
            [post_title] => Velká Cena Německa - Sachsenring
            [post_author] => 2
            [post_date] => 2012-07-08 13:51:35
            [year] => 2012
            [month] => 7
            [post_type] => post
        )

    [683] => stdClass Object
        (
            [slug] => ducati-2
            [ID] => 18033
            [post_name] => obchod-audi-ducati-schvalen
            [post_title] => Obchod AUDI & DUCATI schválen evropskou komisí
            [post_author] => 2
            [post_date] => 2012-07-07 15:45:51
            [year] => 2012
            [month] => 7
            [post_type] => post
        )

    [684] => stdClass Object
        (
            [slug] => rossi-novinky
            [ID] => 17964
            [post_name] => ducati-zareagovala-a-ma-plan-vyvoje
            [post_title] => Ducati zareagovala a má plán vývoje
            [post_author] => 2
            [post_date] => 2012-07-05 19:56:13
            [year] => 2012
            [month] => 7
            [post_type] => post
        )

    [685] => stdClass Object
        (
            [slug] => motogp
            [ID] => 17924
            [post_name] => zmeny-pravidel-motogp-po-jednani-v-assenu
            [post_title] => Změny pravidel MotoGP po jednání v Assenu
            [post_author] => 2
            [post_date] => 2012-07-04 21:35:57
            [year] => 2012
            [month] => 7
            [post_type] => post
        )

    [686] => stdClass Object
        (
            [slug] => rossi-novinky
            [ID] => 17909
            [post_name] => novy-motor-posledni-sanci-pro-ducati
            [post_title] => Nový motor poslední šancí pro Ducati...?
            [post_author] => 2
            [post_date] => 2012-07-02 22:00:36
            [year] => 2012
            [month] => 7
            [post_type] => post
        )

    [687] => stdClass Object
        (
            [slug] => velkka-cena-gp
            [ID] => 17848
            [post_name] => velka-cena-holandska-dutch-tt-assen-2
            [post_title] => Velká Cena Holandska - Dutch TT Assen
            [post_author] => 2
            [post_date] => 2012-06-30 14:51:36
            [year] => 2012
            [month] => 6
            [post_type] => post
        )

    [688] => stdClass Object
        (
            [slug] => rossi-novinky
            [ID] => 17828
            [post_name] => valentino-rossi-ducati-nam-neveri
            [post_title] => Valentino Rossi: "Ducati nám nevěří."
            [post_author] => 2
            [post_date] => 2012-06-29 20:47:10
            [year] => 2012
            [month] => 6
            [post_type] => post
        )

    [689] => stdClass Object
        (
            [slug] => rossi-novinky
            [ID] => 17689
            [post_name] => v-rossi-doufam-v-konkurenceschopny-motocykl
            [post_title] => V.Rossi: "Doufám v konkurenceschopný motocykl."
            [post_author] => 2
            [post_date] => 2012-06-27 20:15:42
            [year] => 2012
            [month] => 6
            [post_type] => post
        )

    [690] => stdClass Object
        (
            [slug] => ducati-desmosedici
            [ID] => 17687
            [post_name] => guareschi-znovu-potvrdil-motor-do-l-90
            [post_title] => Guareschi znovu potvrdil motor do "L - 90°"
            [post_author] => 2
            [post_date] => 2012-06-27 20:03:28
            [year] => 2012
            [month] => 6
            [post_type] => post
        )

    [691] => stdClass Object
        (
            [slug] => motogp
            [ID] => 17666
            [post_name] => shuhei-nakamoto-postavime-rc213v-na-prodej
            [post_title] => Shuhei Nakamoto: "Postavíme RC213V na prodej."
            [post_author] => 2
            [post_date] => 2012-06-27 18:30:43
            [year] => 2012
            [month] => 6
            [post_type] => post
        )

    [692] => stdClass Object
        (
            [slug] => rossi-novinky
            [ID] => 17660
            [post_name] => c-ezpeleta-jsem-klidny
            [post_title] => C.Ezpeleta: "Jsem klidný."
            [post_author] => 2
            [post_date] => 2012-06-26 16:28:07
            [year] => 2012
            [month] => 6
            [post_type] => post
        )

    [693] => stdClass Object
        (
            [slug] => ducati-2
            [ID] => 17607
            [post_name] => world-ducati-week-v-misanu
            [post_title] => World Ducati Week v Misanu
            [post_author] => 2
            [post_date] => 2012-06-23 18:00:47
            [year] => 2012
            [month] => 6
            [post_type] => post
        )

    [694] => stdClass Object
        (
            [slug] => hector-barbera
            [ID] => 17599
            [post_name] => barbera-neni-s-ducati-spokojen
            [post_title] => Barbera není s Ducati spokojen
            [post_author] => 2
            [post_date] => 2012-06-21 16:13:00
            [year] => 2012
            [month] => 6
            [post_type] => post
        )

    [695] => stdClass Object
        (
            [slug] => rossi-novinky
            [ID] => 17592
            [post_name] => rossi-je-s-30-milony-usd-rocne-na-20-miste
            [post_title] => Rossi je s 30 milony USD ročně na 20 místě
            [post_author] => 2
            [post_date] => 2012-06-20 20:59:38
            [year] => 2012
            [month] => 6
            [post_type] => post
        )

    [696] => stdClass Object
        (
            [slug] => ducati-desmosedici
            [ID] => 17570
            [post_name] => valentino-rossi-reseni-neznam
            [post_title] => Valentino Rossi: "Řešení (ne)znám."
            [post_author] => 2
            [post_date] => 2012-06-17 17:15:03
            [year] => 2012
            [month] => 6
            [post_type] => post
        )

    [697] => stdClass Object
        (
            [slug] => velkka-cena-gp
            [ID] => 17550
            [post_name] => velka-cena-anglie-silverstone-2
            [post_title] => Velká Cena Anglie - Silverstone
            [post_author] => 2
            [post_date] => 2012-06-17 14:55:25
            [year] => 2012
            [month] => 6
            [post_type] => post
        )

    [698] => stdClass Object
        (
            [slug] => ducati-desmosedici
            [ID] => 17441
            [post_name] => novy-motor-se-bude-testovat-v-mugellu
            [post_title] => Nový motor se bude testovat v Mugellu
            [post_author] => 2
            [post_date] => 2012-06-16 08:50:16
            [year] => 2012
            [month] => 6
            [post_type] => post
        )

    [699] => stdClass Object
        (
            [slug] => rossi-novinky
            [ID] => 17457
            [post_name] => v-rossi-v-brne-se-dozvite-jaka-bude-ma-budoucnost
            [post_title] => V.Rossi: "V Brně se dozvíte jaká bude má budoucnost"
            [post_author] => 2
            [post_date] => 2012-06-14 20:23:29
            [year] => 2012
            [month] => 6
            [post_type] => post
        )

    [700] => stdClass Object
        (
            [slug] => rossi-novinky
            [ID] => 17446
            [post_name] => d-brivio-valentino-se-soustredi-jen-na-ducati
            [post_title] => D.Brivio: "Valentino se soustředí jen na Ducati."
            [post_author] => 2
            [post_date] => 2012-06-13 17:30:33
            [year] => 2012
            [month] => 6
            [post_type] => post
        )

    [701] => stdClass Object
        (
            [slug] => motogp
            [ID] => 17414
            [post_name] => jorge-lorenzo-zustava-u-yamahy
            [post_title] => Jorge Lorenzo zůstává u Yamahy
            [post_author] => 2
            [post_date] => 2012-06-12 10:18:41
            [year] => 2012
            [month] => 6
            [post_type] => post
        )

    [702] => stdClass Object
        (
            [slug] => rossi-novinky
            [ID] => 17381
            [post_name] => valentino-ma-novou-pritelkyni
            [post_title] => Valentino Rossi má novou přítelkyni
            [post_author] => 2
            [post_date] => 2012-06-11 20:28:32
            [year] => 2012
            [month] => 6
            [post_type] => post
        )

    [703] => stdClass Object
        (
            [slug] => rossi-novinky
            [ID] => 17371
            [post_name] => g-agostini-ducati-bude-pro-rossiho-nejlepsi-volba
            [post_title] => G.Agostini: "Ducati bude pro Rossiho nejlepší volba."
            [post_author] => 2
            [post_date] => 2012-06-11 17:08:39
            [year] => 2012
            [month] => 6
            [post_type] => post
        )

    [704] => stdClass Object
        (
            [slug] => rossi-novinky
            [ID] => 17337
            [post_name] => s-nakamoto-rossimu-muzeme-dat-satelitni-hondu-2
            [post_title] => S.Nakamoto: "Rossimu můžeme dát satelitní Hondu."
            [post_author] => 125
            [post_date] => 2012-06-08 21:03:00
            [year] => 2012
            [month] => 6
            [post_type] => post
        )

    [705] => stdClass Object
        (
            [slug] => ducati-2
            [ID] => 17279
            [post_name] => ducati-hlasi-rekordni-cisla-prodeje
            [post_title] => Ducati hlásí rekordní čísla prodeje
            [post_author] => 125
            [post_date] => 2012-06-05 07:39:50
            [year] => 2012
            [month] => 6
            [post_type] => post
        )

    [706] => stdClass Object
        (
            [slug] => rossi-novinky
            [ID] => 17212
            [post_name] => velka-cena-katalanska-2
            [post_title] => Velká Cena Katalánska
            [post_author] => 2
            [post_date] => 2012-06-03 14:52:11
            [year] => 2012
            [month] => 6
            [post_type] => post
        )

    [707] => stdClass Object
        (
            [slug] => rossi-novinky
            [ID] => 17188
            [post_name] => valentino-rossi-jsem-pripraven-se-uskrovnit
            [post_title] => Valentino Rossi: "Jsem připraven se uskrovnit."
            [post_author] => 2
            [post_date] => 2012-06-02 20:48:16
            [year] => 2012
            [month] => 6
            [post_type] => post
        )

    [708] => stdClass Object
        (
            [slug] => ducati-2
            [ID] => 17150
            [post_name] => cal-crutchlow-by-se-ducati-nebal
            [post_title] => Cal Crutchlow by se Ducati nebál
            [post_author] => 2
            [post_date] => 2012-06-01 21:38:15
            [year] => 2012
            [month] => 6
            [post_type] => post
        )

    [709] => stdClass Object
        (
            [slug] => ducati-desmosedici
            [ID] => 17095
            [post_name] => nicky-hayden-o-novem-motoru-ducati-gp12
            [post_title] => Nicky Hayden o novém motoru Ducati GP12
            [post_author] => 125
            [post_date] => 2012-06-01 10:16:47
            [year] => 2012
            [month] => 6
            [post_type] => post
        )

    [710] => stdClass Object
        (
            [slug] => rossi-novinky
            [ID] => 17028
            [post_name] => sousedi-bojuji-proti-ranci-valentina-rossiho
            [post_title] => Sousedi bojují proti ranči Valentina Rossiho
            [post_author] => 2
            [post_date] => 2012-05-28 16:54:46
            [year] => 2012
            [month] => 5
            [post_type] => post
        )

    [711] => stdClass Object
        (
            [slug] => rossi-novinky
            [ID] => 16916
            [post_name] => v-rossi-nepremyslel-jsem-o-tom-ze-bych-skoncil
            [post_title] => V.Rossi: "Nepřemýšlel jsem o tom, že bych skončil" 
            [post_author] => 125
            [post_date] => 2012-05-26 11:04:12
            [year] => 2012
            [month] => 5
            [post_type] => post
        )

    [712] => stdClass Object
        (
            [slug] => casey-stoner
            [ID] => 16906
            [post_name] => k-schwantz-je-me-jedno-co-bude-se-stonerem
            [post_title] => K.Schwantz: "Je mě jedno co bude se Stonerem."
            [post_author] => 2
            [post_date] => 2012-05-25 19:00:12
            [year] => 2012
            [month] => 5
            [post_type] => post
        )

    [713] => stdClass Object
        (
            [slug] => ducati-2
            [ID] => 16896
            [post_name] => rozhovor-s-federicou-de-zottis
            [post_title] => Rozhovor s Federicou De Zottis
            [post_author] => 125
            [post_date] => 2012-05-25 14:29:24
            [year] => 2012
            [month] => 5
            [post_type] => post
        )

    [714] => stdClass Object
        (
            [slug] => casey-stoner
            [ID] => 16877
            [post_name] => rozhovor-s-casey-stonerem-z-le-mans
            [post_title] => Rozhovor s Casey Stonerem z Le Mans
            [post_author] => 2
            [post_date] => 2012-05-25 10:00:45
            [year] => 2012
            [month] => 5
            [post_type] => post
        )

    [715] => stdClass Object
        (
            [slug] => rossi-novinky
            [ID] => 16856
            [post_name] => testy-ducati-v-mugellu
            [post_title] => Testy Ducati v Mugellu
            [post_author] => 2
            [post_date] => 2012-05-24 18:18:55
            [year] => 2012
            [month] => 5
            [post_type] => post
        )

    [716] => stdClass Object
        (
            [slug] => rossi-novinky
            [ID] => 16847
            [post_name] => c-crutchlow-rossi-stale-patri-k-nejlepsim
            [post_title] => C.Crutchlow: "Rossi stále patří k nejlepším."
            [post_author] => 2
            [post_date] => 2012-05-22 20:15:21
            [year] => 2012
            [month] => 5
            [post_type] => post
        )

    [717] => stdClass Object
        (
            [slug] => rossi-novinky
            [ID] => 16841
            [post_name] => valentino-rossi-odejit-na-vrcholu-si-preje-kazdy
            [post_title] => Valentino Rossi: "Odejít na vrcholu si přeje každý."
            [post_author] => 2
            [post_date] => 2012-05-22 17:10:43
            [year] => 2012
            [month] => 5
            [post_type] => post
        )

    [718] => stdClass Object
        (
            [slug] => casey-stoner
            [ID] => 16837
            [post_name] => l-jarvis-pokud-by-rossi-snizil-pozadavky-muzeme-o-jeho-angazovani-uvazovat
            [post_title] => L.Jarvis "Pokud by Rossi snížil požadavky, můžeme o jeho angažování uvažovat."
            [post_author] => 2
            [post_date] => 2012-05-21 21:23:51
            [year] => 2012
            [month] => 5
            [post_type] => post
        )

    [719] => stdClass Object
        (
            [slug] => rossi-novinky
            [ID] => 16830
            [post_name] => stoner-a-rossi-si-na-zavod-v-jerezu-2011-vzpomeli
            [post_title] => Stoner a Rossi si na závod v Jerezu 2011 vzpomněli.
            [post_author] => 125
            [post_date] => 2012-05-21 20:49:44
            [year] => 2012
            [month] => 5
            [post_type] => post
        )

    [720] => stdClass Object
        (
            [slug] => nicky-hayden
            [ID] => 16828
            [post_name] => nicky-hayden-na-trati-muselo-neco-byt
            [post_title] => Nicky Hayden: "Na trati muselo něco být."
            [post_author] => 125
            [post_date] => 2012-05-21 20:41:38
            [year] => 2012
            [month] => 5
            [post_type] => post
        )

    [721] => stdClass Object
        (
            [slug] => rossi-novinky
            [ID] => 16808
            [post_name] => stesti-preje-odvaznym
            [post_title] => Štěstí přeje odvážným
            [post_author] => 2
            [post_date] => 2012-05-20 18:51:24
            [year] => 2012
            [month] => 5
            [post_type] => post
        )

    [722] => stdClass Object
        (
            [slug] => rossi-novinky
            [ID] => 16783
            [post_name] => velka-cena-francie-motogp-le-mans
            [post_title] => Velká Cena Francie MotoGP - Le Mans
            [post_author] => 2
            [post_date] => 2012-05-20 15:01:43
            [year] => 2012
            [month] => 5
            [post_type] => post
        )

    [723] => stdClass Object
        (
            [slug] => rossi-novinky
            [ID] => 16623
            [post_name] => valentino-rossi-rozhovor-z-le-mans
            [post_title] => Valentino Rossi - rozhovor z Le Mans
            [post_author] => 2
            [post_date] => 2012-05-17 20:00:35
            [year] => 2012
            [month] => 5
            [post_type] => post
        )

    [724] => stdClass Object
        (
            [slug] => casey-stoner
            [ID] => 16607
            [post_name] => casey-stoner-ukonci-karieru-na-konci-roku-2012
            [post_title] => Casey Stoner ukončí kariéru na konci roku 2012
            [post_author] => 2
            [post_date] => 2012-05-17 17:21:34
            [year] => 2012
            [month] => 5
            [post_type] => post
        )

    [725] => stdClass Object
        (
            [slug] => ducati-desmosedici
            [ID] => 15078
            [post_name] => desmosedici-gp10-a-gp11-prodana-v-aukci
            [post_title] => Desmosedici GP10 a GP11 prodána v aukci
            [post_author] => 2
            [post_date] => 2012-05-12 09:00:13
            [year] => 2012
            [month] => 5
            [post_type] => post
        )

    [726] => stdClass Object
        (
            [slug] => rossi-novinky
            [ID] => 16518
            [post_name] => valentino-rossi-se-historkam-o-konci-kariery-smeje
            [post_title] => Valentino Rossi se historkám o konci kariéry směje.
            [post_author] => 2
            [post_date] => 2012-05-09 17:46:14
            [year] => 2012
            [month] => 5
            [post_type] => post
        )

    [727] => stdClass Object
        (
            [slug] => ducati-desmosedici
            [ID] => 16476
            [post_name] => f-preziosi-pracujeme-na-zlepseni-ovladatelnosti-gp12
            [post_title] => F.Preziosi: "Pracujeme na zlepšení ovladatelnosti GP12."
            [post_author] => 2
            [post_date] => 2012-05-07 17:22:04
            [year] => 2012
            [month] => 5
            [post_type] => post
        )

    [728] => stdClass Object
        (
            [slug] => velkka-cena-gp
            [ID] => 16411
            [post_name] => velka-cena-portugalska-estoril-2
            [post_title] => Velká Cena Portugalska  - Estoril
            [post_author] => 2
            [post_date] => 2012-05-06 15:07:16
            [year] => 2012
            [month] => 5
            [post_type] => post
        )

    [729] => stdClass Object
        (
            [slug] => rossi-novinky
            [ID] => 16438
            [post_name] => c-domenicalli-armada-ducati-je-pevna
            [post_title] => C.Domenicalli: "Armáda Ducati je pevná."
            [post_author] => 2
            [post_date] => 2012-05-06 12:16:17
            [year] => 2012
            [month] => 5
            [post_type] => post
        )

    [730] => stdClass Object
        (
            [slug] => rossi-novinky
            [ID] => 16315
            [post_name] => m-doohan-ducati-bude-nyni-vice-poslouchat-haydena
            [post_title] => M.Doohan: "Ducati bude nyní více poslouchat Haydena."
            [post_author] => 2
            [post_date] => 2012-05-01 20:43:35
            [year] => 2012
            [month] => 5
            [post_type] => post
        )

    [731] => stdClass Object
        (
            [slug] => rossi-ducati-cz
            [ID] => 15759
            [post_name] => musim-zaradit-o-kvalt-niz
            [post_title] => Musím podřadit o kvalt níž
            [post_author] => 2
            [post_date] => 2012-05-01 12:00:39
            [year] => 2012
            [month] => 5
            [post_type] => post
        )

    [732] => stdClass Object
        (
            [slug] => rossi-novinky
            [ID] => 16295
            [post_name] => v-rossi-nicky-me-ukazal-cestu
            [post_title] => V.Rossi: "Nicky mně ukázal cestu."
            [post_author] => 2
            [post_date] => 2012-04-30 10:24:41
            [year] => 2012
            [month] => 4
            [post_type] => post
        )

    [733] => stdClass Object
        (
            [slug] => rossi-novinky
            [ID] => 16266
            [post_name] => valentino-rossi-musim-zmenit-svuj-styl
            [post_title] => Valentino Rossi: "Musím změnit svůj styl."
            [post_author] => 2
            [post_date] => 2012-04-29 16:02:36
            [year] => 2012
            [month] => 4
            [post_type] => post
        )

    [734] => stdClass Object
        (
            [slug] => velkka-cena-gp
            [ID] => 16250
            [post_name] => velka-cena-spanelska-jerez
            [post_title] => Velká Cena Španělska - Jerez
            [post_author] => 2
            [post_date] => 2012-04-29 15:01:46
            [year] => 2012
            [month] => 4
            [post_type] => post
        )

    [735] => stdClass Object
        (
            [slug] => rossi-novinky
            [ID] => 16119
            [post_name] => f-gresini-ducati-zatim-neudelala-to-co-valentino-chce
            [post_title] => F.Gresini: "Ducati zatím neudělala to co Valentino chce."
            [post_author] => 2
            [post_date] => 2012-04-24 14:44:10
            [year] => 2012
            [month] => 4
            [post_type] => post
        )

    [736] => stdClass Object
        (
            [slug] => ducati-desmosedici
            [ID] => 15984
            [post_name] => ducati-se-zameri-na-prubeh-vykonu-motoru
            [post_title] => Ducati se zaměří na průbeh výkonu motoru
            [post_author] => 2
            [post_date] => 2012-04-18 11:19:15
            [year] => 2012
            [month] => 4
            [post_type] => post
        )

    [737] => stdClass Object
        (
            [slug] => rossi-novinky
            [ID] => 15945
            [post_name] => v-rossi-zavodeni-bylo-nejlepsim-lekem
            [post_title] => V.Rossi: "Závodění bylo nejlepším lékem."
            [post_author] => 2
            [post_date] => 2012-04-17 13:33:25
            [year] => 2012
            [month] => 4
            [post_type] => post
        )

    [738] => stdClass Object
        (
            [slug] => rossi-novinky
            [ID] => 15619
            [post_name] => valentino-rossi-startuje-s-ferrari-v-monze
            [post_title] => Valentino Rossi startuje s Ferrari v Monze
            [post_author] => 2
            [post_date] => 2012-04-14 16:50:20
            [year] => 2012
            [month] => 4
            [post_type] => post
        )

    [739] => stdClass Object
        (
            [slug] => rossi-novinky
            [ID] => 15898
            [post_name] => kenny-roberts-jr-o-situaci-valentina-a-ducati
            [post_title] => Kenny Roberts jr. o situaci Valentina a Ducati
            [post_author] => 2
            [post_date] => 2012-04-14 10:35:07
            [year] => 2012
            [month] => 4
            [post_type] => post
        )

    [740] => stdClass Object
        (
            [slug] => rossi-novinky
            [ID] => 15839
            [post_name] => d-noyes-on-rikal-ducati-rikalo
            [post_title] => D. Noyes: "On říkal - Ducati říkalo."
            [post_author] => 2
            [post_date] => 2012-04-13 07:22:20
            [year] => 2012
            [month] => 4
            [post_type] => post
        )

    [741] => stdClass Object
        (
            [slug] => ducati-2
            [ID] => 15825
            [post_name] => g-torchio-na-reci-o-rozvodu-je-prilis-brzo
            [post_title] => G.Torchio: "Na řeči o rozvodu je příliš brzo."
            [post_author] => 2
            [post_date] => 2012-04-12 08:30:39
            [year] => 2012
            [month] => 4
            [post_type] => post
        )

    [742] => stdClass Object
        (
            [slug] => rossi-novinky
            [ID] => 15820
            [post_name] => l-capirossi-valentino-mel-pravo-to-rici
            [post_title] => L.Capirossi: "Valentino měl právo to říci."
            [post_author] => 2
            [post_date] => 2012-04-11 18:23:53
            [year] => 2012
            [month] => 4
            [post_type] => post
        )

    [743] => stdClass Object
        (
            [slug] => ducati-desmosedici
            [ID] => 15813
            [post_name] => v-rossi-u-ducati-chci-zustat
            [post_title] => Valentino Rossi: "U Ducati chci zůstat."
            [post_author] => 2
            [post_date] => 2012-04-11 16:31:04
            [year] => 2012
            [month] => 4
            [post_type] => post
        )

    [744] => stdClass Object
        (
            [slug] => rossi-novinky
            [ID] => 15806
            [post_name] => a-cicognani-nevzdame-se-a-udelame-maximum
            [post_title] => A.Cicognani: "Nevzdáme se a uděláme maximum."
            [post_author] => 2
            [post_date] => 2012-04-11 15:54:36
            [year] => 2012
            [month] => 4
            [post_type] => post
        )

    [745] => stdClass Object
        (
            [slug] => rossi-novinky
            [ID] => 15789
            [post_name] => g-agostini-valentino-je-hodne-zklamany
            [post_title] => G.Agostini: "Valentino je teď hodně zklamaný."
            [post_author] => 2
            [post_date] => 2012-04-11 10:20:53
            [year] => 2012
            [month] => 4
            [post_type] => post
        )

    [746] => stdClass Object
        (
            [slug] => motogp
            [ID] => 15767
            [post_name] => zmeny-pravidel-motogp-prichazi
            [post_title] => Změny pravidel MotoGP přichází?
            [post_author] => 2
            [post_date] => 2012-04-11 09:32:18
            [year] => 2012
            [month] => 4
            [post_type] => post
        )

    [747] => stdClass Object
        (
            [slug] => rossi-novinky
            [ID] => 15751
            [post_name] => bridgestone-v-jerezu-nasadi-novu-predni-pneumatiku
            [post_title] => Bridgestone v Jerezu nasadí novu přední pneumatiku
            [post_author] => 2
            [post_date] => 2012-04-10 10:49:39
            [year] => 2012
            [month] => 4
            [post_type] => post
        )

    [748] => stdClass Object
        (
            [slug] => alex-briggs
            [ID] => 15747
            [post_name] => alex-briggs-sdilime-pocity-valentina
            [post_title] => Alex Briggs: "Sdílíme pocity Valentina." 
            [post_author] => 2
            [post_date] => 2012-04-10 07:06:58
            [year] => 2012
            [month] => 4
            [post_type] => post
        )

    [749] => stdClass Object
        (
            [slug] => rossi-novinky
            [ID] => 15744
            [post_name] => j-burgess-neco-jsme-se-naucili-ale-to-nestaci
            [post_title] => J.Burgess: "Něco jsme se naučili, ale to nestačí."
            [post_author] => 2
            [post_date] => 2012-04-09 17:52:08
            [year] => 2012
            [month] => 4
            [post_type] => post
        )

    [750] => stdClass Object
        (
            [slug] => rossi-novinky
            [ID] => 15739
            [post_name] => j-burgess-rossi-uz-asi-neni-nejlepsi
            [post_title] => J.Burgess: "Rossi už asi není nejlepší."
            [post_author] => 2
            [post_date] => 2012-04-09 13:05:06
            [year] => 2012
            [month] => 4
            [post_type] => post
        )

    [751] => stdClass Object
        (
            [slug] => rossi-novinky
            [ID] => 15731
            [post_name] => fata-morgana-se-nad-pousti-v-kataru-rozplynula
            [post_title] => Fata morgána se nad pouští v Kataru rozplynula.
            [post_author] => 2
            [post_date] => 2012-04-09 10:43:23
            [year] => 2012
            [month] => 4
            [post_type] => post
        )

    [752] => stdClass Object
        (
            [slug] => rossi-novinky
            [ID] => 15706
            [post_name] => velka-cena-kataru-2012
            [post_title] => Velká Cena Kataru 2012
            [post_author] => 2
            [post_date] => 2012-04-08 21:07:38
            [year] => 2012
            [month] => 4
            [post_type] => post
        )

    [753] => stdClass Object
        (
            [slug] => rossi-novinky
            [ID] => 15686
            [post_name] => f-preziosi-neni-to-rossiho-chyba
            [post_title] => F.Preziosi: "Není to Rossiho chyba."
            [post_author] => 2
            [post_date] => 2012-04-08 09:06:02
            [year] => 2012
            [month] => 4
            [post_type] => post
        )

    [754] => stdClass Object
        (
            [slug] => rossi-novinky
            [ID] => 15658
            [post_name] => v-rossi-nas-motor-je-jako-lev-v-kleci
            [post_title] => V.Rossi: "Náš motor je jako lev v kleci."
            [post_author] => 2
            [post_date] => 2012-04-07 17:13:10
            [year] => 2012
            [month] => 4
            [post_type] => post
        )

    [755] => stdClass Object
        (
            [slug] => rossi-novinky
            [ID] => 15565
            [post_name] => guareschi-brivio-valentino-je-stale-hodne-motivovany
            [post_title] => Guareschi & Brivio: Valentino je hodně motivovaný.
            [post_author] => 2
            [post_date] => 2012-04-03 19:20:55
            [year] => 2012
            [month] => 4
            [post_type] => post
        )

    [756] => stdClass Object
        (
            [slug] => rossi-novinky
            [ID] => 15557
            [post_name] => valentino-rossi-pokusime-z-toho-vymacknout-maximum
            [post_title] => V. Rossi: "Pokusíme se z toho vymáčknout maximum."
            [post_author] => 2
            [post_date] => 2012-04-03 15:45:44
            [year] => 2012
            [month] => 4
            [post_type] => post
        )

    [757] => stdClass Object
        (
            [slug] => ducati-2
            [ID] => 15546
            [post_name] => f-preziosi-pred-prvnim-zavodem-v-kataru
            [post_title] => F.Preziosi před prvním závodem v Kataru
            [post_author] => 2
            [post_date] => 2012-04-03 10:58:27
            [year] => 2012
            [month] => 4
            [post_type] => post
        )

    [758] => stdClass Object
        (
            [slug] => ducati-2
            [ID] => 15535
            [post_name] => l-capirossi-ducati-potrebuje-cas-ktery-nema
            [post_title] => L.Capirossi: "Ducati potřebuje čas, který nemá."
            [post_author] => 2
            [post_date] => 2012-04-02 13:12:40
            [year] => 2012
            [month] => 4
            [post_type] => post
        )

    [759] => stdClass Object
        (
            [slug] => rossi-novinky
            [ID] => 15484
            [post_name] => v-rossi-nakrmime-tu-bestii-zavody
            [post_title] => V.Rossi: "Nakrmíme tu bestii závody."
            [post_author] => 2
            [post_date] => 2012-04-01 11:25:05
            [year] => 2012
            [month] => 4
            [post_type] => post
        )

    [760] => stdClass Object
        (
            [slug] => rossi-novinky
            [ID] => 15473
            [post_name] => j-burgess-zvyseni-objemu-motoru-bylo-zbytecne
            [post_title] => J.Burgess: "Zvýšení objemu motorů bylo zbytečné." 
            [post_author] => 2
            [post_date] => 2012-03-30 18:46:44
            [year] => 2012
            [month] => 3
            [post_type] => post
        )

    [761] => stdClass Object
        (
            [slug] => casey-stoner
            [ID] => 15445
            [post_name] => c-stoner-potencial-ducati-je-zatim-tezke-odhadnout
            [post_title] => C.Stoner: "Potenciál Ducati je zatím těžké odhadnout."
            [post_author] => 2
            [post_date] => 2012-03-29 16:21:59
            [year] => 2012
            [month] => 3
            [post_type] => post
        )

    [762] => stdClass Object
        (
            [slug] => ducati-2
            [ID] => 15414
            [post_name] => tak-co-ducati-zavody
            [post_title] => Tak co, Ducati? - Závody!
            [post_author] => 2
            [post_date] => 2012-03-28 09:55:19
            [year] => 2012
            [month] => 3
            [post_type] => post
        )

    [763] => stdClass Object
        (
            [slug] => ducati-2
            [ID] => 15399
            [post_name] => dve-tajemstvi-pred-sezonou-2012
            [post_title] => Dvě tajemství před sezónou 2012
            [post_author] => 2
            [post_date] => 2012-03-27 08:32:28
            [year] => 2012
            [month] => 3
            [post_type] => post
        )

    [764] => stdClass Object
        (
            [slug] => rossi-novinky
            [ID] => 15396
            [post_name] => c-pernat-ducati-bych-neobvinoval
            [post_title] => C.Pernat: "Ducati bych neobviňoval."
            [post_author] => 2
            [post_date] => 2012-03-26 13:58:45
            [year] => 2012
            [month] => 3
            [post_type] => post
        )

    [765] => stdClass Object
        (
            [slug] => motogp
            [ID] => 15385
            [post_name] => jednani-o-zmenach-pravidel-motogp-pokracuji
            [post_title] => Jednání o změnách pravidel MotoGP pokračují
            [post_author] => 2
            [post_date] => 2012-03-26 10:15:12
            [year] => 2012
            [month] => 3
            [post_type] => post
        )

    [766] => stdClass Object
        (
            [slug] => rossi-novinky
            [ID] => 15365
            [post_name] => v-rossi-toto-je-nas-aktualni-potencial
            [post_title] => V.Rossi: "Toto je náš aktuální potenciál."
            [post_author] => 2
            [post_date] => 2012-03-25 20:33:50
            [year] => 2012
            [month] => 3
            [post_type] => post
        )

    [767] => stdClass Object
        (
            [slug] => rossi-novinky
            [ID] => 15207
            [post_name] => v-rossi-citim-se-fit-a-motivovany
            [post_title] => V.Rossi: "Cítím se fit a motivovaný."
            [post_author] => 2
            [post_date] => 2012-03-22 16:51:13
            [year] => 2012
            [month] => 3
            [post_type] => post
        )

    [768] => stdClass Object
        (
            [slug] => luca-marini
            [ID] => 15200
            [post_name] => znacka-vr46-bude-sponzorovat-lucu-mariniho
            [post_title] => Značka VR|46 bude sponzorovat Lucu Mariniho
            [post_author] => 2
            [post_date] => 2012-03-22 14:20:28
            [year] => 2012
            [month] => 3
            [post_type] => post
        )

    [769] => stdClass Object
        (
            [slug] => nicky-hayden
            [ID] => 15187
            [post_name] => n-hayden-verim-v-sebe-a-ducati
            [post_title] => N.Hayden: "Věřím v sebe a Ducati."
            [post_author] => 2
            [post_date] => 2012-03-20 11:40:24
            [year] => 2012
            [month] => 3
            [post_type] => post
        )

    [770] => stdClass Object
        (
            [slug] => motogp
            [ID] => 15114
            [post_name] => shuhei-nakamoto-rozhovor
            [post_title] => Shuhei Nakamoto - rozhovor
            [post_author] => 2
            [post_date] => 2012-03-17 21:22:56
            [year] => 2012
            [month] => 3
            [post_type] => post
        )

    [771] => stdClass Object
        (
            [slug] => motogp
            [ID] => 15109
            [post_name] => tovarny-jsou-pripraveny-prijmout-cenovy-limit
            [post_title] => Továrny jsou připraveny přijmout cenový limit
            [post_author] => 2
            [post_date] => 2012-03-16 19:42:37
            [year] => 2012
            [month] => 3
            [post_type] => post
        )

    [772] => stdClass Object
        (
            [slug] => motogp
            [ID] => 15098
            [post_name] => fausto-gresini-rozhovor
            [post_title] => Fausto Gresini - rozhovor
            [post_author] => 2
            [post_date] => 2012-03-15 14:24:18
            [year] => 2012
            [month] => 3
            [post_type] => post
        )

    [773] => stdClass Object
        (
            [slug] => fastest
            [ID] => 14499
            [post_name] => ceske-titulky-k-filmu-fastest
            [post_title] => České titulky k filmu Fastest
            [post_author] => 2
            [post_date] => 2012-03-10 21:00:55
            [year] => 2012
            [month] => 3
            [post_type] => post
        )

    [774] => stdClass Object
        (
            [slug] => karel-abraham
            [ID] => 15045
            [post_name] => barbera-a-abraham-dostanou-gp12-na-paty-zavod
            [post_title] => Barbera a Abraham dostanou GP12 na pátý závod
            [post_author] => 2
            [post_date] => 2012-03-09 17:30:41
            [year] => 2012
            [month] => 3
            [post_type] => post
        )

    [775] => stdClass Object
        (
            [slug] => honda-2
            [ID] => 15016
            [post_name] => s-nakamoto-yamaha-je-ted-nejlepsi
            [post_title] => S.Nakamoto: "Yamaha je teď nejlepší."
            [post_author] => 2
            [post_date] => 2012-03-05 15:30:37
            [year] => 2012
            [month] => 3
            [post_type] => post
        )

    [776] => stdClass Object
        (
            [slug] => rossi-novinky
            [ID] => 15001
            [post_name] => f-preziosi-ducati-pracuje-naplno
            [post_title] => F.Preziosi: "Ducati pracuje naplno."
            [post_author] => 2
            [post_date] => 2012-03-02 15:22:48
            [year] => 2012
            [month] => 3
            [post_type] => post
        )

    [777] => stdClass Object
        (
            [slug] => casey-stoner
            [ID] => 14997
            [post_name] => c-stoner-favorite-budou-stejni
            [post_title] => C.Stoner - "Favorité budou stejní."
            [post_author] => 2
            [post_date] => 2012-03-02 13:43:21
            [year] => 2012
            [month] => 3
            [post_type] => post
        )

    [778] => stdClass Object
        (
            [slug] => rossi-novinky
            [ID] => 14987
            [post_name] => rossi-ducati-herkules-nebo-sisyfos
            [post_title] => Rossi & Ducati - Herkules nebo Sisyfos ?
            [post_author] => 2
            [post_date] => 2012-03-02 08:59:18
            [year] => 2012
            [month] => 3
            [post_type] => post
        )

    [779] => stdClass Object
        (
            [slug] => rossi-novinky
            [ID] => 14907
            [post_name] => testy-sepang-den-treti-3
            [post_title] => Testy Sepang - den třetí
            [post_author] => 2
            [post_date] => 2012-03-01 07:09:46
            [year] => 2012
            [month] => 3
            [post_type] => post
        )

    [780] => stdClass Object
        (
            [slug] => rossi-novinky
            [ID] => 14734
            [post_name] => helmy-agv-standard
            [post_title] => Technologie nové helmy AGV standard
            [post_author] => 2
            [post_date] => 2012-02-23 21:40:20
            [year] => 2012
            [month] => 2
            [post_type] => post
        )

    [781] => stdClass Object
        (
            [slug] => rossi-novinky
            [ID] => 14698
            [post_name] => titanovy-suvenyr-valentina-rossiho
            [post_title] => Titanový suvenýr Valentina Rossiho
            [post_author] => 2
            [post_date] => 2012-02-21 19:53:19
            [year] => 2012
            [month] => 2
            [post_type] => post
        )

    [782] => stdClass Object
        (
            [slug] => motogp
            [ID] => 14632
            [post_name] => c-ezpeleta-rozhovor-o-budoucnosti-motogp
            [post_title] => C. Ezpeleta - rozhovor o budoucnosti MotoGP
            [post_author] => 2
            [post_date] => 2012-02-19 12:20:02
            [year] => 2012
            [month] => 2
            [post_type] => post
        )

    [783] => stdClass Object
        (
            [slug] => casey-stoner
            [ID] => 14596
            [post_name] => manzele-stonerovi-slavi-narozeni-dcery
            [post_title] => Manželé Stonerovi slaví narození dcery
            [post_author] => 2
            [post_date] => 2012-02-17 07:39:31
            [year] => 2012
            [month] => 2
            [post_type] => post
        )

    [784] => stdClass Object
        (
            [slug] => casey-stoner
            [ID] => 14573
            [post_name] => b-spies-stoner-muze-byt-porazen
            [post_title] => B.Spies: "Stoner může být poražen."
            [post_author] => 2
            [post_date] => 2012-02-15 13:50:33
            [year] => 2012
            [month] => 2
            [post_type] => post
        )

    [785] => stdClass Object
        (
            [slug] => motogp
            [ID] => 14487
            [post_name] => motogp-na-ceskych-kanalech-v-roce-2012
            [post_title] => MotoGP na českých kanálech v roce 2012
            [post_author] => 2
            [post_date] => 2012-02-10 20:19:15
            [year] => 2012
            [month] => 2
            [post_type] => post
        )

    [786] => stdClass Object
        (
            [slug] => ducati-desmosedici
            [ID] => 14480
            [post_name] => h-barbera-gp12-chci-dostat-co-nejdrive
            [post_title] => H. Barbera: "GP12 chci dostat co nejdříve."
            [post_author] => 2
            [post_date] => 2012-02-10 15:30:39
            [year] => 2012
            [month] => 2
            [post_type] => post
        )

    [787] => stdClass Object
        (
            [slug] => ducati-desmosedici
            [ID] => 14456
            [post_name] => preziozi-vysvetluje-postaveni-satelinich-tymu-ducati
            [post_title] => F.Preziosi vysvětluje postavení sateliních týmů Ducati
            [post_author] => 125
            [post_date] => 2012-02-10 11:45:01
            [year] => 2012
            [month] => 2
            [post_type] => post
        )

    [788] => stdClass Object
        (
            [slug] => rossi-novinky
            [ID] => 14459
            [post_name] => j-lorenzo-ducati-vloni-nemohla-zvitezit
            [post_title] => J.Lorenzo: "Ducati vloni nemohla zvítězit."
            [post_author] => 2
            [post_date] => 2012-02-10 08:48:43
            [year] => 2012
            [month] => 2
            [post_type] => post
        )

    [789] => stdClass Object
        (
            [slug] => motogp
            [ID] => 14450
            [post_name] => pet-minut-s-lorisem-capirossim
            [post_title] => Pět minut s Lorisem Capirossim
            [post_author] => 2
            [post_date] => 2012-02-09 14:04:14
            [year] => 2012
            [month] => 2
            [post_type] => post
        )

    [790] => stdClass Object
        (
            [slug] => ducati-desmosedici
            [ID] => 14426
            [post_name] => nova-ducati-jeremy-burgesse-potesila
            [post_title] => Nová Ducati Jeremy Burgesse potešila
            [post_author] => 2
            [post_date] => 2012-02-08 10:05:28
            [year] => 2012
            [month] => 2
            [post_type] => post
        )

    [791] => stdClass Object
        (
            [slug] => honda-2
            [ID] => 14417
            [post_name] => bautista-si-pochvaluje-elekroniku-hondy
            [post_title] => Bautista si pochvaluje elekroniku Hondy
            [post_author] => 2
            [post_date] => 2012-02-07 21:00:42
            [year] => 2012
            [month] => 2
            [post_type] => post
        )

    [792] => stdClass Object
        (
            [slug] => rossi-novinky
            [ID] => 14406
            [post_name] => polemika-nad-statistikou-stoner-vs-rossi
            [post_title] => Polemika nad statistikou Stoner vs Rossi
            [post_author] => 2
            [post_date] => 2012-02-07 14:48:06
            [year] => 2012
            [month] => 2
            [post_type] => post
        )

    [793] => stdClass Object
        (
            [slug] => motogp
            [ID] => 14403
            [post_name] => c-ezpeleta-vaha-se-zvysila-na-navrh-dorny-a-irta
            [post_title] => C.Ezpeleta: "Váha se zvýšila na návrh Dorny a IRTA."
            [post_author] => 2
            [post_date] => 2012-02-07 11:11:39
            [year] => 2012
            [month] => 2
            [post_type] => post
        )

    [794] => stdClass Object
        (
            [slug] => rossi-novinky
            [ID] => 14375
            [post_name] => oba-jezdci-ducati-dnes-na-operaci
            [post_title] => Oba jezdci Ducati dnes na operaci
            [post_author] => 2
            [post_date] => 2012-02-06 19:01:25
            [year] => 2012
            [month] => 2
            [post_type] => post
        )

    [795] => stdClass Object
        (
            [slug] => ducati-2
            [ID] => 14366
            [post_name] => v-guareschi-vaha-se-nenavysoval-kvuli-nam
            [post_title] => V. Guareschi: "Váha se nenavyšovala kvůli nám."
            [post_author] => 2
            [post_date] => 2012-02-06 17:08:09
            [year] => 2012
            [month] => 2
            [post_type] => post
        )

    [796] => stdClass Object
        (
            [slug] => ducati-2
            [ID] => 14362
            [post_name] => casey-stoner-kritizuje-navyseni-minimalni-vahy
            [post_title] => Casey Stoner kritizuje navýšení minimální váhy
            [post_author] => 2
            [post_date] => 2012-02-06 10:21:39
            [year] => 2012
            [month] => 2
            [post_type] => post
        )

    [797] => stdClass Object
        (
            [slug] => ducati-2
            [ID] => 14324
            [post_name] => claudio-domenicali-rossi-ducati-panigale
            [post_title] => Claudio Domenicali o Rossim, Ducati a Panigale
            [post_author] => 125
            [post_date] => 2012-02-04 22:16:57
            [year] => 2012
            [month] => 2
            [post_type] => post
        )

    [798] => stdClass Object
        (
            [slug] => ducati-desmosedici
            [ID] => 14287
            [post_name] => carlo-pernat-bridgestone-nejvice-sedi-na-ducati
            [post_title] => Carlo Pernat: "Bridgestone nejvíce sedí na Ducati."
            [post_author] => 343
            [post_date] => 2012-02-03 17:00:42
            [year] => 2012
            [month] => 2
            [post_type] => post
        )

    [799] => stdClass Object
        (
            [slug] => alex-briggs
            [ID] => 14280
            [post_name] => alex-briggs-ze-sepangu
            [post_title] => Alex Briggs ze Sepangu
            [post_author] => 2
            [post_date] => 2012-02-03 07:32:43
            [year] => 2012
            [month] => 2
            [post_type] => post
        )

    [800] => stdClass Object
        (
            [slug] => ducati-desmosedici
            [ID] => 14257
            [post_name] => valentino-rossi-zlepsovani-pokracuje
            [post_title] => Valentino Rossi: "Zlepšování pokračuje."
            [post_author] => 343
            [post_date] => 2012-02-02 17:54:11
            [year] => 2012
            [month] => 2
            [post_type] => post
        )

    [801] => stdClass Object
        (
            [slug] => ducati-desmosedici
            [ID] => 14246
            [post_name] => f-preziosi-nase-prace-neni-u-konce
            [post_title] => F. Preziosi: "Naše práce není u konce."
            [post_author] => 2
            [post_date] => 2012-02-02 14:39:48
            [year] => 2012
            [month] => 2
            [post_type] => post
        )

    [802] => stdClass Object
        (
            [slug] => motogp
            [ID] => 14169
            [post_name] => sef-hrc-mluvi-o-crt-v-moto-gp
            [post_title] => Šéf HRC mluví o CRT v MotoGP
            [post_author] => 125
            [post_date] => 2012-02-01 07:22:48
            [year] => 2012
            [month] => 2
            [post_type] => post
        )

    [803] => stdClass Object
        (
            [slug] => rossi-novinky
            [ID] => 14103
            [post_name] => valentino-rossi-zmenilo-se-vsechno
            [post_title] => Valentino Rossi: "Změnilo se všechno."
            [post_author] => 2
            [post_date] => 2012-01-31 19:51:01
            [year] => 2012
            [month] => 1
            [post_type] => post
        )

    [804] => stdClass Object
        (
            [slug] => bridgestone-2
            [ID] => 14036
            [post_name] => nove-pneumatiky-bridgestone-2012
            [post_title] => Nové pneumatiky Bridgestone na rok 2012
            [post_author] => 125
            [post_date] => 2012-01-31 06:25:31
            [year] => 2012
            [month] => 1
            [post_type] => post
        )

    [805] => stdClass Object
        (
            [slug] => rossi-novinky
            [ID] => 14028
            [post_name] => valentino-rossi-se-kritice-od-stonera-smeje
            [post_title] => Valentino Rossi se kritice od Stonera směje
            [post_author] => 2
            [post_date] => 2012-01-30 15:28:16
            [year] => 2012
            [month] => 1
            [post_type] => post
        )

    [806] => stdClass Object
        (
            [slug] => ducati-desmosedici
            [ID] => 14010
            [post_name] => ducati-desmosedici-gp12
            [post_title] => Ducati Desmosedici GP12
            [post_author] => 2
            [post_date] => 2012-01-30 10:22:19
            [year] => 2012
            [month] => 1
            [post_type] => post
        )

    [807] => stdClass Object
        (
            [slug] => ducati-desmosedici
            [ID] => 13959
            [post_name] => nova-ducati-valentina-rossiho
            [post_title] => Nová Ducati Valentina Rossiho
            [post_author] => 2
            [post_date] => 2012-01-27 16:57:18
            [year] => 2012
            [month] => 1
            [post_type] => post
        )

    [808] => stdClass Object
        (
            [slug] => colin-edwards
            [ID] => 13951
            [post_name] => colin-edwards-rozhovor
            [post_title] => Colin Edwards - rozhovor před testy v Sepangu
            [post_author] => 2
            [post_date] => 2012-01-26 16:31:17
            [year] => 2012
            [month] => 1
            [post_type] => post
        )

    [809] => stdClass Object
        (
            [slug] => casey-stoner
            [ID] => 13946
            [post_name] => c-stoner-rossi-se-snazi-me-vykony-bagatelizovat
            [post_title] => C.Stoner: "Rossi se snaží mé výkony bagatelizovat."
            [post_author] => 2
            [post_date] => 2012-01-25 19:19:20
            [year] => 2012
            [month] => 1
            [post_type] => post
        )

    [810] => stdClass Object
        (
            [slug] => ducati-desmosedici
            [ID] => 13931
            [post_name] => f-preziosi-s-gp12-budeme-konkurenceschopni
            [post_title] => F.Preziosi: "S GP12 budeme konkurenceschopní."
            [post_author] => 2
            [post_date] => 2012-01-25 13:15:11
            [year] => 2012
            [month] => 1
            [post_type] => post
        )

    [811] => stdClass Object
        (
            [slug] => ducati-2
            [ID] => 13925
            [post_name] => ducati-spustila-vyrobu-panigale-1199
            [post_title] => Ducati spustila výrobu Panigale 1199
            [post_author] => 2
            [post_date] => 2012-01-25 08:13:32
            [year] => 2012
            [month] => 1
            [post_type] => post
        )

    [812] => stdClass Object
        (
            [slug] => rossi-novinky
            [ID] => 13915
            [post_name] => malboro-ducati-a-rossimu-stale-veri
            [post_title] => Marlboro Ducati a Rossimu stále věří
            [post_author] => 2
            [post_date] => 2012-01-24 22:21:00
            [year] => 2012
            [month] => 1
            [post_type] => post
        )

    [813] => stdClass Object
        (
            [slug] => rossi-novinky
            [ID] => 13888
            [post_name] => j-lorenzo-valentino-jeste-neni-stary
            [post_title] => J.Lorenzo: "Valentino ještě není starý."
            [post_author] => 2
            [post_date] => 2012-01-24 08:42:39
            [year] => 2012
            [month] => 1
            [post_type] => post
        )

    [814] => stdClass Object
        (
            [slug] => honda-2
            [ID] => 13867
            [post_name] => robot-asimo-pomohl-honde-s-elektronikou
            [post_title] => Robot ASIMO pomohl Hondě s elektronikou
            [post_author] => 2
            [post_date] => 2012-01-23 11:03:49
            [year] => 2012
            [month] => 1
            [post_type] => post
        )

    [815] => stdClass Object
        (
            [slug] => rossi-novinky
            [ID] => 13863
            [post_name] => video-valentino-rossi-ranc
            [post_title] => Video Valentino Rossi ranč
            [post_author] => 2
            [post_date] => 2012-01-22 18:21:15
            [year] => 2012
            [month] => 1
            [post_type] => post
        )

    [816] => stdClass Object
        (
            [slug] => rossi-novinky
            [ID] => 13858
            [post_name] => dokument-zluta-horecka
            [post_title] => Dokument "Žlutá Horečka"
            [post_author] => 2
            [post_date] => 2012-01-22 15:45:57
            [year] => 2012
            [month] => 1
            [post_type] => post
        )

    [817] => stdClass Object
        (
            [slug] => ducati-desmosedici
            [ID] => 13836
            [post_name] => f-preziosi-uhel-valcu-neni-problem
            [post_title] => F.Preziosi: "Úhel válců není problém."
            [post_author] => 2
            [post_date] => 2012-01-21 12:27:43
            [year] => 2012
            [month] => 1
            [post_type] => post
        )

    [818] => stdClass Object
        (
            [slug] => casey-stoner
            [ID] => 13825
            [post_name] => c-stoner-ducati-uz-vloni-desmosedici-zmenila
            [post_title] => C.Stoner: "Ducati už vloni Desmosedici zcela změnila "
            [post_author] => 2
            [post_date] => 2012-01-20 18:36:58
            [year] => 2012
            [month] => 1
            [post_type] => post
        )

    [819] => stdClass Object
        (
            [slug] => ducati-desmosedici
            [ID] => 13816
            [post_name] => ducati-gp12-pro-karla-abrahama
            [post_title] => Ducati GP12 pro Karla Abrahama
            [post_author] => 2
            [post_date] => 2012-01-20 14:09:38
            [year] => 2012
            [month] => 1
            [post_type] => post
        )

    [820] => stdClass Object
        (
            [slug] => ducati-2
            [ID] => 13805
            [post_name] => ducati-je-o-zmenach-pravidel-ochotna-diskutovat
            [post_title] => Ducati je o změnách pravidel ochotna diskutovat
            [post_author] => 2
            [post_date] => 2012-01-19 17:36:36
            [year] => 2012
            [month] => 1
            [post_type] => post
        )

    [821] => stdClass Object
        (
            [slug] => rossi-novinky
            [ID] => 13727
            [post_name] => v-rossi-a-n-hayden-na-snehu-wrooom-2012
            [post_title] => V.Rossi a N.Hayden na sněhu - Wrooom 2012
            [post_author] => 2
            [post_date] => 2012-01-14 19:18:29
            [year] => 2012
            [month] => 1
            [post_type] => post
        )

    [822] => stdClass Object
        (
            [slug] => rossi-novinky
            [ID] => 13692
            [post_name] => operace-fenix
            [post_title] => Operace Fénix
            [post_author] => 2
            [post_date] => 2012-01-13 18:00:05
            [year] => 2012
            [month] => 1
            [post_type] => post
        )

    [823] => stdClass Object
        (
            [slug] => ducati-2
            [ID] => 13679
            [post_name] => ducati-se-crt-projekt-aprilie-nelibi
            [post_title] => Ducati se CRT projekt Aprilie nelíbí
            [post_author] => 2
            [post_date] => 2012-01-13 09:16:15
            [year] => 2012
            [month] => 1
            [post_type] => post
        )

    [824] => stdClass Object
        (
            [slug] => ducati-desmosedici
            [ID] => 13670
            [post_name] => desmodici-je-cela-navrzena-v-ducati-corse
            [post_title] => Desmodici je celá navržena v Ducati Corse
            [post_author] => 2
            [post_date] => 2012-01-12 17:53:52
            [year] => 2012
            [month] => 1
            [post_type] => post
        )

    [825] => stdClass Object
        (
            [slug] => rossi-novinky
            [ID] => 13664
            [post_name] => motogp-2011-sezona-padu
            [post_title] => MotoGP 2011 - sezóna pádů
            [post_author] => 2
            [post_date] => 2012-01-12 16:51:59
            [year] => 2012
            [month] => 1
            [post_type] => post
        )

    [826] => stdClass Object
        (
            [slug] => ducati-desmosedici
            [ID] => 13586
            [post_name] => filippo-preziosi-tiskova-konference-wrooom-2012
            [post_title] => Filippo Preziosi - tisková konference Wrooom 2012
            [post_author] => 2
            [post_date] => 2012-01-11 11:27:46
            [year] => 2012
            [month] => 1
            [post_type] => post
        )

    [827] => stdClass Object
        (
            [slug] => rossi-novinky
            [ID] => 13505
            [post_name] => wrooom-tiskovka-nicky-hayden-valentino-rossi
            [post_title] => Wrooom - tiskovka Nicky Hayden a Valentino Rossi
            [post_author] => 2
            [post_date] => 2012-01-10 20:00:27
            [year] => 2012
            [month] => 1
            [post_type] => post
        )

    [828] => stdClass Object
        (
            [slug] => ducati-2
            [ID] => 13542
            [post_name] => g-de-torchio-s-valentinem-pocitame
            [post_title] => G. Del Torchio: "S Valentinem počítáme i budoucnu."
            [post_author] => 2
            [post_date] => 2012-01-10 14:18:38
            [year] => 2012
            [month] => 1
            [post_type] => post
        )

    [829] => stdClass Object
        (
            [slug] => rossi-novinky
            [ID] => 13123
            [post_name] => wrooom-2012
            [post_title] => Wrooom 2012
            [post_author] => 2
            [post_date] => 2012-01-08 20:00:54
            [year] => 2012
            [month] => 1
            [post_type] => post
        )

    [830] => stdClass Object
        (
            [slug] => motogp
            [ID] => 13431
            [post_name] => l-capirossi-pneumatiky-pro-me-budou-prioritou
            [post_title] => L. Capirossi: "Pneumatiky pro mě budou prioritou."
            [post_author] => 2
            [post_date] => 2012-01-05 14:06:04
            [year] => 2012
            [month] => 1
            [post_type] => post
        )

    [831] => stdClass Object
        (
            [slug] => nicky-hayden
            [ID] => 13364
            [post_name] => nicky-hayden-ma-zlomenou-lopatku-a-dve-zebra
            [post_title] => Nicky Hayden má zlomenou lopatku a dvě žebra
            [post_author] => 2
            [post_date] => 2012-01-05 07:01:36
            [year] => 2012
            [month] => 1
            [post_type] => post
        )

    [832] => stdClass Object
        (
            [slug] => ducati-2
            [ID] => 13355
            [post_name] => c-checa-problemem-jsou-pneumatiky-bridgestone
            [post_title] => C.Checa: "Problémem jsou pneumatiky Bridgestone."
            [post_author] => 2
            [post_date] => 2011-12-29 15:48:44
            [year] => 2011
            [month] => 12
            [post_type] => post
        )

    [833] => stdClass Object
        (
            [slug] => motogp
            [ID] => 13348
            [post_name] => jerez-potvrzen-do-roku-2016
            [post_title] => Jerez potvrzen do roku 2016
            [post_author] => 2
            [post_date] => 2011-12-27 09:55:13
            [year] => 2011
            [month] => 12
            [post_type] => post
        )

    [834] => stdClass Object
        (
            [slug] => rossi-novinky
            [ID] => 13333
            [post_name] => c-stoner-jsem-rad-ze-jsem-rossiho-burgesse-umlcel
            [post_title] => C.Stoner: Jsem rád že jsem Rossiho a Burgesse umlčel.
            [post_author] => 2
            [post_date] => 2011-12-24 11:08:15
            [year] => 2011
            [month] => 12
            [post_type] => post
        )

    [835] => stdClass Object
        (
            [slug] => rossi-novinky
            [ID] => 13322
            [post_name] => valentino-rossi-prechodu-k-ducati-nelituje
            [post_title] => Valentino Rossi přechodu k Ducati nelituje
            [post_author] => 2
            [post_date] => 2011-12-23 07:55:50
            [year] => 2011
            [month] => 12
            [post_type] => post
        )

    [836] => stdClass Object
        (
            [slug] => motogp
            [ID] => 13315
            [post_name] => evropska-komise-schvalila-vlastnictvi-infrontu-bridgepointem
            [post_title] => Evropská Komise schválila vlastnictví Infrontu investiční skupinou Bridgepoint
            [post_author] => 2
            [post_date] => 2011-12-23 07:00:25
            [year] => 2011
            [month] => 12
            [post_type] => post
        )

    [837] => stdClass Object
        (
            [slug] => ducati-2
            [ID] => 13279
            [post_name] => j-burgess-konec-zakazu-testovani-vita
            [post_title] => J.Burgess konec zákazu testování vítá.
            [post_author] => 2
            [post_date] => 2011-12-19 18:13:16
            [year] => 2011
            [month] => 12
            [post_type] => post
        )

    [838] => stdClass Object
        (
            [slug] => jorge-lorenzo
            [ID] => 13275
            [post_name] => j-lorenzo-valentino-ma-dost-talentu-a-zkusenosti
            [post_title] => J.Lorenzo: "Valentino má dost talentu a zkušeností."
            [post_author] => 2
            [post_date] => 2011-12-19 14:40:10
            [year] => 2011
            [month] => 12
            [post_type] => post
        )

    [839] => stdClass Object
        (
            [slug] => motogp
            [ID] => 13267
            [post_name] => zasedani-komise-grand-prix
            [post_title] => Zasedání komise Grand Prix
            [post_author] => 2
            [post_date] => 2011-12-16 14:12:28
            [year] => 2011
            [month] => 12
            [post_type] => post
        )

    [840] => stdClass Object
        (
            [slug] => rossi-novinky
            [ID] => 13230
            [post_name] => c-ezpeleta-valentino-klicovou-postavou
            [post_title] => C.Ezpeleta: "Valentino bude stále klíčovou postavou"
            [post_author] => 2
            [post_date] => 2011-12-15 17:02:23
            [year] => 2011
            [month] => 12
            [post_type] => post
        )

    [841] => stdClass Object
        (
            [slug] => nicky-hayden
            [ID] => 13219
            [post_name] => n-hayden-ducati-bude-silnejsi
            [post_title] => N.Hayden: "Ducati bude silnější."
            [post_author] => 2
            [post_date] => 2011-12-13 17:26:08
            [year] => 2011
            [month] => 12
            [post_type] => post
        )

    [842] => stdClass Object
        (
            [slug] => rossi-novinky
            [ID] => 13215
            [post_name] => t-cairoli-valentino-se-chce-stale-ucit
            [post_title] => T.Cairoli: "Valentino se chce stále učit."
            [post_author] => 2
            [post_date] => 2011-12-10 19:18:15
            [year] => 2011
            [month] => 12
            [post_type] => post
        )

    [843] => stdClass Object
        (
            [slug] => rossi-novinky
            [ID] => 13206
            [post_name] => livio-suppo-rossi-je-stejne-dobry-jako-za-starych-casu
            [post_title] => L.Suppo: "Rossi je stejně dobrý jako za starých časů."
            [post_author] => 2
            [post_date] => 2011-12-10 11:26:01
            [year] => 2011
            [month] => 12
            [post_type] => post
        )

    [844] => stdClass Object
        (
            [slug] => rossi-novinky
            [ID] => 13202
            [post_name] => j-burgess-valentino-stale-muze-vitezit
            [post_title] => J.Burgess: "Valentino stále může vítězit."
            [post_author] => 2
            [post_date] => 2011-12-09 12:52:13
            [year] => 2011
            [month] => 12
            [post_type] => post
        )

    [845] => stdClass Object
        (
            [slug] => rossi-novinky
            [ID] => 13194
            [post_name] => g-torchio-letos-chybel-faktor-c
            [post_title] => G.Torchio: "Letos nám chyběl faktor C"
            [post_author] => 2
            [post_date] => 2011-12-08 12:38:18
            [year] => 2011
            [month] => 12
            [post_type] => post
        )

    [846] => stdClass Object
        (
            [slug] => casey-stoner
            [ID] => 13145
            [post_name] => c-stoner-v-motogp-se-jezdci-nenavidi
            [post_title] => C.Stoner: "V MotoGP se jezdci nenávidí."
            [post_author] => 2
            [post_date] => 2011-12-05 14:19:37
            [year] => 2011
            [month] => 12
            [post_type] => post
        )

    [847] => stdClass Object
        (
            [slug] => honda-2
            [ID] => 13139
            [post_name] => f-gresini-doufejme-ze-bude-valentino-uspesny
            [post_title] => F.Gresini: "Doufejme že bude Valentino úspěšný."
            [post_author] => 2
            [post_date] => 2011-12-05 11:25:55
            [year] => 2011
            [month] => 12
            [post_type] => post
        )

    [848] => stdClass Object
        (
            [slug] => rossi-novinky
            [ID] => 13114
            [post_name] => valentino-rossi-na-motokrosu
            [post_title] => Valentino Rossi na motokrosu
            [post_author] => 2
            [post_date] => 2011-12-03 21:13:26
            [year] => 2011
            [month] => 12
            [post_type] => post
        )

    [849] => stdClass Object
        (
            [slug] => ducati-desmosedici
            [ID] => 13103
            [post_name] => c-stoner-ducati-nemela-nic-v-rezerve
            [post_title] => C.Stoner: "Ducati neměla nic v rezervě."
            [post_author] => 2
            [post_date] => 2011-12-02 16:19:33
            [year] => 2011
            [month] => 12
            [post_type] => post
        )

    [850] => stdClass Object
        (
            [slug] => rossi-novinky
            [ID] => 13081
            [post_name] => valentino-rossi-onboard-monza-rallye-2011
            [post_title] => Valentino Rossi onboard - Monza Rallye 2011
            [post_author] => 2
            [post_date] => 2011-11-30 15:41:55
            [year] => 2011
            [month] => 11
            [post_type] => post
        )

    [851] => stdClass Object
        (
            [slug] => bridgestone-2
            [ID] => 13067
            [post_name] => v-rossi-ty-pneumatiky-me-desi
            [post_title] => V Rossi: "Ty pneumatiky mě děsí."
            [post_author] => 2
            [post_date] => 2011-11-29 13:33:28
            [year] => 2011
            [month] => 11
            [post_type] => post
        )

    [852] => stdClass Object
        (
            [slug] => ducati-desmosedici
            [ID] => 13064
            [post_name] => c-checa-musime-pracovat-na-tezisti-ducati
            [post_title] => C.Checa: "Musíme pracovat na težišti Ducati."
            [post_author] => 2
            [post_date] => 2011-11-29 11:07:40
            [year] => 2011
            [month] => 11
            [post_type] => post
        )

    [853] => stdClass Object
        (
            [slug] => rossi-novinky
            [ID] => 13041
            [post_name] => valentino-rossi-sezona-padu
            [post_title] => Valentino Rossi - Sezóna pádů
            [post_author] => 2
            [post_date] => 2011-11-28 13:29:10
            [year] => 2011
            [month] => 11
            [post_type] => post
        )

    [854] => stdClass Object
        (
            [slug] => rossi-novinky
            [ID] => 13005
            [post_name] => v-rossi-k-vanocum-chci-konkurenceschopnou-gp12
            [post_title] => V. Rossi: "K Vánocům chci konkurenceschopnou GP12."
            [post_author] => 2
            [post_date] => 2011-11-25 23:46:07
            [year] => 2011
            [month] => 11
            [post_type] => post
        )

    [855] => stdClass Object
        (
            [slug] => motogp
            [ID] => 12949
            [post_name] => vse-co-chcete-vedet-o-crt
            [post_title] => Vše co chcete vědět o CRT
            [post_author] => 2
            [post_date] => 2011-11-25 22:08:30
            [year] => 2011
            [month] => 11
            [post_type] => post
        )

    [856] => stdClass Object
        (
            [slug] => colin-edwards
            [ID] => 12974
            [post_name] => colin-edwards-mame-dlouhy-seznam-ukolu
            [post_title] => Colin Edwards: "Máme dlouhý seznam úkolů."
            [post_author] => 2
            [post_date] => 2011-11-25 14:36:18
            [year] => 2011
            [month] => 11
            [post_type] => post
        )

    [857] => stdClass Object
        (
            [slug] => ducati-2
            [ID] => 12955
            [post_name] => testy-v-jerezu-ctvrtek
            [post_title] => Testy v Jerezu čtvrtek 
            [post_author] => 2
            [post_date] => 2011-11-24 20:36:40
            [year] => 2011
            [month] => 11
            [post_type] => post
        )

    [858] => stdClass Object
        (
            [slug] => rozhovor
            [ID] => 12903
            [post_name] => loris-capirossi-nejhorsi-motocykl-je-letosni-ducati
            [post_title] => Loris Capirossi: "Nejhorší motocykl je letošní Ducati."
            [post_author] => 2
            [post_date] => 2011-11-23 08:17:24
            [year] => 2011
            [month] => 11
            [post_type] => post
        )

    [859] => stdClass Object
        (
            [slug] => motogp
            [ID] => 12898
            [post_name] => c-ezpeleta-neni-to-valka
            [post_title] => C. Ezpeleta: "Není to válka."
            [post_author] => 2
            [post_date] => 2011-11-22 22:11:12
            [year] => 2011
            [month] => 11
            [post_type] => post
        )

    [860] => stdClass Object
        (
            [slug] => ducati-2
            [ID] => 12867
            [post_name] => jeremy-burgess-chtel-bych-se-vratit-zpet-do-starych-casu
            [post_title] => J. Burgess "Chtěl bych se vrátit zpět do starých časů."
            [post_author] => 2
            [post_date] => 2011-11-21 18:25:44
            [year] => 2011
            [month] => 11
            [post_type] => post
        )

    [861] => stdClass Object
        (
            [slug] => rossi-novinky
            [ID] => 12820
            [post_name] => valentino-rossi-dokument
            [post_title] => Valentino Rossi - dokument
            [post_author] => 2
            [post_date] => 2011-11-19 14:34:31
            [year] => 2011
            [month] => 11
            [post_type] => post
        )

    [862] => stdClass Object
        (
            [slug] => motogp
            [ID] => 12786
            [post_name] => suzuki-v-motgp-konci
            [post_title] => Suzuki v MotoGP končí
            [post_author] => 2
            [post_date] => 2011-11-18 11:52:15
            [year] => 2011
            [month] => 11
            [post_type] => post
        )

    [863] => stdClass Object
        (
            [slug] => rossi-novinky
            [ID] => 12760
            [post_name] => zruseni-zakazu-testovani-oficialne-potvrzeno
            [post_title] => Zrušení zákazu testování oficiálně potvrzeno
            [post_author] => 2
            [post_date] => 2011-11-17 15:17:02
            [year] => 2011
            [month] => 11
            [post_type] => post
        )

    [864] => stdClass Object
        (
            [slug] => rossi-novinky
            [ID] => 12757
            [post_name] => valentino-rossi-mistrovske-dilo
            [post_title] => Valentino Rossi - "Mistrovské dílo"
            [post_author] => 2
            [post_date] => 2011-11-17 14:43:54
            [year] => 2011
            [month] => 11
            [post_type] => post
        )

    [865] => stdClass Object
        (
            [slug] => fastest
            [ID] => 12749
            [post_name] => fastest-vychazi-na-dvd
            [post_title] => Fastest vychází na DVD
            [post_author] => 2
            [post_date] => 2011-11-17 13:57:50
            [year] => 2011
            [month] => 11
            [post_type] => post
        )

    [866] => stdClass Object
        (
            [slug] => rossi-novinky
            [ID] => 12735
            [post_name] => valentino-rossi-bridgestone
            [post_title] => Valentino Rossi - Bridgestone
            [post_author] => 2
            [post_date] => 2011-11-16 18:31:21
            [year] => 2011
            [month] => 11
            [post_type] => post
        )

    [867] => stdClass Object
        (
            [slug] => casey-stoner
            [ID] => 12684
            [post_name] => stoner-veri-ze-bude-honda-rychlejsi
            [post_title] => Stoner věří že bude Honda rychlejší
            [post_author] => 2
            [post_date] => 2011-11-15 09:54:59
            [year] => 2011
            [month] => 11
            [post_type] => post
        )

    [868] => stdClass Object
        (
            [slug] => loris-capirossi
            [ID] => 12674
            [post_name] => loris-capirossi-jmenovam-poradcem-pro-bezpecnost-motogp
            [post_title] => Loris Capirossi bude poradcem pro bezpečnost MotoGP
            [post_author] => 2
            [post_date] => 2011-11-14 18:10:46
            [year] => 2011
            [month] => 11
            [post_type] => post
        )

    [869] => stdClass Object
        (
            [slug] => superbike-2
            [ID] => 12623
            [post_name] => c-domenicali-panigale
            [post_title] => C.Domenicali: "Panigale má dobrý základ."
            [post_author] => 2
            [post_date] => 2011-11-12 21:42:46
            [year] => 2011
            [month] => 11
            [post_type] => post
        )

    [870] => stdClass Object
        (
            [slug] => ducati-desmosedici
            [ID] => 12592
            [post_name] => v-rossi-ted-musime-vyrazne-pokrocit
            [post_title] => V. Rossi: Teď musíme výrazně pokročit.
            [post_author] => 2
            [post_date] => 2011-11-11 12:46:45
            [year] => 2011
            [month] => 11
            [post_type] => post
        )

    [871] => stdClass Object
        (
            [slug] => honda-2
            [ID] => 12581
            [post_name] => s-nakamoto-proti-rossimu-vsemi-prostredky
            [post_title] => S.Nakamoto: Proti Rossimu všemi prostředky
            [post_author] => 2
            [post_date] => 2011-11-10 23:30:45
            [year] => 2011
            [month] => 11
            [post_type] => post
        )

    [872] => stdClass Object
        (
            [slug] => ducati-desmosedici
            [ID] => 12569
            [post_name] => preziosi-je-proti-jednotne-elektronice
            [post_title] => Preziosi je proti jednotné elektronice
            [post_author] => 2
            [post_date] => 2011-11-10 17:16:39
            [year] => 2011
            [month] => 11
            [post_type] => post
        )

    [873] => stdClass Object
        (
            [slug] => rossi-novinky
            [ID] => 12553
            [post_name] => valentino-rossi-po-druhem-dni-testu
            [post_title] => Valentino Rossi po druhém dni testů
            [post_author] => 2
            [post_date] => 2011-11-09 20:57:10
            [year] => 2011
            [month] => 11
            [post_type] => post
        )

    [874] => stdClass Object
        (
            [slug] => rossi-novinky
            [ID] => 12512
            [post_name] => testy-valencie-streda
            [post_title] => Testy Valencie - středa
            [post_author] => 2
            [post_date] => 2011-11-09 12:20:45
            [year] => 2011
            [month] => 11
            [post_type] => post
        )

    [875] => stdClass Object
        (
            [slug] => rossi-novinky
            [ID] => 12479
            [post_name] => zklamany-nicky-ma-zlomene-zapesti
            [post_title] => Zklamaný Nicky má zlomené zápěstí.
            [post_author] => 2
            [post_date] => 2011-11-08 19:41:16
            [year] => 2011
            [month] => 11
            [post_type] => post
        )

    [876] => stdClass Object
        (
            [slug] => rossi-novinky
            [ID] => 12358
            [post_name] => testy-valencie-revoluce-ducati
            [post_title] => Testy ve Valencii - revoluce u Ducati
            [post_author] => 2
            [post_date] => 2011-11-07 13:06:08
            [year] => 2011
            [month] => 11
            [post_type] => post
        )

    [877] => stdClass Object
        (
            [slug] => motogp
            [ID] => 12140
            [post_name] => revoluce-v-motogp-alias-dorna-versus-msma
            [post_title] => Revoluce v MotoGP alias Dorna versus MSMA
            [post_author] => 2
            [post_date] => 2011-11-06 17:11:32
            [year] => 2011
            [month] => 11
            [post_type] => post
        )

    [878] => stdClass Object
        (
            [slug] => rossi-novinky
            [ID] => 12289
            [post_name] => velka-cena-valencie
            [post_title] => Velká cena Valencie
            [post_author] => 2
            [post_date] => 2011-11-06 15:53:17
            [year] => 2011
            [month] => 11
            [post_type] => post
        )

    [879] => stdClass Object
        (
            [slug] => rossi-novinky
            [ID] => 12051
            [post_name] => colin-edwards-hovori-o-osudovem-dni
            [post_title] => Colin Edwards hovoří o osudovém dni.
            [post_author] => 2
            [post_date] => 2011-11-01 19:45:52
            [year] => 2011
            [month] => 11
            [post_type] => post
        )

    [880] => stdClass Object
        (
            [slug] => loris-capirossi
            [ID] => 12048
            [post_name] => loris-capirossi-pojede-naposledy
            [post_title] => Loris Capirossi pojede naposledy.
            [post_author] => 2
            [post_date] => 2011-11-01 17:43:45
            [year] => 2011
            [month] => 11
            [post_type] => post
        )

    [881] => stdClass Object
        (
            [slug] => rossi-novinky
            [ID] => 12036
            [post_name] => aldo-drudi-citim-se-zrazeny
            [post_title] => Aldo Drudi: "Cítím se zrazený."
            [post_author] => 2
            [post_date] => 2011-11-01 09:13:34
            [year] => 2011
            [month] => 11
            [post_type] => post
        )

    [882] => stdClass Object
        (
            [slug] => marco-simoncelli
            [ID] => 12033
            [post_name] => cestne-kolo-pro-marca-simoncelliho
            [post_title] => Čestné kolo pro Marca Simoncelliho
            [post_author] => 2
            [post_date] => 2011-10-30 23:23:09
            [year] => 2011
            [month] => 10
            [post_type] => post
        )

    [883] => stdClass Object
        (
            [slug] => motogp
            [ID] => 11997
            [post_name] => testy-motogp-uz-nebudou-omezeny
            [post_title] => Testy MotoGP už nebudou omezeny
            [post_author] => 2
            [post_date] => 2011-10-29 10:45:40
            [year] => 2011
            [month] => 10
            [post_type] => post
        )

    [884] => stdClass Object
        (
            [slug] => jorge-lorenzo
            [ID] => 11993
            [post_name] => j-lorenzo-stydim-se-za-sveho-otce
            [post_title] => J.Lorenzo: "Stydím se za svého otce."
            [post_author] => 2
            [post_date] => 2011-10-28 20:25:54
            [year] => 2011
            [month] => 10
            [post_type] => post
        )

    [885] => stdClass Object
        (
            [slug] => colin-edwards
            [ID] => 11986
            [post_name] => colin-edwards-ve-valencii-nepojede
            [post_title] => Colin Edwards ve Valencii nepojede
            [post_author] => 2
            [post_date] => 2011-10-28 14:41:22
            [year] => 2011
            [month] => 10
            [post_type] => post
        )

    [886] => stdClass Object
        (
            [slug] => marco-simoncelli
            [ID] => 11925
            [post_name] => sbohem-marco
            [post_title] => Sbohem Marco !
            [post_author] => 2
            [post_date] => 2011-10-27 11:38:47
            [year] => 2011
            [month] => 10
            [post_type] => post
        )

    [887] => stdClass Object
        (
            [slug] => colin-edwards
            [ID] => 11907
            [post_name] => c-edwards-zavodnici-jsou-jina-krevni-skupina
            [post_title] => C.Edwards: "Závodníci jsou jiná krevní skupina." 
            [post_author] => 2
            [post_date] => 2011-10-26 14:12:46
            [year] => 2011
            [month] => 10
            [post_type] => post
        )

    [888] => stdClass Object
        (
            [slug] => marco-simoncelli
            [ID] => 11890
            [post_name] => paolo-simoncelli-marco-byl-vyjmecna-osobnost
            [post_title] => Paolo Simoncelli: "Marco byl výjmečná osobnost."
            [post_author] => 2
            [post_date] => 2011-10-26 09:59:35
            [year] => 2011
            [month] => 10
            [post_type] => post
        )

    [889] => stdClass Object
        (
            [slug] => marco-simoncelli
            [ID] => 11881
            [post_name] => kevin-schwantz-odpocivej-v-pokoji-ciccio
            [post_title] => Kevin Schwantz: "Odpočívej v pokoji Ciccio"
            [post_author] => 2
            [post_date] => 2011-10-25 21:29:29
            [year] => 2011
            [month] => 10
            [post_type] => post
        )

    [890] => stdClass Object
        (
            [slug] => rossi-novinky
            [ID] => 11833
            [post_name] => valentino-rossi-nezvazuje-ukonceni-kariery
            [post_title] => Valentino Rossi nezvažuje ukončení kariéry
            [post_author] => 2
            [post_date] => 2011-10-24 14:11:54
            [year] => 2011
            [month] => 10
            [post_type] => post
        )

    [891] => stdClass Object
        (
            [slug] => rossi-novinky
            [ID] => 11763
            [post_name] => velka-cena-malajsie-sepang
            [post_title] => Velká Cena Malajsie - Sepang
            [post_author] => 2
            [post_date] => 2011-10-23 10:26:44
            [year] => 2011
            [month] => 10
            [post_type] => post
        )

    [892] => stdClass Object
        (
            [slug] => rossi-novinky
            [ID] => 11744
            [post_name] => valentino-rossi-rozhovor-ze-sepangu
            [post_title] => Valentino Rossi - rozhovor ze Sepangu
            [post_author] => 2
            [post_date] => 2011-10-22 21:09:11
            [year] => 2011
            [month] => 10
            [post_type] => post
        )

    [893] => stdClass Object
        (
            [slug] => rossi-novinky
            [ID] => 11635
            [post_name] => j-burgess-stoner-byl-v-silverstone-skvely
            [post_title] => J.Burgess: "Stoner byl v Silverstone skvělý."
            [post_author] => 2
            [post_date] => 2011-10-19 13:32:48
            [year] => 2011
            [month] => 10
            [post_type] => post
        )

    [894] => stdClass Object
        (
            [slug] => rossi-novinky
            [ID] => 11612
            [post_name] => rozhovor-s-mechaniky-valentina-rossiho
            [post_title] => Rozhovor s mechaniky Valentina Rossiho
            [post_author] => 2
            [post_date] => 2011-10-18 19:03:51
            [year] => 2011
            [month] => 10
            [post_type] => post
        )

    [895] => stdClass Object
        (
            [slug] => superbike-2
            [ID] => 11571
            [post_name] => carlos-checa-zustava-u-ducati
            [post_title] => Carlos Checa zůstává u Ducati
            [post_author] => 2
            [post_date] => 2011-10-17 08:57:41
            [year] => 2011
            [month] => 10
            [post_type] => post
        )

    [896] => stdClass Object
        (
            [slug] => ducati-desmosedici
            [ID] => 11525
            [post_name] => v-rossi-smula-je-ze-mame-problemy-ktere-nedokazeme-vyresit
            [post_title] => V.Rossi: "Smůla je, že máme problémy, které nedokážeme vyřešit."
            [post_author] => 2
            [post_date] => 2011-10-16 09:49:44
            [year] => 2011
            [month] => 10
            [post_type] => post
        )

    [897] => stdClass Object
        (
            [slug] => rossi-novinky
            [ID] => 11509
            [post_name] => velka-cena-australie-phillip-island
            [post_title] => Velká Cena Austrálie - Phillip Island
            [post_author] => 2
            [post_date] => 2011-10-16 07:50:45
            [year] => 2011
            [month] => 10
            [post_type] => post
        )

    [898] => stdClass Object
        (
            [slug] => ducati-desmosedici
            [ID] => 11487
            [post_name] => v-rossi-mozna-je-problem-tvar-motoru
            [post_title] => V. Rossi: "Možná je problém tvar motoru."
            [post_author] => 2
            [post_date] => 2011-10-15 13:08:47
            [year] => 2011
            [month] => 10
            [post_type] => post
        )

    [899] => stdClass Object
        (
            [slug] => rossi-novinky
            [ID] => 11366
            [post_name] => doohan-veri-v-psychickou-prevahu-stonera
            [post_title] => Doohan věří v psychickou převahu Stonera
            [post_author] => 2
            [post_date] => 2011-10-11 14:16:10
            [year] => 2011
            [month] => 10
            [post_type] => post
        )

    [900] => stdClass Object
        (
            [slug] => rossi-novinky
            [ID] => 11249
            [post_name] => nicky-hayden-test-jerez-gp12-rossi-zlomeny-prst
            [post_title] => N.Hayden bude testovat v Jerezu, Rossi má zlomený prst.
            [post_author] => 2
            [post_date] => 2011-10-05 17:05:34
            [year] => 2011
            [month] => 10
            [post_type] => post
        )

    [901] => stdClass Object
        (
            [slug] => marco-simoncelli
            [ID] => 11223
            [post_name] => simoncelli-testoval-litrovou-hondu
            [post_title] => Simoncelli testoval litrovou Hondu
            [post_author] => 2
            [post_date] => 2011-10-04 09:58:14
            [year] => 2011
            [month] => 10
            [post_type] => post
        )

    [902] => stdClass Object
        (
            [slug] => rossi-novinky
            [ID] => 11205
            [post_name] => mozna-na-tom-nejsme-tak-dobre-jak-to-vypada
            [post_title] => Možná na tom nejsme tak dobře, jak to vypadá...
            [post_author] => 2
            [post_date] => 2011-10-03 22:44:20
            [year] => 2011
            [month] => 10
            [post_type] => post
        )

    [903] => stdClass Object
        (
            [slug] => rossi-novinky
            [ID] => 11167
            [post_name] => v-rossi-nemohl-jsem-padu-zabranit
            [post_title] => V. Rossi: "Nemohl jsem pádu zabránit." + video
            [post_author] => 2
            [post_date] => 2011-10-02 13:38:54
            [year] => 2011
            [month] => 10
            [post_type] => post
        )

    [904] => stdClass Object
        (
            [slug] => superbike-2
            [ID] => 11163
            [post_name] => carlos-checa-je-na-ducati-mistrem-sveta-wsbk
            [post_title] => Carlos Checa je na Ducati mistrem světa WSBK
            [post_author] => 2
            [post_date] => 2011-10-02 13:07:28
            [year] => 2011
            [month] => 10
            [post_type] => post
        )

    [905] => stdClass Object
        (
            [slug] => rossi-novinky
            [ID] => 11139
            [post_name] => velka-cena-japonska-motegi
            [post_title] => Velká Cena Japonska - Motegi
            [post_author] => 2
            [post_date] => 2011-10-02 08:57:41
            [year] => 2011
            [month] => 10
            [post_type] => post
        )

    [906] => stdClass Object
        (
            [slug] => ducati-desmosedici
            [ID] => 10991
            [post_name] => novy-ram-ducati-az-po-sezone
            [post_title] => Nový rám Ducati až po sezóně
            [post_author] => 2
            [post_date] => 2011-09-26 15:21:50
            [year] => 2011
            [month] => 9
            [post_type] => post
        )

    [907] => stdClass Object
        (
            [slug] => jorge-lorenzo
            [ID] => 10940
            [post_name] => j-lorenzo-souboje-s-valentinem-me-chybi
            [post_title] => J. Lorenzo: "Souboje s Valentinem mně chybí"
            [post_author] => 2
            [post_date] => 2011-09-24 15:51:07
            [year] => 2011
            [month] => 9
            [post_type] => post
        )

    [908] => stdClass Object
        (
            [slug] => casey-stoner
            [ID] => 10895
            [post_name] => c-stoner-vim-ze-ho-to-boli
            [post_title] => C.Stoner: "Vím že ho to bolí."
            [post_author] => 2
            [post_date] => 2011-09-22 14:17:56
            [year] => 2011
            [month] => 9
            [post_type] => post
        )

    [909] => stdClass Object
        (
            [slug] => rossi-novinky
            [ID] => 10888
            [post_name] => m-melandri-rossi-neni-v-pohode
            [post_title] => M.Melandri: "Rossi není v pohodě."
            [post_author] => 2
            [post_date] => 2011-09-22 12:32:20
            [year] => 2011
            [month] => 9
            [post_type] => post
        )

    [910] => stdClass Object
        (
            [slug] => rozhovor
            [ID] => 10860
            [post_name] => alex-briggs-interview
            [post_title] => Alex Briggs - Interview
            [post_author] => 2
            [post_date] => 2011-09-21 21:09:27
            [year] => 2011
            [month] => 9
            [post_type] => post
        )

    [911] => stdClass Object
        (
            [slug] => luca-marini
            [ID] => 10805
            [post_name] => luca-marini-ziskal-titul
            [post_title] => Luca Marini získal titul
            [post_author] => 2
            [post_date] => 2011-09-20 13:54:55
            [year] => 2011
            [month] => 9
            [post_type] => post
        )

    [912] => stdClass Object
        (
            [slug] => rossi-novinky
            [ID] => 10782
            [post_name] => bridgestone-dali-jsme-jim-to-co-chteli
            [post_title] => Bridgestone: "Dali jsme jim to co chtěli."
            [post_author] => 2
            [post_date] => 2011-09-20 10:12:23
            [year] => 2011
            [month] => 9
            [post_type] => post
        )

    [913] => stdClass Object
        (
            [slug] => rossi-novinky
            [ID] => 10778
            [post_name] => d-brivio-valentino-neni-robot
            [post_title] => D: Brivio: "Valentino není robot."
            [post_author] => 2
            [post_date] => 2011-09-19 20:08:01
            [year] => 2011
            [month] => 9
            [post_type] => post
        )

    [914] => stdClass Object
        (
            [slug] => rossi-novinky
            [ID] => 10738
            [post_name] => v-rossi-nevyresili-jsme-skoro-nic
            [post_title] => V. Rossi: "Nevyřešili jsme skoro nic."
            [post_author] => 2
            [post_date] => 2011-09-18 20:26:32
            [year] => 2011
            [month] => 9
            [post_type] => post
        )

    [915] => stdClass Object
        (
            [slug] => rossi-novinky
            [ID] => 10713
            [post_name] => velka-cena-aragonska
            [post_title] => Velká Cena Aragónska
            [post_author] => 2
            [post_date] => 2011-09-18 14:47:52
            [year] => 2011
            [month] => 9
            [post_type] => post
        )

    [916] => stdClass Object
        (
            [slug] => rossi-novinky
            [ID] => 10686
            [post_name] => uccio-pro-valentina-je-to-zasadni-krok-kupredu
            [post_title] => Uccio: "Pro Valentina je to zásadní krok kupředu."
            [post_author] => 2
            [post_date] => 2011-09-17 23:16:13
            [year] => 2011
            [month] => 9
            [post_type] => post
        )

    [917] => stdClass Object
        (
            [slug] => casey-stoner
            [ID] => 10635
            [post_name] => c-stoner-na-vsechno-jsem-musel-prijit-sam
            [post_title] => C. Stoner: "Na všechno jsem musel přijít sám"
            [post_author] => 2
            [post_date] => 2011-09-16 22:14:15
            [year] => 2011
            [month] => 9
            [post_type] => post
        )

    [918] => stdClass Object
        (
            [slug] => rossi-novinky
            [ID] => 10630
            [post_name] => v-rossi-vybral-jsem-si-hlinikovy-ram
            [post_title] => V. Rossi: "Vybral jsem si hliníkový rám"
            [post_author] => 2
            [post_date] => 2011-09-16 19:56:08
            [year] => 2011
            [month] => 9
            [post_type] => post
        )

    [919] => stdClass Object
        (
            [slug] => ducati-2
            [ID] => 10497
            [post_name] => j-toseland-tezke-casy-v-ducati
            [post_title] => J. Toseland: "V Ducati to byly těžké časy."
            [post_author] => 2
            [post_date] => 2011-09-14 12:08:45
            [year] => 2011
            [month] => 9
            [post_type] => post
        )

    [920] => stdClass Object
        (
            [slug] => rossi-novinky
            [ID] => 10463
            [post_name] => f-preziosi-v-ducati-mame-svobodu-volby
            [post_title] => F.Preziosi: "V Ducati máme svobodu volby."
            [post_author] => 2
            [post_date] => 2011-09-12 20:59:57
            [year] => 2011
            [month] => 9
            [post_type] => post
        )

    [921] => stdClass Object
        (
            [slug] => rossi-ducati-cz
            [ID] => 10424
            [post_name] => zabezpeceni-sekce-vzkazu
            [post_title] => Zabezpečení sekce vzkazů
            [post_author] => 2
            [post_date] => 2011-09-12 14:02:34
            [year] => 2011
            [month] => 9
            [post_type] => post
        )

    [922] => stdClass Object
        (
            [slug] => rossi-novinky
            [ID] => 10346
            [post_name] => dostihne-rossi-agostiniho
            [post_title] => Dostihne Rossi Agostiniho ?
            [post_author] => 2
            [post_date] => 2011-09-12 12:14:31
            [year] => 2011
            [month] => 9
            [post_type] => post
        )

    [923] => stdClass Object
        (
            [slug] => ducati-desmosedici
            [ID] => 10378
            [post_name] => desmosedici-s-trubkami-karbonem-a-hlinikem
            [post_title] => Desmosedici s trubkami, karbonem a hliníkem.
            [post_author] => 2
            [post_date] => 2011-09-09 22:37:41
            [year] => 2011
            [month] => 9
            [post_type] => post
        )

    [924] => stdClass Object
        (
            [slug] => rossi-novinky
            [ID] => 10329
            [post_name] => testy-prototypu-na-rok-2012-mugello
            [post_title] => Testy prototypu na rok 2012 - Mugello
            [post_author] => 2
            [post_date] => 2011-09-07 08:21:45
            [year] => 2011
            [month] => 9
            [post_type] => post
        )

    [925] => stdClass Object
        (
            [slug] => rossi-novinky
            [ID] => 10326
            [post_name] => davide-brivio-hodnoceni-misana
            [post_title] => Davide Brivio - hodnocení Misana
            [post_author] => 2
            [post_date] => 2011-09-07 07:00:10
            [year] => 2011
            [month] => 9
            [post_type] => post
        )

    [926] => stdClass Object
        (
            [slug] => rossi-novinky
            [ID] => 10263
            [post_name] => v-rossi-unaveny-ale-spokojeny
            [post_title] => V.Rossi - unavený ale spokojený
            [post_author] => 2
            [post_date] => 2011-09-04 19:18:42
            [year] => 2011
            [month] => 9
            [post_type] => post
        )

    [927] => stdClass Object
        (
            [slug] => rossi-novinky
            [ID] => 10236
            [post_name] => velka-cena-san-marina-misano
            [post_title] => Velká Cena San Marina - Misano
            [post_author] => 2
            [post_date] => 2011-09-04 14:55:32
            [year] => 2011
            [month] => 9
            [post_type] => post
        )

    [928] => stdClass Object
        (
            [slug] => rossi-novinky
            [ID] => 10202
            [post_name] => bridgepoint-vlastni-dornu-i-infront
            [post_title] => Bridgepoint vlastní Dornu i Infront
            [post_author] => 2
            [post_date] => 2011-09-03 18:51:55
            [year] => 2011
            [month] => 9
            [post_type] => post
        )

    [929] => stdClass Object
        (
            [slug] => rossi-novinky
            [ID] => 10162
            [post_name] => c-stoner-problemem-ducati-neni-karbon
            [post_title] => C. Stoner: "Problémem Ducati není karbon."
            [post_author] => 2
            [post_date] => 2011-09-03 09:28:22
            [year] => 2011
            [month] => 9
            [post_type] => post
        )

    [930] => stdClass Object
        (
            [slug] => rossi-novinky
            [ID] => 10155
            [post_name] => v-rossi-je-to-porad-to-same
            [post_title] => V.Rossi: "Je to pořád to samé."
            [post_author] => 2
            [post_date] => 2011-09-02 19:56:51
            [year] => 2011
            [month] => 9
            [post_type] => post
        )

    [931] => stdClass Object
        (
            [slug] => ducati-desmosedici
            [ID] => 10127
            [post_name] => f-preziosi-neocekavajte-revoluci-hned
            [post_title] => F.Preziosi: "Neočekávajte revoluci hned."
            [post_author] => 2
            [post_date] => 2011-09-01 21:39:52
            [year] => 2011
            [month] => 9
            [post_type] => post
        )

    [932] => stdClass Object
        (
            [slug] => casey-stoner
            [ID] => 10051
            [post_name] => zahrivani-pneumatik-bridgestone
            [post_title] => Zahřívání pneumatik Bridgestone
            [post_author] => 2
            [post_date] => 2011-08-31 12:16:37
            [year] => 2011
            [month] => 8
            [post_type] => post
        )

    [933] => stdClass Object
        (
            [slug] => ducati-desmosedici
            [ID] => 10039
            [post_name] => c-stoner-ke-karbonovemu-ramu-ducati
            [post_title] => C.Stoner ke karbonovému rámu Ducati
            [post_author] => 2
            [post_date] => 2011-08-30 19:33:05
            [year] => 2011
            [month] => 8
            [post_type] => post
        )

    [934] => stdClass Object
        (
            [slug] => rossi-novinky
            [ID] => 9996
            [post_name] => v-rossi-myslel-jsem-ze-to-vzdam
            [post_title] => V.Rossi: "Myslel jsem, že to vzdám..."
            [post_author] => 2
            [post_date] => 2011-08-30 18:05:31
            [year] => 2011
            [month] => 8
            [post_type] => post
        )

    [935] => stdClass Object
        (
            [slug] => rossi-novinky
            [ID] => 10024
            [post_name] => a-briggs-po-indianapolis
            [post_title] => A.Briggs po Indianapolis
            [post_author] => 2
            [post_date] => 2011-08-30 17:59:31
            [year] => 2011
            [month] => 8
            [post_type] => post
        )

    [936] => stdClass Object
        (
            [slug] => rossi-novinky
            [ID] => 10004
            [post_name] => kam-se-ubira-vyvoj-v-ducati
            [post_title] => Kam se ubírá vývoj v Ducati ?
            [post_author] => 2
            [post_date] => 2011-08-29 19:33:20
            [year] => 2011
            [month] => 8
            [post_type] => post
        )

    [937] => stdClass Object
        (
            [slug] => rossi-novinky
            [ID] => 9951
            [post_name] => velka-cena-red-bull-indianopolis
            [post_title] => Velká Cena Red Bull - Indianapolis
            [post_author] => 2
            [post_date] => 2011-08-28 20:57:20
            [year] => 2011
            [month] => 8
            [post_type] => post
        )

    [938] => stdClass Object
        (
            [slug] => luca-marini
            [ID] => 9957
            [post_name] => luca-marini-znovu-vyhral
            [post_title] => Luca Marini znovu vyhrál
            [post_author] => 2
            [post_date] => 2011-08-28 17:47:22
            [year] => 2011
            [month] => 8
            [post_type] => post
        )

    [939] => stdClass Object
        (
            [slug] => bridgestone-2
            [ID] => 9897
            [post_name] => bridgestone-opet-pod-palbou-kritiky
            [post_title] => Bridgestone opět pod palbou kritiky
            [post_author] => 2
            [post_date] => 2011-08-27 16:32:42
            [year] => 2011
            [month] => 8
            [post_type] => post
        )

    [940] => stdClass Object
        (
            [slug] => rossi-novinky
            [ID] => 9818
            [post_name] => g-guareschi-chyba-neni-ve-valentinovi
            [post_title] => G.Guareschi: "Chyba není ve Valentinovi."
            [post_author] => 2
            [post_date] => 2011-08-25 16:51:56
            [year] => 2011
            [month] => 8
            [post_type] => post
        )

    [941] => stdClass Object
        (
            [slug] => rossi-novinky
            [ID] => 9733
            [post_name] => v-rossi-stoneruv-styl-je-vyjimecny
            [post_title] => V.Rossi: "Stonerův styl je výjimečný."
            [post_author] => 2
            [post_date] => 2011-08-22 19:00:37
            [year] => 2011
            [month] => 8
            [post_type] => post
        )

    [942] => stdClass Object
        (
            [slug] => casey-stoner
            [ID] => 9712
            [post_name] => shuei-nakamoto-rozhovor-z-brna
            [post_title] => Shuei Nakamoto - rozhovor z Brna
            [post_author] => 2
            [post_date] => 2011-08-22 13:47:26
            [year] => 2011
            [month] => 8
            [post_type] => post
        )

    [943] => stdClass Object
        (
            [slug] => ducati-desmosedici
            [ID] => 9681
            [post_name] => j-burgess-z-ducati-se-nemusi-stat-yamaha
            [post_title] => J.Burgess: "Z Ducati se nemusí stát Yamaha."
            [post_author] => 2
            [post_date] => 2011-08-19 14:13:46
            [year] => 2011
            [month] => 8
            [post_type] => post
        )

    [944] => stdClass Object
        (
            [slug] => ducati-desmosedici
            [ID] => 9654
            [post_name] => ducati-pracuje-na-hlinikovem-ramu
            [post_title] => Ducati pracuje na hliníkovém rámu
            [post_author] => 2
            [post_date] => 2011-08-18 18:40:33
            [year] => 2011
            [month] => 8
            [post_type] => post
        )

    [945] => stdClass Object
        (
            [slug] => ducati-desmosedici
            [ID] => 9604
            [post_name] => filippo-preziosi-otazky-a-odpovedi
            [post_title] => Filippo Preziosi: Otázky a odpovědi
            [post_author] => 2
            [post_date] => 2011-08-17 09:28:27
            [year] => 2011
            [month] => 8
            [post_type] => post
        )

    [946] => stdClass Object
        (
            [slug] => rossi-novinky
            [ID] => 9570
            [post_name] => f-preziosi-shodneme-se-na-100-procent
            [post_title] => F.Preziosi: "Shodneme se na 100 procent."
            [post_author] => 2
            [post_date] => 2011-08-15 18:45:59
            [year] => 2011
            [month] => 8
            [post_type] => post
        )

    [947] => stdClass Object
        (
            [slug] => rossi-novinky
            [ID] => 9456
            [post_name] => velka-cena-cr-v-brne
            [post_title] => Velká Cena ČR v Brně
            [post_author] => 2
            [post_date] => 2011-08-14 14:53:24
            [year] => 2011
            [month] => 8
            [post_type] => post
        )

    [948] => stdClass Object
        (
            [slug] => rossi-novinky
            [ID] => 9424
            [post_name] => ma-rubikova-kostka-ducati-reseni
            [post_title] => Má rubikova kostka Ducati řešení ?
            [post_author] => 2
            [post_date] => 2011-08-13 19:52:04
            [year] => 2011
            [month] => 8
            [post_type] => post
        )

    [949] => stdClass Object
        (
            [slug] => rossi-ducati-cz
            [ID] => 9387
            [post_name] => patek-v-brne-myma-ocima
            [post_title] => Pátek v Brně mýma očima
            [post_author] => 2
            [post_date] => 2011-08-13 10:47:28
            [year] => 2011
            [month] => 8
            [post_type] => post
        )

    [950] => stdClass Object
        (
            [slug] => rossi-novinky
            [ID] => 9348
            [post_name] => k-schwatz-valentino-si-to-chtel-vymenit
            [post_title] => K.Schwatz: "Valentino si to chtěl vyměnit".
            [post_author] => 2
            [post_date] => 2011-08-10 19:01:49
            [year] => 2011
            [month] => 8
            [post_type] => post
        )

    [951] => stdClass Object
        (
            [slug] => ducati-desmosedici
            [ID] => 9276
            [post_name] => rossi-a-ducati-kde-je-problem
            [post_title] => Rossi a Ducati - kde je problém ?
            [post_author] => 2
            [post_date] => 2011-08-09 17:39:22
            [year] => 2011
            [month] => 8
            [post_type] => post
        )

    [952] => stdClass Object
        (
            [slug] => ducati-desmosedici
            [ID] => 9267
            [post_name] => ram-ducati-desmosedici-gp
            [post_title] => Rám Ducati Desmosedici GP
            [post_author] => 2
            [post_date] => 2011-08-06 19:33:40
            [year] => 2011
            [month] => 8
            [post_type] => post
        )

    [953] => stdClass Object
        (
            [slug] => ducati-desmosedici
            [ID] => 9238
            [post_name] => j-burgess-ducati-podcenila-konkurenci
            [post_title] => J.Burgess: "Ducati podcenila konkurenci"
            [post_author] => 2
            [post_date] => 2011-08-05 12:34:08
            [year] => 2011
            [month] => 8
            [post_type] => post
        )

    [954] => stdClass Object
        (
            [slug] => ducati-desmosedici
            [ID] => 9137
            [post_name] => f-preziosi-o-deltaboxu-neuvazujeme
            [post_title] => F.Preziosi: "O deltaboxu neuvažujeme."
            [post_author] => 2
            [post_date] => 2011-08-01 14:58:18
            [year] => 2011
            [month] => 8
            [post_type] => post
        )

    [955] => stdClass Object
        (
            [slug] => rossi-novinky
            [ID] => 9028
            [post_name] => kdo-je-karel-abraham
            [post_title] => Kdo je Karel Abraham ?
            [post_author] => 2
            [post_date] => 2011-07-29 12:28:53
            [year] => 2011
            [month] => 7
            [post_type] => post
        )

    [956] => stdClass Object
        (
            [slug] => rossi-novinky
            [ID] => 8981
            [post_name] => v-guareschi-bridgestony-jsou-jin
            [post_title] => V. Guareschi: "Bridgestony jsou letos jiné."
            [post_author] => 2
            [post_date] => 2011-07-27 17:00:55
            [year] => 2011
            [month] => 7
            [post_type] => post
        )

    [957] => stdClass Object
        (
            [slug] => ducati-desmosedici
            [ID] => 8972
            [post_name] => alex-briggs-k-trubkovemu-ramu-ducati
            [post_title] => Alex Briggs k trubkovému rámu Ducati
            [post_author] => 2
            [post_date] => 2011-07-27 09:15:41
            [year] => 2011
            [month] => 7
            [post_type] => post
        )

    [958] => stdClass Object
        (
            [slug] => alex-briggs
            [ID] => 8926
            [post_name] => alex-briggs-po-zavodu-v-laguna-seca
            [post_title] => Alex Briggs po závodu v Laguna Seca
            [post_author] => 2
            [post_date] => 2011-07-25 20:04:54
            [year] => 2011
            [month] => 7
            [post_type] => post
        )

    [959] => stdClass Object
        (
            [slug] => rossi-novinky
            [ID] => 8867
            [post_name] => velka-cena-usa-v-laguna-seca
            [post_title] => Velká Cena USA v Laguna Seca
            [post_author] => 2
            [post_date] => 2011-07-24 23:55:33
            [year] => 2011
            [month] => 7
            [post_type] => post
        )

    [960] => stdClass Object
        (
            [slug] => rossi-novinky
            [ID] => 8499
            [post_name] => v-guareschi-potrebujeme-nutne-nove-gumy
            [post_title] => V.Guareschi: "Potřebujeme nutně nové gumy."
            [post_author] => 2
            [post_date] => 2011-07-22 07:55:53
            [year] => 2011
            [month] => 7
            [post_type] => post
        )

    [961] => stdClass Object
        (
            [slug] => motogp
            [ID] => 8476
            [post_name] => motogp-a-wsk-v-rukou-jednoho-vlastnika
            [post_title] => MotoGP a WSBK v rukou jednoho vlastníka.
            [post_author] => 2
            [post_date] => 2011-07-21 17:28:48
            [year] => 2011
            [month] => 7
            [post_type] => post
        )

    [962] => stdClass Object
        (
            [slug] => rossi-novinky
            [ID] => 8468
            [post_name] => k-schwanz-tolik-trpelivosti-jako-rossi-bych-nemel
            [post_title] => K.Schwanz: "Tolik trpělivosti jako Rossi bych neměl."
            [post_author] => 2
            [post_date] => 2011-07-21 13:31:16
            [year] => 2011
            [month] => 7
            [post_type] => post
        )

    [963] => stdClass Object
        (
            [slug] => luca-marini
            [ID] => 8382
            [post_name] => bratr-valentina-vyhral-potreti-v-rade
            [post_title] => Bratr Valentina vyhrál potřetí v řadě
            [post_author] => 2
            [post_date] => 2011-07-18 14:30:36
            [year] => 2011
            [month] => 7
            [post_type] => post
        )

    [964] => stdClass Object
        (
            [slug] => rossi-novinky
            [ID] => 8369
            [post_name] => w-rainey-a-k-schwantz-pred-laguna-seca
            [post_title] => W.Rainey a K.Schwantz před Laguna Seca
            [post_author] => 2
            [post_date] => 2011-07-18 14:00:24
            [year] => 2011
            [month] => 7
            [post_type] => post
        )

    [965] => stdClass Object
        (
            [slug] => rossi-novinky
            [ID] => 8330
            [post_name] => valentino-rossi-nikdy-jsem-ducati-o-zmenu-nezadal
            [post_title] => Valentino Rossi: "Ducati jsem o změnu rámu nežádal."
            [post_author] => 2
            [post_date] => 2011-07-17 19:12:54
            [year] => 2011
            [month] => 7
            [post_type] => post
        )

    [966] => stdClass Object
        (
            [slug] => motogp
            [ID] => 8321
            [post_name] => bridgestone-doda-vice-pneumatik
            [post_title] => Bridgestone dodá víc pneumatik
            [post_author] => 2
            [post_date] => 2011-07-17 17:32:55
            [year] => 2011
            [month] => 7
            [post_type] => post
        )

    [967] => stdClass Object
        (
            [slug] => rossi-novinky
            [ID] => 8151
            [post_name] => velka-cena-nemecka-sachsenring
            [post_title] => Velká Cena Německa - Sachsenring
            [post_author] => 2
            [post_date] => 2011-07-17 13:51:53
            [year] => 2011
            [month] => 7
            [post_type] => post
        )

    [968] => stdClass Object
        (
            [slug] => rossi-novinky
            [ID] => 8289
            [post_name] => alex-briggs-ze-sachsenringu
            [post_title] => Alex Briggs ze Sachsenringu
            [post_author] => 2
            [post_date] => 2011-07-17 08:25:18
            [year] => 2011
            [month] => 7
            [post_type] => post
        )

    [969] => stdClass Object
        (
            [slug] => rossi-novinky
            [ID] => 8287
            [post_name] => je-ve-hre-moznost-ukonceni-smlouvy
            [post_title] => Je ve hře možnost ukončení smlouvy ?
            [post_author] => 2
            [post_date] => 2011-07-16 22:54:45
            [year] => 2011
            [month] => 7
            [post_type] => post
        )

    [970] => stdClass Object
        (
            [slug] => rossi-novinky
            [ID] => 8274
            [post_name] => v-guareschi-musime-se-rozhodnout-co-dal
            [post_title] => V.Guareschi: "Musíme se rozhodnout co dál"
            [post_author] => 2
            [post_date] => 2011-07-16 16:01:28
            [year] => 2011
            [month] => 7
            [post_type] => post
        )

    [971] => stdClass Object
        (
            [slug] => rossi-novinky
            [ID] => 8230
            [post_name] => patecni-festival-padu-na-sachsenringu
            [post_title] => Páteční festival pádů na Sachsenringu
            [post_author] => 2
            [post_date] => 2011-07-15 17:29:07
            [year] => 2011
            [month] => 7
            [post_type] => post
        )

    [972] => stdClass Object
        (
            [slug] => rossi-novinky
            [ID] => 8110
            [post_name] => ducati-monster-696-pro-matku-valentina
            [post_title] => Ducati Monster 696 pro matku Valentina
            [post_author] => 2
            [post_date] => 2011-07-11 14:21:56
            [year] => 2011
            [month] => 7
            [post_type] => post
        )

    [973] => stdClass Object
        (
            [slug] => rossi-novinky
            [ID] => 8069
            [post_name] => cicognani-drive-nebo-pozdeji-se-vysledek-dostavi
            [post_title] => A. Cicognani: "Dříve nebo později se výsledek dostaví."
            [post_author] => 2
            [post_date] => 2011-07-09 09:08:08
            [year] => 2011
            [month] => 7
            [post_type] => post
        )

    [974] => stdClass Object
        (
            [slug] => ducati-desmosedici
            [ID] => 8061
            [post_name] => andrea-iannone-v-sedle-ducati-gp11
            [post_title] => Andrea Iannone v sedle Ducati GP11
            [post_author] => 2
            [post_date] => 2011-07-08 20:02:45
            [year] => 2011
            [month] => 7
            [post_type] => post
        )

    [975] => stdClass Object
        (
            [slug] => casey-stoner
            [ID] => 8043
            [post_name] => casey-stoner-je-to-o-tuhosti-ramu
            [post_title] => Casey Stoner: "Je to všechno o tuhosti rámu."
            [post_author] => 2
            [post_date] => 2011-07-08 13:47:28
            [year] => 2011
            [month] => 7
            [post_type] => post
        )

    [976] => stdClass Object
        (
            [slug] => ducati-desmosedici
            [ID] => 8037
            [post_name] => guareschi-po-testech-v-mugellu
            [post_title] => Guareschi po testech v Mugellu
            [post_author] => 2
            [post_date] => 2011-07-08 07:00:23
            [year] => 2011
            [month] => 7
            [post_type] => post
        )

    [977] => stdClass Object
        (
            [slug] => karel-abraham
            [ID] => 7959
            [post_name] => testy-v-mugellu-abraham-vs-stoner
            [post_title] => Testy v Mugellu - "Abraham vs Stoner"
            [post_author] => 2
            [post_date] => 2011-07-04 12:42:07
            [year] => 2011
            [month] => 7
            [post_type] => post
        )

    [978] => stdClass Object
        (
            [slug] => rossi-novinky
            [ID] => 7955
            [post_name] => alex-briggs-my-se-tam-dopracujeme
            [post_title] => Alex Briggs: "My se tam dopracujeme!"
            [post_author] => 2
            [post_date] => 2011-07-04 10:15:27
            [year] => 2011
            [month] => 7
            [post_type] => post
        )

    [979] => stdClass Object
        (
            [slug] => rossi-novinky
            [ID] => 7940
            [post_name] => v-rossi-ducati-dela-jen-male-krucky-vpred
            [post_title] => V.Rossi: "Ducati dělá jen malé krůčky vpřed."
            [post_author] => 2
            [post_date] => 2011-07-03 18:28:50
            [year] => 2011
            [month] => 7
            [post_type] => post
        )

    [980] => stdClass Object
        (
            [slug] => rossi-novinky
            [ID] => 7913
            [post_name] => velka-cena-italie-v-mugellu
            [post_title] => Velká Cena Itálie v Mugellu
            [post_author] => 2
            [post_date] => 2011-07-03 13:56:09
            [year] => 2011
            [month] => 7
            [post_type] => post
        )

    [981] => stdClass Object
        (
            [slug] => rossi-novinky
            [ID] => 7897
            [post_name] => valentino-rossi-problemy-jsou-stale-stejne
            [post_title] => Valentino Rossi: "Problémy jsou stále stejné.."
            [post_author] => 2
            [post_date] => 2011-07-02 18:52:30
            [year] => 2011
            [month] => 7
            [post_type] => post
        )

    [982] => stdClass Object
        (
            [slug] => casey-stoner
            [ID] => 7800
            [post_name] => c-stoner-valentino-je-v-ducati-diky-me
            [post_title] => C.Stoner: "Valentino je v Ducati díky mě."
            [post_author] => 2
            [post_date] => 2011-06-30 18:02:11
            [year] => 2011
            [month] => 6
            [post_type] => post
        )

    [983] => stdClass Object
        (
            [slug] => rossi-novinky
            [ID] => 7720
            [post_name] => v-rossi-budeme-pracovat-jeste-tvrdeji
            [post_title] => V. Rossi: "Budeme pracovat ještě tvrději!"
            [post_author] => 2
            [post_date] => 2011-06-25 18:47:08
            [year] => 2011
            [month] => 6
            [post_type] => post
        )

    [984] => stdClass Object
        (
            [slug] => rossi-novinky
            [ID] => 7690
            [post_name] => velka-cena-holandska-dutch-tt-assen
            [post_title] => Velká Cena Holandska Dutch TT Assen
            [post_author] => 2
            [post_date] => 2011-06-25 14:50:22
            [year] => 2011
            [month] => 6
            [post_type] => post
        )

    [985] => stdClass Object
        (
            [slug] => rossi-novinky
            [ID] => 7681
            [post_name] => valentino-rossi-novy-motocykl-stare-problemy
            [post_title] => Valentino Rossi: "Nový motocykl, staré problémy."
            [post_author] => 2
            [post_date] => 2011-06-24 18:27:50
            [year] => 2011
            [month] => 6
            [post_type] => post
        )

    [986] => stdClass Object
        (
            [slug] => ducati-desmosedici
            [ID] => 7642
            [post_name] => rozdil-mezi-gp12-a-gp11-1-je-minimalni
            [post_title] => Rozdíl mezi GP12 a GP11.1 je minimální
            [post_author] => 2
            [post_date] => 2011-06-24 07:52:21
            [year] => 2011
            [month] => 6
            [post_type] => post
        )

    [987] => stdClass Object
        (
            [slug] => rossi-novinky
            [ID] => 7632
            [post_name] => valentino-rossi-prvni-dojem-je-velmi-dobry
            [post_title] => Valentino Rossi: "První dojem je velmi dobrý."
            [post_author] => 2
            [post_date] => 2011-06-23 18:50:20
            [year] => 2011
            [month] => 6
            [post_type] => post
        )

    [988] => stdClass Object
        (
            [slug] => rossi-novinky
            [ID] => 7628
            [post_name] => loris-capirossi-doufa-ve-zlepseni-ducati
            [post_title] => Loris Capirossi doufá ve zlepšení Ducati
            [post_author] => 2
            [post_date] => 2011-06-23 10:00:26
            [year] => 2011
            [month] => 6
            [post_type] => post
        )

    [989] => stdClass Object
        (
            [slug] => ducati-desmosedici
            [ID] => 7581
            [post_name] => v-rossi-gp12-je-muj-motocykl
            [post_title] => Valentino Rossi: "GP12 je můj motocykl."
            [post_author] => 2
            [post_date] => 2011-06-22 18:16:40
            [year] => 2011
            [month] => 6
            [post_type] => post
        )

    [990] => stdClass Object
        (
            [slug] => rossi-novinky
            [ID] => 7556
            [post_name] => dosavadni-testy-ducati-a-hondy-v-ramci-reguli
            [post_title] => Dosavadní testy Ducati a Hondy v rámci regulí.
            [post_author] => 2
            [post_date] => 2011-06-21 17:43:31
            [year] => 2011
            [month] => 6
            [post_type] => post
        )

    [991] => stdClass Object
        (
            [slug] => ducati-desmosedici
            [ID] => 7542
            [post_name] => ducati-gp11-1-bude-zbrusu-nova
            [post_title] => Ducati GP11.1 bude zbrusu nová.
            [post_author] => 2
            [post_date] => 2011-06-21 07:28:17
            [year] => 2011
            [month] => 6
            [post_type] => post
        )

    [992] => stdClass Object
        (
            [slug] => rossi-novinky
            [ID] => 7535
            [post_name] => v-tavullii-vyroste-rossiland
            [post_title] => V Tavullii vyroste "Rossiland" 
            [post_author] => 2
            [post_date] => 2011-06-20 18:20:38
            [year] => 2011
            [month] => 6
            [post_type] => post
        )

    [993] => stdClass Object
        (
            [slug] => rossi-novinky
            [ID] => 7524
            [post_name] => nova-ducati-gp11-1-pro-valentina-uz-v-assenu
            [post_title] => Nová Ducati GP11.1 pro Valentina už v Assenu
            [post_author] => 2
            [post_date] => 2011-06-20 15:38:51
            [year] => 2011
            [month] => 6
            [post_type] => post
        )

    [994] => stdClass Object
        (
            [slug] => rossi-novinky
            [ID] => 7517
            [post_name] => edwards-ducati-problem-vjezd-zatacek
            [post_title] => Colin Edwards: "Problémem Ducati je vjezd do zatáček."
            [post_author] => 2
            [post_date] => 2011-06-18 11:08:41
            [year] => 2011
            [month] => 6
            [post_type] => post
        )

    [995] => stdClass Object
        (
            [slug] => rossi-novinky
            [ID] => 7460
            [post_name] => valentino-rossi-a-nicky-hayden-interview
            [post_title] => Valentino Rossi a Nicky Hayden interview
            [post_author] => 2
            [post_date] => 2011-06-15 12:33:51
            [year] => 2011
            [month] => 6
            [post_type] => post
        )

    [996] => stdClass Object
        (
            [slug] => nicky-hayden
            [ID] => 7438
            [post_name] => nicky-hayden-stoner-tyto-konflikty-vyhledava
            [post_title] => Nicky Hayden: "Stoner tyto konflikty vyhledává." 
            [post_author] => 2
            [post_date] => 2011-06-15 07:03:44
            [year] => 2011
            [month] => 6
            [post_type] => post
        )

    [997] => stdClass Object
        (
            [slug] => rossi-novinky
            [ID] => 7415
            [post_name] => 27-casey-stoner
            [post_title] => # 27 - Casey Stoner 
            [post_author] => 2
            [post_date] => 2011-06-14 09:47:46
            [year] => 2011
            [month] => 6
            [post_type] => post
        )

    [998] => stdClass Object
        (
            [slug] => rossi-novinky
            [ID] => 7378
            [post_name] => neznicitelny-colin-edwards
            [post_title] => Nezničitelný Colin Edwards
            [post_author] => 2
            [post_date] => 2011-06-13 09:48:15
            [year] => 2011
            [month] => 6
            [post_type] => post
        )

    [999] => stdClass Object
        (
            [slug] => rossi-novinky
            [ID] => 7371
            [post_name] => valentino-rossi-vina-na-nas-lezi-rovnym-dilem
            [post_title] => Valentino Rossi: "Vina na nás leží rovným dílem."
            [post_author] => 2
            [post_date] => 2011-06-12 18:32:01
            [year] => 2011
            [month] => 6
            [post_type] => post
        )

    [1000] => stdClass Object
        (
            [slug] => rossi-novinky
            [ID] => 7344
            [post_name] => velka-cena-anglie-silverstone
            [post_title] => Velká Cena Anglie - Silverstone
            [post_author] => 2
            [post_date] => 2011-06-12 14:01:24
            [year] => 2011
            [month] => 6
            [post_type] => post
        )

    [1001] => stdClass Object
        (
            [slug] => ducati-2
            [ID] => 7171
            [post_name] => f-preziosi-zlepsujeme-se-krok-za-krokem
            [post_title] => F.Preziosi: "Zlepšujeme se krok za krokem."
            [post_author] => 2
            [post_date] => 2011-06-05 19:57:55
            [year] => 2011
            [month] => 6
            [post_type] => post
        )

    [1002] => stdClass Object
        (
            [slug] => rossi-novinky
            [ID] => 7124
            [post_name] => velka-cena-katalanska
            [post_title] => Velká Cena Katalánska
            [post_author] => 2
            [post_date] => 2011-06-05 13:50:39
            [year] => 2011
            [month] => 6
            [post_type] => post
        )

    [1003] => stdClass Object
        (
            [slug] => rossi-novinky
            [ID] => 6904
            [post_name] => rozhovor-s-ucciem
            [post_title] => Rozhovor s Ucciem 
            [post_author] => 2
            [post_date] => 2011-05-27 16:35:28
            [year] => 2011
            [month] => 5
            [post_type] => post
        )

    [1004] => stdClass Object
        (
            [slug] => casey-stoner
            [ID] => 6848
            [post_name] => casey-stoner-jako-nikdy-predtim
            [post_title] => Casey Stoner jako nikdy předtím...
            [post_author] => 2
            [post_date] => 2011-05-26 10:30:06
            [year] => 2011
            [month] => 5
            [post_type] => post
        )

    [1005] => stdClass Object
        (
            [slug] => motogp
            [ID] => 6827
            [post_name] => anatomie-predjizdeni-cast-3
            [post_title] => Anatomie předjíždění část 3.
            [post_author] => 2
            [post_date] => 2011-05-25 17:47:19
            [year] => 2011
            [month] => 5
            [post_type] => post
        )

    [1006] => stdClass Object
        (
            [slug] => rossi-novinky
            [ID] => 6795
            [post_name] => ducati-vyzaduje-pevny-stisk
            [post_title] => Ducati vyžaduje pevný stisk.
            [post_author] => 2
            [post_date] => 2011-05-25 09:01:29
            [year] => 2011
            [month] => 5
            [post_type] => post
        )

    [1007] => stdClass Object
        (
            [slug] => ducati-2
            [ID] => 6779
            [post_name] => v-guareschi-gp12-bude-vyhovovat-vice-jezdcum
            [post_title] => V.Guareschi: "GP12 bude vyhovovat více jezdcům."
            [post_author] => 2
            [post_date] => 2011-05-24 12:25:54
            [year] => 2011
            [month] => 5
            [post_type] => post
        )

    [1008] => stdClass Object
        (
            [slug] => rossi-novinky
            [ID] => 6776
            [post_name] => j-lorenzo-jestli-rossi-chybi-yamaze-tak-ducati-chybi-stoner
            [post_title] => J.Lorenzo: "Jestli Rossi chybí Yamaze, tak Ducati chybí Stoner."
            [post_author] => 2
            [post_date] => 2011-05-24 08:57:39
            [year] => 2011
            [month] => 5
            [post_type] => post
        )

    [1009] => stdClass Object
        (
            [slug] => rossi-novinky
            [ID] => 6756
            [post_name] => anatomie-predjizdeni-cast-2
            [post_title] => Anatomie předjíždění část 2.
            [post_author] => 2
            [post_date] => 2011-05-23 19:45:14
            [year] => 2011
            [month] => 5
            [post_type] => post
        )

    [1010] => stdClass Object
        (
            [slug] => rossi-novinky
            [ID] => 6702
            [post_name] => anatomie-predjizdeni-cast-1
            [post_title] => Anatomie předjíždění část 1.
            [post_author] => 2
            [post_date] => 2011-05-22 13:22:21
            [year] => 2011
            [month] => 5
            [post_type] => post
        )

    [1011] => stdClass Object
        (
            [slug] => ducati-2
            [ID] => 6648
            [post_name] => j-burgess-ducati-analyzovala-uspechy
            [post_title] => J. Burgess: "Ducati analyzovala jen úspěchy"
            [post_author] => 2
            [post_date] => 2011-05-20 10:03:55
            [year] => 2011
            [month] => 5
            [post_type] => post
        )

    [1012] => stdClass Object
        (
            [slug] => rossi-novinky
            [ID] => 6605
            [post_name] => k-schwantz-dlouho-jsem-rossiho-nevidel-se-tak-radovat
            [post_title] => K.Schwantz: "Dlouho jsem Rossiho neviděl se tak radovat."
            [post_author] => 2
            [post_date] => 2011-05-19 09:01:58
            [year] => 2011
            [month] => 5
            [post_type] => post
        )

    [1013] => stdClass Object
        (
            [slug] => rossi
            [ID] => 6580
            [post_name] => colin-edwards-vzdy-mluvi-na-rovinu
            [post_title] => Colin Edwards vždy mluví na rovinu
            [post_author] => 2
            [post_date] => 2011-05-18 17:29:56
            [year] => 2011
            [month] => 5
            [post_type] => post
        )

    [1014] => stdClass Object
        (
            [slug] => rossi-novinky
            [ID] => 6546
            [post_name] => le-mans-2011-podium
            [post_title] => Le Mans 2011 - podium
            [post_author] => 2
            [post_date] => 2011-05-17 16:41:19
            [year] => 2011
            [month] => 5
            [post_type] => post
        )

    [1015] => stdClass Object
        (
            [slug] => rossi-novinky
            [ID] => 6537
            [post_name] => v-rossi-jel-jsem-na-ducati-jako-nikdy-predtim
            [post_title] => V. Rossi: "Jel jsem na Ducati jako nikdy předtím."
            [post_author] => 2
            [post_date] => 2011-05-17 12:25:11
            [year] => 2011
            [month] => 5
            [post_type] => post
        )

    [1016] => stdClass Object
        (
            [slug] => rossi
            [ID] => 6530
            [post_name] => dani-pedrosa-je-to-jako-nocni-mura
            [post_title] => Dani Pedrosa: "Je to jako noční můra!"
            [post_author] => 2
            [post_date] => 2011-05-17 09:56:10
            [year] => 2011
            [month] => 5
            [post_type] => post
        )

    [1017] => stdClass Object
        (
            [slug] => ducati-3
            [ID] => 6477
            [post_name] => marco-simoncelli-vs-dani-pedrosa-v-le-mans
            [post_title] => Marco Simoncelli vs Dani Pedrosa v Le Mans.
            [post_author] => 2
            [post_date] => 2011-05-16 07:59:06
            [year] => 2011
            [month] => 5
            [post_type] => post
        )

    [1018] => stdClass Object
        (
            [slug] => rossi-novinky
            [ID] => 6407
            [post_name] => velka-cena-francie-le-mans
            [post_title] => Velká Cena Francie - Le Mans
            [post_author] => 2
            [post_date] => 2011-05-15 09:11:56
            [year] => 2011
            [month] => 5
            [post_type] => post
        )

    [1019] => stdClass Object
        (
            [slug] => rossi-novinky
            [ID] => 6415
            [post_name] => bezpecnostni-komise-le-mans-rossi-obavy
            [post_title] => V.Rossi: "Mám o osud tohoto sportu obavy!"
            [post_author] => 2
            [post_date] => 2011-05-14 22:27:04
            [year] => 2011
            [month] => 5
            [post_type] => post
        )

    [1020] => stdClass Object
        (
            [slug] => rossi-novinky
            [ID] => 6340
            [post_name] => schyluje-se-v-paddocku-motogp-k-valce
            [post_title] => Schyluje se v paddocku MotoGP k válce ?
            [post_author] => 2
            [post_date] => 2011-05-13 17:11:42
            [year] => 2011
            [month] => 5
            [post_type] => post
        )

    [1021] => stdClass Object
        (
            [slug] => motogp
            [ID] => 6287
            [post_name] => silnicni-zavody-jsou-kontaktni-sport
            [post_title] => Silniční závody jsou kontaktní sport
            [post_author] => 2
            [post_date] => 2011-05-12 17:00:41
            [year] => 2011
            [month] => 5
            [post_type] => post
        )

    [1022] => stdClass Object
        (
            [slug] => karel-abraham
            [ID] => 6277
            [post_name] => karel-abraham-motogp-a-akademicky-titul
            [post_title] => Karel Abraham - MotoGP a akademický titul
            [post_author] => 2
            [post_date] => 2011-05-12 07:31:19
            [year] => 2011
            [month] => 5
            [post_type] => post
        )

    [1023] => stdClass Object
        (
            [slug] => rossi-novinky
            [ID] => 6242
            [post_name] => rozhovor-s-vittorianem-guareschim-2
            [post_title] => Rozhovor s Vittorianem Guareschim
            [post_author] => 2
            [post_date] => 2011-05-10 09:53:02
            [year] => 2011
            [month] => 5
            [post_type] => post
        )

    [1024] => stdClass Object
        (
            [slug] => rossi-novinky
            [ID] => 6221
            [post_name] => bratr-valentina-opet-vyhral-zavod-rozhovor
            [post_title] => Bratr Valentina opět vyhrál závod + Rozhovor
            [post_author] => 2
            [post_date] => 2011-05-09 20:49:19
            [year] => 2011
            [month] => 5
            [post_type] => post
        )

    [1025] => stdClass Object
        (
            [slug] => ducati-desmosedici
            [ID] => 6092
            [post_name] => f-preziosi-vsechny-nove-veci-navrhoval-valentino
            [post_title] => F. Preziosi: Všechny nové věci navrhoval Valentino.
            [post_author] => 2
            [post_date] => 2011-05-04 20:58:17
            [year] => 2011
            [month] => 5
            [post_type] => post
        )

    [1026] => stdClass Object
        (
            [slug] => ducati-desmosedici
            [ID] => 6053
            [post_name] => nastaveni-nove-ducati-bude-snazsi
            [post_title] => Nastavení nové Ducati bude snazší.
            [post_author] => 2
            [post_date] => 2011-05-04 15:00:09
            [year] => 2011
            [month] => 5
            [post_type] => post
        )

    [1027] => stdClass Object
        (
            [slug] => rossi-novinky
            [ID] => 6031
            [post_name] => v-rossi-mel-jsem-strach-ze-se-nikdy-neuzdravim
            [post_title] => V.Rossi: "Měl jsem strach, že se nikdy neuzdravím."
            [post_author] => 2
            [post_date] => 2011-05-04 06:59:23
            [year] => 2011
            [month] => 5
            [post_type] => post
        )

    [1028] => stdClass Object
        (
            [slug] => rossi-novinky
            [ID] => 5881
            [post_name] => velka-cena-portugalska-estoril
            [post_title] => Velká cena Portugalska - ESTORIL
            [post_author] => 2
            [post_date] => 2011-05-01 13:52:38
            [year] => 2011
            [month] => 5
            [post_type] => post
        )

    [1029] => stdClass Object
        (
            [slug] => rossi-novinky
            [ID] => 5587
            [post_name] => stoner-podporuje-pedrosu-v-debate-o-vaze-jezdcu
            [post_title] => Stoner podporuje Pedrosu v debatě o váze jezdců.
            [post_author] => 2
            [post_date] => 2011-04-22 11:43:38
            [year] => 2011
            [month] => 4
            [post_type] => post
        )

    [1030] => stdClass Object
        (
            [slug] => ducati-desmosedici
            [ID] => 5580
            [post_name] => v-rossi-znovu-rika-ze-ducati-nebude-klon-yamahy
            [post_title] => V. Rossi znovu říká, že Ducati nebude klon Yamahy
            [post_author] => 2
            [post_date] => 2011-04-22 08:25:50
            [year] => 2011
            [month] => 4
            [post_type] => post
        )

    [1031] => stdClass Object
        (
            [slug] => rossi-novinky
            [ID] => 5543
            [post_name] => video-s-jeremy-burgessem
            [post_title] => Rozhovor s Jeremy Burgessem
            [post_author] => 2
            [post_date] => 2011-04-21 11:38:50
            [year] => 2011
            [month] => 4
            [post_type] => post
        )

    [1032] => stdClass Object
        (
            [slug] => rossi-novinky
            [ID] => 5559
            [post_name] => valentino-rossi-je-nejlepe-placenym-italskym-sportovcem
            [post_title] => Valentino Rossi je nejlépe placeným italským sportovcem
            [post_author] => 2
            [post_date] => 2011-04-21 08:00:41
            [year] => 2011
            [month] => 4
            [post_type] => post
        )

    [1033] => stdClass Object
        (
            [slug] => rossi-novinky
            [ID] => 5499
            [post_name] => max-biaggi-rossi-je-legenda
            [post_title] => Max Biaggi - "Rossi je legendární jezdec."
            [post_author] => 2
            [post_date] => 2011-04-20 13:04:01
            [year] => 2011
            [month] => 4
            [post_type] => post
        )

    [1034] => stdClass Object
        (
            [slug] => rossi
            [ID] => 5416
            [post_name] => nova-spojka-hondy-schvalena-fim
            [post_title] => Nová spojka/převodovka Hondy schválena FIM
            [post_author] => 2
            [post_date] => 2011-04-16 09:07:47
            [year] => 2011
            [month] => 4
            [post_type] => post
        )

    [1035] => stdClass Object
        (
            [slug] => rossi-novinky
            [ID] => 5381
            [post_name] => valentino-rossi-rameno-rok-pote
            [post_title] => Valentino Rossi & rameno - Rok poté...
            [post_author] => 2
            [post_date] => 2011-04-15 12:59:15
            [year] => 2011
            [month] => 4
            [post_type] => post
        )

    [1036] => stdClass Object
        (
            [slug] => motogp
            [ID] => 5326
            [post_name] => motogp-v-austinu-potvrzeno
            [post_title] => MotoGP v Austinu potvrzeno.
            [post_author] => 2
            [post_date] => 2011-04-13 11:29:00
            [year] => 2011
            [month] => 4
            [post_type] => post
        )

    [1037] => stdClass Object
        (
            [slug] => rossi-novinky
            [ID] => 5332
            [post_name] => pneumatiky-bridgestone-na-mokry-zavod
            [post_title] => Pneumatiky Bridgestone na mokrý závod.
            [post_author] => 2
            [post_date] => 2011-04-13 09:30:46
            [year] => 2011
            [month] => 4
            [post_type] => post
        )

    [1038] => stdClass Object
        (
            [slug] => rossi-novinky
            [ID] => 5319
            [post_name] => m-furusawa-kdyby-rossi-zustal-tak-bych-zustal-take
            [post_title] => M.Furusawa: "Kdyby Rossi zůstal, tak bych zůstal také."
            [post_author] => 2
            [post_date] => 2011-04-12 20:45:51
            [year] => 2011
            [month] => 4
            [post_type] => post
        )

    [1039] => stdClass Object
        (
            [slug] => retro
            [ID] => 5306
            [post_name] => retro-max-biaggi-vs-valentinonicky
            [post_title] => RETRO: Max Biaggi vs Valentino&Nicky
            [post_author] => 2
            [post_date] => 2011-04-12 15:45:44
            [year] => 2011
            [month] => 4
            [post_type] => post
        )

    [1040] => stdClass Object
        (
            [slug] => motogp
            [ID] => 5299
            [post_name] => c-cecchinelli-o-budoucnosti-motogp
            [post_title] => C. Cecchinelli o budoucnosti MotoGP
            [post_author] => 2
            [post_date] => 2011-04-12 08:09:59
            [year] => 2011
            [month] => 4
            [post_type] => post
        )

    [1041] => stdClass Object
        (
            [slug] => rossi-novinky
            [ID] => 5278
            [post_name] => bratr-valentina-rossiho-vyhral-prvni-zavod
            [post_title] => Bratr Valentina Rossiho vyhrál první závod
            [post_author] => 2
            [post_date] => 2011-04-11 09:03:13
            [year] => 2011
            [month] => 4
            [post_type] => post
        )

    [1042] => stdClass Object
        (
            [slug] => rossi-novinky
            [ID] => 5268
            [post_name] => sete-gibernau-rossimu-jsem-dluzen
            [post_title] => Sete Gibernau - "Rossimu jsem dlužen."
            [post_author] => 2
            [post_date] => 2011-04-11 06:55:21
            [year] => 2011
            [month] => 4
            [post_type] => post
        )

    [1043] => stdClass Object
        (
            [slug] => ducati-desmosedici
            [ID] => 5206
            [post_name] => ducati-desmosedici-gp12-poprve-na-draze
            [post_title] => Ducati Desmosedici GP12 poprvé na dráze.
            [post_author] => 2
            [post_date] => 2011-04-08 12:12:35
            [year] => 2011
            [month] => 4
            [post_type] => post
        )

    [1044] => stdClass Object
        (
            [slug] => rossi-novinky
            [ID] => 5202
            [post_name] => jake-je-pracovat-pro-rossiho
            [post_title] => Jaké to je pracovat pro Rossiho.
            [post_author] => 2
            [post_date] => 2011-04-08 11:17:59
            [year] => 2011
            [month] => 4
            [post_type] => post
        )

    [1045] => stdClass Object
        (
            [slug] => rossi-novinky
            [ID] => 5147
            [post_name] => casey-stoner-o-padu-v-jerezu
            [post_title] => Casey Stoner o pádu v Jerezu.
            [post_author] => 2
            [post_date] => 2011-04-05 09:00:26
            [year] => 2011
            [month] => 4
            [post_type] => post
        )

    [1046] => stdClass Object
        (
            [slug] => rossi-novinky
            [ID] => 5041
            [post_name] => velka-cena-spanelska-v-jerezu
            [post_title] => Velká cena Španělska v Jerezu
            [post_author] => 2
            [post_date] => 2011-04-03 10:35:37
            [year] => 2011
            [month] => 4
            [post_type] => post
        )

    [1047] => stdClass Object
        (
            [slug] => rossi-novinky
            [ID] => 4941
            [post_name] => alex-briggs-o-praci-v-tymu-motogp
            [post_title] => Alex Briggs o práci v týmu MotoGP
            [post_author] => 2
            [post_date] => 2011-03-30 13:53:15
            [year] => 2011
            [month] => 3
            [post_type] => post
        )

    [1048] => stdClass Object
        (
            [slug] => rossi-novinky
            [ID] => 4844
            [post_name] => jeremy-burgess-nemam-zadne-obavy
            [post_title] => Jeremy Burgess: "Nemám žádné obavy."
            [post_author] => 2
            [post_date] => 2011-03-24 22:16:52
            [year] => 2011
            [month] => 3
            [post_type] => post
        )

    [1049] => stdClass Object
        (
            [slug] => rossi-novinky
            [ID] => 4817
            [post_name] => f-preziosi-na-ducati-budou-male-i-radikalni-zmeny
            [post_title] => F. Preziosi: "Na Ducati budou malé i radikální změny."
            [post_author] => 2
            [post_date] => 2011-03-23 22:55:39
            [year] => 2011
            [month] => 3
            [post_type] => post
        )

    [1050] => stdClass Object
        (
            [slug] => rossi-novinky
            [ID] => 4784
            [post_name] => c-stoner-ducati-nemuze-prijit-s-necim-novym-rychle
            [post_title] => C.Stoner: "Ducati nemůže přijít s něčím novým rychle."
            [post_author] => 2
            [post_date] => 2011-03-22 22:27:35
            [year] => 2011
            [month] => 3
            [post_type] => post
        )

    [1051] => stdClass Object
        (
            [slug] => rossi-novinky
            [ID] => 4677
            [post_name] => velka-cena-motogp-katar
            [post_title] => Velká cena MotoGP Kataru
            [post_author] => 2
            [post_date] => 2011-03-20 22:05:15
            [year] => 2011
            [month] => 3
            [post_type] => post
        )

    [1052] => stdClass Object
        (
            [slug] => rossi-novinky
            [ID] => 4230
            [post_name] => n-hayden-nemuzu-tu-motorku-donutit-zatacet
            [post_title] => N.Hayden: "Nemůžu tu motorku donutit zatáčet."
            [post_author] => 2
            [post_date] => 2011-03-11 19:22:18
            [year] => 2011
            [month] => 3
            [post_type] => post
        )

    [1053] => stdClass Object
        (
            [slug] => rossi-novinky
            [ID] => 4165
            [post_name] => valentino-rossi-show-channel5
            [post_title] => Valentino Rossi ze všech úhlů na Channel 5
            [post_author] => 2
            [post_date] => 2011-03-10 14:28:11
            [year] => 2011
            [month] => 3
            [post_type] => post
        )

    [1054] => stdClass Object
        (
            [slug] => rossi-novinky
            [ID] => 4130
            [post_name] => uccio-valentino-bude-jezdit-superbiky
            [post_title] => Uccio - "Valentino Rossi bude jezdit superbiky."
            [post_author] => 2
            [post_date] => 2011-03-09 09:51:45
            [year] => 2011
            [month] => 3
            [post_type] => post
        )

    [1055] => stdClass Object
        (
            [slug] => ben-spies
            [ID] => 4121
            [post_name] => yamaha-bude-bez-rossiho-jednotnejsi
            [post_title] => Yamaha bude bez Rossiho jednotnější.
            [post_author] => 2
            [post_date] => 2011-03-08 18:23:39
            [year] => 2011
            [month] => 3
            [post_type] => post
        )

    [1056] => stdClass Object
        (
            [slug] => rossi-novinky
            [ID] => 4110
            [post_name] => c-stoner-vratili-jsme-se-ke-dva-roky-stare-elektronice
            [post_title] => C.Stoner: "Vrátili jsme se ke dva roky staré elektronice."
            [post_author] => 2
            [post_date] => 2011-03-08 07:00:03
            [year] => 2011
            [month] => 3
            [post_type] => post
        )

    [1057] => stdClass Object
        (
            [slug] => rossi-novinky
            [ID] => 3962
            [post_name] => aldo-drudi-dvorni-designer-valentina-rossiho
            [post_title] => Aldo Drudi - dvorní designer Valentina Rossiho
            [post_author] => 2
            [post_date] => 2011-03-01 18:48:43
            [year] => 2011
            [month] => 3
            [post_type] => post
        )

    [1058] => stdClass Object
        (
            [slug] => rossi-novinky
            [ID] => 3958
            [post_name] => f-prezisosi-vsichni-pracuji-pro-rossiho
            [post_title] => F.Preziosi - "Všichni pracují pro Rossiho."
            [post_author] => 2
            [post_date] => 2011-02-25 23:57:21
            [year] => 2011
            [month] => 2
            [post_type] => post
        )

    [1059] => stdClass Object
        (
            [slug] => rossi-novinky
            [ID] => 3795
            [post_name] => rozhovor-s-vittorianem-guareschim
            [post_title] => Sepang - rozhovor s Vittorianem Guareschim
            [post_author] => 2
            [post_date] => 2011-02-23 11:18:23
            [year] => 2011
            [month] => 2
            [post_type] => post
        )

    [1060] => stdClass Object
        (
            [slug] => rossi-novinky
            [ID] => 3700
            [post_name] => video-rozhovor-s-valentinem-rossim
            [post_title] => Video - rozhovor s Valentinem Rossim
            [post_author] => 2
            [post_date] => 2011-02-21 11:56:01
            [year] => 2011
            [month] => 2
            [post_type] => post
        )

    [1061] => stdClass Object
        (
            [slug] => rossi-novinky
            [ID] => 3618
            [post_name] => j-burgess-to-nejhorsi-uz-je-za-nami
            [post_title] => J. Burgess - To nejhorší už je za námi !
            [post_author] => 2
            [post_date] => 2011-02-19 12:19:42
            [year] => 2011
            [month] => 2
            [post_type] => post
        )

    [1062] => stdClass Object
        (
            [slug] => rossi-novinky
            [ID] => 3597
            [post_name] => rozhovor-s-matkou-valentina-rossiho
            [post_title] => Rozhovor s matkou Valentina Rossiho - Stefanii Palma
            [post_author] => 2
            [post_date] => 2011-02-18 21:42:21
            [year] => 2011
            [month] => 2
            [post_type] => post
        )

    [1063] => stdClass Object
        (
            [slug] => rossi-novinky
            [ID] => 3548
            [post_name] => rozhovor-s-nicky-haydenem
            [post_title] => Rozhovor s Nicky Haydenem
            [post_author] => 2
            [post_date] => 2011-02-17 10:12:31
            [year] => 2011
            [month] => 2
            [post_type] => post
        )

    [1064] => stdClass Object
        (
            [slug] => rossi
            [ID] => 3472
            [post_name] => cecchinelli-novy-muz-dorny
            [post_title] => C.Cecchinelli - nový muž ve vedení Dorny
            [post_author] => 2
            [post_date] => 2011-02-15 12:42:53
            [year] => 2011
            [month] => 2
            [post_type] => post
        )

    [1065] => stdClass Object
        (
            [slug] => rossi-novinky
            [ID] => 3411
            [post_name] => c-stoner-neda-se-to-porovnat
            [post_title] => C.Stoner: Nedá se to vůbec porovnávat...!
            [post_author] => 2
            [post_date] => 2011-02-11 13:49:19
            [year] => 2011
            [month] => 2
            [post_type] => post
        )

    [1066] => stdClass Object
        (
            [slug] => rossi-novinky
            [ID] => 3209
            [post_name] => masao-furusawa-interview
            [post_title] => Masao Furusawa - interview
            [post_author] => 2
            [post_date] => 2011-02-09 16:22:51
            [year] => 2011
            [month] => 2
            [post_type] => post
        )

    [1067] => stdClass Object
        (
            [slug] => rossi-novinky
            [ID] => 3200
            [post_name] => ducati-chteli-jsme-u-nas-stonera-udrzet
            [post_title] => Ducati: "Chtěli jsme u nás Stonera udržet!"
            [post_author] => 2
            [post_date] => 2011-02-08 18:53:48
            [year] => 2011
            [month] => 2
            [post_type] => post
        )

    [1068] => stdClass Object
        (
            [slug] => rossi-novinky
            [ID] => 3136
            [post_name] => laureus-za-navrat-roku-pro-valentina-rossiho
            [post_title] => Laureus za "Návrat roku" pro Valentina Rossiho
            [post_author] => 2
            [post_date] => 2011-02-07 22:21:25
            [year] => 2011
            [month] => 2
            [post_type] => post
        )

    [1069] => stdClass Object
        (
            [slug] => ducati-desmosedici
            [ID] => 3081
            [post_name] => c-stoner-je-to-tolik-jine-stale-me-to-prekvapuje
            [post_title] => C.Stoner - "Je to tolik jiné! Stále mě to překvapuje..!"
            [post_author] => 2
            [post_date] => 2011-02-07 14:40:53
            [year] => 2011
            [month] => 2
            [post_type] => post
        )

    [1070] => stdClass Object
        (
            [slug] => ducati-2
            [ID] => 2592
            [post_name] => jeremy-burgess-bude-to-tvrdy-boj
            [post_title] => Jeremy Burgess - "Bude to tvrdý boj !"
            [post_author] => 2
            [post_date] => 2011-01-31 17:12:57
            [year] => 2011
            [month] => 1
            [post_type] => post
        )

    [1071] => stdClass Object
        (
            [slug] => ducati-2
            [ID] => 2324
            [post_name] => rossi-testuje-v-misanu-superbike
            [post_title] => Rossi testoval v Misanu superbike Ducati 1198
            [post_author] => 2
            [post_date] => 2011-01-26 13:44:28
            [year] => 2011
            [month] => 1
            [post_type] => post
        )

    [1072] => stdClass Object
        (
            [slug] => ducati-desmosedici
            [ID] => 2289
            [post_name] => h-barbera-prichod-rossiho-je-pozitivni
            [post_title] => H. Barbera: "Příchod Rossiho je pozitivní."
            [post_author] => 2
            [post_date] => 2011-01-25 18:59:01
            [year] => 2011
            [month] => 1
            [post_type] => post
        )

    [1073] => stdClass Object
        (
            [slug] => rossi-novinky
            [ID] => 2066
            [post_name] => lorenzo-ja-stoner-jsme-nejrychlejsi
            [post_title] => Lorenzo: "Já a Stoner jsme teď nejrychlejší.. !"
            [post_author] => 2
            [post_date] => 2011-01-21 19:36:11
            [year] => 2011
            [month] => 1
            [post_type] => post
        )

    [1074] => stdClass Object
        (
            [slug] => ducati-desmosedici
            [ID] => 1524
            [post_name] => wrooom-tiskova-konfrerence-valentina-rossiho
            [post_title] => Wrooom - tisková konfrerence Valentina Rossiho
            [post_author] => 2
            [post_date] => 2011-01-13 16:16:10
            [year] => 2011
            [month] => 1
            [post_type] => post
        )

    [1075] => stdClass Object
        (
            [slug] => ducati-desmosedici
            [ID] => 1639
            [post_name] => ducati-je-proti-omezeni-elektroniky
            [post_title] => Ducati je proti omezení elektroniky
            [post_author] => 2
            [post_date] => 2011-01-13 13:21:49
            [year] => 2011
            [month] => 1
            [post_type] => post
        )

    [1076] => stdClass Object
        (
            [slug] => ducati-desmosedici
            [ID] => 1568
            [post_name] => dalsim-novym-sponzorem-ducati-je-acer
            [post_title] => Dalším novým sponzorem Ducati je ACER
            [post_author] => 2
            [post_date] => 2011-01-12 14:15:33
            [year] => 2011
            [month] => 1
            [post_type] => post
        )

    [1077] => stdClass Object
        (
            [slug] => ducati-desmosedici
            [ID] => 1556
            [post_name] => wrooom-desmosedici-gp11-a-filipo-preziosi
            [post_title] => Wrooom - Desmosedici GP11 a Filipo Preziosi
            [post_author] => 2
            [post_date] => 2011-01-12 10:46:51
            [year] => 2011
            [month] => 1
            [post_type] => post
        )

    [1078] => stdClass Object
        (
            [slug] => ducati-desmosedici
            [ID] => 1550
            [post_name] => nicky-hayden-wrooom
            [post_title] => Nicky Hayden - Wrooom - otázky a odpovědi
            [post_author] => 2
            [post_date] => 2011-01-12 08:03:13
            [year] => 2011
            [month] => 1
            [post_type] => post
        )

    [1079] => stdClass Object
        (
            [slug] => ducati-desmosedici
            [ID] => 1416
            [post_name] => teorie-a-praxe-motoru-screamer-a-big-bang
            [post_title] => Teorie a praxe motorů Screamer a Big Bang
            [post_author] => 2
            [post_date] => 2011-01-08 14:58:31
            [year] => 2011
            [month] => 1
            [post_type] => post
        )

    [1080] => stdClass Object
        (
            [slug] => ducati-desmosedici
            [ID] => 1394
            [post_name] => interview-s-jerymy-burgessem
            [post_title] => Rozhovor s Jeremy Burgessem
            [post_author] => 2
            [post_date] => 2011-01-07 17:54:30
            [year] => 2011
            [month] => 1
            [post_type] => post
        )

    [1081] => stdClass Object
        (
            [slug] => ducati-desmosedici
            [ID] => 1303
            [post_name] => screamer-nebo-bigbang
            [post_title] => Nicky Hayden - Screamer nebo Big bang ?
            [post_author] => 2
            [post_date] => 2011-01-04 15:16:45
            [year] => 2011
            [month] => 1
            [post_type] => post
        )

    [1082] => stdClass Object
        (
            [slug] => rossi-novinky
            [ID] => 1282
            [post_name] => v-r-posledni-zapis-do-deniku-yamaha
            [post_title] => V.R. - poslední zápis do deníku Yamaha
            [post_author] => 2
            [post_date] => 2011-01-04 09:34:23
            [year] => 2011
            [month] => 1
            [post_type] => post
        )

    [1083] => stdClass Object
        (
            [slug] => rossi-novinky
            [ID] => 1183
            [post_name] => co-vse-s-rossim-odchazi-od-yamahy
            [post_title] => Co vše s Rossim odchází od Yamahy ?
            [post_author] => 2
            [post_date] => 2010-12-30 18:44:05
            [year] => 2010
            [month] => 12
            [post_type] => post
        )

    [1084] => stdClass Object
        (
            [slug] => rossi-novinky
            [ID] => 1150
            [post_name] => skeptici-a-optimisti
            [post_title] => Rossiho šance - skeptici vs optimisti 
            [post_author] => 2
            [post_date] => 2010-12-30 13:23:49
            [year] => 2010
            [month] => 12
            [post_type] => post
        )

    [1085] => stdClass Object
        (
            [slug] => rossi-novinky
            [ID] => 1077
            [post_name] => lorenzo-vek-limit-rossiho
            [post_title] => Lorenzo: "Rossiho věk limituje"
            [post_author] => 2
            [post_date] => 2010-12-26 19:00:52
            [year] => 2010
            [month] => 12
            [post_type] => post
        )

    [1086] => stdClass Object
        (
            [slug] => ducati-desmosedici
            [ID] => 931
            [post_name] => stoner-s-elektronikou-je-to-bezpecnejsi
            [post_title] => Stoner: S elektronikou je to bezpečnější..!
            [post_author] => 2
            [post_date] => 2010-12-21 17:39:16
            [year] => 2010
            [month] => 12
            [post_type] => post
        )

    [1087] => stdClass Object
        (
            [slug] => rossi-novinky
            [ID] => 926
            [post_name] => jarvis-o-skvele-sezone-2010
            [post_title] => Jarvis o skvělé sezóně 2010
            [post_author] => 2
            [post_date] => 2010-12-21 17:00:21
            [year] => 2010
            [month] => 12
            [post_type] => post
        )

    [1088] => stdClass Object
        (
            [slug] => rossi-novinky
            [ID] => 796
            [post_name] => v-r-otazky-a-odpovedi
            [post_title] => Valentino Rossi - otázky a odpovědi
            [post_author] => 2
            [post_date] => 2010-12-14 12:12:34
            [year] => 2010
            [month] => 12
            [post_type] => post
        )

    [1089] => stdClass Object
        (
            [slug] => ducati-2
            [ID] => 715
            [post_name] => jeremy-burgess-o-prechodu-k-ducati
            [post_title] => Jeremy Burgess o přechodu k Ducati 
            [post_author] => 2
            [post_date] => 2010-12-11 16:41:10
            [year] => 2010
            [month] => 12
            [post_type] => post
        )

    [1090] => stdClass Object
        (
            [slug] => rossi-novinky
            [ID] => 654
            [post_name] => rrx-exclusive-valentino-rossi-interview
            [post_title] => RRX Exclusive: Valentino Rossi Interview
            [post_author] => 2
            [post_date] => 2010-12-09 13:12:03
            [year] => 2010
            [month] => 12
            [post_type] => post
        )

    [1091] => stdClass Object
        (
            [slug] => ducati-desmosedici
            [ID] => 417
            [post_name] => filippo-a-valentino
            [post_title] => Preziosi - rozhovor pro MotoSprint
            [post_author] => 2
            [post_date] => 2010-11-29 20:24:24
            [year] => 2010
            [month] => 11
            [post_type] => post
        )

    [1092] => stdClass Object
        (
            [slug] => ducati-desmosedici
            [ID] => 371
            [post_name] => plany-preziosiho-po-testech-ve-valencii
            [post_title] => Preziosi po testech ve Valencii
            [post_author] => 2
            [post_date] => 2010-11-25 16:37:28
            [year] => 2010
            [month] => 11
            [post_type] => post
        )

    [1093] => stdClass Object
        (
            [slug] => ducati-desmosedici
            [ID] => 139
            [post_name] => cervena-se-stava-kralovskou-barvou
            [post_title] => Červená se stává královskou barvou
            [post_author] => 2
            [post_date] => 2010-11-25 11:37:19
            [year] => 2010
            [month] => 11
            [post_type] => post
        )

    [1094] => stdClass Object
        (
            [slug] => rossi-novinky
            [ID] => 123
            [post_name] => burgess-neni-nutna-panika-nad-valentinovymi-casy-v-testech
            [post_title] => Burgess: Není nutná panika...
            [post_author] => 2
            [post_date] => 2010-11-24 20:55:55
            [year] => 2010
            [month] => 11
            [post_type] => post
        )

    [1095] => stdClass Object
        (
            [slug] => ducati-desmosedici
            [ID] => 92
            [post_name] => valentino-rossipoprve-na-ducati
            [post_title] => Valentino Rossi poprvé na Ducati
            [post_author] => 2
            [post_date] => 2010-11-24 16:57:09
            [year] => 2010
            [month] => 11
            [post_type] => post
        )

    [1096] => stdClass Object
        (
            [slug] => rossi-novinky
            [ID] => 283
            [post_name] => rossi-je-po-operaci-ramene
            [post_title] => Rossi je po operaci ramene
            [post_author] => 2
            [post_date] => 2010-11-15 15:13:21
            [year] => 2010
            [month] => 11
            [post_type] => post
        )

)

TELEGRAF – KRÁTKÉ ZPRÁVY ZE SVĚTA MOTOGP
► Casey Stoner ukončil svůj smluvní vztah s Hondou a po pěti letech se vrací k Ducati , kde bude vykonávat roli testovacího jezdce. Zatím nebylo ani jednou stranou potvrzeno, že by Stoner mohl v nějakém závodu startovat na divokou kartu.
► Sponzor Jorge Lorenza italský výrobce hodinek Sector No Limits v důsledku posledních událostí končí se sponzoringem tohoto španělského jezdce.
Valentino Rossi se už tradičně zůčastňuje listopadové rally show v Monze (v letech 2006, 2007 a 2013 v ní zvítězil, vloni byl druhý za Robertem Kubicou) a ani letošní rok není vyjímkou.
Valentino pojede opět s vozem Ford Fiesta WRC stejně jako další dva vozy v týmu VR|46, které budou pilotovat Uccio a Davide Brivio. V Monze již dnes začaly první tréninky a budou pokračovat také v pátek dopoledne, když se v následujícím odpoledni začíná na ostro závodit. Program končí v neděli závěrečnou vyřazovací soutěží. Všechny informace a výsledky je možné najít na webu soutěže ZDE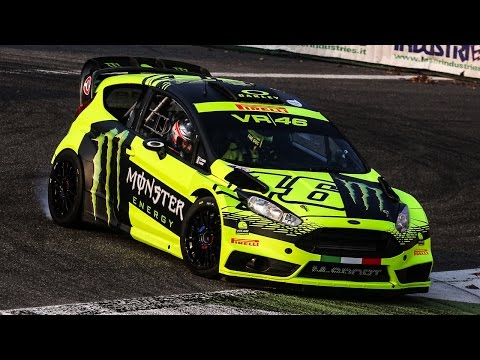 Publikovano
24.11.2015
|
Autor:
Pac!enT
Zpráva, že se Casey Stoner vrací po pěti letech k továrně Ducati, se kterou získal v roce 2007 titul mistra světa, rozčeřila jinak klidné vody aktuálního dění kolem MotoGP, které má zimní přestávku. Třicetiletý australan skončil svoje aktivní působení v MotoGP v pouhých 27 letech na konci sezóny 2012, když po dvou letech u Hondy zaznamenal titul mistra a vícemistra světa. Jedním z uvedených důvodů, proč Stoner z MotoGP odešel, bylo jak sám uváděl, že se MotoGP ubírá směrem, který se mu nelíbí a tak je otázka, zdali se podle jeho názoru něco změnilo. Přestože se o Stonerovi také dobře ví, že byl vždy především velkým odpůrcem propagačních akcí, tak se nyní k Ducati vrací nejen v roli testovacího jezdce, ale také v roli reprezentanta této značky, což sebou jistě ponese účasti na akcích typu World Ducati week apod., což už ostatně generální manažer Ducati v oficiálním oznámení potvrdil.
Současně tato zpráva může v delší perspektivě znamenat jednu z nejzásadnějších zpráv této mezisezóny. Není totiž bez zajímavosti, že příští rok končí většině jezdců v kategorii MotoGP smlouva a role Casey Stonera v pozici testovacího jezdce může sehrát jistou roli ve strategii továrny Ducati při uzavírání smluv.
Jak se před několika týdny začalo proslýchat, tak má Ducati tendence oslovit pro jednání o smlouvách na rok 2017 také Jorge Lorenza. Jak se bude vyvíjet atmosféra a výsledky obou jezdců továrního týmu Yamahy v roce 2016, to je nyní obtížné odhadovat, ale již teď se dá předpokládat, že to bude poněkud složitá záležitost… V této souvislosti se hodí připomenout, že to byl právě Casey Stoner, který si po přestupu k Hondě v roce 2011 stěžoval, že mu Ducati nabízela pro prodloužení smlouvy nesrovnatelně horší podmínky, než právě Jorge Lorenzovi. Stoner tehdy doslova uvedl: "Problémem pro mě byl v roce 2009 Lorenzo. V Ducati si pořád stěžovali, že nemají peníze, ale pak jsem se dozvěděl, že chtěli získat Lorenza a nabídli mu dvojnásobek toho, co jsem měl v té době já." Celý rozhovor z května 2011 byl veřejněn na tomto webu a přečíst ho můžete ZDE
Nyní Casey Stoner ve svém oficiálním prohlášení uvádí: "Mám spoustu skvělých vzpomínek na spolupráci s lidmi a značkou Ducati a šance na opětovné spojení je něco mimořádného. Gigi Dall'Igna sebou přinesl nový přístup a já už se těším až budu moci pomáhat týmu, Andrea Doviziosovi a Andrea Iannonemu. Značka Ducati a fanoušci Ducati byli velkou částí mé závodní kariéry a života, takže bude skvělé znovu začít spolupracovat a začít novou životní kapitolu s touto kultovní značkou."
Přitom v rozhovoru z roku 2011 Stoner konstatuje, že byl Preziosi a celý tým v Ducati Corse bez problému: "Ducati má dvě tváře. Lidé, se kterými jsem pracoval, Preziosi a lidé v mém týmu, ti byli perfektní. Vedení ale říká jednu věc a dělá druhou. Pro mě pěníze nejsou všechno, ale chtěl bych zdůraznit, že můj plat se u Ducati ani nepřibližoval tomu, co brali ostatní, třeba Rossi, Lorenzo, Pedrosa a další. Takže jsem toho všeho měl v jednu chvíli už dost."
Protože došlo na výměnu hlavního inženýra a Preziosiho nahradil Gigi Dall'Igna, zatímco generální manažer Ducati Claudio Domenicalli stále setrvává na svém místě, tak lze myslím pochybovat o tom, že by byla změna na postu hlavního inženýra tím impulsem, který by Stonera do Ducati zpět přivedl a lze se tedy jen ptát, co ho k tomu skutečně přimělo. Pokud pomineme skutečnost, že mu Honda rozhodně neudělala radost, když chtěl na začátku sezóny nahradit Daniho Pedrosu a Honda to zamítla, tak tam podle mého názoru musí být ještě další důvody. Možná, že Stoner nakonec přehodnotil své rozhodnutí se k závodění nevrátit, jak ještě na jaře tohoto roku opakoval. Honda také údajně neposlouchala výhrady Stonera k prototypu na rok 2015, ale tato informace je více v rovině spekulace, na které však může být také velký kus pravdy. Svoji roli může sehrávat také atmosféra v Hondě, kde stále více do dění zasahuje manažer Marqueze – Emilio Alzamora, který mohl mít zájem na tom, aby se role Stonera pokud možno co nejvíce zmenšila.
Zkrátka na to, jak se role Casey Stonera projeví na zlepšení Ducati a jak to může ovlivnit jezdeckou rošádu, která nás v tomto roce zřejmě čeká, na to si budeme muset počkat. Faktem však je, že Casey Stoner zůstává posledním jezdcem, který na Ducati dokázal v závodu MotoGP zvítězit a to už je dlouhých pět let. Ducati od té doby ušla dlouhou cestu, kdy po katastrofálním výsledku dvouletého angažmá Valentina Rossiho, pokračujícím trápení Nickyho Haydena, poté další katastrofou v podobě angažmá Cala Crutchlowa a o jezdcích satelitních týmů ani nemluvě, viz např. Ben Spies, musela Ducati konečně provést strukturální změny a postavit nový motocykl, který by mohl japonským továrnám konkurovat. Zatím došlo se zcela novým prototypem na rok 2015 k výraznému zlepšení, ale na vítězství v závodu to ani Doviziosovi nebo Iannonemu přesto nestačilo. Nyní při přechodu na jednotnou elektroniku a Micheliny, má nepochybně skvělou šanci výkonnostní deficit eliminovat a Casey Stoner v tom může Ducati výrazně pomoci. Což by bylo pro zajímavost závodů MotoGP jenom dobře. Zatím také není jisté, zdali se Ducati se Stonerem domluví na nějakém startu na divokou kartu, ale myslím, že se to dá předpokládat minimálně  na Phillip Islandu. Nechme se tedy překvapit.
Publikovano
22.11.2015
|
Autor:
Pac!enT
Na posezónních testech ve Valencii měla většina týmů a jezdců továrních prototypů možnost poprvé vyzkoušet nový jednotný software, který budou muset všichni bez rozdílu od příští sezóny používat. Po testech bylo možné ze strany jezdců slyšet relativně shodné komentáře, ve kterých přechod k jednotnému software většinou hodnotili jako krok zpět o několik sezón. Jak však ale uvedl technický ředitel Dorny Corrado Cechinelli, tak se jednalo zejména v případě továrních jezdců o první test, při kterém zdaleka nevyužili celý potenciál aplikace.
"Toto je vývojová verze, ale je nutné také pochopit, že práce na něm nebude nikdy hotova. Naším záměrem je software zlepšit podle požadavků a komentářů továren, ale samozřejmě že je současné tempo vývoje nyní vyšší. Například tady ve Valencii jezdíme se starší verzí, která již byla ve vývoji nahrazena novou verzí a ta je připravena pro testy v Sepangu."
"Podle mého názoru je nyní fáze ladění nastavení software zhruba na deseti procentech celkového potenciálu. Všichni jsou zatím velmi vzdáleni od maximálního využití tohoto software. Přesto ale nebylo naším cílem replikovat výkon a možnosti software jednotlivých továren, které měly doposud k dispozici. Je nutné pochopit, že jsme v procesu vývoje co nejlepšího jednotného software pro všechny a z této definice je už zřejmé, že to nebude ten nejlepší možný software pro určité továrny. Pokud chcete, je to větší a náročnější projekt, ale způsob, jakým se motocykl bude chovat bude trochu horší než se software, které by pro svůj motocykl mohla udělat továrna. Až bude všechno vyladěné, tak bude podle mého názoru rozdíl mezi továrním a jednotným software v rozmezí setin až desetiny na jedno kolo. Tady ve Valencii jsme v desetinách sekundy na kolo. Rozumím ale všem komentářům jezdců, protože z pohledu jezdce je to krok zpět. Bude to tak ale i v budoucnu, i když to ale bude fungovat lépe, protože si na to jezdci  a týmy více zvyknou. Celkově však bude rozdíl ve výkonnosti o něco menší než dnes."
Publikovano
18.11.2015
|
Autor:
Pac!enT
V Itálii právě probíhá tradiční výstava motocyklů EICMA a během této výstavy vyšel v italském tisku krátký rozhovor s manažerem továrního týmu Yamahy Linem Jarvisem, který v něm zcela nepokrytě připouští, že se vztahy mezi Valentinem Rossim a Jorge Lorenzem dostali na bod mrazu, což je problém, který bude muset Yamaha nějakým způsobem řešit.
"Především budeme muset nalézt způsob, jak se s tímto problémem vypořádat. Můj  sen o tom, že budeme až do konce sezóny bojovat o první dvě místa v šampionátu v klidu s vědomím, že pro oba dva jezdce děláme vše co je v našich silách a bez upřednostňování, ten se rozplynul po šestnáctém závodě sezóny. Bohužel… Tým ale zůstává jednotný a bude to tak i příští sezónu. Mohu potvrdit, že Rossi i Lorenzo  budou mít přístup k datům o telemetrii toho druhého. V tom má Yamaha jasno. V boxech také rozhodně nebude nějaká zeď nebo něco, co by od sebe jezdce oddělovalo." uvedl Lin Jarvis.
Zatímco tedy Jarvis hovořil o práci týmu v příštím roce, tak se Valentino a Lorenzo na výstavě společně ocitli na pódiu při představení dvou nových modelů motocyklů. Bylo to jejich první setkání po skončení sezóny a chladná atmosféra byla natolik nepřehlédnutelná, že si lze jistě jen těžko představit, že můžou mít tito dva jezdci v budoucnu nějaké "normální" vztahy, jaké by se mezi týmovými kolegy daly očekávat.
Ostatně posuďte sami, jak celá prezentace vypadala jistě si povšimnete, že nejen že neproběhlo obligátní potřesení rukou za přítomnosti prezidenta Yamahy, ale Valentino se na Lorenza prakticky ani jednou nepodíval… O tom, co se asi většině přítomných (podle jejich zcela odlišné reakce na oba jezdce) honilo hlavou, není zřejmě nutné polemizovat a nic na tom nemění fakt, že se výstava koná v Itálii, protože drtivou většinu návštěvníků v těchto dnech tvoří mezinárodní směsice novinářů, zástupců továren a obchodníků.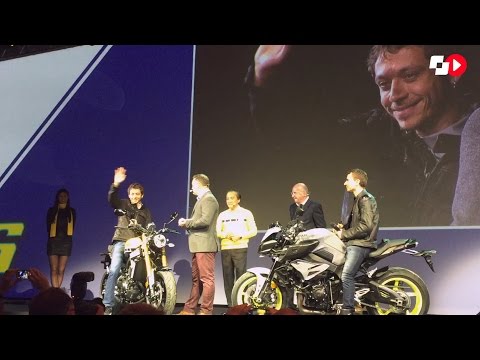 Source: GPOne
Publikovano
17.11.2015
|
Autor:
Pac!enT
Bývalý týmový manažer Valentina Rossiho a současný manažer továrního týmu Suzuki Davide Brivio je přesvědčený o tom, že konání Marqueze mělo za cíl znemožnit Valentinovi zisk desátého titulu a je toho názoru, že mělo ředitelství závodu zasáhnout ještě před závodem v Sepangu.
"Zaprvé musím říci, že se o tom lehce hovoří ze zpětného úhlu pohledu. V Austrálii jsme mohli vidět první náznaky anomálního chování. To jsme si ale zřejmě uvědomili až později poté, co jsme mohli to co se stalo poněkud lépe analyzovat a porozumět tomu. Když to potom Valentino na tiskové konferenci před Sepangem vybalil a řekl, že viděl něco zvláštního, tak mělo ředitelství závodu Valentina alespoň vyslechnout a zeptat se ho, proč takové věci říká. Potom si možná měli zavolat taky Marqueze a zeptat se ho na to, co si o tom myslí. Měli to minimálně začít vyšetřovat a třeba jezdce upozornit na to, že budou jejich počínání sledovat a pokud to byla pravda, tak se nějakým způsobem pokusit takovým věcem zabránit. Nic se ale nestalo a všichni si dělali co chtěli až do závodu v Sepangu a incidentu mezi Valentinem a Marquezem."
"Jsem zcela přesvědčený o tom, že Valentino nechtěl způsobit pád Marqueze. Vytlačil ho na vnější okraj zatáčky, čímž se mu snažil říci "Co to děláš? Nech mě závodit a dej mi pokoj!" Pak došlo k pádu, ředitelství závodu muselo zasáhnout a dostali jsme se k výsledku, který jsme viděli ve Valencii."
Valentino po závodu ve Valencii uvedl, že Marquez jenom chránil Lorenza, aby pojistil, že získá titul právě on a Brivio s tímto názorem také zcela souhlasí.
"Už to vůbec nebyla záležitost mezi Hondou a Yamahou, už to byla jen věc dokončení mise, která měla za cíl znemožnit Valentinovi získat desátý titul, to je můj názor. Doufám, že budeme moci obrátit list, zapomenout na to, co se v minulosti stalo a vrátit se k závodění, které máme rádi. Byla to fantastická sezóna, jedna z nejlepších v historii, se soubojem až do konce o každý bod. Ale to finále bylo hořké pro každého, kdo sport a zejména MotoGP miluje, protože na to, aby se v něm něco podobného dělo, jsme nebyli zvyklí. Maximum toho, co jsme v nějaké rozumné míře byli schopni tolerovat, byla výpomoc mezi týmovými kolegy, ale nikoliv ne něco takového." uzavřel svůj verdikt k závěru sezóny 2015 Davide Brivio pro server Autosport.
Publikovano
16.11.2015
|
Autor:
Pac!enT
Jak jsem již v průběhu minulého týdne avizoval, tak se našel ochotný fanoušek Valentina, který disponuje dostatečnou znalostí angličtiny a také alespoň nějakým časem, čímž se rozhodl pomoci a přeložil článek Mata Oxleyho, který vyšel dva dny po posledním závodu sezóny ve Valencii. Je opět jedním z kamínků do mozaiky názorů nejen na diskutabilní závěr sezóny, ale zejména na jeho hlavní protagonisty v čele s Valentinem Rossim, který po celou sezónu šampionát vedl a o titul přišel až v posledním závodu sezóny po startu z posledního místa na startovním roštu. Petru Křížovi chci tedy za překlad moc poděkovat, no a vy si počtěte.
Mat Oxley MotorsportMagazine
Co se opravdu stalo v závěru sezóny MotoGP 2015
Nikdy jsem to neudělal, ale myslím, že teď je ten pravý okamžik. Je na čase, abych promluvil jako fanoušek Valentina Rossiho. V posledních týdnech byly sociální sítě tak otrávené Rossiho fanatickými fanoušky, že jsem byl mnohokrát shledán vinným, jen za snahu zůstat objektivním tváří v tvář skutečnosti. A nejsem jediný. Mnoho dalších MotoGP novinářů respektovaných dlouhá léta jejich čtenáři, bylo vystaveno obviňování ze stejného zločinu – ze snahy odhalit pravdu.
Mám rád Rossiho od léta roku 1996, když se začal v neděli večer potloukat tiskovou místností, smál se, žertoval s novináři a obecně byl tak zábavný, jako žádný jiný jezdec. O pár let později jsme se dali dohromady a já jsem začal psát své sloupky, což předpokládalo někde ho v neděli večer odchytit (což nebylo vždy snadné) na rozhovor o závodě, událostech předchozího týdne a podobně. Jeden z těchto rozhovorů probíhal u bazénu v Rio de Janeiru, Rossi plný piva a šampaňského a jeho přátelé, kteří byli i s členy personálu naházeni do bazénu jen pár hodin poté, co vyhrál titul ve 250cc. Byl vždy zábavný; překypoval nadšením pro závodění i pro život samotný.
Společná dohoda o naší rubrice – kterou zveřejňovaly motoristické časopisy po celém světě – byla amatérská až legrační, což bylo jedině ku prospěchu věci. On mi věnoval půl hodiny svého času po každém závodě a já jsem mu za to dal CD. Byl jsem v té době pohlcen londýnskou klubovou scénou a přivezl jsem zvláštní dnb nahrávky, jako Timeless od Goldie. "Zvláštní hudba, tenhle Goldie," zašklebil se.
O dalších pár let později souhlasil, abych napsal jeho biografii, což znamenalo prosedět mnoho hodin v jeho poněkud ponurém londýnském apartmánu na St. James Square. Seděli jsme tam a mluvili o jeho minulosti, zatímco nejlepší kamarád Uccio (Salucci) ležel a chrápal na pohovce, kde se vyspával z další těžké celonoční jízdy v nějakém house clubu. A jako obvykle, Rossiho poslední trofej pro vítěze 500cc stála na příborníku, mezi zbytečnostmi z bláznivého života tráveného na cestách.
Psaní jeho životopisu mě zavedlo také do Itálie, kde jsem prožil nějaký čas s jeho úžasným otcem (jedním ze závodnických hrdinů mého dětství) a jeho laskavou a bystrou matkou. Vyprávěla mi spoustu zajímavých příběhů o svém synovi, ale to co na mě zapůsobilo nejvíc byly chvíle, kdy se Valentino vracel domů z mini-moto dráhy a rozpumpovaný adrenalinem překotně vyprávěl. Říkala, že Vale nemiloval jen závodění, ale i všechno co souviselo s životem v paddocku. Miloval to všechno a to je jistě hlavním důvodem jeho ohromující závodnické dlouhověkosti.
Zobraz cely clanek →